This Vegetarian Reuben Cheese Dip has sauerkraut, cream cheese, Swiss cheese, dill pickles, Thousand Island dressing, and rye bread croutons.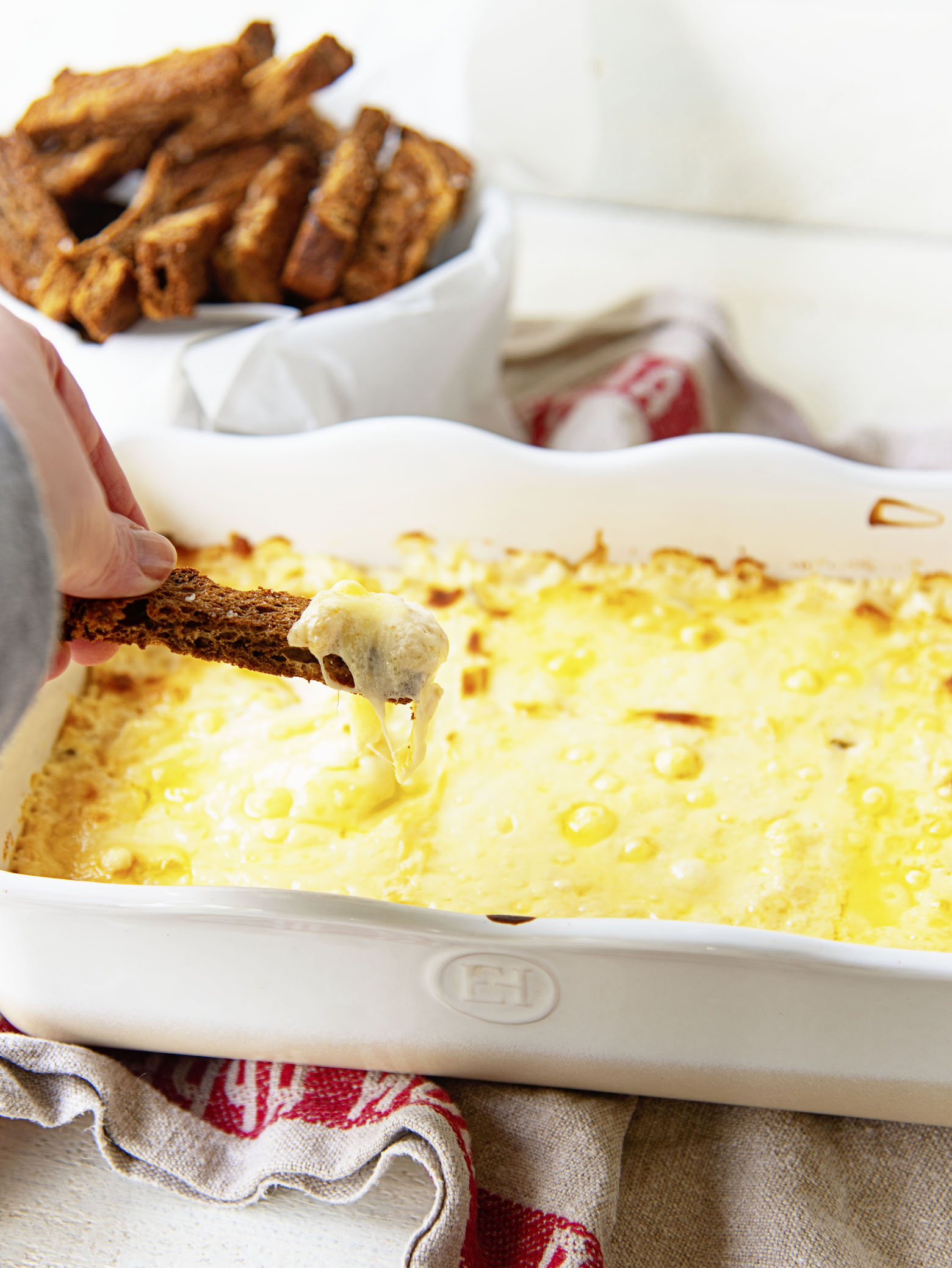 So this Vegetarian Reuben Cheese Dip came about because of a question I asked on the Sweet ReciPEAs Facebook page.
About what snacks/food do you hope to see at a party when you go.
Which everyone seemed to have a different answer for.
But one woman commented sauerkraut dip.
Now, my husband LOVES sauerkraut and so I had to ask what was sauerkraut dip.
Because I totally want to make it for him.
She posted the recipe and that led to the discussion that it wasn't sauerkraut dip but Reuben dip.
Which had sauerkraut in it but also had corn beef.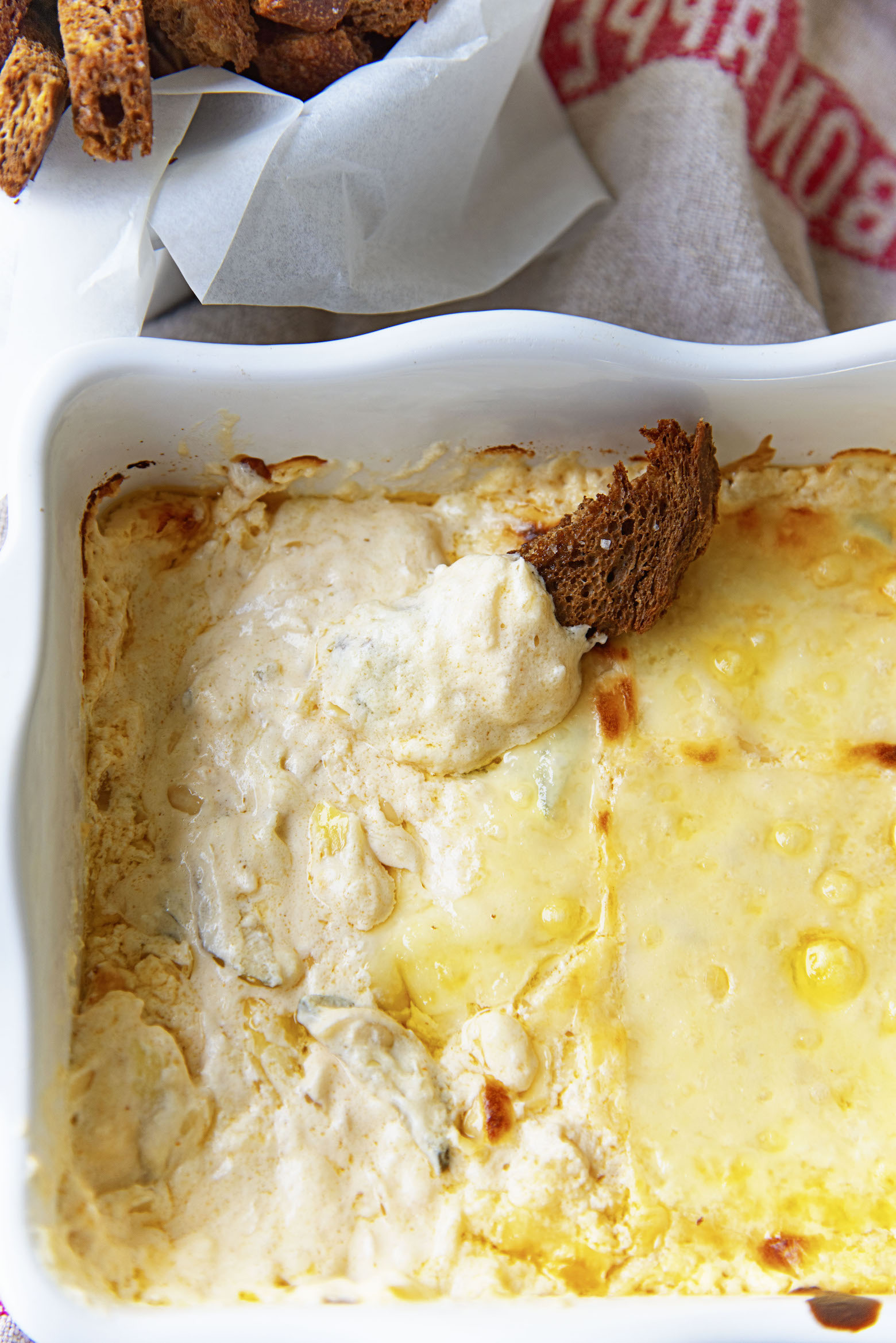 However, my husband and I don't eat meat so I needed to figure out how to make it vegetarian for us.
They do make vegan corn beef.
To me it taste crappy so I didn't see that as a viable option.
So instead of really trying to substitute the meat, I just omitted it.
If you want to make this dip with corn beef, feel free.
I would add about a cup and a half of diced corn beef to the dip.
Or you can add a half a cup of diced pastrami.
But I learned that if you use pastrami it's no longer called a Reuben but a Rachel.
So useless fact for you to use at trivia night some time. 🙂
While I didn't use meat I did add pickles to the dip.
Number one because we love pickles in dip but also because we eat pickles on our Reuben sandwiches.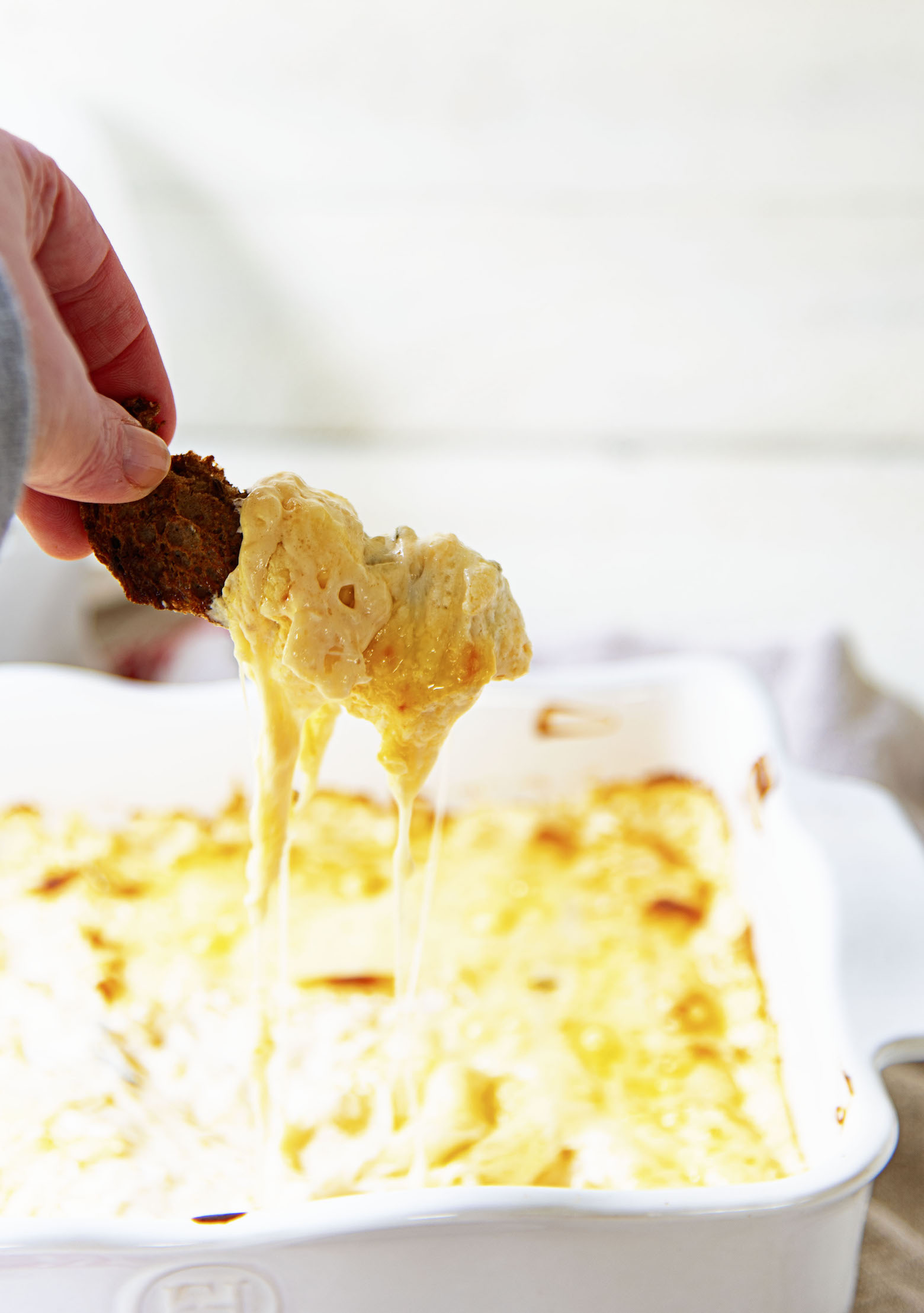 As for the rest of the dip it has the flavors of a Reuben.
Sauerkraut of course.
Since that's what started all this.
Thousand Island Dressing.
Swiss Cheese.
Then cream cheese and sour cream to make it as a dip.
Plus our addition of pickles.
To serve with the dip I made Marble Rye Croutons.
You can use whatever rye bread you prefer but we always have marbled rye with our Reubens.
I called them croutons because you prepare them the same way you do croutons.
But they are more like breadsticks…..at least in shape.
Whatever you call them they are tasty.
I ate quite a few of them while I waited for the dip to bake.
So you can just eat them on their own.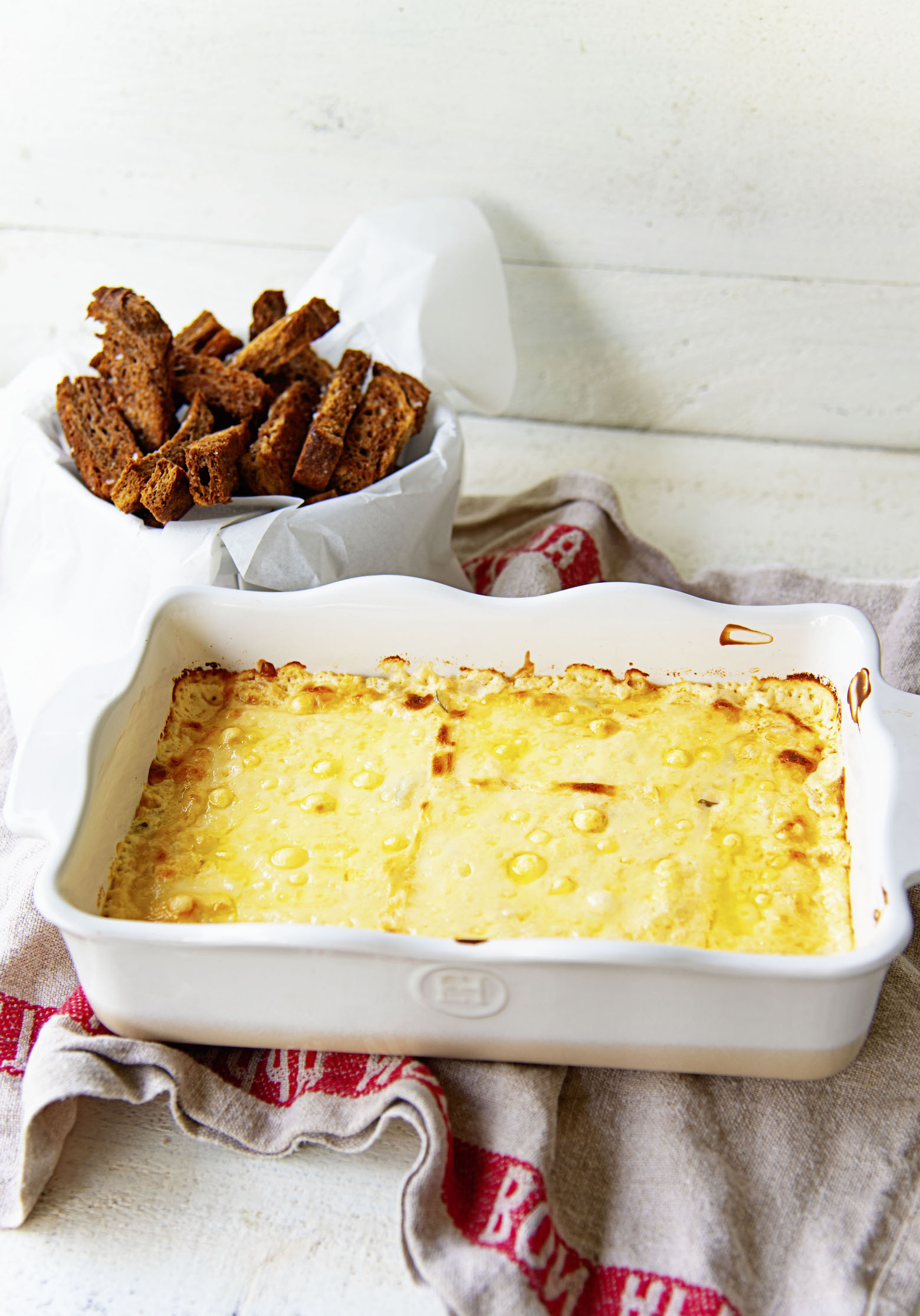 So if maybe you are having a gathering for say an upcoming football game that some people think is super you might want to make this.
For your vegetarian friends.
Though I'm quite sure non-vegetarians would eat this as well.
Or you may just want to do what we did and make a batch of it and eat it all yourselves.
P.S. It's a great day to buy my cookbook Holy Sweet!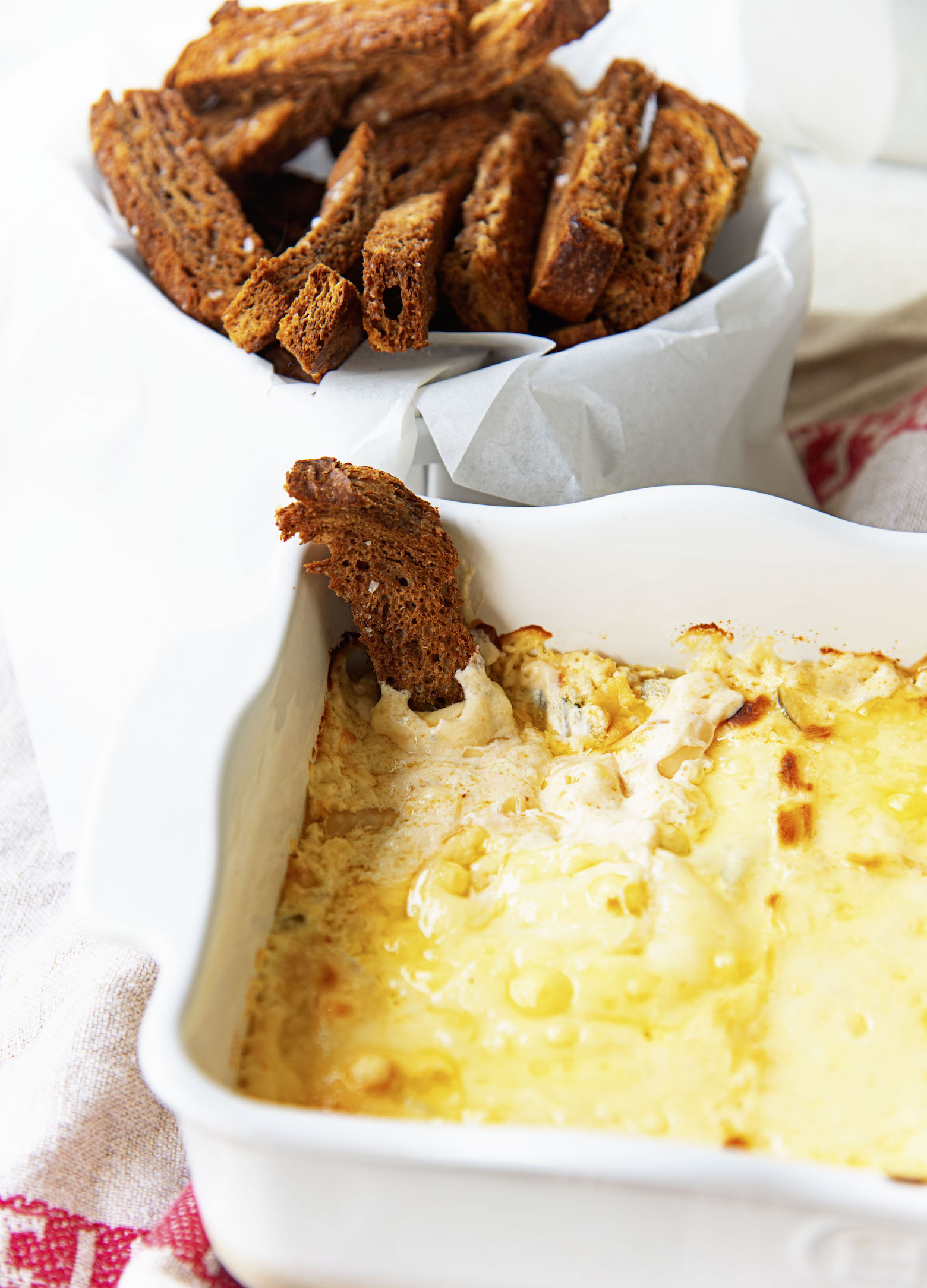 Want More Dip Recipes?
Blue Cheese Spread with Onion-Pear Jam
Bacon Cheddar Ale Cheese Spread
Caramelized Onion, Bacon, and Gruyere Dip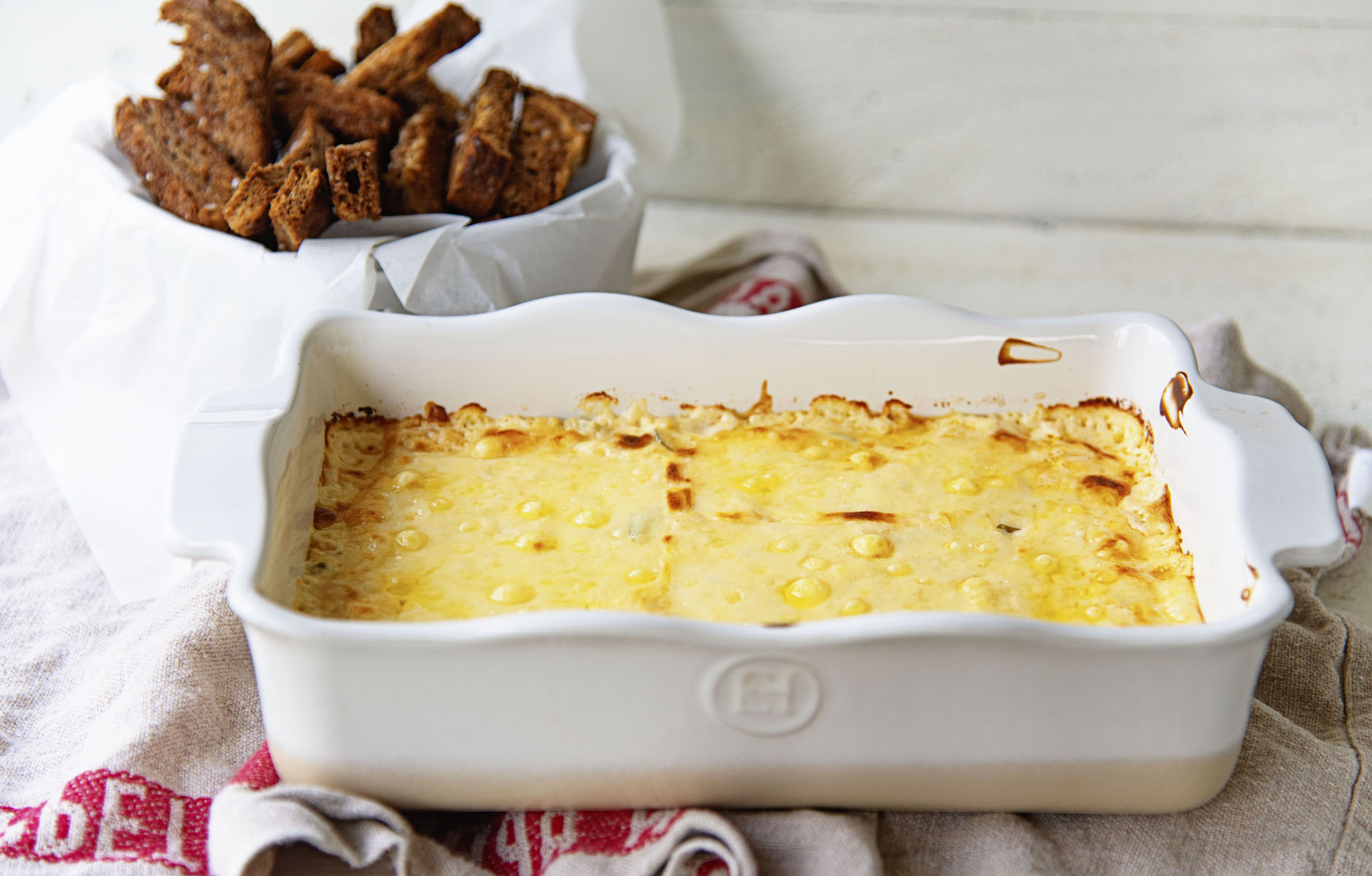 Vegetarian Reuben Cheese Dip
Ingredients
For the Rye Bread Croutons:
4 pieces of marble rye bread, sliced longways to be able to dip in
3 TBSP olive oil
2 TBSP melted butter
sea salt to taste
For the Dip:
8 ounces cream cheese, at room temperature
1 1/2 cups Swiss cheese shredded
1/2 cup sour cream
1/2 cup sauerkraut drained
1/2 cup Thousand Island dressing
1/2 cup diced dill pickles
salt and pepper to season
Four slices of Swiss Cheese
Instructions
For the Rye Bread Croutons:
Preheat oven to 375 degrees F. Line a large baking sheet with parchment paper and set aside.
Drizzle the bread with olive oil and melted butter. Sprinkle with salt.
Toss until all of the bread pieces are well coated.
Spread the bread pieces onto the prepared baking sheet, making sure the bread cubes are in an even layer and not touching.
Bake for 12 to 20 minutes, tossing halfway through, or until the croutons are golden brown. Check early to make sure you don't burn them. Time will depend on the thickness of your bread and your oven.
Remove from the oven and let cool completely.
For the Dip:
Preheat the oven to 400 degrees F.
Coat a small baking dish or skillet with cooking spray.
Using a stand mixer with the paddle attachment beat the cream cheese and Swiss cheese and mix until fully combined.
Then add the sour cream, sauerkraut. Thousand Island dressing, and dill pickles in a bowl.
Stir gently until blended.
Season with salt and pepper.
Top with the four slices of Swiss cheese.
Spread the cream cheese mixture into an even layer in your prepared dish.
Top with remaining 3/4 cup of cheese.
Bake for 20-25 minutes.
Place under broiler and remove when bubbly and brown.