These Groundhog Day Pudding Shots have chocolate shake pudding, chocolate milk, chocolate liqueur, and topped with a candy bar groundhog.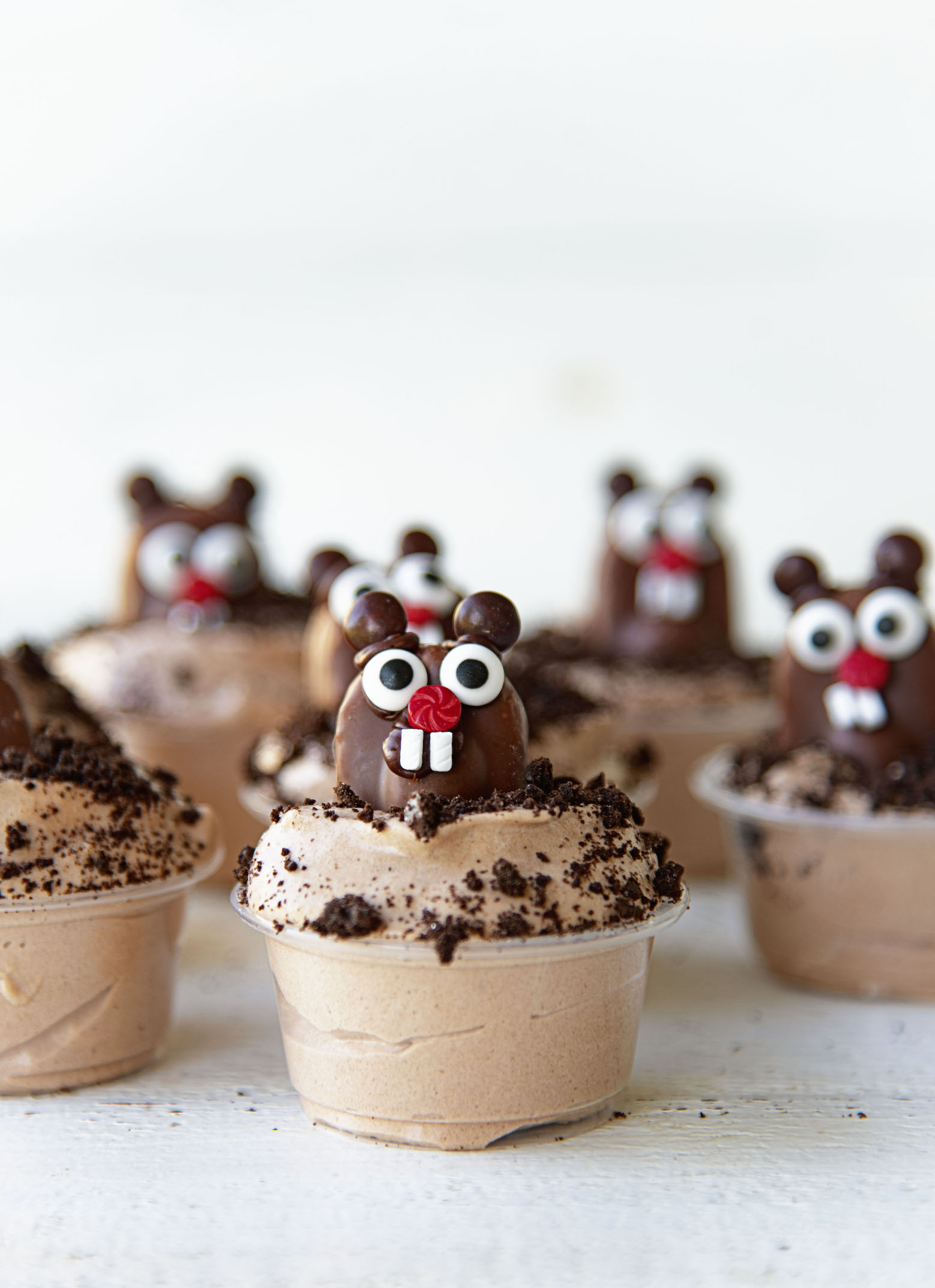 I made these Groundhog Day Pudding Shots in honor of Groundhogs Day.
Which happens to be my favorite holiday (long time reader can attest to this) and has been since I was a little kid.
I think because groundhogs are cute and because I was always hoping for 6 more weeks of winter.
My mother always made a big deal of it for me each year.
Which each Groundhog Day started with a sprinkle donut and I got Chinese food.
A tradition that I still keep to this day.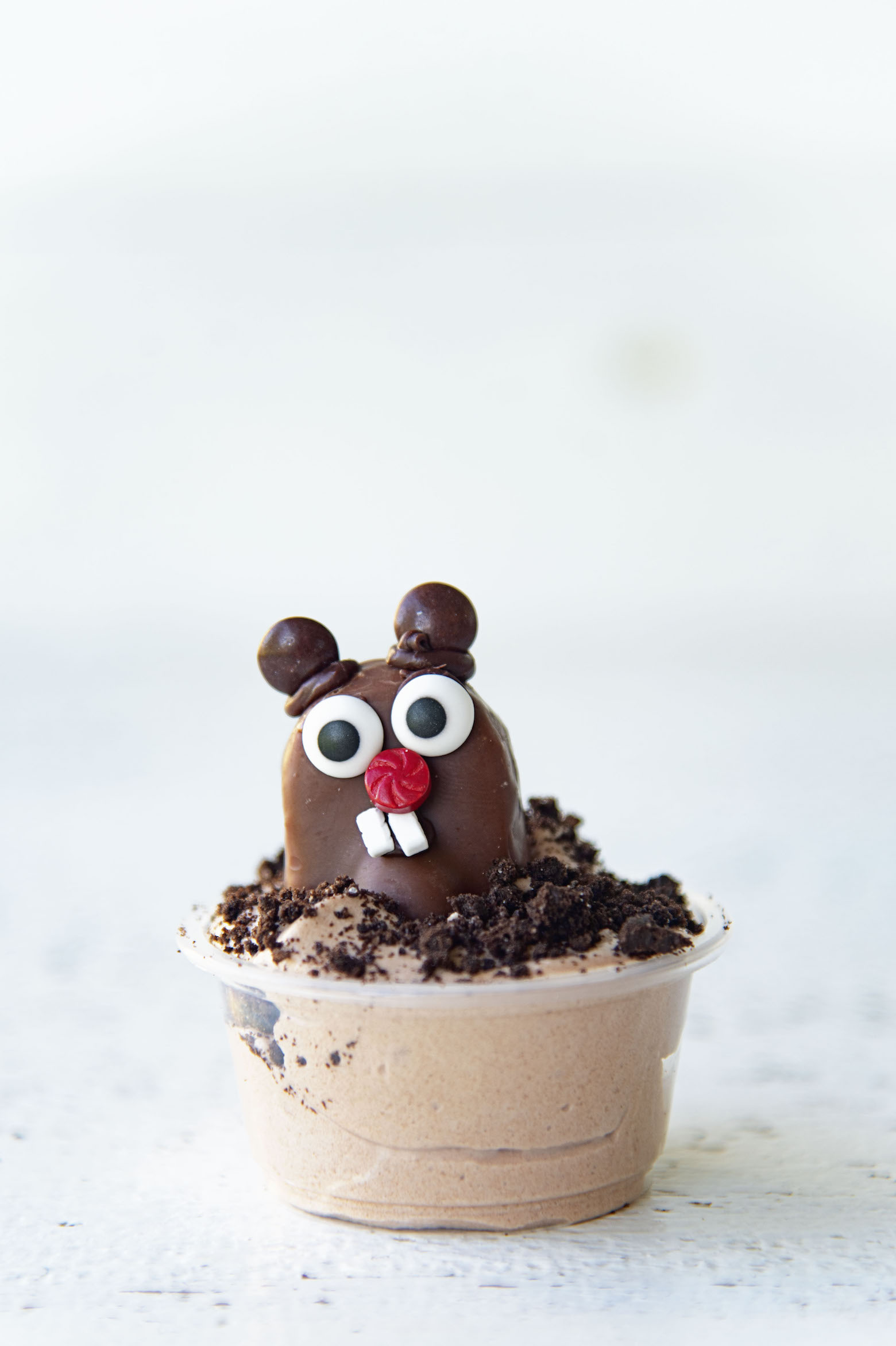 I'm one of those people who has always wanted to go to Punxsutawney and see Punxsutawney Phil.
I do feel bad that they wake him up and make him come out and predict the weather.
But man he is too cute…even if he is grumpy after being woken up and held up like Simba in the Lion King.
And it's a good thing he is cute because his predicting weather abilities are not that great.
He's usually more wrong than right.
I think if they let him get up slowly and have a cup of coffee he would predict better, but that's just me. 😀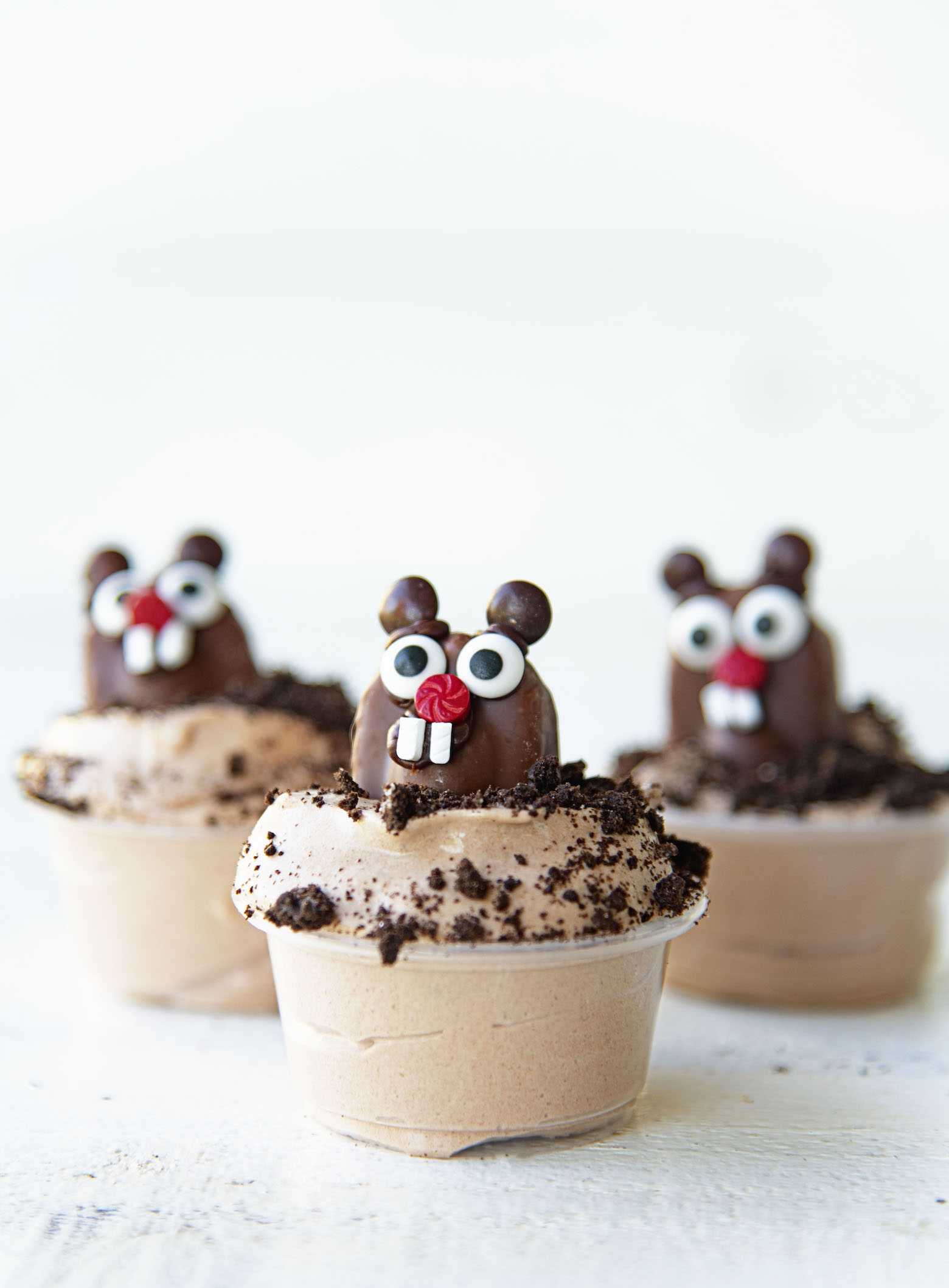 These pudding shots were inspired by Groundhog Day Cupcakes I made back in 2008.
Yes, 14 years ago…my blog is old and so am I. 😀
The cupcakes used a full size Almond Joy and I had to make the eyes back then.
But the principal is the same.
Almond Joy makes miniatures now.
They are smaller than the Fun Size.
You want the minis.
The other ones are just too big for this. I found mine at Target.
Can you make these without booze?
Since these are cute I could see you wanting to make these for your kids.
Which for some reason people frown on getting six year olds drunk. 😛
If you want to make just pudding cups you just have to sub more chocolate milk for the liqueur.
But if you are making these with booze you can just any chocolate liqueur you want.
Or you can do vodka if you want them stronger.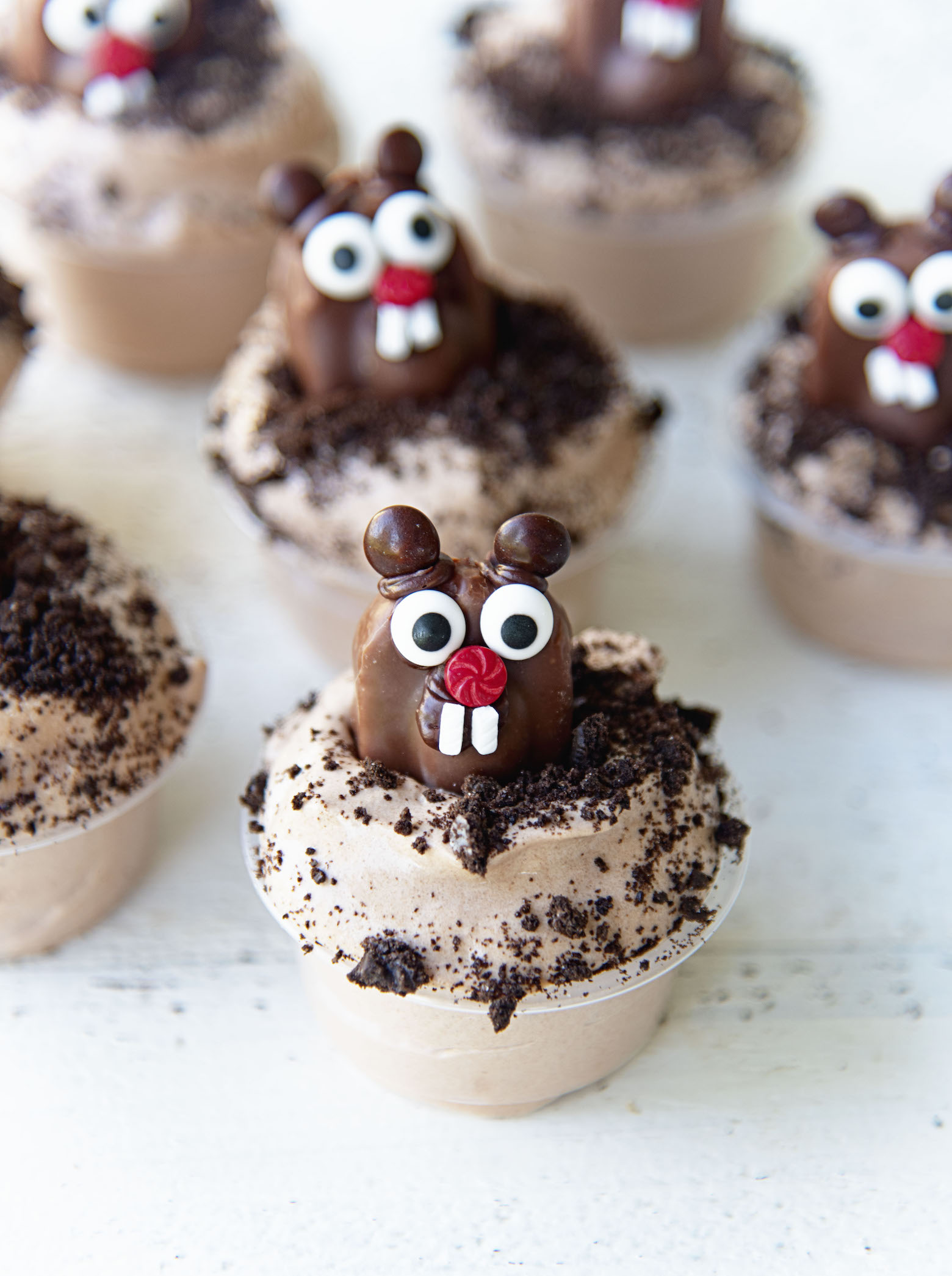 Tips For Making Pudding Shots:
Remember when using any alcohol that is more than 80 proof can make your pudding shots runny.
Most vodkas run at 80 proof and that is usually the highest alcohol content booze I use so you should be fine.
But always good to check.
Don't skip the Cool Whip.
Many people ask can they use whipped cream instead.
Yes, you can.
However, make sure that you do not use the kind out of a can.
That will not hold up.
I've always made mine with Cool Whip just because I feel it holds it shape better in pudding shots.
Be sure to chill them for at least 30 minutes.
While I say to chill them for at least 30 minutes I usually end up chilling them for much longer.
Often I make up the pudding the night before and place it into an airtight container and then scoop the day of the party.
Saves time on the day of the party.
P.S. It's a great day to buy my cookbook Holy Sweet!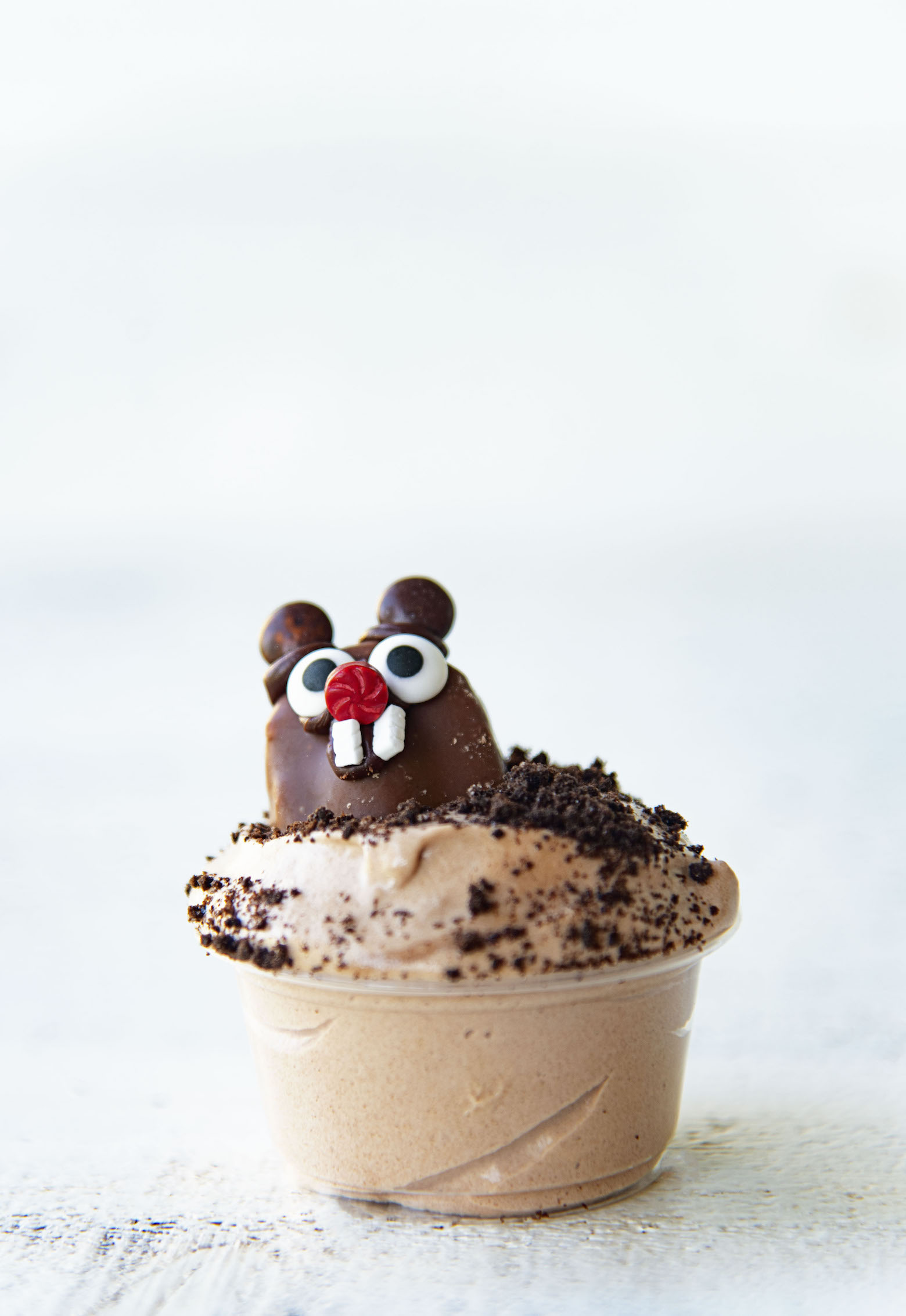 Want More Pudding Shots?
Pineapple Upside Down Cake Pudding Shots
Peppermint White Chocolate Pudding Shots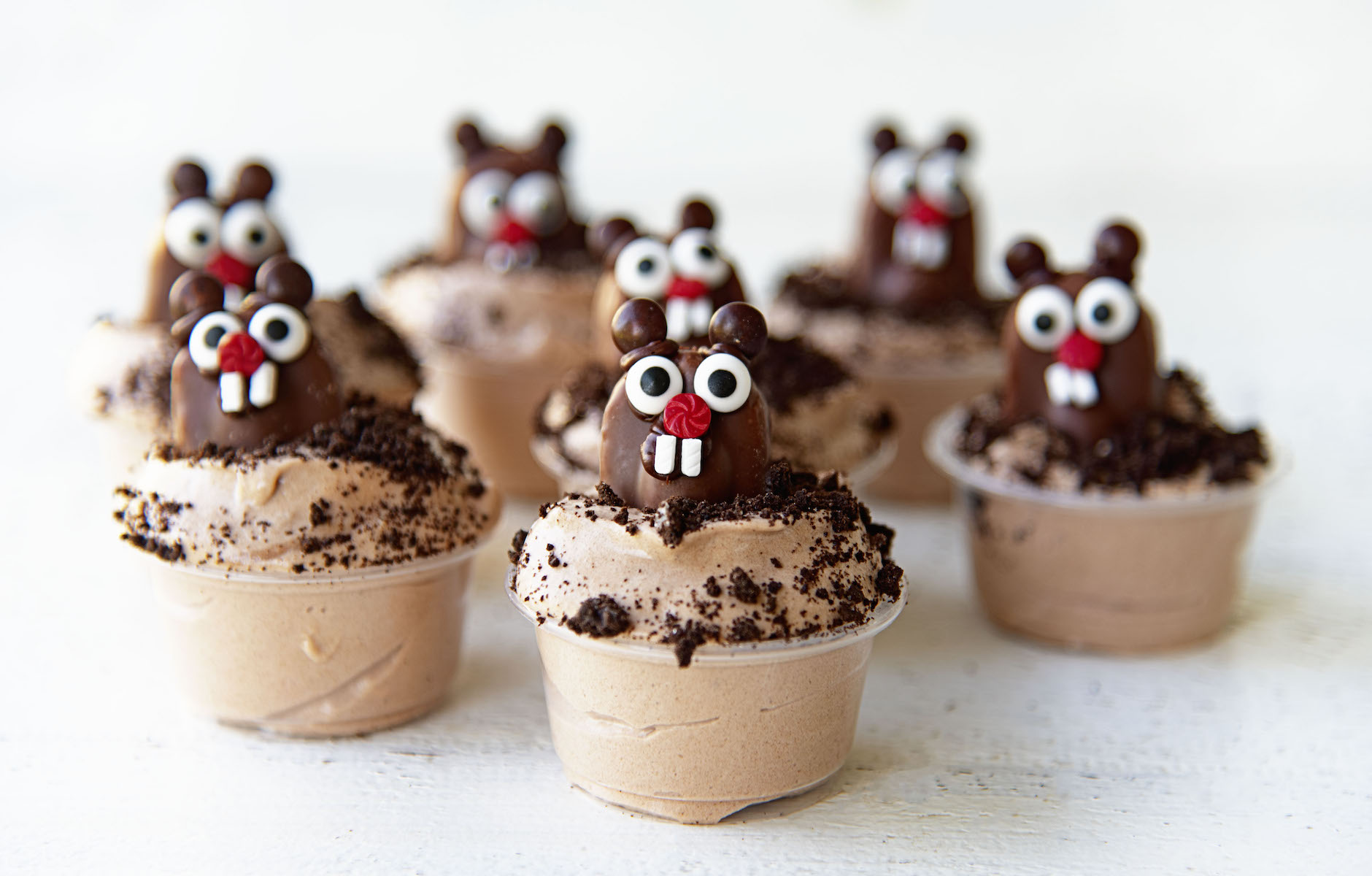 Groundhog Day Pudding Shots
Ingredients
For the Groundhogs:
12 Almond Joy Miniatures
24 brown mini M&M's
12 round red sprinkle for nose
1/3 cup melted chocolate to use to adhere the groundhog pieces
For the Pudding Shots:
1 1/2 cups whole chocolate milk
3.4 oz Sonic Instant Chocolate Shake Pudding or any instant chocolate pudding
1/2 cup Chocolate Liqueur
4 oz Cool Whip (thawed)
crushed Oreo crumbs to resemble dirt
Instructions
For the Groundhogs:
Unwrap the Almond Joys if you haven't yet.
Place melted chocolate into a piping bag.
Pipe a little chocolate dot behind each eyeball and place them onto the Almond Joy bar.
Pipe a little chocolate dot on the back of the round red sprinkle and place below the eyes as this is the nose.
Pipe a little chocolate dot onto the Almond Joy just below the red nose and place two of the white candy "teeth".
Pipe two chocolate dots on top of the groundhog head and place a brown mini M&M as ears.
Set aside to firm up.
Repeat for the remaining groundhogs.
For the Pudding Shots:
In a large mixing bowl, whisk together the chocolate milk, pudding mix, and chocolate liqueur.
Whisk together until it starts to get thick, about 3 minutes.
Fold in the thawed Cool Whip.
Then whisk until smooth.
Cover the bowl with plastic wrap and place in fridge for at least 30 minutes.
Scoop pudding into shot glasses and garnish with Oreo cookie crumbs.
Carefully place the groundhog in the middle of the pudding shot and serve.