These Groundhog Day Cupcakes are a super fun way to celebrate and make with your kids. You won't care if there is six more weeks of winter.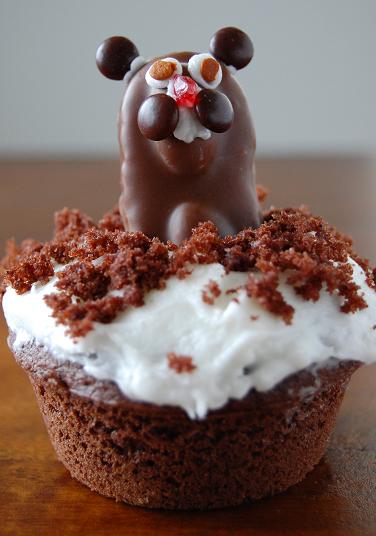 Somehow I blinked and missed the month of January.
Seriously, how can it be February? \My mother was right (did I just say that?), the older you get the faster time goes.
I remember asking my mother when I was somewhere in my mid-teens(we will go with 15 for argument sake) if she felt as old as she was (no I was not trying to be a smart ass)?
She told me that though she was in her 40's, inside she felt like she was 20.
I smiled at her like the dumb, know-it-all teenager that I was…but now I know that yet again, she was right (grrr).
If it were not for the extra aches and pains that seem to accumulate every year, the wrinkles around my eyes and the random stray gray hair that grows out of nowhere…I too still feel young.
Oh now I am not old, this I know so let us not point it out to me, however I am much older than the giggling 13 year olds that sat in front of me at the movie today.
And yet, in many ways I am the giggling teenager, heck, maybe even younger.
I still buy Hello Kitty stickers (just got some yesterday).
Run after the ice cream man.
If I am up early enough, I eat my cereal while watching Sesame Street.
I get highly amused by watching my Slinky go down the stairs in my home.
And I still celebrate my favorite holiday, Groundhog Day, the same way.
Yes, you read that right, Groundhog Day is my favorite holiday.
It beats out Christmas (though not by all that much) and is followed by Flag Day and Arbor Day…for real.
I guess you could say that I am for the underdog…or underground critter in this case.
As a child I was always so upset that no one seemed to care about the groundhog, other than to bitch that there was 6 more weeks of winter.
Why even have the holiday on the calendar if no one is going to celebrate it I thought?
And so celebrate it I do.
It's the holiday that I get the most phone calls for.
People send me cards.
When I was younger I would get gifts.
My husband and I are actually planning to go to Punxsutawney to see Phil in person before I turn 40…it's one of my goals.
The day starts off by eating a chocolate sprinkle doughnuts (speaking of that….have you made your doughnuts?) for breakfast.
Then either for lunch or dinner I have Chinese food.
And then usually a movie of my choice.
But always a doughnut and Chinese food.
Not that exciting…but it's a tradition started when I was a kid. 🙂
I have groundhog puppets and stuffed animals.
Groundhog cards and cut outs.
If it has a ground hog on it someone sends it to me.
So when my friend B sent me a link to a website with a groundhog day cupcake…I KNEW I had to make it.
So in between my doughnut eating and Chinese food I found time to whip these up.
Of course the only problem is, I feel a little guilty eating the groundhog.
The good news for me is that he did see his shadow and there is 6 more weeks of Winter.
Though this makes most people unhappy.
The good news for you is that Phil is hardly ever right.
P.S. It's a great day to buy my cookbook Holy Sweet!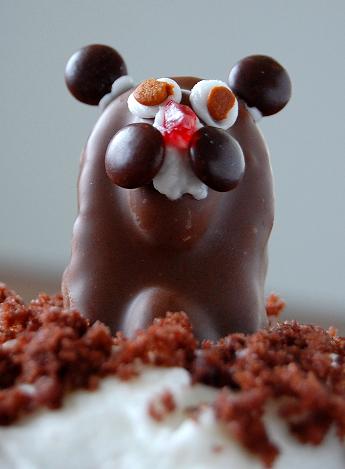 Want more Cupcake ideas?
Dark Chocolate Butterfinger Cupcakes
Strawberry Buttercream Neapolitan Cupcakes
Key Lime Toasted Coconut Cupcakes
Strawberry Malted Milk Cupcakes
Chocolate Glazed Rocky Road Cupcakes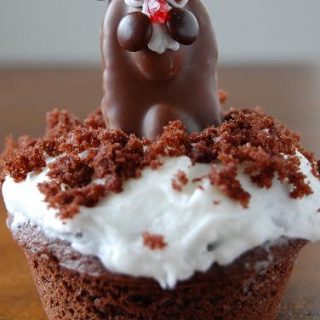 Groundhog Day Cupcakes
Ingredients
Old Fashion Chocolate Cake:
½ cup unsalted butter, at room temperature
2 ¼ cups lightly packed brown sugar
2 tsp pure vanilla extract
3 eggs
3 ounces unsweetend chocolate, melted
2 ¼ cups sifted cake flour
2 tsp baking soda
½ tsp salt
1 cup sour cream
1 cup boiling water
Vanilla Buttercream
1 cup (2 sticks) unsalted butter, at room temperature
6 to 8 cups powdered sugar
1/2 cup milk
2 tsp vanilla extract
Instructions
Preheat oven to 350F.
Place the butter, sugar and vanilla extract in the bowl of a mixer fitted with the paddle attachment and beat on high speed, scraping down the sides of the bowl often, until well blended, about 3 minutes.
With the mixer on low speed., add the eggs, one at a time, scraping down the sides of the bowl and mixing well after each addition.
Continue to beat for 5 minutes, until light and fluffy.
Stop the mixer add the chocolate, and mix well.
Combine the flour, baking soda, and salt.
Add about half of the dry ingredients to the batter, beat on low speed until well blended, and then add about half of the sour cream and beat well.
Add the remaining dry ingredients followed by the remaining sour cream, scraping down the sides of the bowl and beating well after each addition.
Add the boiling water and beat until smooth.
Divide the batter between two greased 9-inch round cake pans and bake until the cake springs back when touched lightly in the center, 30-35 minutes.
Let cool for about 10 minutes, then remove cakes from pan and let cool completely.
For the Frosting:
Place the butter in a large mixing bowl.
Add 4 cups of the sugar and then the milk and vanilla.
On the medium speed of an electric mixer, beat until smooth and creamy, about 3-5 minutes. Gradually add the remaining sugar, 1 cup at a time, beating well after each addition (about 2 minutes), until the icing is thick enough to be of good spreading consistency.
You may not need to add all of the sugar. If desired, add a few drops of food coloring and mix thoroughly.
(Use and store the icing at room temperature because icing will set if chilled.) Icing can be stored in an airtight container for up to 3 days.
These are the directions from the website with the modifications I made in bold:
Step 1:
Remove a piece of cake the width of an Almond Joy candy from the center of a baked cupcake (I decorated the groundhog before I put it in the cupcake). Set the candy upright in the hole, then spread a layer of white frosting on the cupcake.
Step 2:For the groundhog's eyes, trim the ends from a white jelly bean (I just used white frosting), stick them in place with frosting, then dot them with black decorators' gel( I used the head of gingerbread decorations leftover from Christmas).
Add a tiny triangle cut from a watermelon slice candy for a nose ( I used a piece of red peppermint...again leftover from Christmas), brown M&M's Minis for ears and cheeks, and a tiny rectangular piece of white jelly bean for teeth (again, just used frosting).
Sprinkle chocolate cookie crumbs ( I used crumbled cake from an ugly looking cupcake) around the partially emerged groundhog, and he's ready to greet his fans.
Source: Idea from FamilyFun.com