These Bourbon Eggnog Pudding Shots are made with vanilla pudding, eggnog, bourbon, and a splash of fresh nutmeg. Perfect for holiday parties.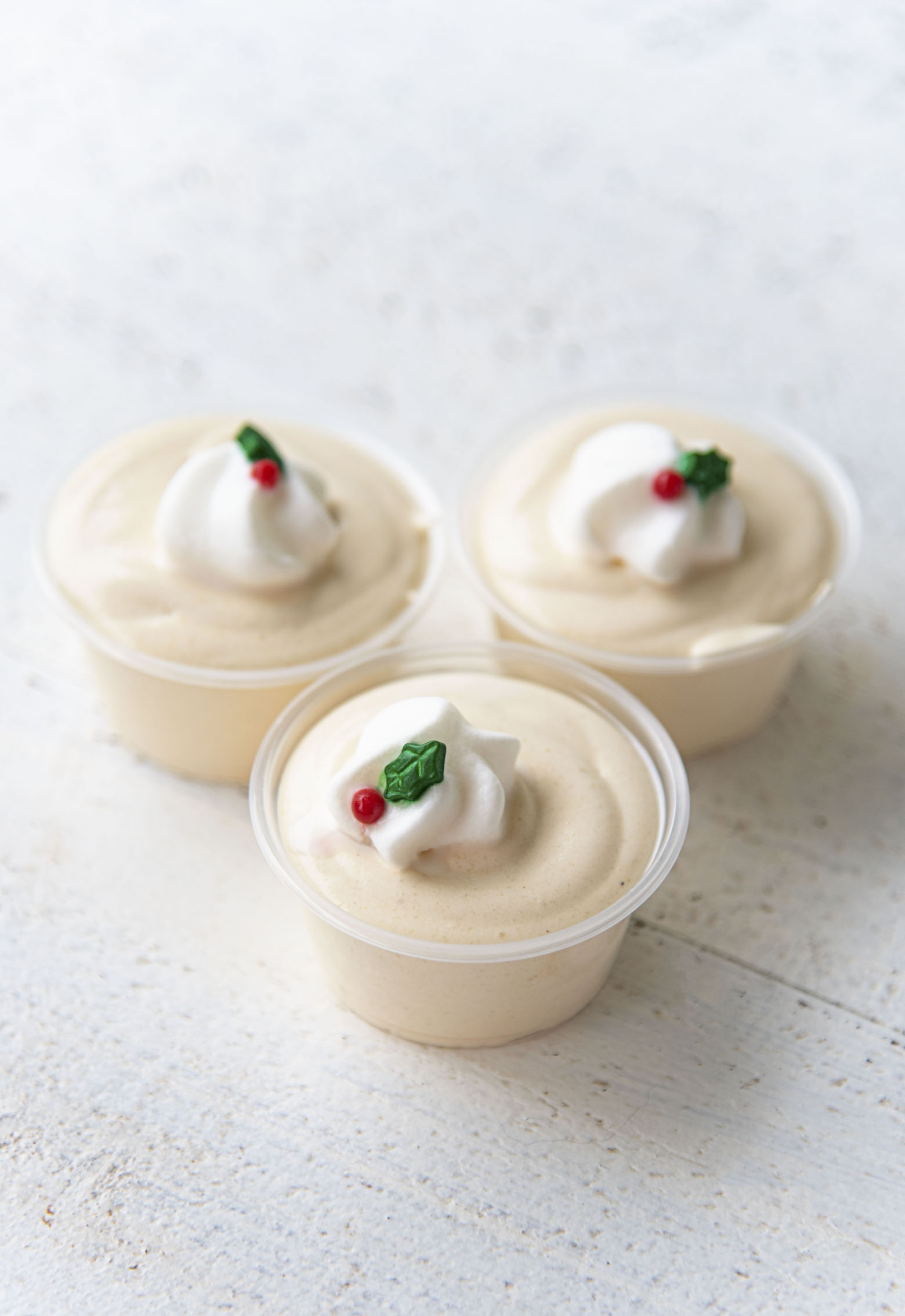 The texture of eggnog is very weird to me.
Which is why, as a beverage, I don't drink it.
But I love to bake with it.
Also, turns out that I like it in Bourbon Eggnog Pudding Shots.
See, my issue with eggnog texture is that it's thick.
But not thick enough.
Example, I don't like runny milkshakes.
They are thick but not thick enough for my taste.
But in pudding?
Pudding is the right thickness and so I found the perfect way to "drink" eggnog.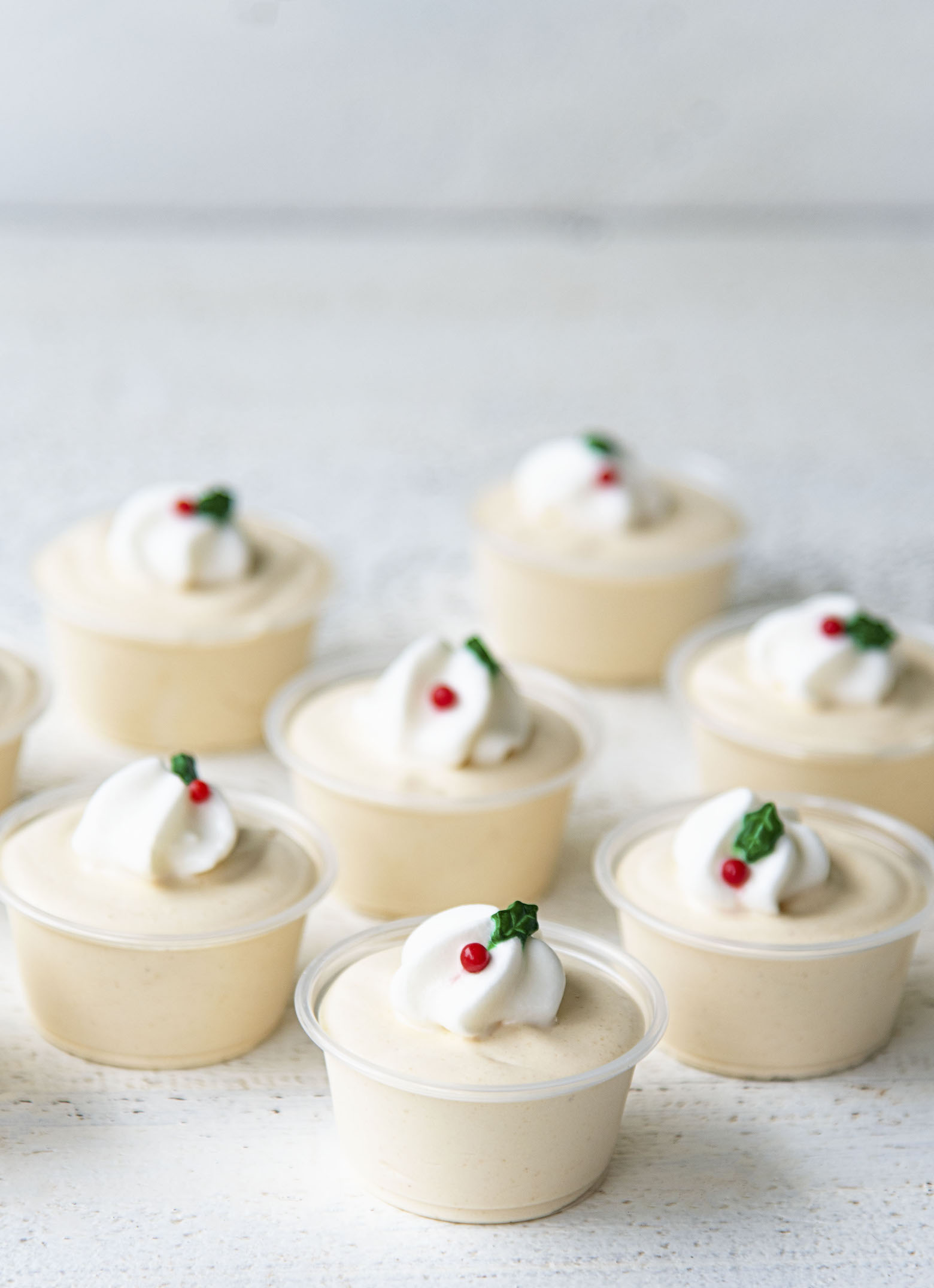 Funny story.
Years ago when I created recipes for a company they put me in charge of jello shots.
Which is why I got good at making them.
Except they were more obsessed with how they looked than how they tasted.
And well, I think they should taste good more than look cute.
See, what I found out was that a lot of the editors of these online sites often have no food background.
The same goes for the PR people a lot of these companies hire.
And so they sometimes ask you to do things that they envision but in reality can't really happen.
Like the time they wanted me to frost a cake with marshmallow fluff.
Now, anyone who bakes is laughing right now because they know that's insane and that the marshmallow fluff would rip the cake right up.
But the editor had seen a Martha Stewart cake that used marshmallow meringue frosting and decided that was the same as marshmallow fluff.
I went round and round with her about how that would not work.
I finally told her to bake a box cake and give it a try.
Which she did.
And of course it went horrible.
Yet, she still wanted me to "make it work".
So I had to end up melting the marshmallow fluff and pouring it over the cake.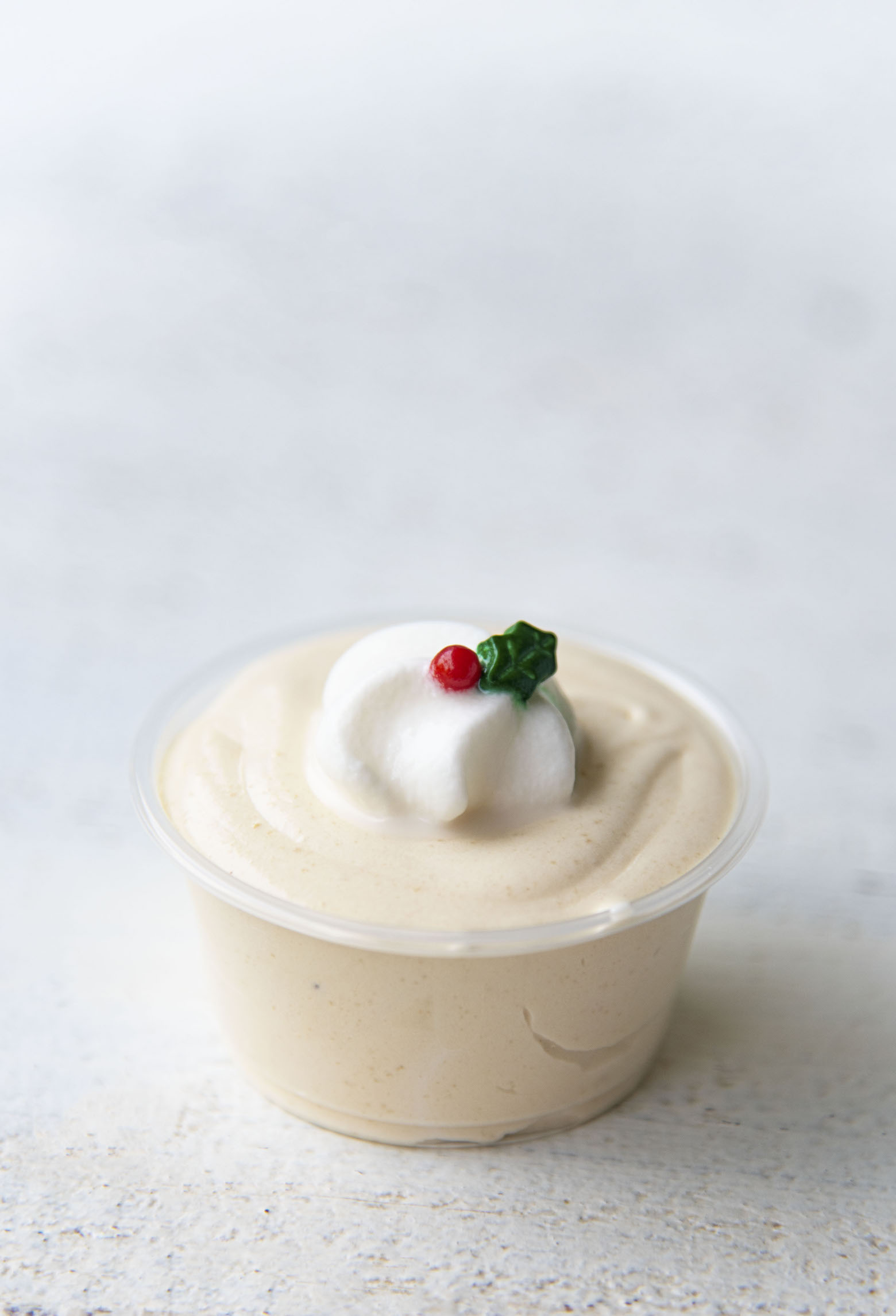 And then there was the time they asked me to make eggnog jello shots.
Which sounded dreadful to me.
They were in my opinion.
I asked them if there was to be eggnog in them and they said of course.
And so I made eggnog jello shots with eggnog in them.
The editor team came back and told me to remake them as they did not look how they envisioned them to be.
So I said, okay, how do you envision them.
Clear.
They assumed they would be see through.
Because none of them had ever actually had eggnog before.
I explained how that could not happen if there was to be eggnog in the shot.
To which I was told I wasn't getting paid if I didn't do what they wanted.
So I informed them fine, but not until they went and bought eggnog, poured it into a glass, held it up to a light, and came back and told me how to make it see through.
That one I won.
And they kept the eggnog jello shot opaque.
I didn't last long at that job because they were ridiculous. 🙂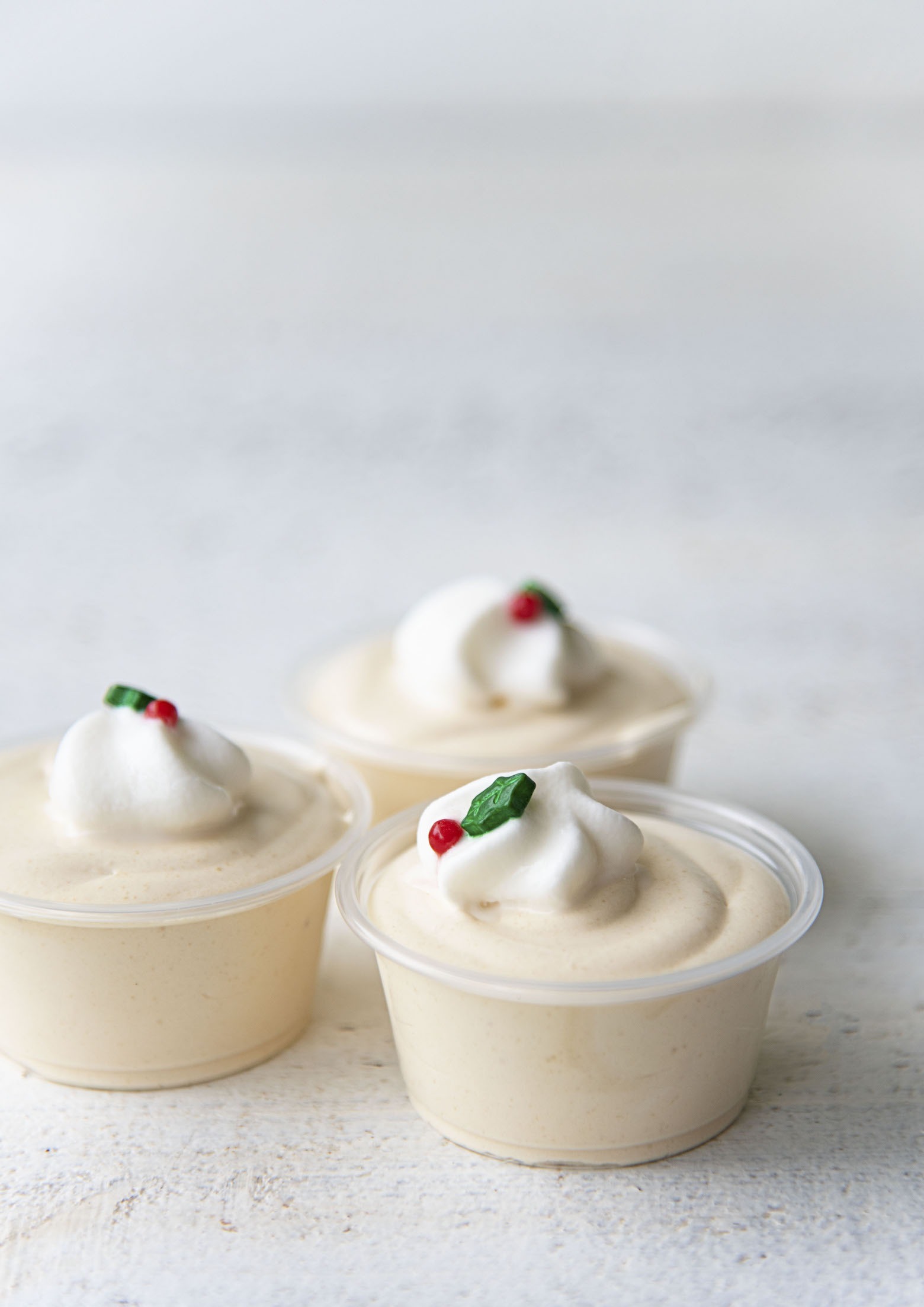 So don't make eggnog jello shots.
Make pudding shots instead.
These actually taste yummy.
And with the holiday sprinkles, somewhat festive.
P.S. It's a great day to buy my cookbook Holy Sweet!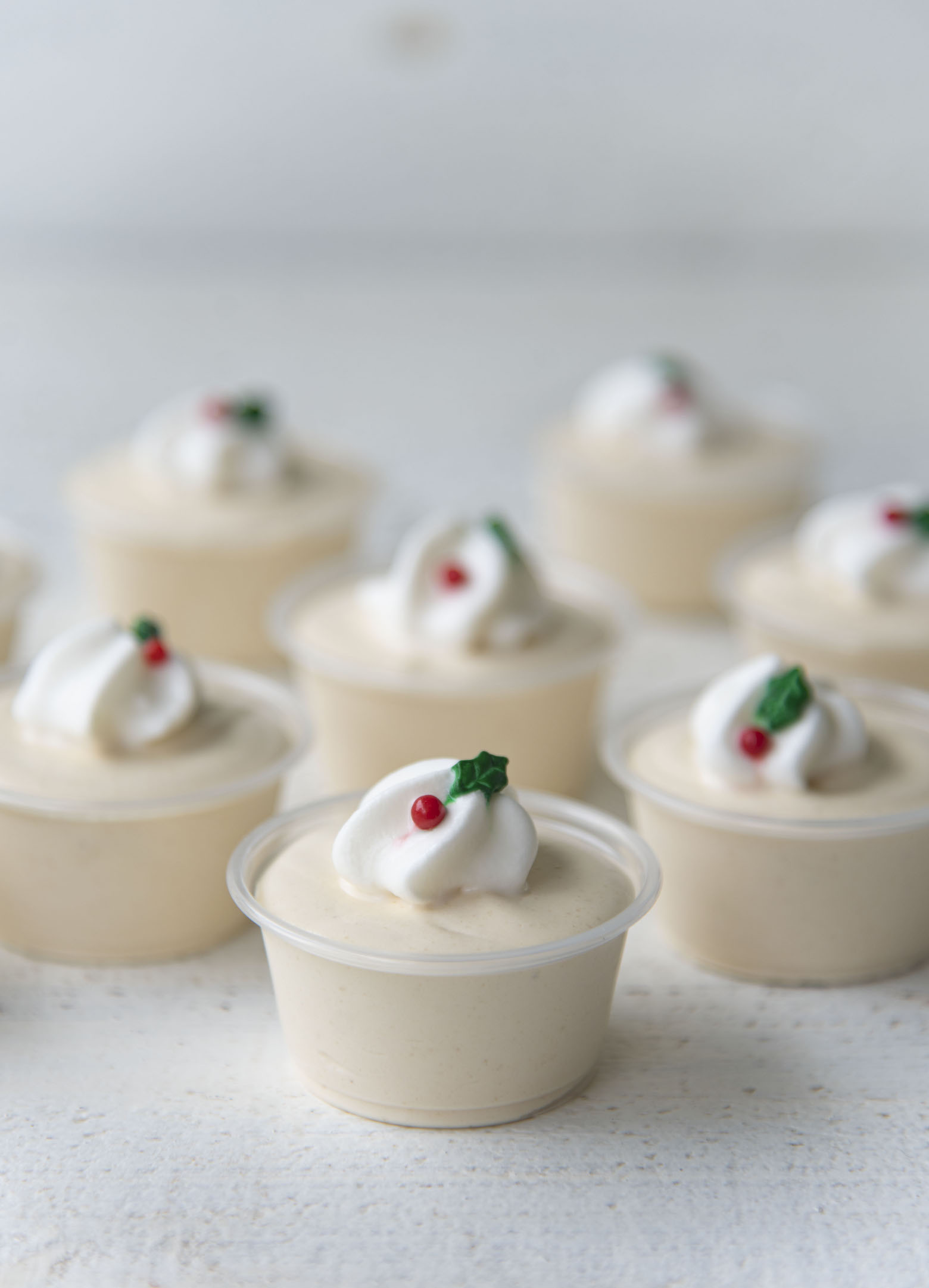 Want More Pudding Shots?
Circus Animal Cookie Pudding Shots
Drumstick Ice Cream Pudding Shots
Pineapple Upside Down Cake Pudding Shots
Chocolate Frosty Pudding Shots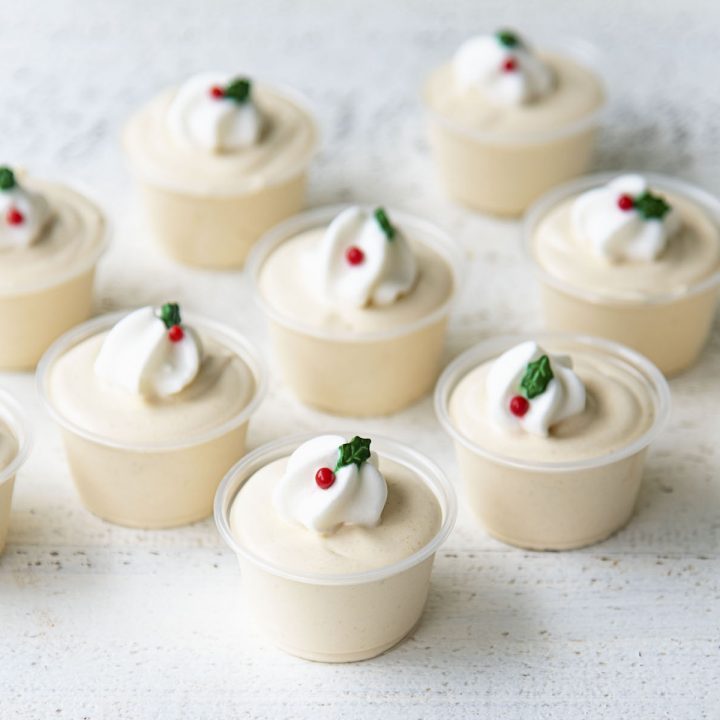 Bourbon Eggnog Pudding Shots
Ingredients
3.4 oz instant vanilla pudding mix
1 1/2 cups Eggnog
1/2 cup bourbon
1/4 tsp freshly ground nutmeg
4 oz Cool Whip (thawed)
whipped cream for garnish
Instructions
In a large mixing bowl, whisk together the vanilla pudding mix, eggnog, and bourbon.
Whisk together until it starts to get thick, about 3 minutes.
Whisk in the fresh nutmeg and mix until fully incorporated into the pudding.
Fold in the thawed Cool Whip.
Then whisk until smooth.
Cover the bowl with plastic wrap and place in fridge for at least 30 minutes.
Evenly divide the pudding between shot glasses.
Place in fridge for 3 hours.
Top with whipped cream and holiday sprinkles if desired. .