These Mini Chick'n and Waffles are super easy to make and are a fun appetizer to have at a party or brunch for your vegetarian friends.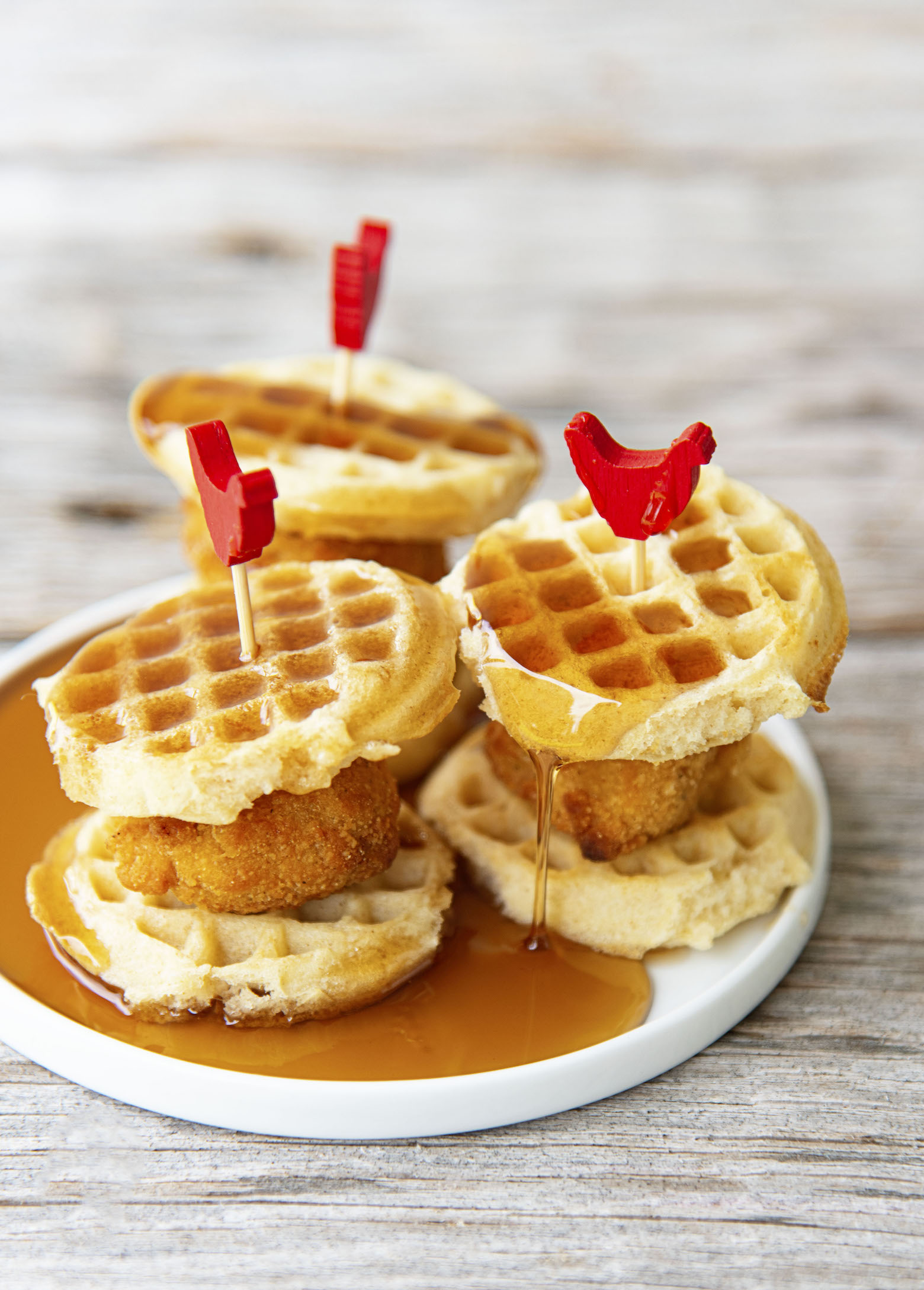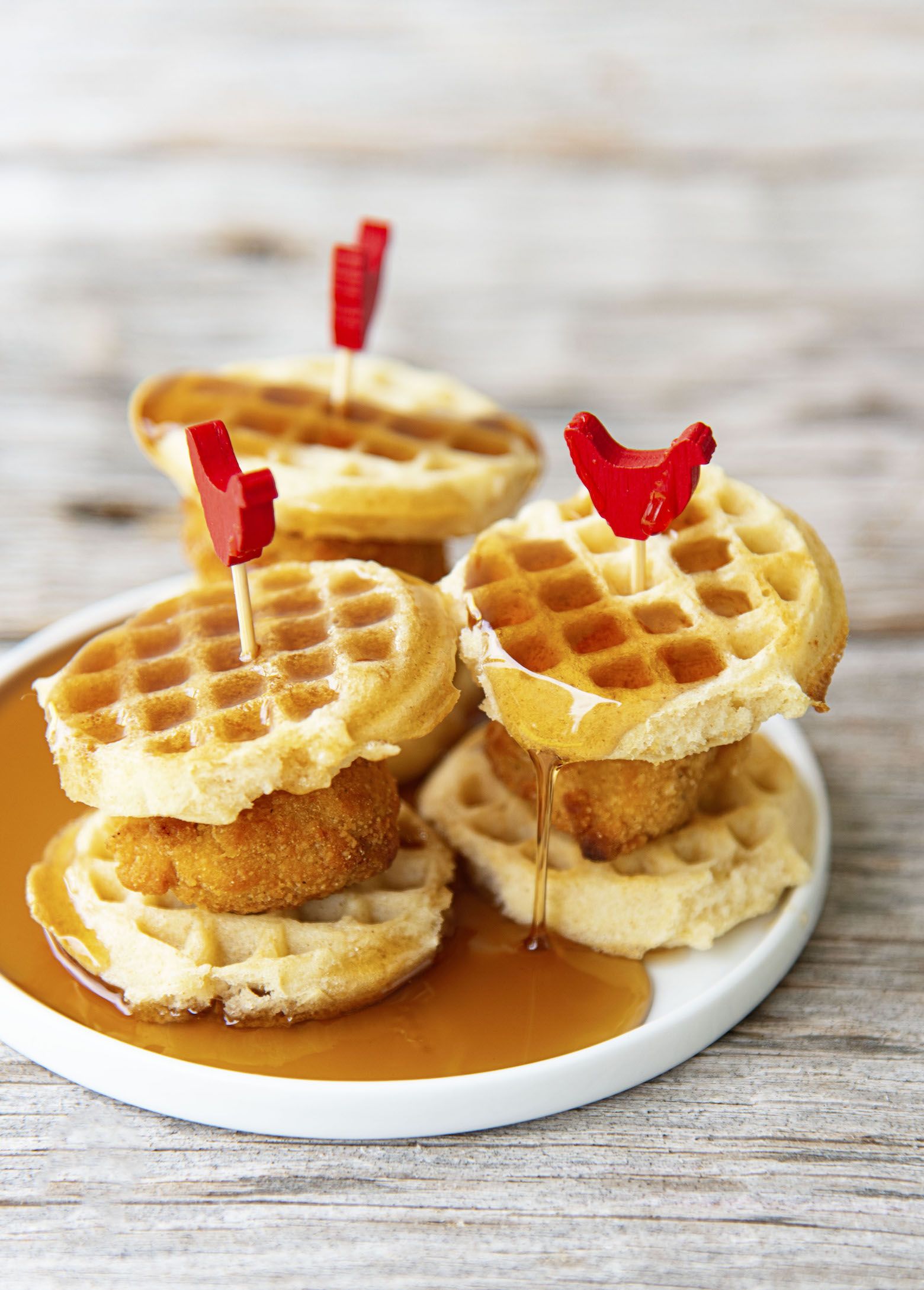 These Mini Chick'n and Waffles are the vegetarian take on chicken and waffles just in time for the holiday party season.
And they aren't so much a recipe as an idea.
Because when you have vegetarians come over to your house to eat a lot of people panic.
My mom sure does.
And they aren't sure what to serve the non-meat eaters.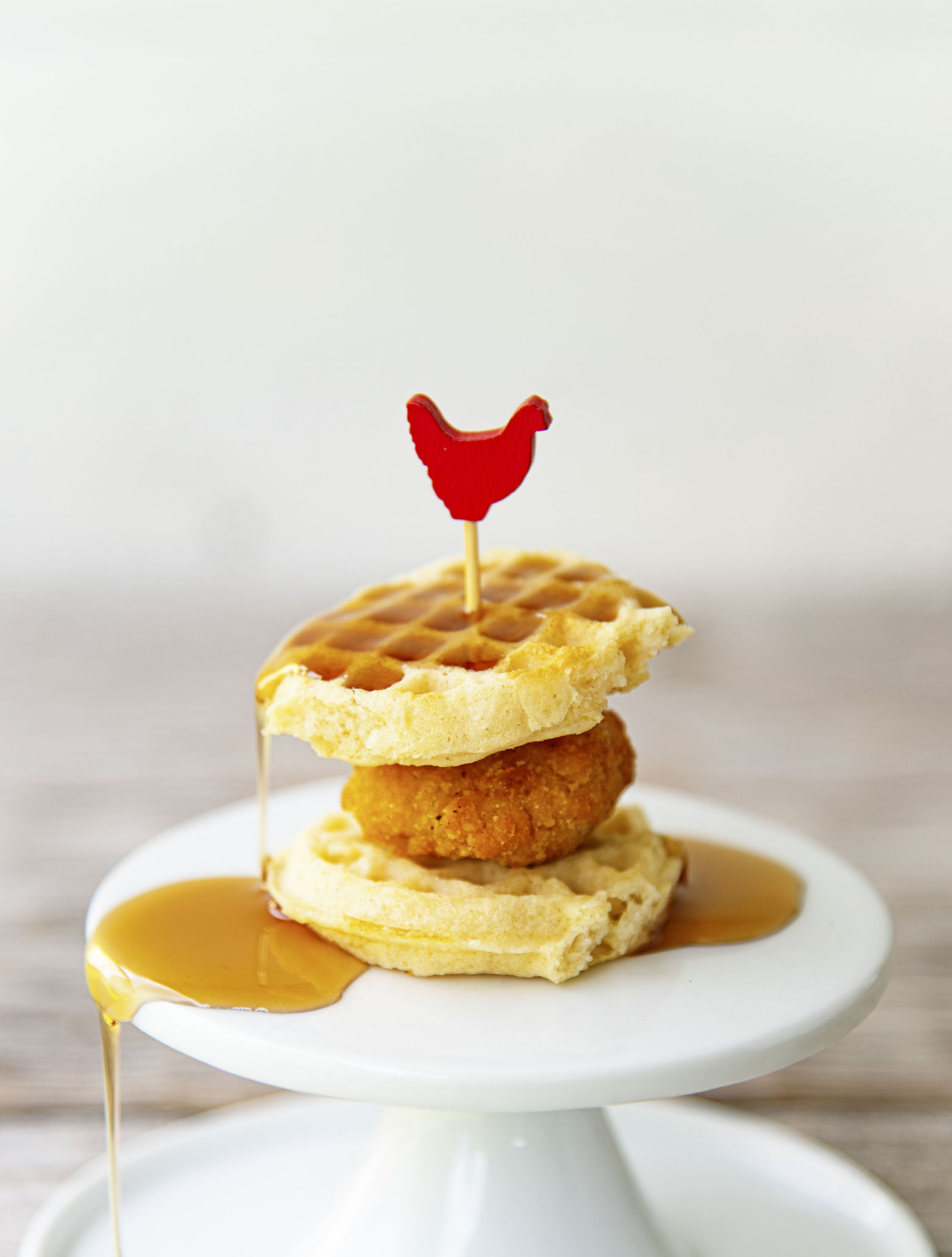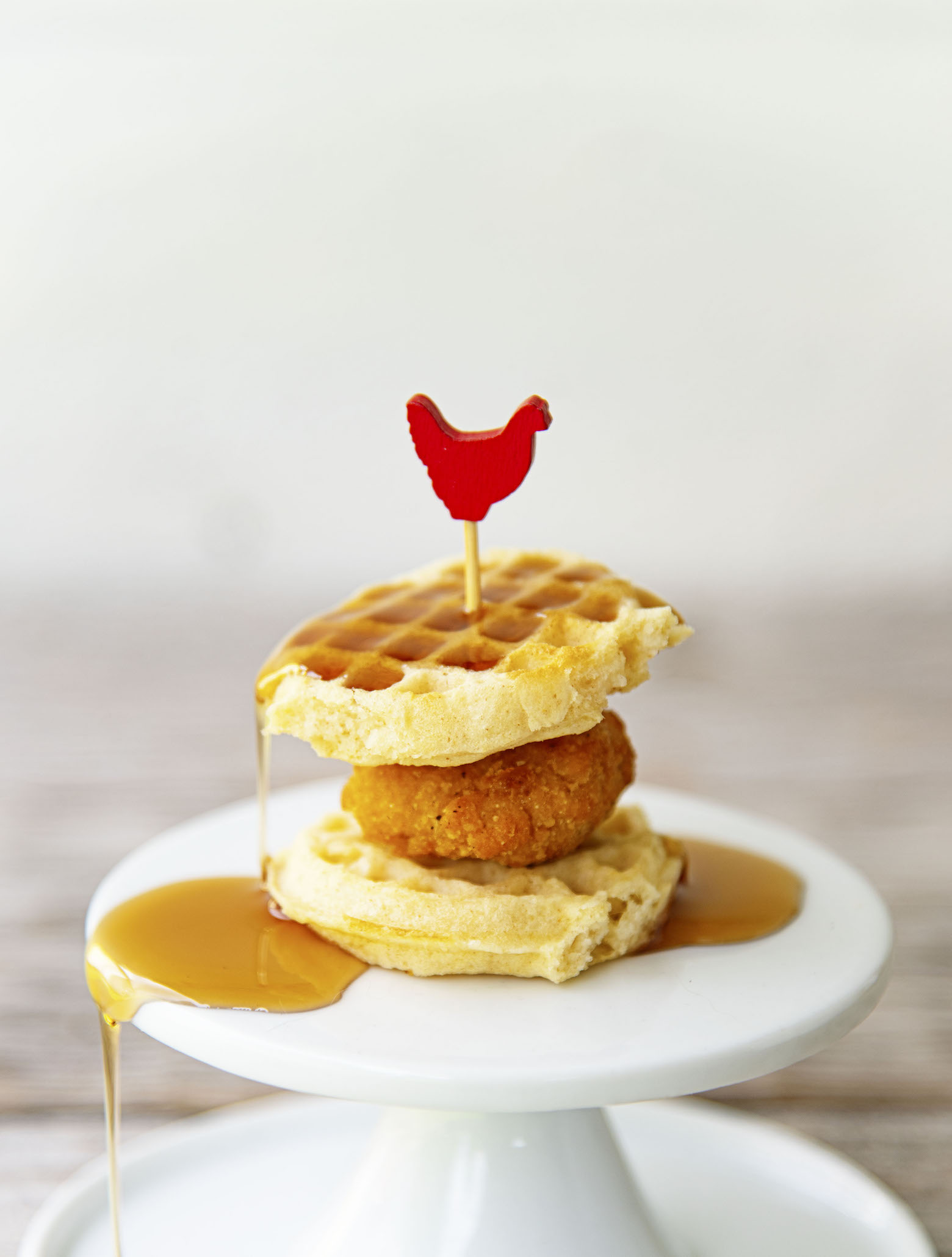 So we end up eating a veggie tray, hummus, and caprese salad at almost every gathering.
While tasty, and we do appreciate having an option to eat something, a little more variety is always nice.
And so I'm offering up an idea for you.
I think some of the issue is that people don't realize what is out there these days.
I've been a vegetarian off and on most of my life.
And previously it could never stick because a lot of the meat and cheese substitutes sucked.
Sucked.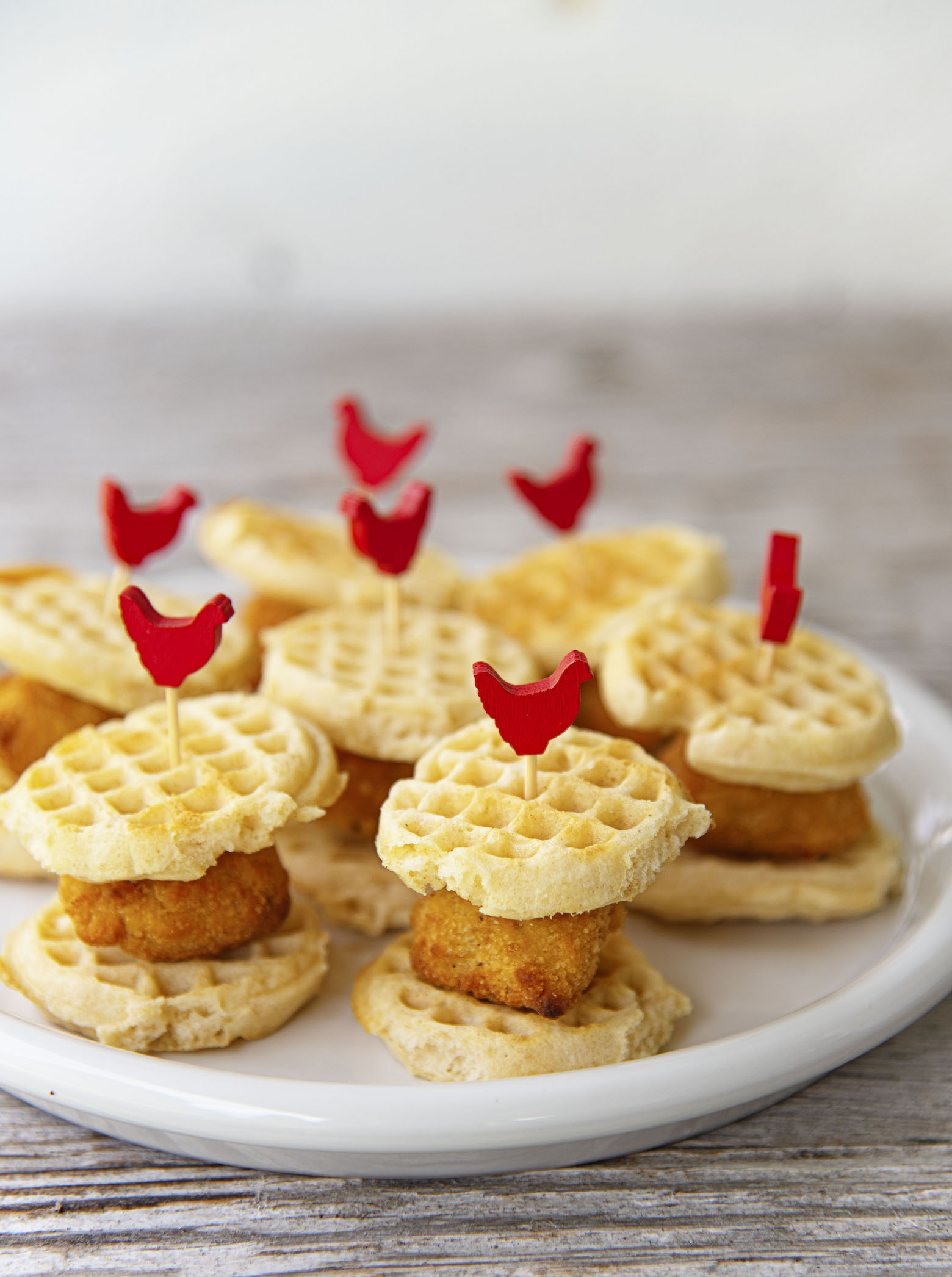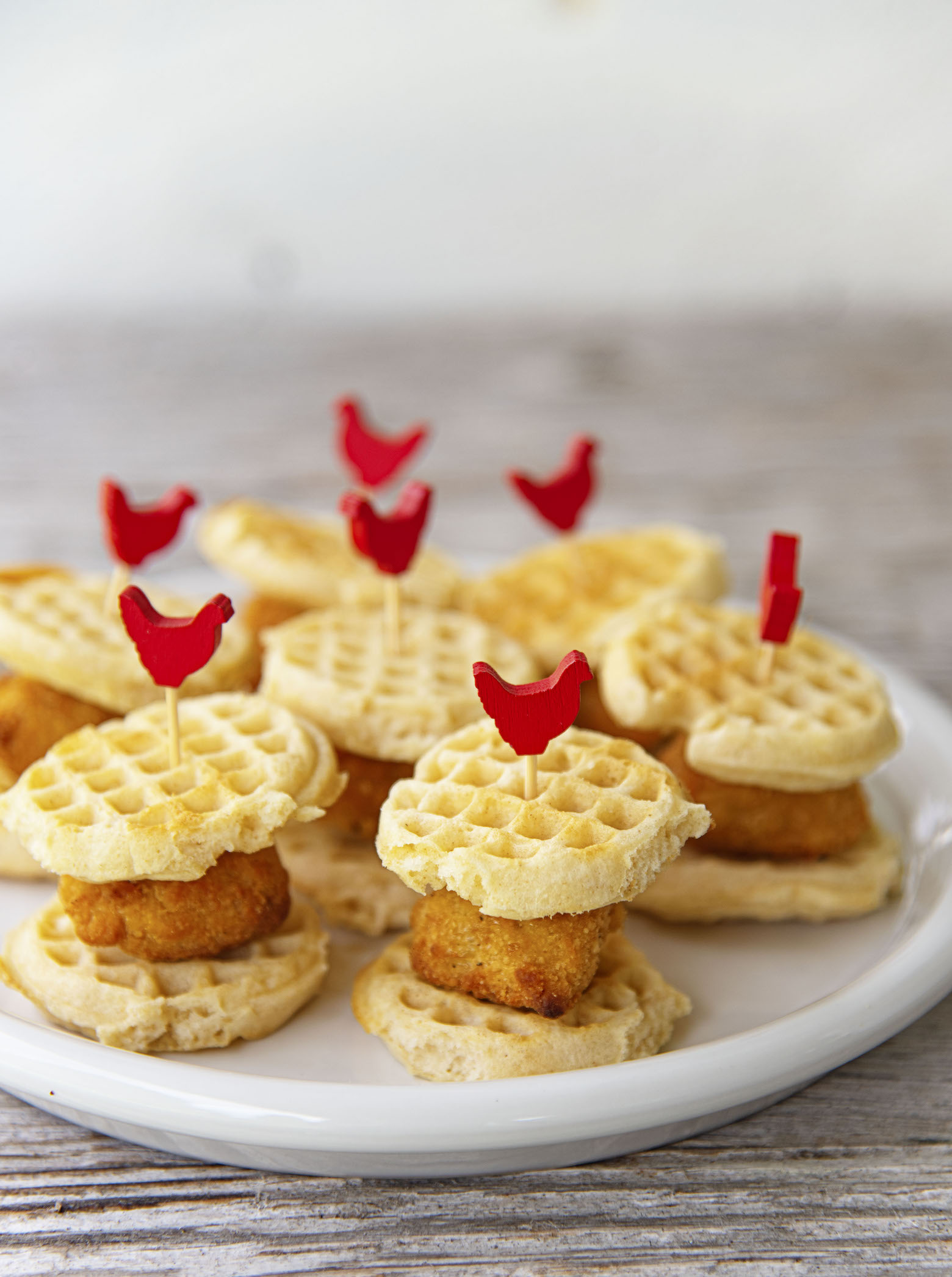 Some still do suck.
But as the demand to eat plant based has increased exponentially and therefore money was put into creating decent tasting items.
For the record I still eat dairy so I mostly look for meat alternatives.
But they are finally making some vegan cheeses that taste good too.
I just wish they didn't cost $9 for 4 ounces.
Then again with all the supply and demand issues right now everything cost $9 for 4 ounces.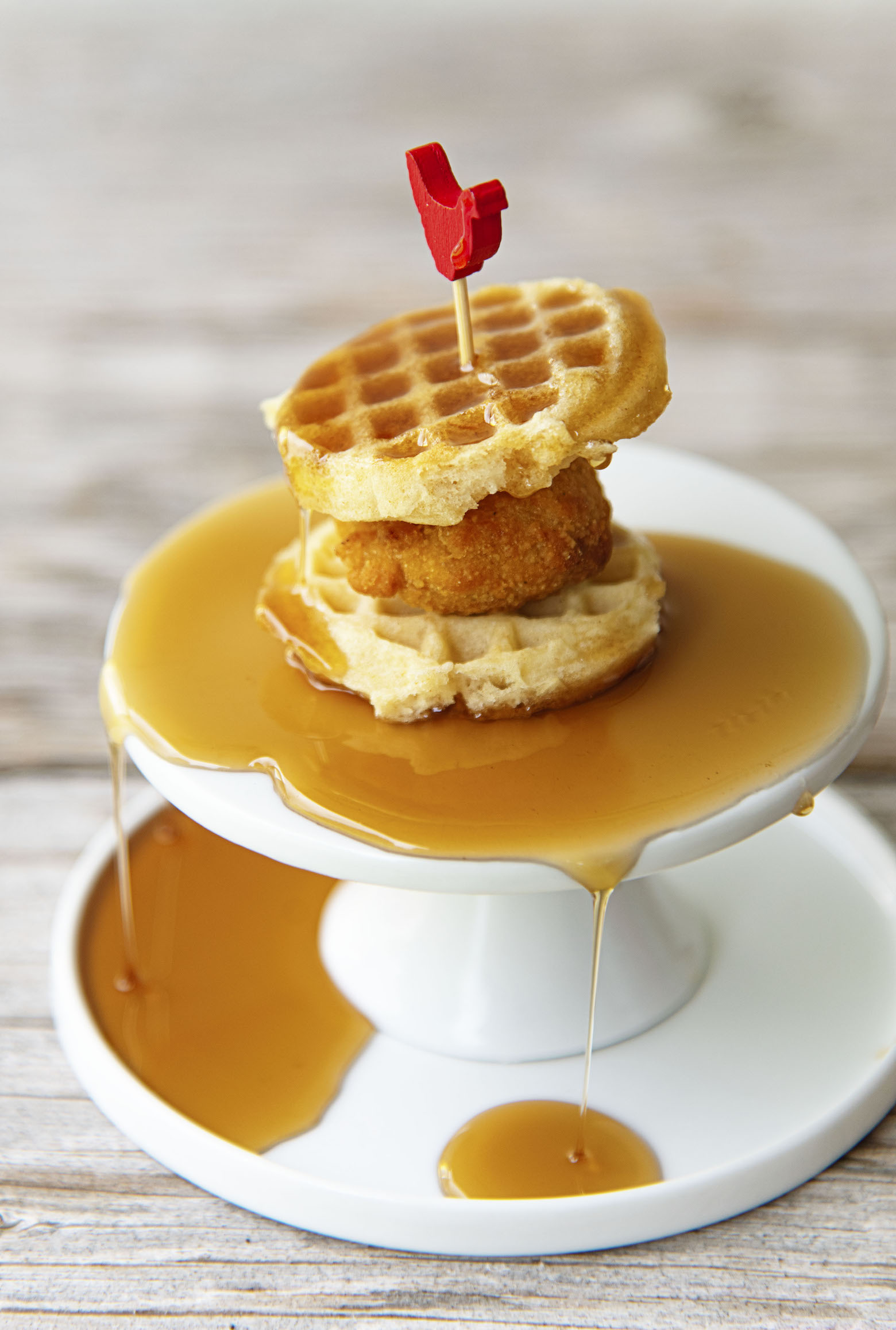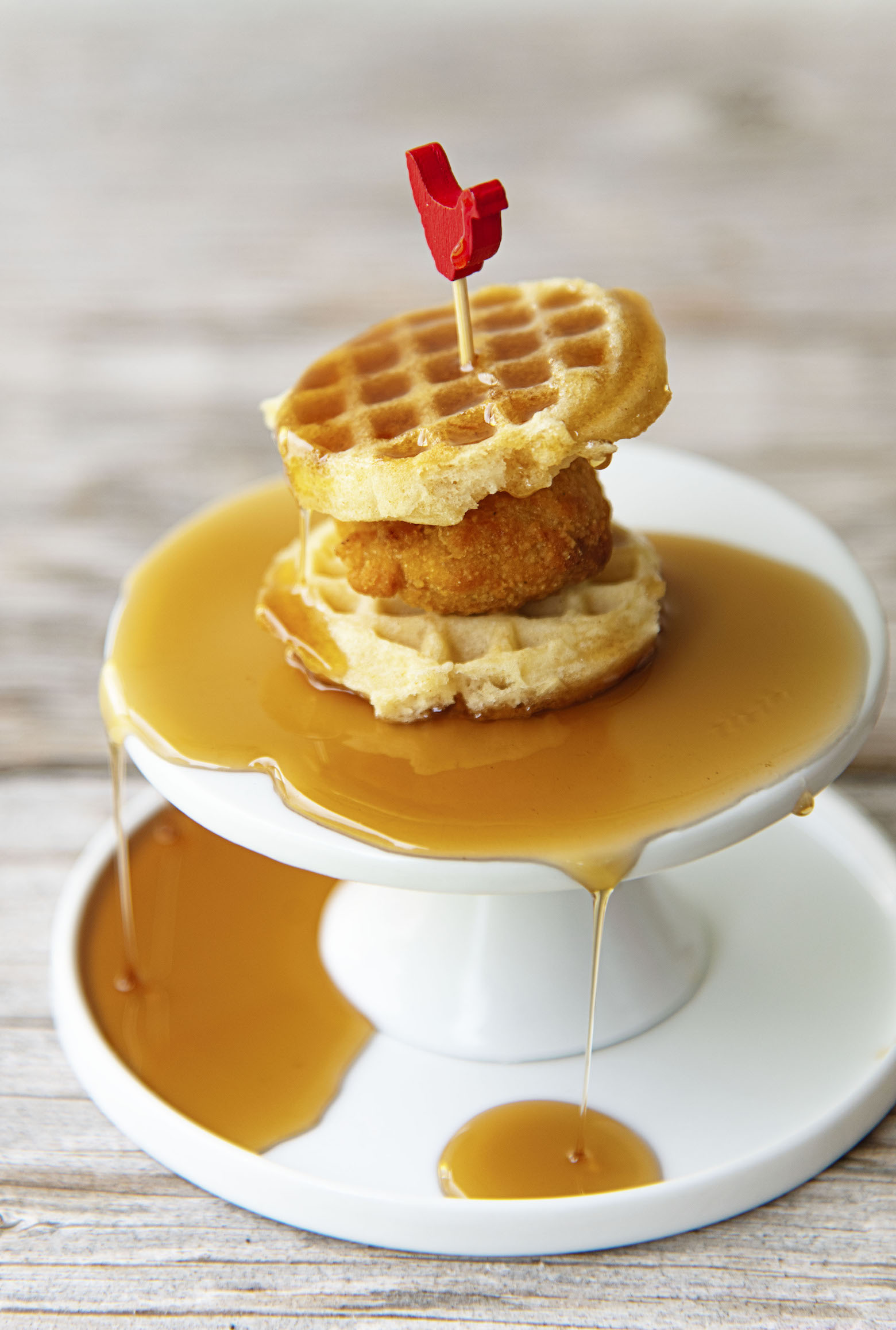 One area they have made a lot of progress in is fake chicken.
Back in the day the only alternative was black bean burgers.
Which I can't eat because they are spicy and I'm allergic to capsaicin.
They had Morning Star Chicken Patties which to this day I still eat.
But the fake chicken nuggets and a patty for a sandwich were lacking.
Then Gardein (not a sponsored post) started making Ultimate Plant Based Chick'n nuggets, tenders and fillets.
And man oh man did that open up a world for me and my husband.
I eat more fake chicken than I ever did real chicken. 🙂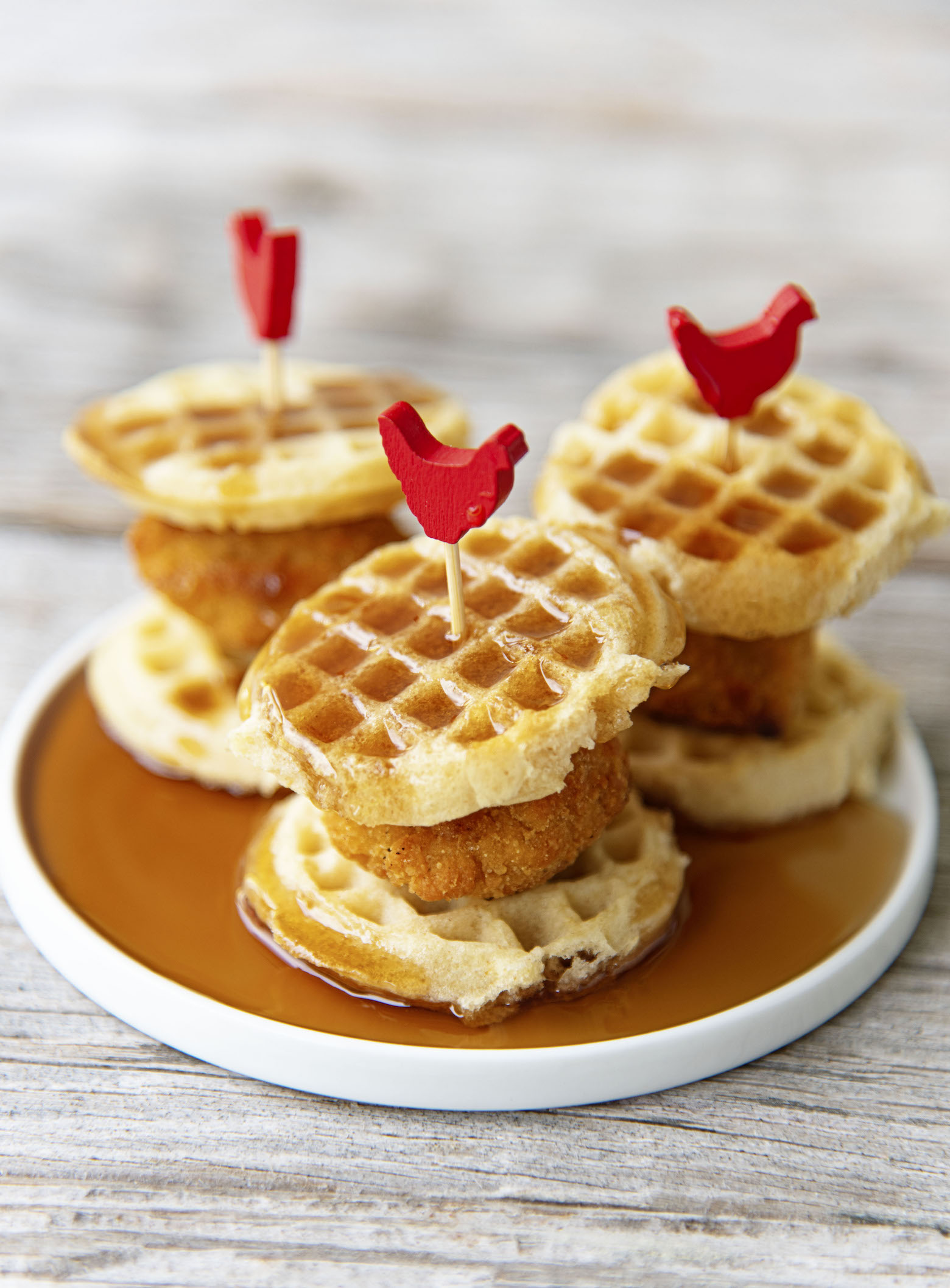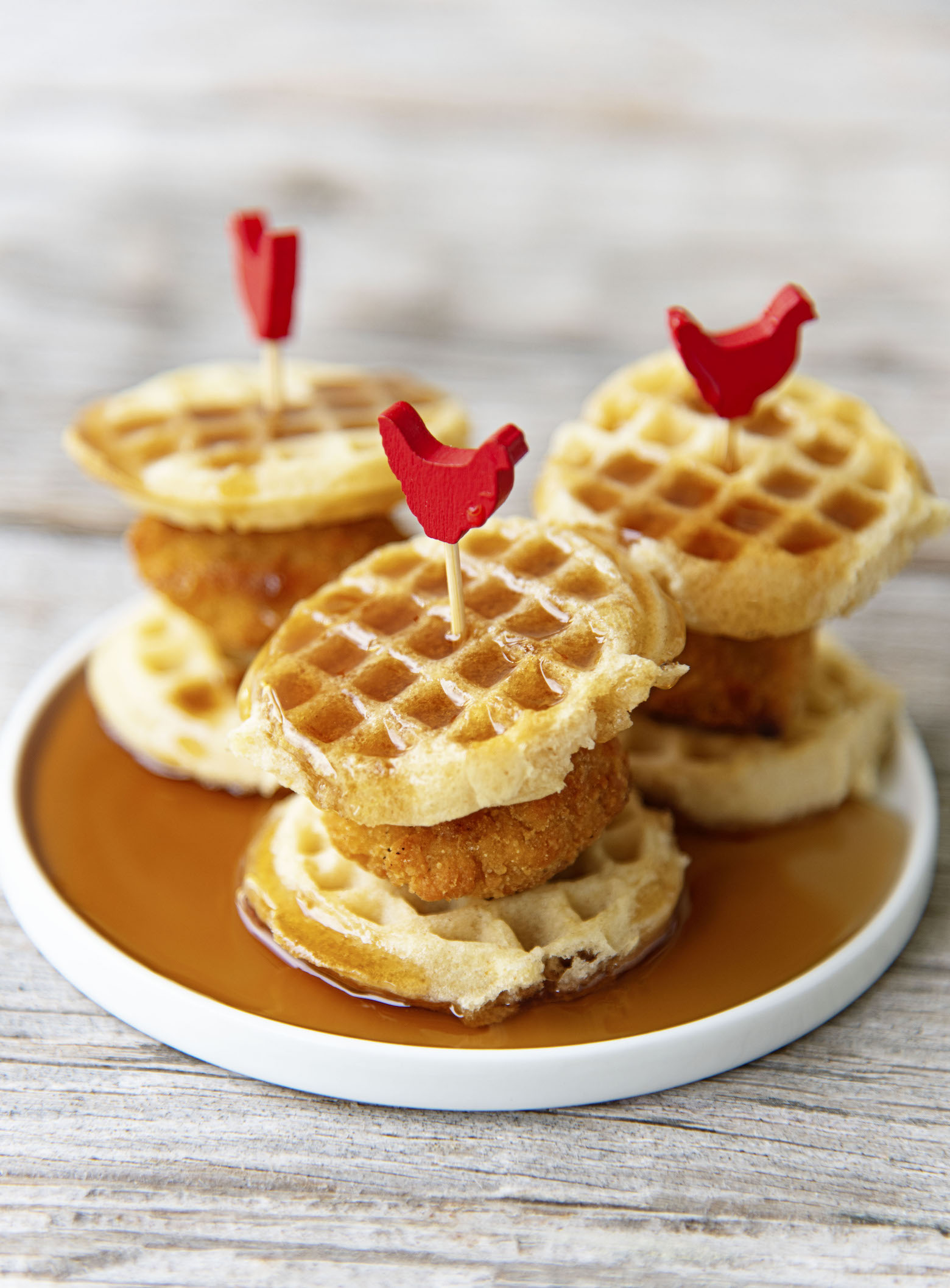 So when I saw on Pinterest an appetizer of mini chicken and waffles I thought I could so easily make that vegetarian.
And my vegetarian friends would totally be excited to see these on a buffet table.
I know I would.
And I know my husband would.
I also suggest making these with chicken nuggets for the meat eaters too.
Because if I saw these I would want them no matter what I chose to eat.
Just make sure to label them. 🙂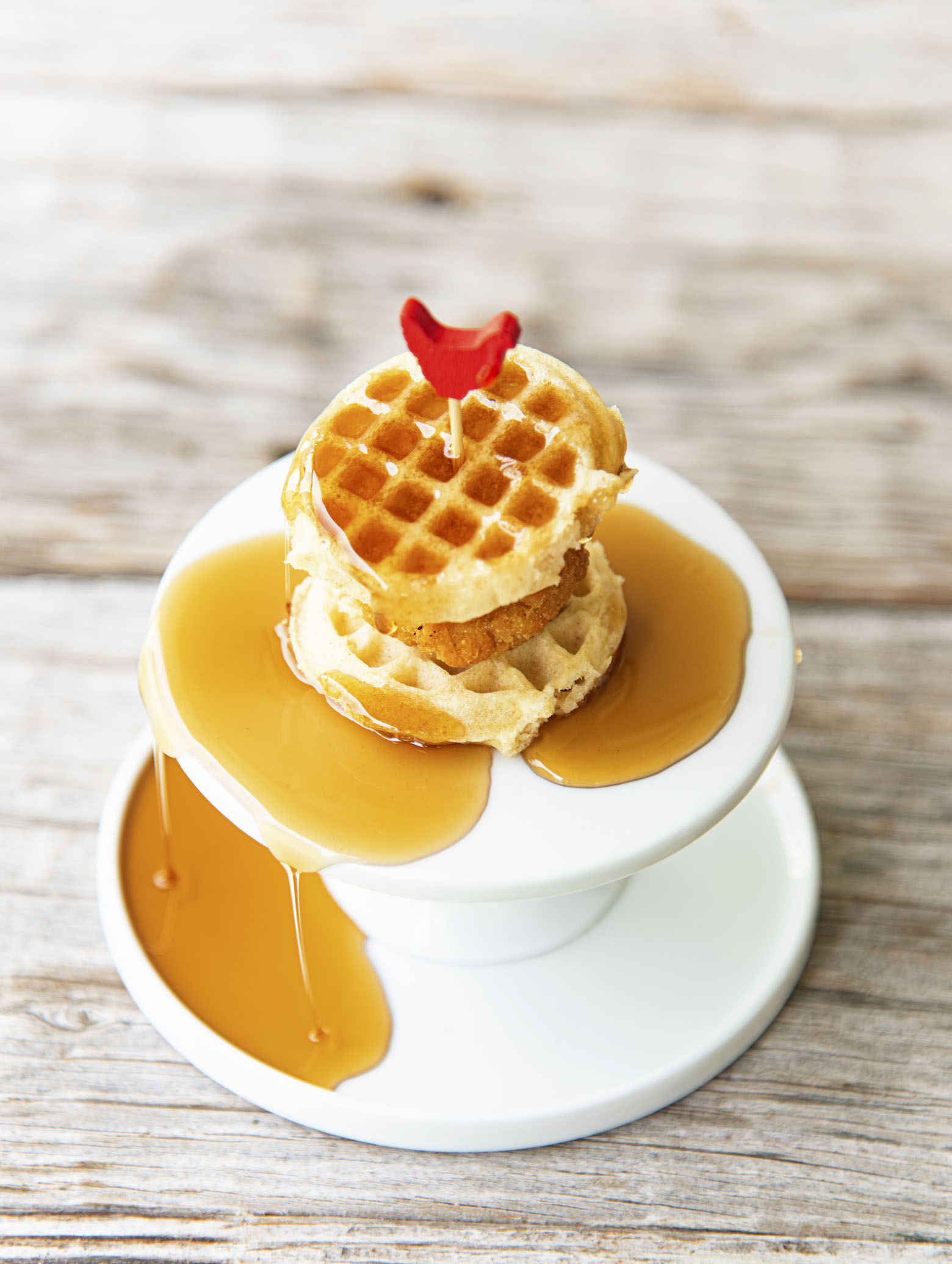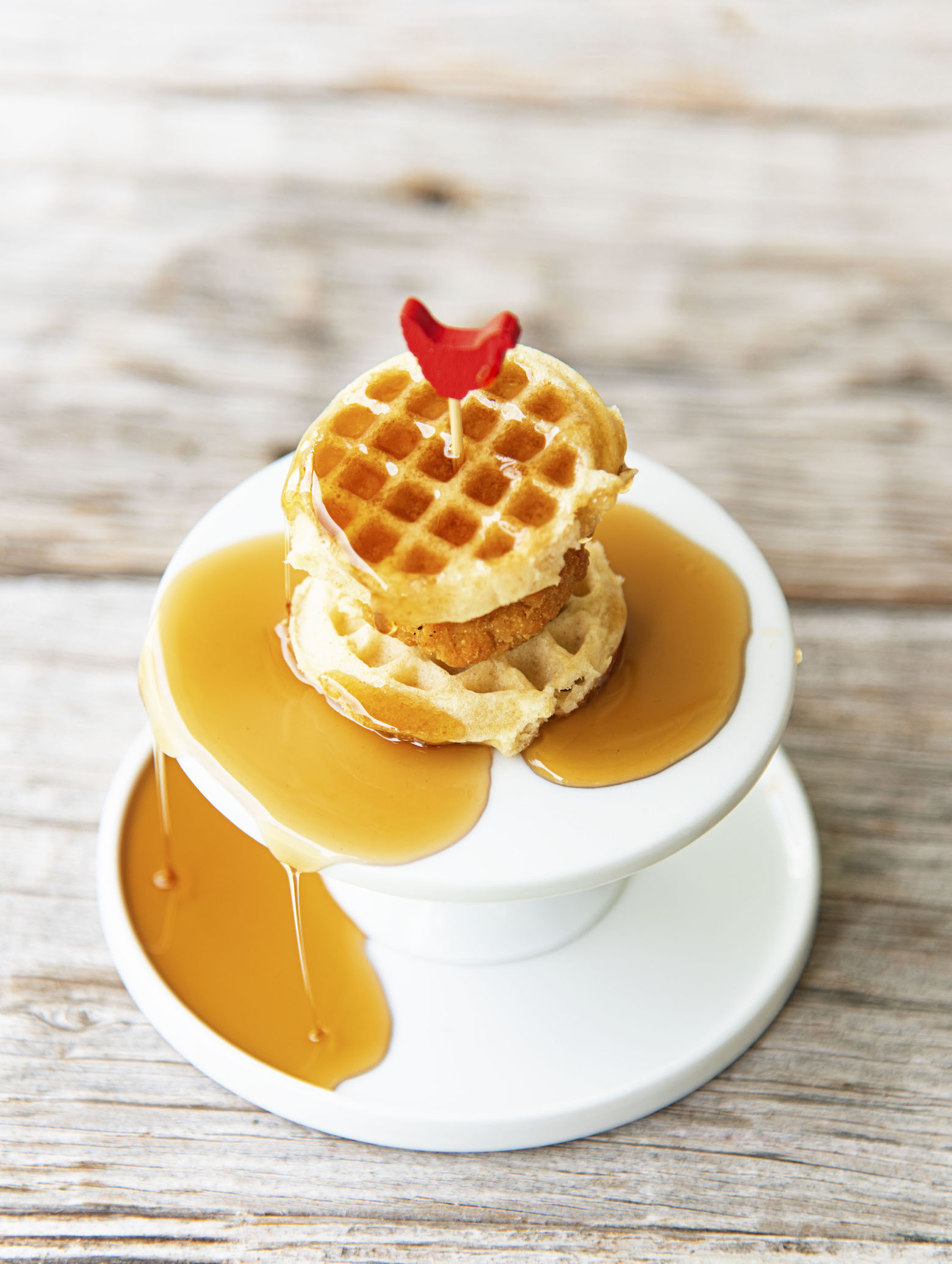 Do you have to get the chicken shaped cocktail sticks?
No, of course not.
But they were fun and had a pop of color.
And we food bloggers are always looking for a pop of color when the food is beige in color.
And oh yeah, it's a great day to buy my cookbook.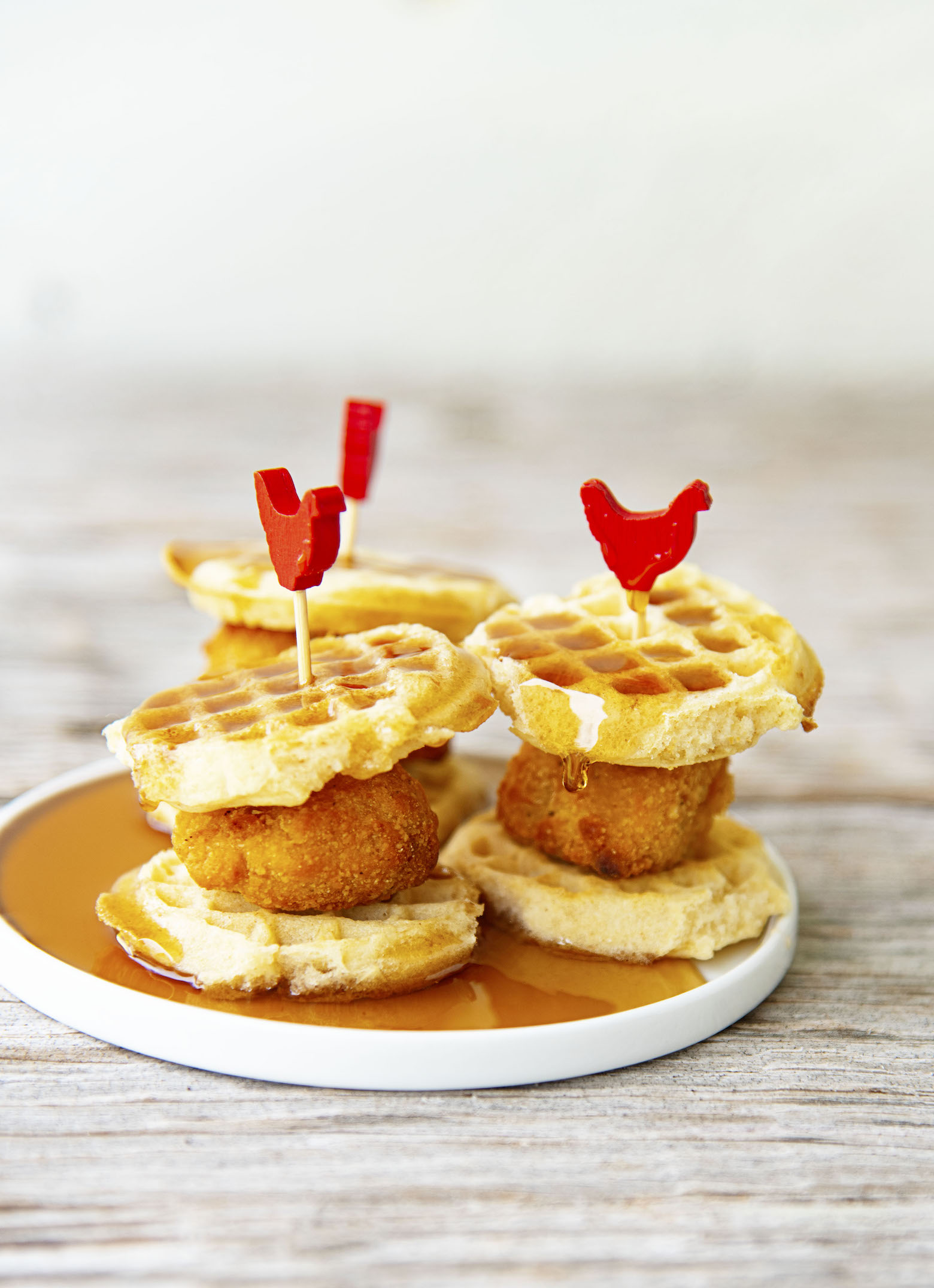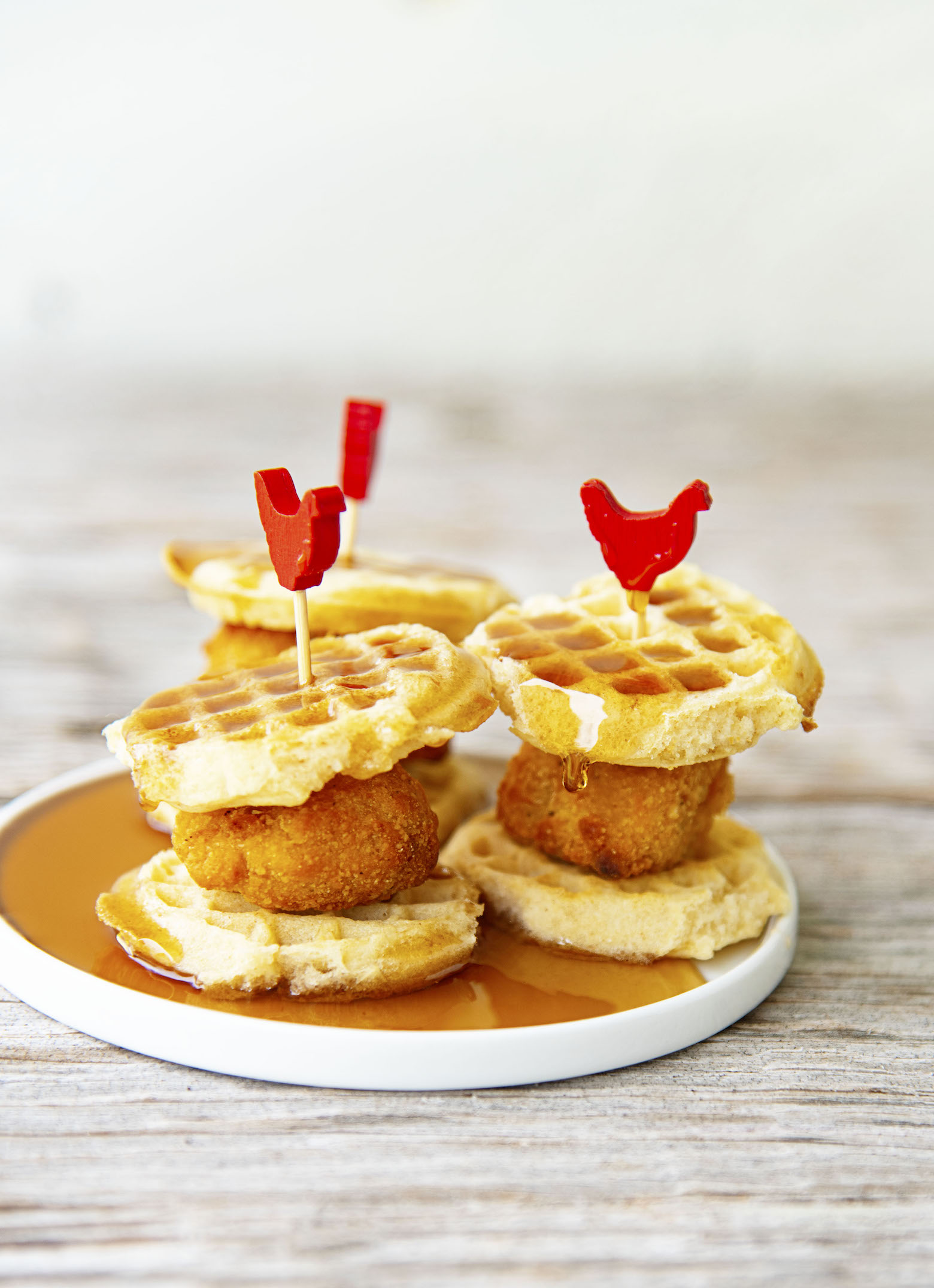 Want More Vegetarian Appetizer Ideas?
Cheddar Cheese Green Olive Nuggets
Honey Mustard Pretzel Deviled Eggs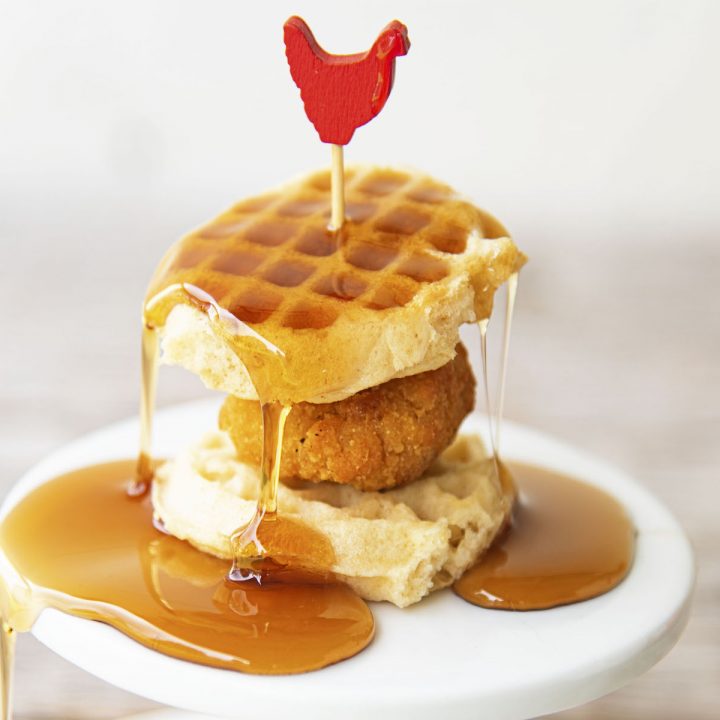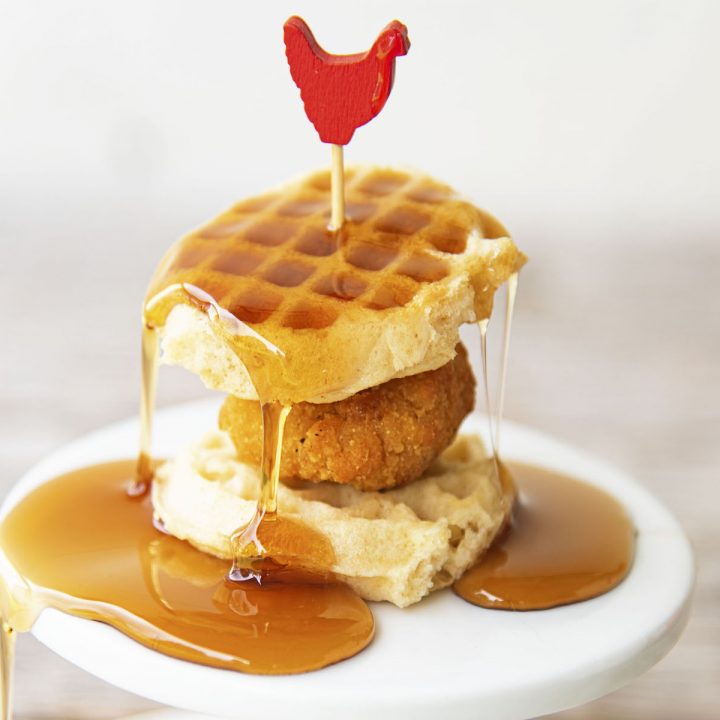 Mini Chick'n and Waffles
Ingredients
32 frozen mini waffles (I used Eggo)
16 chick'n (or chicken) nuggets (I used Ultimate Plant Based Nuggets)
Maple Syrup
Instructions
Cook the chick'n nuggets per the package instructions.
Cook the mini frozen waffles as per the package instructions.
Break your toasted mini waffles apart.
Place a chick'n nugget on top of a mini waffle.
Then place another mini waffle on top of the chick'n.
Run a cocktail stick through both the waffles and the chick'n nugget.
Repeat until you have 16 appetizers.
Place them on a plate.
Serve maple syrup on the side in a small pitcher. Don't put the syrup on before you are ready to eat them since they will get soggy.