These Orange Gingerbread Jello Shots are made with orange jello, spiced gingerbread rum, and ginger ale for a fruity and festive jello shot.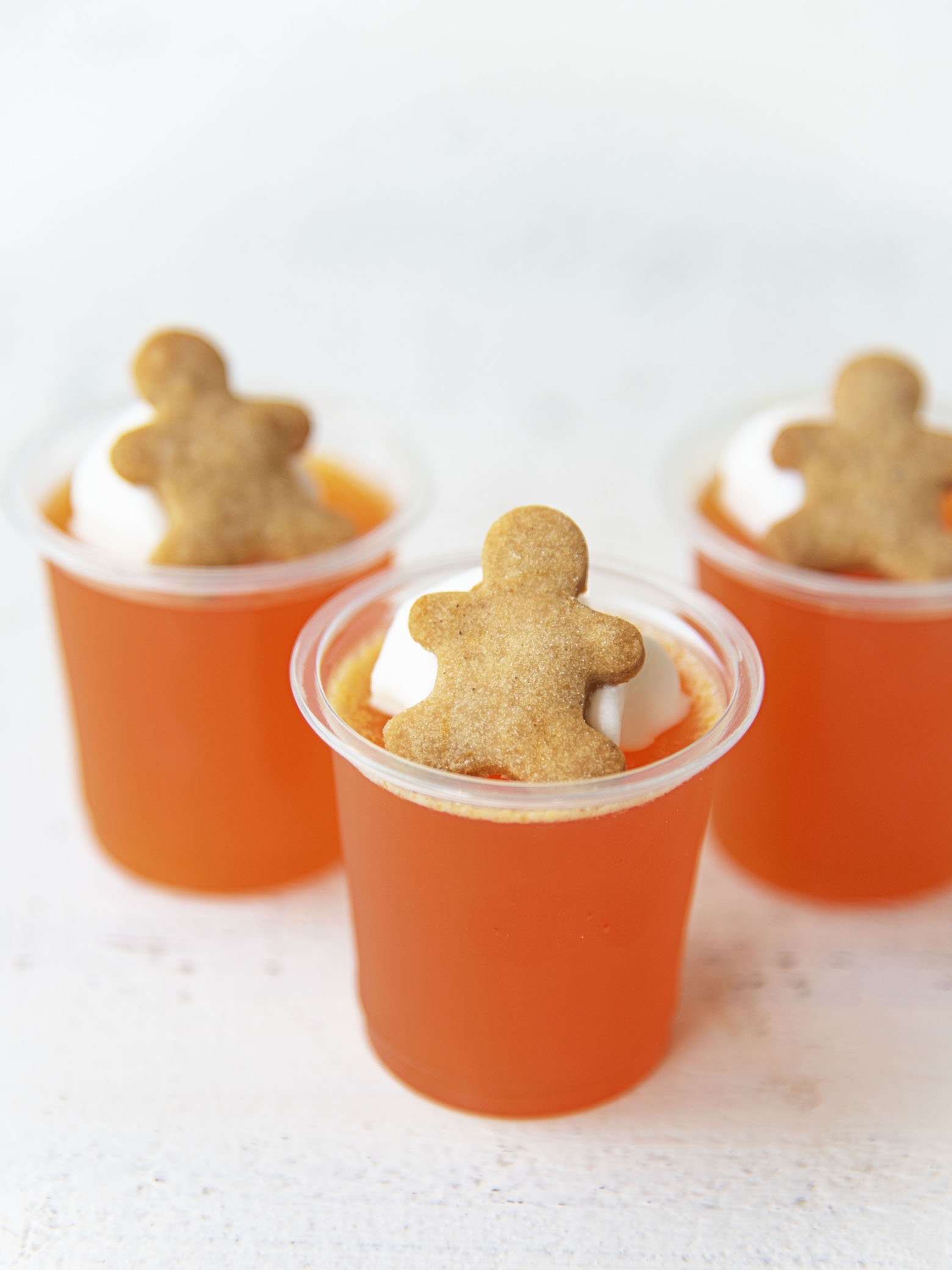 I love the combo of gingerbread and citrus.
It actually goes really well with either lemon, lime, or orange.
And I use those combinations with my gingerbread baked goods a lot.
Last year I bought some Captain Morgan Gingerbread Spiced Rum and ended up using it with soda.
Originally with just ginger ale.
Then I switched to cream soda.
And then I switched to Orange Cream soda.
That last combo was my favorite.
So this year I bought so more rum and decided to make Orange Gingerbread Jello Shots.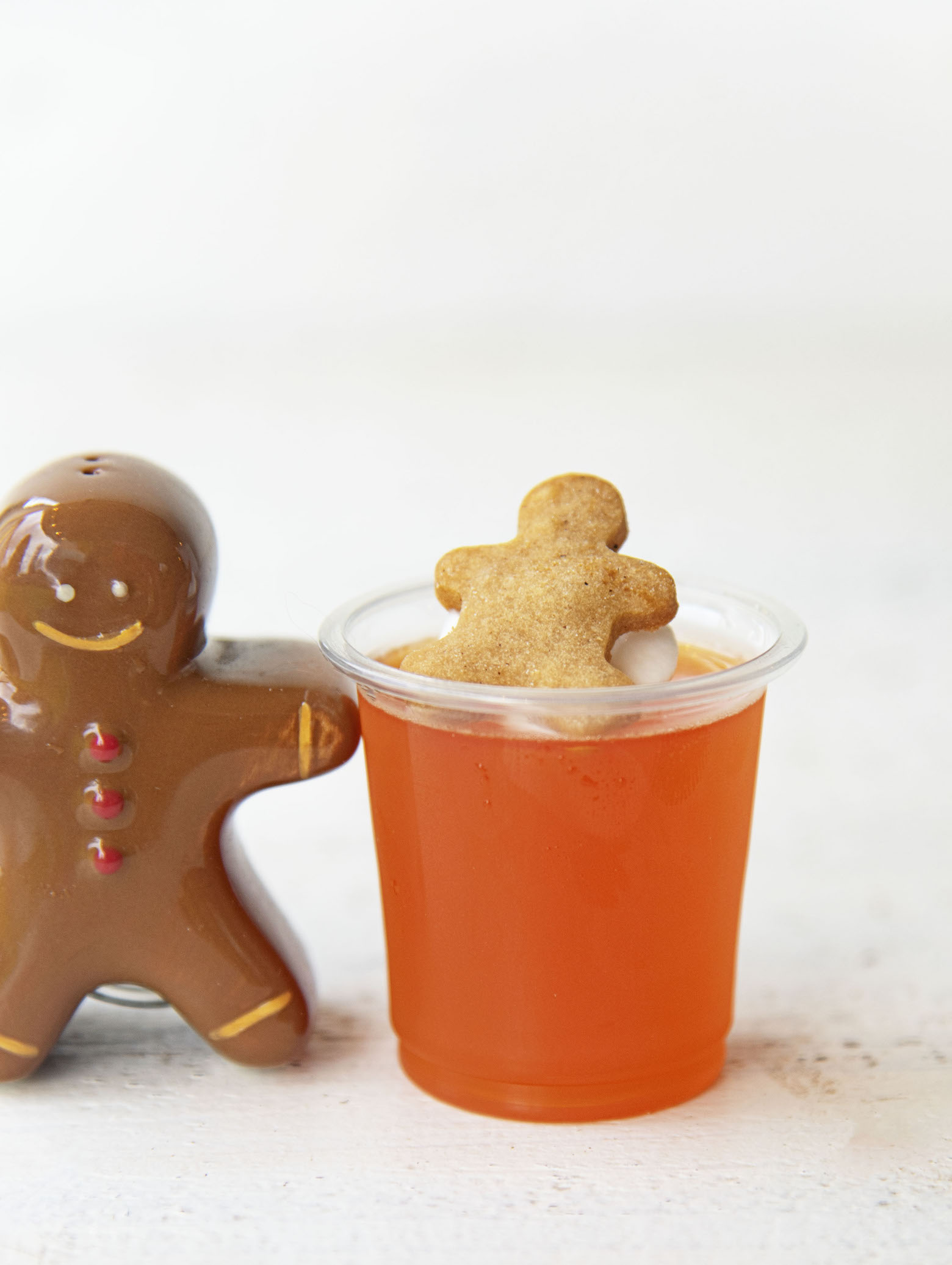 I ended up using ginger ale because I wanted the extra kick of spice in these.
But you could use cream soda or orange soda if you prefer it on the sweeter less spicy side.
What kind of ginger ale you get also will depend on the level of spice.
Canada Dry seems to be the most readily available where I'm at.
But I grew up drinking Vernor's ginger ale and that's what I used.
I used to have to get my family who lived in Michigan to send it to me.
Luckily I can get it here now.
If using Vernor's ginger ale know that it has more spicy kick to it than Canada Dry.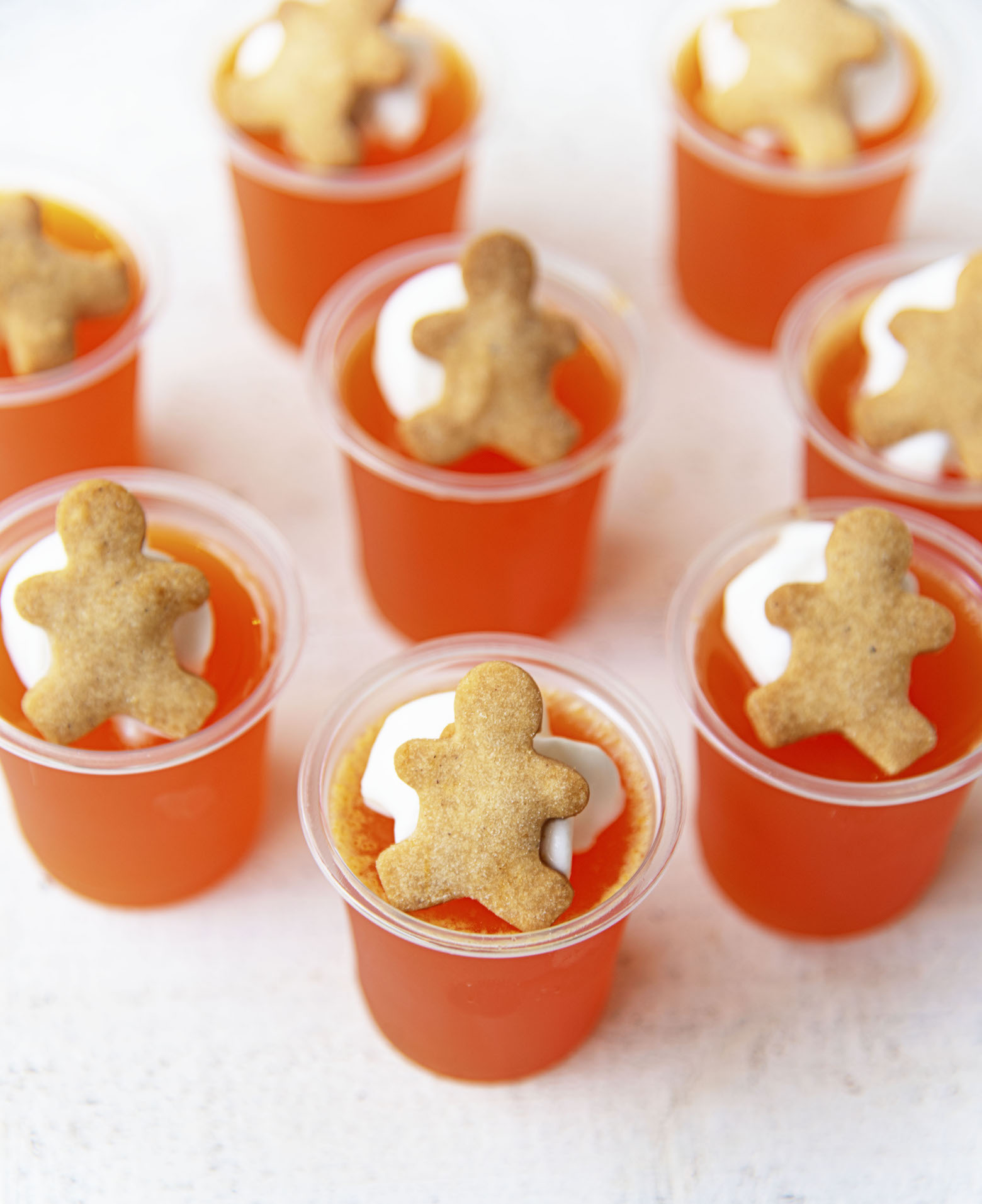 What to use if you can't find Captain Morgan Gingerbread Spiced Rum.
Now, I have been able to find the rum at almost every grocery store this year.
Last year I only found it at Total Wine so my guess it was popular and so they released it in more areas.
If however you can't find it, don't despair.
You can still make these with just a minor adjustment.
Buy regular spiced rum.
If you are local to the Seattle area buy Kraken rum to be supportive of you NHL team. 😀
Anyway, replace the gingerbread rum with spiced rum and add one teaspoon of gingerbread spice.
I buy my gingerbread spice but some people prefer to make their own.
If you do I suggest not using black pepper like many recipes include.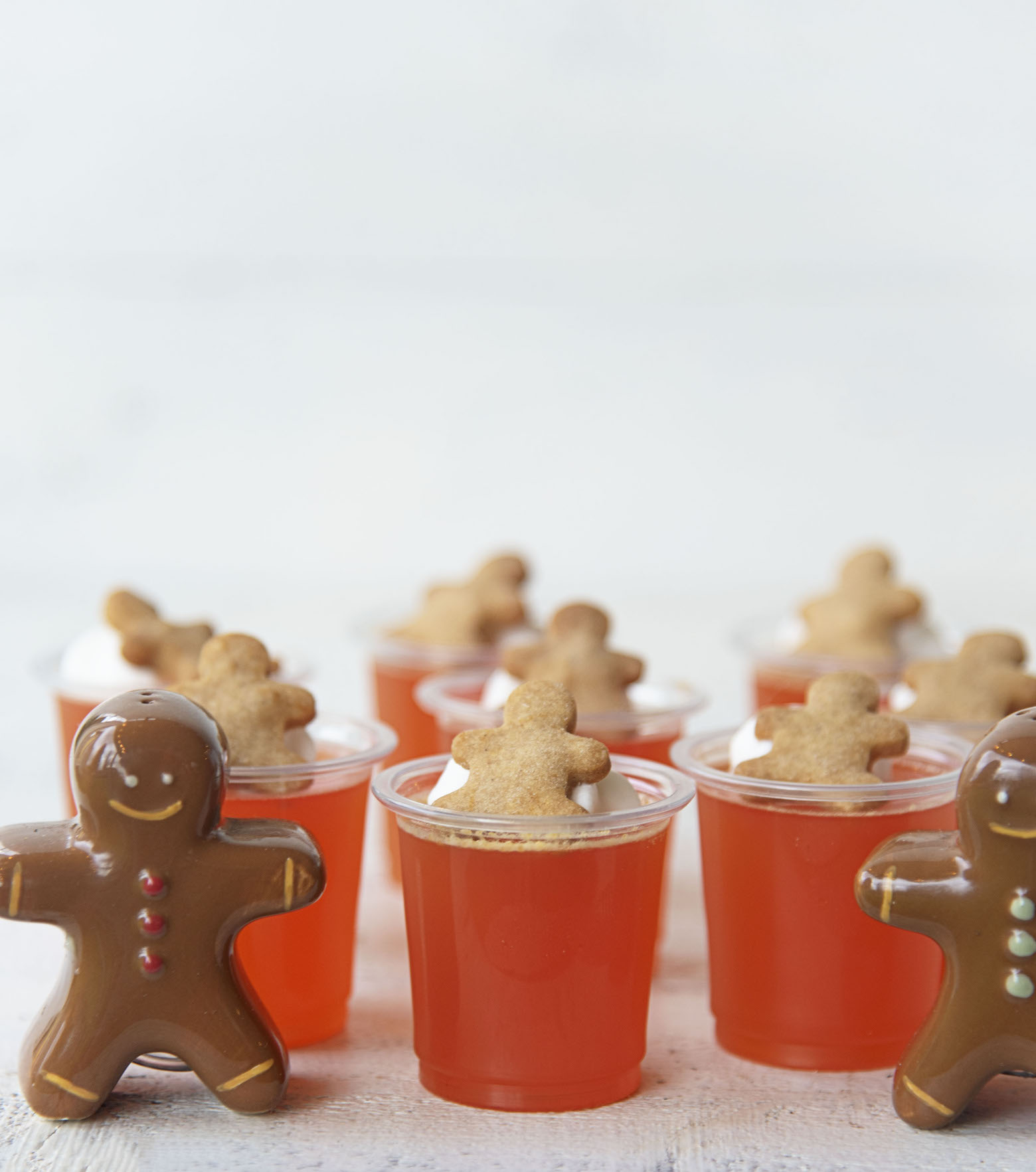 Things to remember when making Jello Shots.
When throwing a party, you'll probably want to prepare 4-6 Jello Shots for each guest.
Some guest won't have any and others will have many more than the six.
I know from experience.
Since they don't have a ton of alcohol in them people feel they can eat more of them.
Especially because there is always room for jello.
This batch uses 6 ounces of gelatin and so you will get around 18-20 Jello shots.
If doing a half recipe and only using 3 ounces of gelatin you will only get 8-10 Jello shots depending on how you pour.
If using a garnish, don't place the garnish on the jello shot until just ready to serve.
And as always it's a great day to order my cookbook.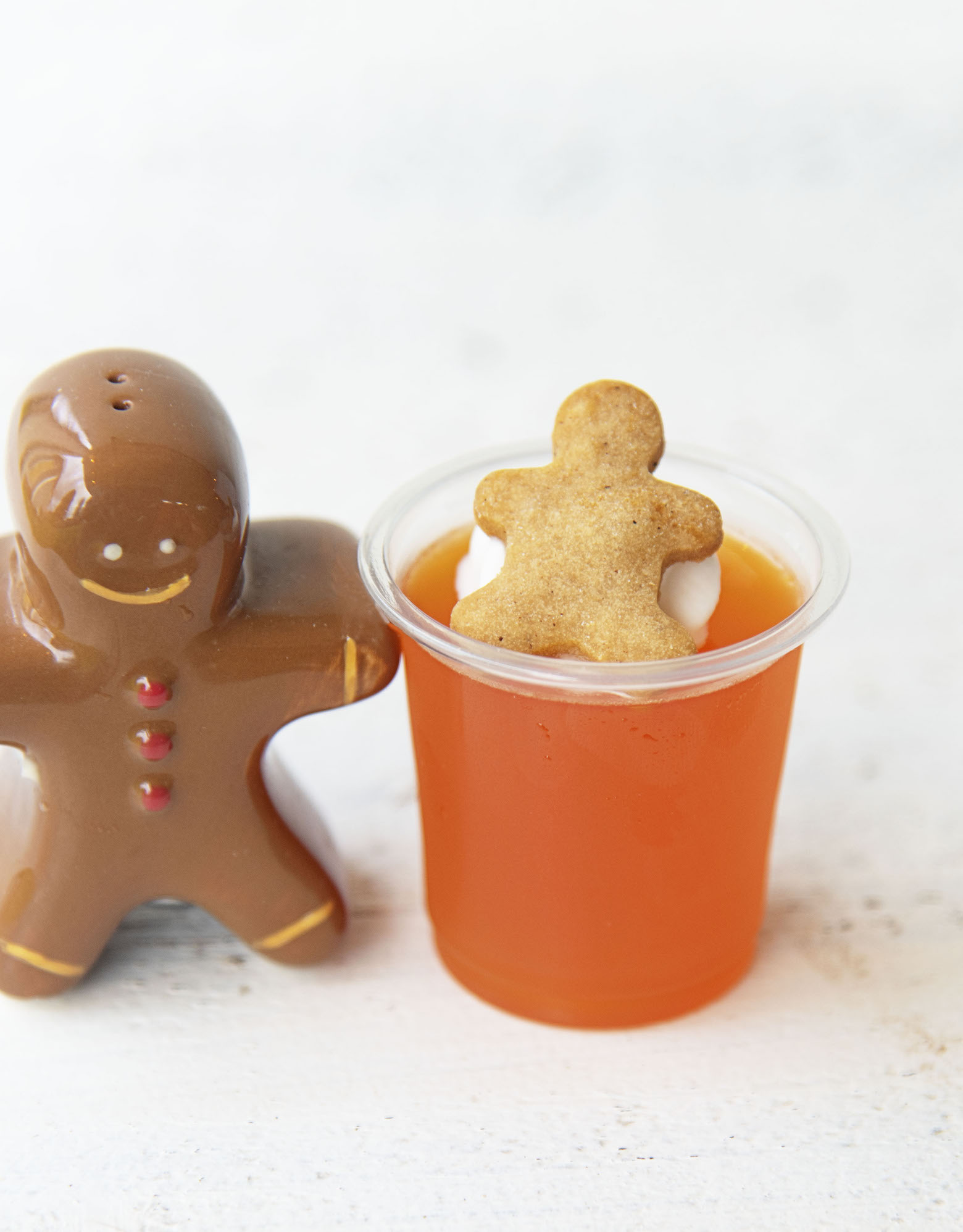 Want more Jell-O Shot recipes?
Salted Caramel Apple Whiskey Jell-O Shots
Black Cherry Spiced Rum and Coke Jell-O Shot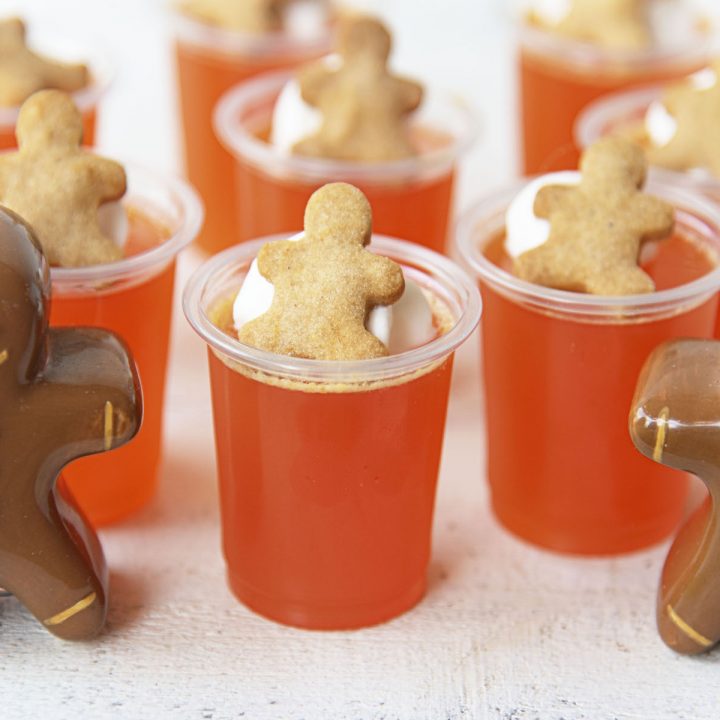 Orange Gingerbread Jello Shots
Ingredients
3 cups ginger ale, divided
2 (3 oz) packages orange jello
1 cup Captain Morgan Gingerbread Spiced Rum
whipped cream for garnish
mini gingerbread men for garnish
Instructions
Bring 2 cups ginger ale to a boil.
Empty gelatin powder into a large mixing bowl and add the boiling soda.
Continue stirring for two minutes or until the jello is completely dissolved.
Add in the cup of cold ginger ale and Captain Morgan Gingerbread Spiced Rum.
Stir until mixed and pour into 2oz. cups filled 1/2 to 3/4 of the way.
Place in fridge for at least 4 hours.
Top with whipped cream and mini gingerbread men when ready to serve.
You can also top with gingerbread sprinkles if you prefer that to the gingerbread cookies.