These Red Velvet Hot Chocolate Brownies have a dense red velvet brownie base and a creamy hot chocolate cream cheese swirl.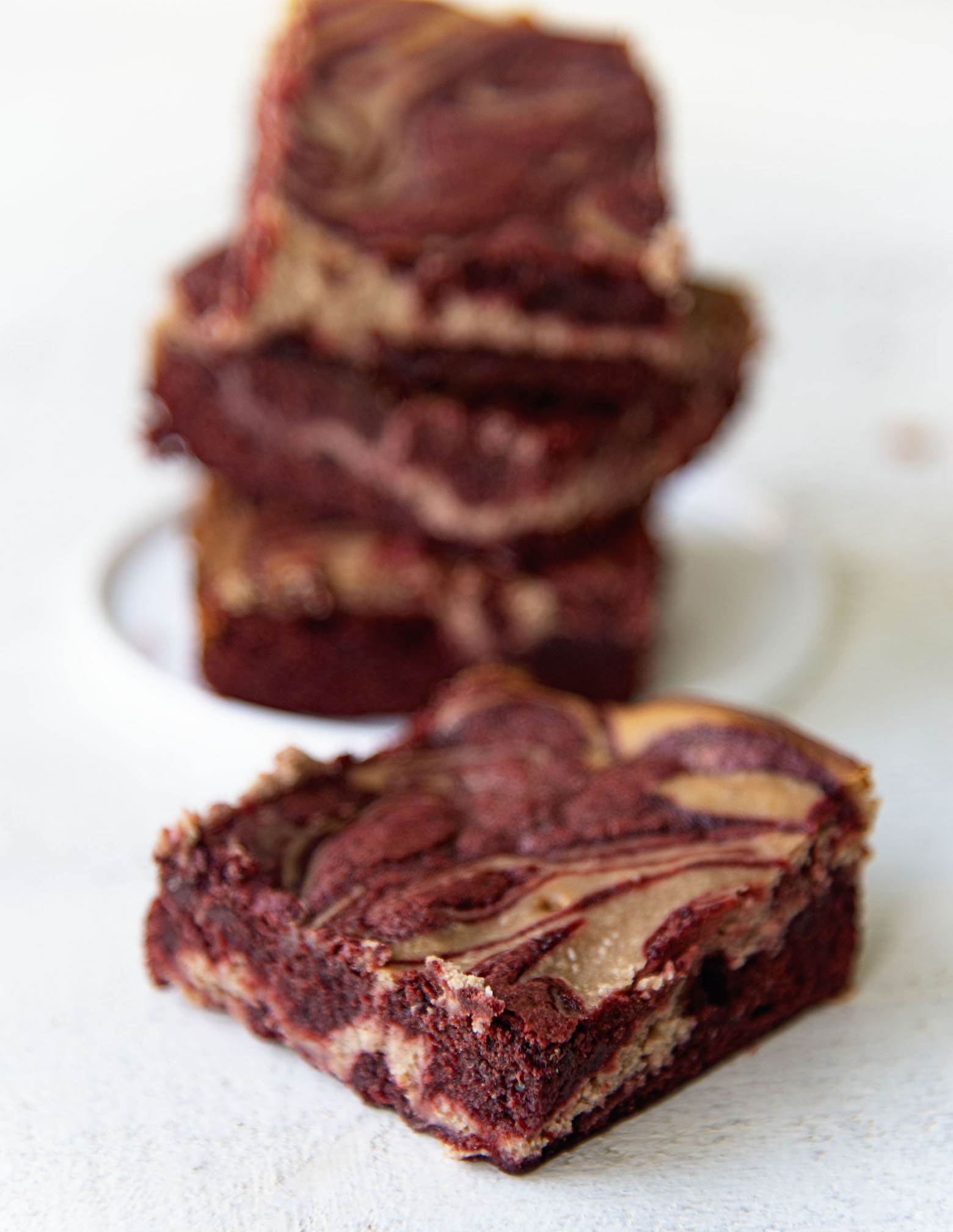 We are in full cold weather mode now.
Which means hot chocolate.
I have a hot chocolate addiction.
Love to collect all the interesting flavors.
And I go through a lot of it.
I usually end up using hot chocolate in place of my creamer in my coffee this time of year.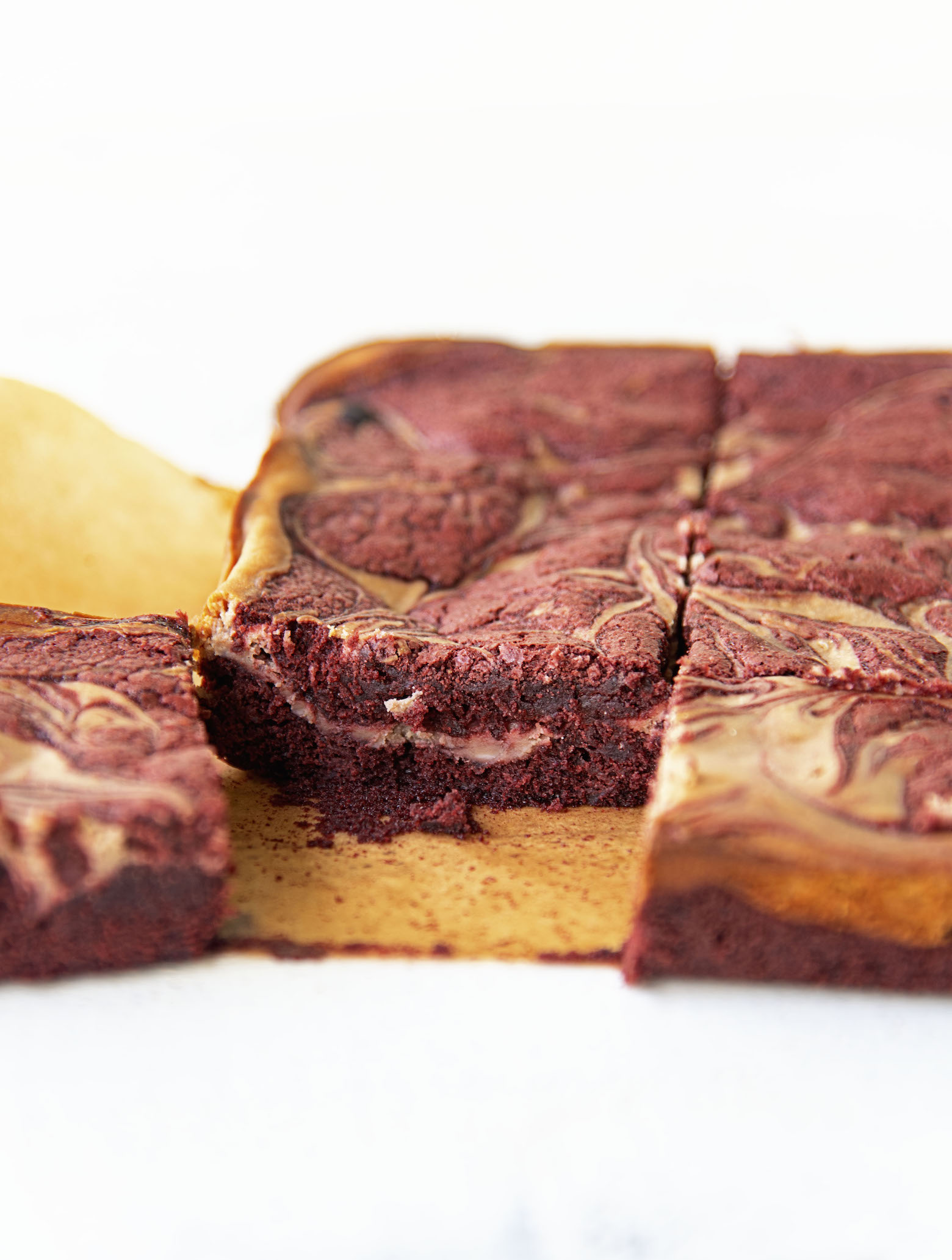 This year I have not one but two hot chocolate advent calendars.
Because I'm also addicted to advent calendars.
I got some really cool ones this year that I'm going to share on Facebook and Instagram.
Hot chocolate tends to sneak into baked goods about this time of year.
In fact, I sort of accidentally made enough hot chocolate flavored treats that I could have a hot chocolate week.
So consider this hot chocolate week.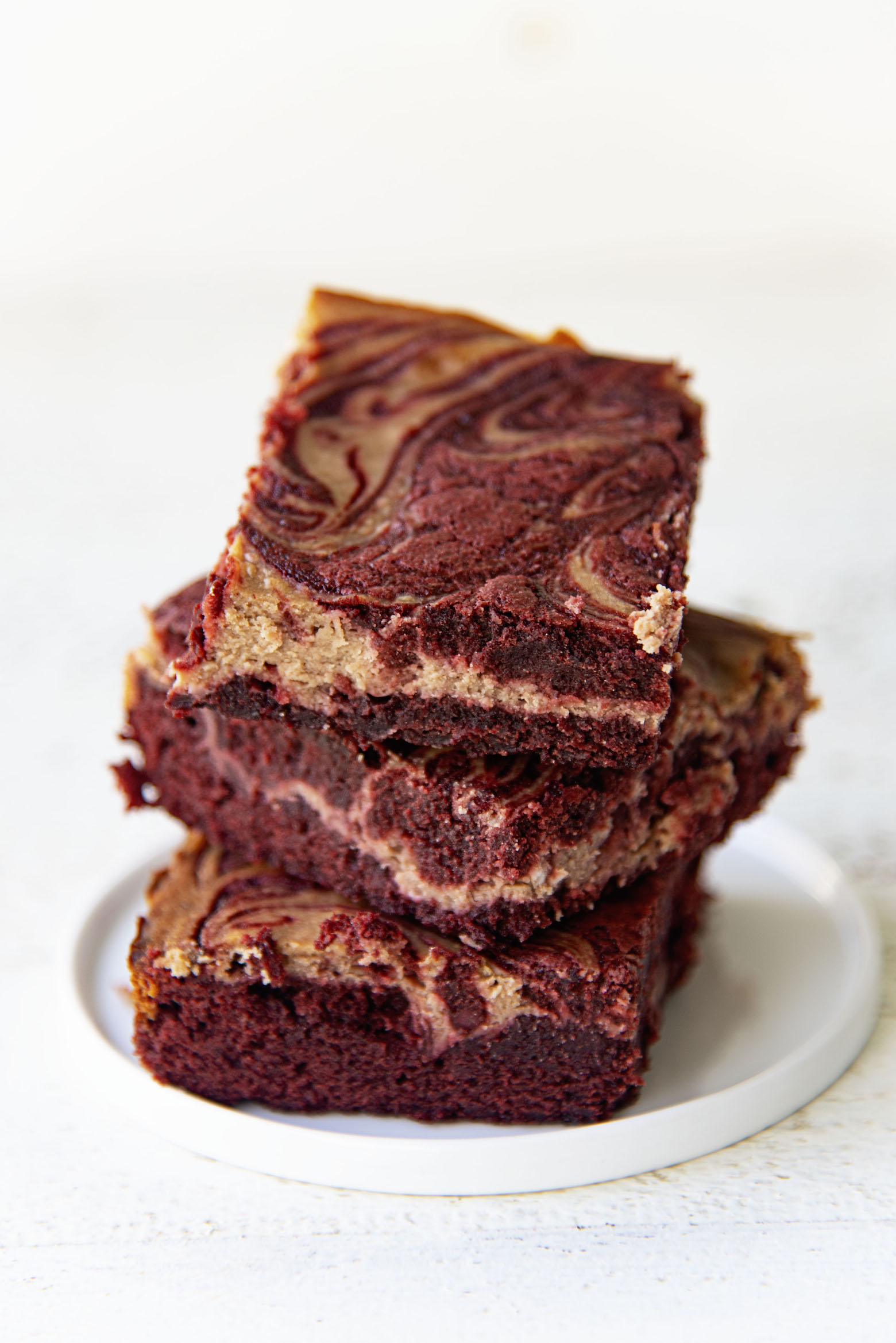 I'm starting this hot chocolate week off with these Red Velvet Hot Chocolate Brownies.
Which are red velvet brownies that have a cream cheese swirl.
And that cream cheese swirl has hot chocolate in it.
Now you can use whatever hot chocolate you want.
I plan on making a peppermint hot chocolate version of these for the holidays.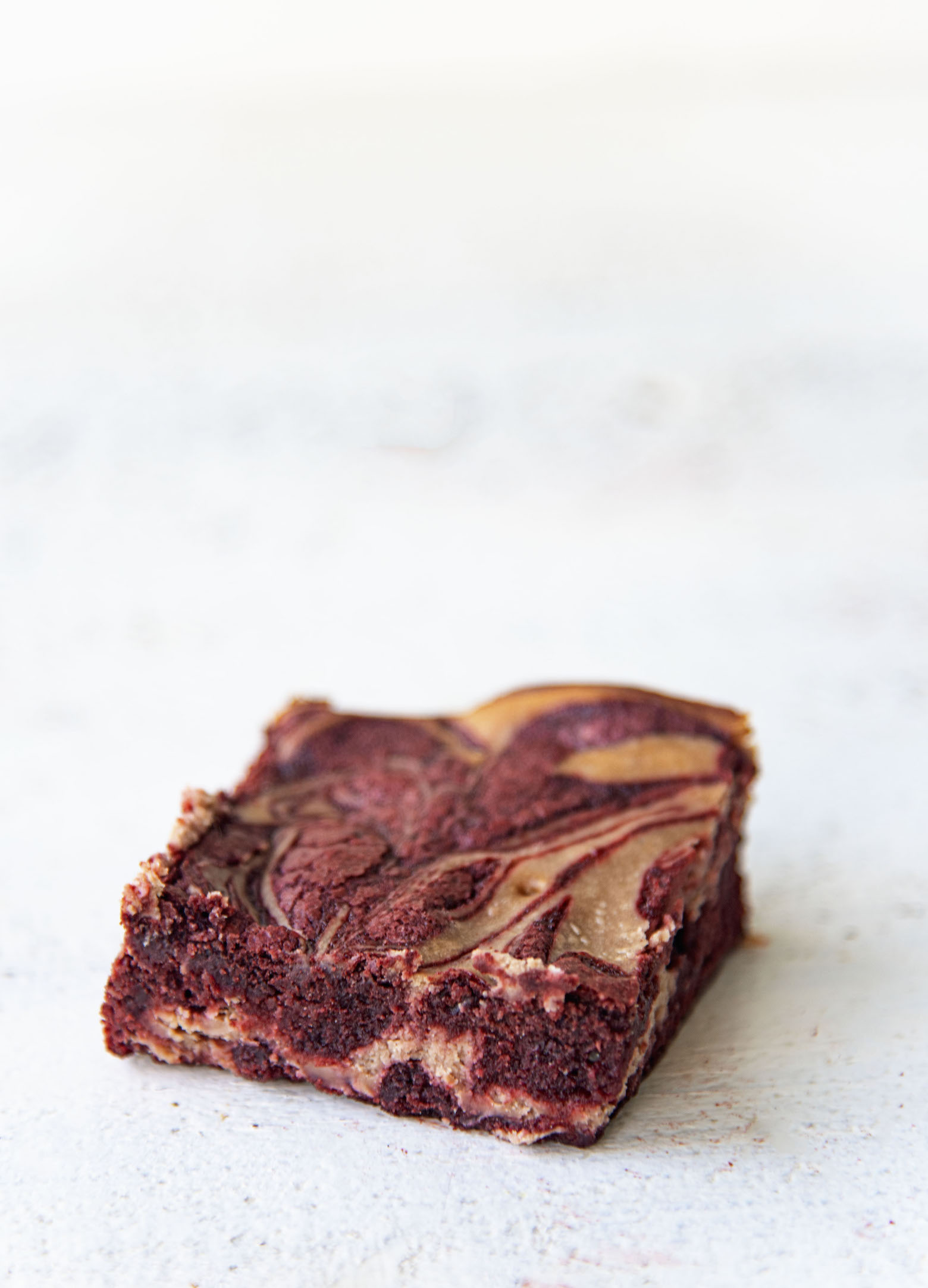 These are a dense and chewy brownie.
The recipe has a tsp of apple cider vinegar in it and that really helps make this taste more like red velvet.
So I find it necessary.
I know someone will ask if they can leave it out.
And as always it's a great day to order my cookbook.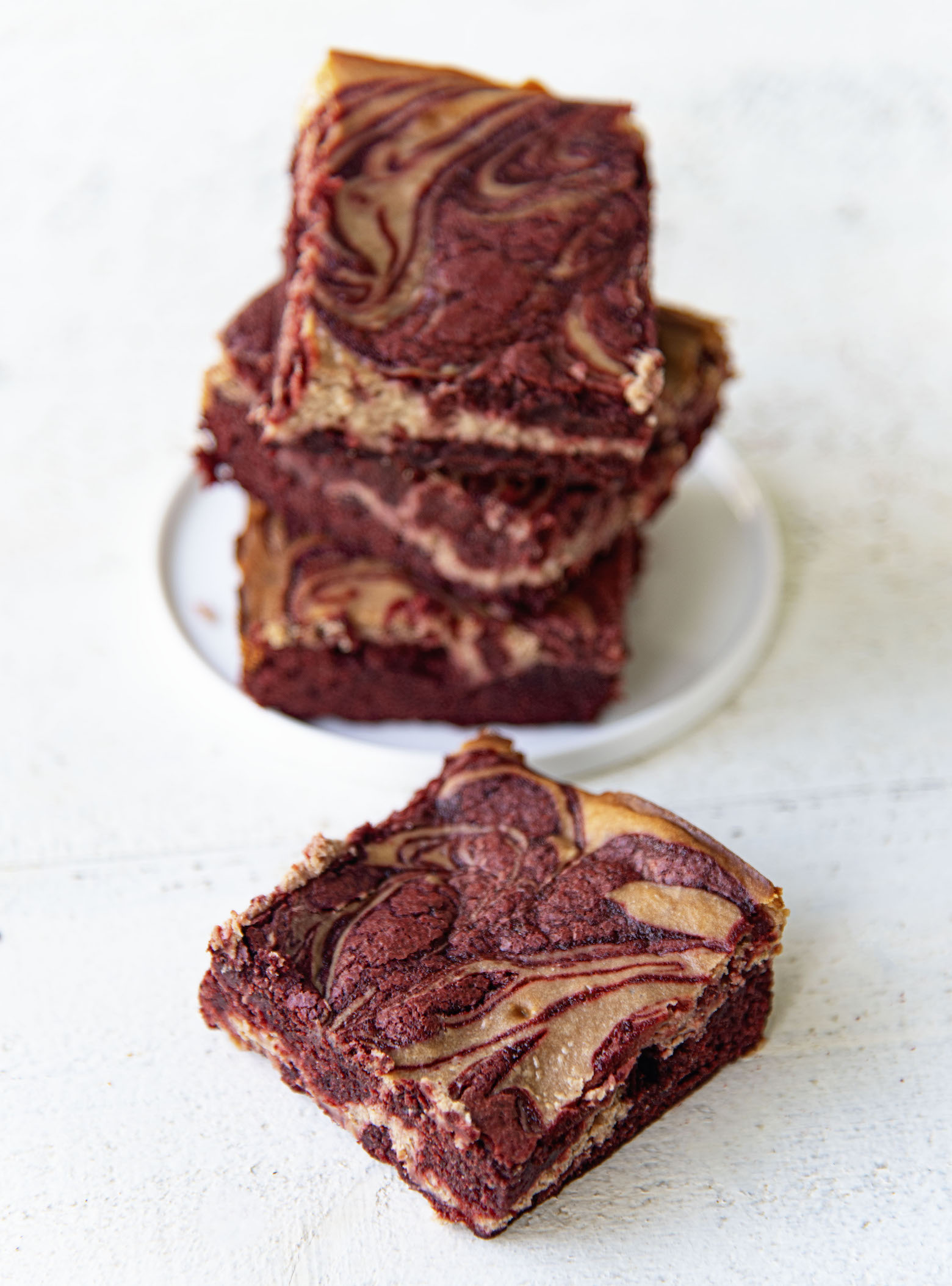 Want More Brownie Recipes?
Marshmallow Crunch Brownie Bars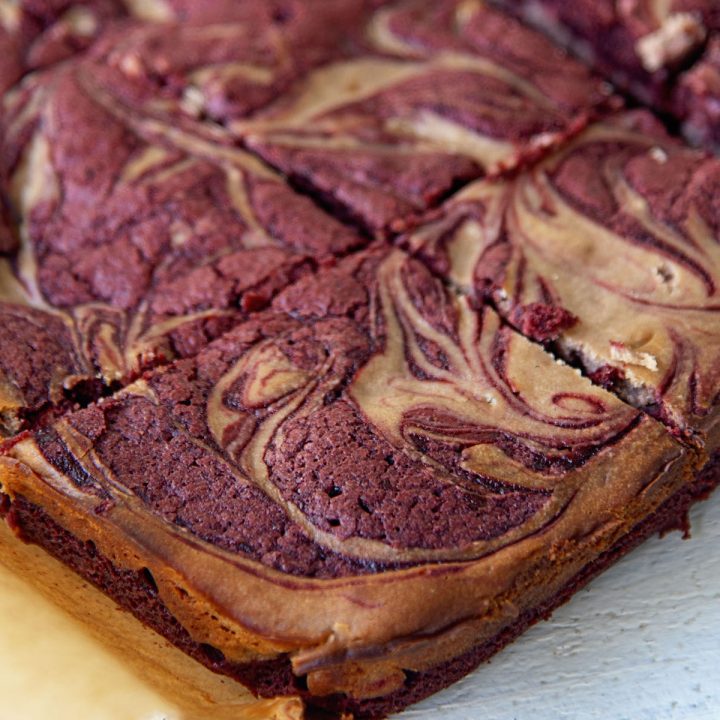 Red Velvet Hot Chocolate Brownies
Ingredients
Red Velvet Layer:
1 stick (4 ounces) unsalted butter, melted
1 cup sugar
1 tsp. vanilla extract
1/4 cup cocoa powder
Pinch salt
1 TBSP red food coloring
1 tsp. apple cider vinegar
2 eggs
3/4 cup all-purpose flour
Cream Cheese Layer:
8 ounces cream cheese, at room temperature
1/3 cup hot chocolate mix (like Swiss Miss)
1/4 cup sugar
1 egg
1/2 tsp. vanilla extract
Instructions
Preheat oven to 350 degrees F.
Butter an 8 by 8-inch baking pan, and set aside.
For the Brownie layer:
Add melted butter to a large bowl and add the sugar, vanilla, cocoa powder, salt, food coloring, and vinegar, in that order, mixing between additions.
Whisk the eggs in a small bowl and stir it into the cocoa mix.
Fold in the flour until lightly combined.
Pour the batter into the prepared baking pan, saving 1/4 cup of the batter for the top.
For the Cream cheese layer:
Blend together the cream cheese, hot chocolate mix, sugar, egg, and vanilla in a medium bowl.
Gently spread the cream cheese layer on top of the brownie batter in the pan.
Dollop the remaining brownie batter over the cream cheese layer.
Using a skewer or the tip of a knife, drag the tip through the cream cheese mixture to create a swirl pattern.
Bake the brownies for 30 minutes.
Remove to a cooling rack and allow them to cool completely before cutting.