This Spaghetti Stuffed Garlic Bread is made with hollowed out garlic bread stuffed with spaghetti and covered with an Italian cheese blend.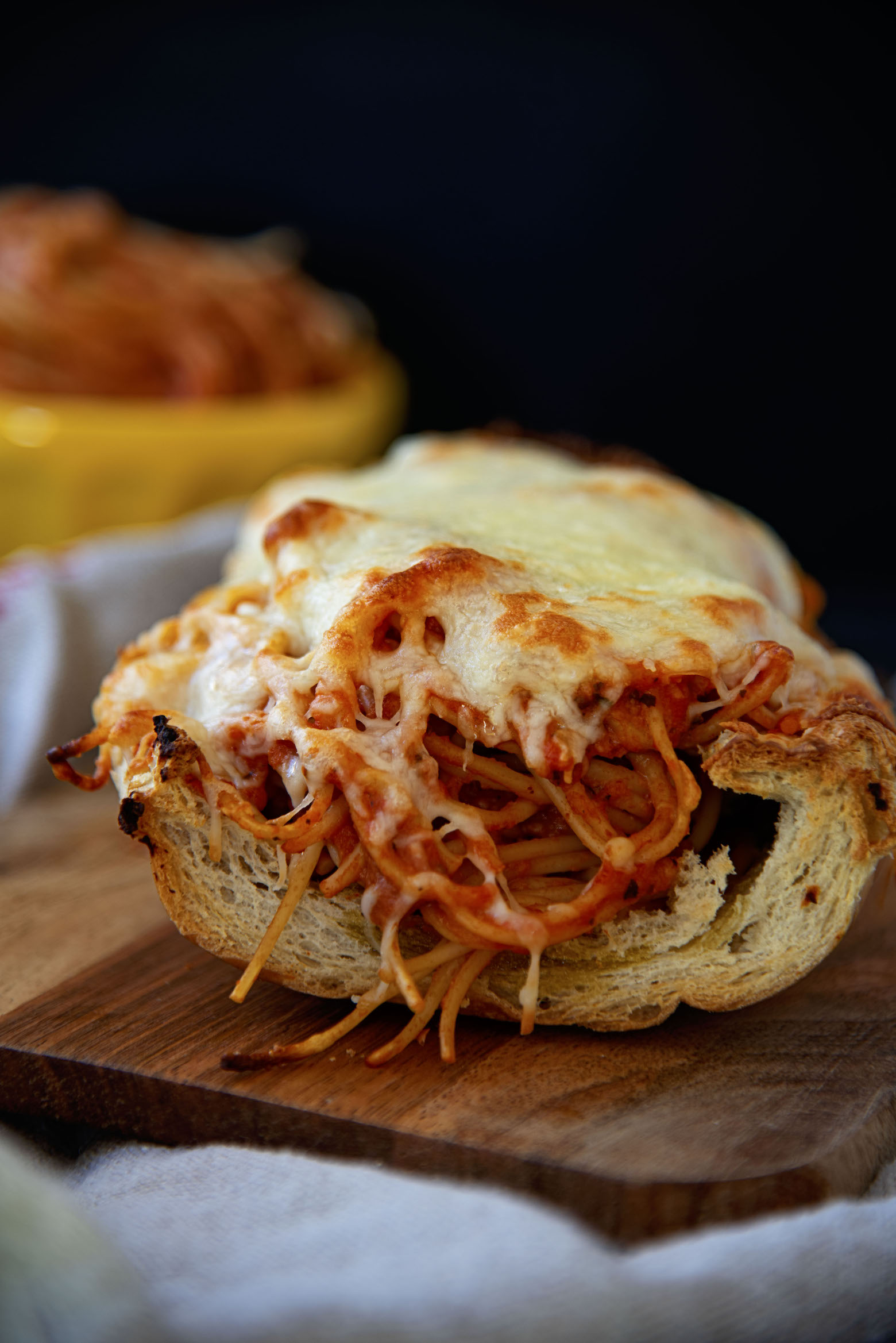 So this is one of those recipes I never actually intend on putting on the blog.
But reality is we have made this a few times now since seeing a version of it on Facebook.
And once I add something to my dinner rotation I usually put it on the blog.
Especially the easy stuff.
Because we all need an easy weeknight meal.
I don't remember which blogger I first saw this pop up from.
But if you Google Spaghetti Stuffed Garlic Bread there are a bunch of recipes for it.
And I mean a bunch. Almost all of them are for a meat based spaghetti.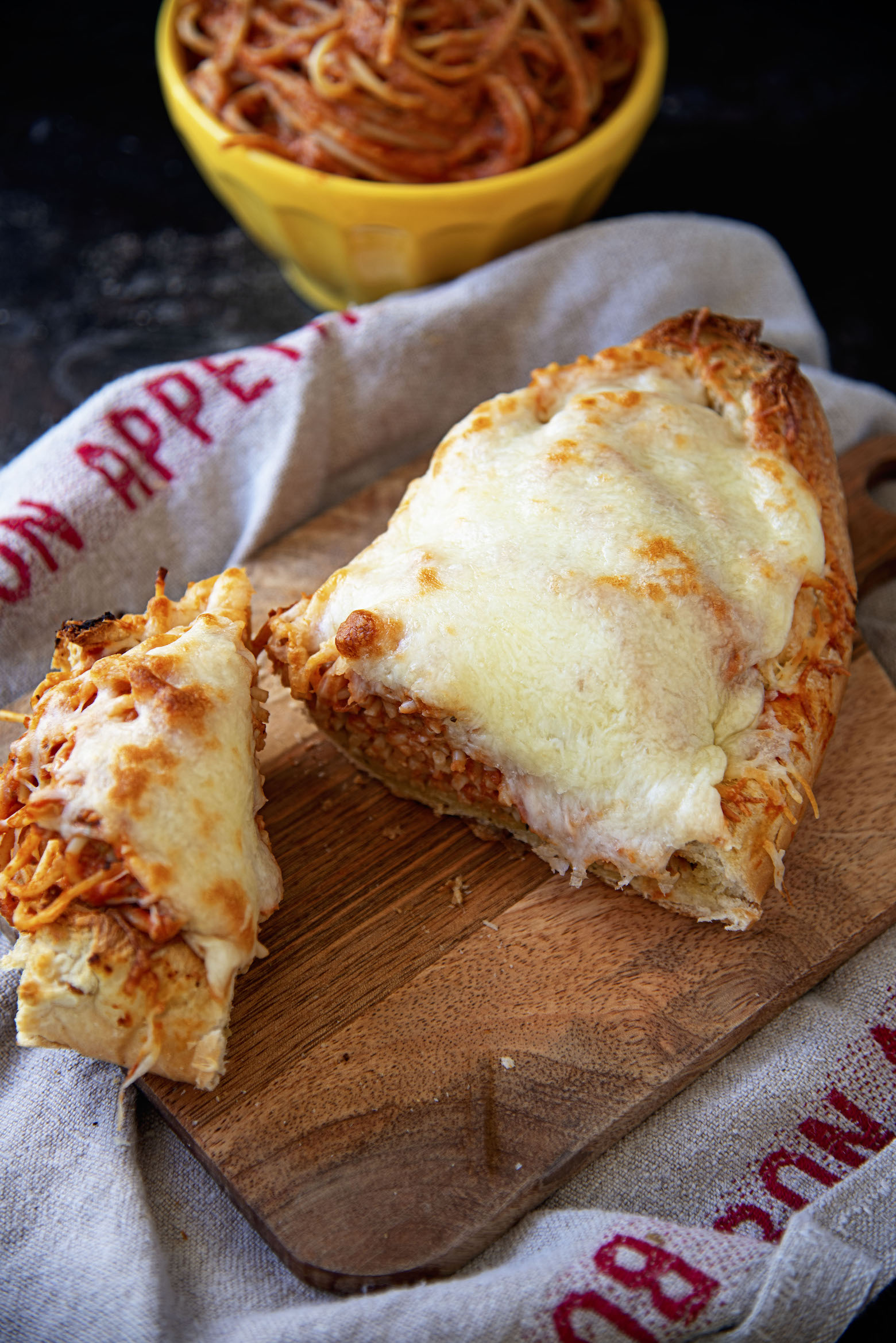 Since my husband and I don't eat meat this is a Vegetarian version.
However, if you eat meat than you add all the meat you want to your sauce.
If you haven't noticed, but I'm guessing you have, meat is super expensive right now.
Crazy, super expensive.
So you might be looking to expand Meatless Monday right about now.
I will definitely say that since going meatless we do save on our groceries each month.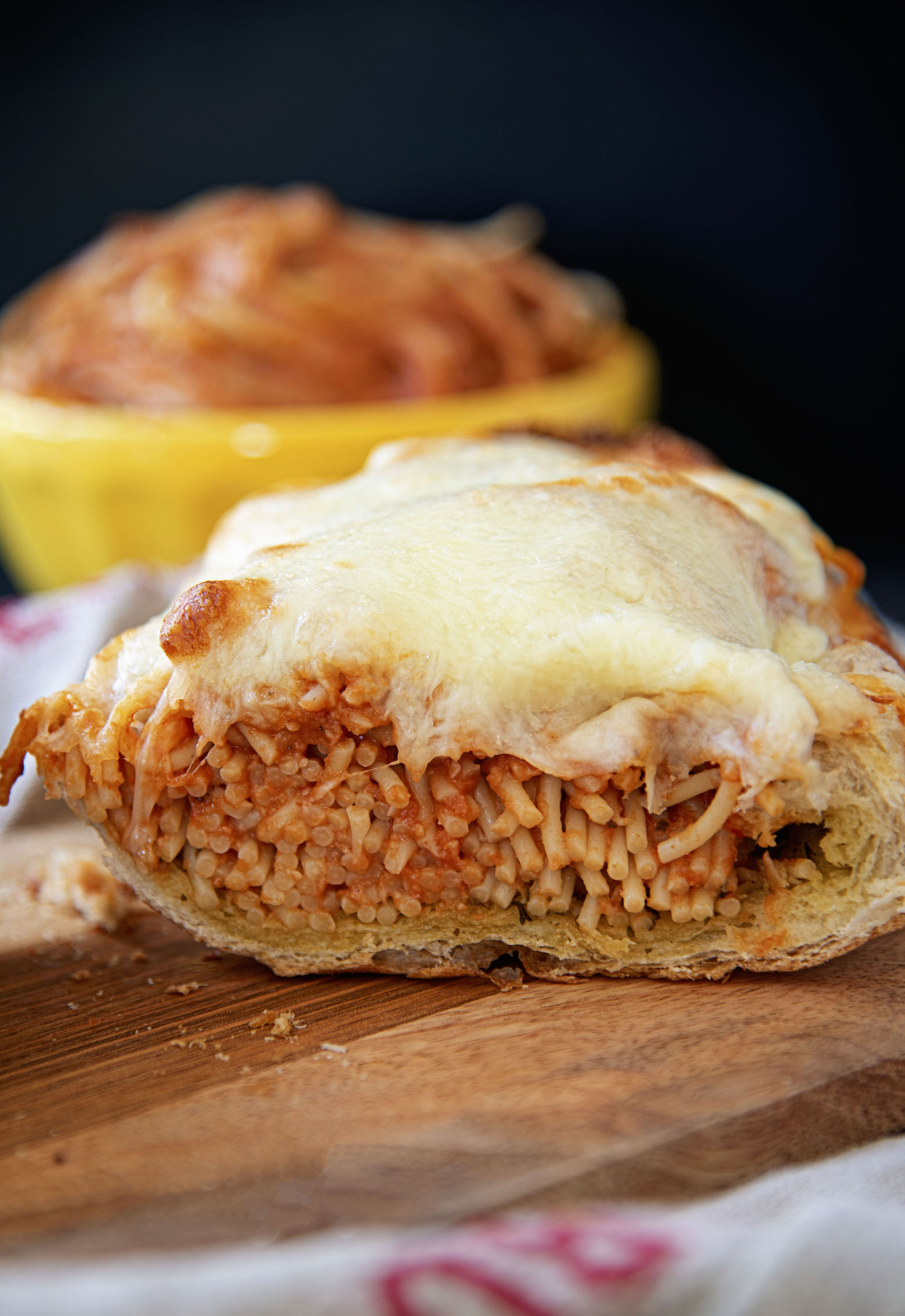 This is pretty much what it looks like.
You get some Italian or French Bread.
Hollow it out. Don't throw away the hollowed out bread though.
Save that and make croutons.
Which I usually serve a salad with this and use them with that.
Then slather that hollowed out bread with a TON of garlic butter.
I buy mine at the store…Costco sells it in bulk.
And then you toast the bread.
You then make a pot of spaghetti.
Mix it with whatever sauce you are wanting to go with it…meat or not.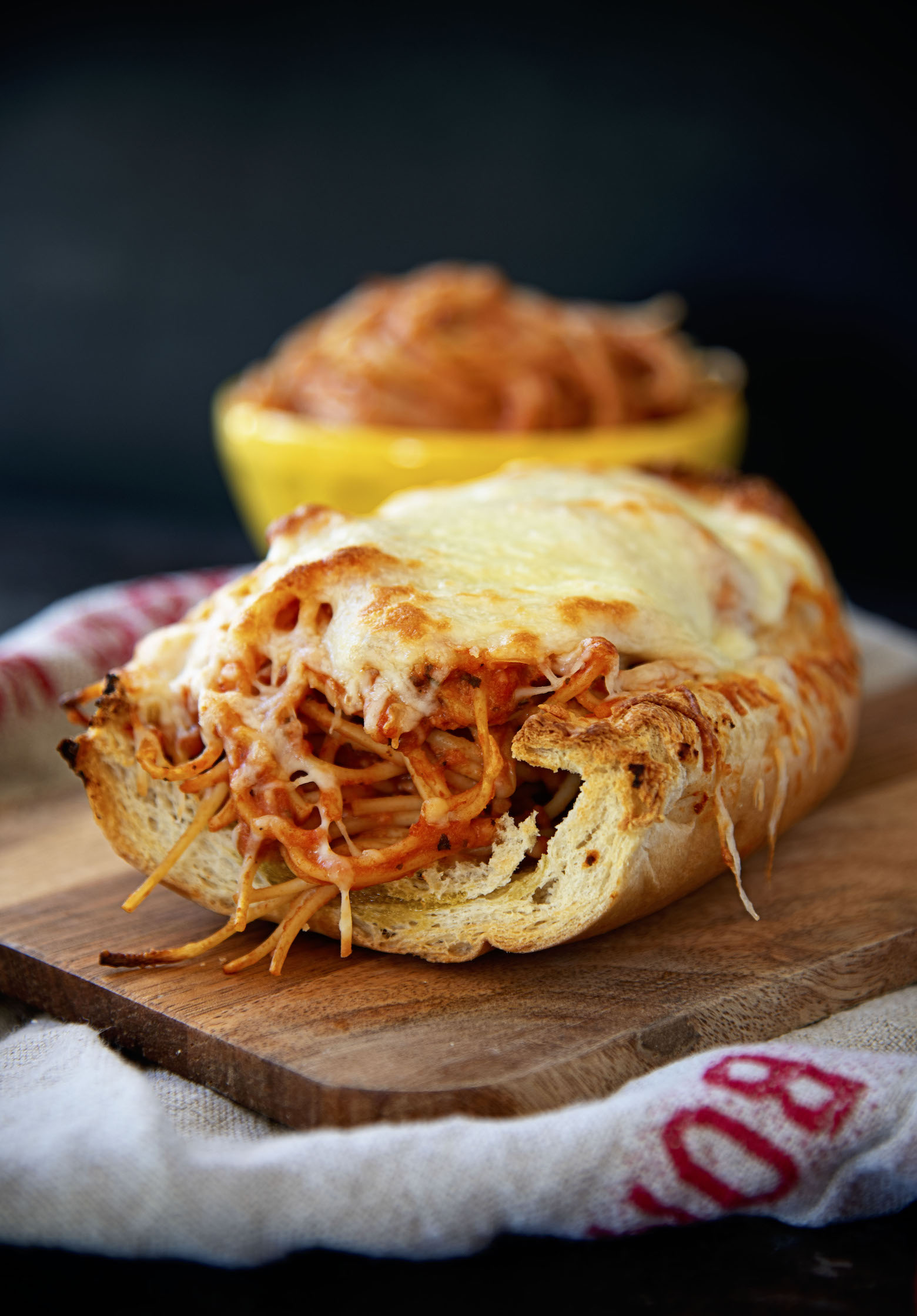 Originally I was going to try a layer of ricotta cheese.
But the one in our fridge became a science experiment and we had to throw that out.
But I'm going to give it a go next time. 😀
Stuff it into the hollowed out garlic butter drenched bread.
Then top with an Italian cheese blend. I put two cups.
But reality is you just pile on whatever amount of cheese your heart tells you that you need. 🙂
P.S. It's a great day to buy my cookbook Holy Sweet!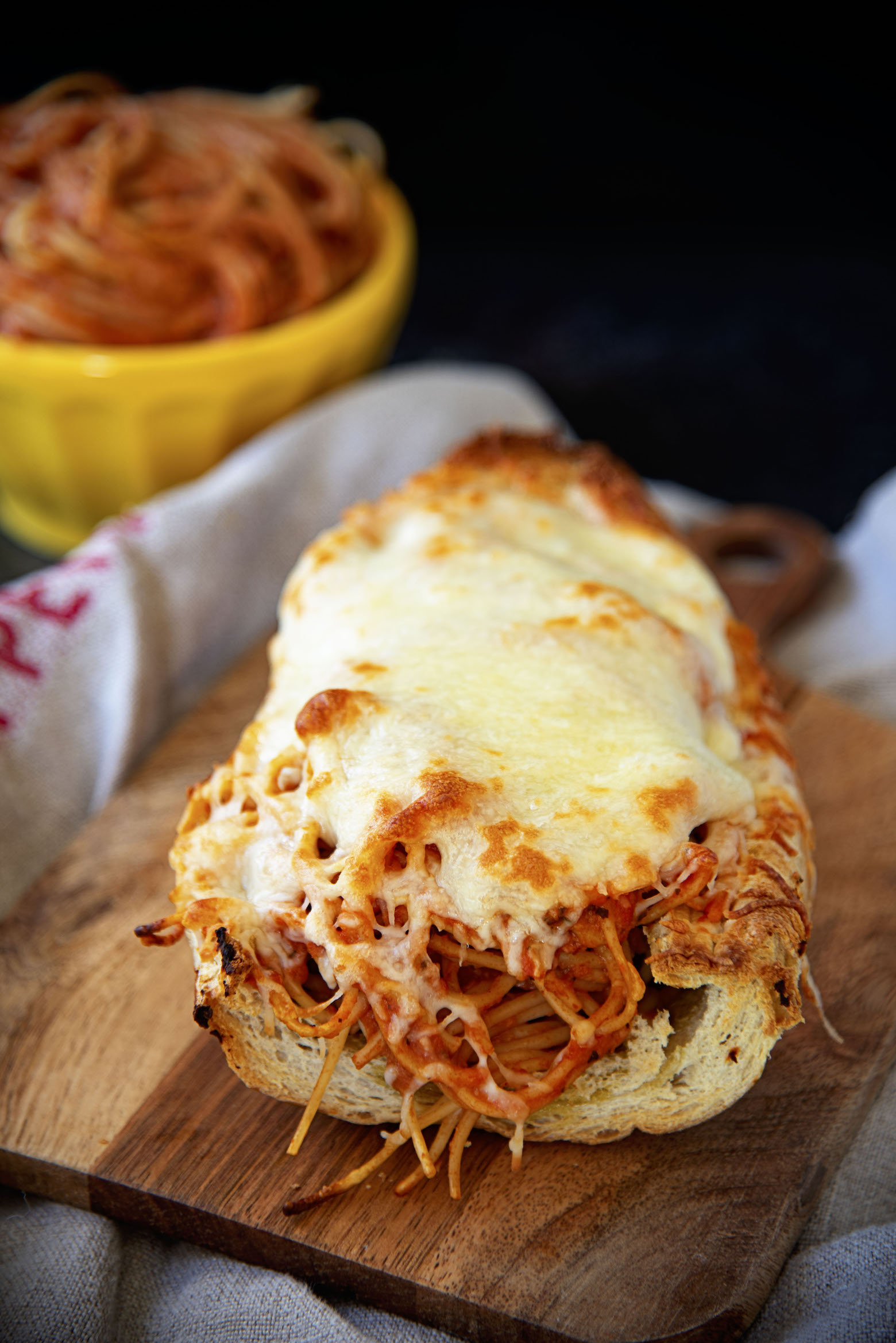 Want More Vegetarian Meal Ideas?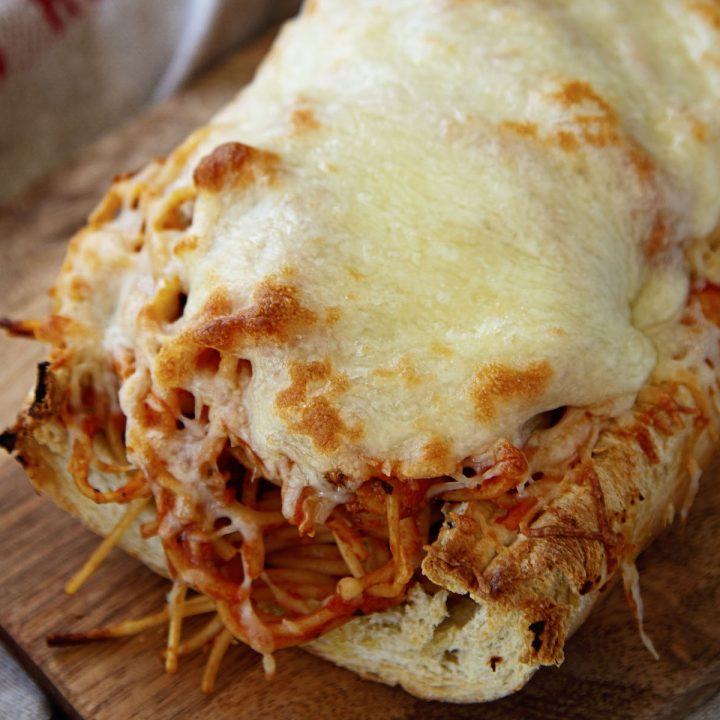 Spaghetti Stuffed Garlic Bread
Ingredients
1 very large Italian or French bread loaf
8 oz spaghetti, cooked according to package instruction and drained
24 ounces vegetarian pasta sauce (or whatever your favorite sauce is)
salt and pepper to taste
3/4 cup garlic butter (we just buy ours)
2 cups Italian Cheese Blend
Instructions
Cook pasta according to package instructions. Drain; set aside.
Place the pasta sauce into a large saucepan.
Add cooked pasta to the sauce and toss to evenly coat.
Season with salt and pepper to your taste.
Cut the Italian bread loaf in half using a bread knife.
Carve out the middle of each half of the loaf.
Remove any remaining bread to create a large hollow in each half. I didn't let that go to waste. I chopped them up and made croutons out of them.
Brush insides of the hollows and sides of the halves with garlic butter. Toast in oven. Mine took about 5 minutes to get toasty.
When bread is toasted, spoon the prepared spaghetti into the hollow of each half, filling the hollows completely. (You will have spaghetti leftover).
Top with the cheese blend.
Bake at 375° for 15-20 or until cheese is melted and golden.
Remove from oven and gently cut with a bread knife to serve.