This Hawaiian Punch Pineapple Upside Down Cake is a fun take on a classic using fruit punch soaked pineapple rings and in the cake batter.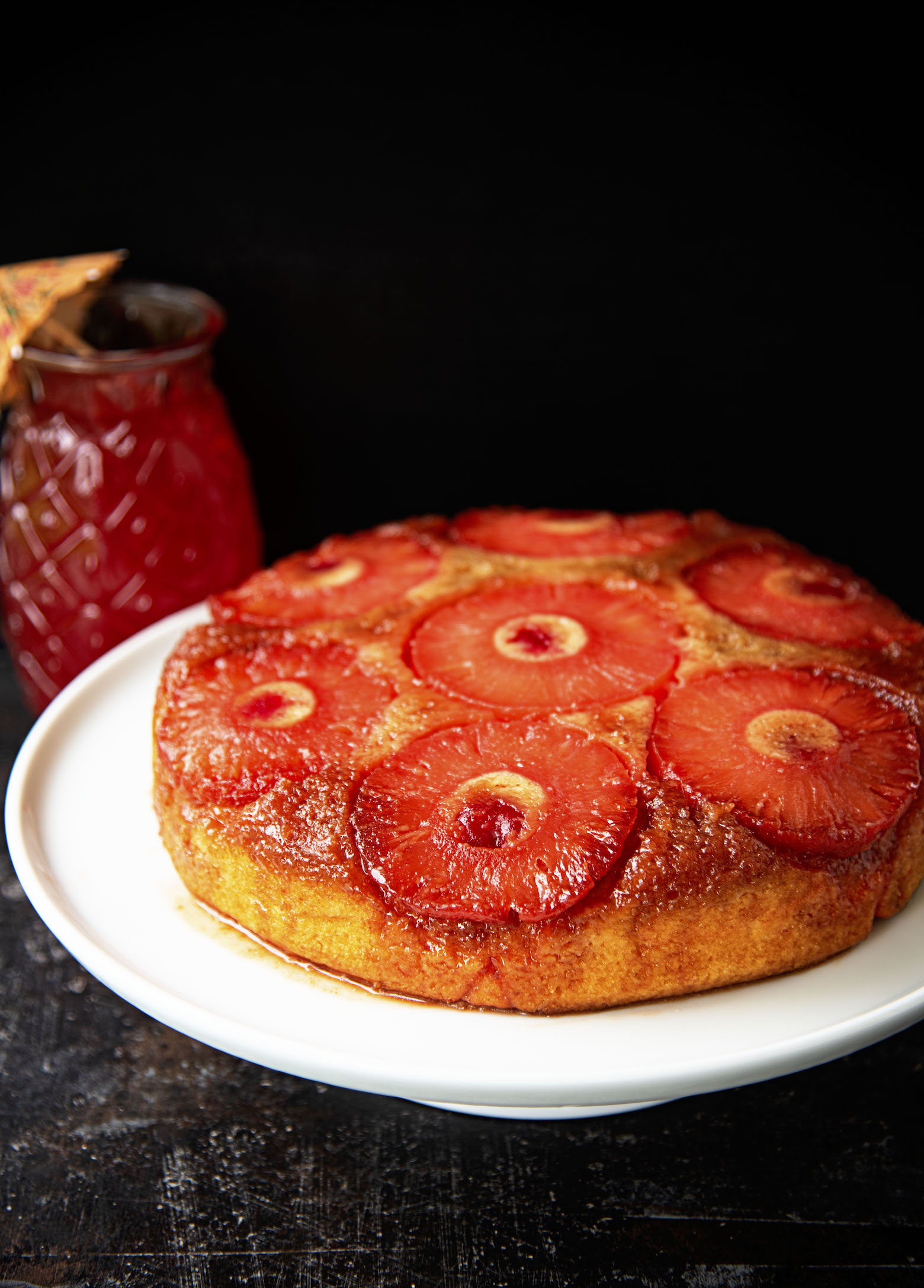 If you have ever seen the movie Semi Pro, my hockey team is the hockey version of the Tropics.
Or so we like to joke.
And yes, since I run the team, that makes me Jackie Moon.
Minus the hit single.
We even try and win 4th place.
Which we did one year.
When there were only three teams.
Now that takes talent.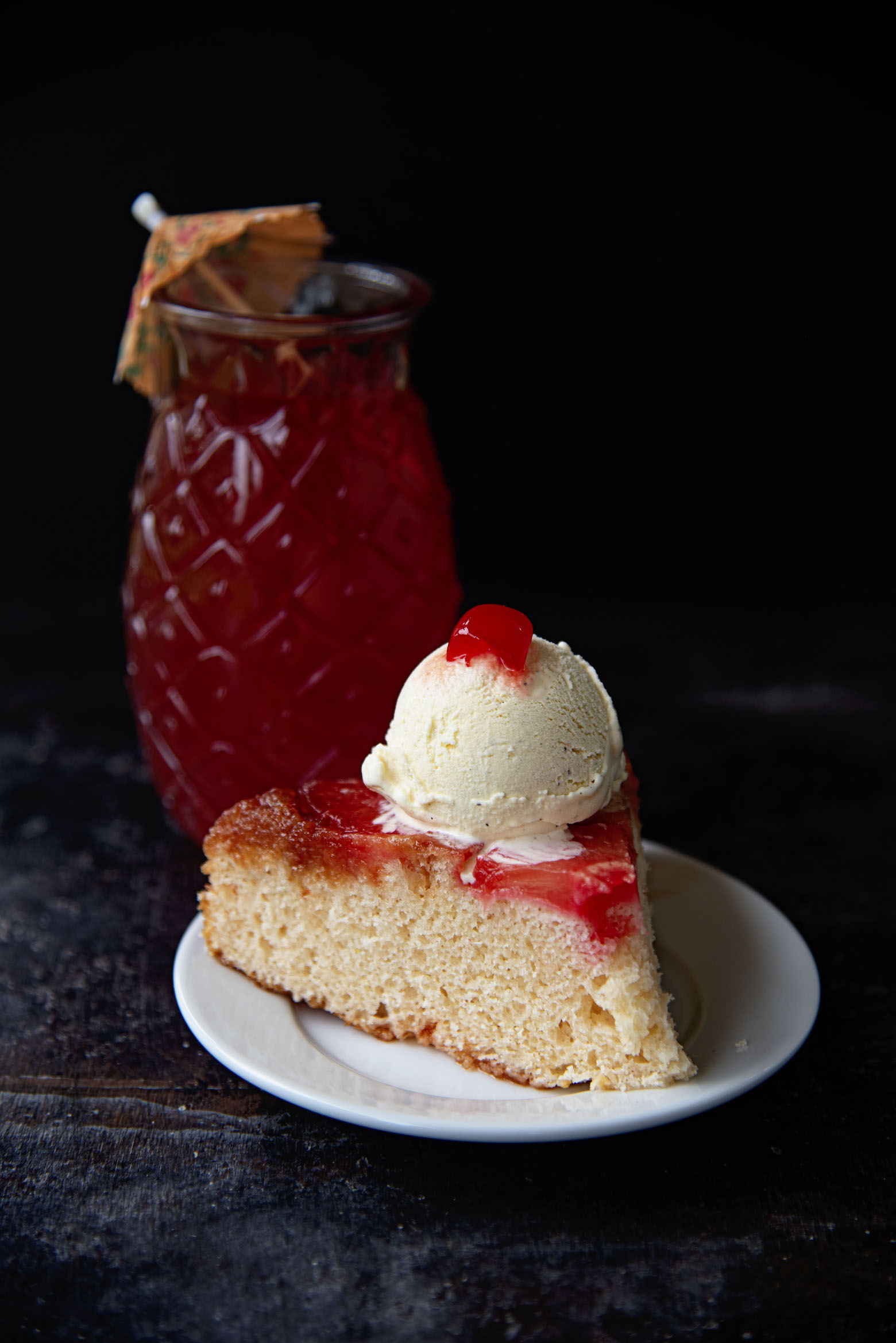 If you are saying how is that possible?
There were only three teams in the division.
Everyone makes the playoffs, even if you don't win a single game.
So they had to pull a team from the upper division to play us.
But they were still listed as a team not in our division.
Our biggest claim to fame though is the year we won the championship…by forfeit.
We were so proud we had t-shirts made.
And during the pandemic, not to brag or anything, but my team went undefeated.
Granted no one was getting to play but we are still clinging to being undefeated. 😀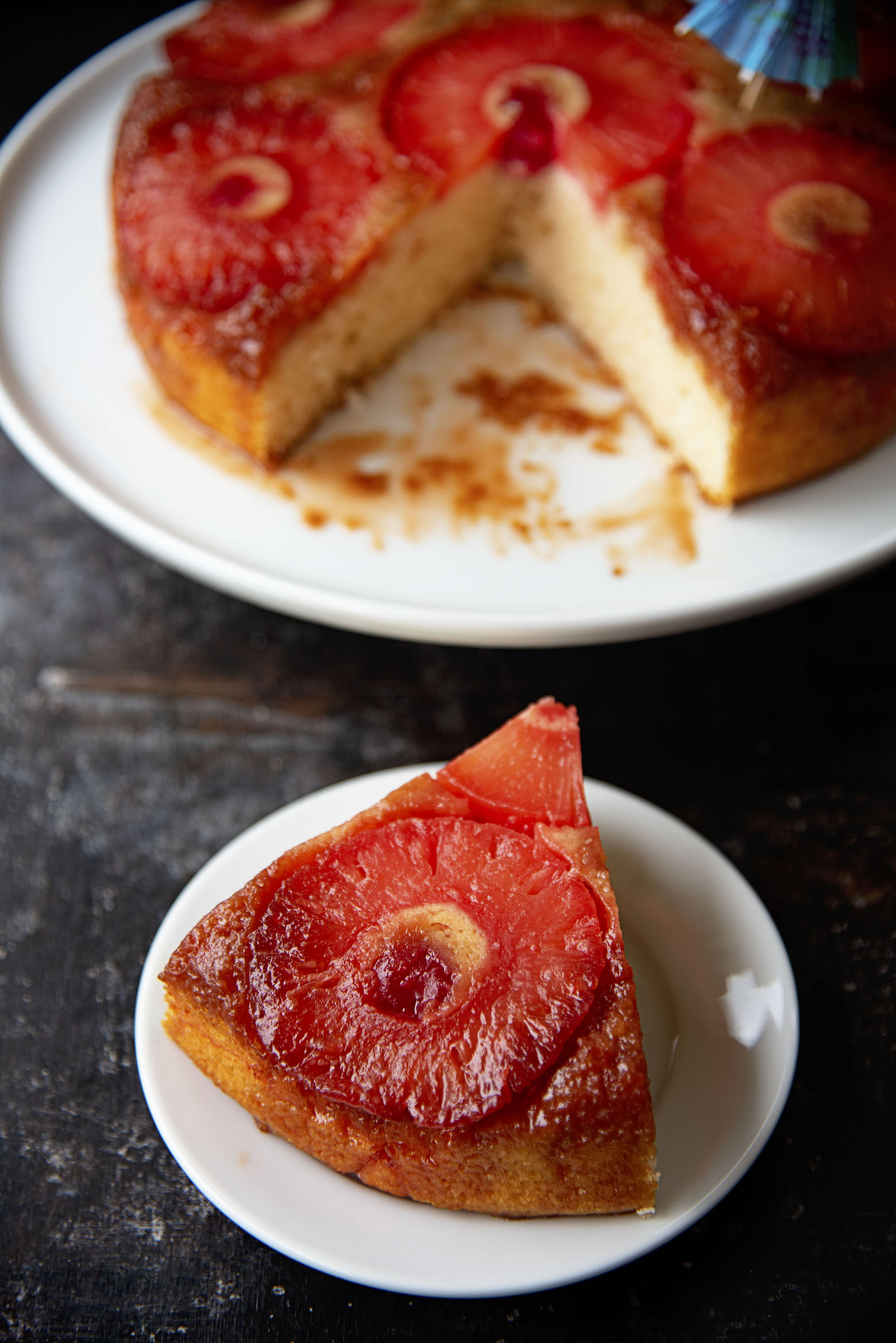 What does this have to do with this Hawaiian Punch Pineapple Upside Down Cake?
Well, the movie was on tv the other day.
For some reason, even though we own the movie, we will sit and watch it with commercials.
Throughout the movie they have a saying "Let's Get Tropical".
For no real reason I just thought hey, I should soak pineapple rings in Hawaiian Fruit Punch.
I promise it all makes sense in my mind.
And well, you end up with yummy treats when that happens. 🙂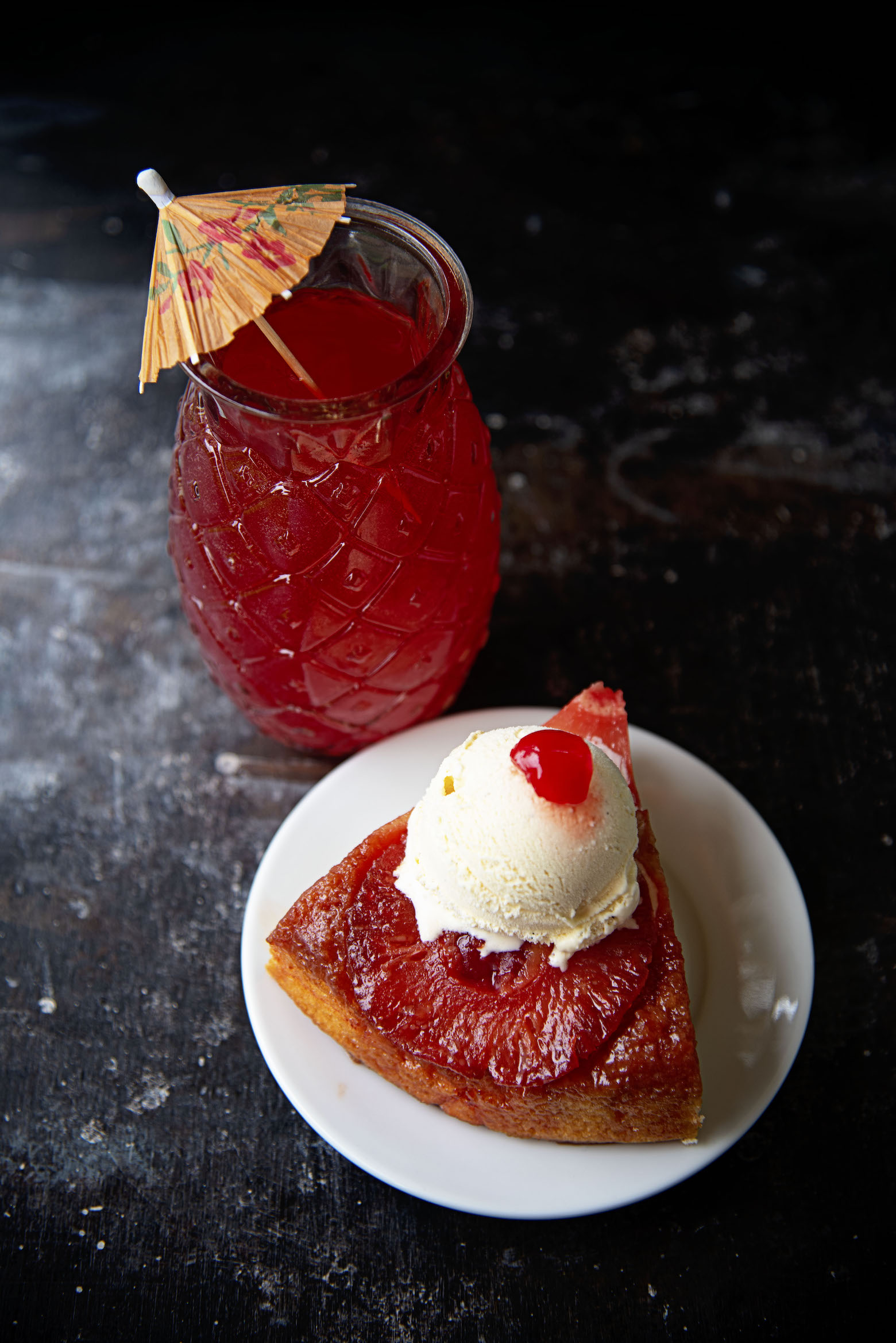 I had bought a bunch of Hawaiian Punch because I've been working on a fruit punch jello mold.
Then I tried it as a pound cake.
Which I'm still working on that as well.
I haven't quite got either of those right.
But this cake I got right the first time around.
P.S. It's a great day to buy my cookbook Holy Sweet!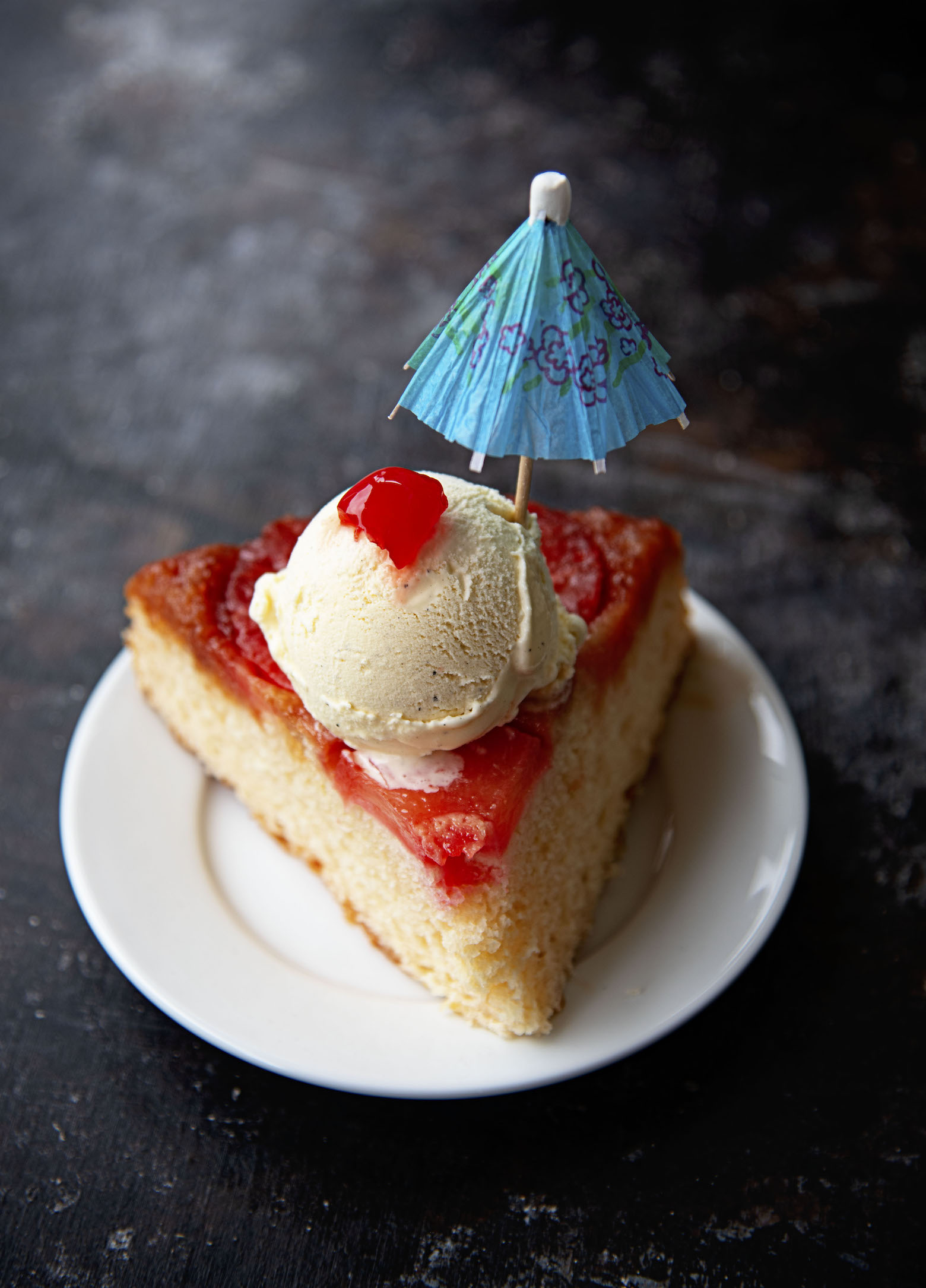 Want More Cake Recipes?
Chocolate Peanut Butter Stout Layer Cake
Vanilla Cheesecake Funfetti Pink Ombre Layer Cake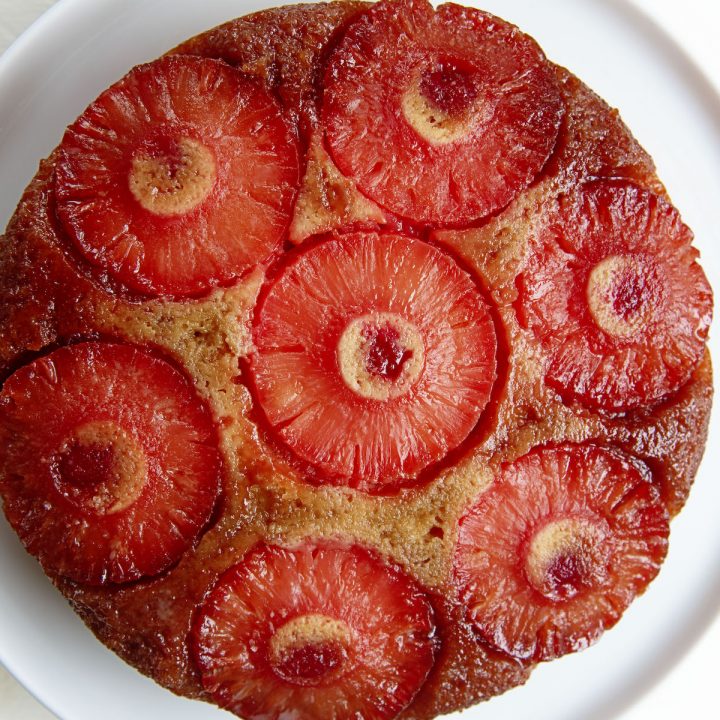 Hawaiian Punch Pineapple Upside Down Cake
Ingredients
For the Topping:
1/2 cup brown sugar
1/4 cup butter melted
For the Cake:
9 pineapple rings, drained, patted dry
12 oz Hawaiian Punch Fruit Punch
9 maraschino cherries
3 Tbsp vegetable oil
3/4 cup granulated sugar
1 large egg
1/2 tsp kosher salt
2 tsp baking powder
1 tsp vanilla extract
1⅓ cups all-purpose flour
1/4 cup full-fat sour cream
1/2 cup whole milk
1/4 cup Hawaiian Punch Fruit Punch
Instructions
The day before you start you cake.
Place the drained pineapple rings that have been patted dry into a Ziplock bag and pour the 12 ounces of Hawaiian Punch Fruit Punch into the bag.
Let it sit for at least 6 hours and even better overnight. The longer in the bag the more fruit punch the pineapple rings soak up.
Preheat your oven to 350 F.
Spray the bottom and sides of a 9" round cake pan with baking spray.
For the Topping:
In a small bowl, combine the melted butter and brown sugar and pour the mixture into the bottom of the cake pan, spreading it out evenly.
Arrange the pineapple rings around the pan and place maraschino cherries in between. Set aside.
For the Cake:
Using a stand mixer with a paddle attachment, cream together the oil and granulated sugar until moistened.
Then add the egg and mix until combined.
Add in the salt, baking powder, and vanilla and mix until well combined.
Add in the sour cream. Gradually add some of the milk, alternating with the flour until a soft batter comes together. Gently beat in the fruit punch last.
Carefully pour the batter over the pineapples in the pan, careful not to disturb their placement.
Bake for approx. 40-45 minutes or until the cake appears set, is light golden brown, and a toothpick inserted near the center comes out clean or with moist, not wet, crumbs.
Cool for 10-15 minutes, then very carefully invert the cake onto a platter or plate.
Serve warm or room temperature.
Definitely serve with ice cream or whipped cream.