This Peach Honey Bun Cake is a simple yellow cake with diced peaches and topped with a honey vanilla glaze.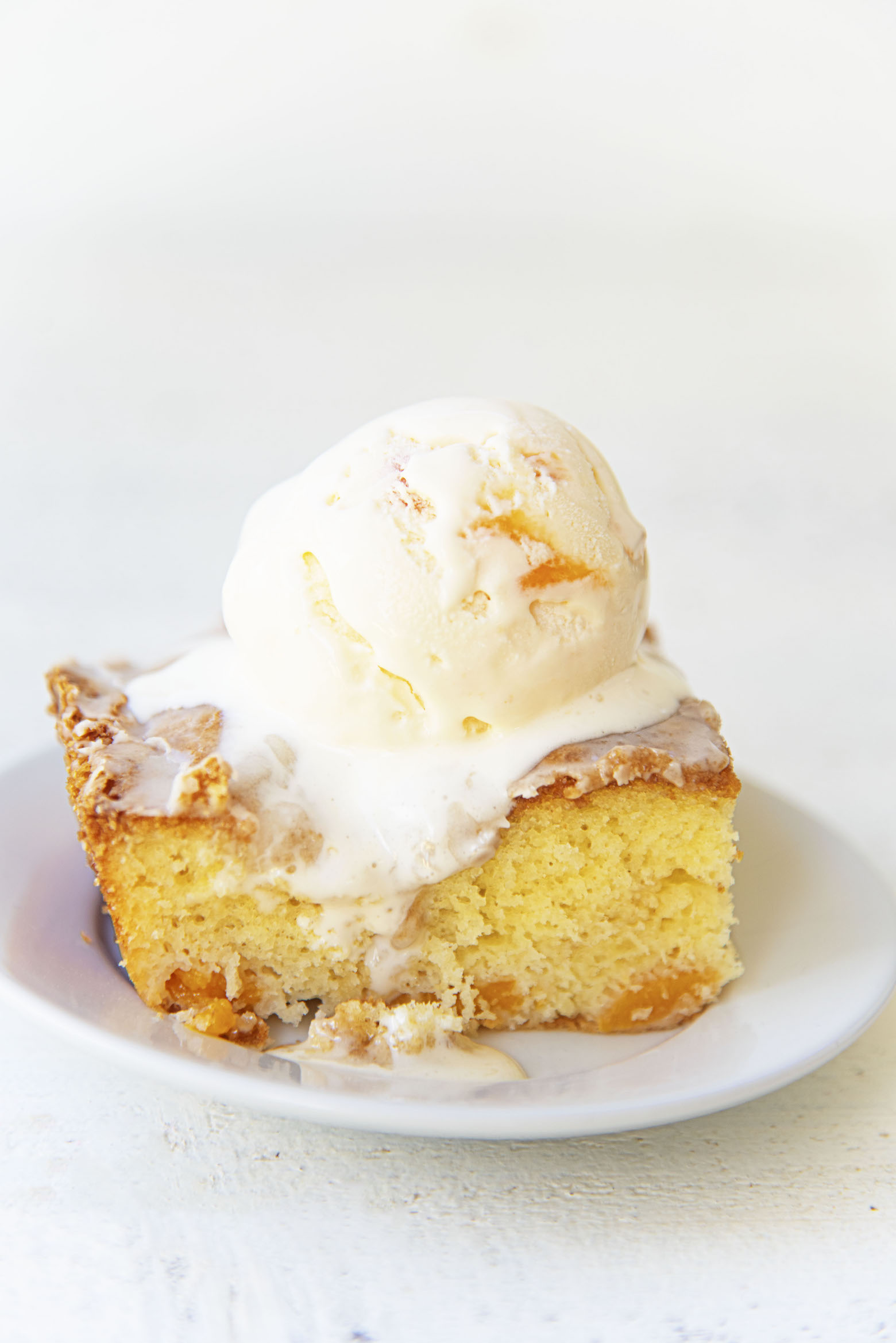 So you may have seen on the news that the Pacific Northwest is having a heat wave.
The worst one in history.
And I must say, as someone who lived in Phoenix, it is living up to it's prediction of being hot.
Yesterday it got to just a degree shy of 100.
We are to get to 100 today.
And 108 tomorrow. 108.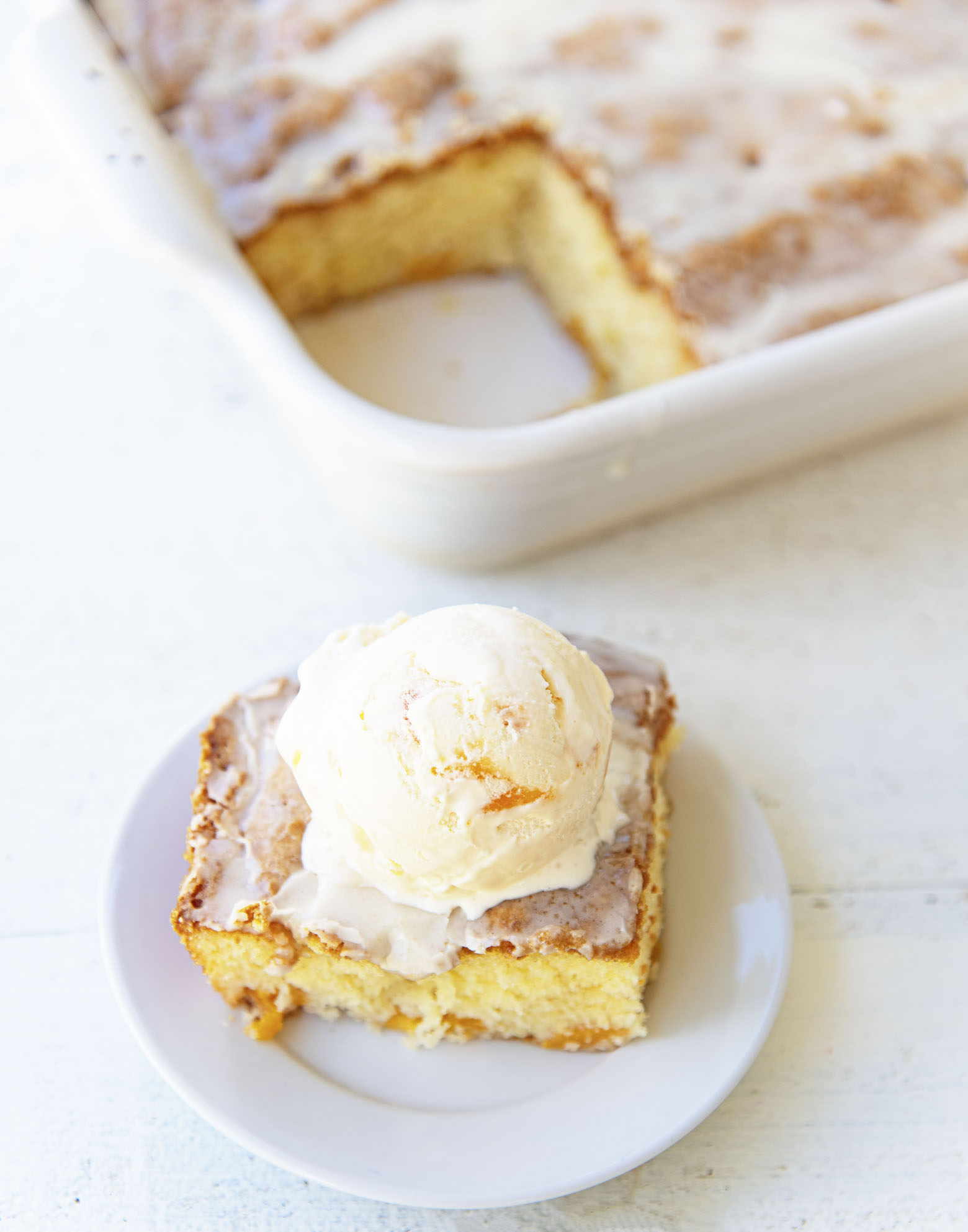 I know I already talked about this but I can't empathize enough how bad this is for our area.
Not only for drought reasons but for the people.
Most homes do not have air conditioning and even some businesses.
Because it rarely gets above 80 degrees a couple days a year.
Our average temperature for June is 73F.
So to hit 108F it's going to be devastating for some people.
When we do heat up in our area it cools down the next day or two.
Our overnight temps get back down into the 50's.
But not this time.
While we will be cooling down after Tuesday we will still be in the mid to high 80's with no rain in site.
Which just does not happen.
We have so many businesses closing in the afternoon and evenings now because it's too hot for their patrons and employees.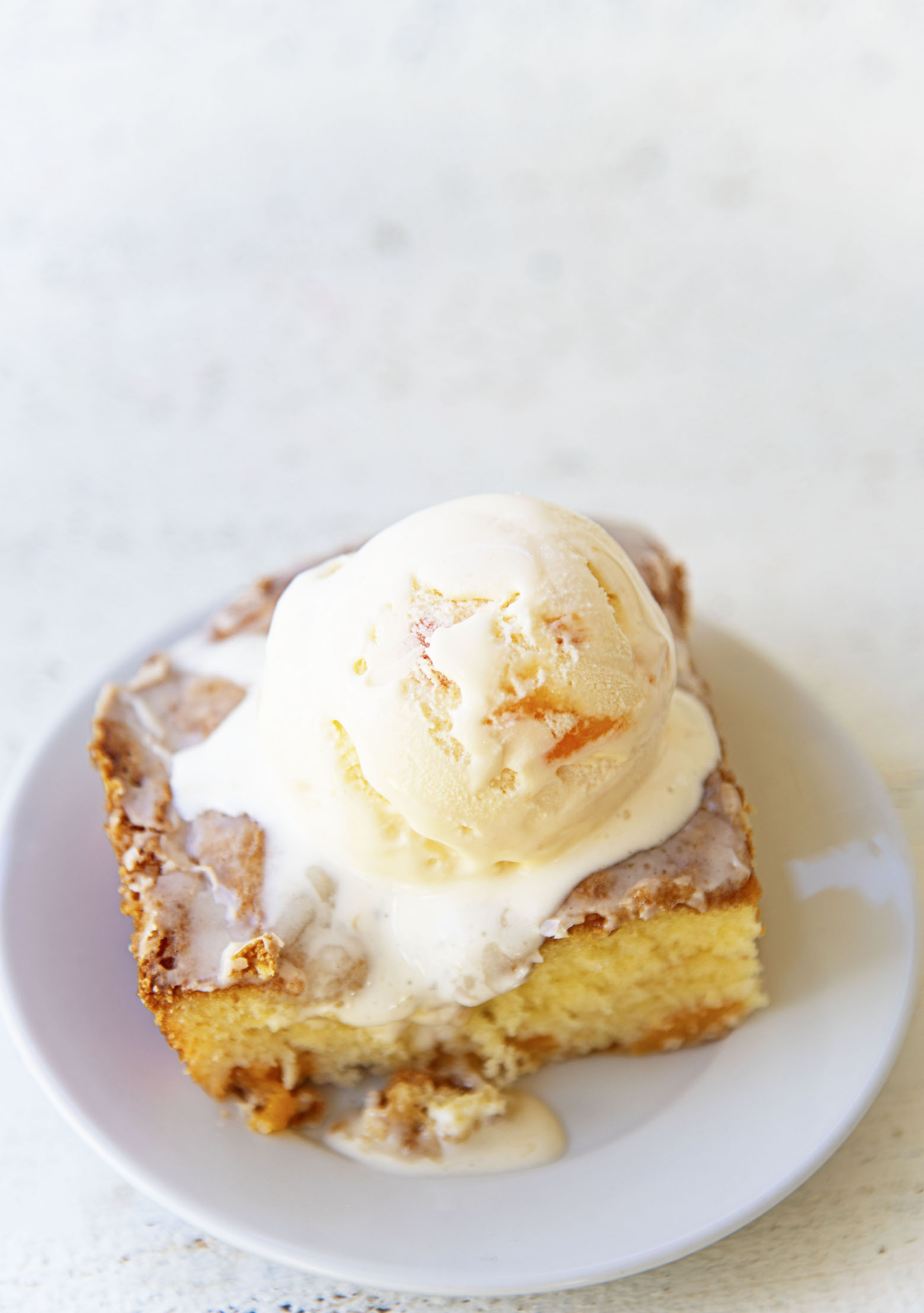 When I saw the forecast calling for warmer and warmer temps I decided to get one last bake in before it would be too hot to turn the oven on.
Because while we have portable air conditioning in our home in several rooms it still gets warm in the house.
And if we turned the oven on it would be unbearable.
I saw in my Facebook Feed a recipe for a Cherry Honey Bun Cake from Savory Experiments.
Honey Bun Cake is made by a lot of bloggers and it's nothing new.
I made one back in 2006 and I made a cherry version back then as well.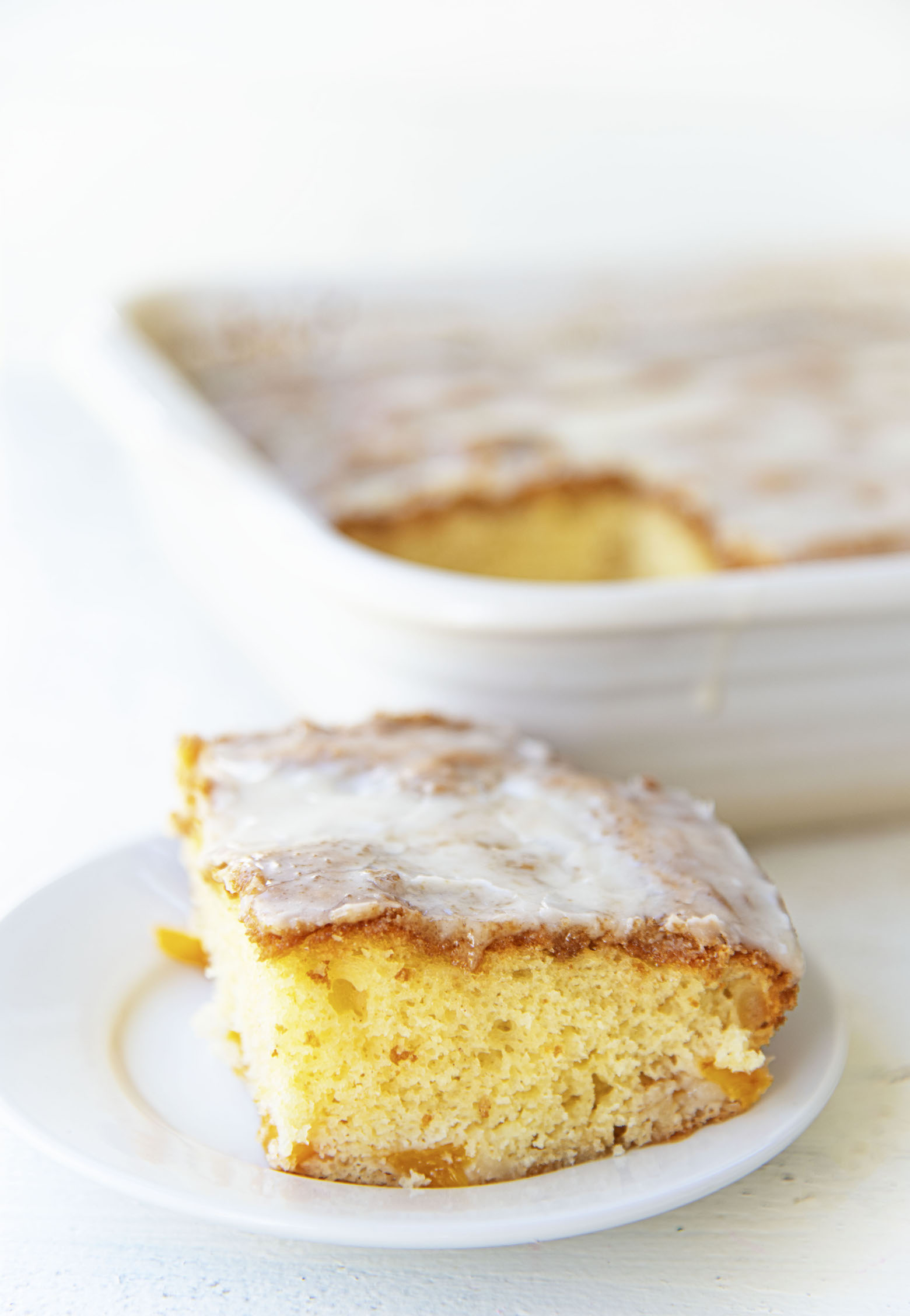 But I kind of forgot about the cake until I saw it in the feed.
I had some diced peaches (in little kid cups because I'm 12 on the inside).
And I also had some Tillamook Peaches and Cream Ice Cream.
Decided I should make a Peach Honey Bun Cake and throw some peaches in there.
Note, they will sink to the bottom, which is fine.
Since this is a honey bun cake it always bugged me that there was no honey in there.
So I added powdered honey to the icing. You can buy it online (there is a link in the recipe).
I buy the 3 pound can because I use the powdered honey in so many things.
From smoothies to baked goods.
I love it because it adds honey flavor but not the stickiness.
Plus it keeps longer.
P.S. It's a great day to buy my cookbook Holy Sweet!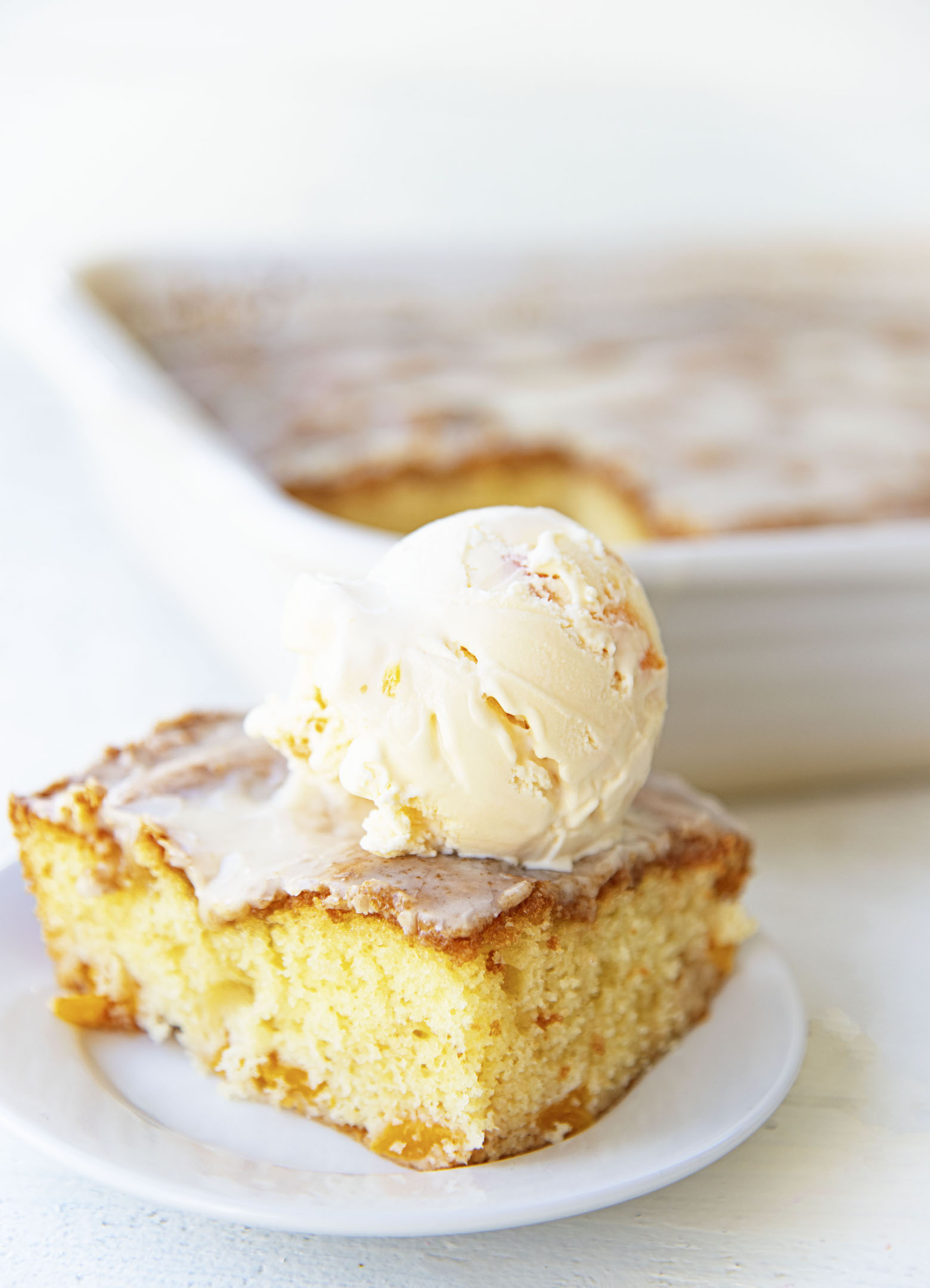 Want More Cake Recipes?
Chocolate Salted Caramel Popcorn Cake
Chocolate Peanut Butter Stout Layer Cake
Vanilla Cheesecake Funfetti Pink Ombre Layer Cake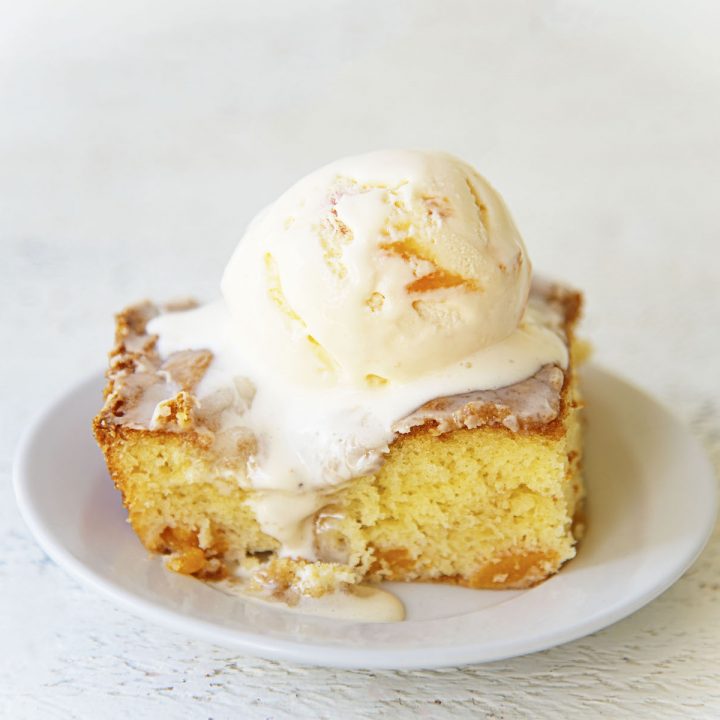 Peach Honey Bun Cake
Ingredients
For the Cake:
1 box yellow cake mix
2/3 cup vegetable oil
4 eggs
1 cup sour cream
1 cup packed brown sugar
2 tsp ground cinnamon
1 1/2 cups diced peaches, drained
For the Icing:
1 cup powdered sugar
1 TBSP milk
1 tsp vanilla
Instructions
Heat oven to 350°F (325°F for dark or nonstick pan).
Grease with shortening and lightly flour 13×9-inch pan, or spray with baking spray with flour.
In large bowl, beat dry cake mix, oil, eggs and sour cream with electric mixer on low speed 30 seconds, then on medium speed 2 minutes, scraping bowl occasionally.
Spread half of the batter in pan.
In small bowl, stir together brown sugar and cinnamon; sprinkle over batter in pan.
Spread the peaches over the brown sugar cinnamon mixture as evenly as you can.
Carefully spread remaining batter evenly over peaches.
Bake 44 to 48 minutes or until deep golden brown (for mini springform it took 35 minutes).
For the Icing:
In another small bowl, stir powdered sugar, powdered honey, milk and vanilla until thin enough to spread.
Prick surface of warm cake several times with fork.
Spread powdered sugar mixture over cake.
Cool completely, about 1 hour. Store covered at room temperature.