This Key Lime Pie Fudge uses white chocolate, key lime pie flavoring, and marshmallow cream and sits inside a mini graham cracker crust.
People are interesting.
Yesterday on the Sweet ReciPEAs FB page I commented that we are going to have a heatwave here in the Seattle area.
Which we are.
We are going to break all time records.
Even when we get an unseasonably warm day it's usually just a day.
And unseasonably warm in June is in the 80's.
But we will be hitting triple digits.
Which NEVER happens.
Tomorrow we start into the mid 80's which is hot for us.
Then the next day the 90's.
Sunday we hit 102 and Monday 104.
We cool down to the 90's on Tuesday and stay in the mid-80's for the rest of the foreseeable forecast.
And that sucks.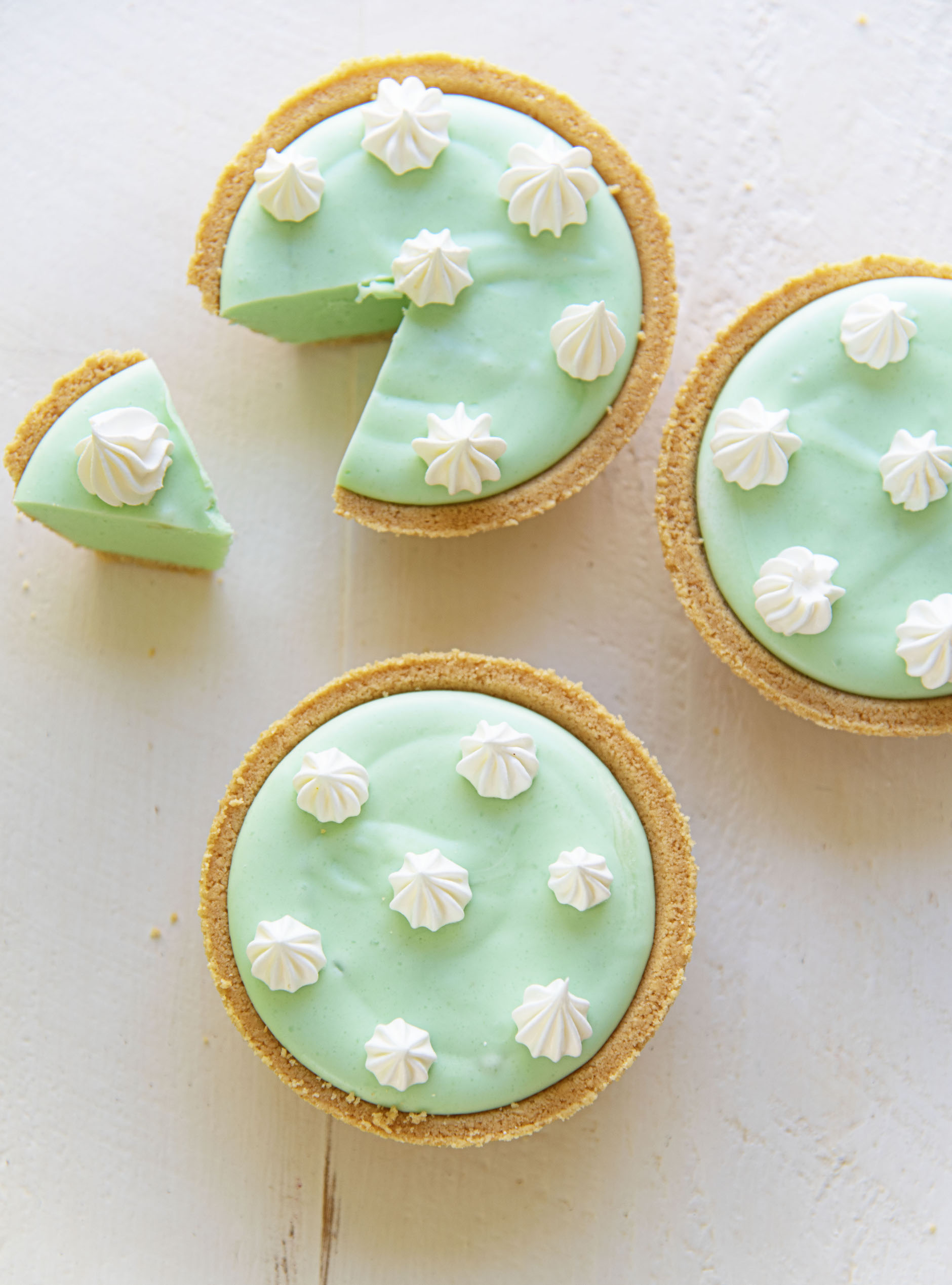 For a lot of reasons.
The main reason it sucks is because 75% of housing and most small businesses don't have air conditioning in our area.
Most of the businesses in my historic downtown area do not have a/c.
We never used to need it.
Now, we personally have several portable air conditioners.
We need it for our dogs with heart conditions.
As the heat is VERY hard on the hearts.
Which is another reason why the heat will suck.
People who live in the PNW just aren't acclimated to heat.
Example, when I lived in Arizona 100 days were just a thing you dealt with.
And I really didn't get super warm until it hit the mid 90's.
But now once we get in the upper 70's I feel like I'm melting.
Same thing with the cold.
When I lived in cold country I would walk around in shorts when it was in the 30's.
Granted I had a sweatshirt on but that was still shorts weather.
I would be bundled up head to toe if we were in the 30's here.
So if you live where that type of weather is prevalent you do build up a tolerance.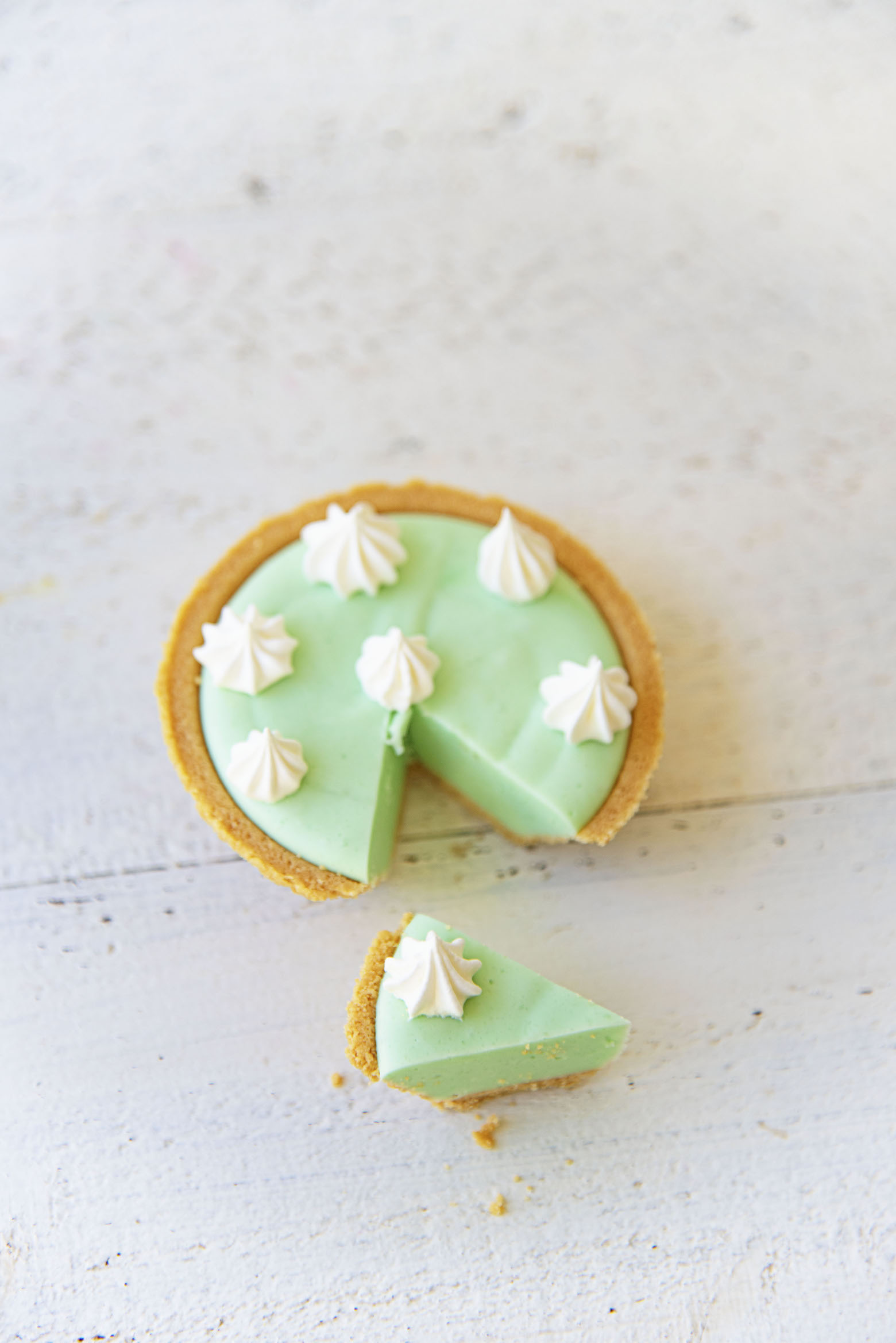 I bring this up because while what I asked on the FB page was what were your favorite recipes to make when it's hot outside.
What it turned into lots of people telling me to buck up and deal with the heat and turn the oven on.
Most of those people lived in Texas.
And they definitely made me not want to visit their state.
As several of them got nasty and anyone who tried to point out that not all areas are used to that kind of weather.
You know, like when TX froze over this past winter.
I also found it odd that I asked for recipe suggestions but instead got commentary about how 104 isn't a heat wave.
With those kind of temps coming I won't be bucking up and just turning on the oven.
So get ready for a lot of fudge, Jello molds, Jello shots, and pudding shots. 😀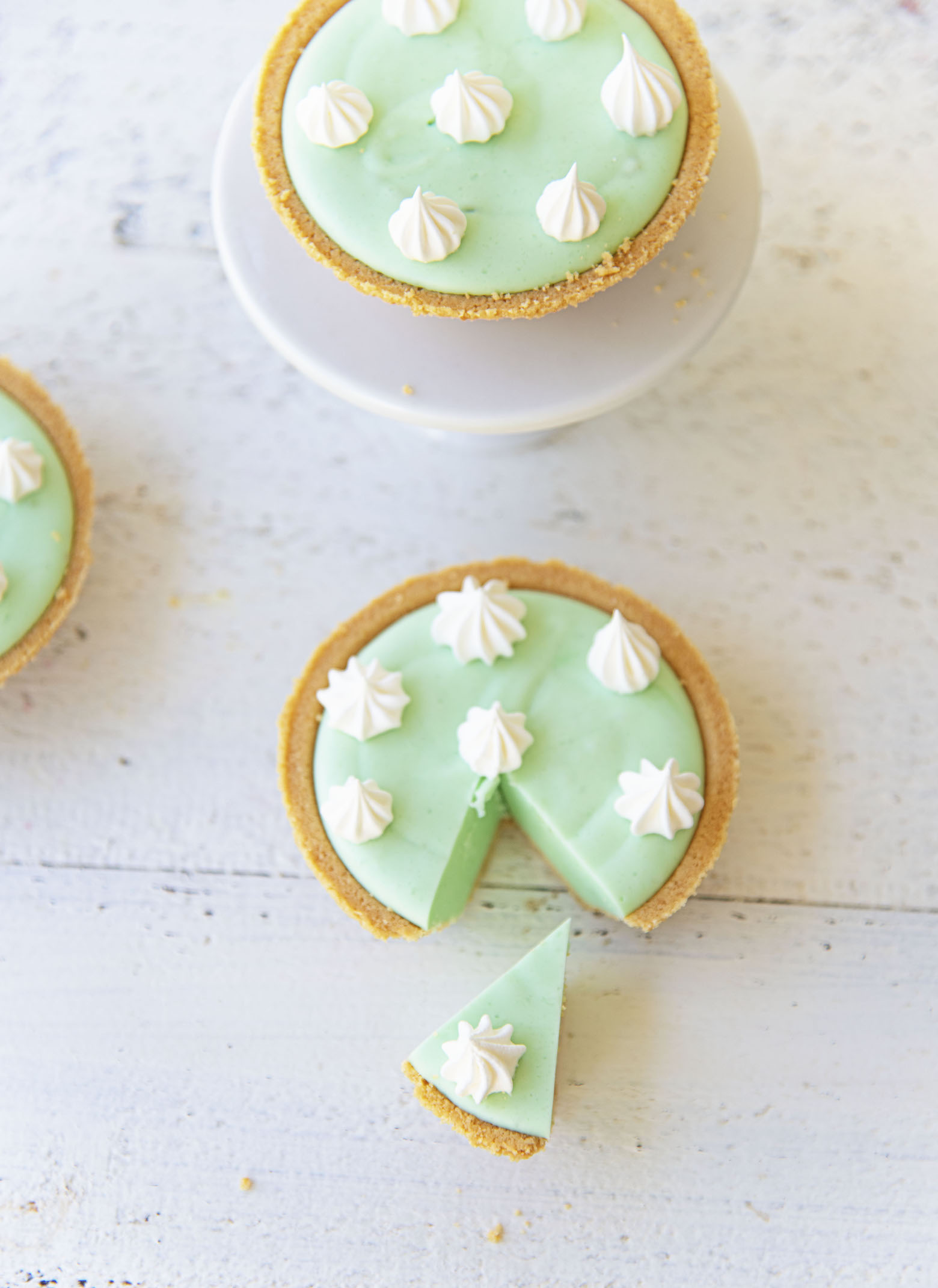 This Key Lime Pie Fudge came about because I needed to do something with my mini graham cracker crust.
You can find them at most grocery stores or Walmart/Target.
I just think it makes the fudge way more fun when you scoop it into a mini pie crust.
The crust does crumble a little when you cut it but that's okay.
I use both key lime juice and key lime pie flavoring in the fudge.
The key lime pie flavoring is lollipop flavoring and you can find it online or at craft stores usually.
I also put a little whipped cream on them for the photos but you don't need to do that if you don't want to.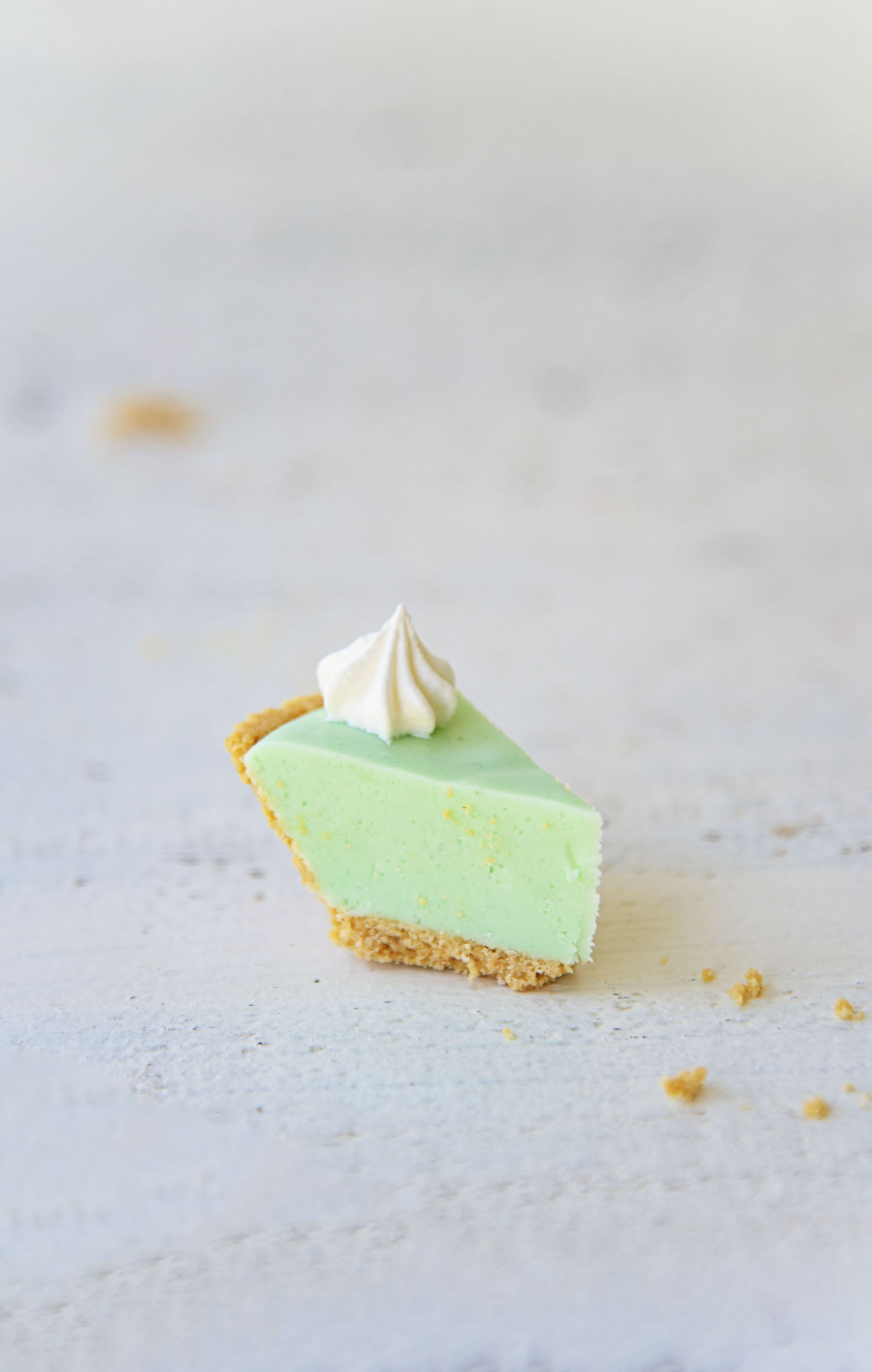 Keys to Successful Fudge:
Have a thermometer.
I don't like the old fashioned ones that you clip to the side.
Those never work for me.
I like digital and use this one.
Use Baker's sugar.
Also known as caster or superfine sugar.
I don't always follow my own rule because I don't always have it on hand but it makes for a less gritty fudge.
Use good butter. Preferably European.
They higher the butterfat content the better.
Cheaper butter often has too much water in it and will cause your fudge to separate.
Same goes for your chocolate.
The cheaper the chocolate the more likely it is to separate.
If using chips I tend to use Guittard.
And when making extra special fudge I used TCHO.
P.S. It's a great day to buy my cookbook Holy Sweet!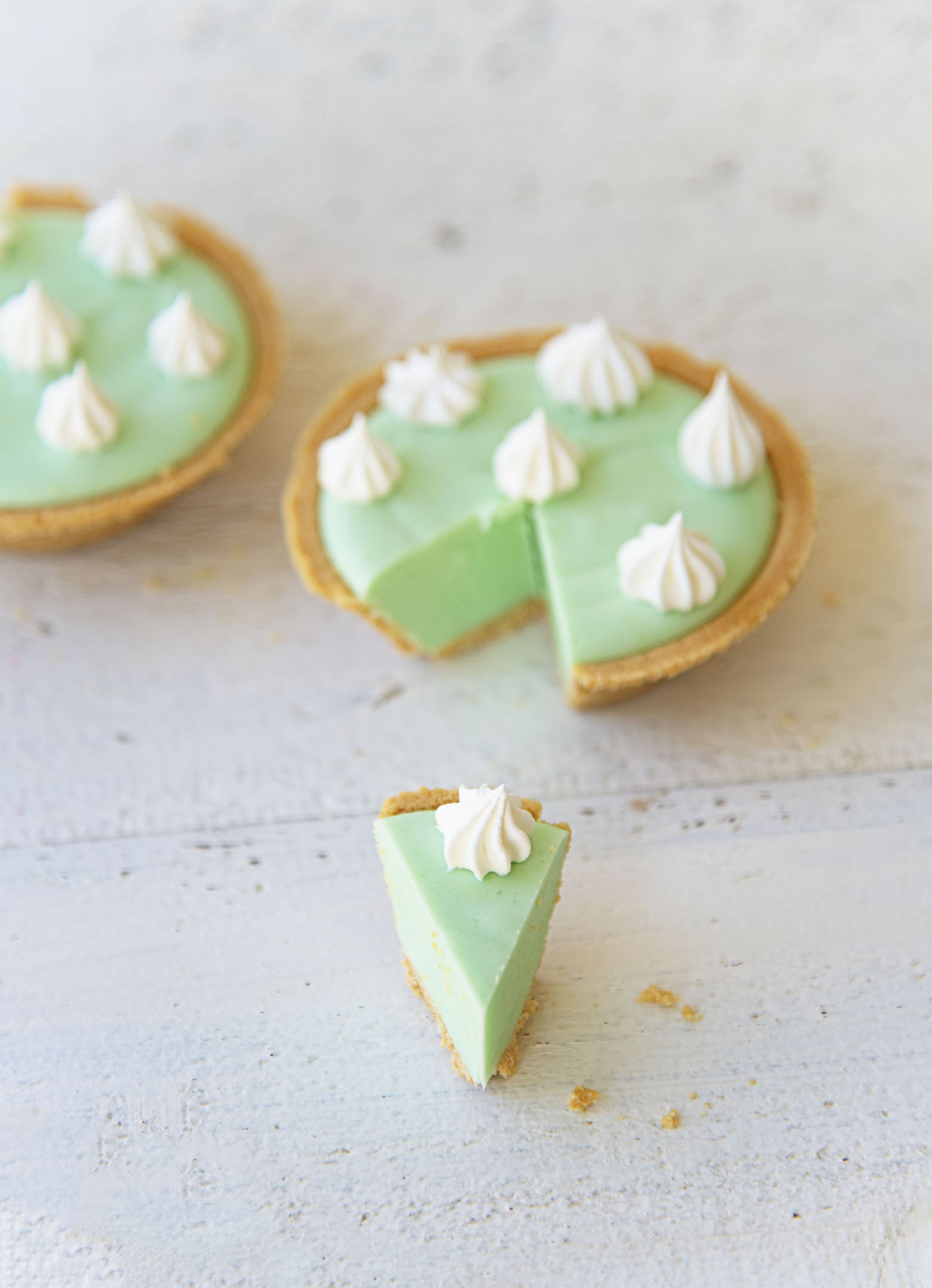 Want More Fudge Recipes?
Monster Cookie Chocolate Fudge
Chocolate Butterscotch Salted Cashew Fudge
Pineapple Upside Down Cake Fudge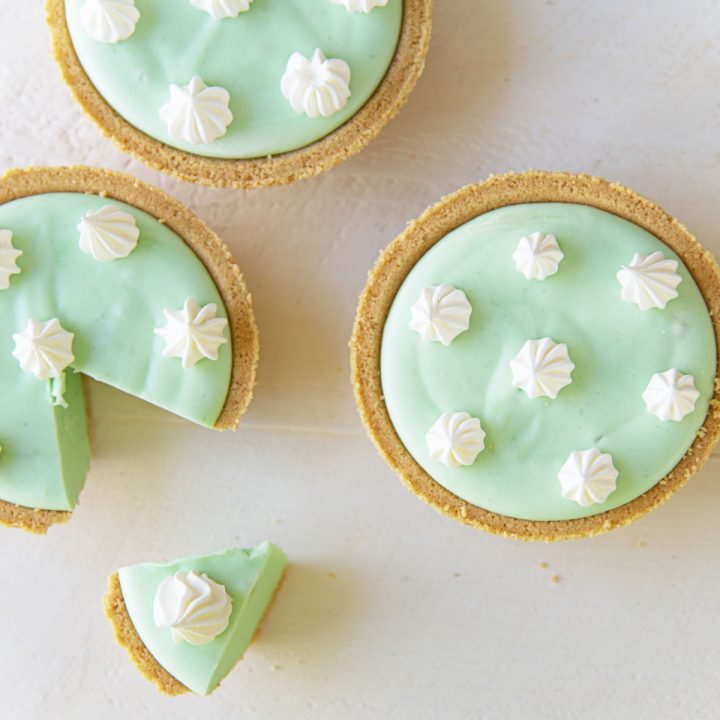 Key Lime Pie Fudge
Ingredients
For the Fudge:
12 mini graham cracker crust
2 cups granulated sugar
4 oz. unsalted butter
1/3 cup heavy cream
3 TBSP key lime juice
2 cups white chocolate chips
7-ounce jar marshmallow crème
green food gel if desired
Instructions
For the Fudge:
Lay out all the mini graham cracker crust on a baking sheet. Set aside.
Combine sugar, butter, heavy cream, and key lime juice into a large heavy-bottomed saucepan and bring to a boil over medium heat.
Once boiling, attach a candy thermometer (if you have a digital most you cannot attach to the side…just keep reading it every 30 seconds with an instant read) and reduce the heat to a hair above medium low and cook for 7-10 minutes until your thermometer reads 234°F (soft-ball stage), stirring constantly.
Once you reach 234F remove from heat and add the white chocolate chips stirring vigorously with a wooden spoon until all has melted and the mixture is smooth.
Add marshmallow crème, key lime pie flavoring, and green food gel if using and mix until well blended.
Using an ice cream scoop (at least that's what I did), scoop fudge into the mini pies.
Let set up for about 2 hours.
I added whipped cream for the photos but it's not necessary. But if you want to go for it.