These Strawberry Frosted Pop Tart Jello Shots have a mini pie crust filled with strawberry jam vodka jello topped with icing and sprinkles.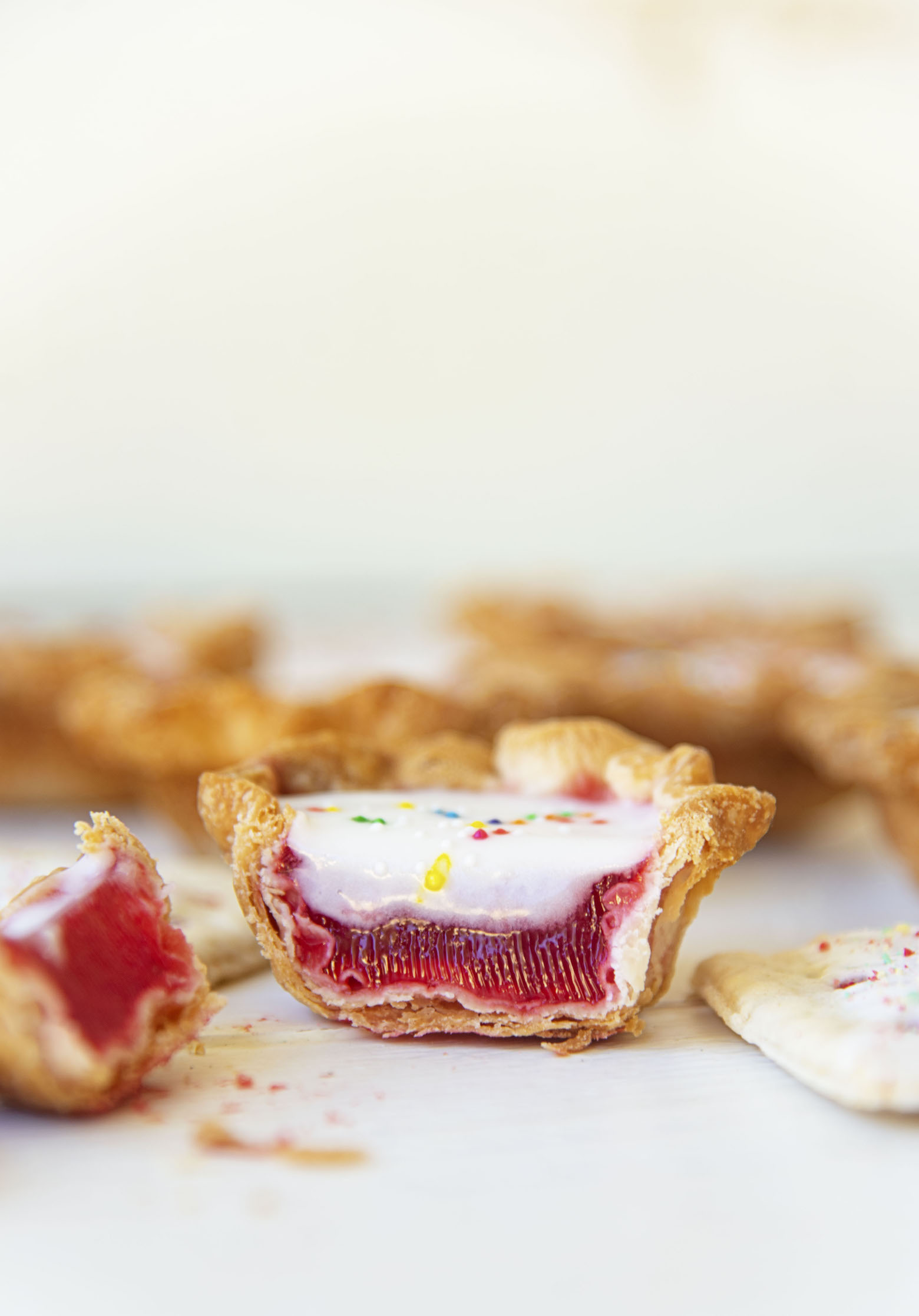 Sure, anyone can serve mimosas at their brunch.
But they truly fabulous make Strawberry Frosted Pop Tart Jello Shots.
True story.
Now, I know what you are thinking.
You are thinking, wow Peabody, that seems like a lot of work.
And well, it is.
I won't like and act like you just throw this together.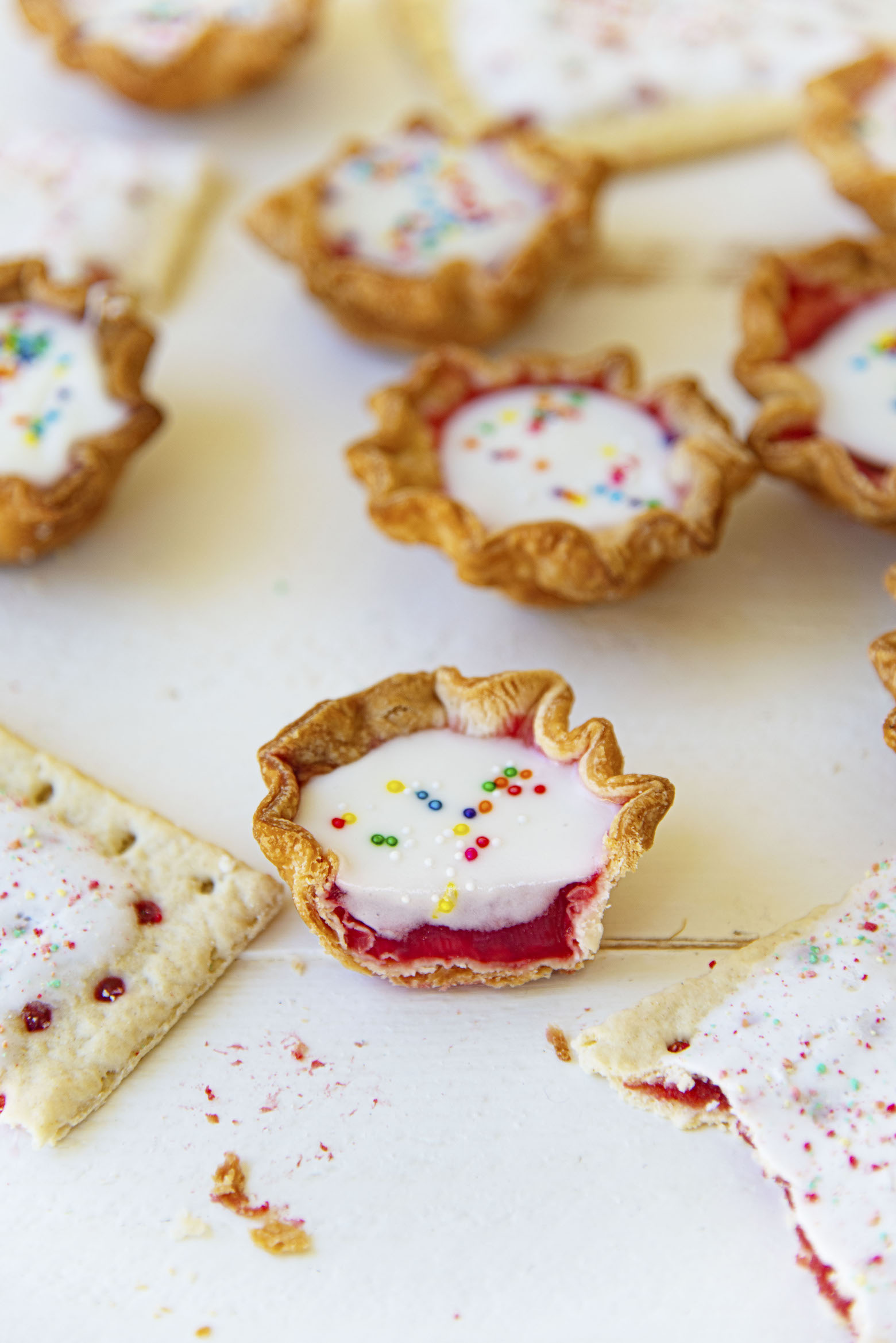 Forming and baking the crust is the hardest part.
I tried this a few ways.
Including lining one round with white chocolate in case of leakage.
What I found is that they don't really leak.
You will get a little bit of seepage into the crust but not really.
I just filled them and waited a bit.
And if the crust soaked in some of the jello I just piped a little more jello into them.
Yes, piped.
I used a turkey baster to pipe the jello into them.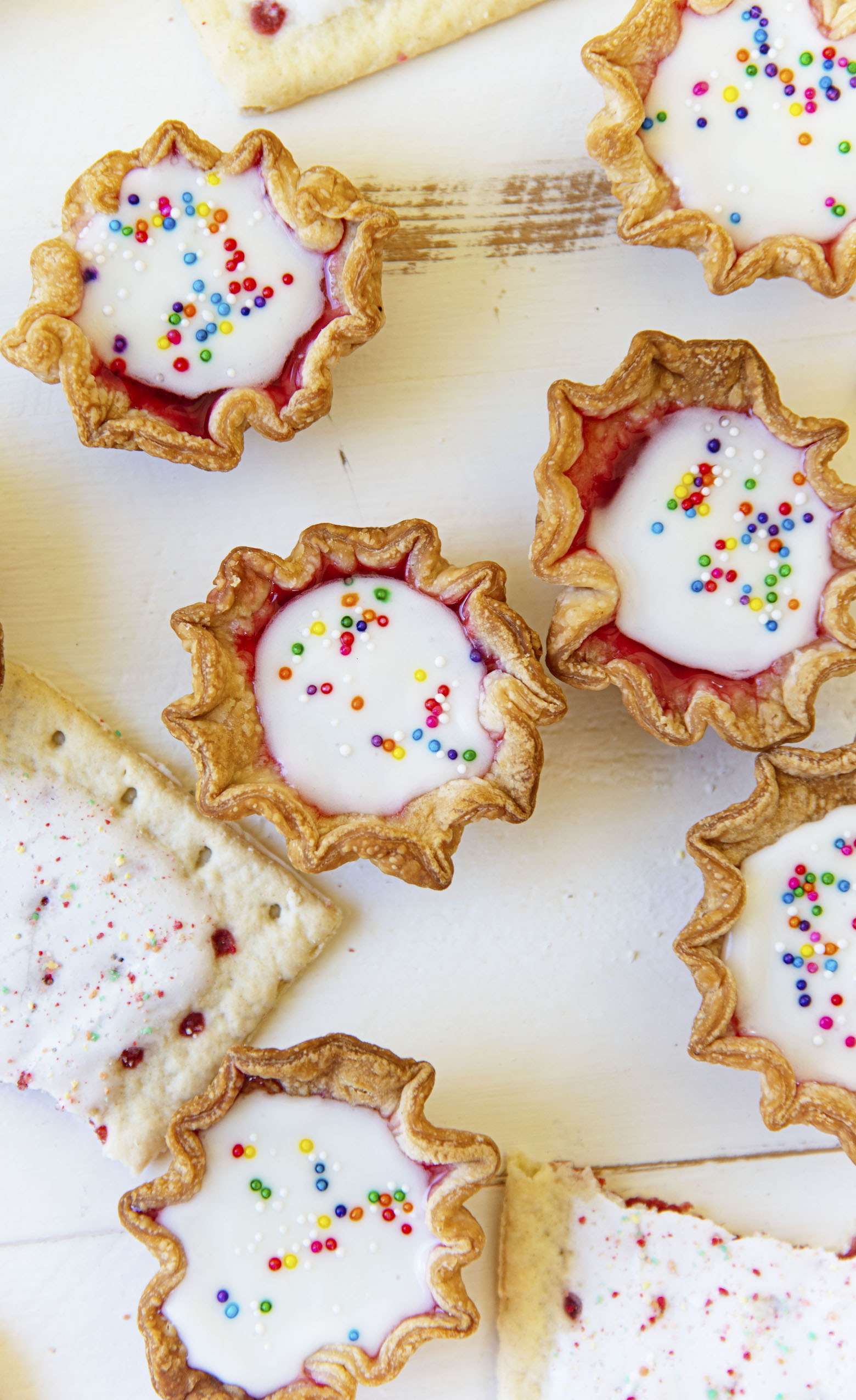 These shots have both jello and jam in them.
Don't skip the jam.
It's what helps them have more of a pop tart flavor.
And yes, I do think they taste like pop tarts.
If you let your pop tart drink some vodka. 😀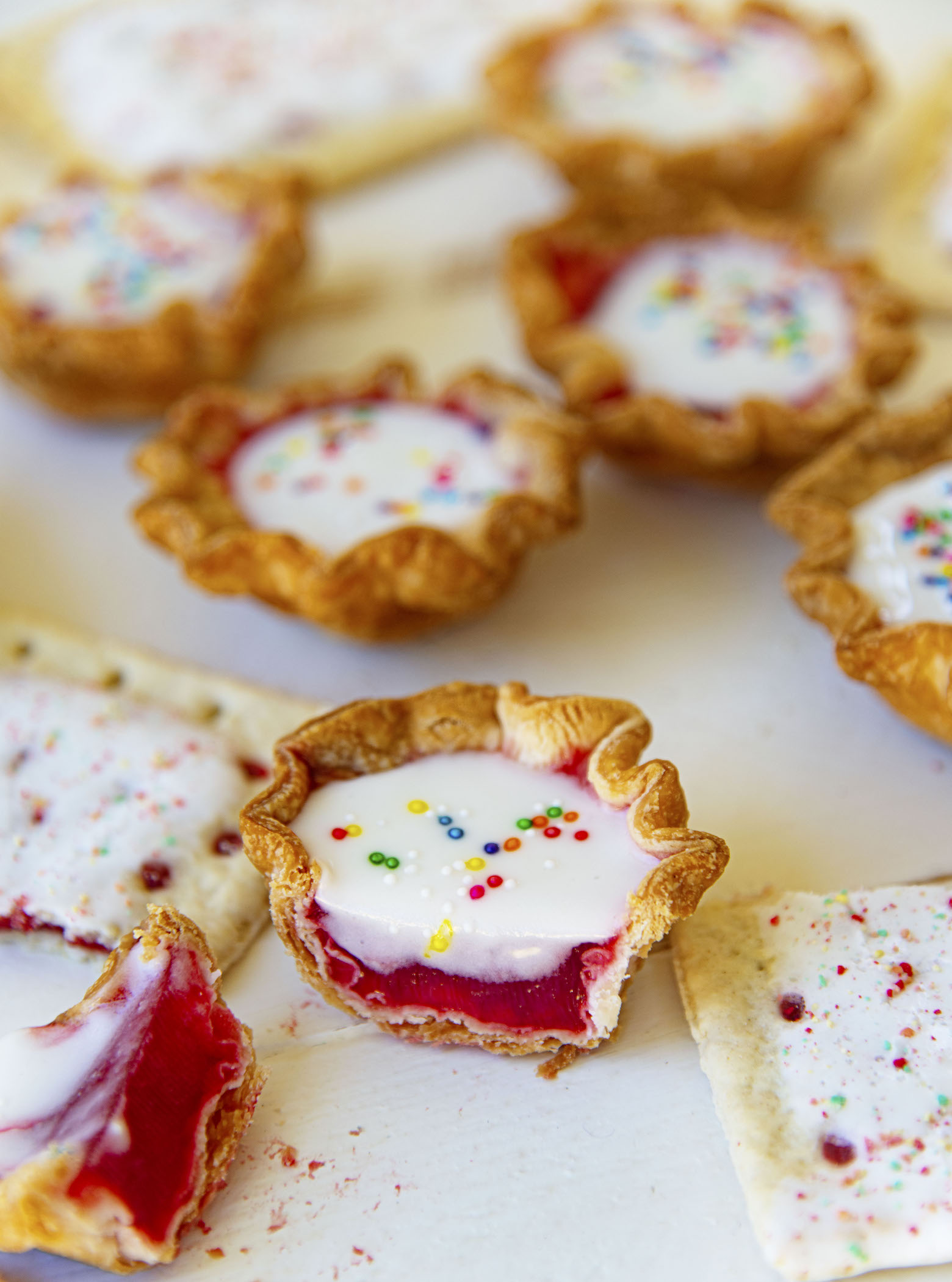 A quick warning about the icing.
It won't ever fully set up.
That's because the jello stays moist (yes, moist….deal with the word).
But considering these are gone in two bites it's not really a big deal unless you are photographing them.
Then the icing will start to slide while you are shooting the jello shots.
But most people don't have that issue. 😀
It's a great day to order my cookbook.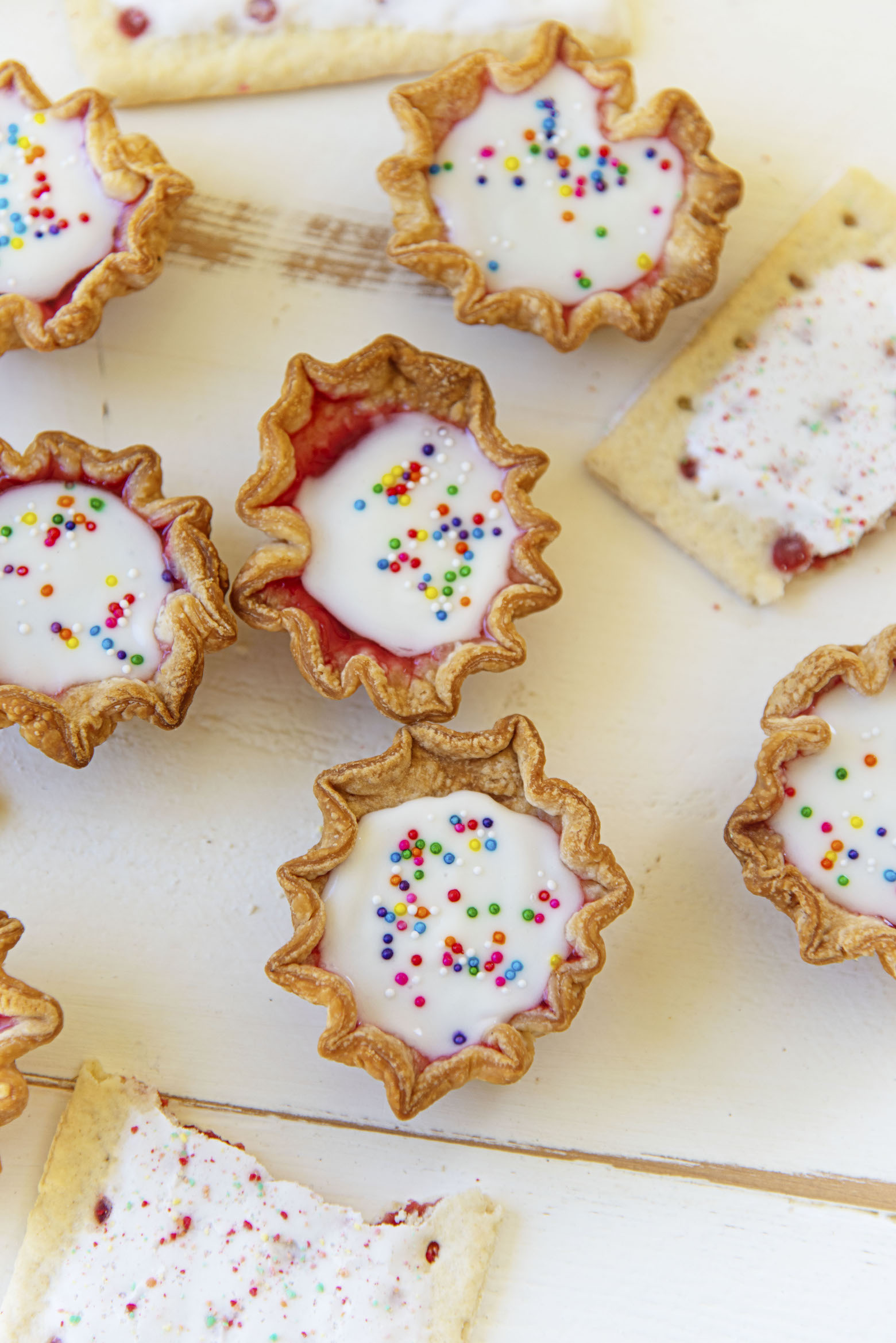 Want More Jello Shots?
Strawberry Pina Colada Jello Shots
Watermelon Lemonade Jello Shots
Blue Hawaiian Rainbow Jello Shots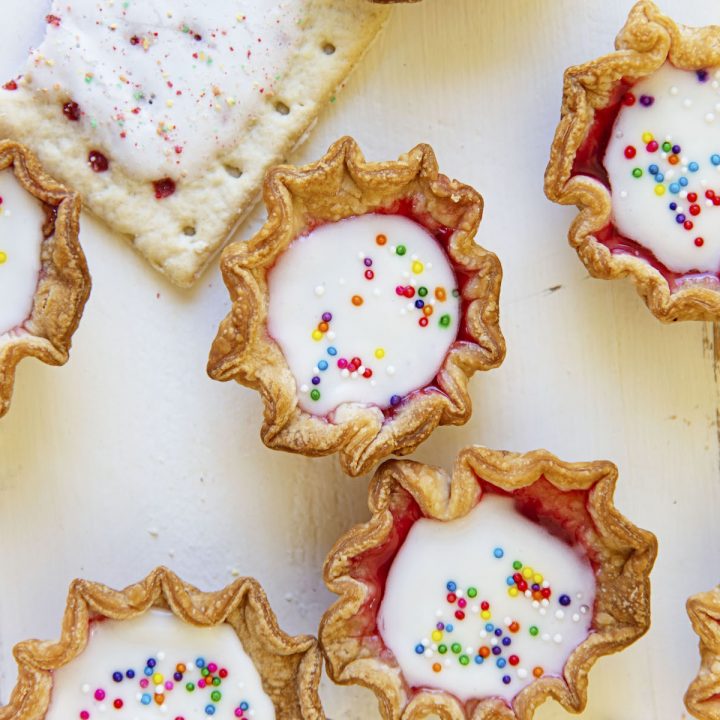 Strawberry Frosted Pop Tart Jello Shots
Ingredients
For the Crust:
2 crusts from 1 box (14.1 oz) refrigerated Pie Crusts, softened as directed on box
For the Jello:
1 cup water
1 (3 oz) package Strawberry Jello
1/2 cup cold water
1/3 cup melted strawberry jam
1/2 cup vodka
For the Icing:
1/2 cup powdered sugar
1 1/2 TBSP heavy cream
1/4 tsp clear vanilla
nonpareil sprinkles for garnish
Instructions
For the Crust:
Preheat oven to 425°F.
Remove crusts from pouches; unroll on work surface.
With a 4-inch round cutter, cut 6 rounds from each crust (for 12 total); discard scraps.
Fit rounds into 12 ungreased muffin cups, pressing in gently. Crimp to make them look like mini pies.
Line each one with parchment paper and fill with pie weights. If you skip this step they will puff up and you will have no place to put the jello.
Bake for 5-7 minutes.
Remove pan from oven but leave oven on.
Remove the pie weights and parchment paper leaving the crust still in the pan.
Place the crust back into the oven and bake for another 2-3 minutes or until they get golden brown.
Remove from oven and let cool completely before making jello.
For the Jello:
Bring 1 cup water to a boil.
Empty gelatin powder into a large mixing bowl and add the boiling water.
Continue stirring for two minutes or until the jello is completely dissolved.
Add in the cold sparkling water, melted strawberry jam, and vodka.
Stir until mixed and carefully pour into the pie shells. I personally used a turkey baster for this that way I could control how much jello went into the shell. You want to fill them almost all the way up.
Place into fridge and chill for at least two hours.
For the Icing:
In a mixing bowl whisk together all icing ingredients well then add more half and half about 1/2 tsp at a time to reach desired consistency.
Carefully spoon some icing onto the jello.
Top with some sprinkles.
Place back in the fridge for another hour.