This Strawberry Frosted Pop Tart Fudge has a pie crust base and white chocolate fudge with pop tarts, strawberry jam, and topped with icing.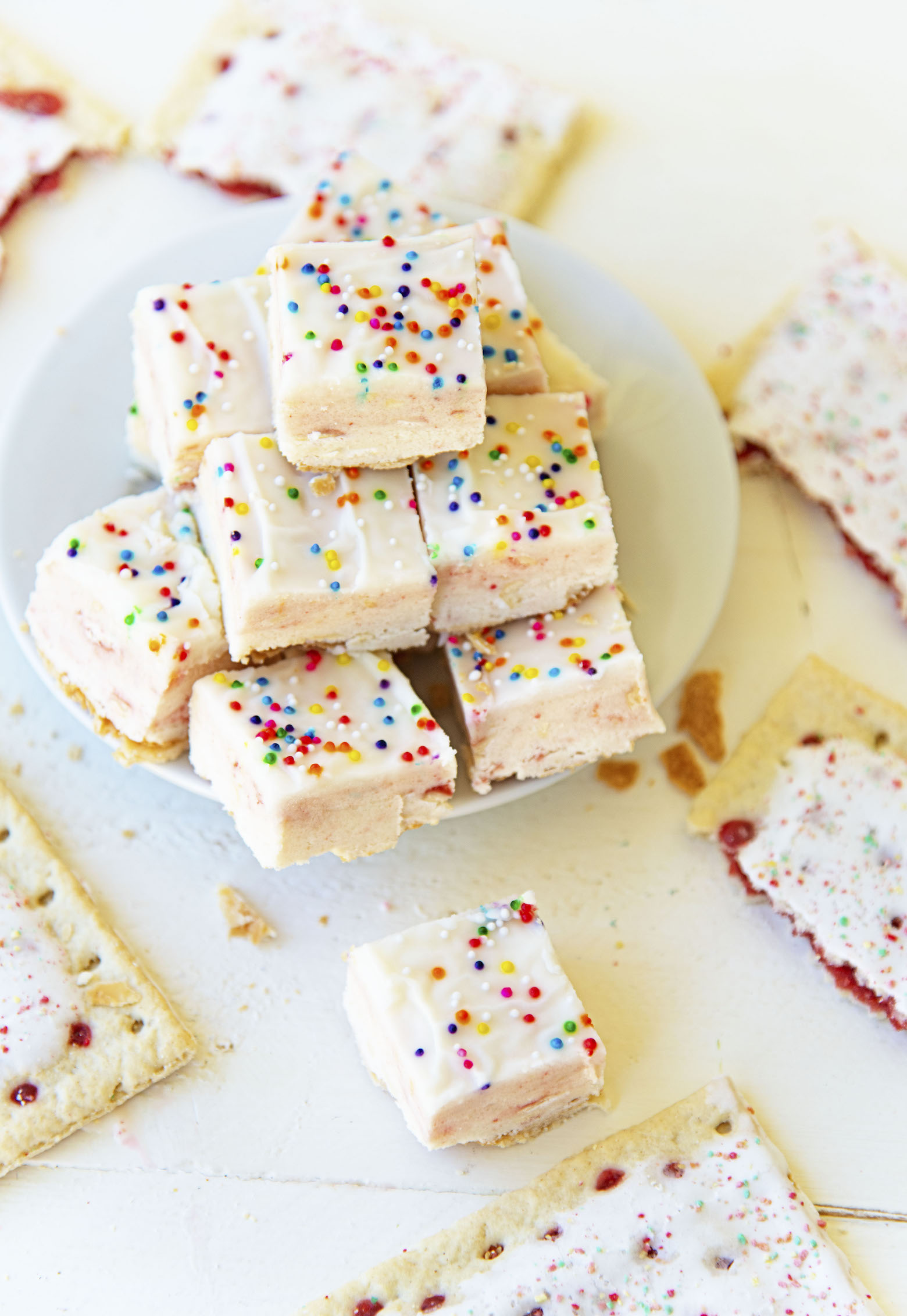 In my 20's and 30's I was a school teacher.
In Arizona.
Which at the time was 48th in the nation for pay.
And so I was on an extreme budget and worked several other jobs.
I lived off of two things: Strawberry Frosted Pop Tarts and Stove Top Chicken Stuffing.
Both I could buy in bulk at Costco.
Not the most nutritionally sound idea but in your 20's your body is kind to you. 🙂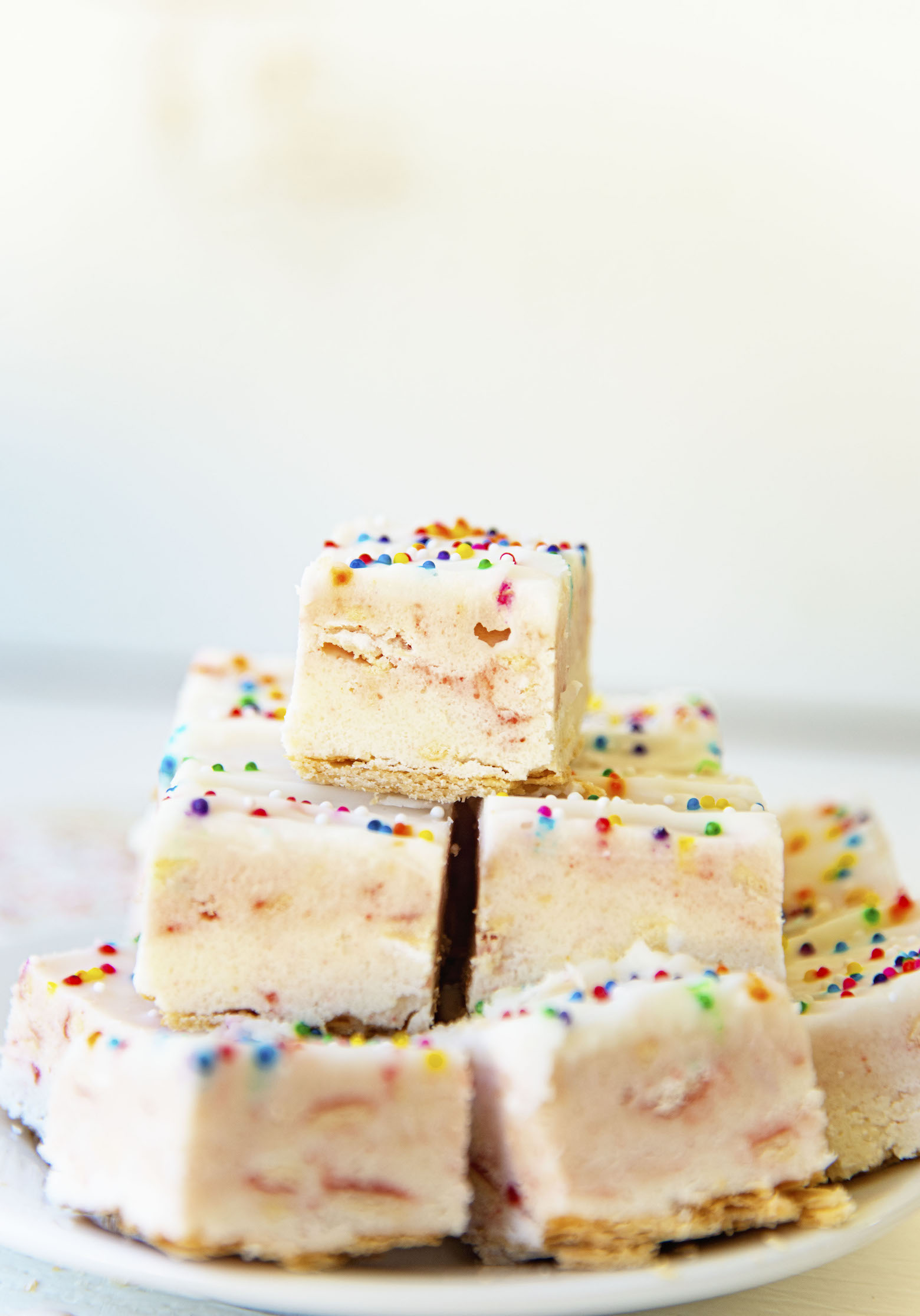 Back in 2006 I made some mini Homemade Strawberry Frosted Pop Tarts.
And then I really didn't every do anything again with Pop Tarts.
Though I did make an ice cream sandwich out of them.
It seemed odd that I didn't do anything more.
I mean I love Pop Tarts.
So I decided to dedicate some recipes to the morning pastry that I love so much.
Starting with this Strawberry Frosted Pop Tart Fudge.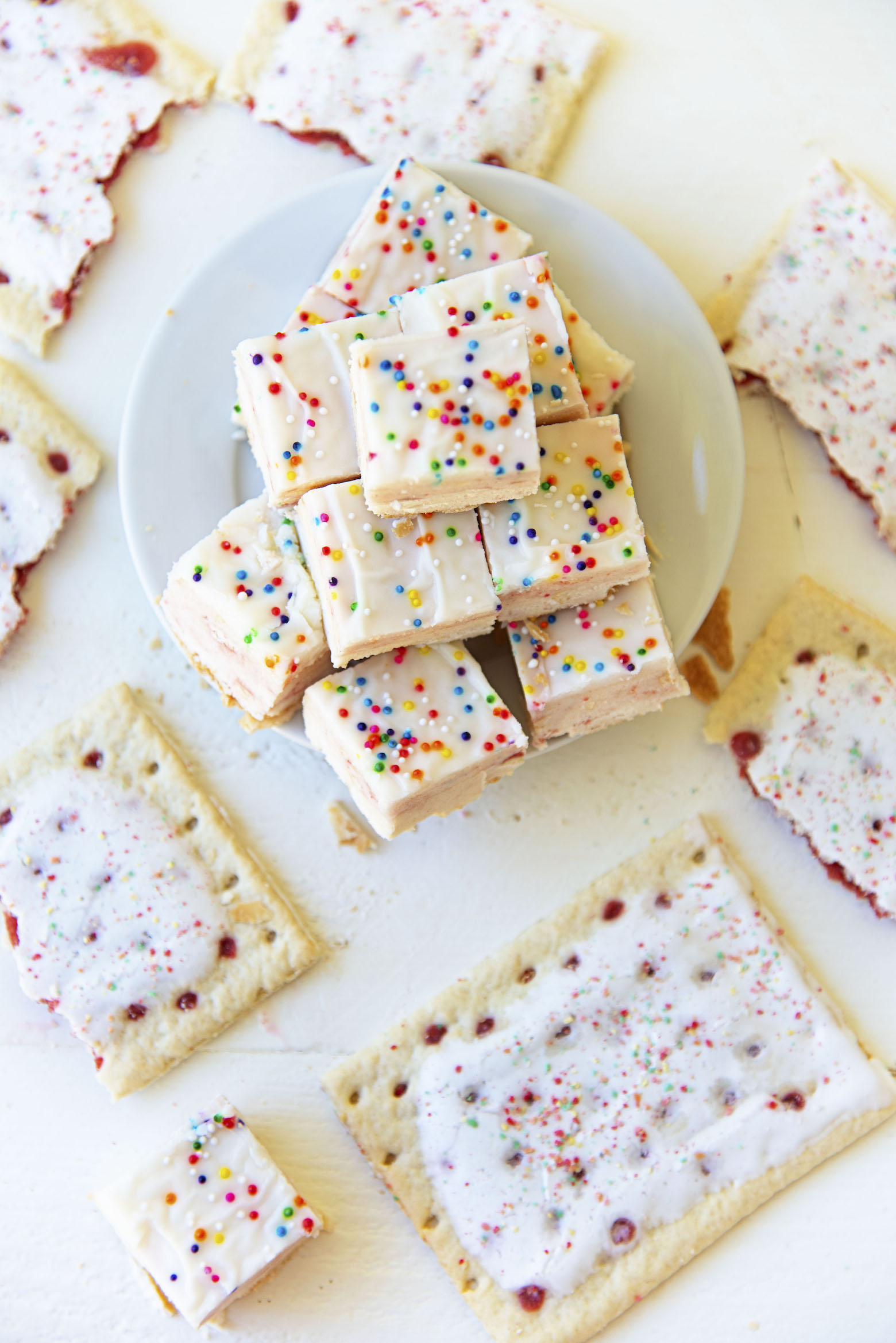 The fudge starts with a base of pie crust that you bake.
Then it's a white chocolate based fudge that has crushed Pop Tarts and strawberry jam swirled in.
Then it's covered in a layer of icing and topped with sprinkles.
It turned out really good and the pie crust, while crumbly, really does add to the fudge.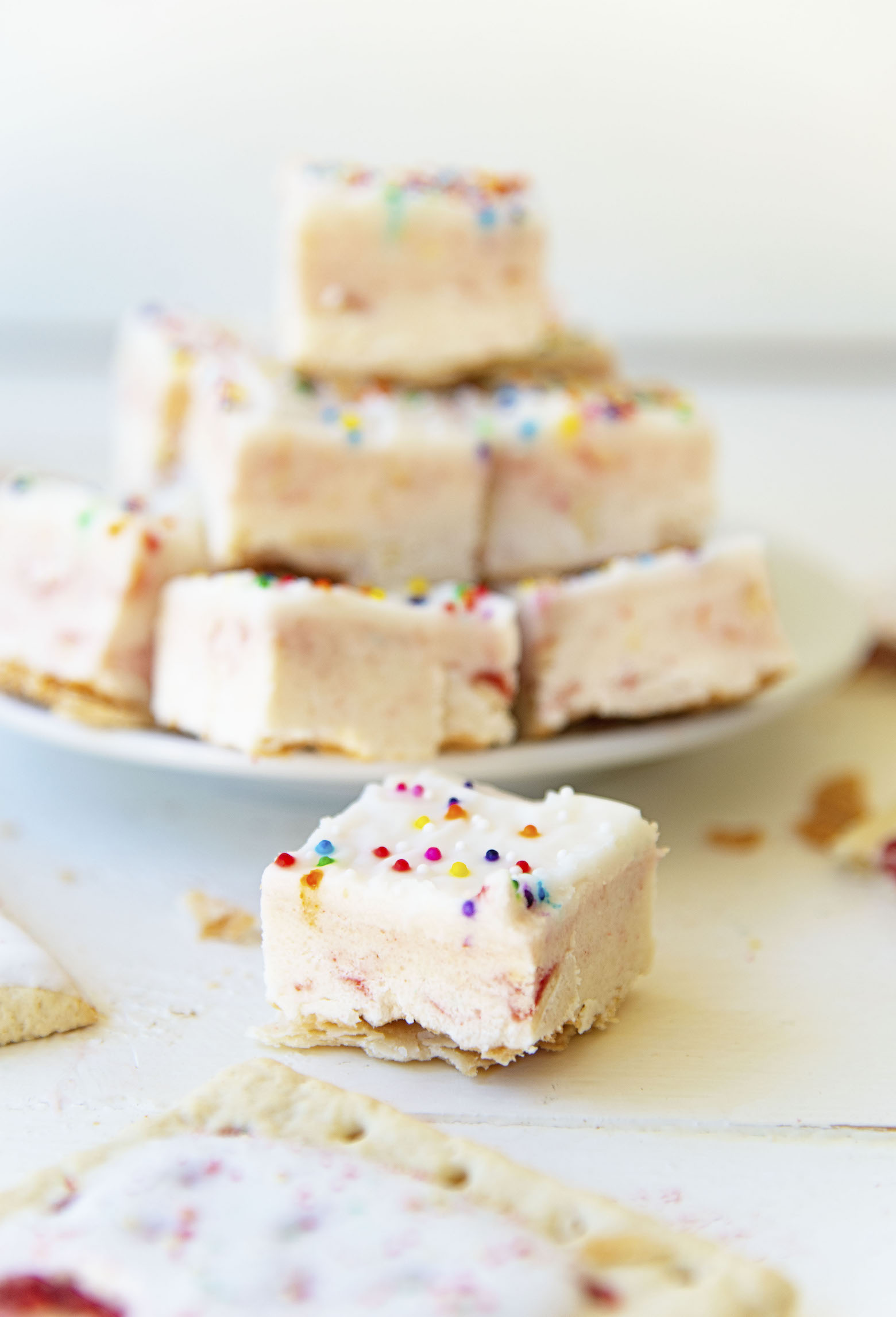 Keys to Successful Fudge:
Have a thermometer.
I don't like the old fashioned ones that you clip to the side.
Those never work for me.
I like digital and use this one.
Use Baker's sugar.
Also known as caster or superfine sugar.
I don't always follow my own rule because I don't always have it on hand but it makes for a less gritty fudge.
Use good butter. Preferably European.
They higher the butterfat content the better.
Cheaper butter often has too much water in it and will cause your fudge to separate.
Same goes for your chocolate.
The cheaper the chocolate the more likely it is to separate.
If using chips I tend to use Guittard.
And when making extra special fudge I used TCHO.
P.S. It's a great day to buy my cookbook Holy Sweet!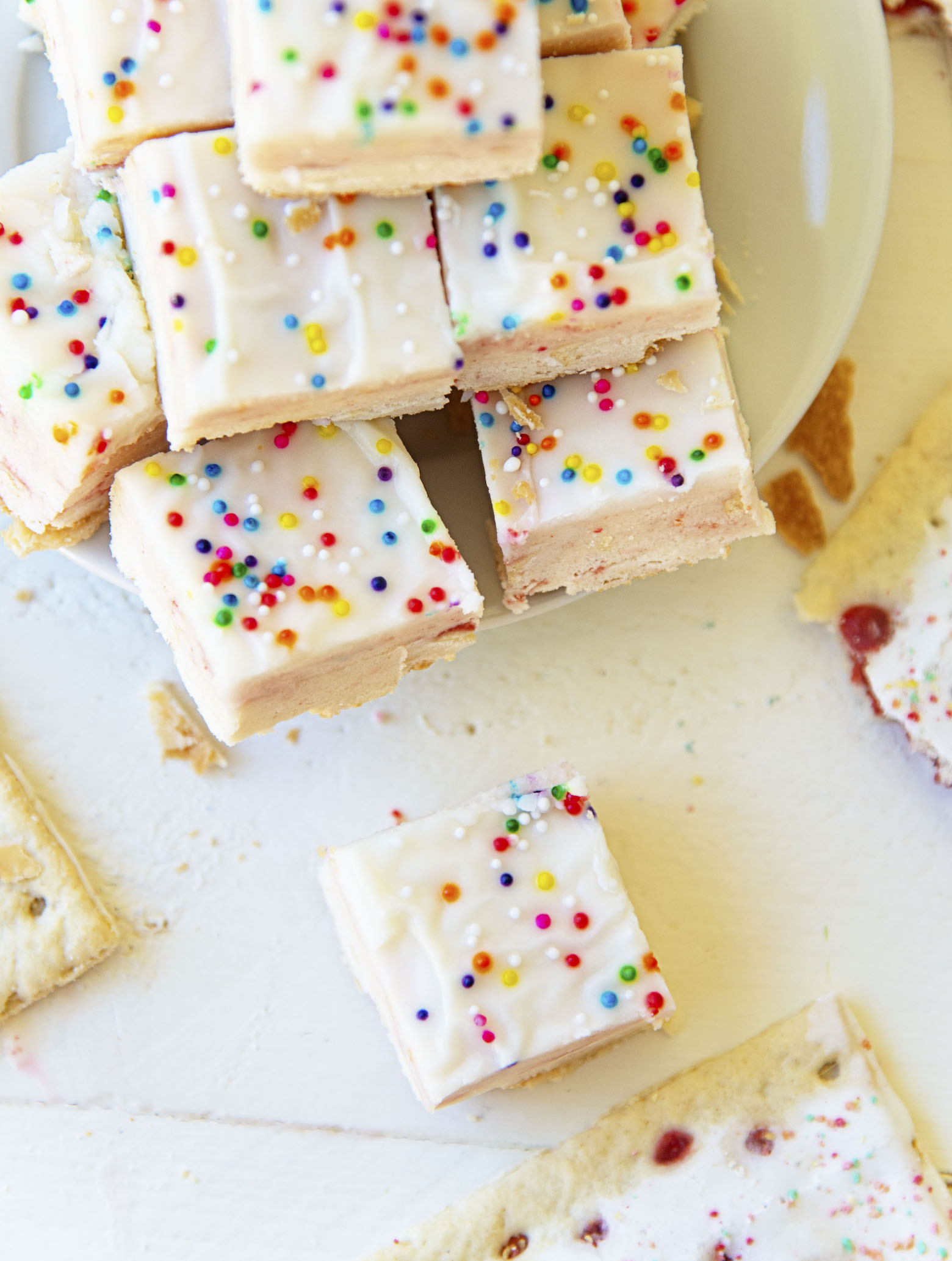 Want More Fudge Recipes?
Monster Cookie Chocolate Fudge
Chocolate Butterscotch Salted Cashew Fudge
Pineapple Upside Down Cake Fudge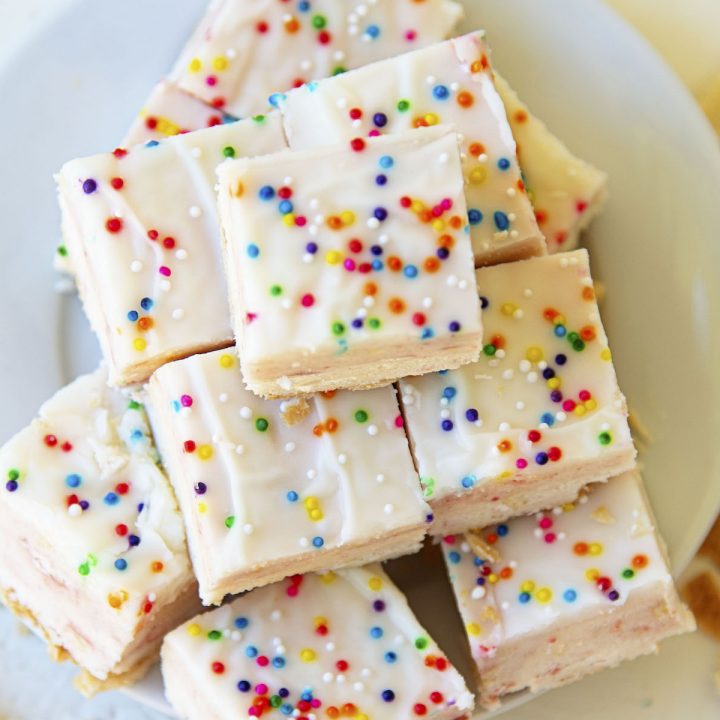 Strawberry Frosted Pop Tart Fudge
Ingredients
For the Fudge:
1 9-inch pie crust
2 cups granulated sugar
4 oz. unsalted butter
1/2 cup heavy cream
2 cups white chocolate chips
7-ounce jar marshmallow crème
1 Strawberry Frosted Pop Tart, broken into pieces
1/4 cup melted strawberry jam
For the Topping:
1 cup powdered sugar
3 TBSP heavy cream
1/2 tsp clear vanilla
Instructions
For the Fudge:
Preheat oven to 450F.
Line an 8×8 inch pan with parchment with an overhang so you can lift the fudge out later and coat with baking spray.
Roll out the pie crust and cut into an 9-x-9-inch square. You want a little bit of an overhang because it will shrink while baking.
Poke the dough with a fork to help prevent the dough from puffing up.
Bake for about 6-8 minutes or until a golden brown color.
Remove from oven to cool while you prepare the fudge.
Combine sugar, butter, and heavy cream into a large heavy-bottomed saucepan and bring to a boil over medium heat.
Once boiling, attach a candy thermometer (if you have a digital most you cannot attach to the side…just keep reading it every 30 seconds with an instant read) and reduce the heat to a hair above medium low and cook for 7-10 minutes until your thermometer reads 234°F (soft-ball stage), stirring constantly.
Once you reach 234F remove from heat and add the white chocolate chips stirring vigorously with a wooden spoon until all has melted and the mixture is smooth.
Add marshmallow crème and mix until well blended.
Fold in the poptarts.
Pour into prepared pan.
Pour the melted jam over the top and then using a knife swirl the jam into the fudge. Smooth the top with a spatula. Don't worry that it looks ugly. We will be adding icing to it.
Let cool to room temperature.
For the Icing:
In a mixing bowl whisk together all icing ingredients well then add more cream about 1/2 tsp at a time to reach desired consistency.
Spread over top of cooled fudge.
Sprinkle with sprinkles if desired and allow glaze to set at room temperature.
Then lift out of the pan and onto a cutting board. Cut into whatever amount you want. I think I got about 24 pieces.
Store in an airtight container.