These Mango Peach O's Jello Shots are made with mango gelatin, peach sparkling water, peach schnapps, and peach Crown Royal Whiskey.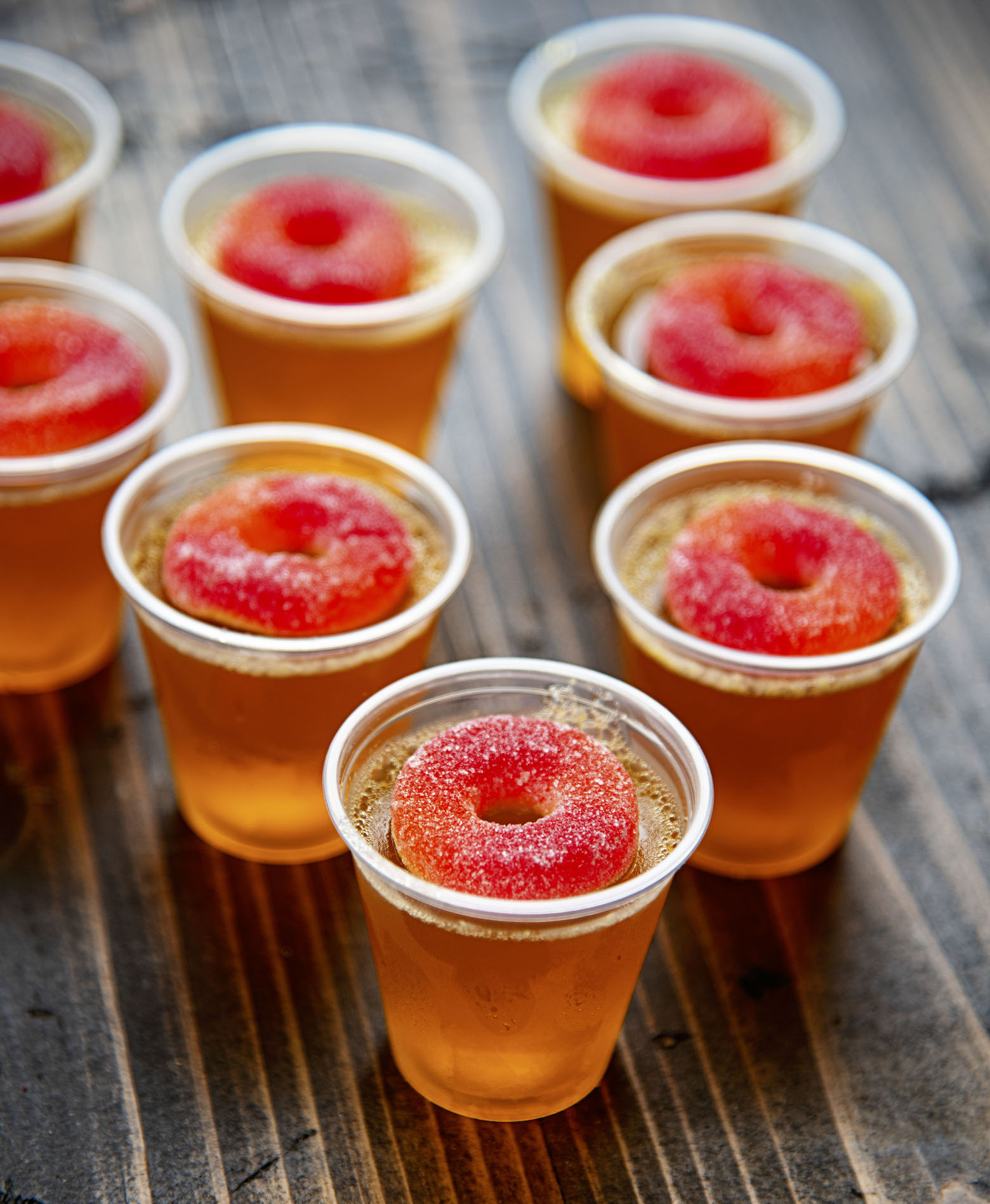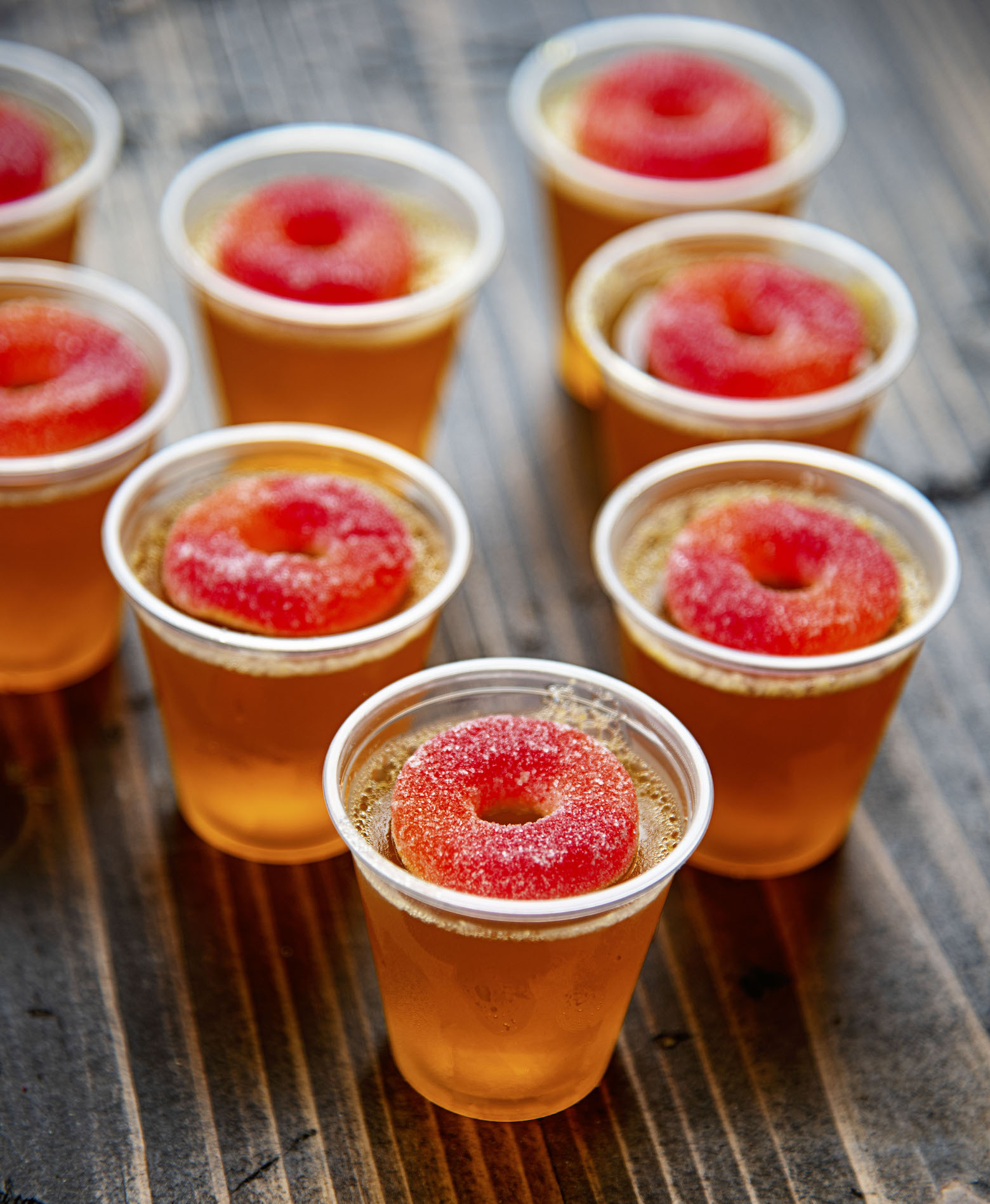 So I realized the other day that in the 16 years this blog has been around I have nothing on here with mango in it.
That's unusual because my husband really likes mangoes and mango flavored foods.
Part of why there aren't any mango recipes is because I suck at picking out a ripe mango.
I really do.
We usually buy it frozen and blend it in a smoothie.
That's our extent.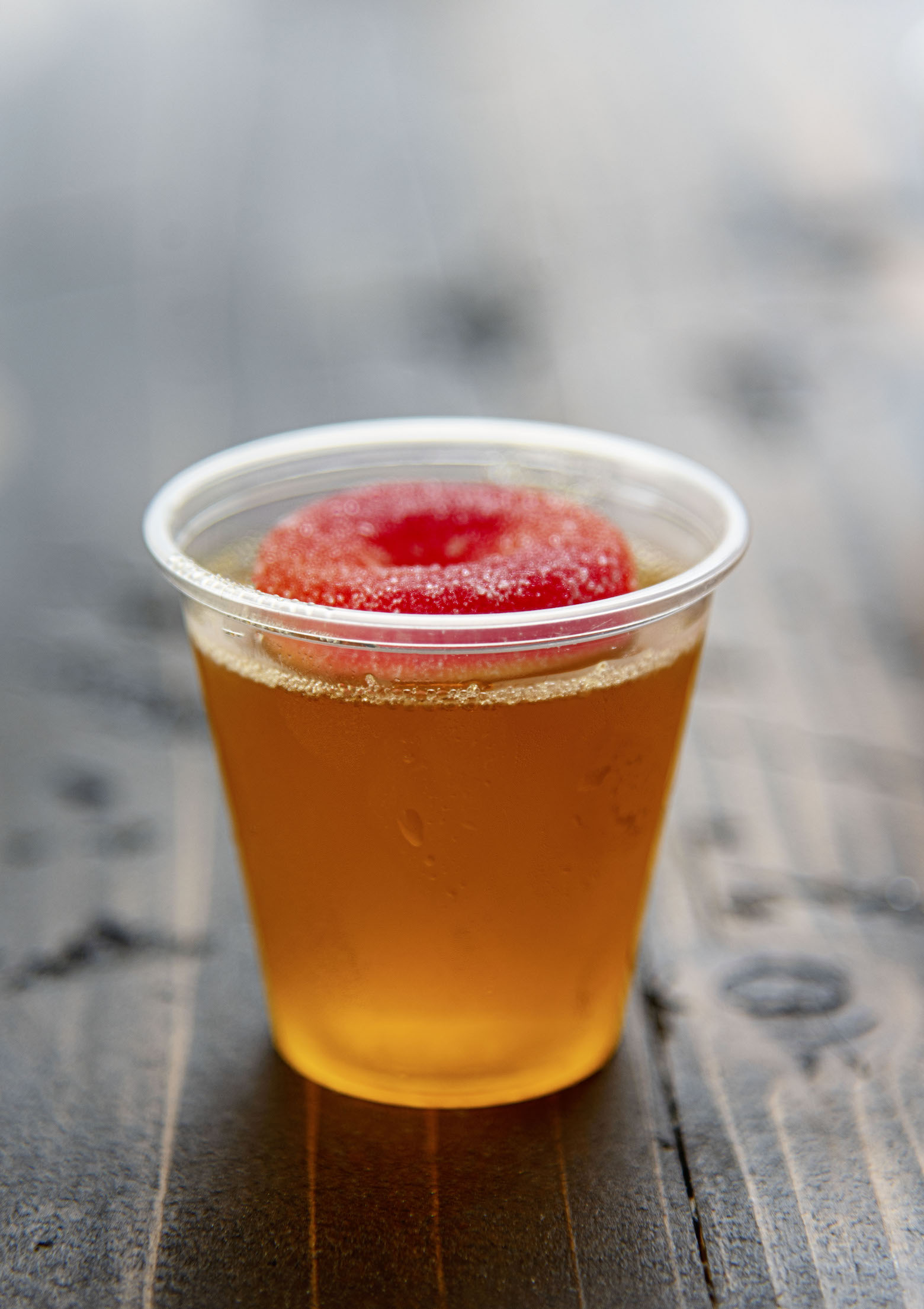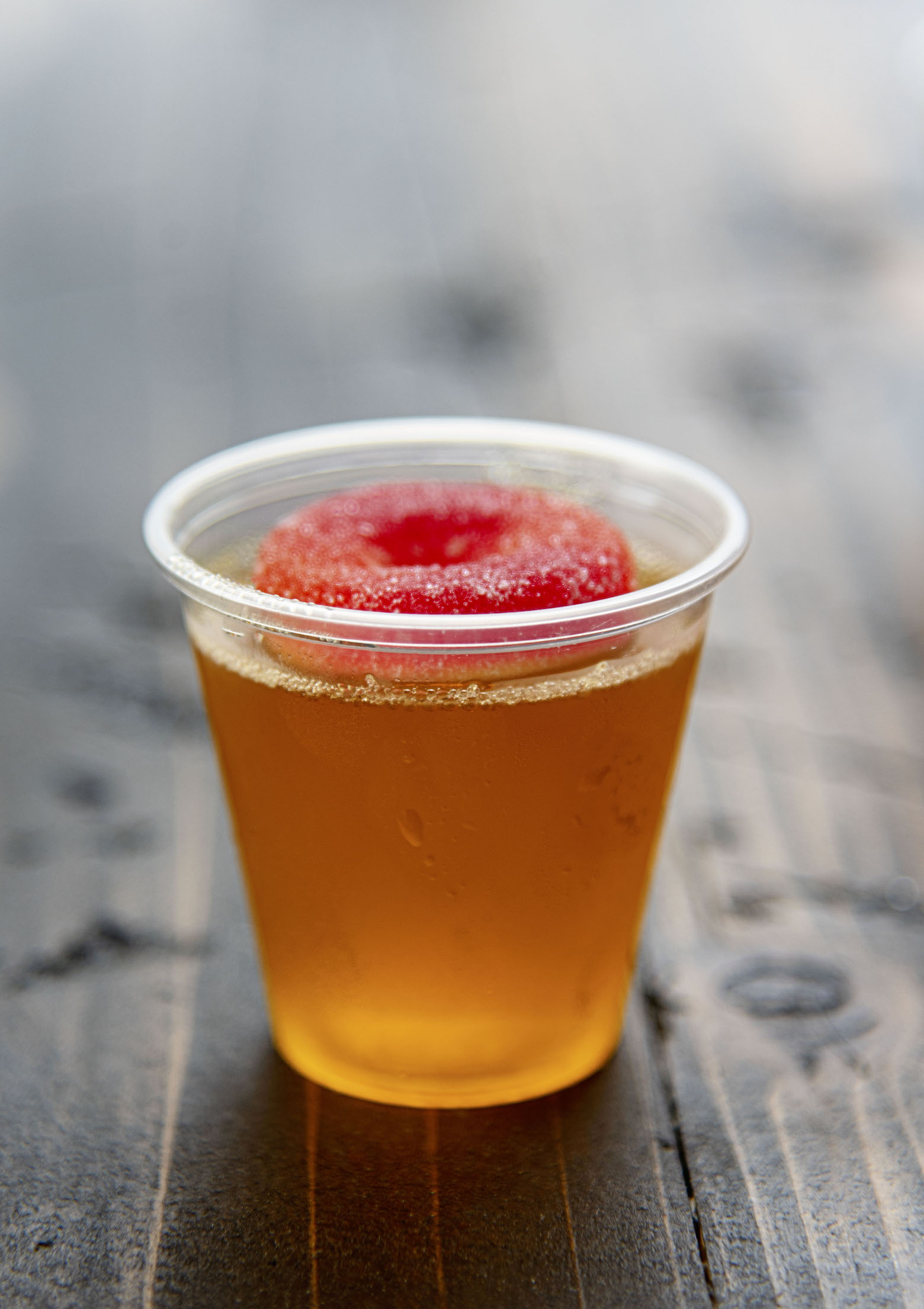 But when staring at my vast collection of Jello the other day I realized that I had mango jello.
See, if you don't know, I collect Jello throughout the year.
Not only because I put recipes up on the blog but because once a year, around my birthday there is a hockey tournament.
My hockey tournament for my birthday.
And I make 400 Jello shots for it.
For free.
But ask people give donations towards our Walk for Old Dogs team.
Which every year I raise funds for my favorite charity, Old Dog Haven.
Last year and this year the walk is sadly cancelled.
But it hasn't stopped me from buying all the Jello like I usually do.
I also get Jello donations.
If anyone sees a flavor they think I don't have they usually buy it and give it to me.
And yes, that's in hopes that I will make them Jello shots with it.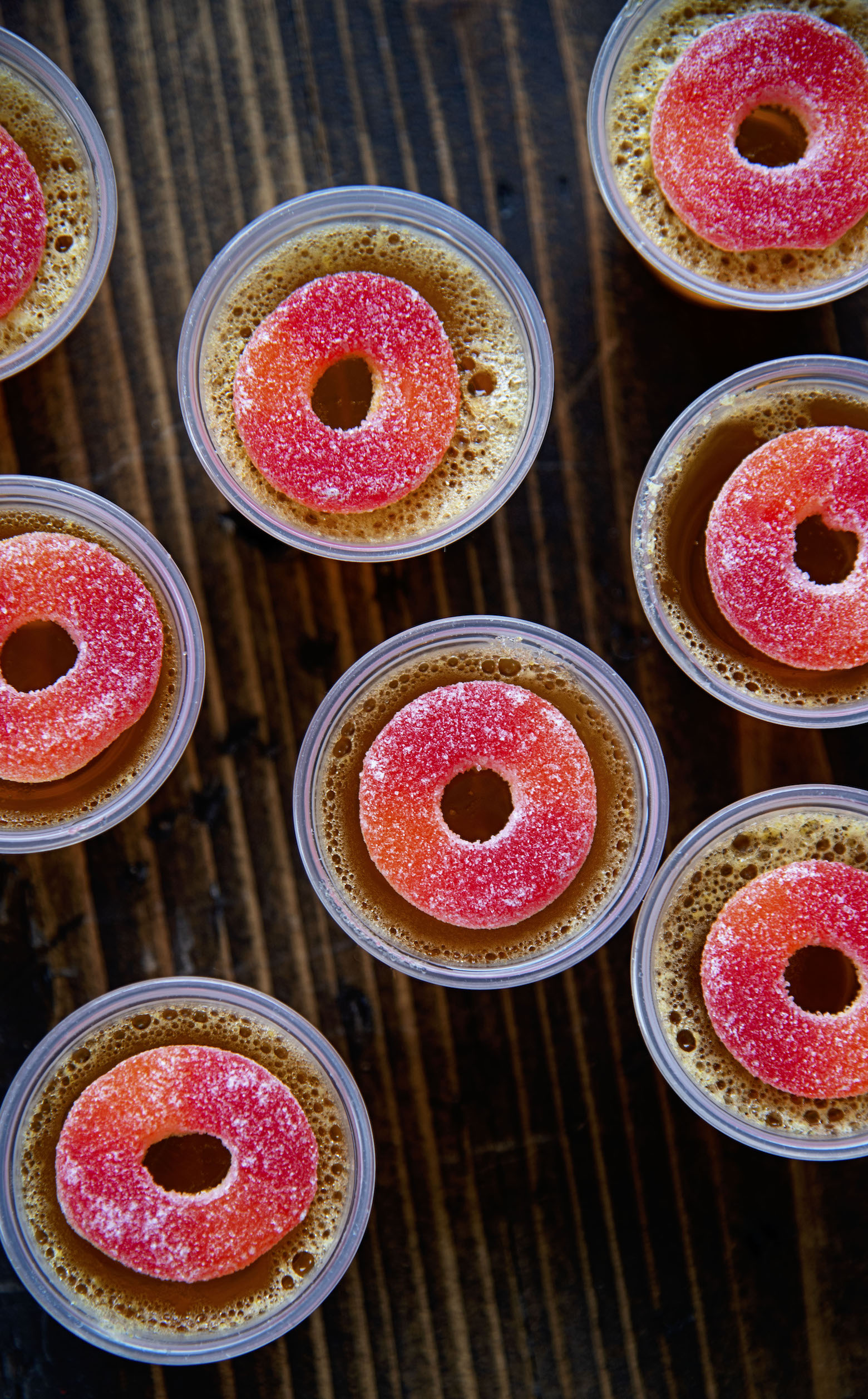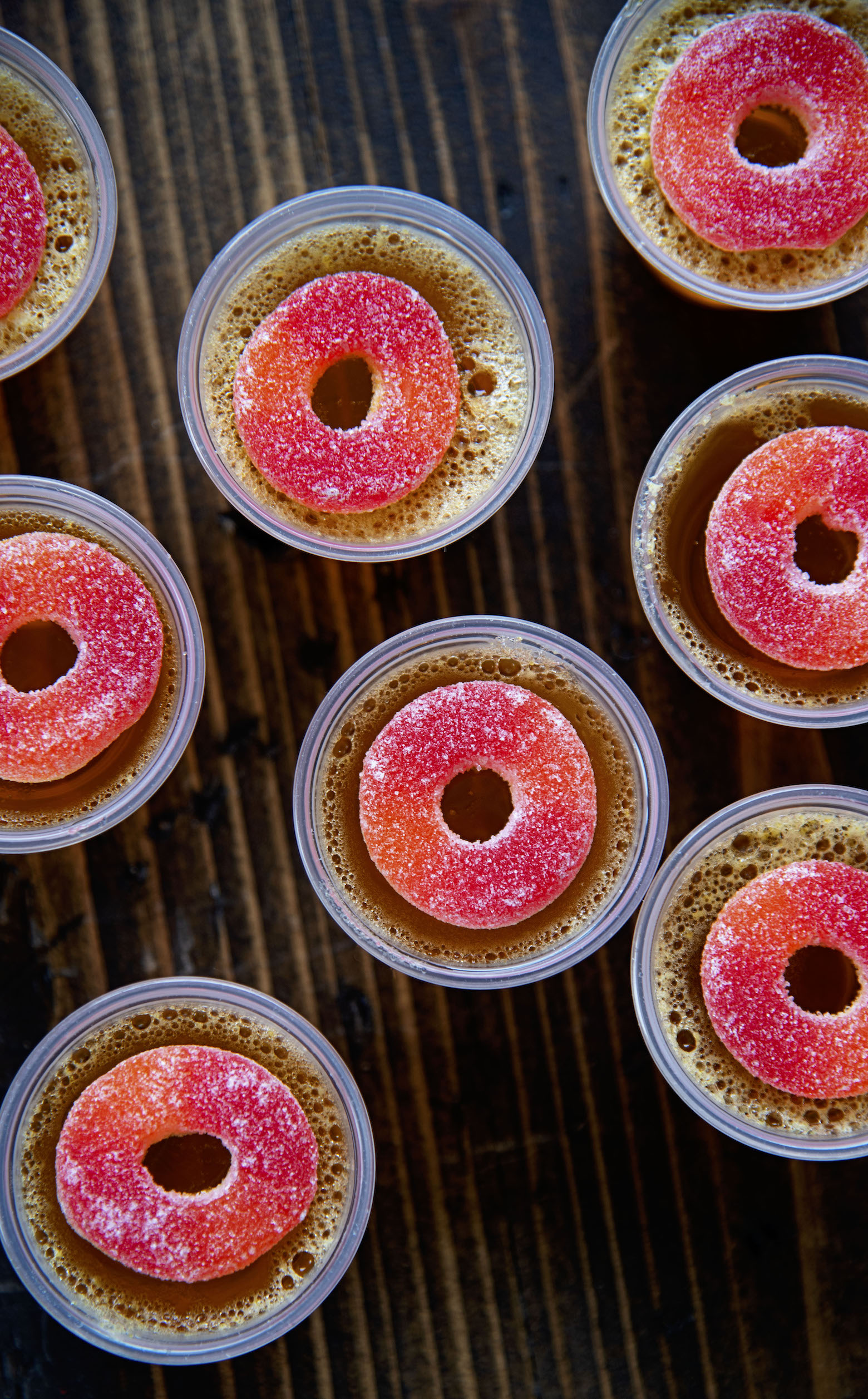 So my collection is impressive.
I found my mango Jello at Walmart.
I've seen it at Winco as well.
And of course you can buy it on Amazon (there is a link in the recipe to do that).
It makes for a fun scavenger hunt every time I'm at a grocery store.
I've been known to be on vacation and go to a grocery chain we don't have in our area and see what flavors they carry.
And if they have flavors we don't have I either stuff it in my suitcase or even ship it to myself. 🙂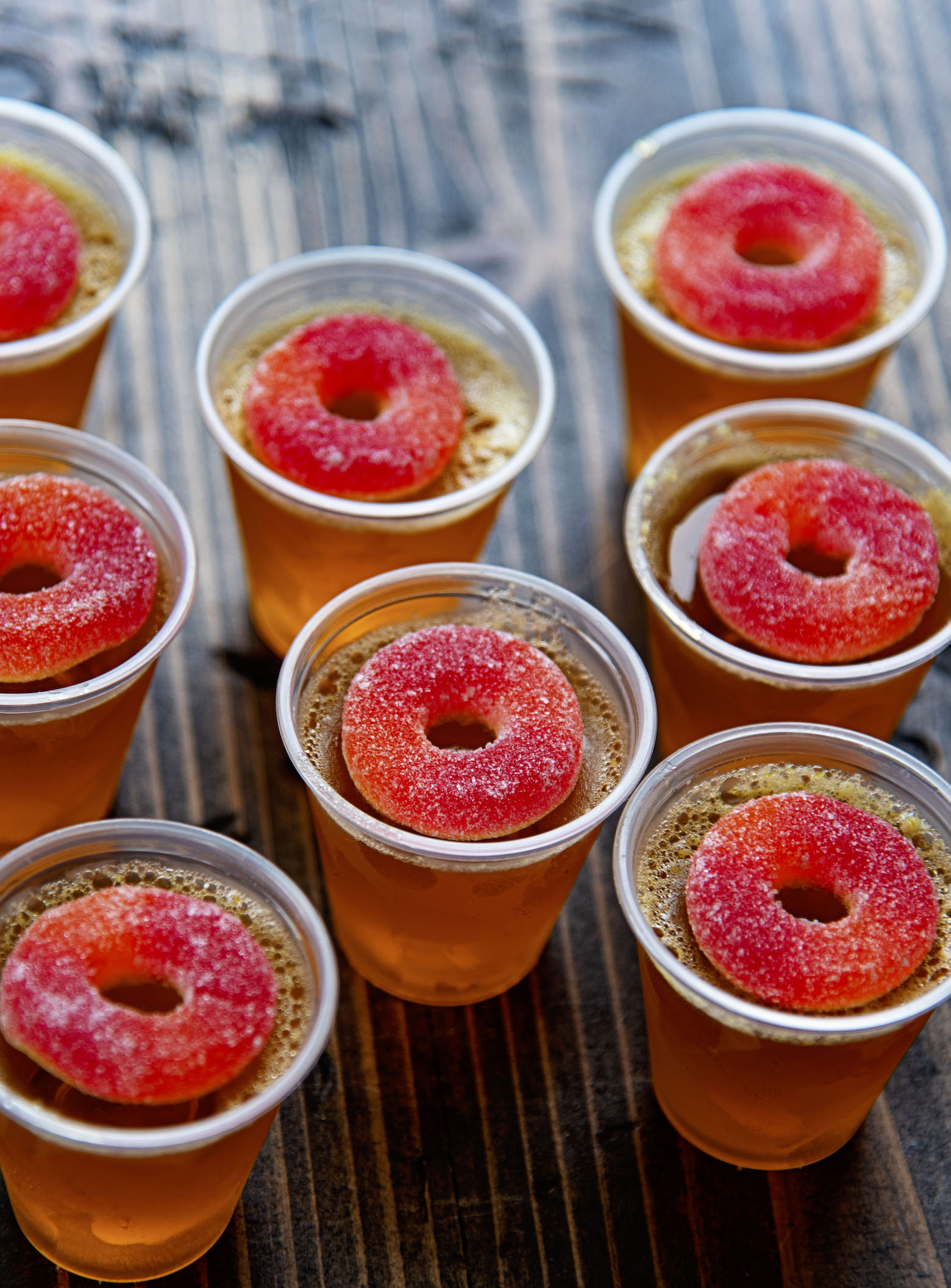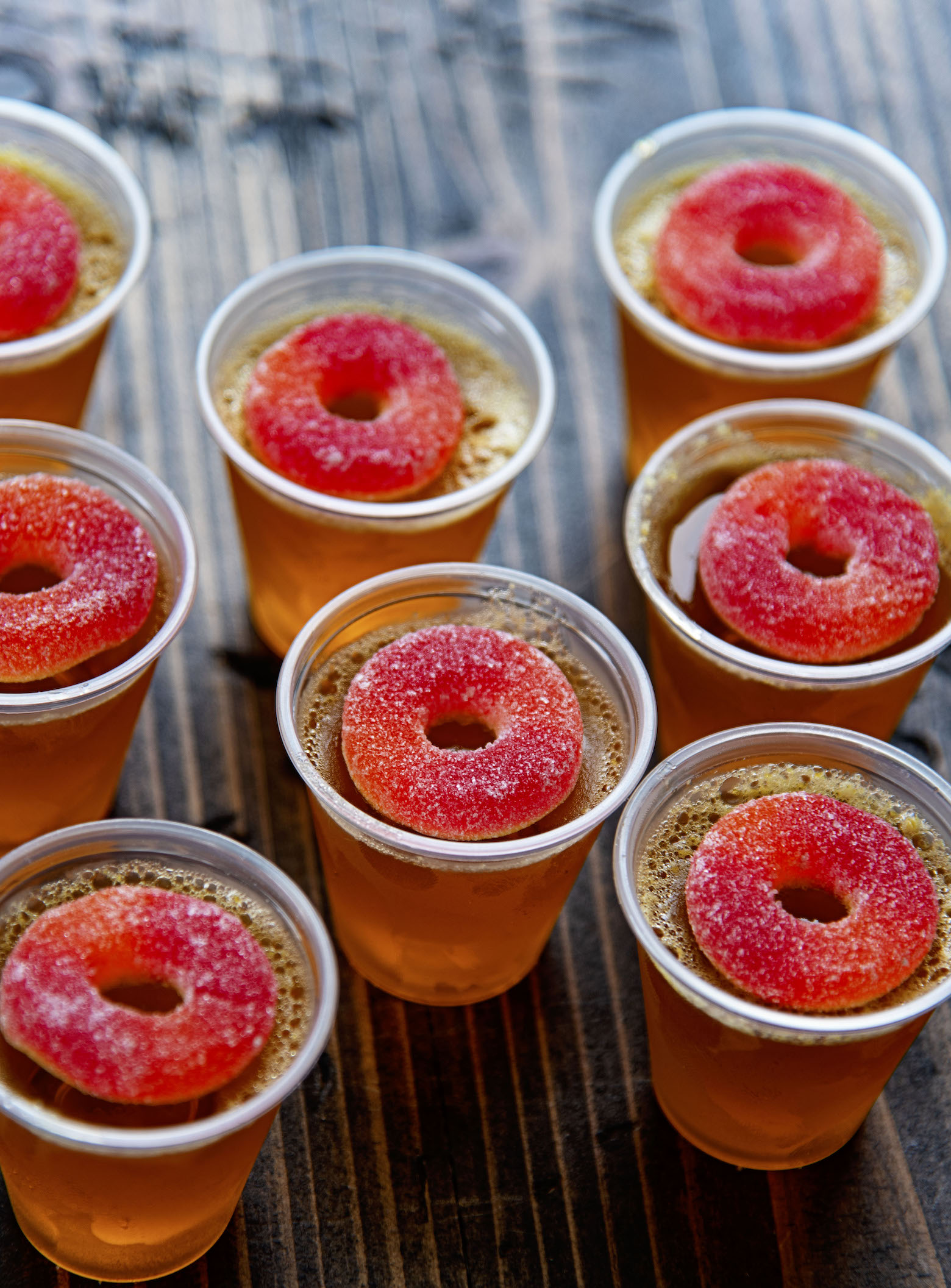 Yes, I'm crazy.
I decided to turn the mango Jello into Mango Peach O's Jello Shots because my husband also loves Peach O's.
If you don't know what Peach O's are they are a gummy candy that tastes like peach.
Some of you may not be able to get the mango Jello.
If that is the case you can substitute peach Jello, which I can usually find at the regular grocery store in for the mango.
I would change the sparkling water flavor from peach to mango.
And possible use half sparkling water half mango juice instead.
Note that because you are using sparkling water your shots get fizzy and will have little bubbles on top of your shots.
Which is fine.
It's a great day to order my cookbook…or 8 copies of my cookbook. 😀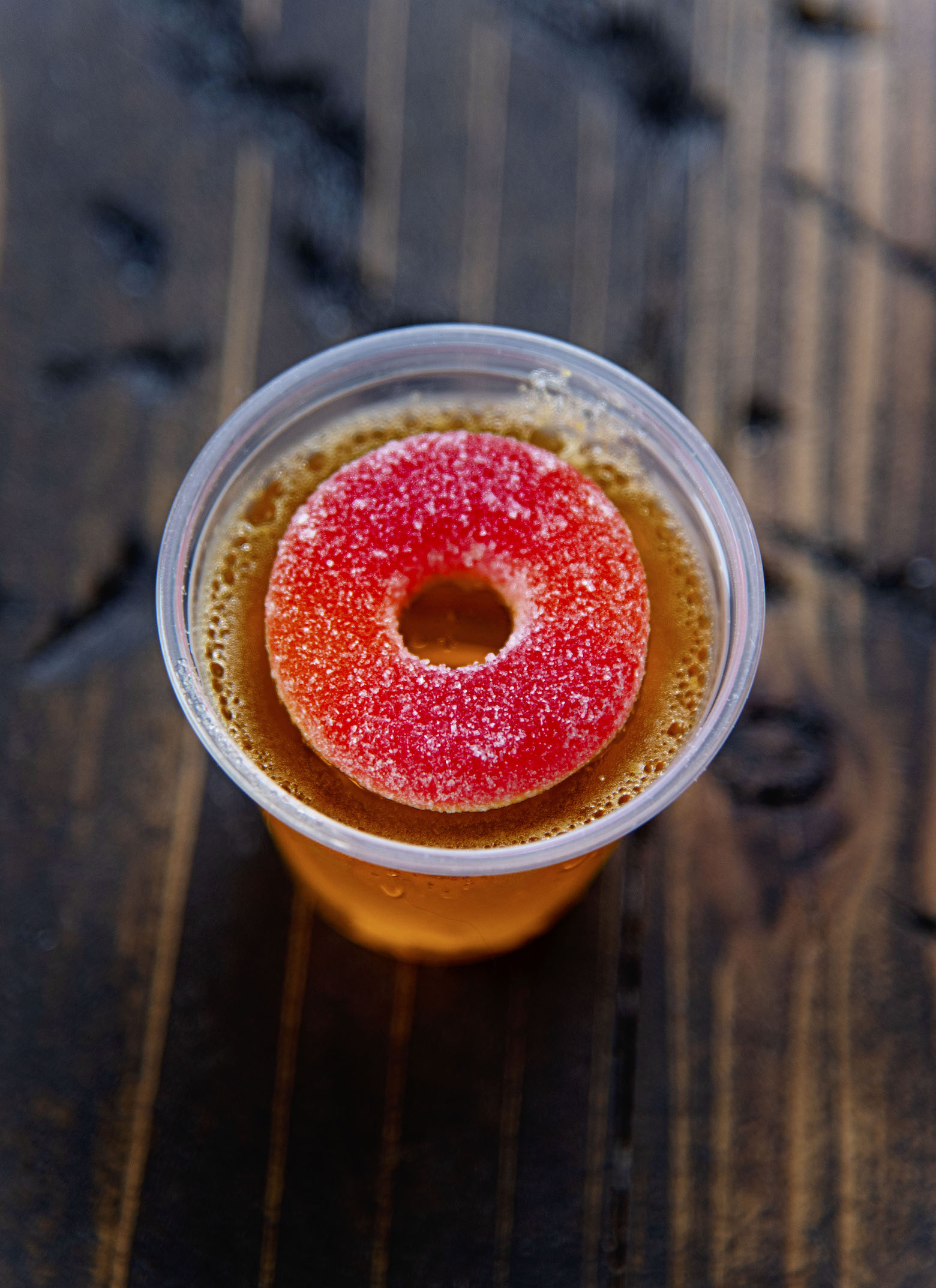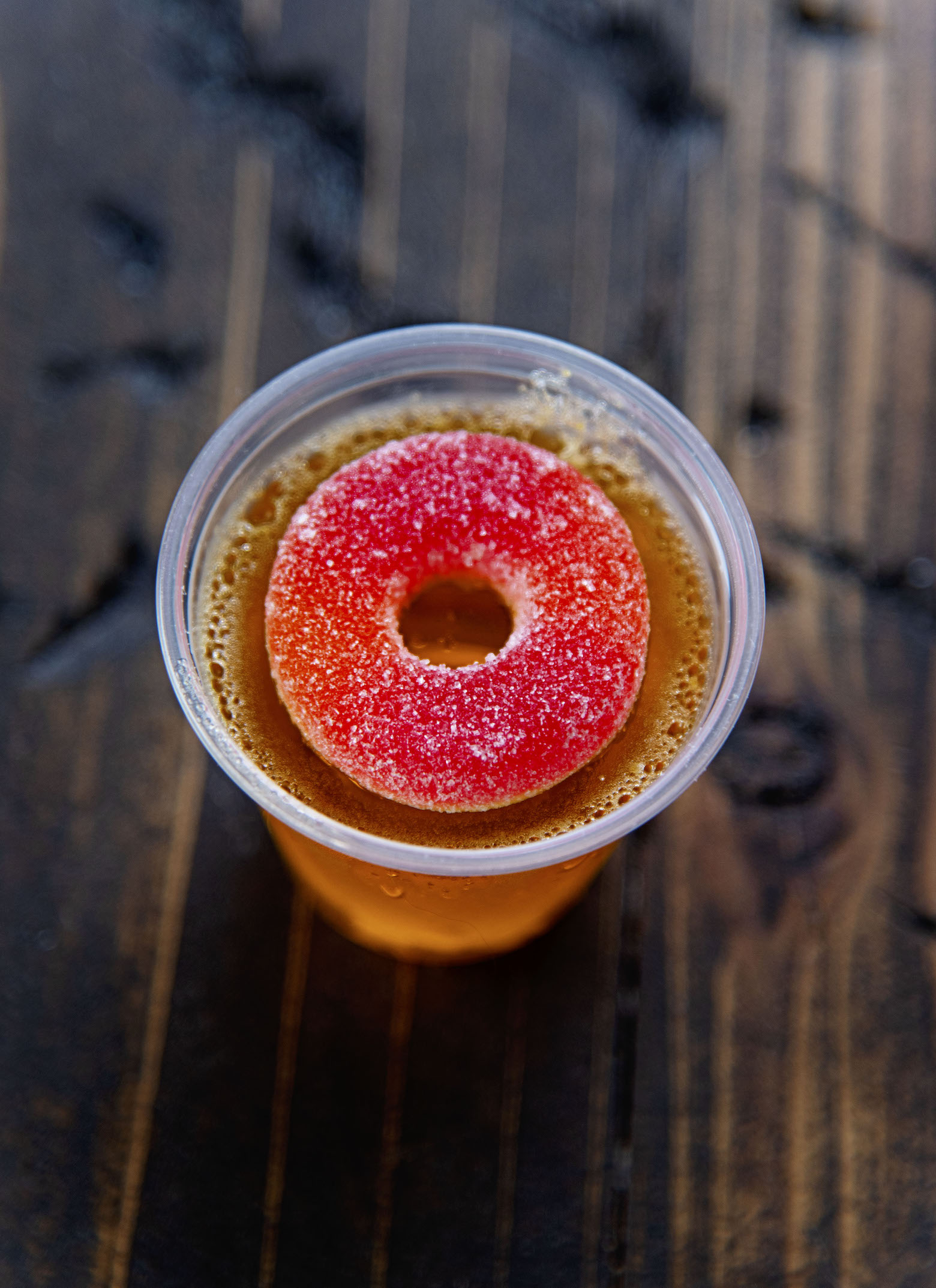 Want More Jello Shots?
Strawberry Pina Colada Jello Shots
Blue Hawaiian Rainbow Jello Shots
Fruit Punch Moonshine Jello Shots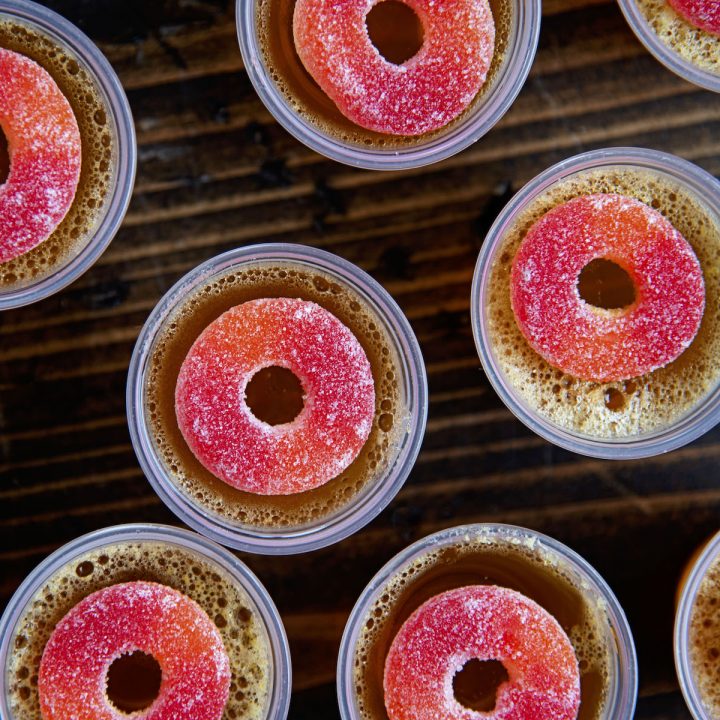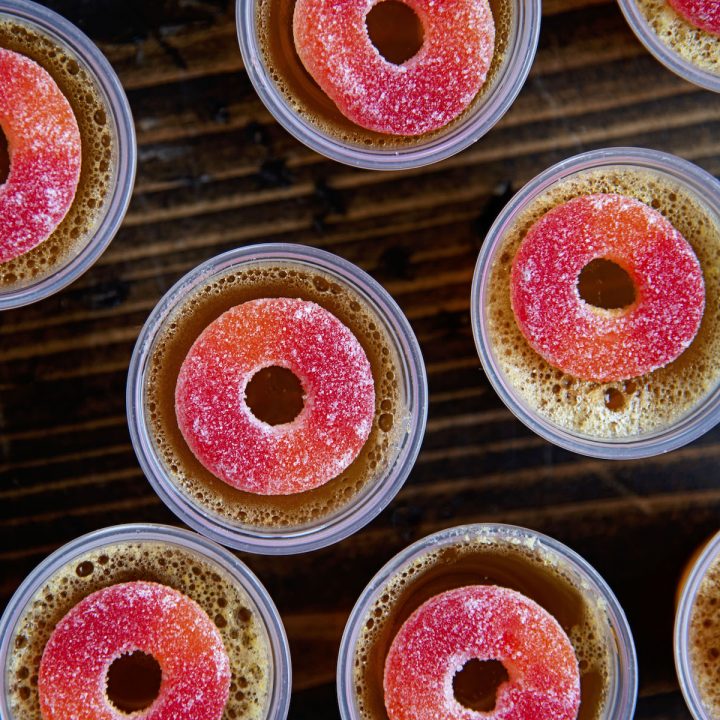 Mango Peach O's Jello Shots
Ingredients
3 cups Clearly Canadian Peach (or other peach flavored sparkling water, divided
1/2 cup Peach Schnapps
1/2 cup Crown Royal Peach Whiskey
About 20 Peach O Gummy Candies (garnish)
Instructions
Bring 1 1/2 cups Clearly Canadian Peach Sparkling Water to a boil.
Empty gelatin powder into a large mixing bowl and add the boiling sparkling water.
Continue stirring for two minutes or until the jello is completely dissolved.
Add in the cold sparkling water, peach schnapps, and Crown Royal Peach.
Stir until mixed and pour into 2oz. cups filled 1/2 to 3/4 of the way.
Place into fridge and chill for at least two hours.
Top with a Peach O gummy right before if desired.