These White Chocolate Fruity Pebbles Marshmallow Treats are made with Fruity Pebbles, marshmallows, and butter topped with white chocolate.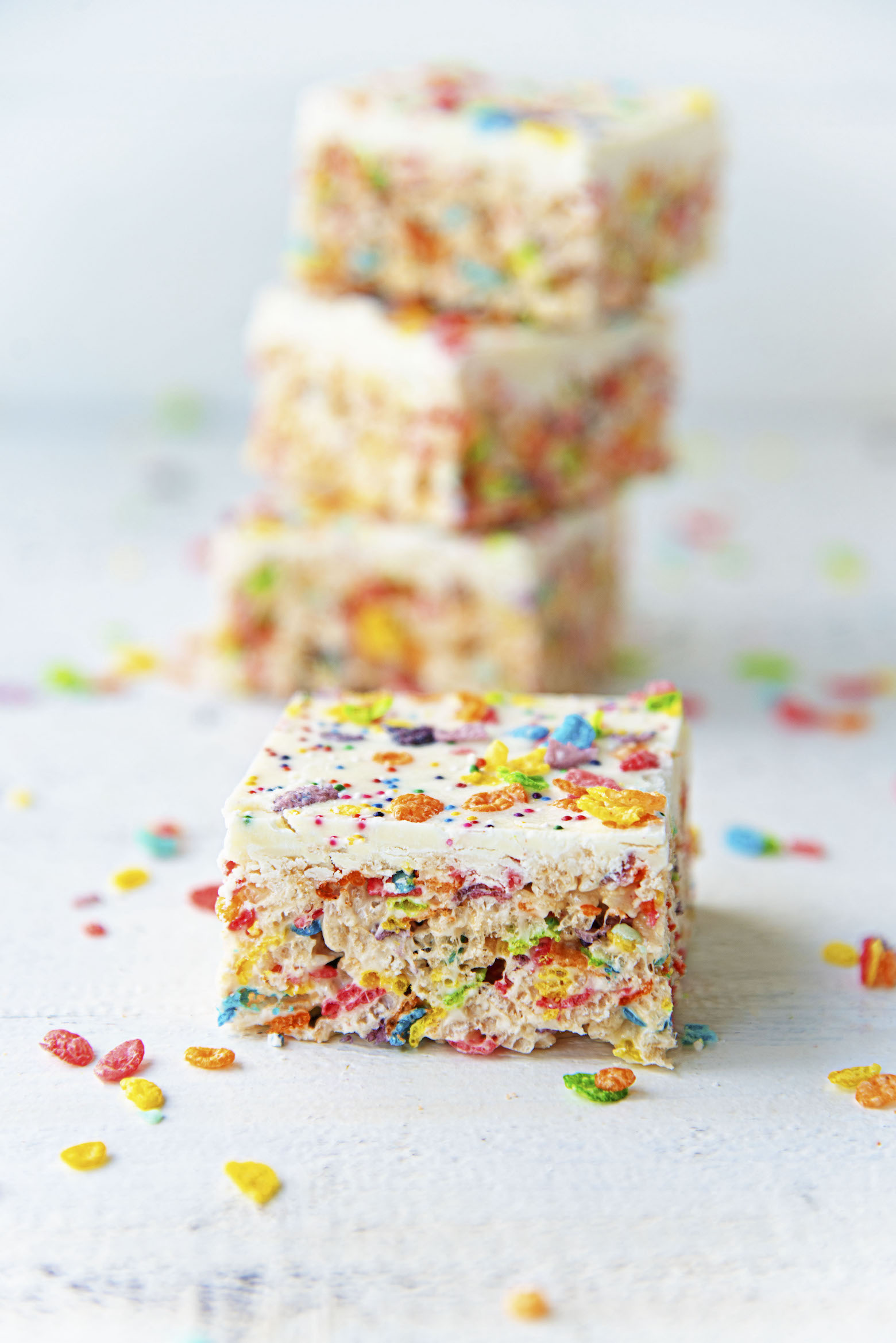 So this might sound like an ad but it's not.
It's just my newest obsession.
The Discovery Plus app.
We haven't had cable for over three years now.
So I have not had Food Network or HGTV.
But when I saw that they were coming out with the new app that also had Magnolia on it I gave in.
Basically all my favorites in one spot.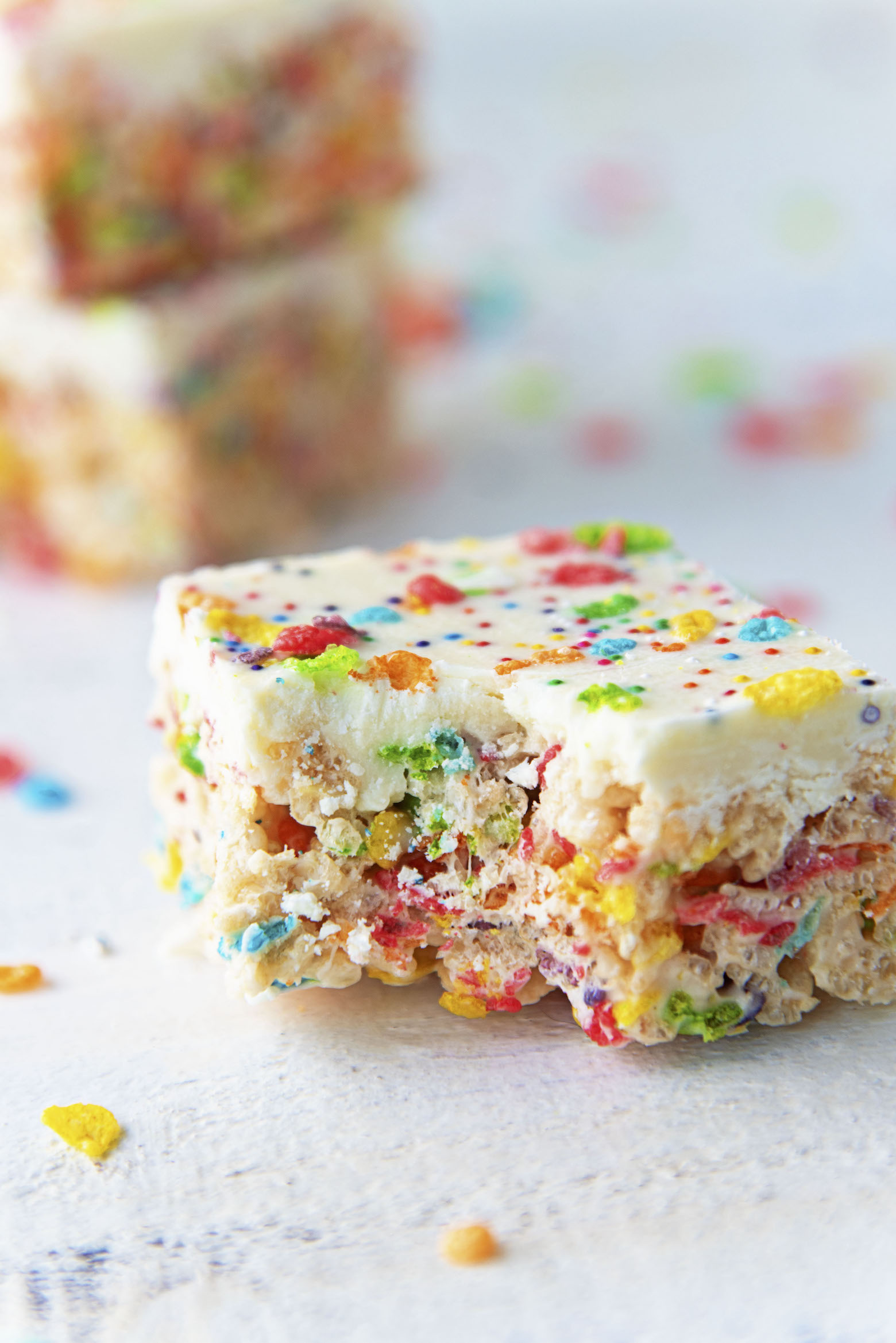 I wasn't sure what to expect.
Mostly, I figured a lot of fixer upper type shows.
But it really has a variety.
They have food shows.
However, they have a very different feel.
Even Joanna's cooking show, which is more traditional than the others, where she is cooking meals in a kitchen.
What they have added is storytelling.
I get that some people don't like that.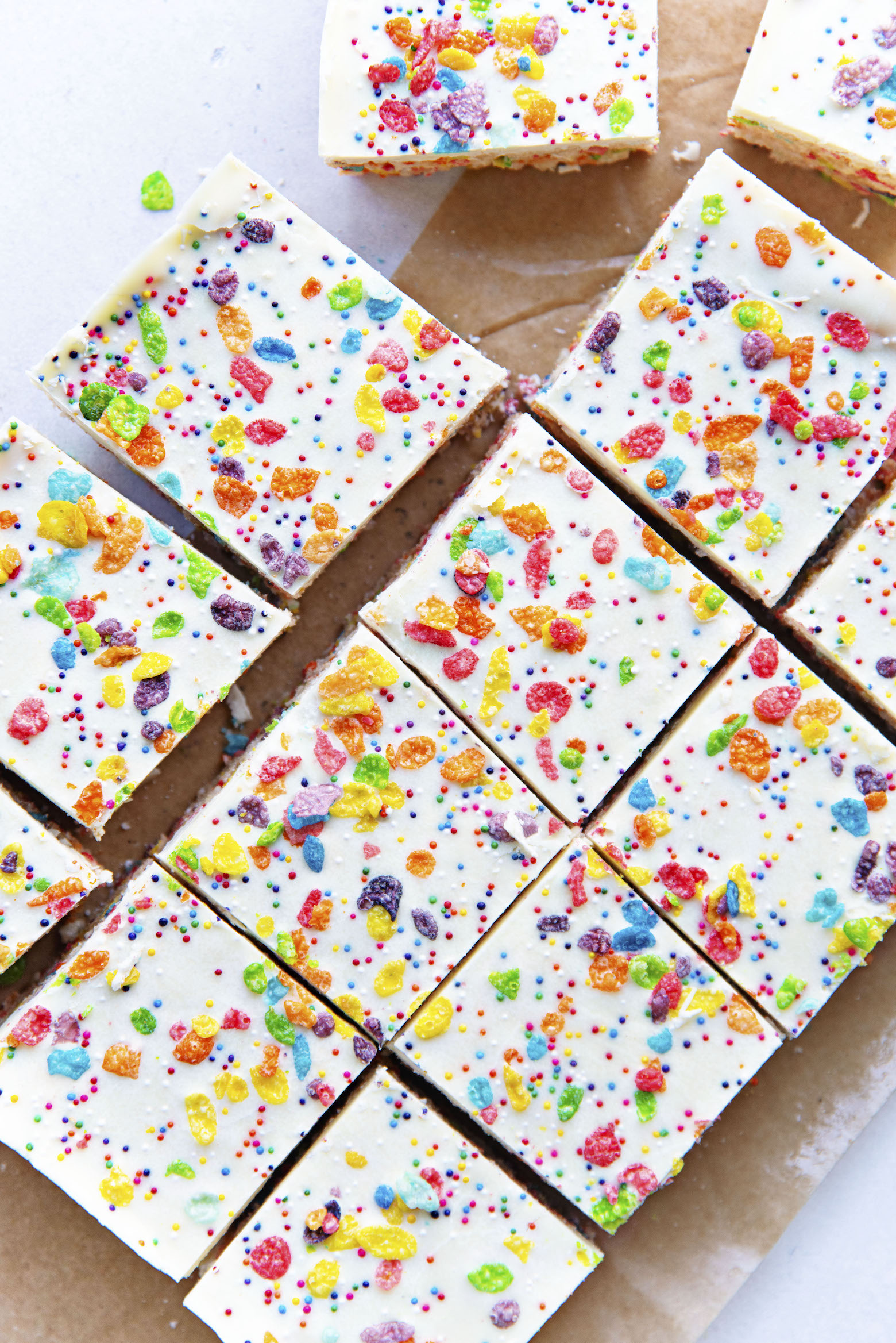 There seems to be two types of people when it comes to blogs and cookbooks.
The just give me the recipe already people.
And then there are the people like me.
The people who read the cookbook like a book.
That hope there is backstory to the recipe.
So far, the majority of the shows seem to be for people like me.
My favorite so far is The Lost Kitchen.
I own their cookbook.
But it's not a cooking show.
It's the day to day look at the life of the chef and the restaurant.
And I can't get enough of it.
The full first season dropped today and the minute I finish writing the email newsletter I am settling in and binging.
Then will most likely lie to my husband (who wants to watch too) this weekend when we watch it and I say I haven't seen it yet. 🙂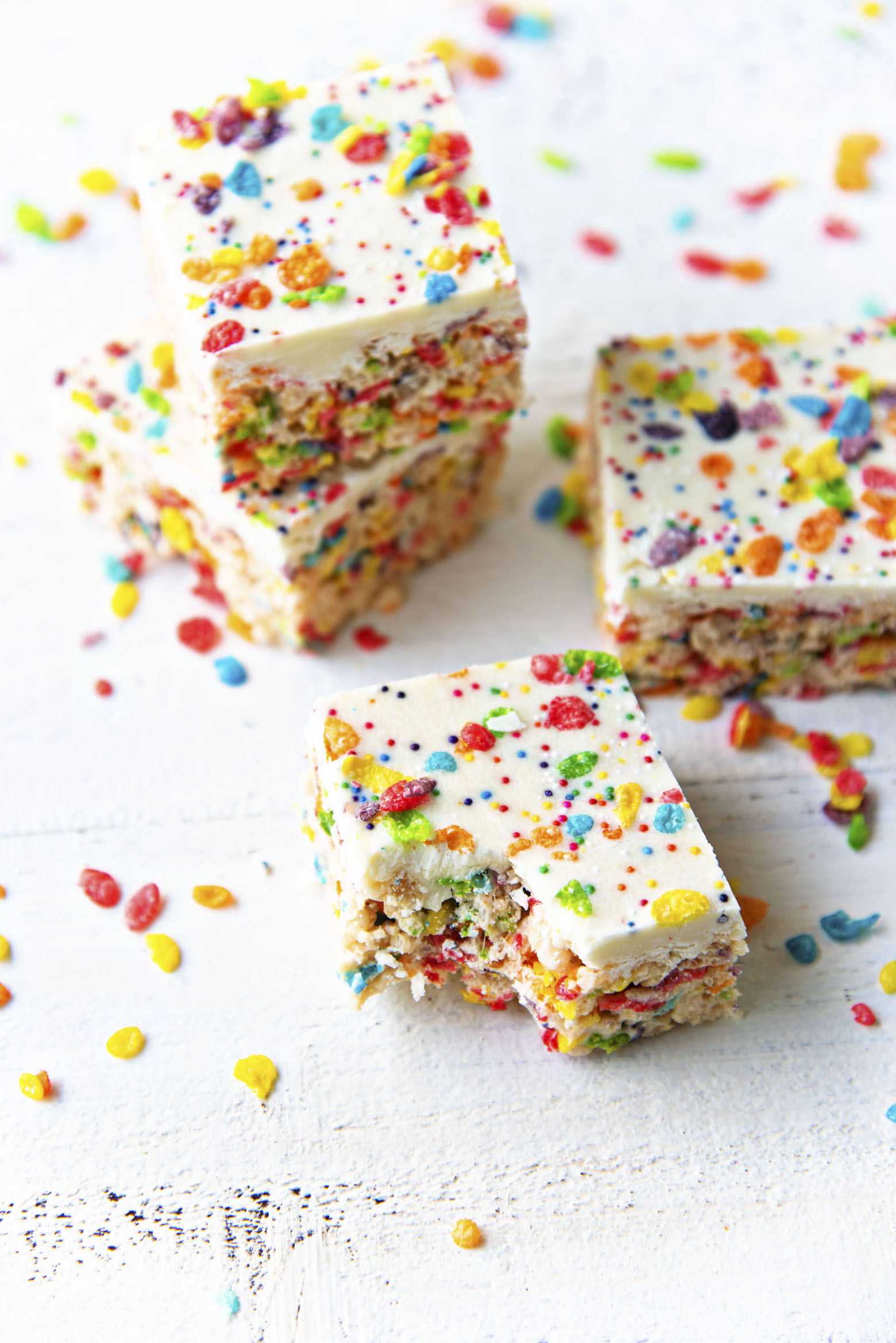 The other show I've been able to catch up with is Girl Meets Farm.
Molly is a food blogger turn Food Network star.
She, like me, loves to put sprinkles on everything.
And my husband can always tell when I've been watching her because I bust out the sprinkles.
These White Chocolate Fruity Pebbles Marshmallow Treats are basically leftovers.
I had not enough Fruity Pebbles to make an all Fruity Pebbles Treat.
And not enough Rice Krispies to make RKT.
So I mixed what I had together.
Threw on a white chocolate coating.
And added more cereal and of course Sprinkles!
P.S. It's a great day to buy my cookbook.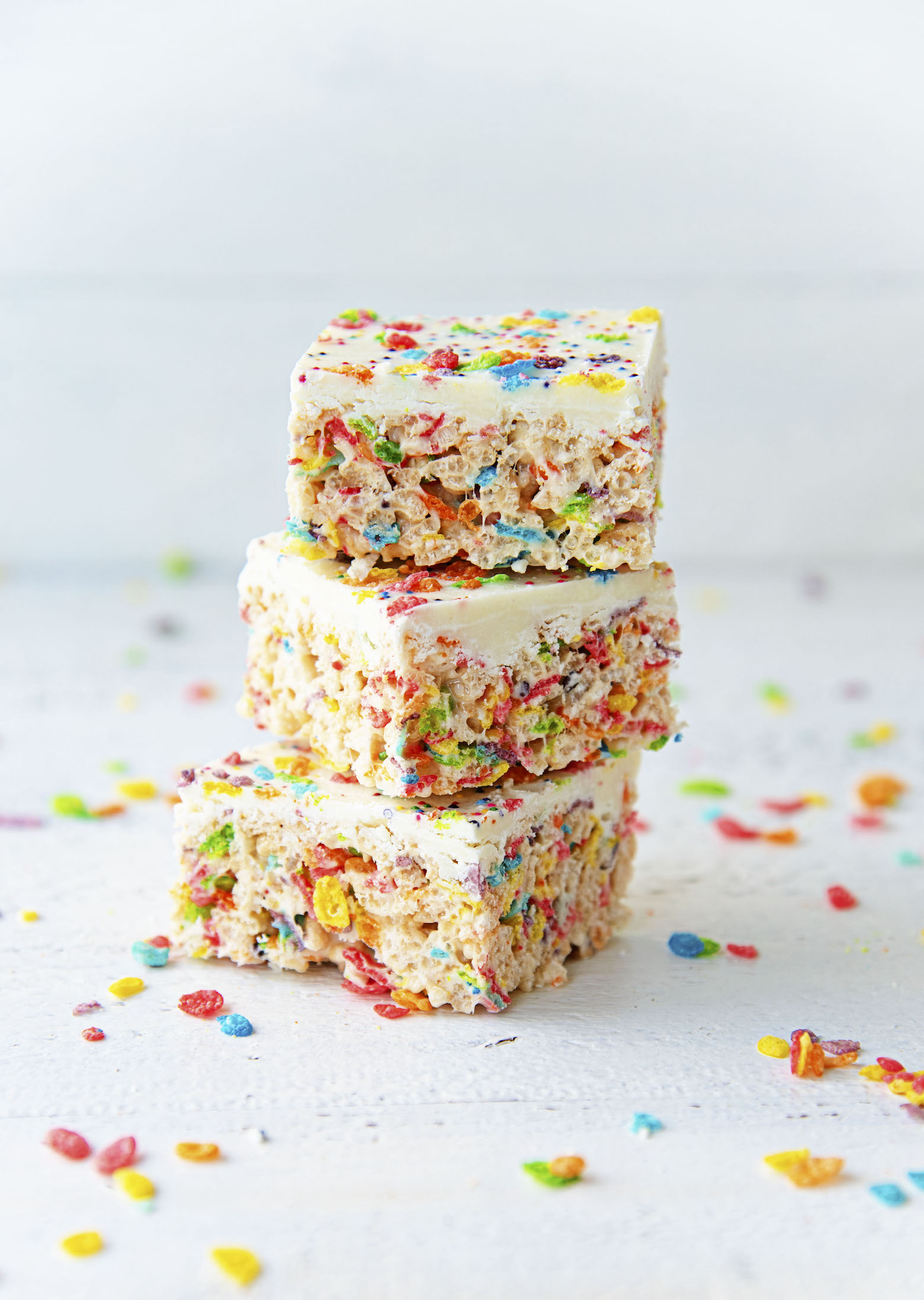 Want More Cereal and Marshmallow Recipes?
Cookies and Cream Rice Krispie Treats
Vanilla Bean Rice Krispie Treat Cupcakes
Toasted Marshmallow No Bake Cheesecake in Rice Krispie Treat Crust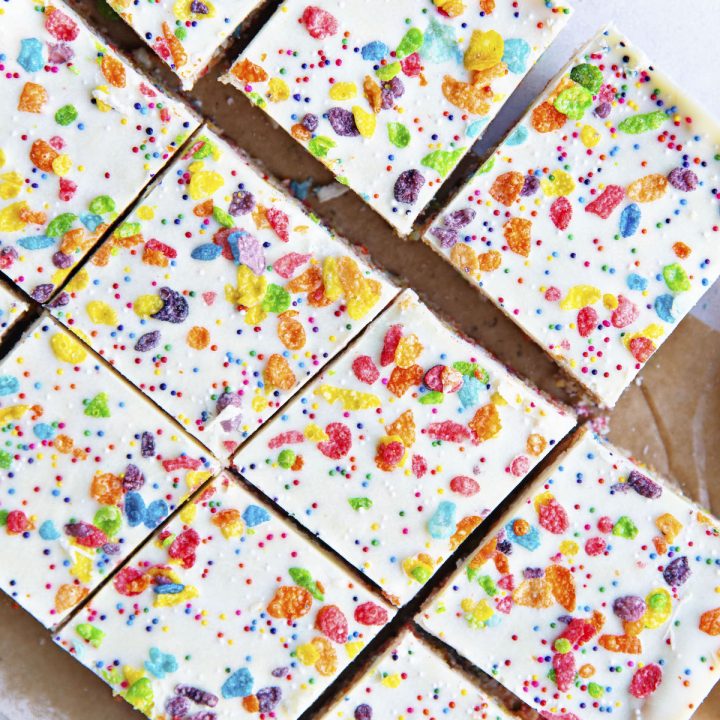 White Chocolate Fruity Pebbles Marshmallow Treats
Ingredients
For the Treats:
6 TBSP unsalted butter
16 oz mini marshmallows
pinch of salt
4 cups Rice Krispie Cereal
3 cups Fruity Pebbles
For the Topping:
3 TBSP vegetable oil
2 cups white chocolate chips
extra Fruity Pebbles for garnish
Sprinkles for garnish
Instructions
For the Treats:
Melt the butter over low heat in a medium or large saucepan.
Add the marshmallows and pinch of salt to the saucepan and stir.
Continue to stir often, until about 90% of the marshmallows are melted.
Remove the pan from the heat and stir in the Rice Krispies cereal and Fruity Pebbles cereal and mix until the marshmallow mixture and cereal are fully combined.
Pour into a well-buttered 10-x-10-inch pan.
Press down with a spatula to make an even top.
Let set up for 30 minutes.
For the Topping:
Combine oil and white chocolate in a medium heat-proof bowl set over a medium saucepan of barely simmering water; stir until melted and smooth.
Spread the chocolate coating over the top of the treats like you are frosting them.
Place extra pieces of Fruity Pebbles and sprinkles on top if desired (but you know you want to).
Let the chocolate top firm up, about 30 minutes depending on how cool it is in your house.
Cut into squares. Some would say 2-inch. But whatever size you would like works.