This Vegetarian Parmesan Knoephla Soup is a chickenless vegetable filled soup with little parmesan dumplings.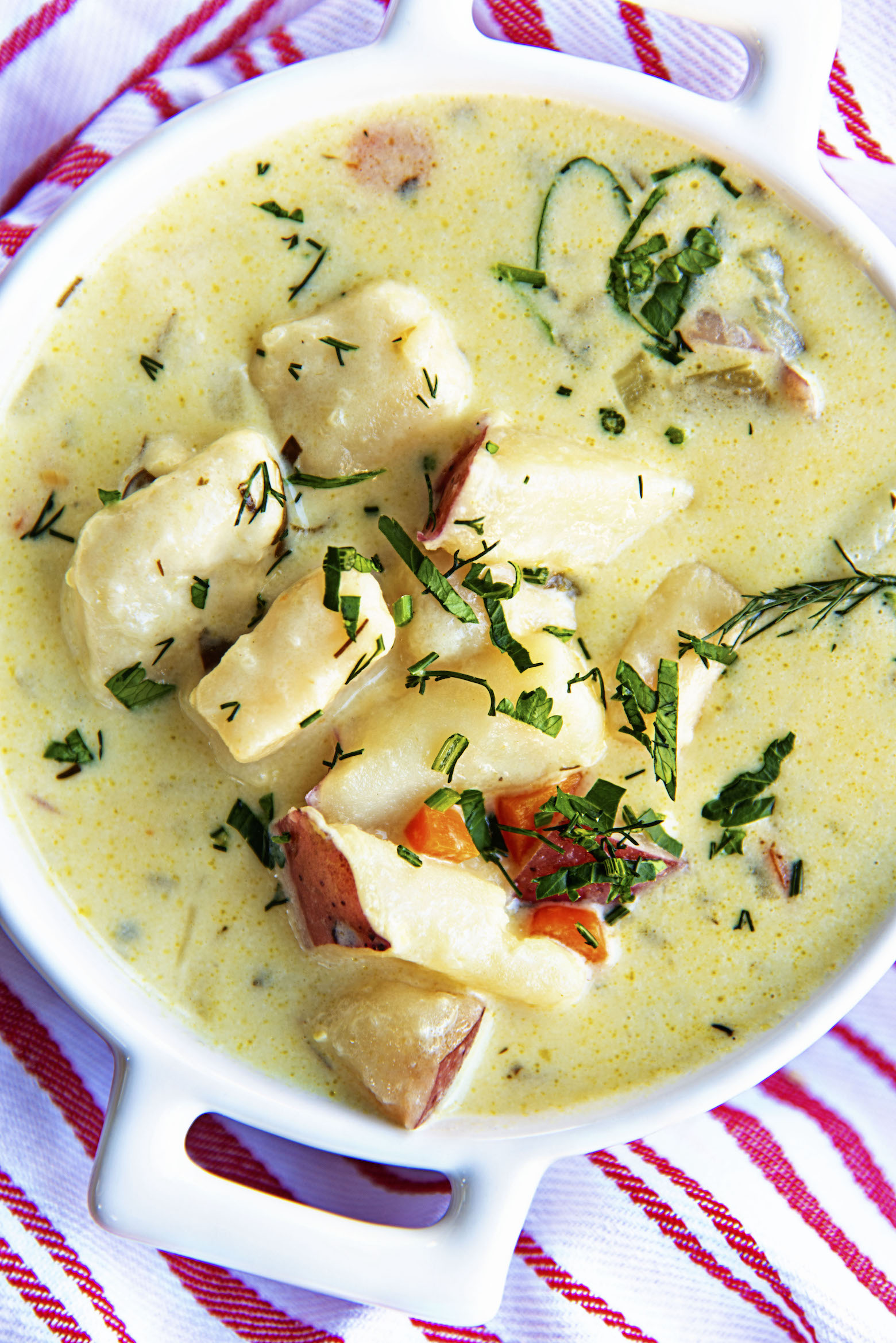 Our neighbor when I was younger used to keep his Parmesan cheese rinds.
Which I always thought was so very odd.
I would also see him collect all the parts of the vegetables that no one really ate.
Being a curious little kid I asked what he did with those.
He explained that he would make stock with the veggies and the chicken carcass I had not seen.
My mom was buy a can of stock kind of gal so it was all new to me.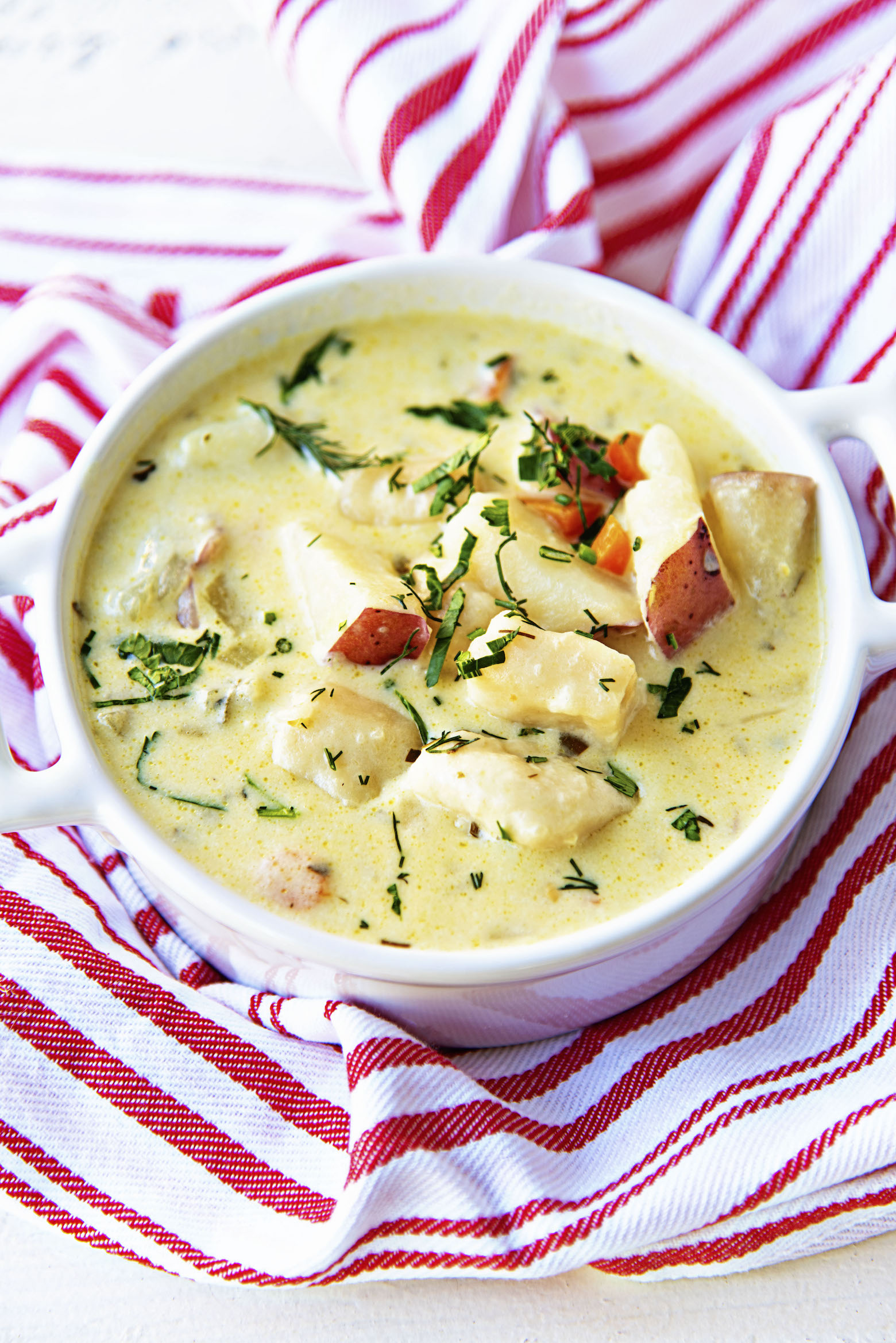 I asked what on Earth the cheese rinds were for and he explained for the soup as well.
That I could not understand at the time.
Our neighbors were kind of hippie dippie (they were just ahead of their time).
They had solar panels on their roof WAY before it was ever a thing.
People would be over at our house and look at our neighbors roof and think wow, how ugly.
I figured the cheese rind was just more weird stuff like their roof.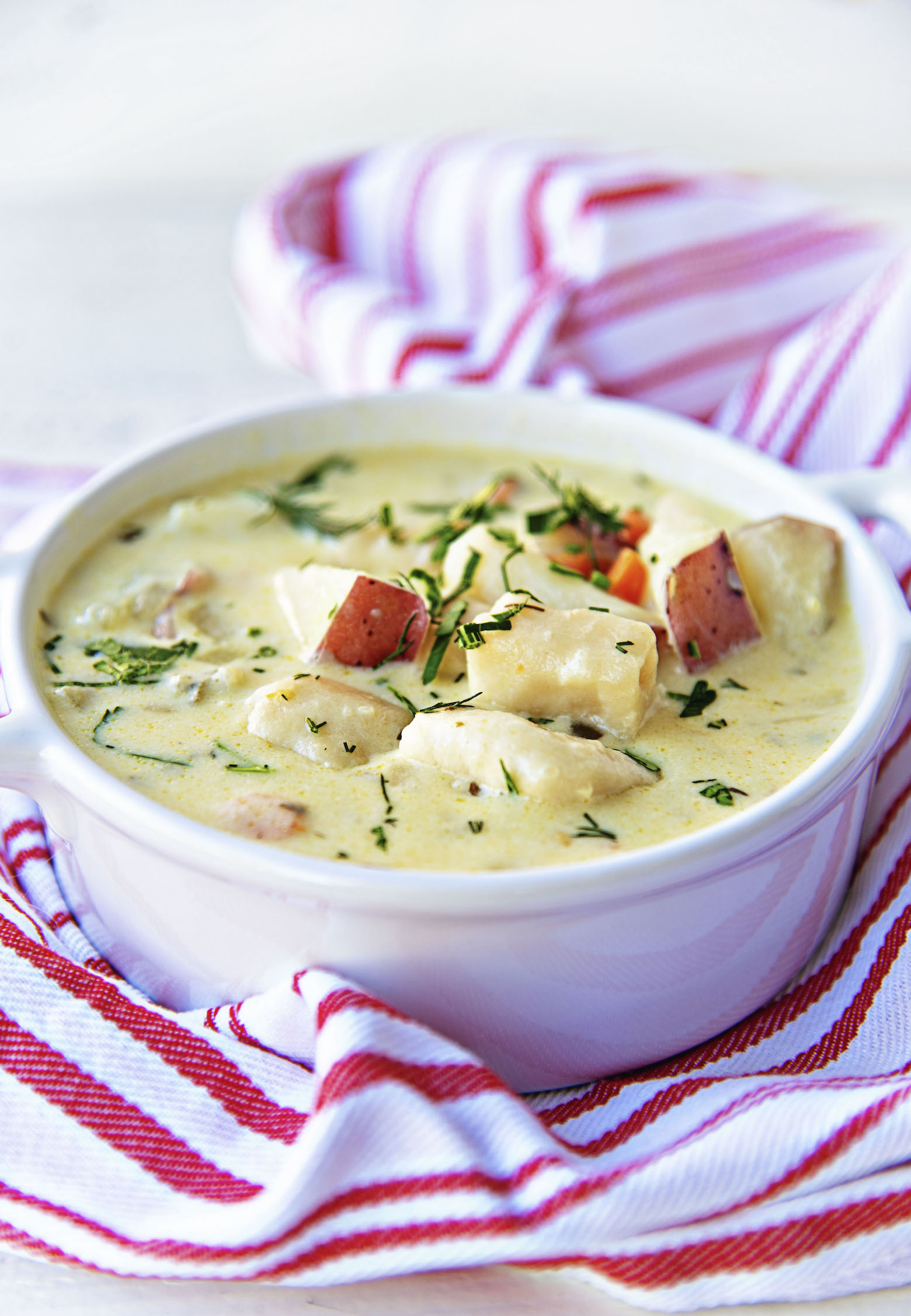 Until I was in my teens and at a friends house and her grandmother was making soup.
And I watched her drop a couple Parmesan rinds into the soup.
I quickly asked if those were Parmesan rinds and was told yes.
Hmmm, okay.
Maybe my neighbors weren't that crazy after all.
Now, I use it all the time.
I even go so far as to smoke the Parmesan rinds in our smoker from time to time.
To add another dimension to my soup.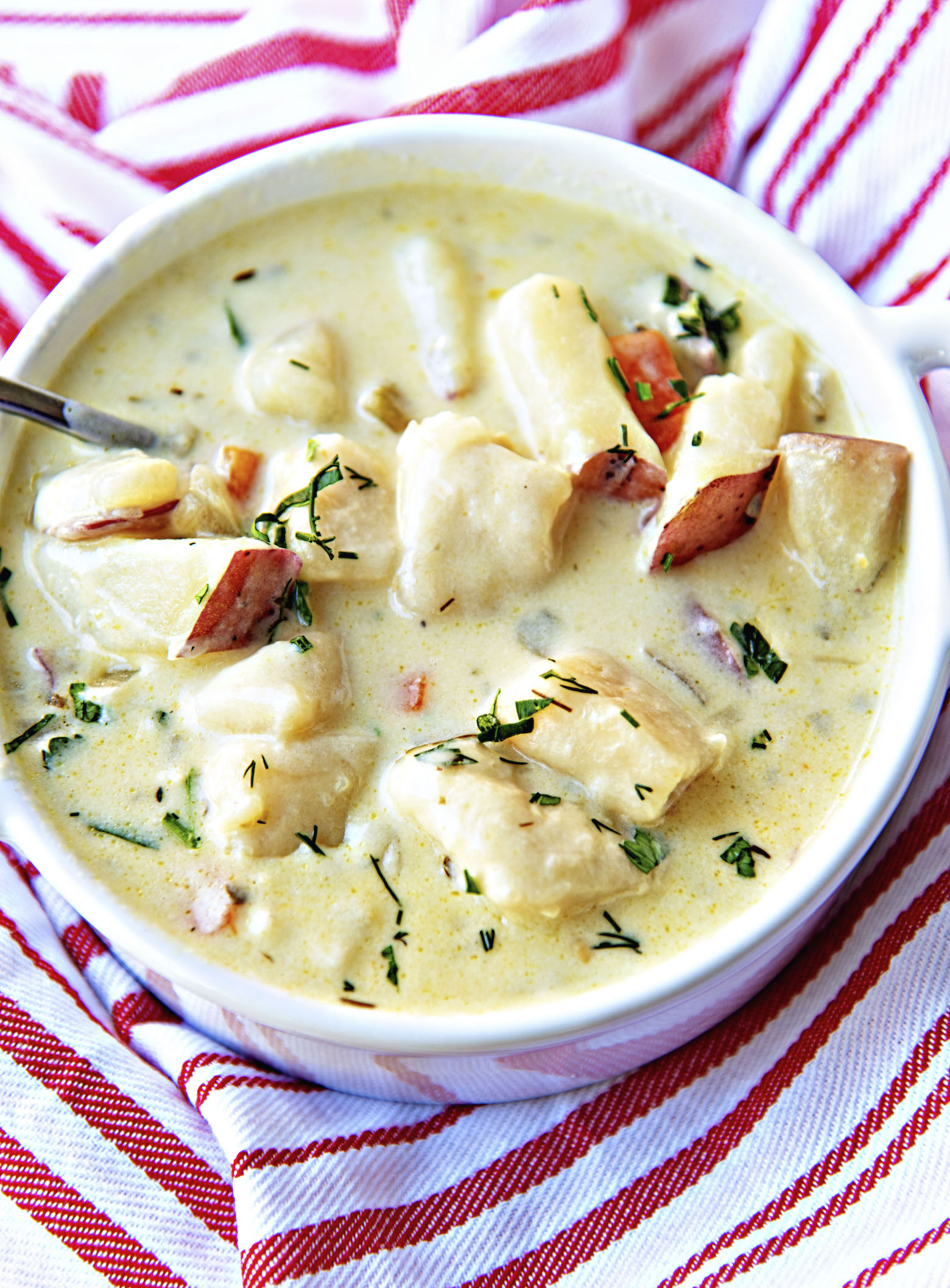 While my husband and I were watching Girl Meets Farm one weekend we saw her making Knoephla soup.
Something both my husband and I had never heard of but it looked good.
And I knew it was something that could easily be made vegetarian.
I also knew it needed a Parmesan rind in there. 🙂
As well as some Parmesan in the Knoephla dumplings as well.
This Vegetarian Parmesan Knoephla Soup is a very hearty soup.
Perfect for winter.
P.S. It's a great day to buy my cookbook Holy Sweet!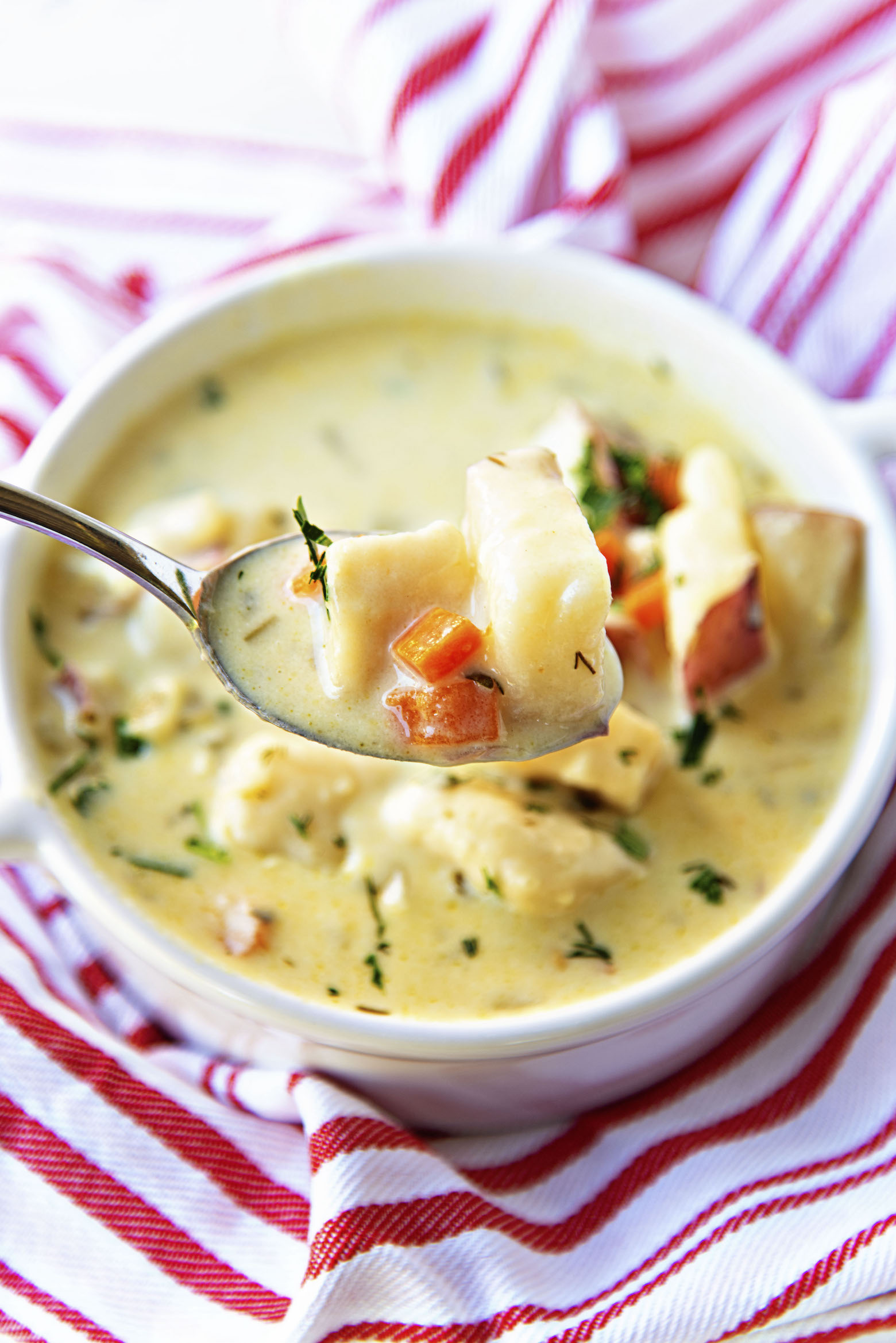 Want More Vegetarian Dinner Recipes?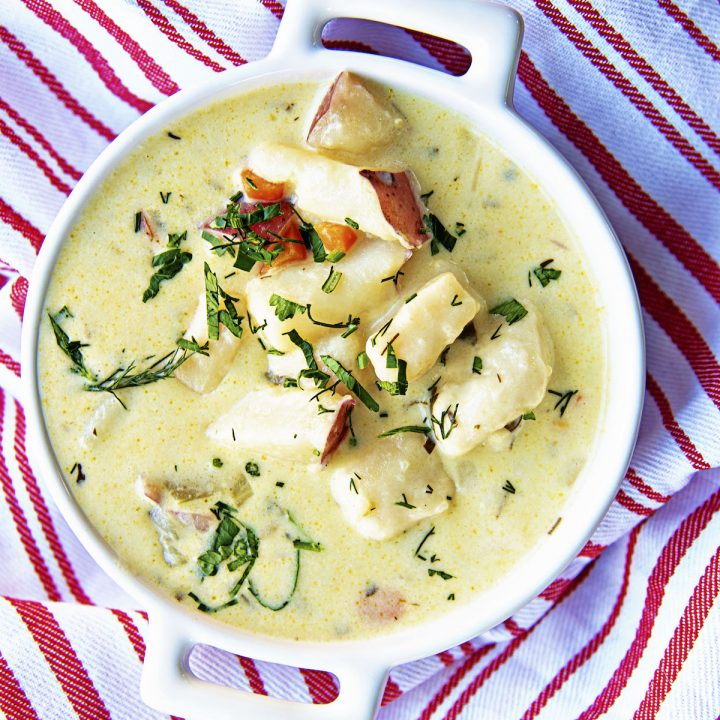 Vegetarian Parmesan Knoephla Soup
Ingredients
For the Soup Base:
3 TBSP unsalted butter
2 large carrots, chopped 
2 celery stalks, chopped 
1 large sweet onion, chopped 
Kosher salt and freshly ground black pepper to taste
2 cloves garlic, minced 
1/2 tsp freshly ground nutmeg 
1/2 tsp dried thyme 
4 sprigs fresh parsley, chopped 
2 sprigs fresh dill, chopped 
2 bay leaves 
2 parmesan rinds
1 1/2 pounds red potatoes, chopped into 1/2-inch pieces
1/2 cup heavy cream 
For the Knoephla:
3 1/4 cups all-purpose flour, plus more for dusting
1 1/2 tsp baking powder 
1 1/4 tsp salt 
1/8 tsp ground nutmeg 
1 cup water
1 large egg 
1/4 cup Parmesan cheese, grated
Instructions
For the soup:
Melt the butter in a large pot over medium-high heat.
Add the carrots, celery, onions, a good pinch of salt and a few turns of pepper and cook, stirring often, until the vegetables soften, about 10 minutes.
Add the garlic and nutmeg and cook, stirring, until fragrant, 2 more minutes.
Stir in the chickenless stock, herbs, bay leaves, Parmesan rind, and potatoes. Increase the heat to high and bring to a boil.
Reduce the heat to a simmer, then cover and cook for 40 minutes.
For the Knoephla:
Meanwhile, whisk together the flour, baking powder, salt, nutmeg, and Parmesan in a medium bowl.
Stir in 1 cup water and the egg and mix to form a shaggy dough.
Turn it out onto a clean work surface and knead it for a few minutes, adding flour as needed, until you have a smooth and stiff dough.
Roll it into a 1/2-inch-thick blob, then cut into 1/2- to 3/4-inch squares, dusting with flour so they don't stick together.
When the soup has 20 minutes left of simmer time, add the knoephla directly to the soup and continue to simmer.
Stir in the cream.
Taste and adjust the seasonings as desired.
Remove the bay leaves before serving.
Notes
Adapted from Molly Yeh Food Network