This Roasted Mushroom Lemon Butter Pasta is full of roasted mushrooms, lemon, butter, parmesan, parsley, and pine nuts.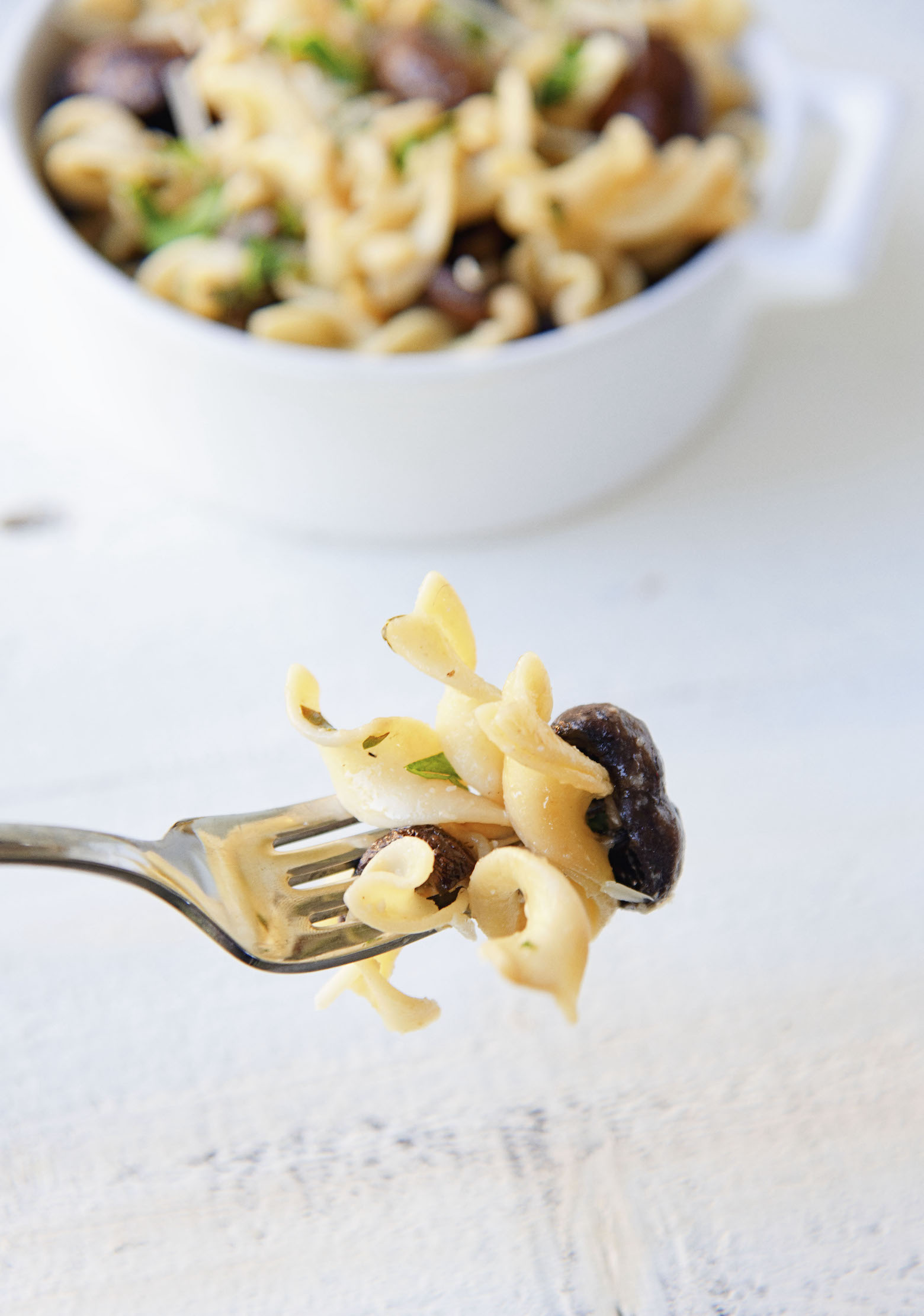 My mom, like a lot of people, panic when someone she has over to eat is vegetarian.
She grew up in the era of a meat, a starch, and a veggie.
Then dessert.
That was the formula.
We ate that every night.
Or we ate the leftovers of that. 🙂
Which was usually the Thursday night meal.
Friday was for pizza.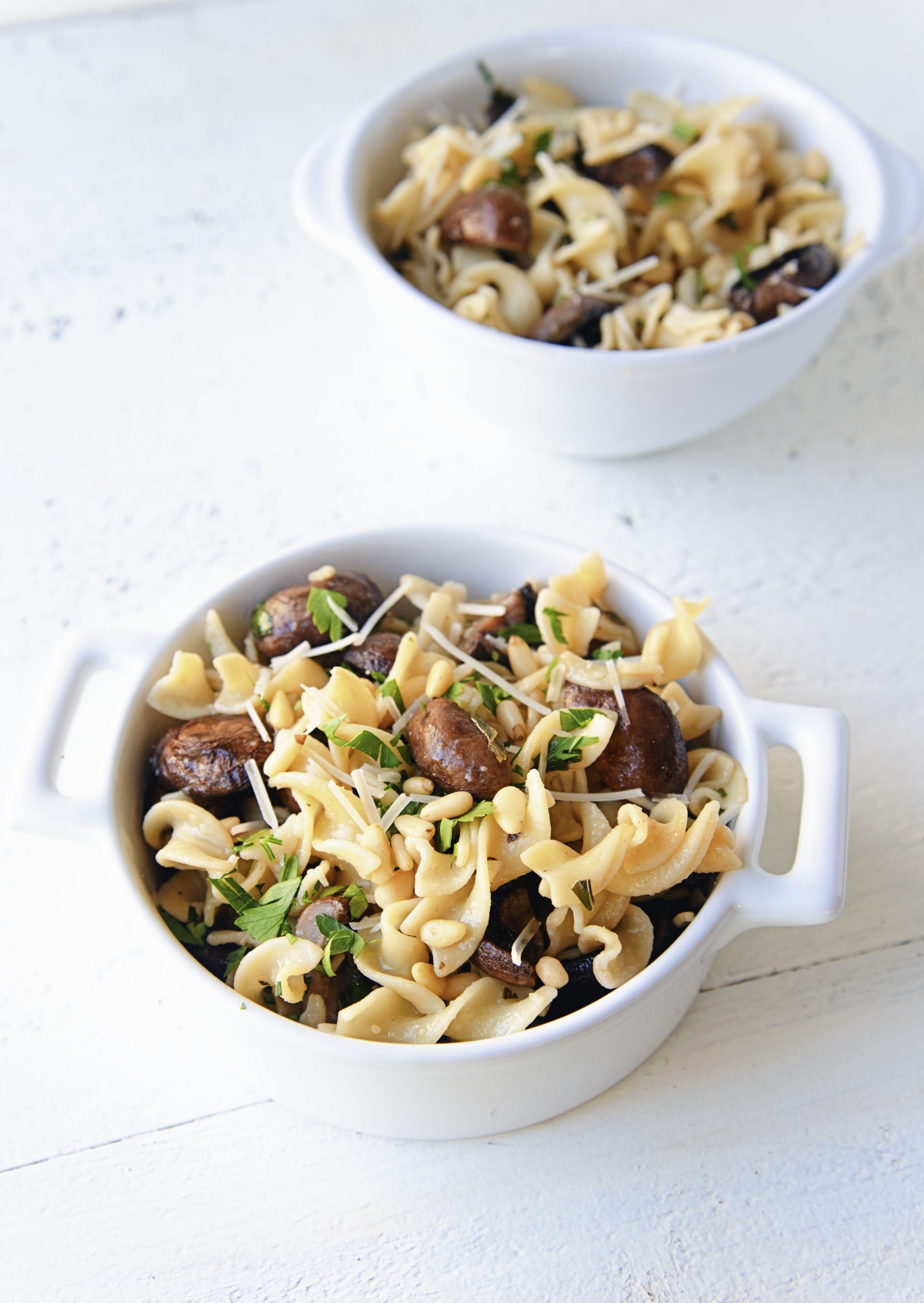 So when you take out a piece of that formula my mom panics.
As do many others.
But really you usually make more vegetarian friendly than you think.
Or can easily be converted to vegetarian.
Basically every side dish you have with your meat can be made vegetarian.
Unless, of course, it's a side of bacon with breakfast. 😀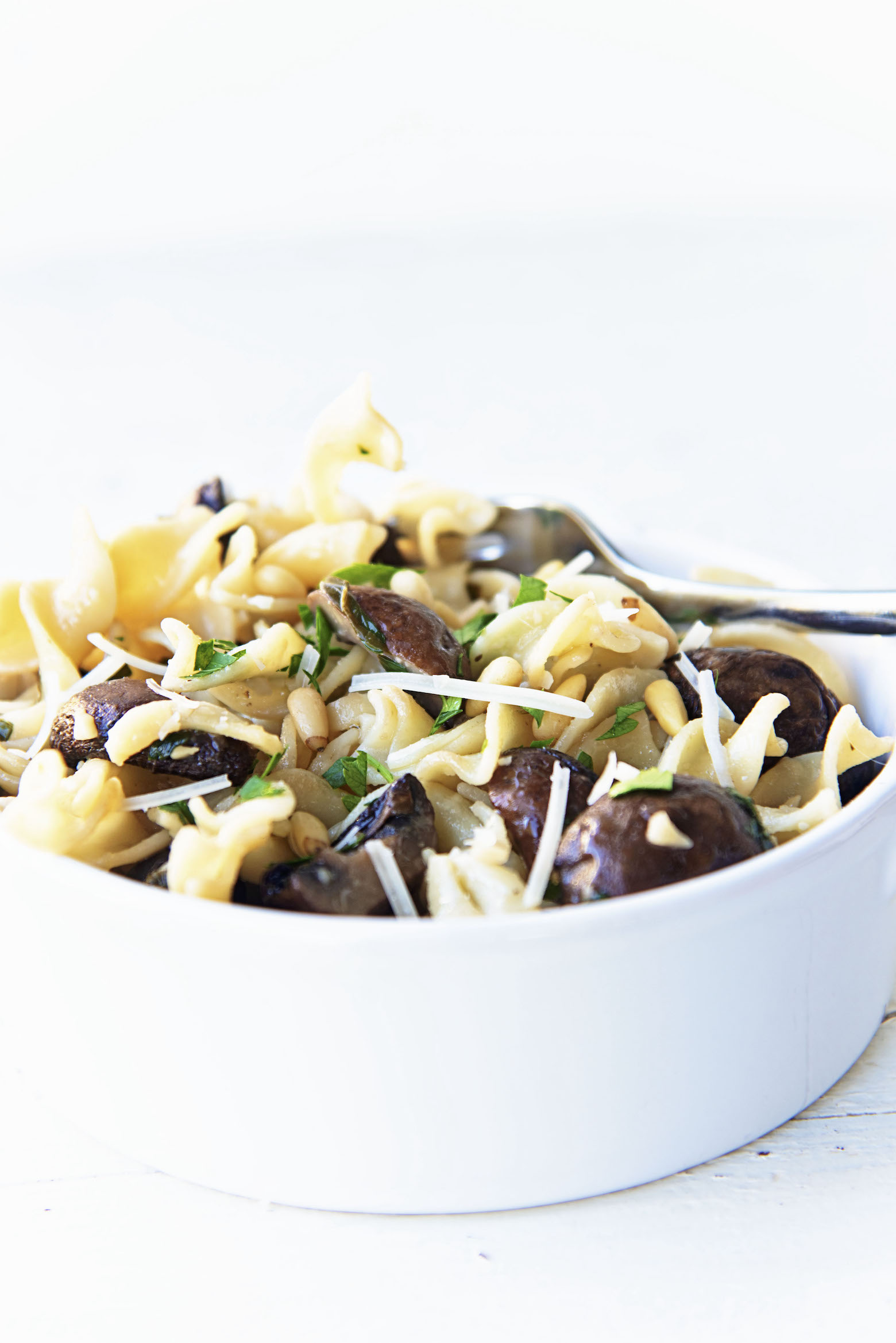 But think about Thanksgiving.
That meal is almost ALL sides.
Mashed potatoes which are usually already vegetarian.
Stuffing.
Which can easily be made vegetarian by swapping out the chicken stock for veggie stock.
Green Bean Casserole.
Cranberry sauce.
The rolls.
You just don't get the turkey.
Ironically I never ate turkey usually.
I would however make a turkey sandwich after.
Nowadays I just make a stuffing, mashed potatoes, and cranberry sandwich and man is that good.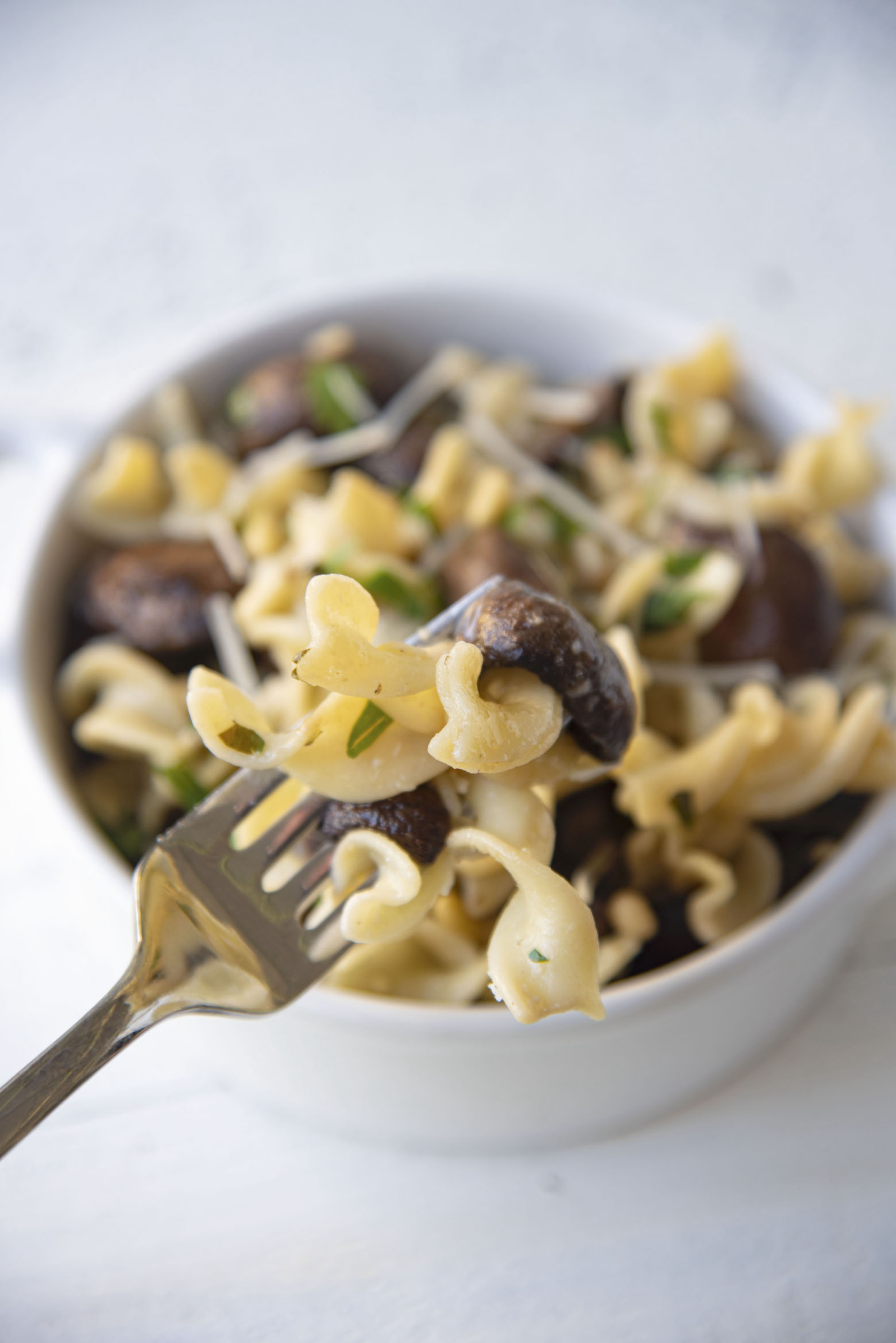 This Roasted Mushroom Lemon Butter Pasta a side dish I used to make.
Though no pasta originally.
Made it into a meal by throwing pasta into the mix and making more of the sauce.
You can of course use any pasta shape you want but I like the egg noodles for some reason.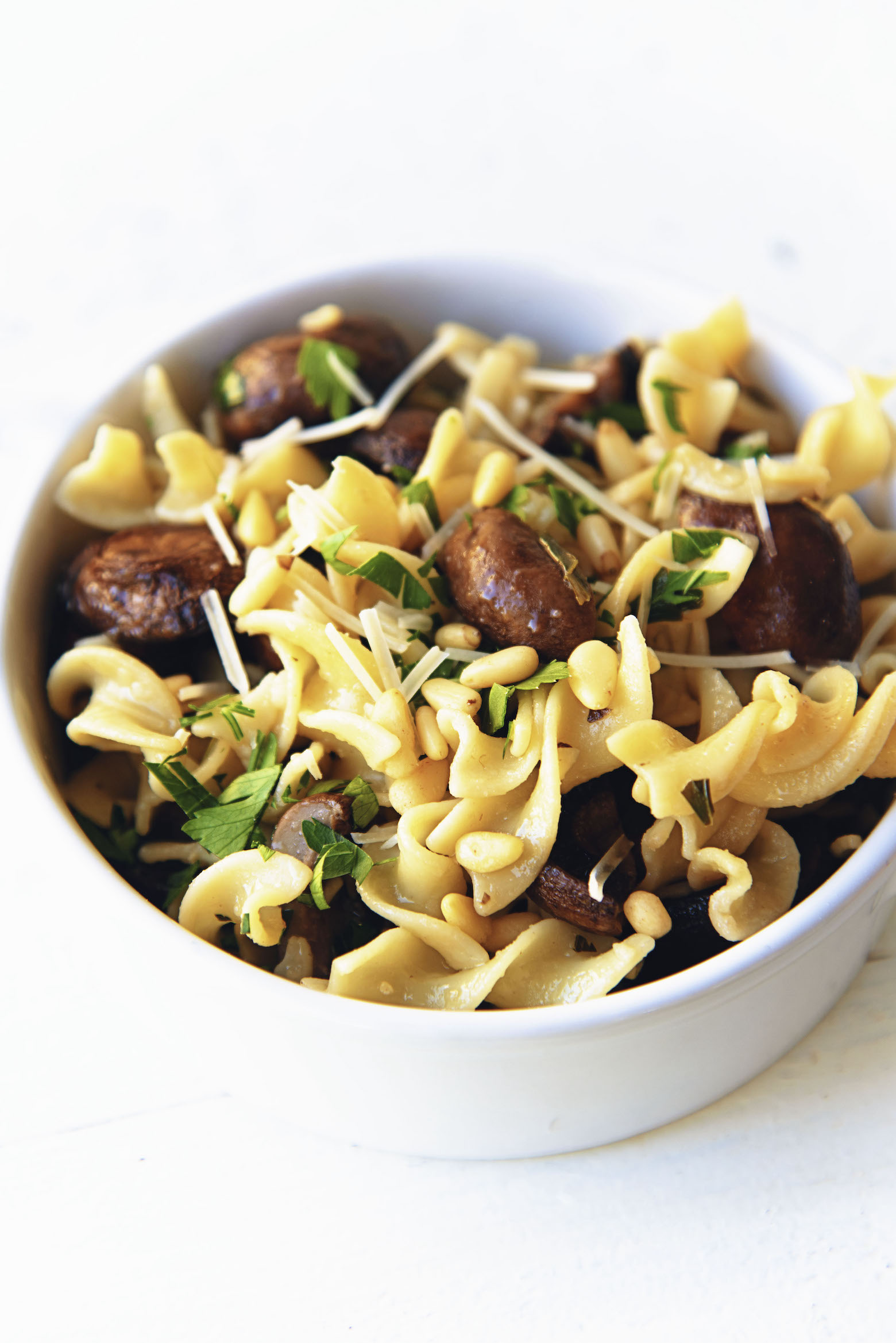 This makes for a great weeknight meal.
While the mushrooms do take some time to roast the rest of the meal comes together quickly.
The lemon and parsley give the pasta some nice brightness.
As the parmesan helps add the saltiness.
And pine nuts are just good. 🙂
P.S. It's a great day to buy my cookbook Holy Sweet!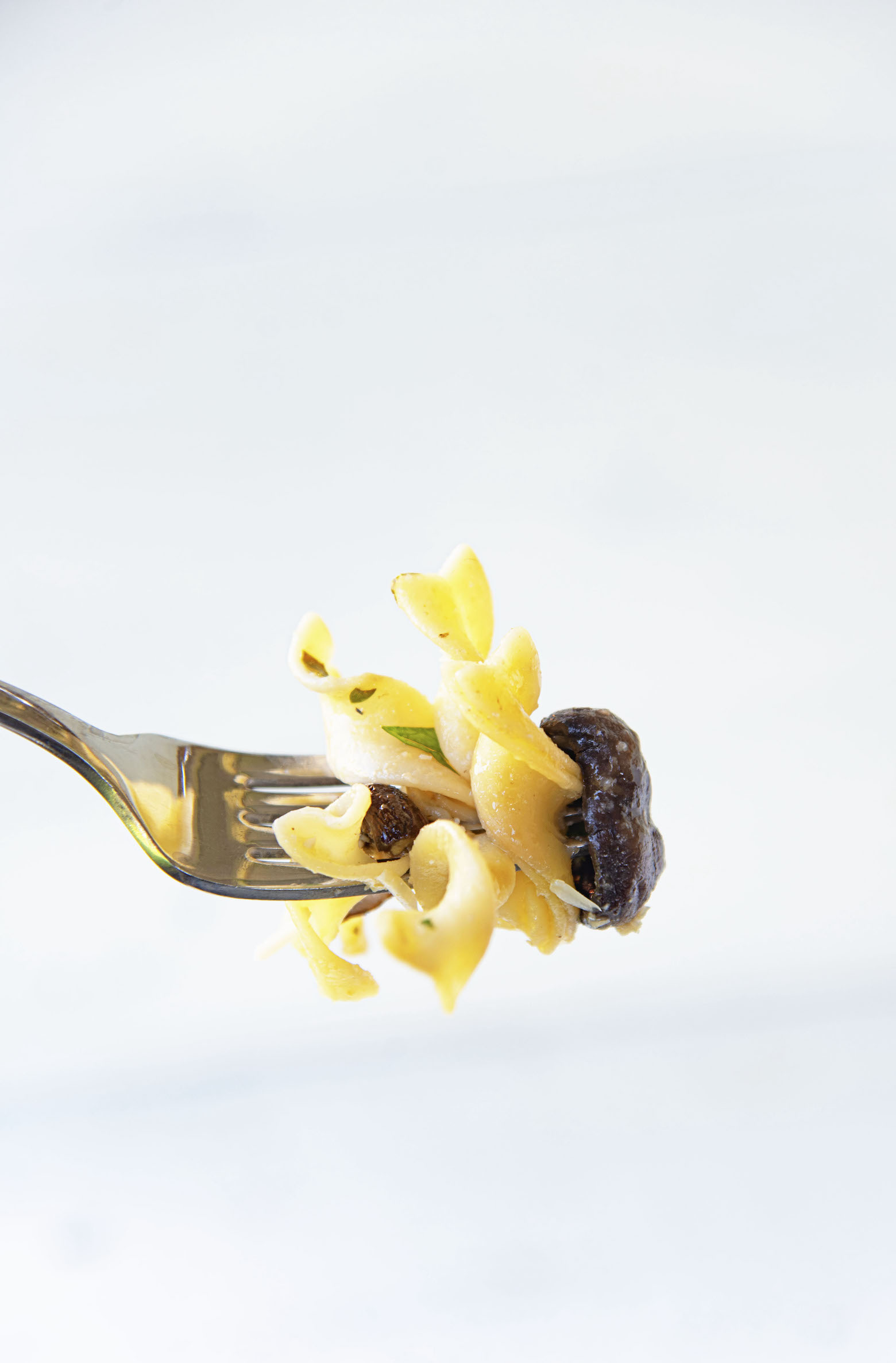 Want More Vegetarian Dinner Recipes?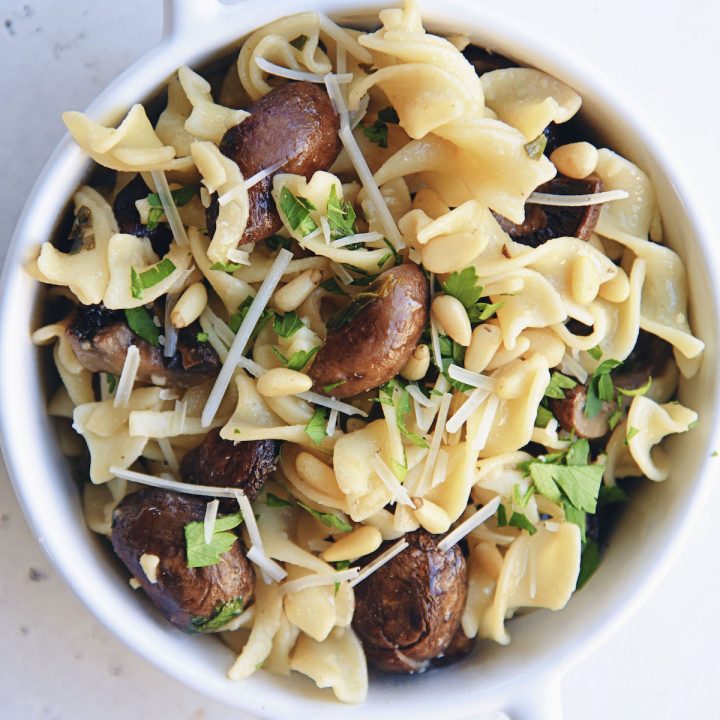 Roasted Mushroom Lemon Butter Pasta
Ingredients
5 tsp salt
8 oz egg noodle pasta
2 1/2 pounds mushroom baby Bella mushrooms, left whole if small, halved if medium, or quartered if large
2 TBSP extra-virgin olive oil
8 TBSP unsalted butter, melted
1/4 cup freshy squeezed lemon juice
1/2 cup Parmesan cheese, grated
1/3 cup pine nuts, toasted
4 TBSP chopped parsley
Instructions
Boil the pasta as the directions on the package tell you to do.
Drain and set aside.
Adjust oven rack to lowest position and heat oven to 450 F.
Add 5 tsp salt in 2 quarts water in large container.
Add mushrooms to brine, cover with plate or bowl to submerge, and let stand for 10 minutes.
Drain mushrooms and pat dry with paper towels.
Spread mushrooms evenly on rimmed baking sheet, drizzle with oil, and toss to coat.
Roast until liquid from mushrooms has evaporated, 35 to 45 minutes.
Remove sheet from oven (be careful of escaping steam when opening oven) and, using thin metal spatula, carefully stir mushrooms.
Return to oven and continue to roast until mushrooms are deeply browned, 5 to 10 minutes longer. They are going to look very brown.
Combine melted butter and lemon juice in large bowl.
Add mushrooms and pasta and toss to coat.
Add Parmesan, pine nuts, and parsley and toss.
Season with salt and pepper to taste; serve immediately.