This Easy Baked Spaghetti Casserole is layered like a lasagna but uses spaghetti. It also uses an herbed mixture of ricotta and cream cheese.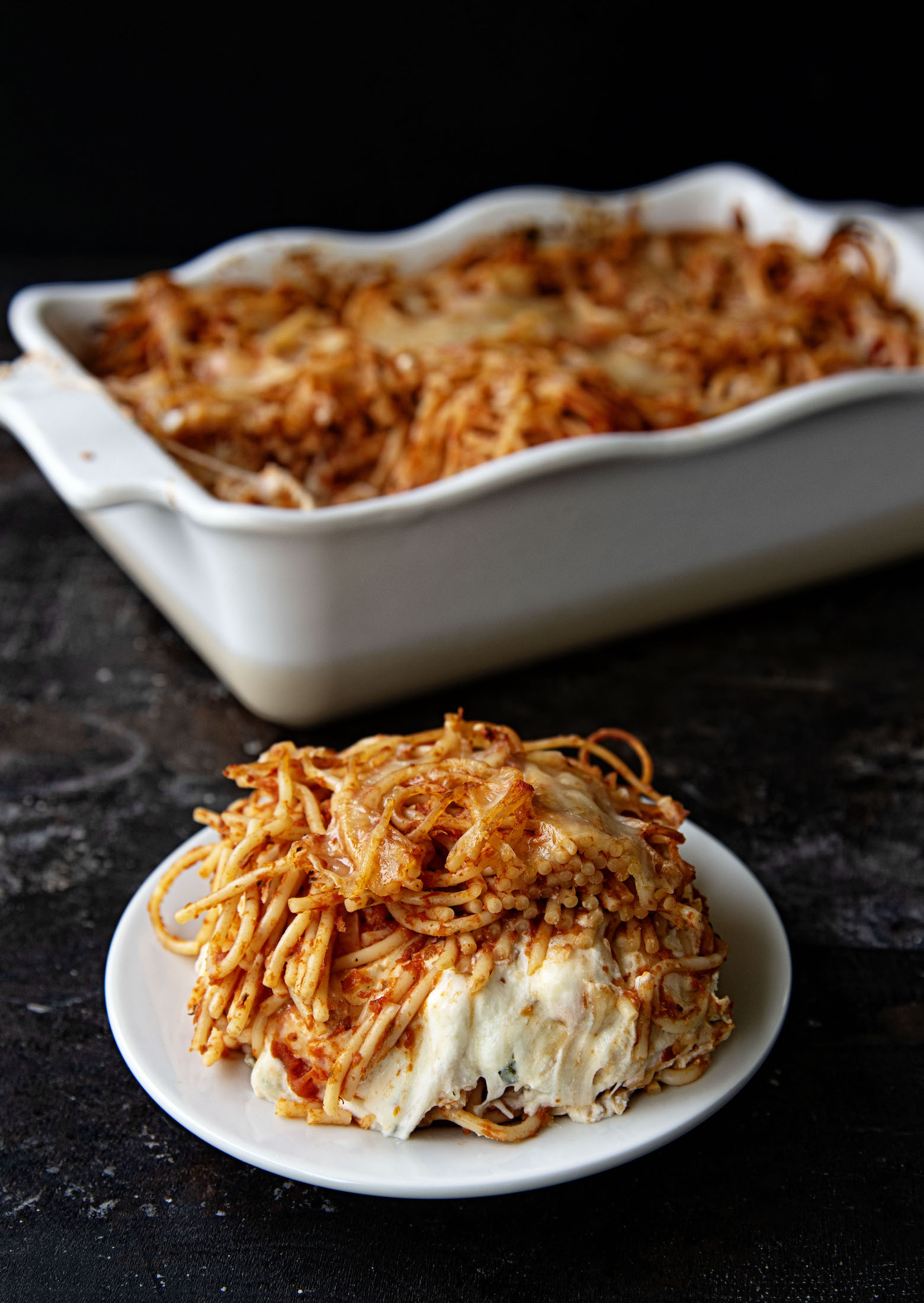 So this casserole is often known as Millionaire Spaghetti.
Which I find hysterical because at it's best it's more like Middle Class Spaghetti.
And the reason for why it's supposedly called that is because it has a 1/2 stick of butter in it.
Ummm, okay.
If we are judging things by how much butter is in them pretty much this ENTIRE blog is for millionaires. 🙂
And if that's true…why am I not one of them?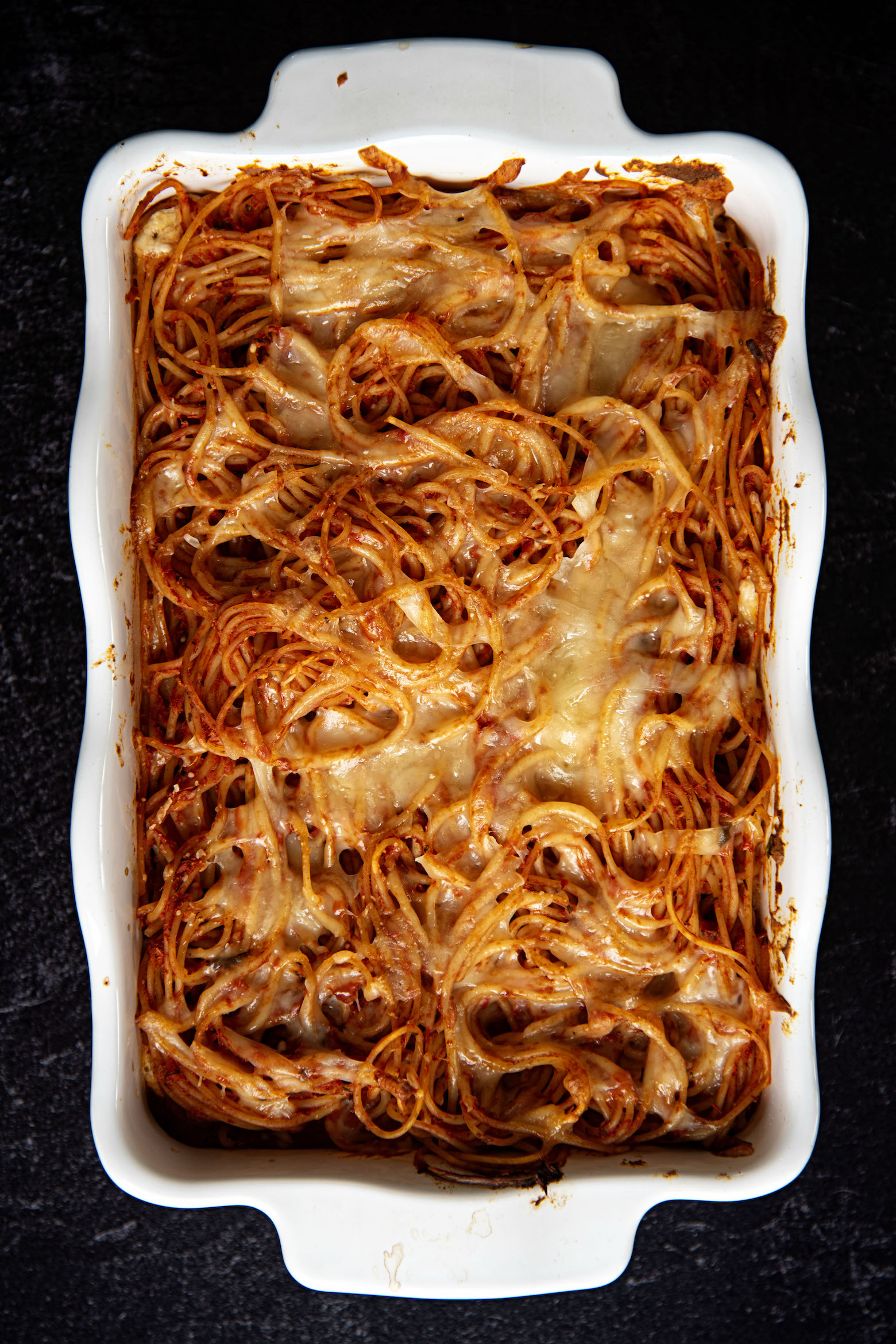 So I couldn't bring myself to call it millionaire spaghetti.
It's easy.
And it's baked.
Has spaghetti.
And it's basically a casserole.
Therefore it got named Easy Baked Spaghetti Casserole.
Original, I know. 😛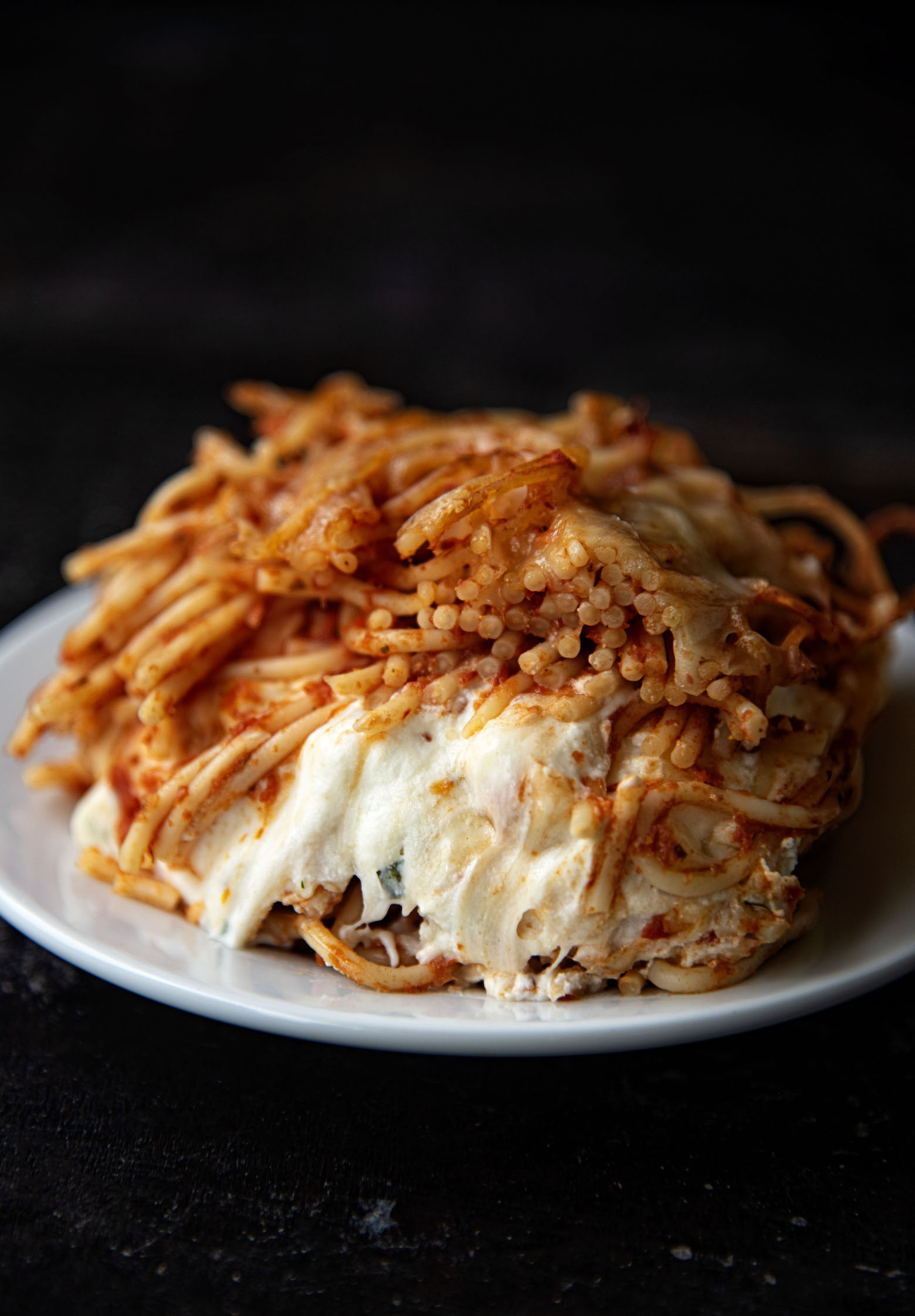 This came about because I accidently ordered more pasta than I realized.
I saw ONE but in reality it was ONE unit…which turned out to be 12 boxes of spaghetti.
Oops.
On the other hand I paid a super cheap price for 12 boxes of spaghetti.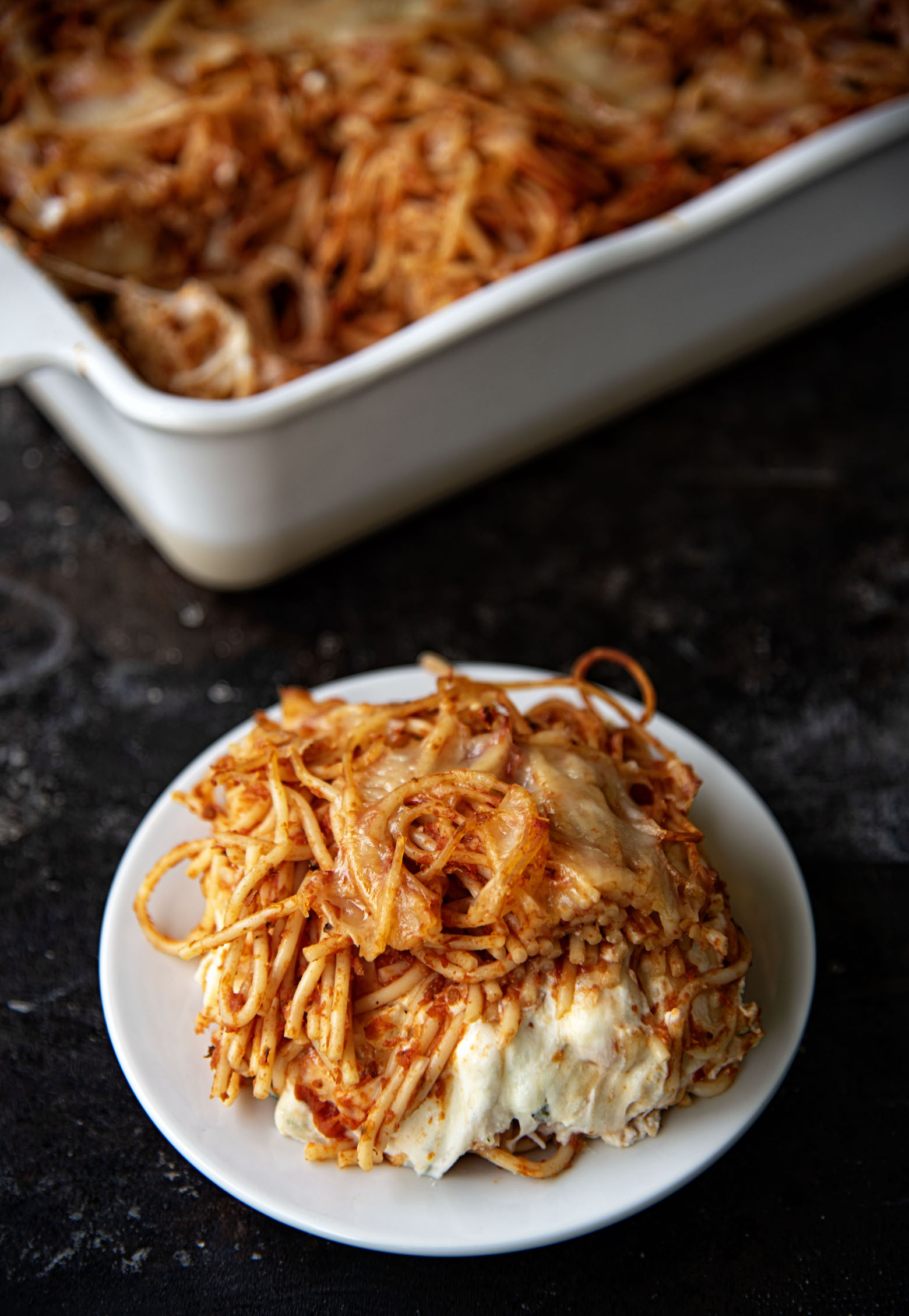 The original version has meat.
Since I don't eat meat we obviously left it out.
If you want meat or even fake meat in there I would guess about a pound.
I'd throw it in the marinara sauce.
It also used cottage cheese instead of ricotta but I prefer ricotta.
And the original does not use fresh herbs.
But I have a TON of herbs and with summer ending I needed to use them up.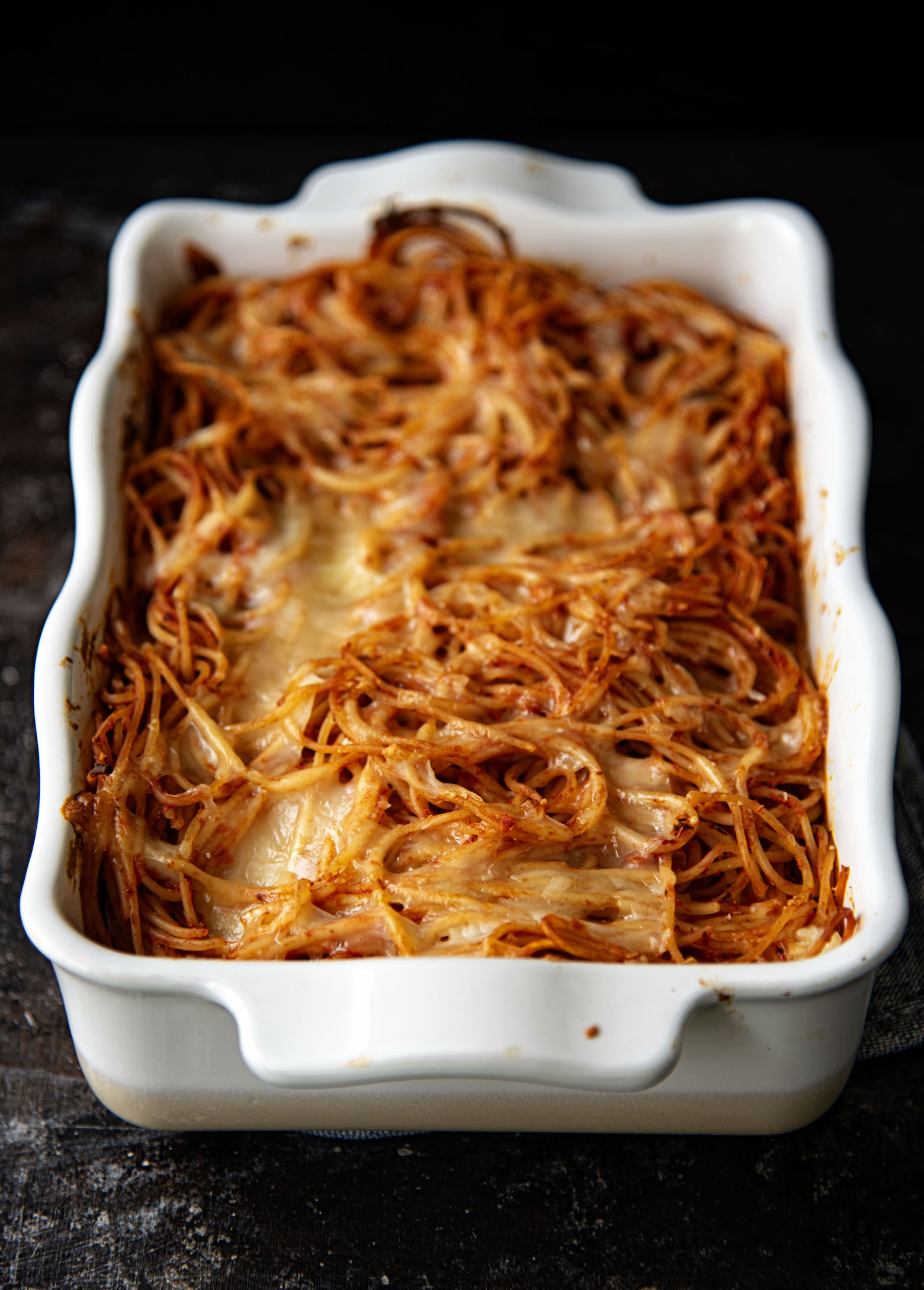 If you like lasagna chances are you will like this.
Most adults and kids will eat this…or at least that's my guess.
You definitely want this to rest a little otherwise it is a nightmare to try and cut and serve.
It's far easier the day after to cut while cold and heat up. 🙂
P.S. It's a great day to buy my cookbook.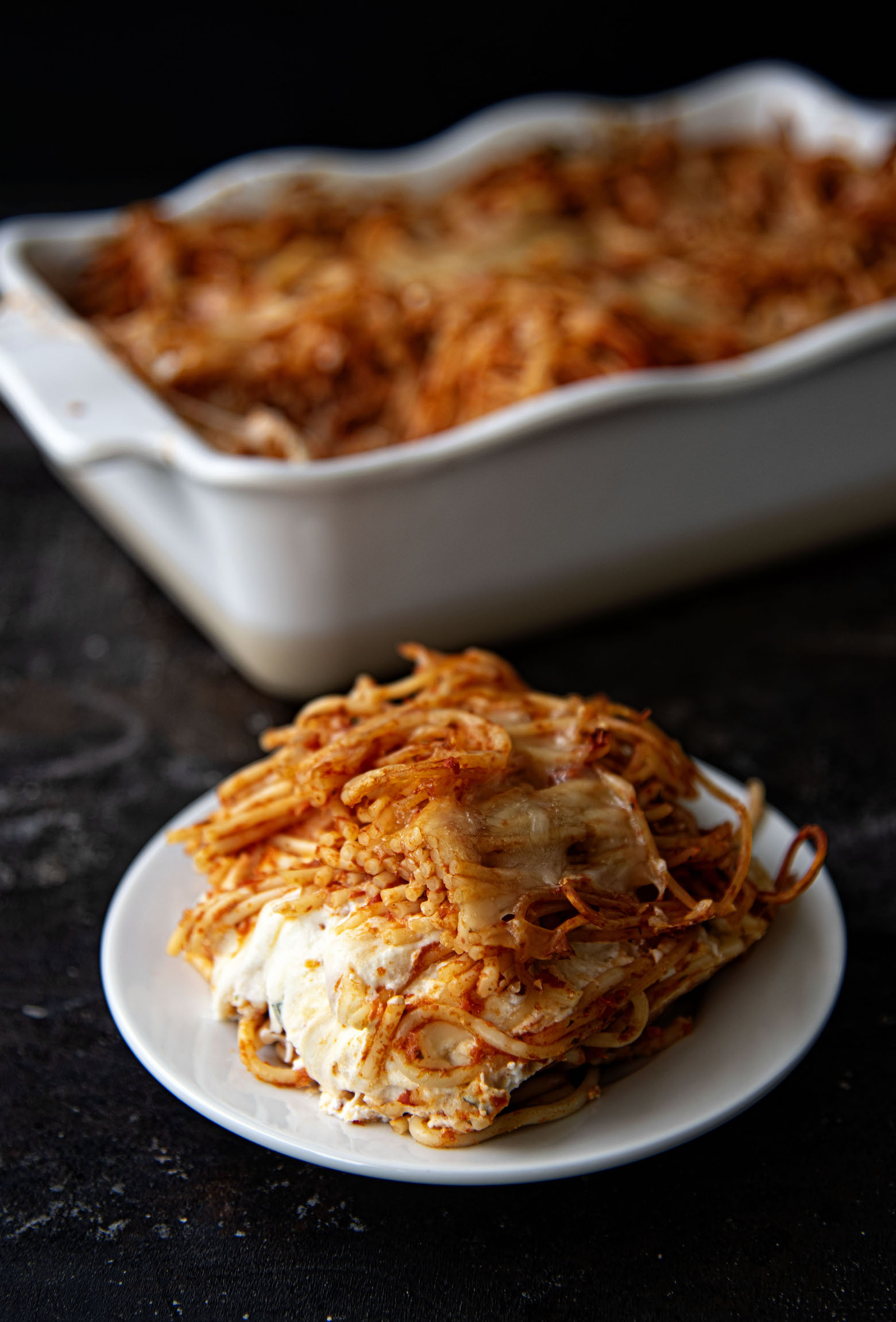 Want More Pasta Recipes?
Alpine Dijon Macaroni and Cheese
Gouda and Lobster Mac and Cheese
BBQ Pulled Pork Mac and Cheese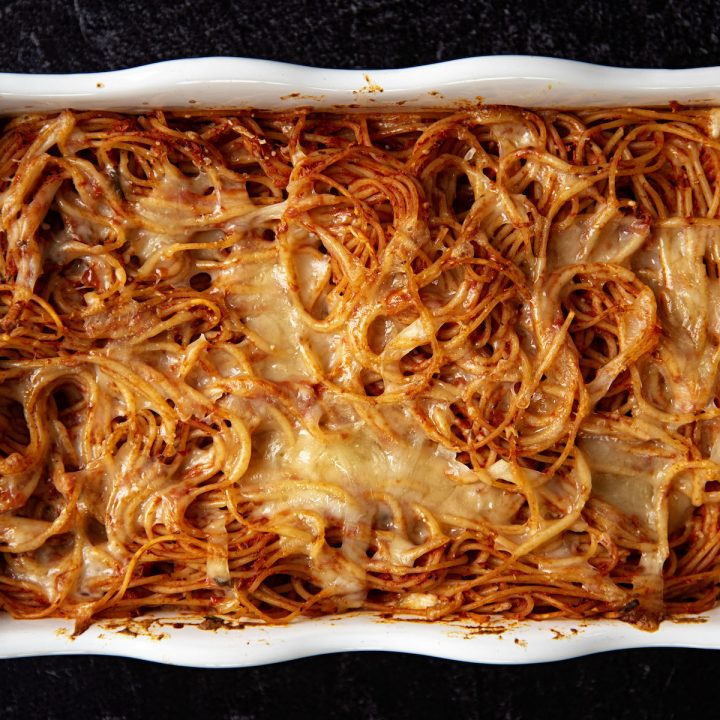 Easy Baked Spaghetti Casserole
Ingredients
16 oz spaghetti noodles
48 oz marinara sauce (store bought or homemade…up to you), divided
8 oz cream cheese, at room temperature
16 oz ricotta cheese
1 TBSP fresh basil, finely chopped
1 tsp fresh oregano, finely chopped
1 TBSP fresh flat leaf parsley, finely chopped
2 cups mozzarella cheese, divided
1 cup parmesan cheese, divided
1 cup fontina cheese, divided
1/2 cup butter, sliced
Instructions
Cook the noodles according to package directions.
Drain the noodles.
Mix 24oz marinara with the cooked noodles. Set aside.
In a large bowl, combine the cream cheese, ricotta cheese, 1 cup mozzarella cheese, and the chopped herbs. Set aside.
Add butter slices to the bottom of a 13×9 deep dish casserole.
Spread half of the sauced spaghetti in the bottom of the dish.
Top with ALL of the cheese mixture.
Then add a layer of 12 oz of marinara sauce and 1/2 cup parmesan cheese and 1/2 cup fontina cheese.
Follow up with the remaining half of the sauced pasta.
Add all the remaining marinara sauce to the top.
Sprinkle the remaining mozzarella cheeses.
At 350F bake casserole uncovered for 30-35 minutes.
Let rest for about 10-15 minutes, otherwise it is very hard to cut.