This Iced Oatmeal Apple Crisp is filled with tons of apples and topped with an iced oatmeal cookie crumb then covered in icing.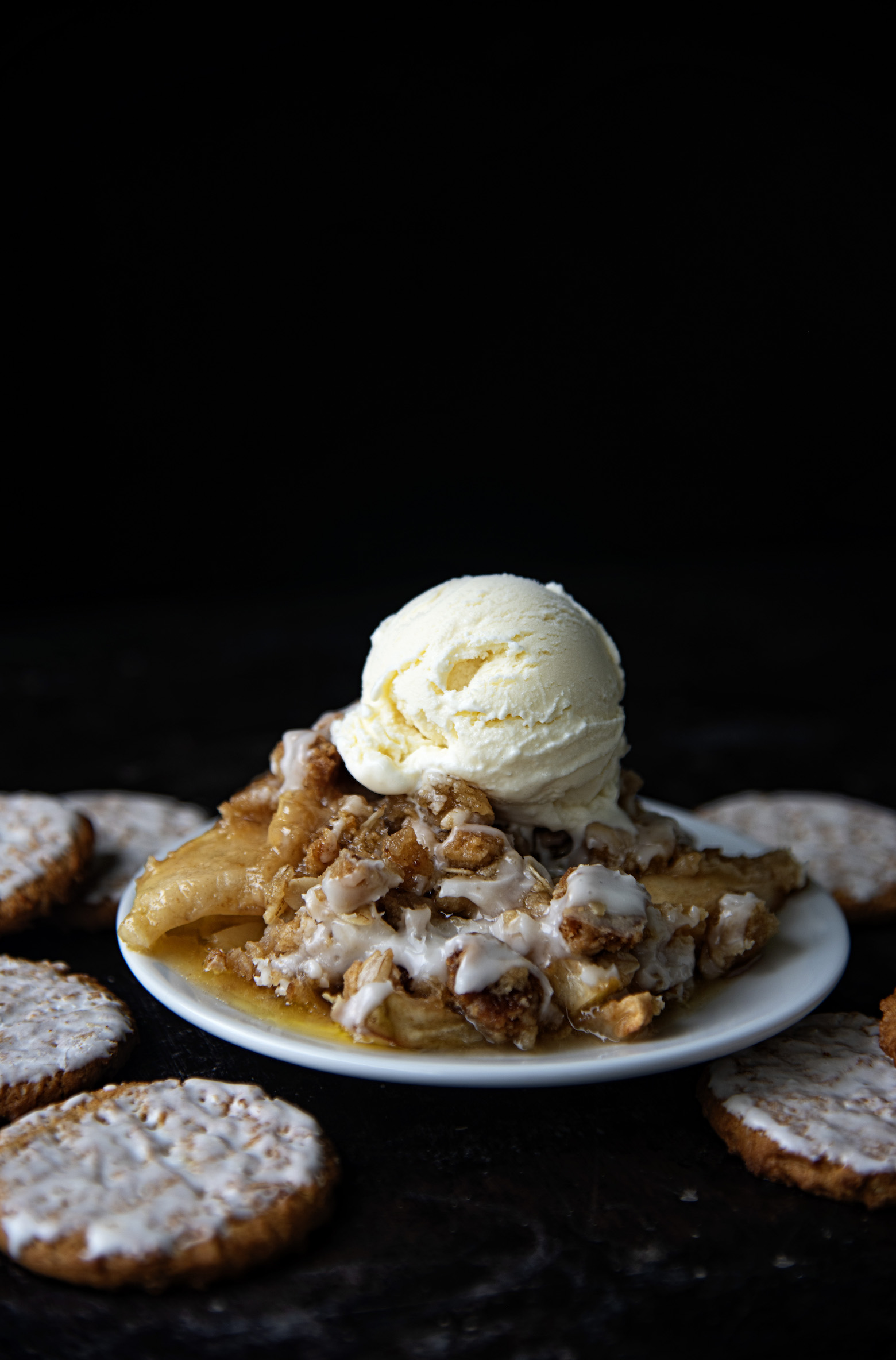 We had a lot more crisps than pies growing up.
This Mini Drumstick Ice Cream Terrine is layers of vanilla ice cream, peanuts, and crushed sugar cone all topped with a thick chocolate coating.
I'm honestly not sure if my mom has ever made pie dough from scratch.
I should probably ask her.
My mom is the queen of store bought pie crust.
So much so she actually uses it to make the "bread" for her little church's communion (Lutherans) each week.
Whatever works.
Though I feel like Pillsbury is missing out on a whole market for their pie crust.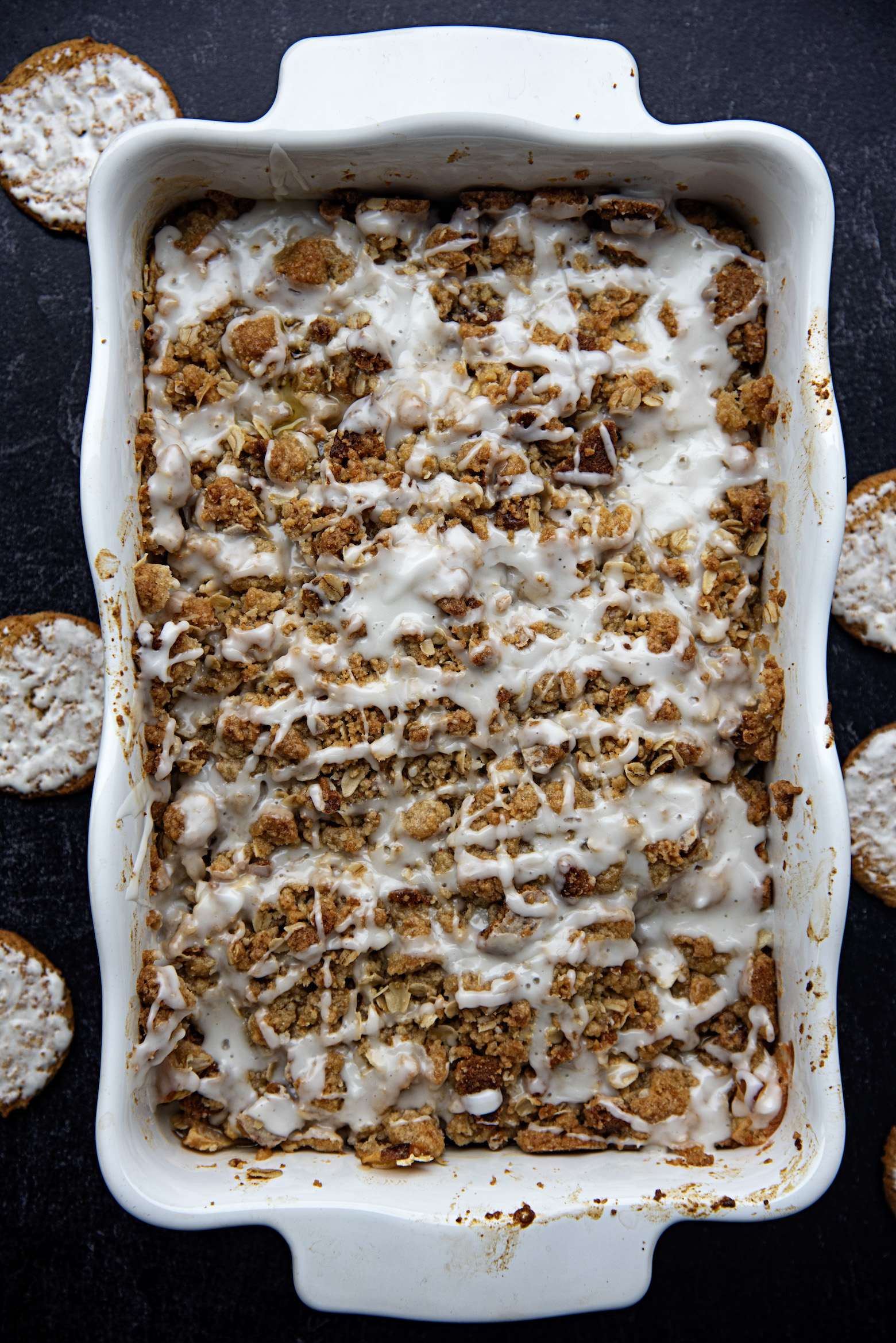 As I have stated before on this blog, I did not get my creativity from my mother.
Don't get me wrong, my mom is a great cook and a good home baker.
But growing up my mom did not deviate much from the recipe.
Using milk chocolate chips when it called for semisweet was living on the edge for her.
Even now she doesn't stray too much.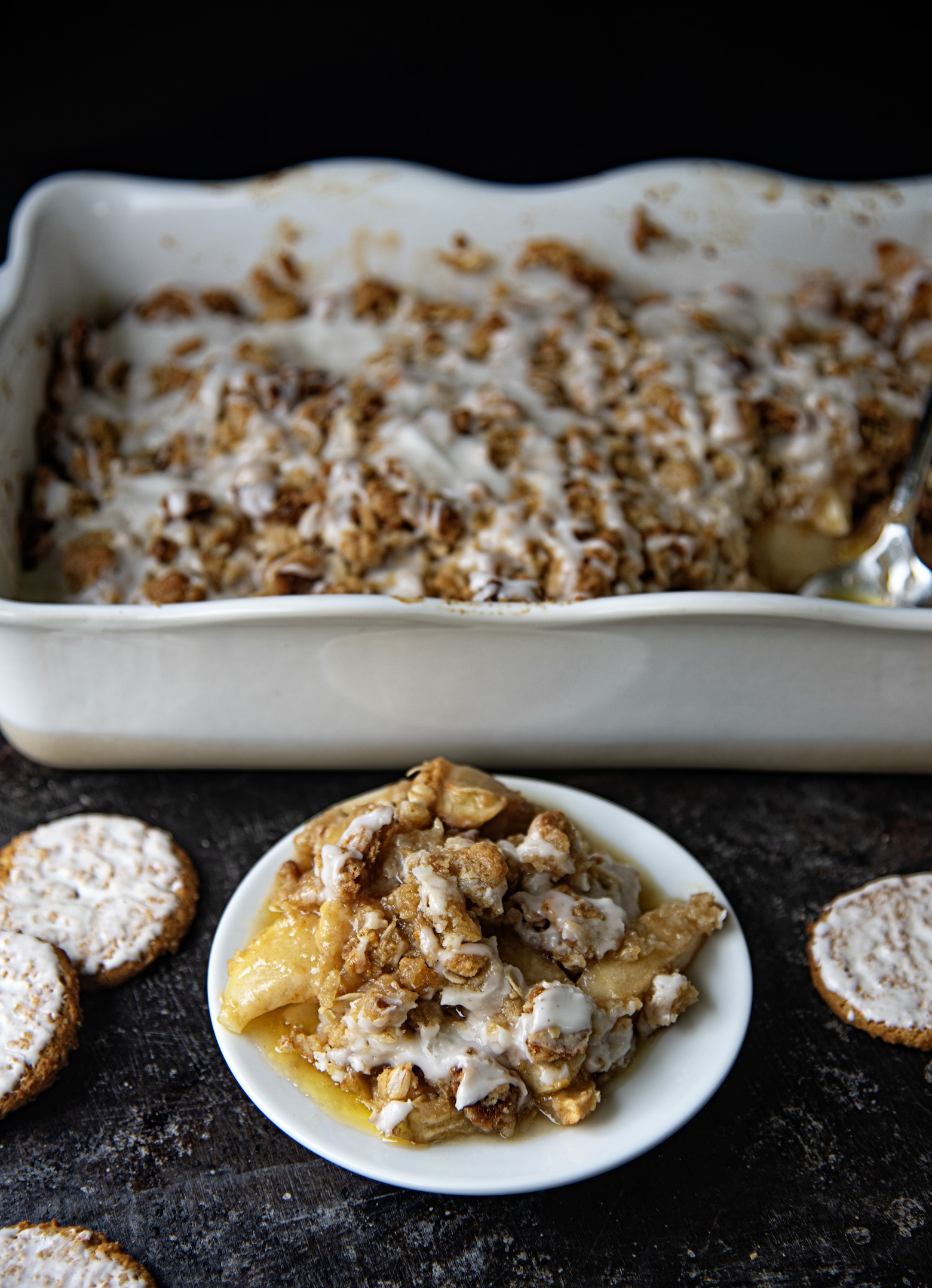 So she definitely thinks I'm weird.
For what it's worth, I am weird.
This is not news to her.
But the food I make seems so out there to her sometimes.
Note, I didn't say she didn't like it, just that she doesn't understand it.
She cannot get behind where the ideas come from.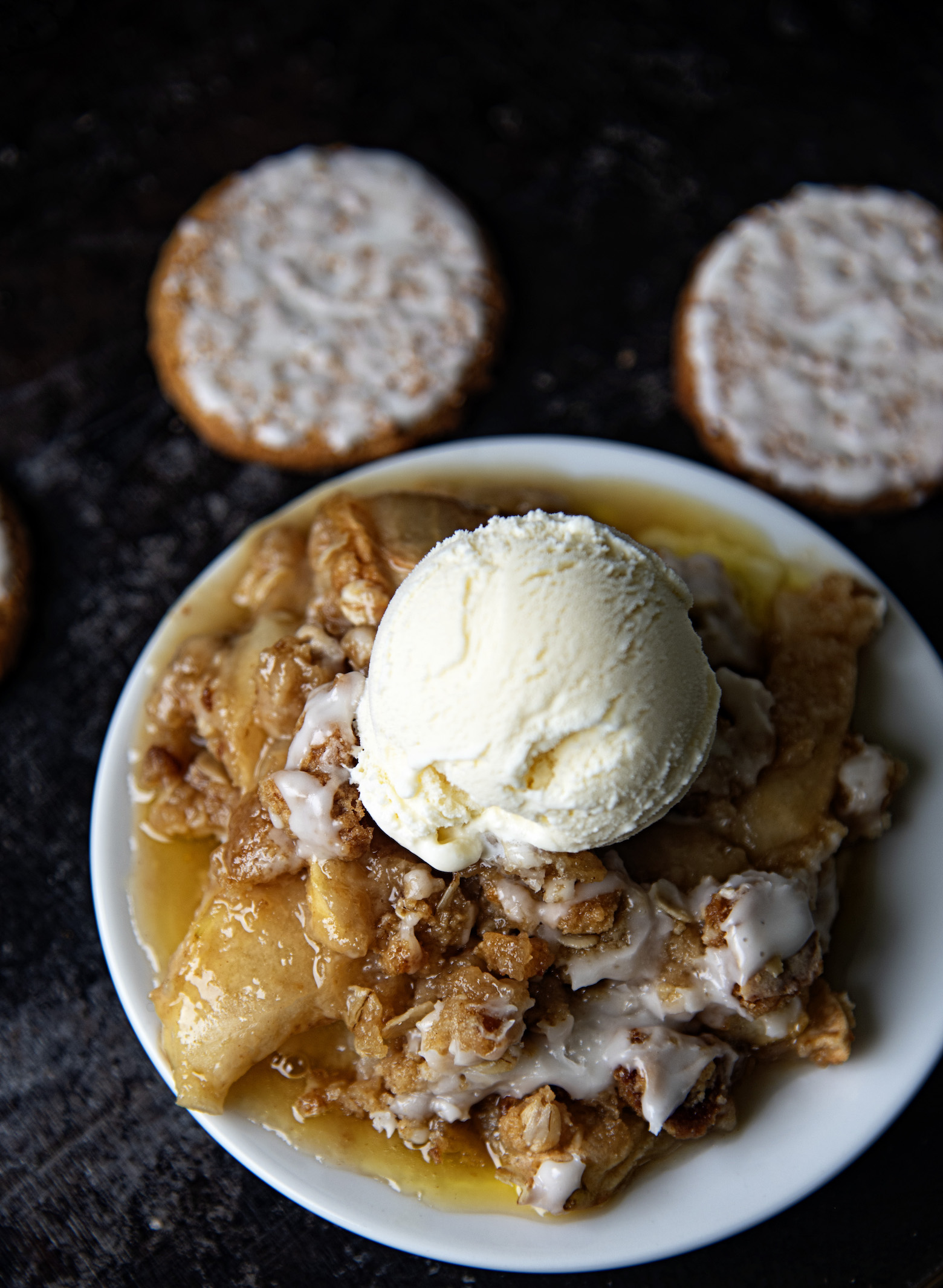 My mom would totally think this Iced Oatmeal Apple Crisp is weird.
But she would also totally love it.
She would just bug me about how did I get the idea.
And I don't know.
I'm at the point in my life where almost anything I eat that is not a baked good…I try to figure out how to make it into a baked good. 🙂
That sometimes leads to epic fails.
Other times some really tasty treats.
Guess which one this is?
And oh yeah, it's a great day to buy my cookbook.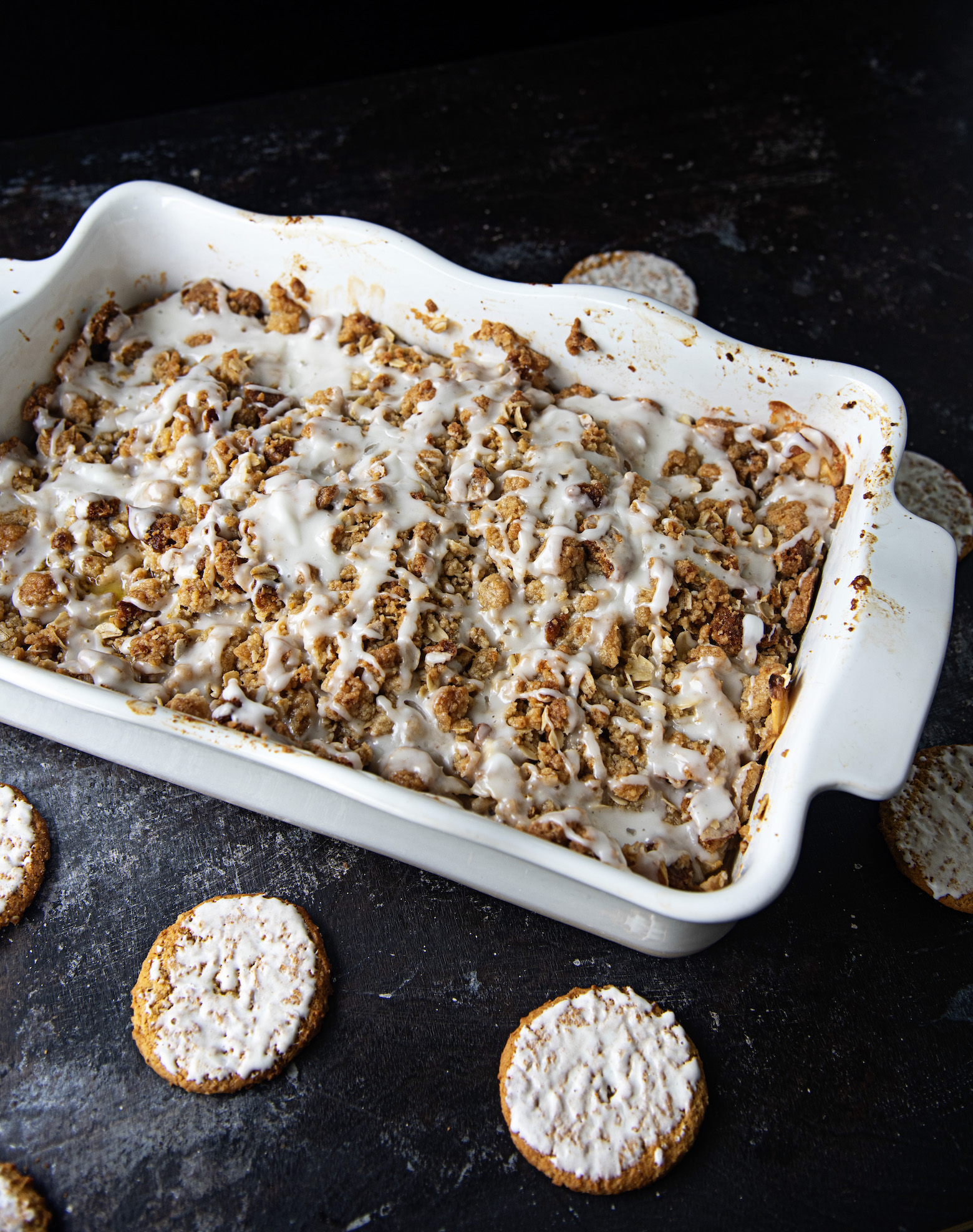 Want More Apple Recipes?
Salted Caramel Apple Fritter Bread
Caramel Apple White Chocolate Fudge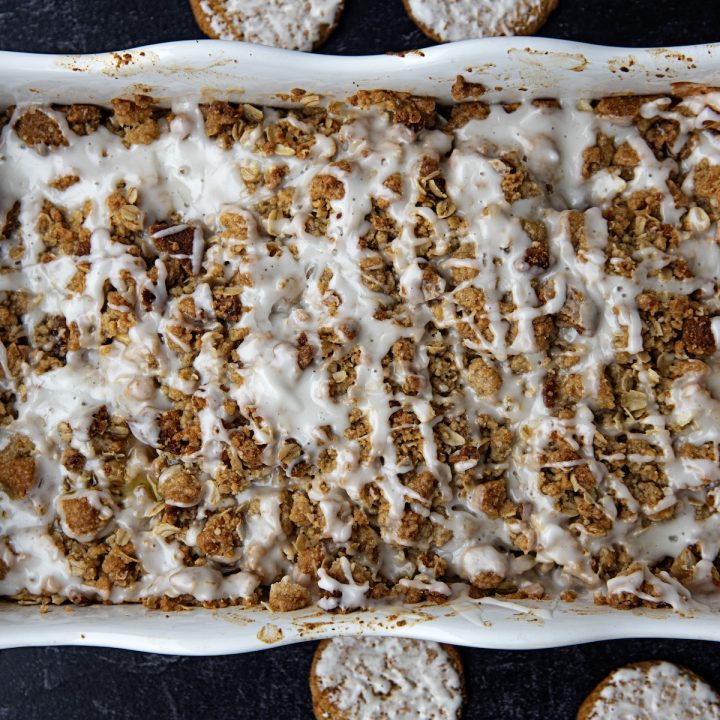 Iced Oatmeal Apple Crisp
Ingredients
For the Streusel:
11/2 cups all-purpose flour
3/4 cup granulated sugar
3/4 cup packed brown sugar
1/4 tsp salt
1 cup (2 sticks) cold unsalted butter, diced
3/4 cup old-fashioned rolled oats
3/4 cup crushed iced oatmeal cookies
For the Filling:
4 lb. baking apples (I used a variety), peeled, cored, and cut into 1/2-inch-thick slices ( about 9 apples)
3/4 cup brown sugar
2 TBSP fresh lemon juice
2 TBSPall-purpose flour
3/4 tsp ground cinnamon
1/4 tsp salt
For the Glaze:
1 1/2 cups powdered sugar
¼ tsp vanilla extract
4-5 TBSP apple cider
Instructions
Preheat oven to 350F.
For the streuselL
Whisk together 11/2 cups flour, granulated sugar, brown sugar, and 1/4 tsp. salt in a bowl.
Cut butter into flour mixture using a pastry blender until butter is pea-sized.
Mix oats and crushed cookie pieces into flour mixture with your hands until thoroughly combined.
Cover and refrigerate while you prepare the filling.
For the filling:
Toss together apples, brown sugar, lemon juice, 2 TBSP flour, cinnamon, and 1/4 tsp salt in a large bowl.
Transfer apple mixture to a 9×13-inch baking dish (3 qt.).
Cover apples with streusel and bake until apples are tender, about 50 minutes.
For the Glaze:
Whisk together the ingredients in a large bowl.
If icing is too thick add more cider.
If too thin add more powdered sugar.
Pour glaze over the warm apple crisp.
Let sit for 30 minutes then serve.