This Maple Apple Fritter Bread is one your favorite fritters in quick bread form made even better with the addition of maple syrup.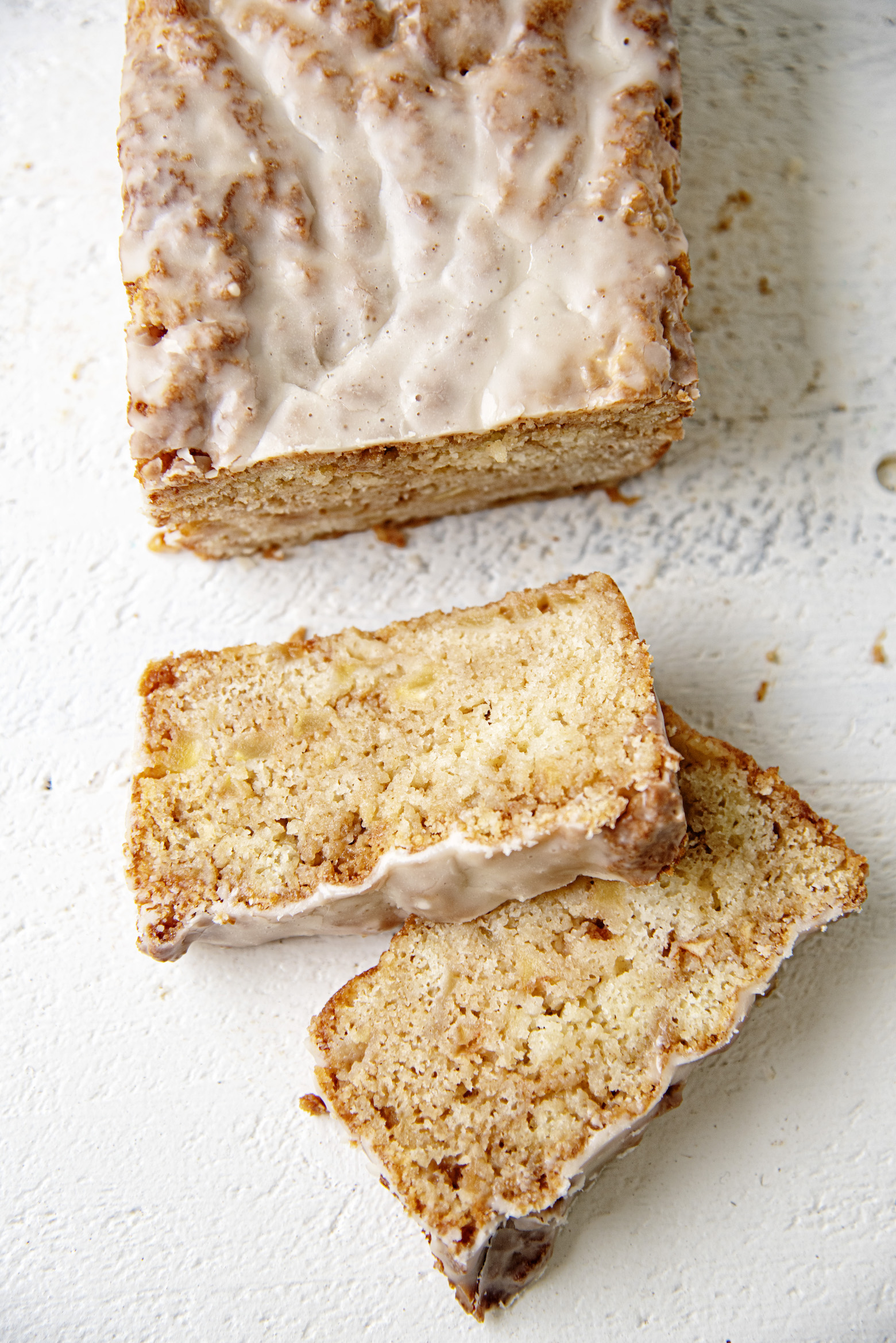 Some recipes no matter what time of year it is are popular on this blog.
No matter what I seem to make the same top 10 recipes month in and month out are the same.
Every now and then a new one sneaks in or is popular for awhile but over time the same recipes regain their spot in the top 10.
One of those recipes is for my Salted Caramel Apple Fritter Bread.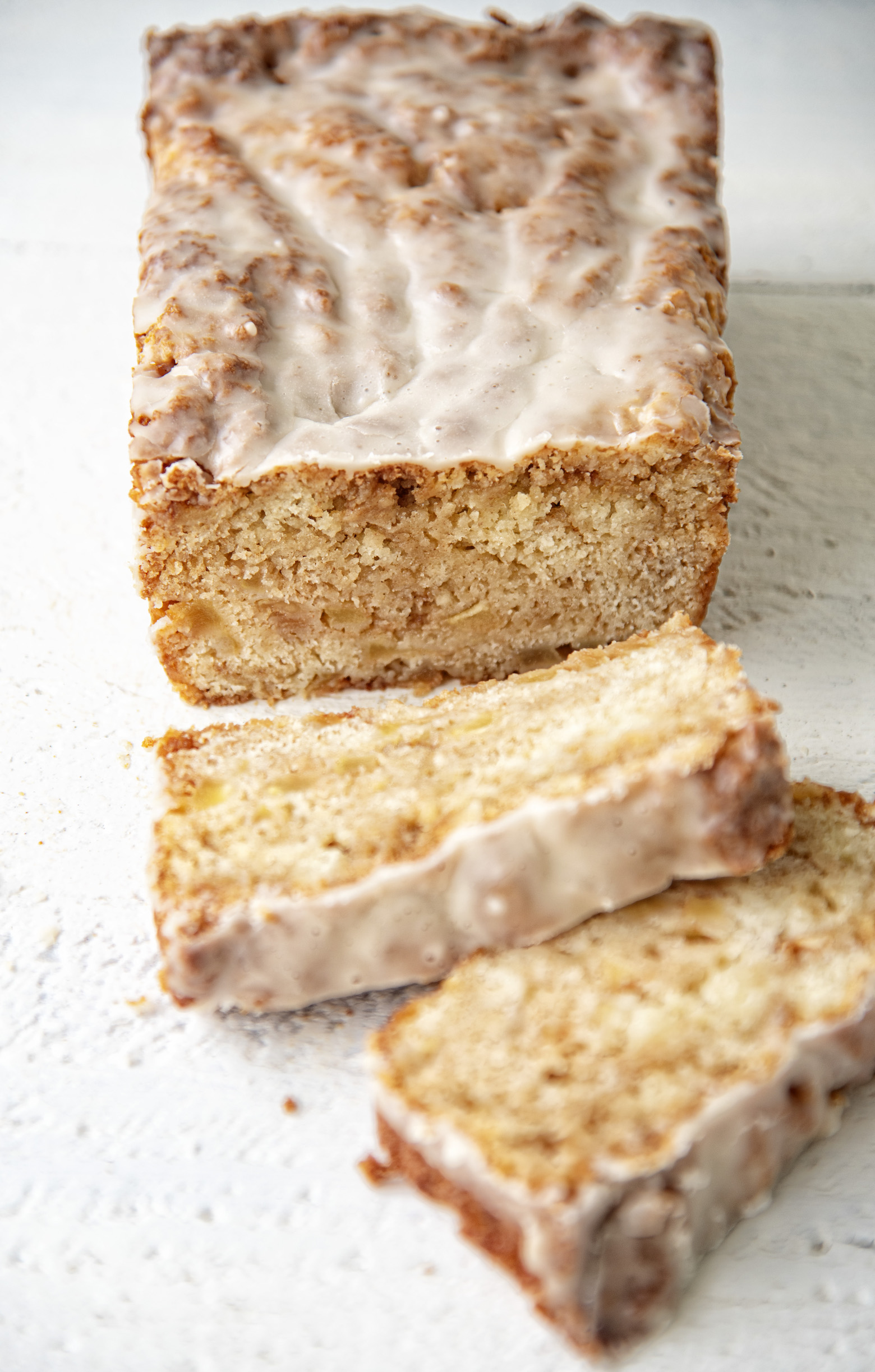 Not only is it popular on the blog it is in real life too.
Lots of people as me to make it for them or to bring it to parties.
I went to make it over the weekend only to realize we didn't have any salted caramel sauce.
Usually I stock up at Trader Joe's.
Their salted caramel sauce is good and cheap.
But we haven't shopped there since the pandemic started.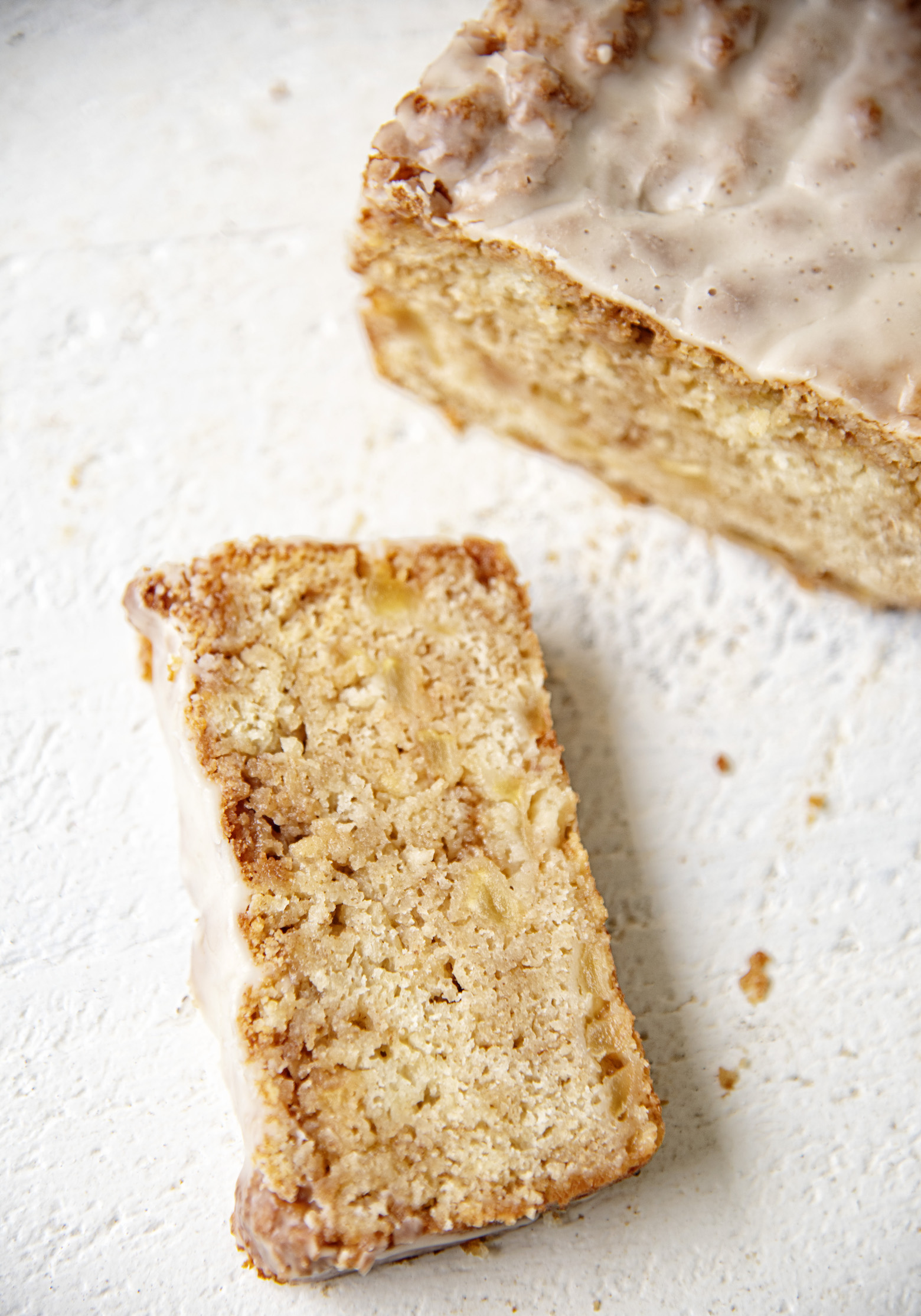 I could have made some salted caramel but I wasn't in the mood to do so.
Plus I had a friend ask if I could make it without salted caramel as they were not fans of salted caramel.
And so Maple Apple Fritter Bread was invented.
It's definitely a great alternative if you are not a salted caramel fan.
Or if you are a maple fan…aka Canadian. 😀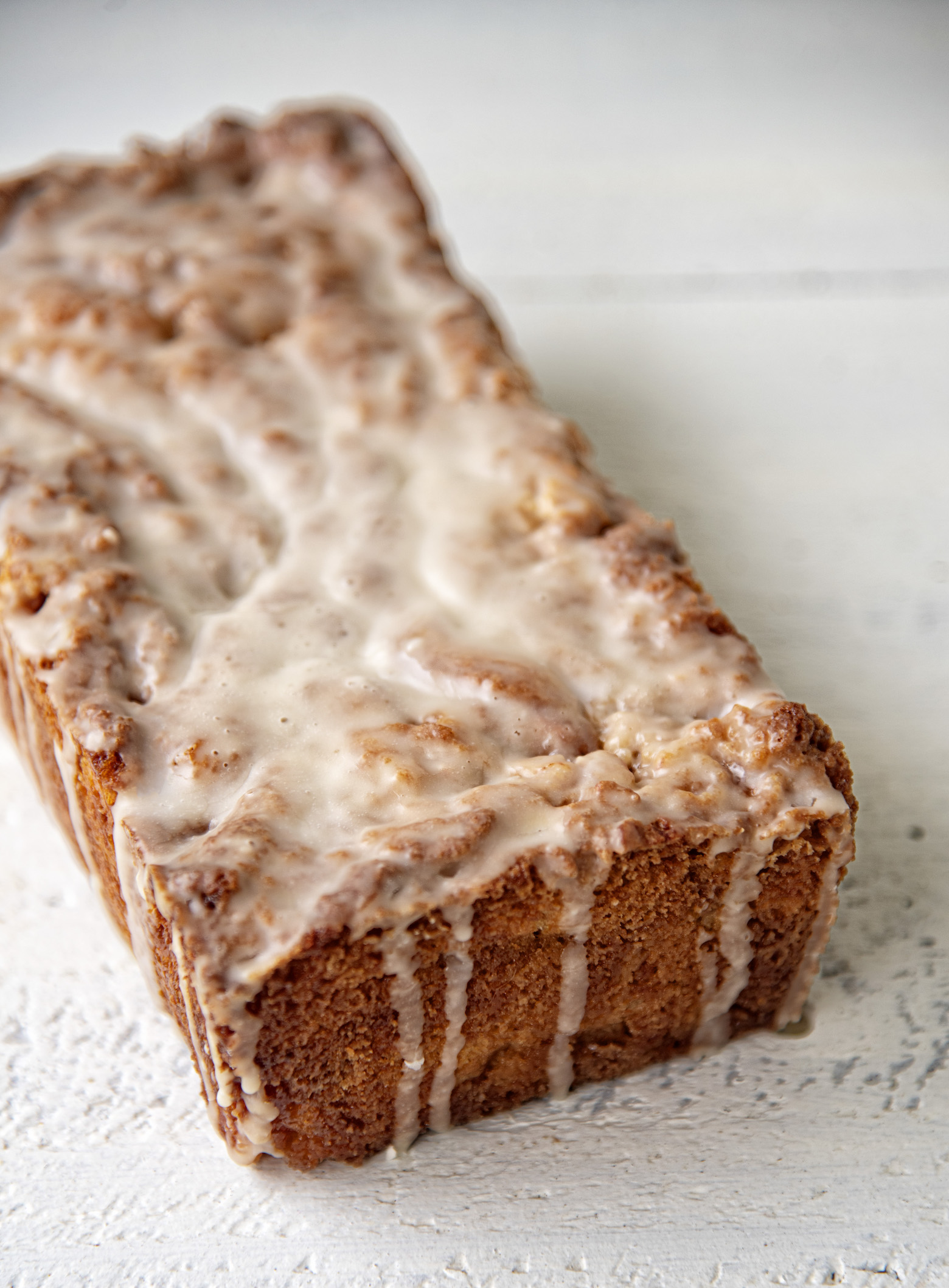 This bread uses an unusual method of mixing.
You layer the bread ingredients in one pan.
And then you scoop them into another.
I have tried many, many different ways and this method works the best to give you the best method for distributing all the flavors.
There is a step by step over in my Glazed Peach Fritter Bread to show you the method better.
P.S. Today is a great day to order my cookbook.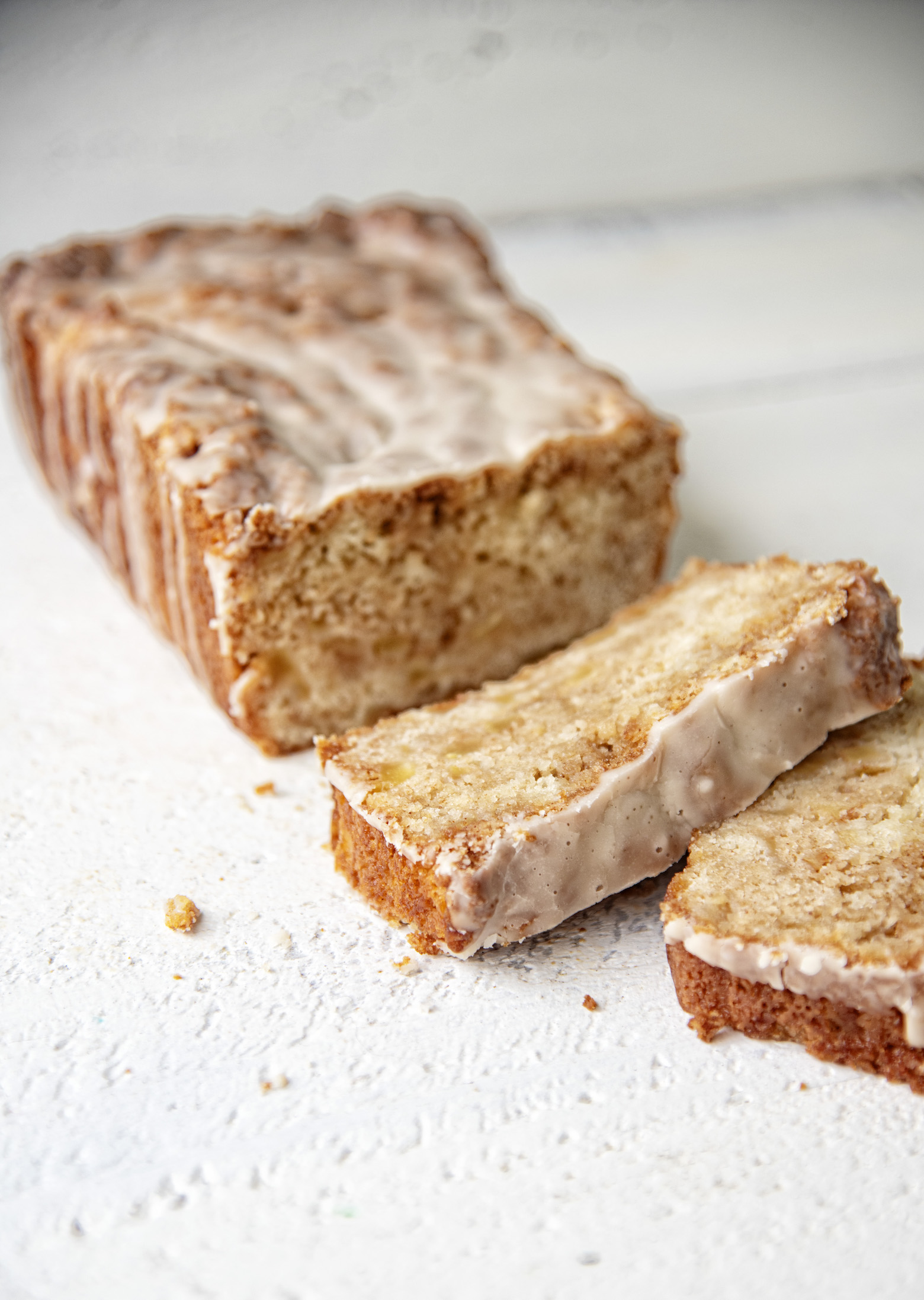 Want More Quick Bread Recipes?
Mini Caramel-Glazed Honey Crisp Apple Bread
Dole Whip Pineapple Quick Bread
Chocolate Peanut Caramel Quick Bread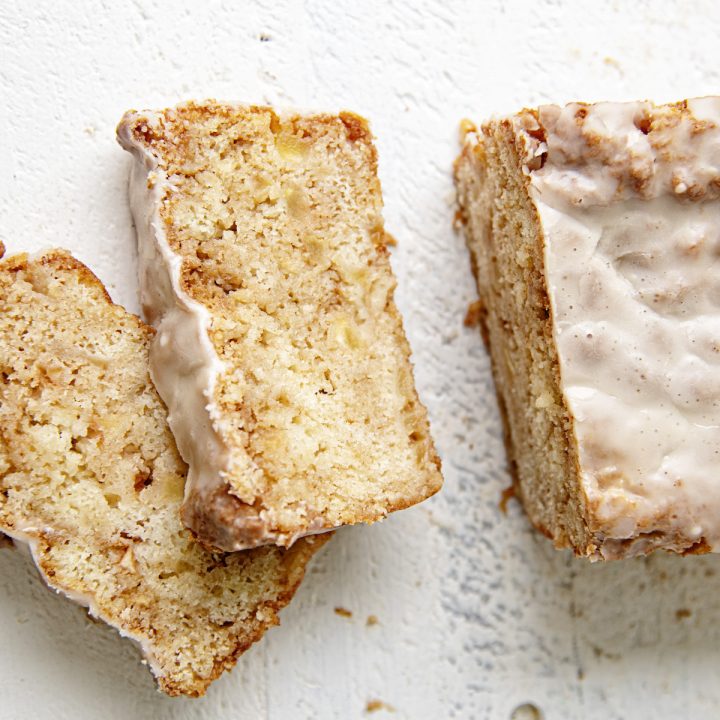 Maple Apple Fritter Bread
Ingredients
For the bread:
⅓ cup brown sugar, loosely packed
1 tsp. ground cinnamon
⅔ cup granulated sugar
½ cup unsalted butter, at room temperature
¼ tsp salt
2 eggs
1/2 tsp vanilla extract
1½ cups all-purpose flour
1¾ tsp baking powder
½ cup whole milk
2 apples, peeled and roughly diced
4 TBSP maple syrup
Maple Glaze:
¼ cup maple syrup
1 1/2 cups of powdered sugar, sifted
1-3 TBSP whole milk
Instructions
Preheat oven to 350F.
Use TWO (one for baking, one for layering) 9x5-inch loaf pans.
Spray one with baking spray and leave one alone.
Mix brown sugar and cinnamon together in a small bowl. Set aside.
Using a stand mixer fitted with a paddle attachment cream together the butter and sugar until light and fluffy, about 3 minutes. You can also use a large bowl and an electric mixer if you do not have a stand mixer.
Add the eggs, one at a time, scraping down the sides and bottom of the bowl after each addition.
Then add the vanilla extract and beat for 30 seconds.
Incorporate flour, salt, and baking powder together in a medium sized bowl and add into creamed butter mixture and mix until blended. Do not over mix.
Mix milk into batter and beat until the batter is smooth.
Pour half the batter into the loaf pan with NO baking spray.
Add half the apples. Scatter them so that they form a somewhat even layer.
Then add half the brown sugar/cinnamon mixture in an even layer on top of the apple layer.
Drizzle 2 TBSP maple syrup over the apple and brown sugar layers.
Add the remaining batter over apple layer and top with remaining apples, then the remaining brown sugar/cinnamon mixture and remaining 2 TBSP maple syrup.
Using and ice cream scoop (or large spoon), scoop the batter into the prepared loaf pan. This helps with getting the yummy caramel and brown sugar throughout the bread and I find it works much better than just swirling with a knife.
Bake in the preheated oven until a toothpick inserted in the center of the loaf comes out clean, approximately 50-60 minutes.
Let rest 5 minutes. Run a knife around the edges to loosen any bread that might be sticking.
Turn the loaf pan upside down and flip out the bread.
Set on a wire rack to cool.
Place that rack on a baking sheet for glazing.
Let cool on rack for 15 minutes, then glaze.
For the glaze:
Whisk together the sifted powdered sugar, maple syrup, and milk together until smooth and there are no visible powdered sugar lumps.
Drizzle glaze on bread.