These Apple Pie Meringue Kisses have a white chocolate apple truffle center that caramelizes as it bakes all encased in apple pie spice meringue.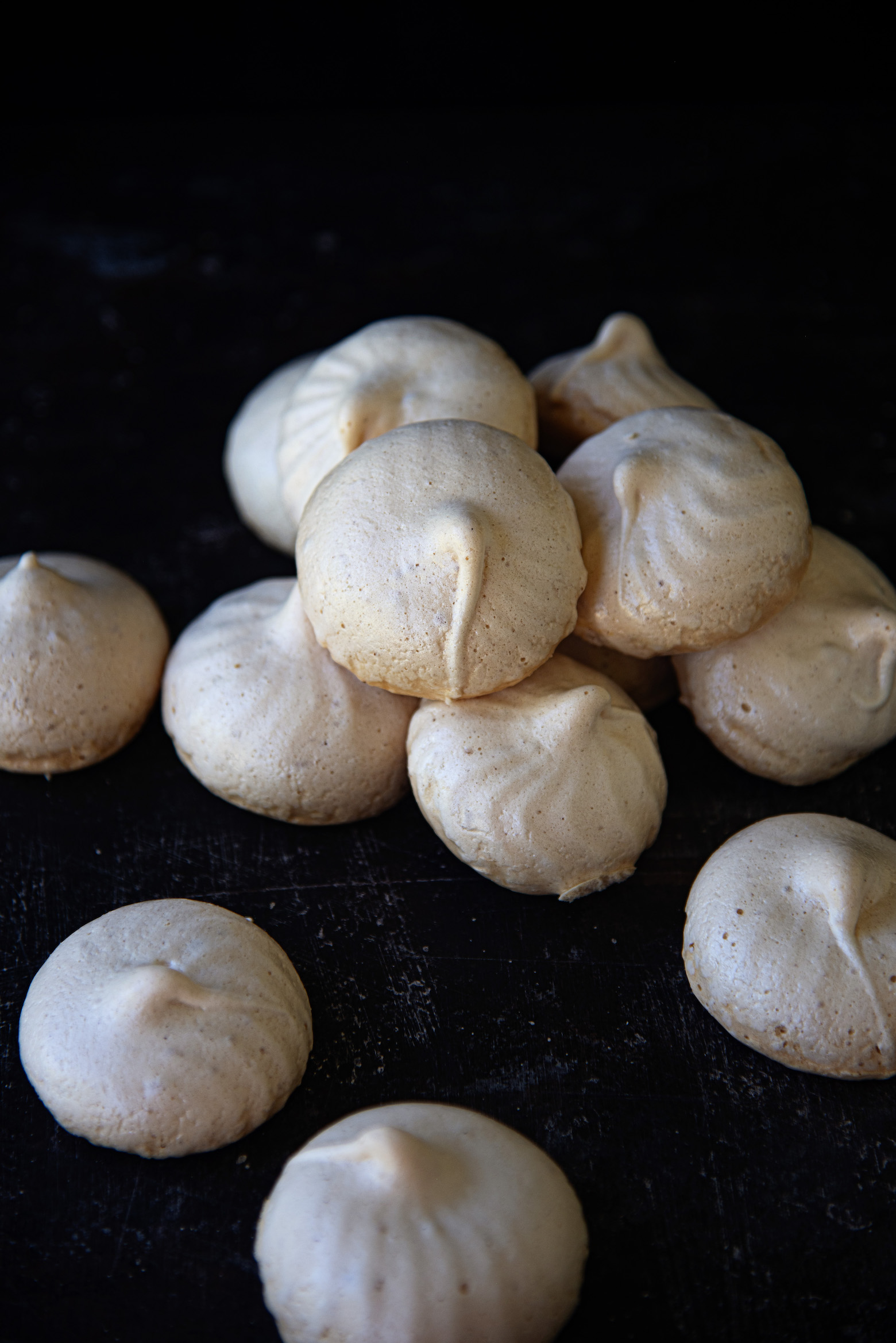 I have a love hate relationship with meringues.
I do enjoy them because they are a whole lot of sugar. 🙂
But I also don't like them because they remind me of dieting.
When I was a WW leader we pushed meringues all the time.
Because they were low in points (back then) because they were low fat.
Pure sugar, but low fat.
And while they certainly gave you a sugar rush if you were craving a chocolate chip cookie…100 mini meringues (Trader Joe's used to sell them) wasn't going to cure that craving.
Neither is 6 almonds FYI.
6 almonds cures no cravings.
So you would eat the meringues and still want the cookie.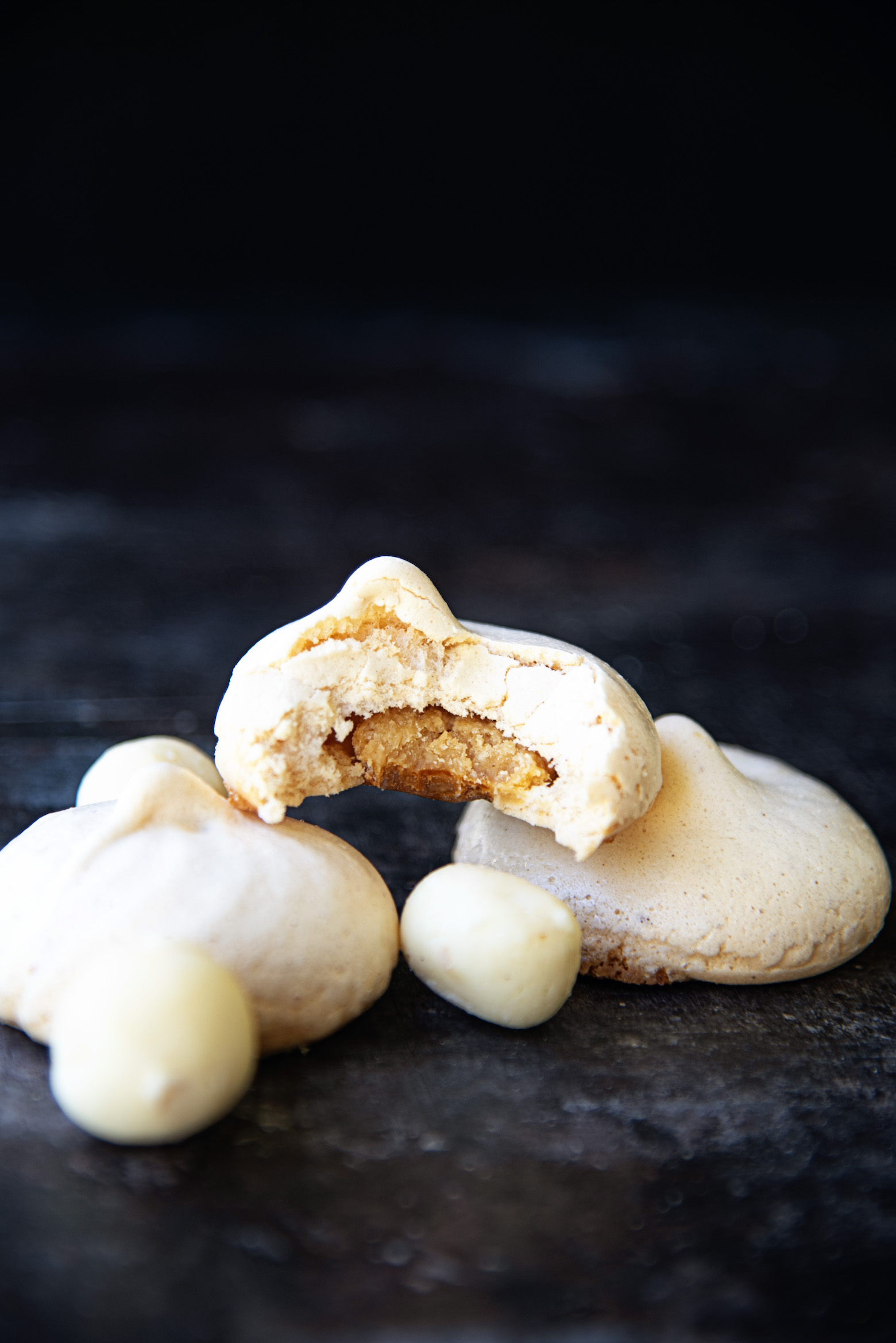 I liked how my mom made meringues growing up.
She always piped hers over chocolate kisses.
In fact not until I started dieting and eating meringues often did I realize they did not have a chocolate kiss in the middle.
At holiday time I love to make them with the candy cane kisses.
But we aren't quite to holiday time yet so I wanted to make some fall themed ones.
So I made these Apple Pie Meringue Kisses.
I first tried to just put the freeze dried apples in the meringue but that deflated them too much.
Which is how the truffles came about.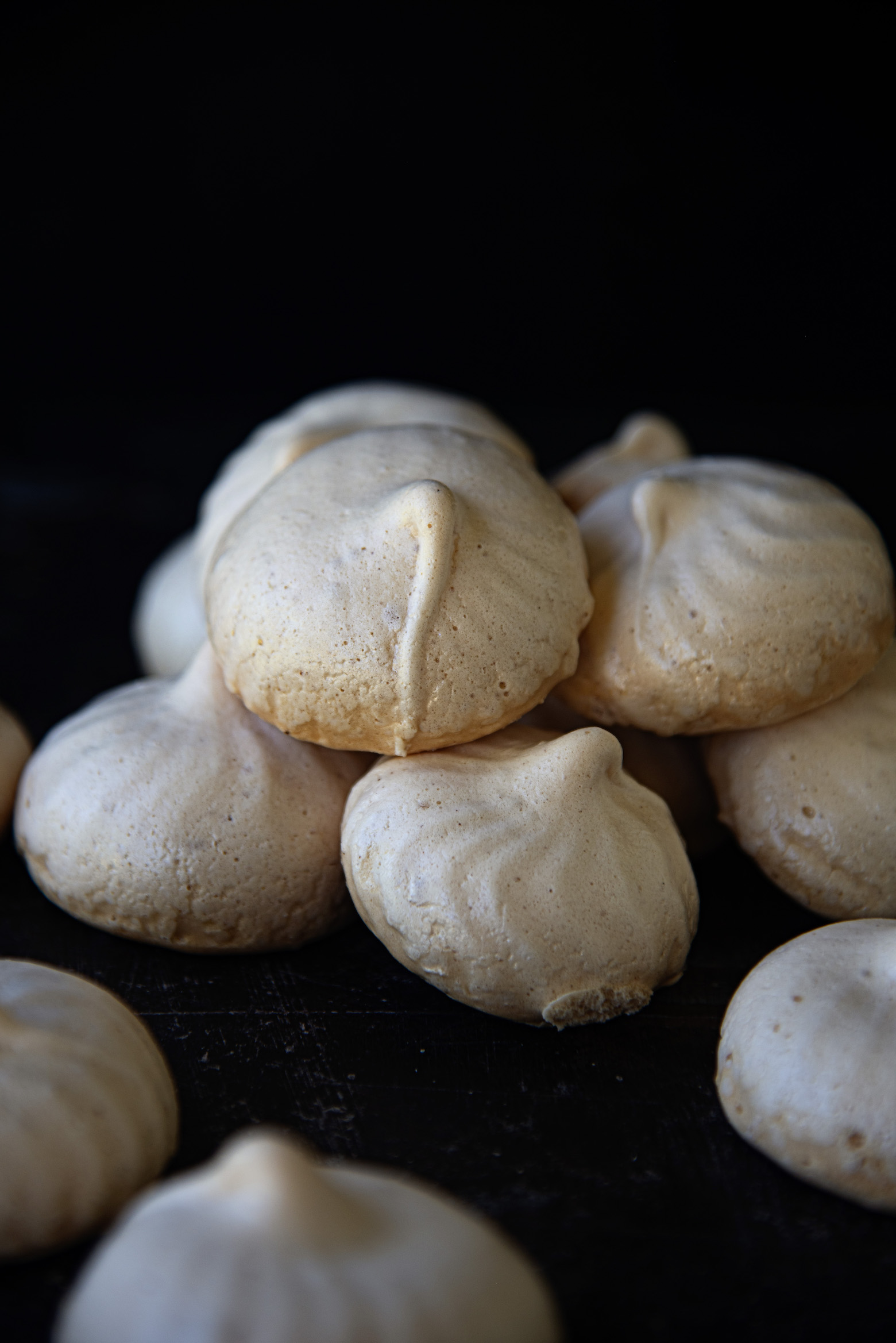 If you look at the photos of the meringues with a bit out of them you can see that the truffles do melt.
And not just melt.
They caramelize during the baking process.
Which makes them into this caramel apple goodness.
I had hoped that was what was going to happen but I wasn't totally sure.
Therefore I was super pleased to see that it actually did what I wanted it to do.
P.S. It's a great day to buy my cookbook.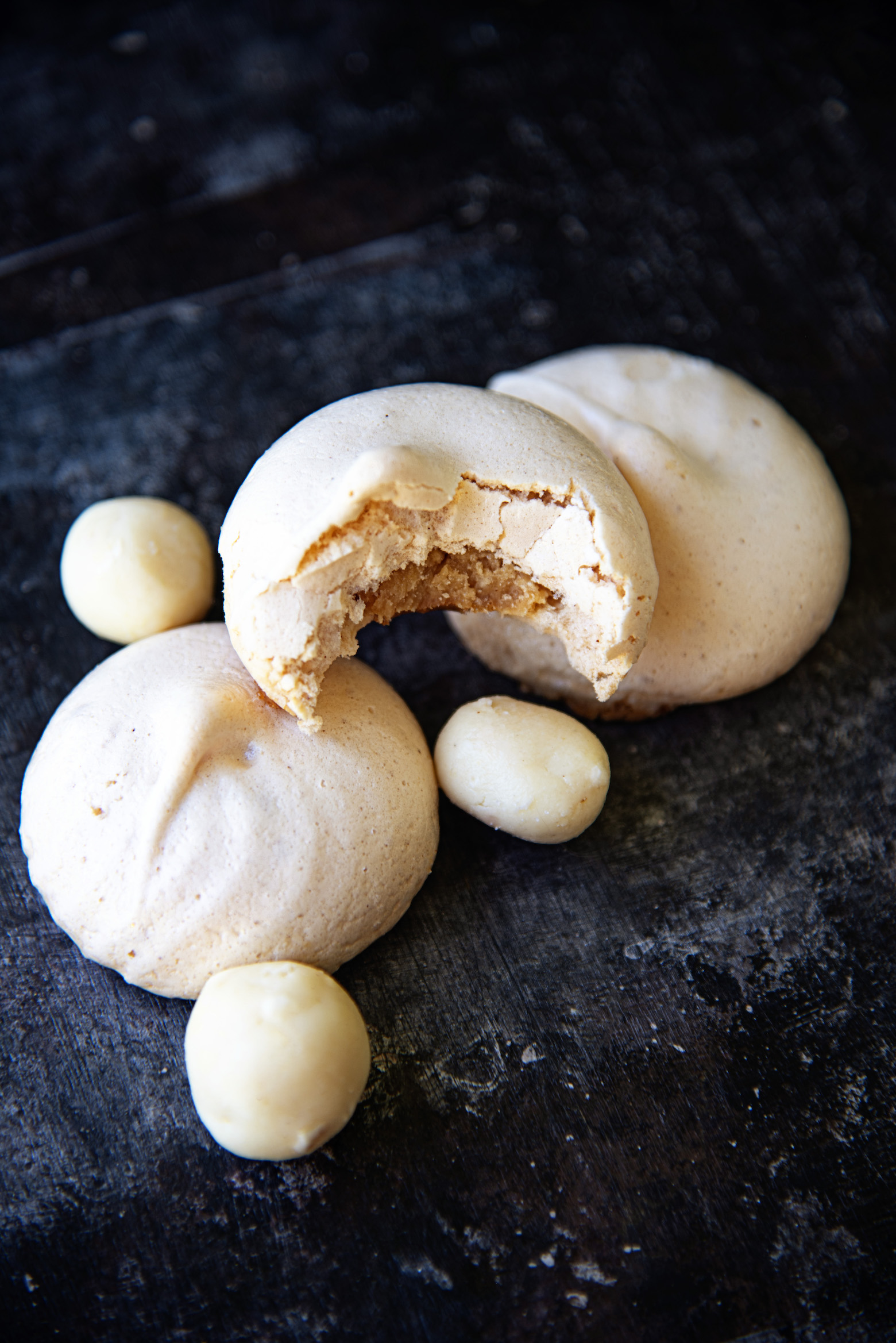 Want More Apple Recipes?
Caramel Apple White Chocolate Fudge
Mini Caramel-Glazed Honey Crisp Apple Bread
Salted Caramel Apple Sweet Rolls
Salted Caramel Apple Fritter Bread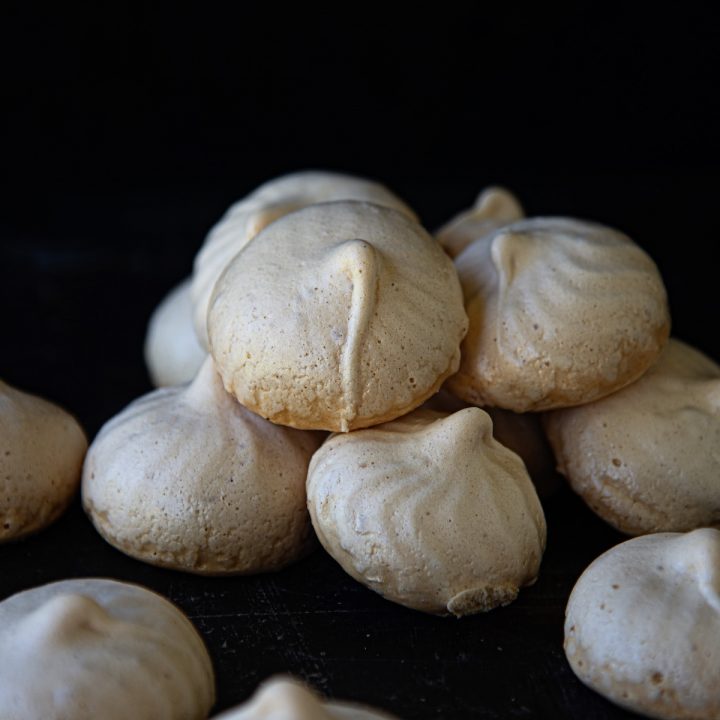 Apple Pie Meringue Kisses
Ingredients
For the Apple Pie Truffles:
8 oz White Chocolate, finely chopped
1 TBSP unsalted butter
1/2 tsp apple pie spice
1/2 cup powdered freeze dried apples
2/3 cup heavy cream
For the Meringues:
1/2 cup large egg whites, at room temperature
1/4 tsp cream of tartar
1/8 tsp salt
2/3 cup granulated sugar
1 tsp apple pie spice
24-30 white chocolate apple pie truffles
Instructions
For the Apple Pie Truffles:
Place white chocolate, butter, apple pie spice, and freeze dried apples to a heat proof bowl.
Using a small saucepan bring the heavy cream to a boil.
Immediately remove from heat and pour over the ingredients in the bowl.
Let sit for 5 minutes.
Then whisk until the chocolate has fully melted and all the ingredients are combined.
Pour into a pie pan (reduces cooling time) and let cool to room temperature. Cover with plastic wrap and place in fridge for 1 hour.
Scoop the white chocolate mixture into about 1 inch ball and place on a parchment lined baking sheet.
Do this until all the truffles have been made.
Cover with plastic wrap and stick in freezer for at least 2 hours.
For the Meringues:
Preheat oven to 250F. Line two large baking sheets with parchment paper. Set aside.
Using a stand mixer fitted with a whisk attachment, beat the egg whites, cream of tartar, and salt together on high speed until soft peaks form, about 2 minutes. With the mixer running on high speed, slowly add the sugar about 1 TBSP at a time and beat until stiff glossy peaks form, about 2 more minutes. Do not over-beat.
Fold in the apple pie spice.
Remove the white chocolate apple pie truffles from the freezer and place them about 3 inches apart from each other. You should get about 3 truffles per row. And about 15 per baking sheet. Depending on how big your truffles are and how big your meringue is will change how many fit on the baking sheet.
Add an open star piping tip to your piping bag or whatever large tip you want.
Pipe over the truffles until you use up all the batter. Make sure to cover all the truffle.
Bake for 1 and 1/2 hours. (You can bake both baking sheets at once.) Do not open the oven as the meringues bake. Turn off the oven after 1.5 hours and let the meringues sit inside as the oven cools for 30 minutes or until the oven has cooled completely.
Remove meringues from the oven and cool completely on the baking sheets. Once cool, use a flat spatula to remove the meringues from the baking sheets.
Some of the truffles might leak out a little if you did not fully get all the meringue around it. They are still tasty.
You will see that in the baking process your truffles melted and turned brown. You want this. The white chocolate caramelizes in the process and you end up with a caramel apple pie center to your meringue.
Cover and store meringues at room temperature for up to 1 week.