This Maple Pumpkin Zucchini Bread is filled with fall flavors of pumpkin, maple, and spices all while getting your veggies in too.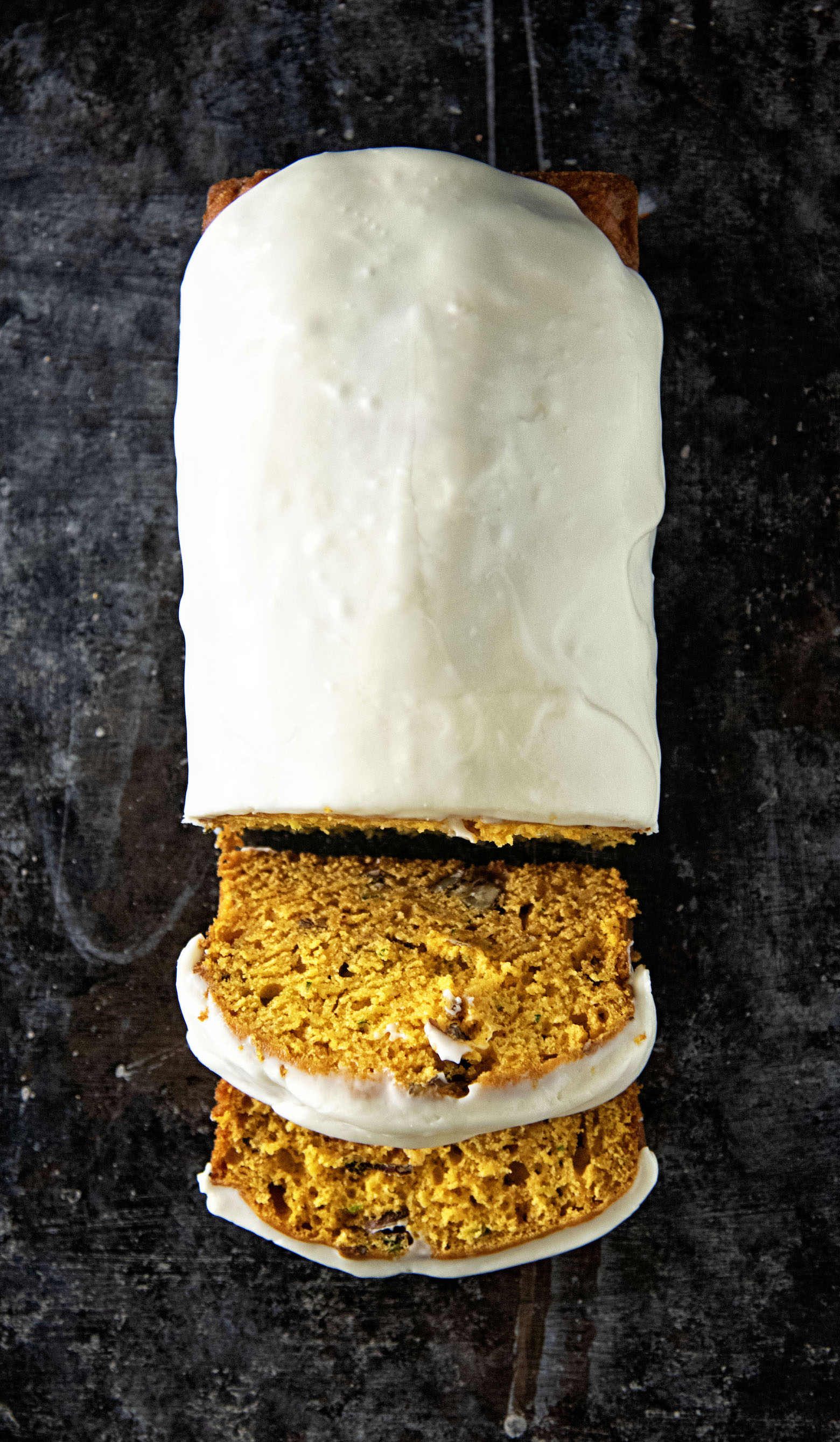 Just like my Netflix watching, I tend to binge bake.
Some people call it batch baking but I don't.
Batch baking seems to be for people who have carefully planned out what they are going to be making.
Like those of you who meal prep for the whole week.
I'm a bit more spontaneous than that.
Binge baking is more like me all of a sudden popping up and deciding I need to make cinnamon rolls.
Or cake.
Or Maple Pumpkin Zucchini Bread.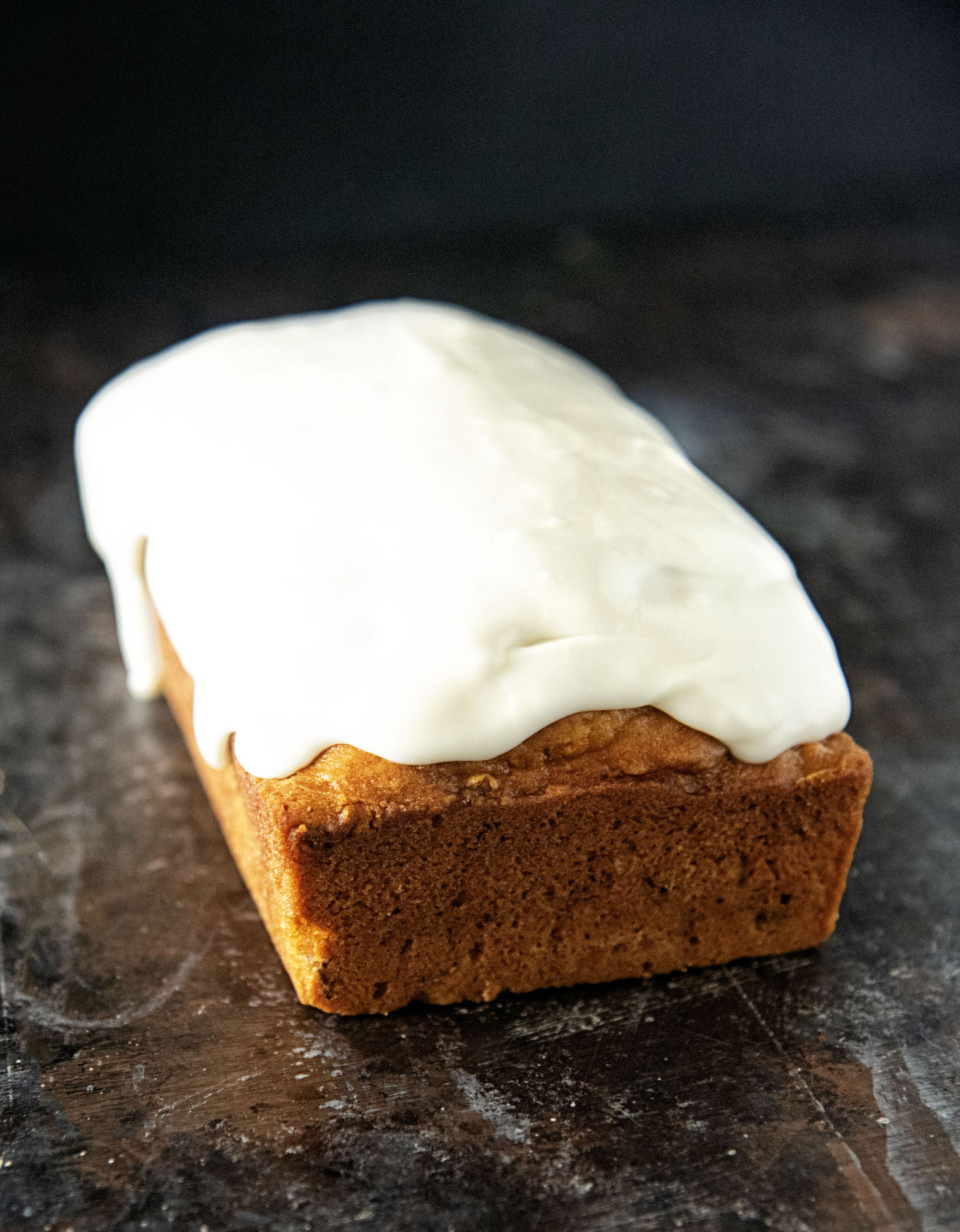 When that happens I tend to end up with a lot of recipes made that day.
The next day I photo edit them usually.
And then quite often I forget about them. 🙂
Especially if I have a bunch of stuff to blog about or I have something like #HalloweenTreatsWeek that has me posting specific recipes.
Luckily for me I will usually post food that I have made on Instagram stories.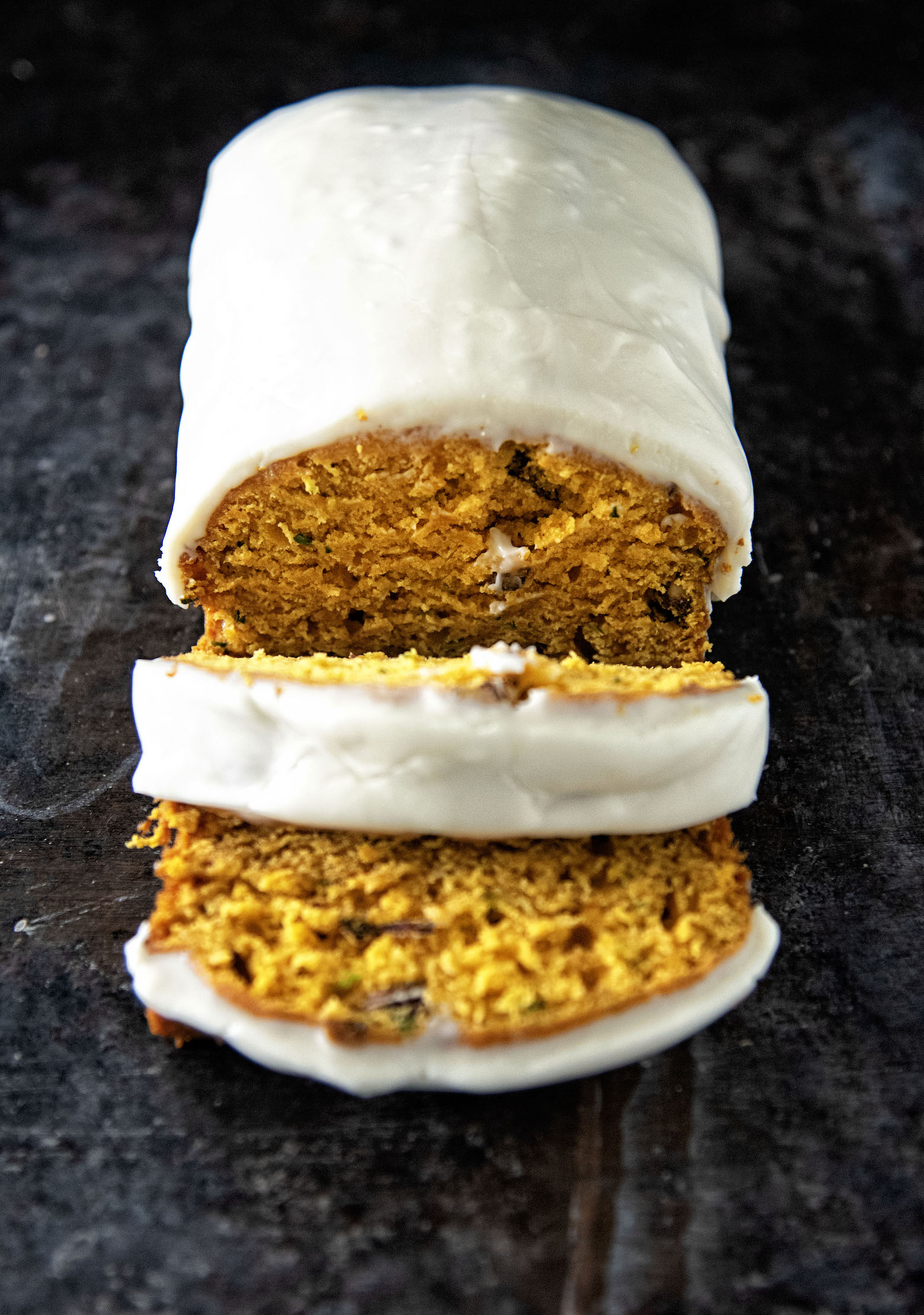 But because it is on Instagram stories and not my feed.
Those go away.
And just like my brain they go empty again. 🙂
Which enters you, the reader, to help.
About once a week I get a reader saying "hey did you ever post that recipe for ….".
Sometimes I have.
Most of the time I have not. 😀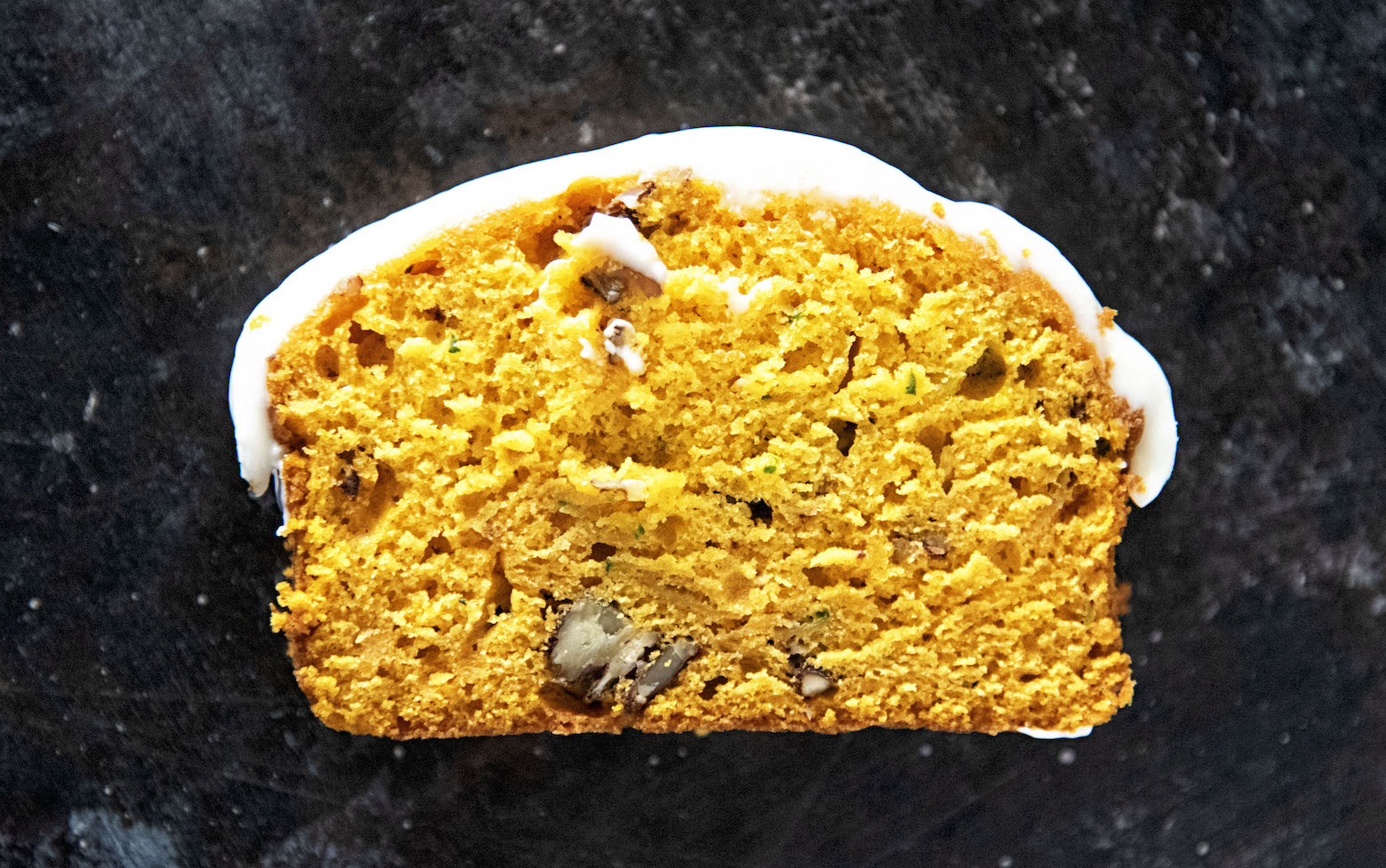 Friday I got asked if I ever posted my pumpkin zucchini bread.
I'll be honest that for two seconds I thought what pumpkin zucchini bread?
Then the light bulb went off.
Ahhh, Maple Pumpkin Zucchini Bread.
So into the photos I went looking for the bread.
Luckily, I did photograph it. 🙂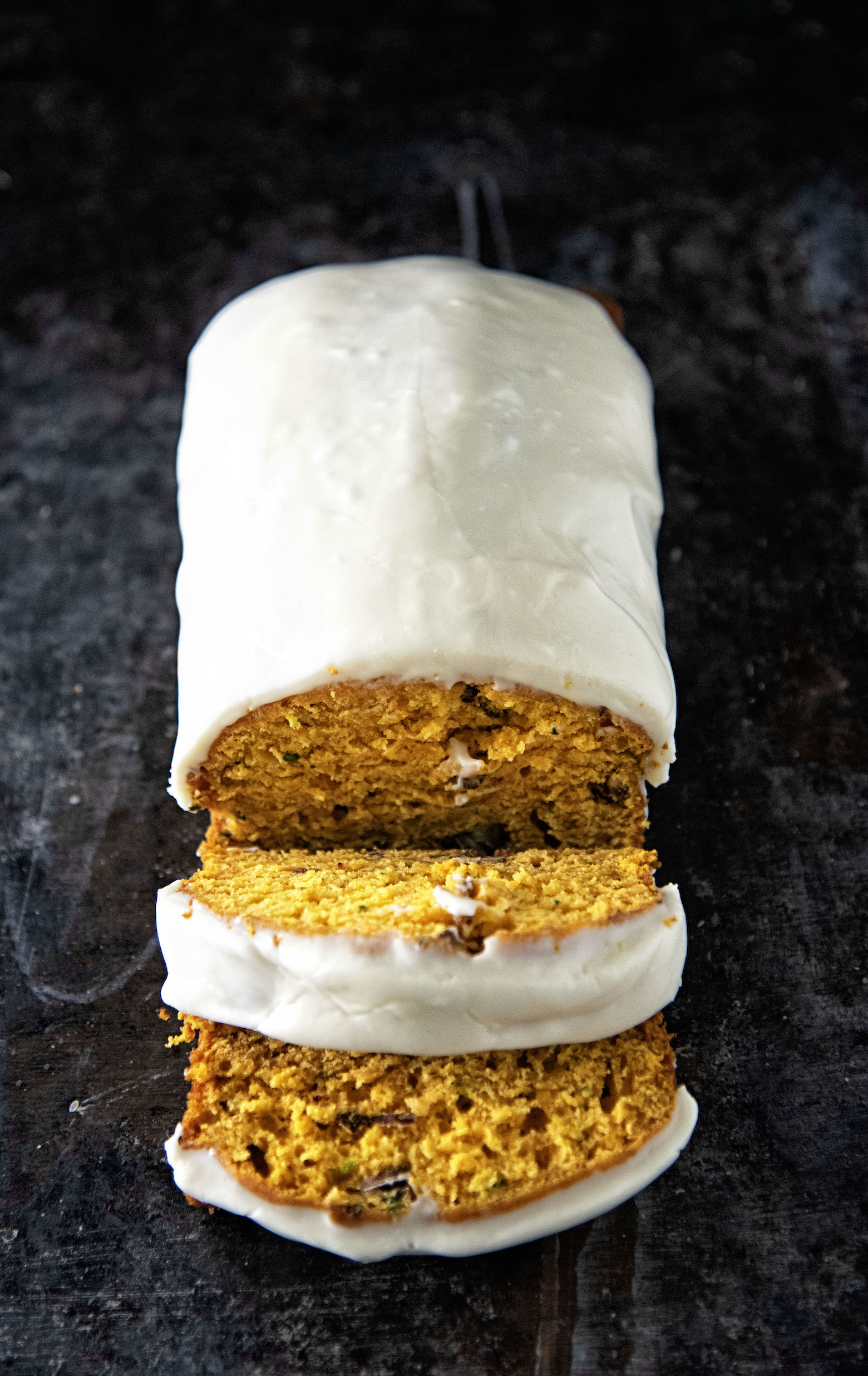 This Maple Pumpkin Zucchini Bread is pretty straightforward.
Pumpkin and zucchini in general do not have a strong flavor and so that is why the spices are added.
As well as the maple.
If you have other spices you love feel free to experiment with what spices work best for your pallet.
Want it more sweet?
Throw in some white chocolate chips for good measure.
It's a great day to order my cookbook.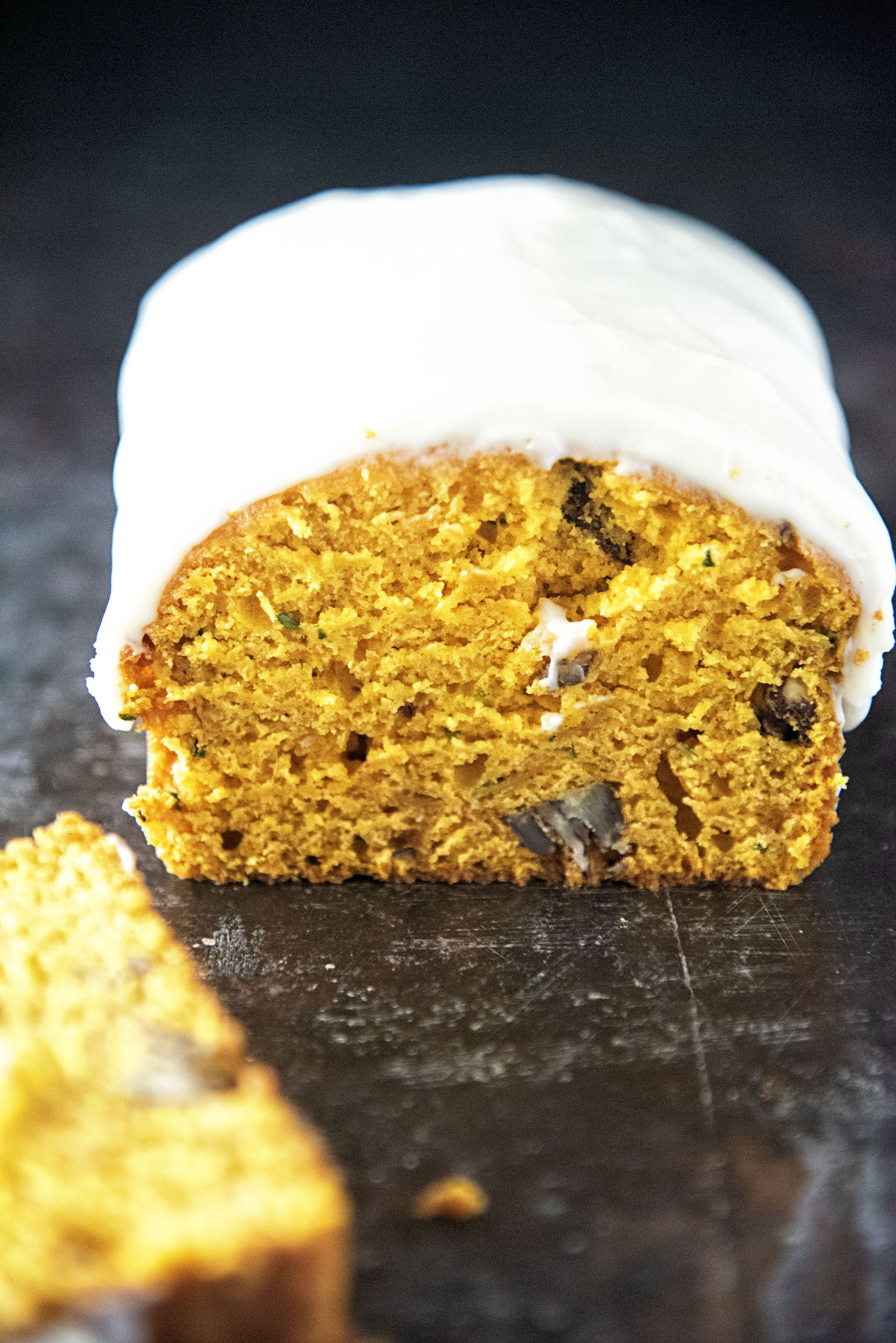 Want More Quick Bread Recipes?
Salted Caramel Apple Fritter Bread
Mini Caramel-Glazed Honey Crisp Apple Bread
Apple Cinnamon Buttermilk Bread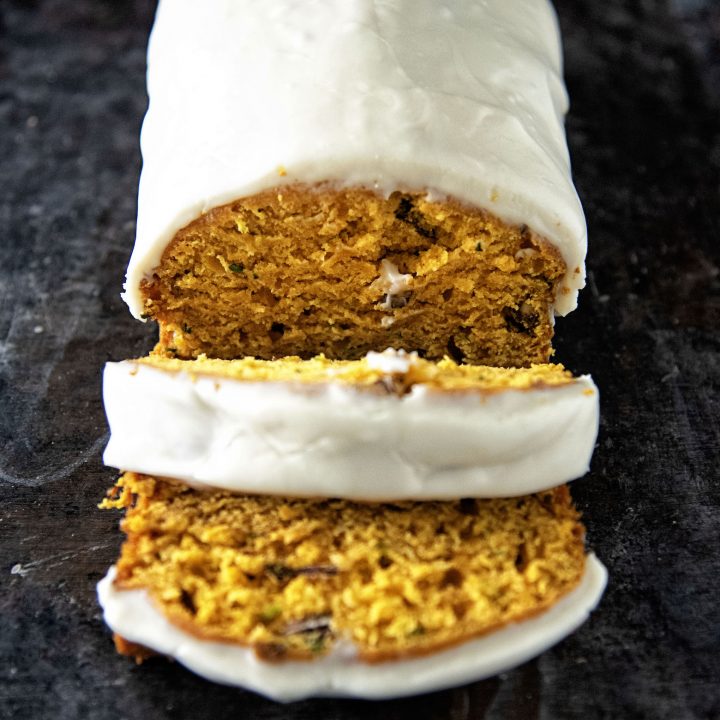 Maple Pumpkin Zucchini Bread
Ingredients
For the Bread:
3 cups all-purpose flour
1 tsp. cinnamon
1/2 tsp. freshly ground nutmeg
1/2 tsp. salt
1 tsp. baking soda
1 tsp. baking powder
3 eggs
2 cups granulated sugar
1/3 cup vegetable oil
1 cup canned pumpkin (not pumpkin pie filling)
2 cups shredded zucchini , do not drain or squeeze
4 TBSP pure maple syrup (no artificial)
For the Glaze:
1/4 cup unsalted butter
1/2 cup pure maple syrup
1 cup sifted powdered sugar
Instructions
For the Bread:
Preheat oven to 350 degrees F.
Grease and flour two loaf pans and set aside.
In a large bowl, combine flour, cinnamon, nutmeg, salt, baking soda, and baking powder with a whisk.
In a separate bowl, mix eggs, oil maple syrup, pumpkin and sugar.
Add pumpkin mixture to dry ingredients and stir just until combined.
Fold in zucchini until fully combined.
Pour into prepared pans.
Place in the oven and reduce heat to 325F degrees.
Bake 40-50 minutes for a 9x5 pan and 45-55 minutes for an 8x4 pan or until a toothpick comes out clean.
Cool 20 minutes and remove from pans.
For the Glaze:
In a small saucepan over low heat, melt the butter and maple syrup together, whisking occasionally.
Once the butter has melted, remove from heat and whisk in the sifted powdered sugar.
Set glaze aside and allow to cool and thicken.
Divide and glaze both loaves.