This Mini Caramel-Glazed Honey Crisp Apple Bread is full of fall flavors with the used of Honeycrisp apples, brown sugar, buttermilk and caramel glaze.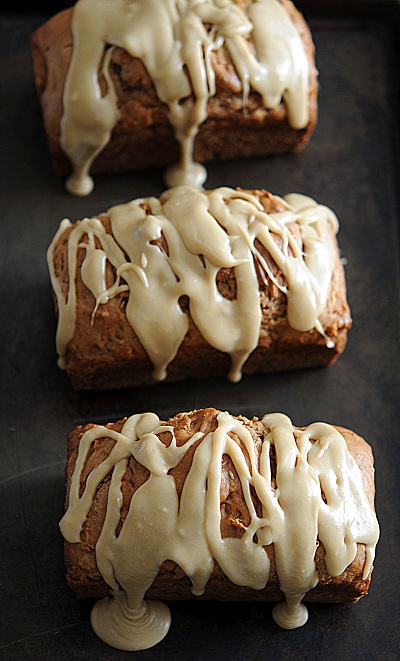 Apple made their big iPhone 5 announcement today.
And while I will probably drink the Kool Aid so to speak as my phone is up for renewal I am unhappy about one thing.
My phone case.
I love my phone case.
It came from Japan from a friend.
It's Hello Kitty and I love it for the fact that it's cute.
And the fact that it drives my husband crazy that almost everywhere we go someone compliments me on it.
Yes this is clearly #whitegirlproblems that mean nothing in the grand scheme of things. 😛
Other #whitegirlproblems this week were the ladies complaining that the snack bar at soccer yesterday didn't have premium coffee.
Umm.
Or the woman complaining that her husband bought her yoga pants from Costco instead of Lululemon.
How dare he!
Maybe he was trying to hint to you that you didn't need $120 yoga pants for yoga that you don't go to.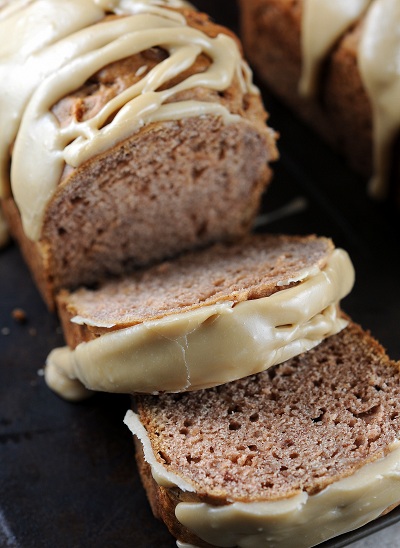 Pumpkin Spice Lattes are out…and that means their waistline will expand.
You could just not go.
And someone complaining that my wedding date was too close to their wedding date.
Get over it.
One thing to not complain about is this bread.
I saw This Mini Caramel-Glazed Honey Crisp Apple Bread first over at my site designer's blog Pass the Sushi and decided I needed to go there.
I had the apples after all so why not.
That and I love a little boiled caramel glaze! I chose to use Honeycrisp apples as they are my favorite in the apple world.
I went with the mini loaves and instead of milk used apple cider in my glaze.
It's quite tasty and a great way to get you fruit in for the day. 🙂
P.S. It's a great day to order my cookbook.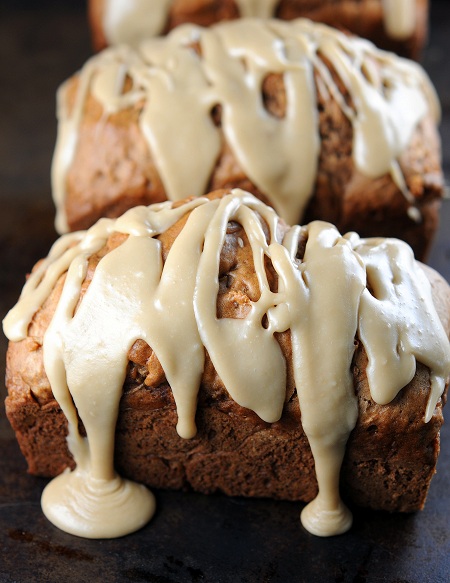 Want more recipes? Try these:
Brown Sugar Apple Cinnamon Babka
Apple Cinnamon Buttermilk Bread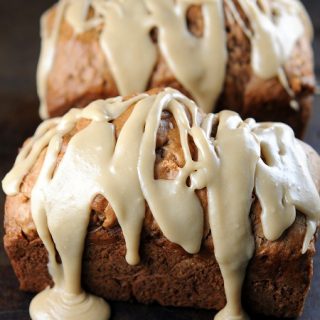 Mini Caramel-Glazed Honey Crisp Apple Bread
Ingredients
1½ cups shredded peeled apples (I used Honeycrisp), mine were very juicy and I rang out some of the juice
1½ cups brown sugar, loosely packed
½ cup buttermilk
½ cup vegetable oil
4 large eggs
3 cups All-Purpose flour
2 tsp. baking soda
2 tsp. ground cinnamon
1 tsp. salt
1 tsp. ground nutmeg
Glaze:
2 tablespoons unsalted butter
¼ cup packed brown sugar
1 tablespoon apple cider
½ cup powdered sugar, sifted
Instructions
Heat oven to 350°F.
Spray three mini pans (5.75L x 3.25W x 2.25H inches) with baking spray.
In large bowl, stir together apples, 1½ cups brown sugar, the buttermilk, oil and eggs.
Stir in remaining bread ingredients just until dry ingredients are moistened.
Pour into pans (each pan takes 4 regular size ice cream scoops).
Bake 30-35 minutes or until a toothpick inserted in center comes out clean.
Cool 10 minutes on cooling rack.
Loosen sides of loaves from pans; remove from pans and place top sides up on cooling rack. Cool completely, about 1 hour.
For the Glaze:
In 1-quart saucepan, melt butter over medium heat.
Stir in ¼ cup brown sugar.
Heat to boiling, stirring constantly; reduce heat to low.
Boil and stir 2 minutes.
Stir in cider.
Heat to boiling; remove from heat.
Cool to lukewarm, about 30 minutes.
Gradually stir powdered sugar into glaze mixture.
Place saucepan of glaze in a bowl of cold water.
Beat with spoon until smooth and thin enough to drizzle.
If glaze becomes too stiff, stir in additional cider, ½ teaspoon at a time, or heat over low heat, stirring constantly.
Drizzle glaze over loaves.
Wrap tightly and store at room temperature up to 4 days, or refrigerate up to 10 days.