This Beer Cheese Pretzel Potato Soup is based off of pub cheese and pretzels you would find at the pub this soup will cure what ales you. Pun intended.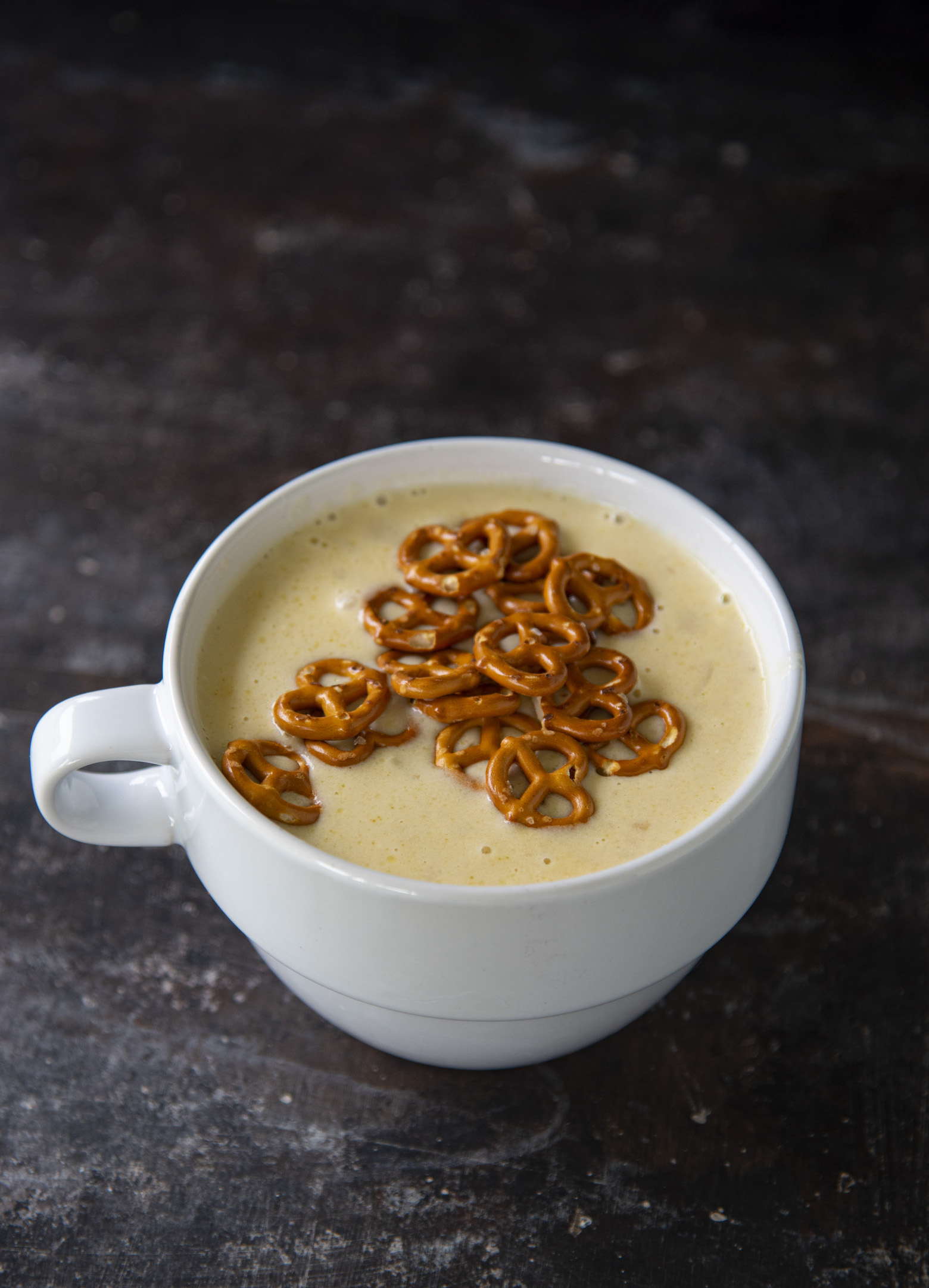 When you are vegetarian and you go out to eat, especially places like the bar, you are limited on what you can a get to eat.
My hockey team goes each week to a Chinese food place after the game because they have a lounge and karaoke.
They have a super limited menu at that time and the only thing we can usually get that is vegetarian friendly is french fries off the kids menu.
Which is funny because it's a bar menu after 11pm.
But sure, the kids menu.
However, most bars we go to have 10 different types of wings loaded up with chicken or beef nachos, sliders, lots of stuff with bacon, etc.
We vegetarians usually get stuck with a soft pretzel and spinach artichoke dip if we are lucky.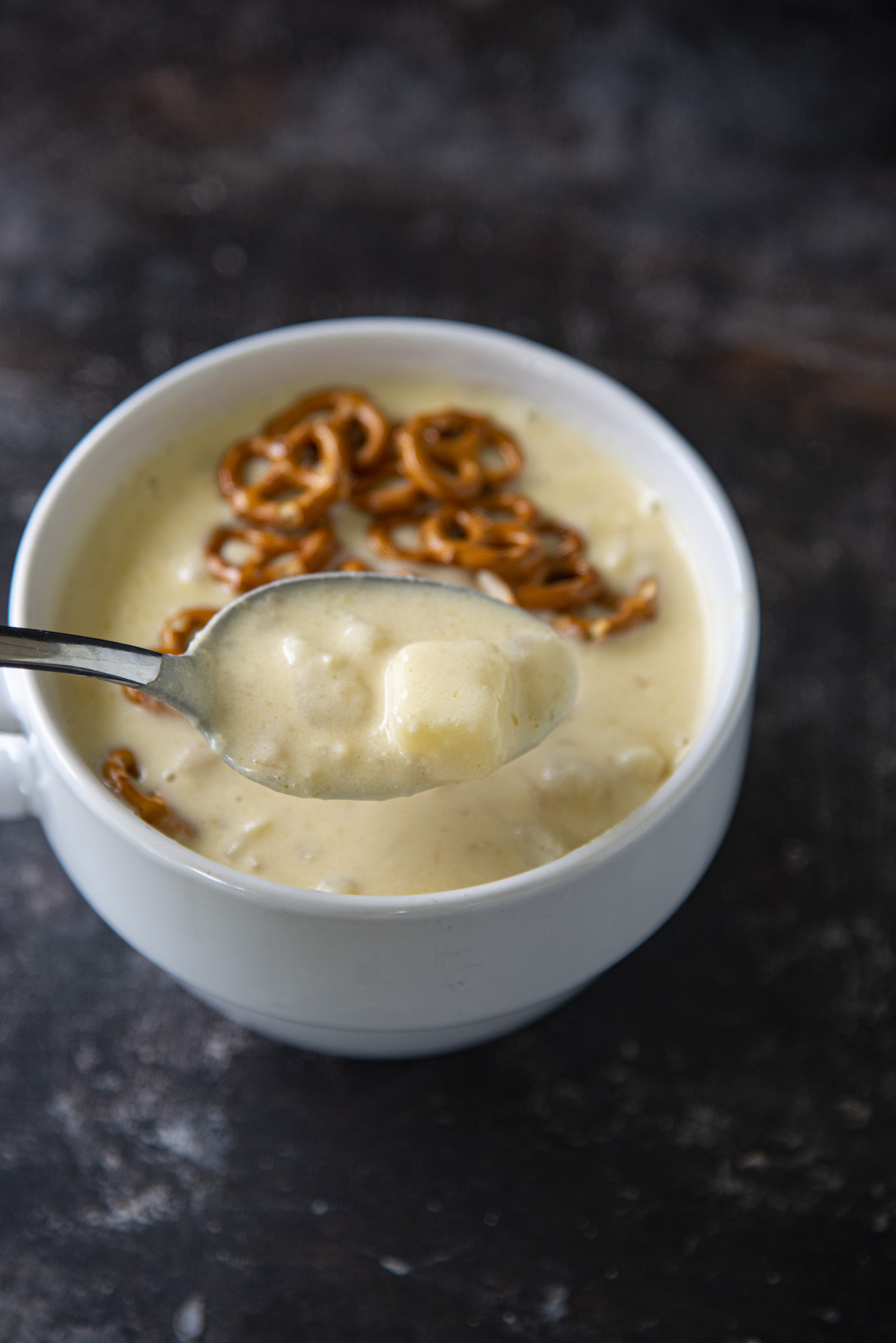 Now don't get me wrong I do love me some pretzel and cheese and I love spinach artichoke dip.
But when you only get the two same offerings over and over you can wish for more.
That being said I figured I would make a soup as a nod to drinking beer and eating pretzels with pub cheese.
Enter this Beer Cheese Pretzel Potato Soup.
If you like your beer with a little more ump then feel free to use a darker beer.
I use wither PBR or Montucky Cold Snacks for ours because those are the beers our team tends to drink with hockey.
Because they don't sit in your stomach.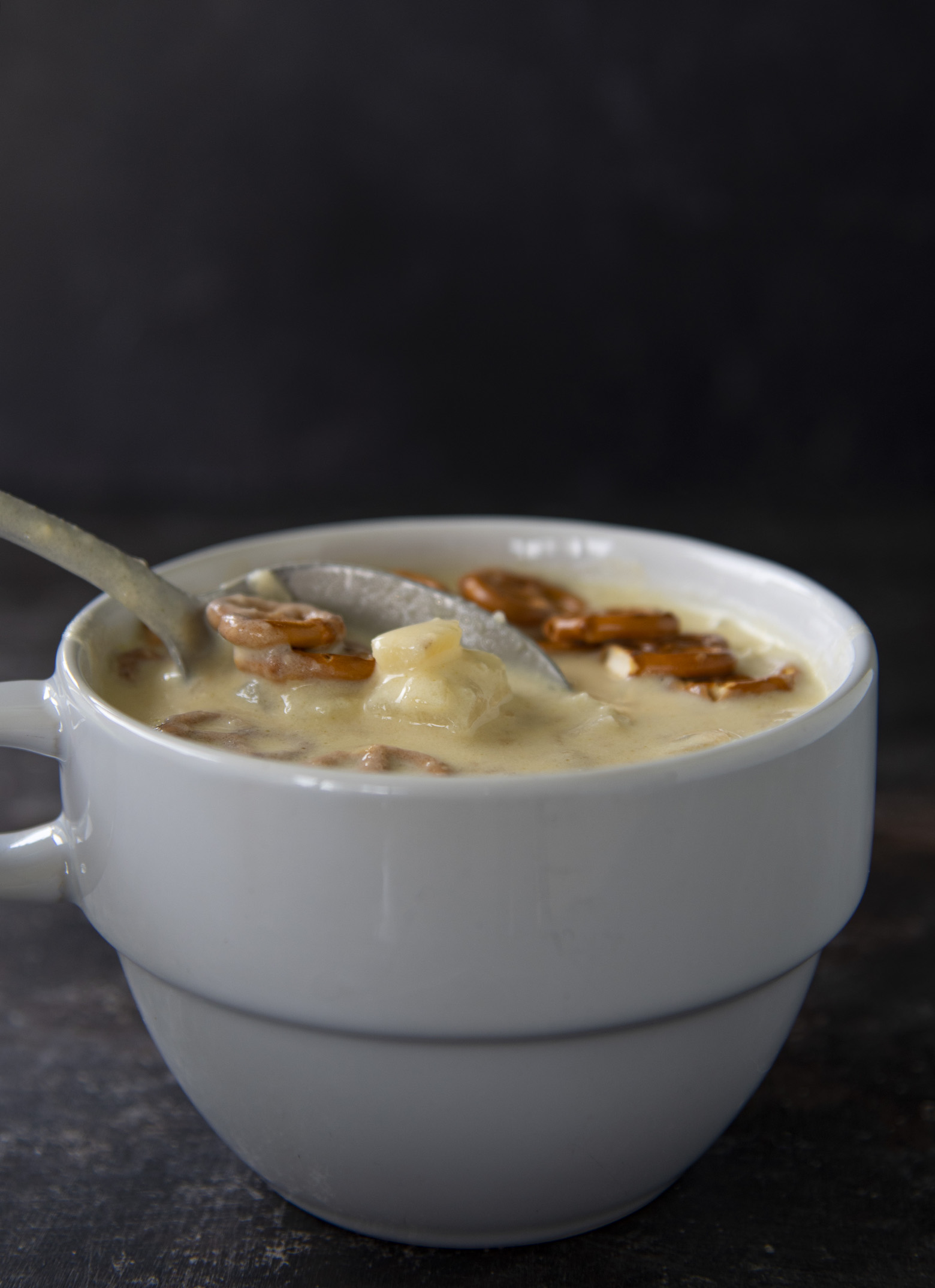 This soup uses cream cheese, gouda, and powdered (yes powdered) cheddar cheese.
I buy powdered cheese in bulk because I'm weird. 🙂
Also because it's versatile and you can make your own Kraft mac and cheese if need be with it.
Because here in Washington state people have bought up all the Kraft dinner and toilet paper.
The pretzels work as the thickening agent in the soup and of course add flavor and salt to the soup.
I like using mini pretzels but you can use whatever you like.
Last but not least…it's a great time to order my cookbook. 😀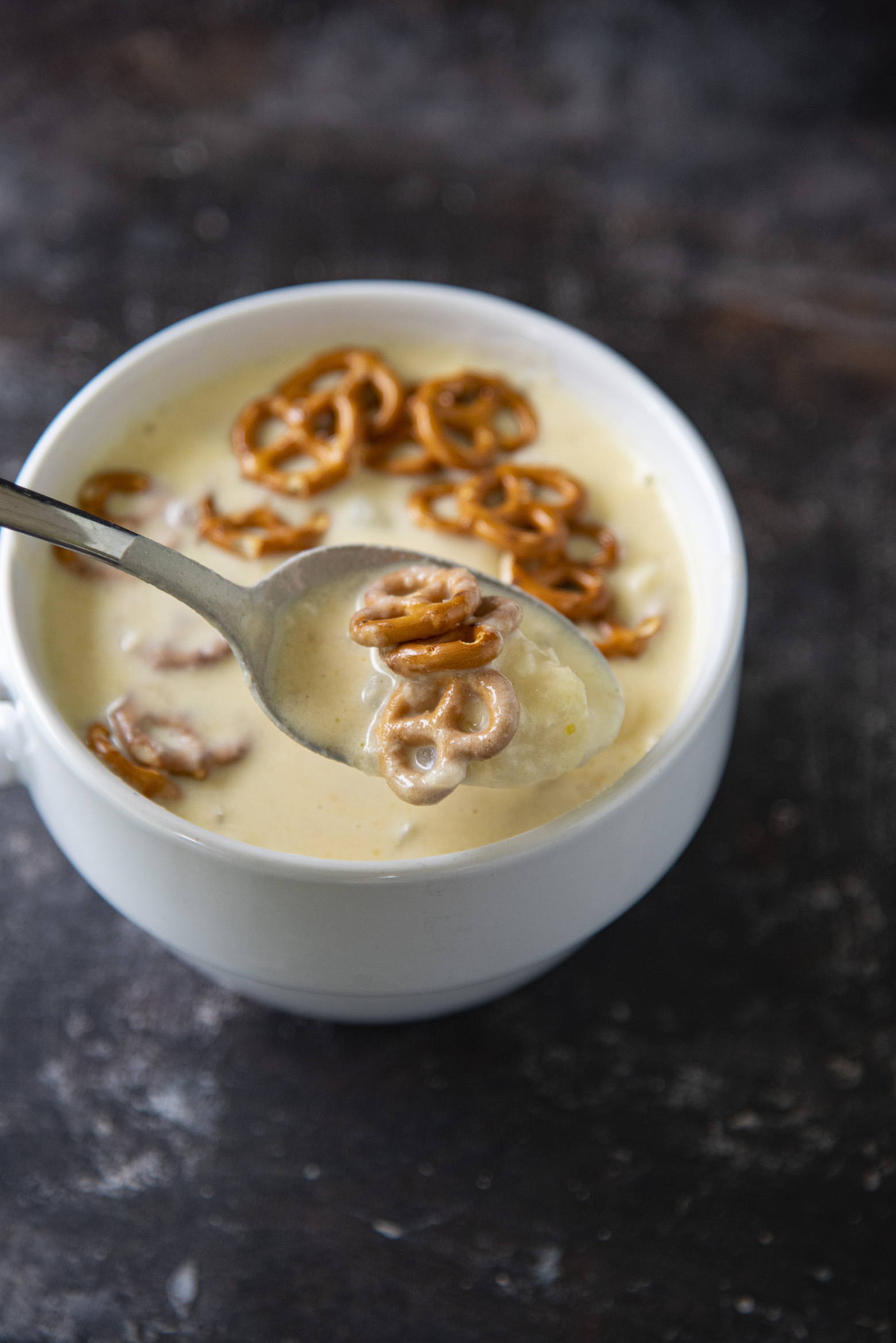 Want more Soup recipes?
Cheese Tortellini Zucchini Corn Soup
Dill Pickle Cheddar Cheese Soup
Chickenless-Chicken Noodle Soup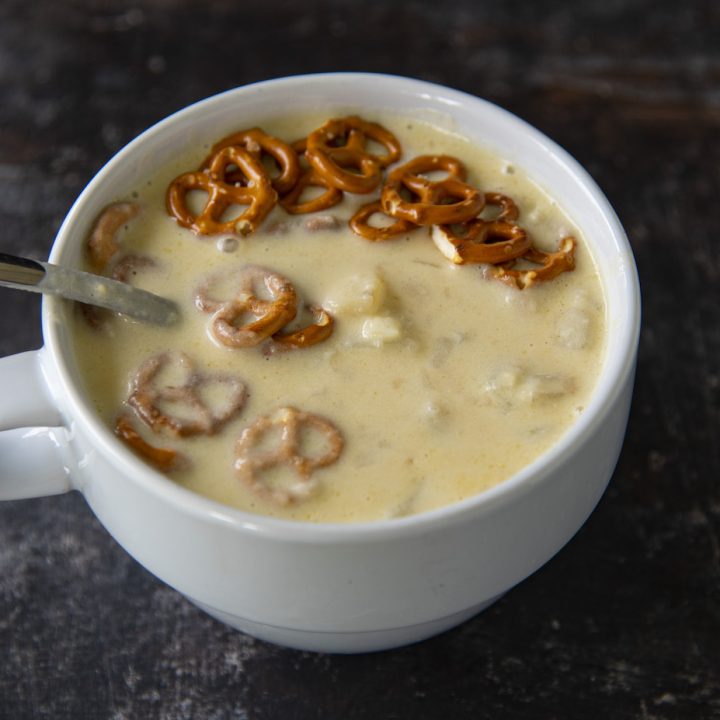 Beer Cheese Pretzel Potato Soup
Ingredients
2 TBSP unsalted butter
1 cup onion, diced
2 TBSP garlic, minced
1/2 cup finely crushed pretzels
16oz. lager beer (I used Pabst Blue Ribbon)
4 cups potatoes, peeled and diced small
1/2 cup heavy cream
1/3 cup sour cream
3 TBSP dijon mustard
8 oz. cream cheese, cubed, at room temperature
4 oz. gouda cheese, shredded
Instructions
Melt butter over medium-high heat in a large pot.
Once melted the onions and cook until translucent, about 5 minutes.
Add the garlic and cook another minute.
Sprinkle the pretzels over the onions and garlic and mix until fully combined.
Deglaze the pot with the beer.
Add the chickenless chicken broth and bring to a boil and cook for 6-8 minutes.
Then add the potatoes and cook until they are fork tender, about 15 minutes.
Whisk in the heavy cream, sour cream, mustard, and cheeses.
Whisk until all the cheese is melted and the cheese is fully combined.
Pour into bowls and add pretzels and cheese if desired.