Circus Animal Cookie Cupcakes: Classic vanilla cupcakes with Circus Animal Cookies folded in all topped with pink vanilla buttercream frosting and sprinkles.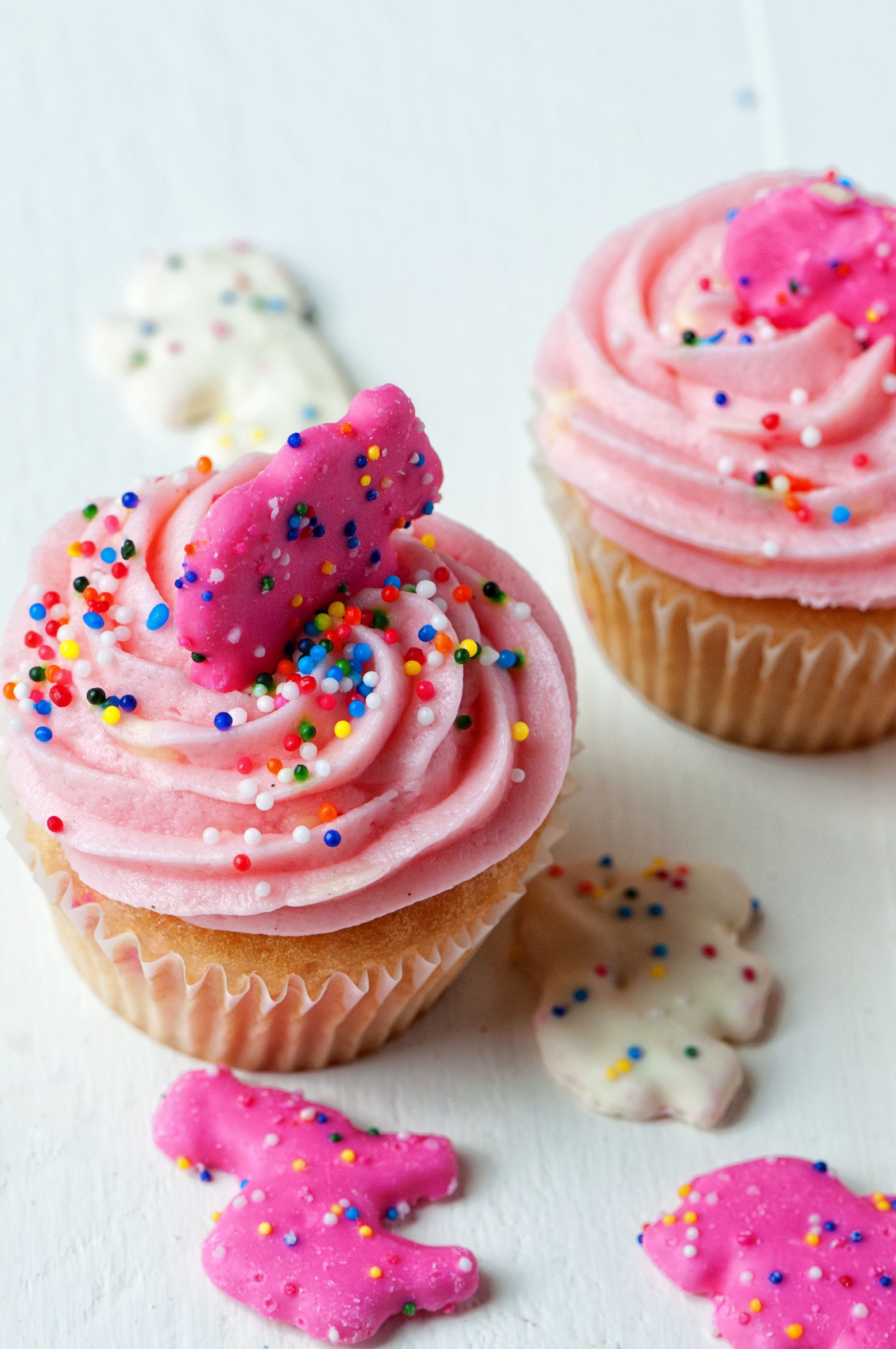 Eek! Well, it's here.
And I love it.
This is pretty much the biggest redesign I have had since the start of this blog…for the one big main reason I changed my name.
When I started this blog over 11 years ago I never realized the importance of a blog name.
Blogs were SOOO not what they are today.
I didn't care that I had a long URL name because I wasn't having to tell anyone what it was as no one was really reading it those first years.
So I named my blog after a cooking class I used to teach and thought nothing of it.
As I grew I realized what a mouthful it was and while I certainly do make many a culinary concoction, let's face it, I make mostly sweet recipes.
Then one night, a few years back, I awoke around 3am and just thought to myself how on Earth did I not notice that the end of recipes sounds like PEAS???
Sweet ReciPEAs was born.
I immediately wrote down my idea and never did anything about it.
For awhile I had needed to change the design of the blog due to the fact that it has never been what they call mobile responsive, and therefore was not getting revenue from mobile ads.
You will now notice that I have a brand new phone and tablet site as well.
Hopefully you like it.
Most of the design was centered around that since so many of you are reading this on your phones and tablets.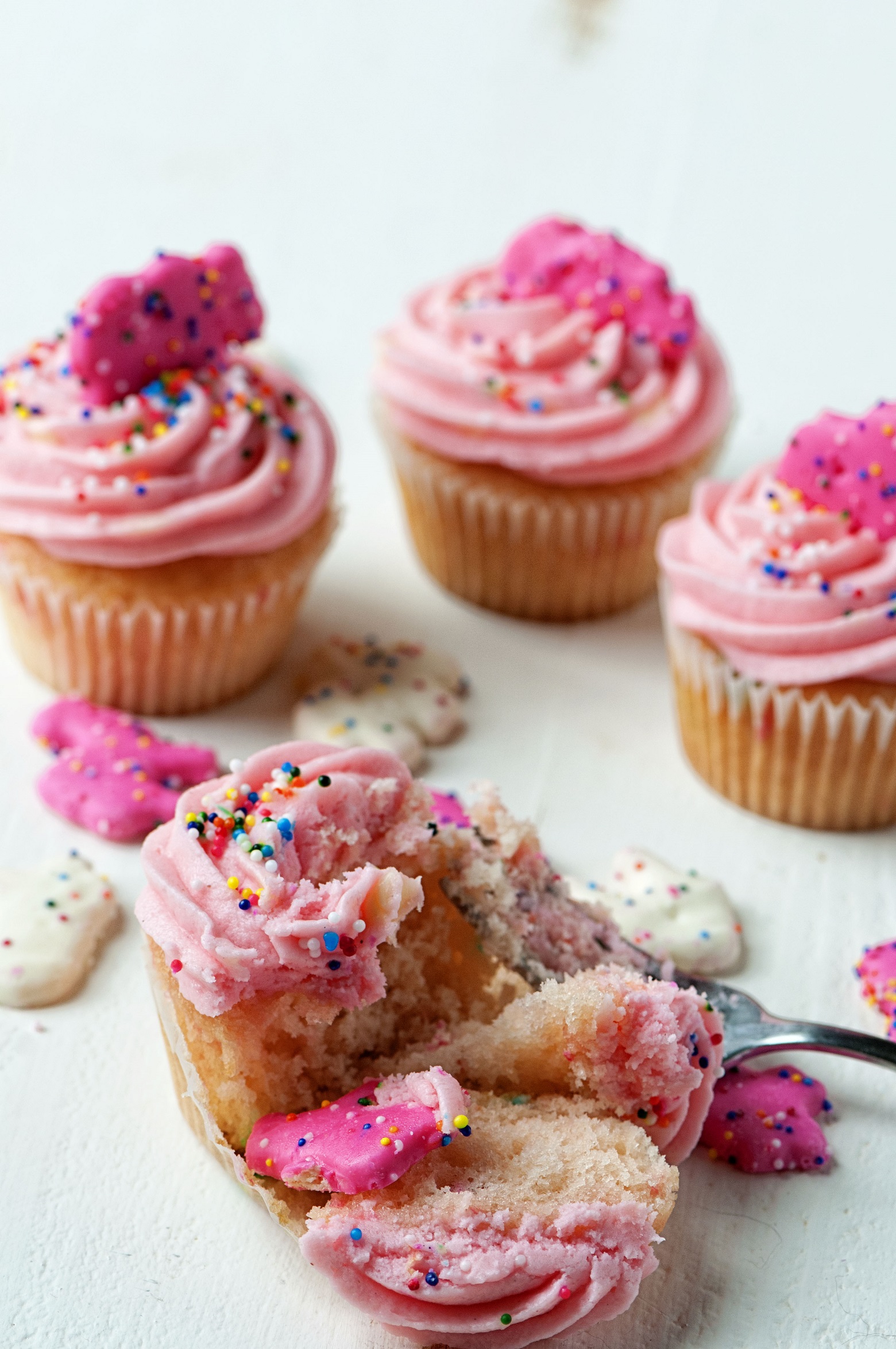 While I tried to think of you the reader, this redesign is really about me as I'm the one that comes to my blog each day and I did my best to make it feel like home to me.
I was going for whimsical, yet clean and I hope you get that feeling.
I have a few more blog categories; Baked Goods, Tipsy Tuesday, Furbaby Fridays, Love Yourself, Entertaining, and Travel.
There still might be a few bugs as with new transition that happens so if you notice something please let me know…and I'll let you know if it's supposed to be like that or not. 😀
I'd love to know what you think in the comments section.
So on to these Circus Animal Cookie Cupcakes.
I made them for my birthday.
Man, do I love me just a vanilla cupcake.
I know some people find that boring, but they are my favorite.
Since it was a special event, I added my favorite store bought cookie to the mix.
Turned the frosting pink.
And threw on sprinkles.
Totally makes me happy…just like my new site.
P.S. It's a great day to buy my cookbook Holy Sweet!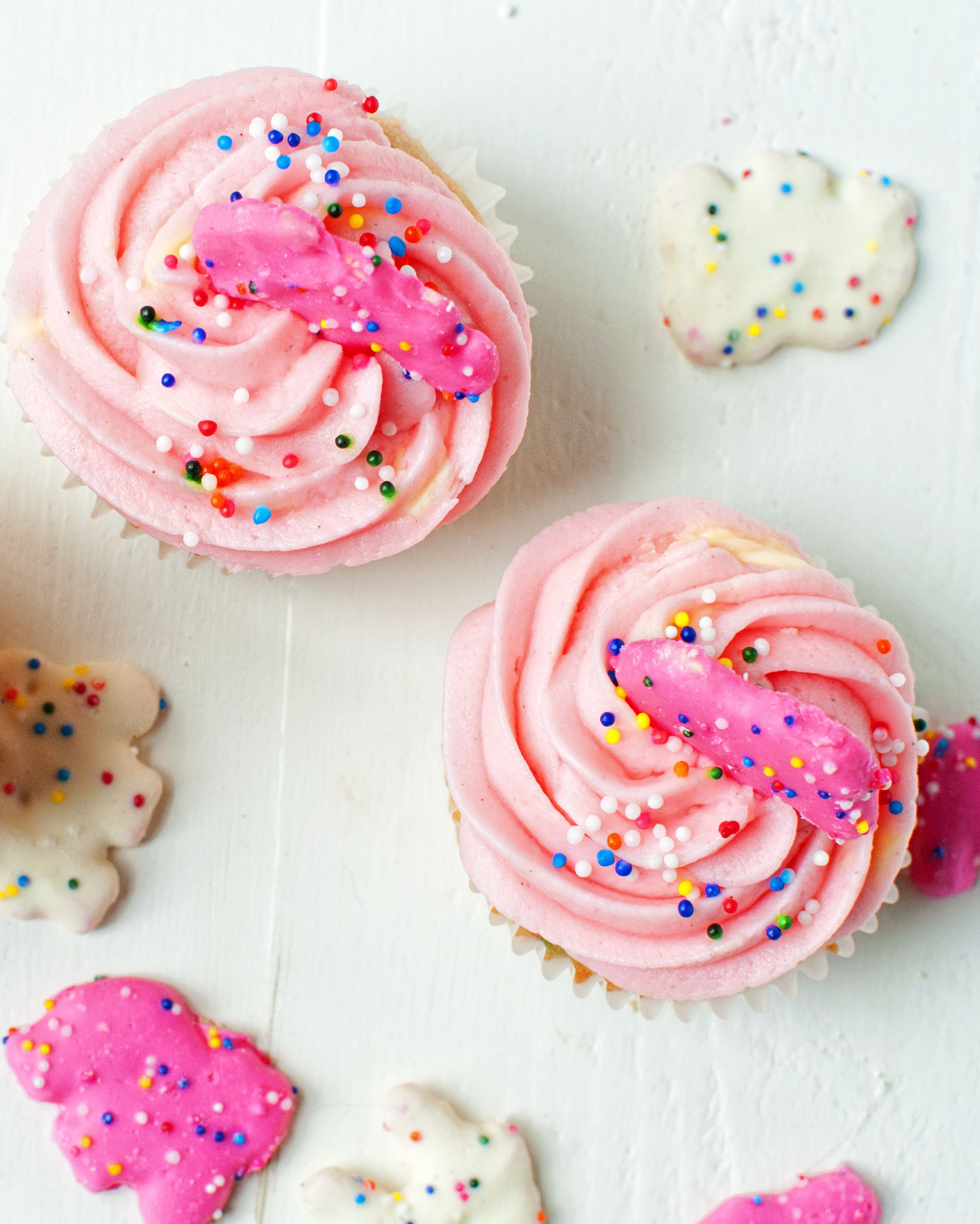 Want More Cupcake Recipes?
Key Lime Toasted Coconut Cupcakes
Strawberry Malted Milk Cupcakes
Chocolate Glazed Rocky Road Cupcakes
Strawberry Lemonade Glazed Cupcakes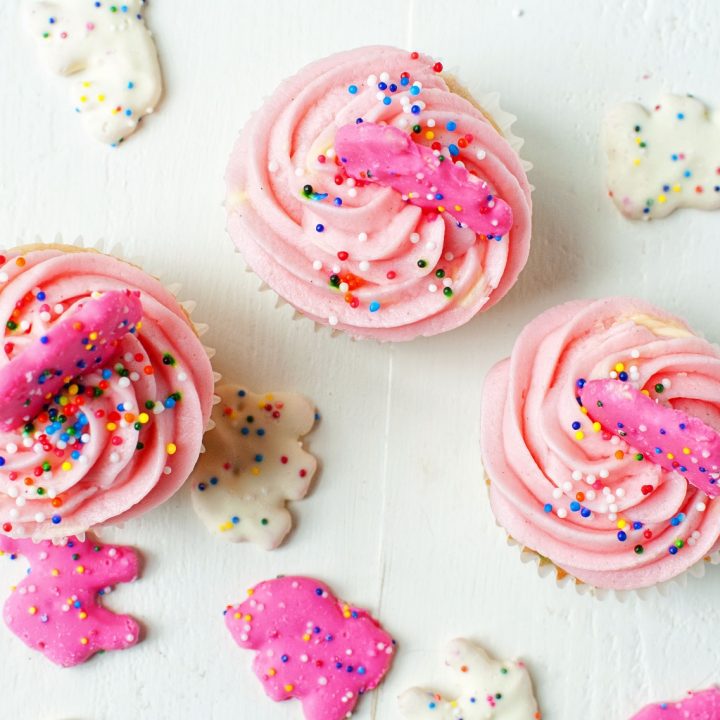 Circus Animal Cookie Cupcakes
Ingredients
For the cake:
1 1/2 cups self-rising flour
1 1/4 cups all-purpose flour
1 cup unsalted butter, at room temperature
2 cups sugar
4 large eggs, at room temperature
1 cup milk
1 tsp. pure vanilla extract
1 cup Circus Animal Cookies, chopped in pieces
For the frosting:
1 cup unsalted butter, at room temperature
6 to 8 cups powdered sugar
1/2 cup milk
1 tsp. vanilla extract
pink food coloring if desired
Instructions
For the cupcakes:
Preheat oven to 350 degrees.
Line two 12-cup muffin tins with paper liners; set aside.
In a small bowl, combine the flours; set aside.
In the bowl of an electric mixer fitted with the paddle attachment, cream butter until smooth and creamy.
Gradually add sugar, beating until fluffy, about 3 minutes.
Add eggs, one at a time, scraping down after each addition.
Add dry ingredients in 3 parts, alternating with the milk and vanilla, and scraping down sides of the bowl in between each addition.
Mix until ingredients are incorporated.
Fold in the cookie pieces.
Divide batter evenly among liners, filling about three-quarters full.
Bake, rotating the pan halfway through, until a cake tester inserted in the center comes out clean, 20 to 25 minutes.
Transfer to a wire rack to cool in tins for 15 minutes.
Remove cupcakes from tins, and cool completely on rack. Once cupcakes have cooled, pipe on frosting.
Add sprinkles and extra cookies if desired.
For the frosting:
In the bowl of an electric mixer fitted with the paddle attachment, combine butter, 4 cups sugar, milk, and vanilla.
Beat on medium speed until smooth and creamy, 3 to 5 minutes.
Gradually add remaining powdered sugar, 1 cup at a time, beating for about 2 minutes after each addition, until frosting reaches desired consistency; you may not need to add all the sugar.
Store in an airtight container for up to 3 days.