This Spinach Artichoke Dip Soup is a way to justify eating Spinach Artichoke Dip as a meal. Because it's soup…and not a dip. 😀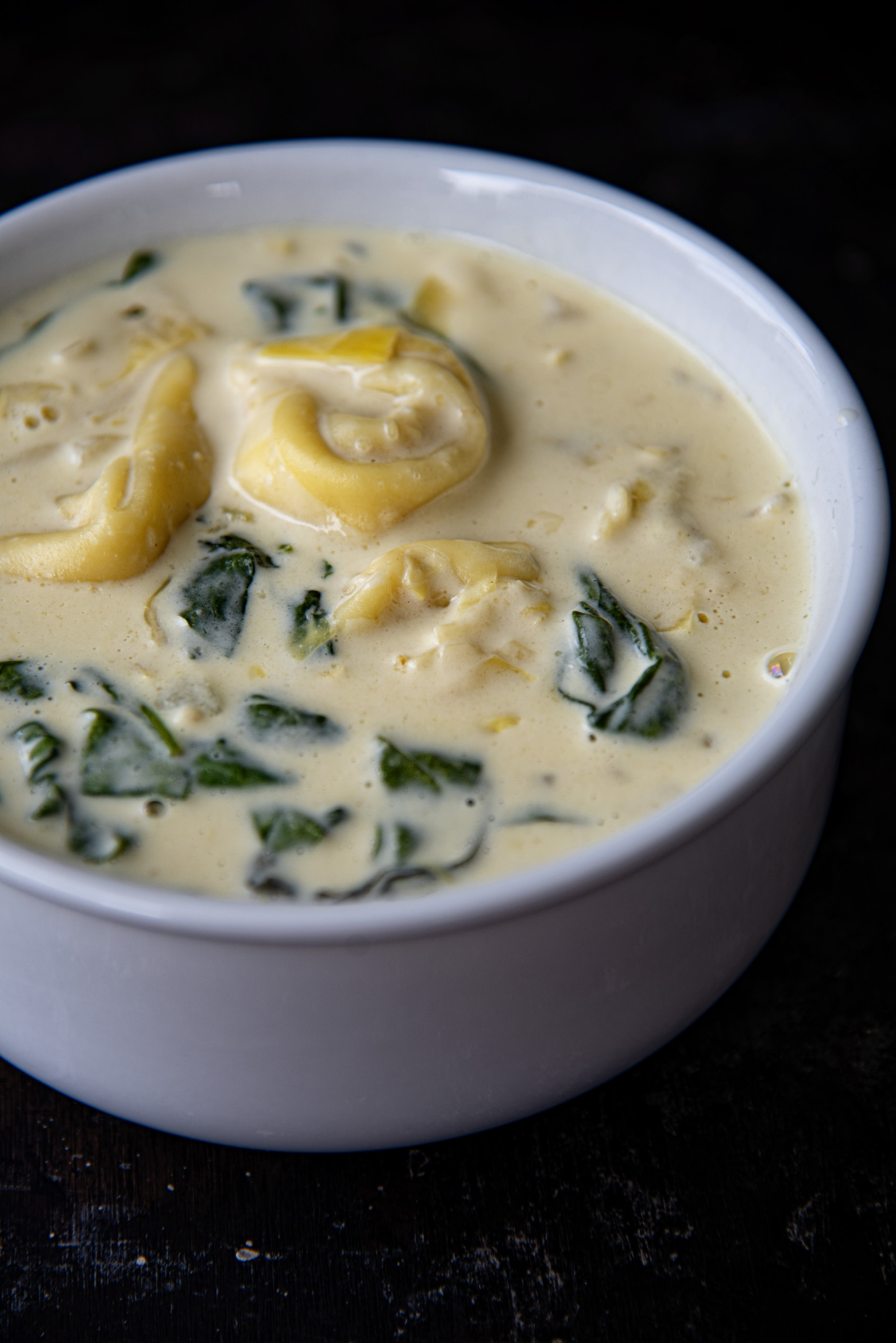 We like to turn things into salad.
You know, to make it healthy.
Take the taco salad.
I'm sure someone was like I'll just take the flavor of a taco and make a salad.
Save some calories.
But then was like instead of a normal bowl I put it in a GIANT deep fried tortilla shell.
And don't forget the cheese.
Or the sour cream.
Oh, and maybe some guac.
But there is a lot of lettuce and you are using salsa instead of dressing.
So it's totally healthy.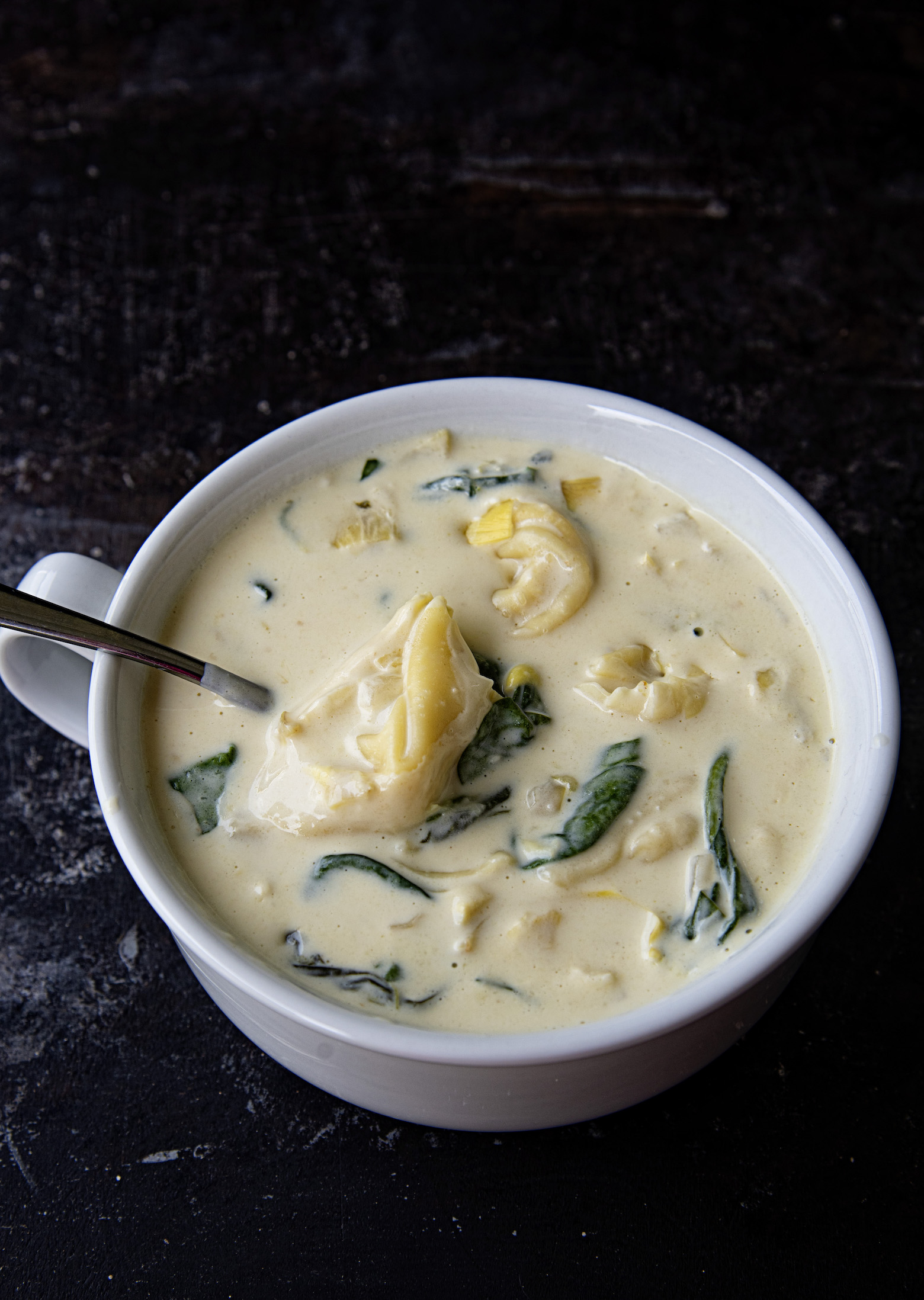 That's kind of where I'm at with this soup.
When you are a food blogger who tends to bake more than you cook when you've been baking all day you don't want to cook.
So my husband and I eat a lot of dip.
We eat the Blue Cheese BBQ Gouda Cheese Dip all the time.
But I do feel slightly guilty always eating dip as a meal.
I really shouldn't, but I do.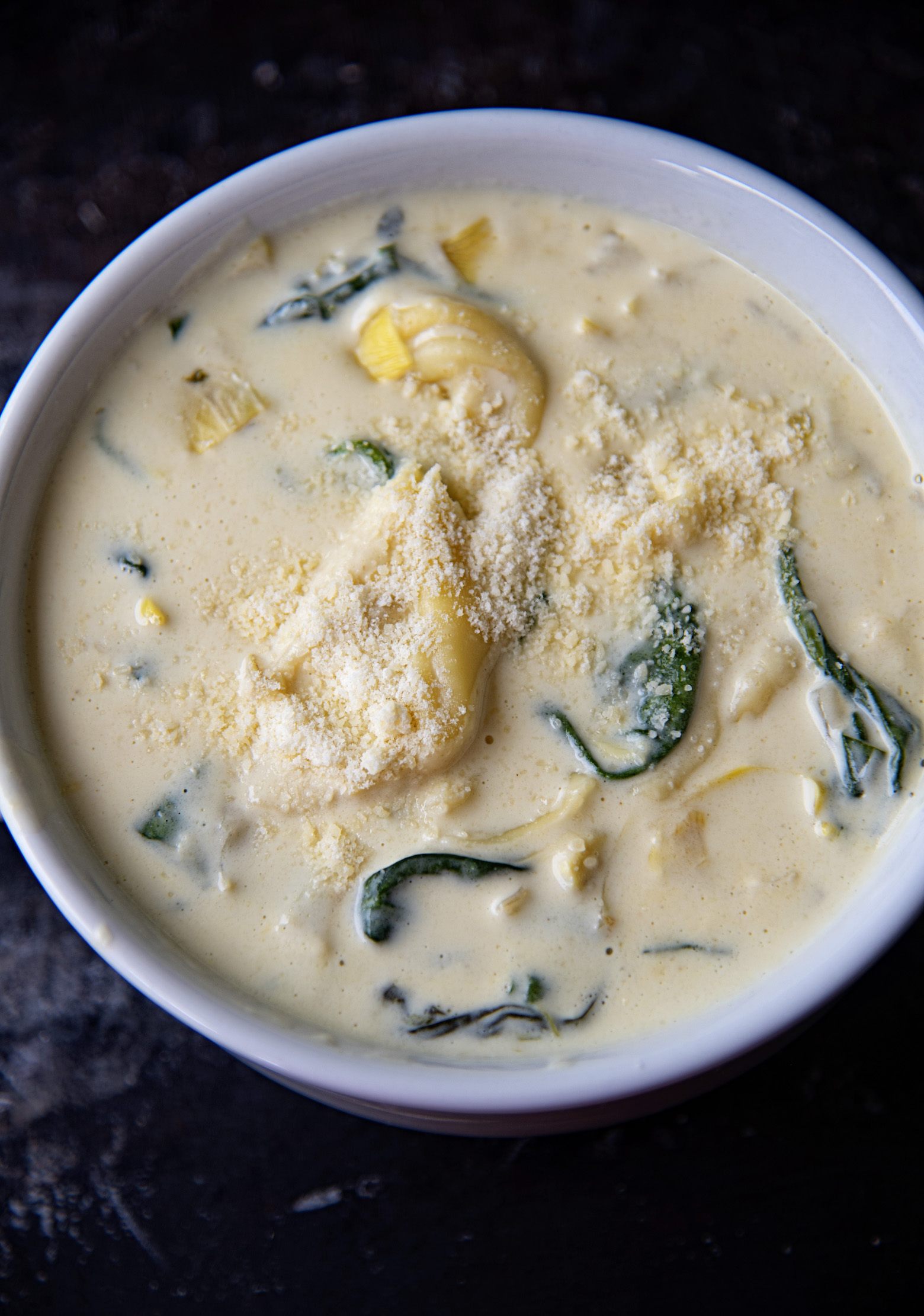 I have wanted Spinach Artichoke Dip for awhile now and I bought the ingredients to make it.
Then I felt guilty.
So I thought, maybe I make it a salad?
But more like a southern salad where you mix everything with mayo and call it a salad.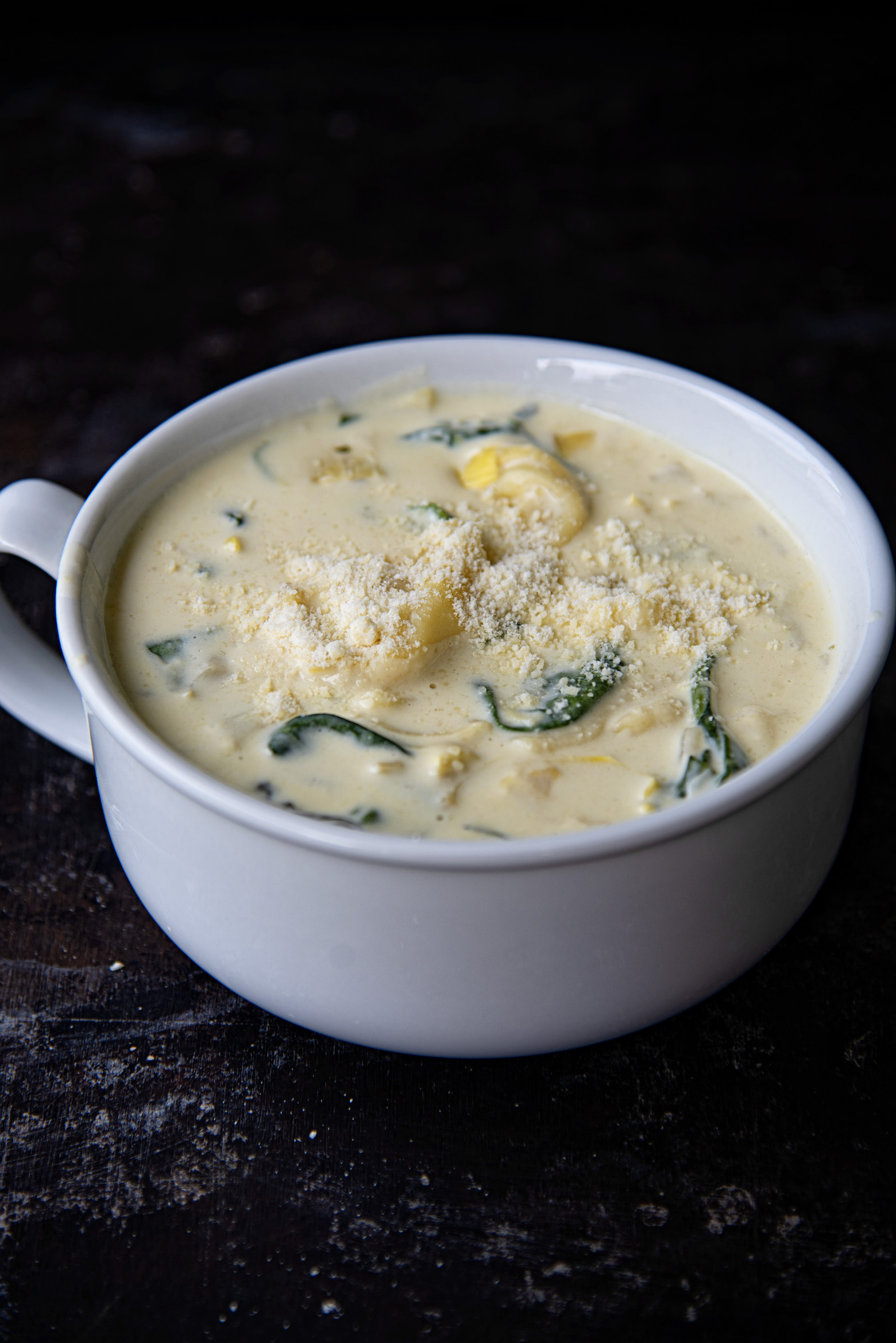 But soup made more sense.
And so I went there.
I made Spinach Artichoke Dip Soup.
Even better I added more cheese to it by adding in some cheese tortellini because we always have a ton of it from Costco.
This soup is about as healthy as a taco salad.
But it does have 8 cups of spinach so you can totally rationalize that it's good for you. 😀
As always today is a great day to order my cookbook. 🙂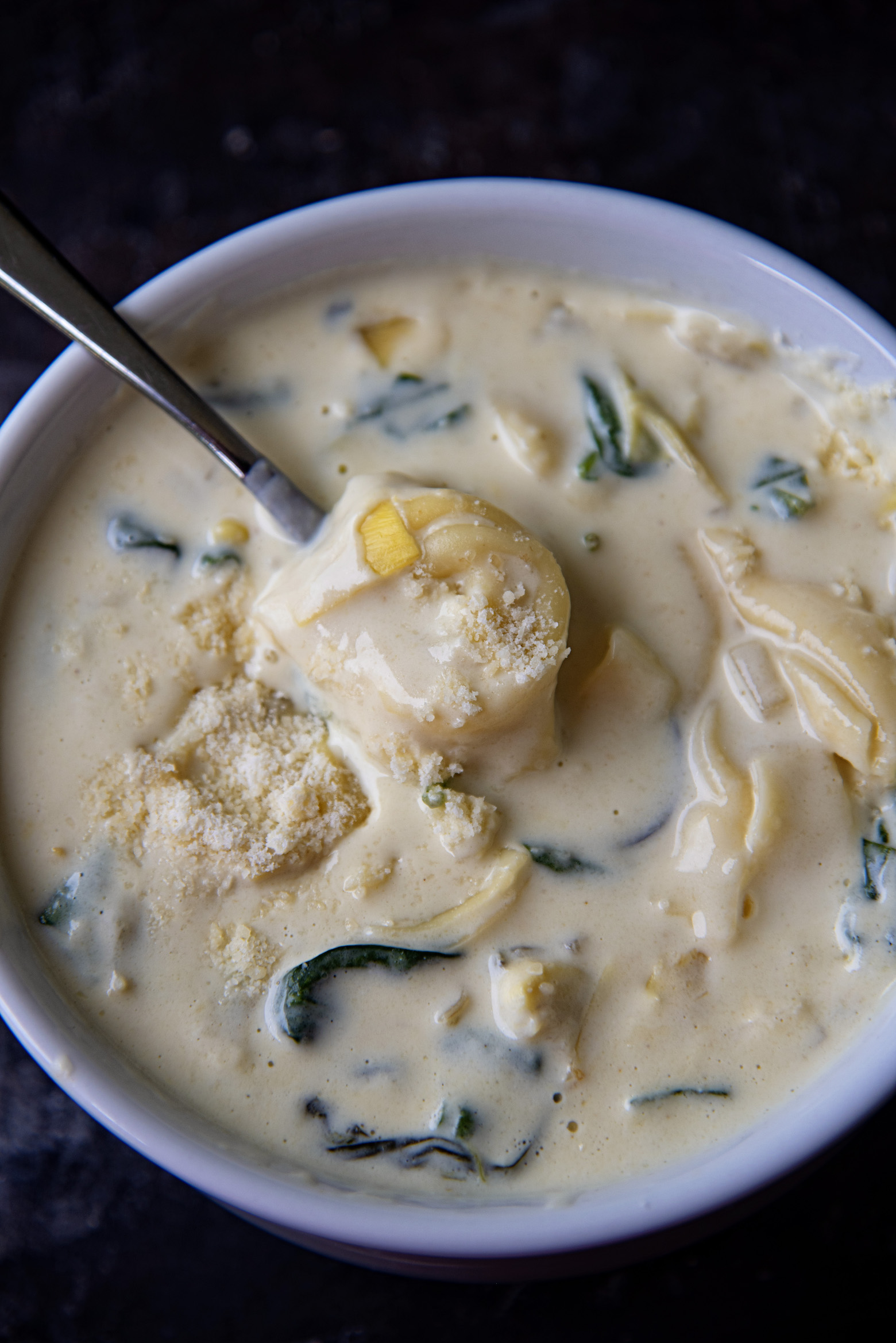 Want More Soup Recipes?
Caramelized Onion Potato Ale Soup
Vegetarian Vegetable No-Beef Soup
Roasted Garlic Chili White Bean Soup
Dill Pickle Cheddar Cheese Soup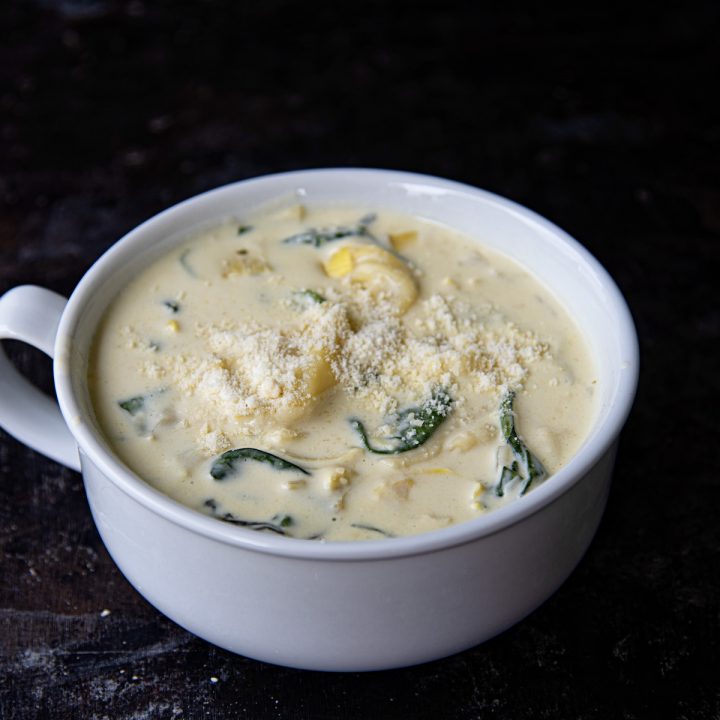 Spinach Artichoke Dip Soup
Ingredients
1 cup diced onion
1 TBSP minced fresh garlic
2 TBSP olive oil
1 can artichoke hearts in water (13.75 oz.), drained and quartered
2 TBSP all-purpose flour
½ cup dry white wine
3 1/2 cups vegetable broth (I use a chickenless chicken broth)
2 cups cheese tortellini
8 oz cream cheese
1 ½ cups whole milk
½ cup heavy cream
8 cups fresh spinach
½ cup grated Parmesan
Salt and black pepper to taste
Instructions
Sauté onions and garlic in oil in a large pot over medium-high heat until onions are soft, about 2 minutes.
Add the artichokes and sauté for 2 minutes, then stir in flour and cook for 1 minute.
Deglaze pot with wine, scraping up any brown bits, and simmer until nearly evaporated.
Stir in broth and bring to a boil.
Then add the cheese tortellini.
Let cook for 10 minutes.
Add the cream cheese and stir until it melts into the soup.
Add the milk and cream to the mix and let cook another 5 minutes.
Reduce heat to low, add the spinach and Parmesan, and stir until spinach wilts.
Season soup with salt and pepper.