This Peanut Butter Jelly Caramel Corn is made with popcorn, powdered peanut butter, and strawberry jam bits…and of course, caramel.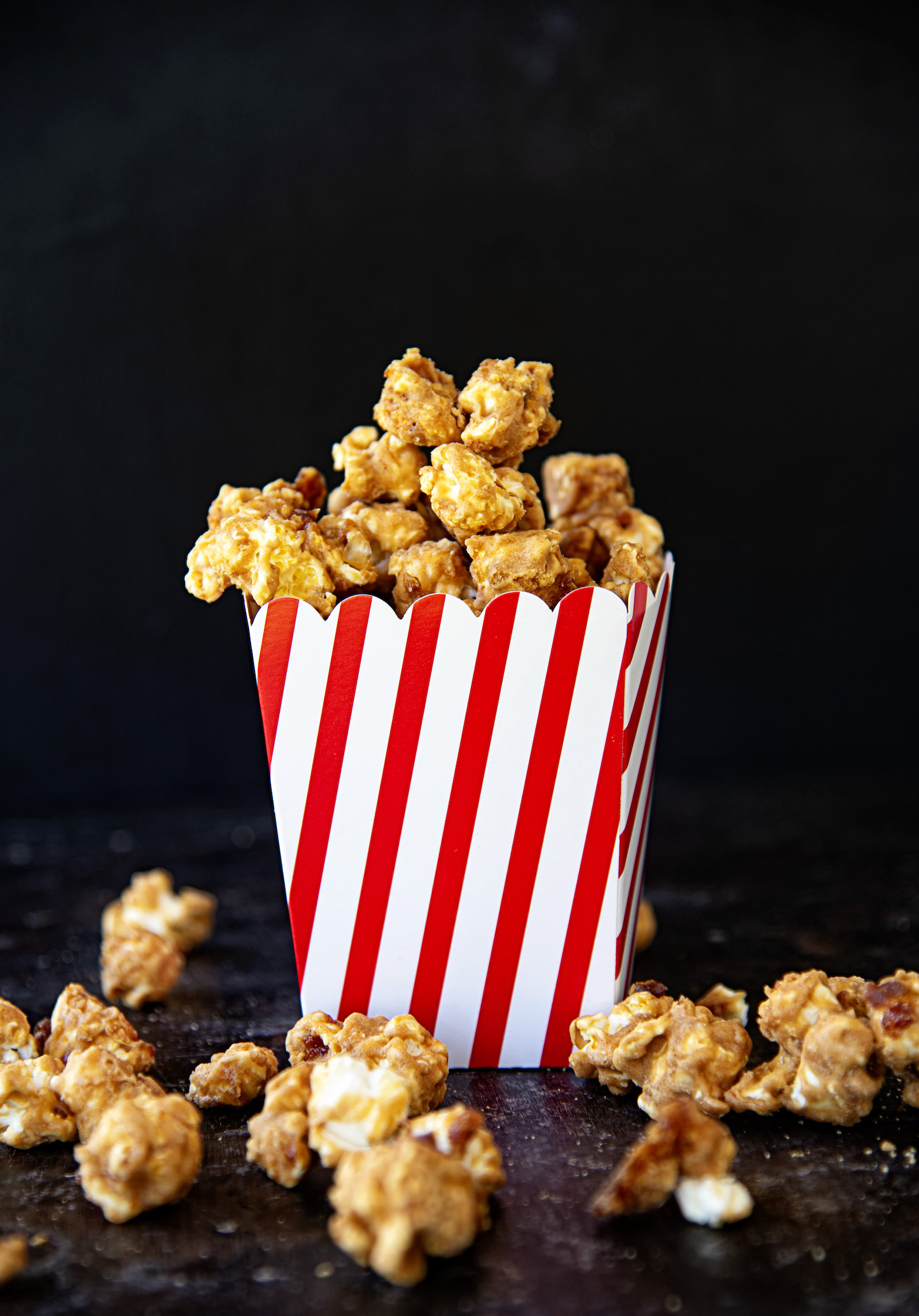 Hi all!
This week I'm participating in #BacktoSchoolTreats Week.
It's just for fun for bloggers to get inspired by to create fun recipes.
This school year clearly is different than any other.
Some kids are doing in person learning.
Others are all online.
And some a mix of both.
If you are staying home you can at least have peanut butter.
Technically you can have it during the school year it just has to be at your house.
But since a good chunk of students are at home for learning for the start of the school year I thought I would make something with peanut butter.
I know, I'm a rebel.
And no, I'm not making fun of food allergies…I have a ton and always have to carry an Epipen.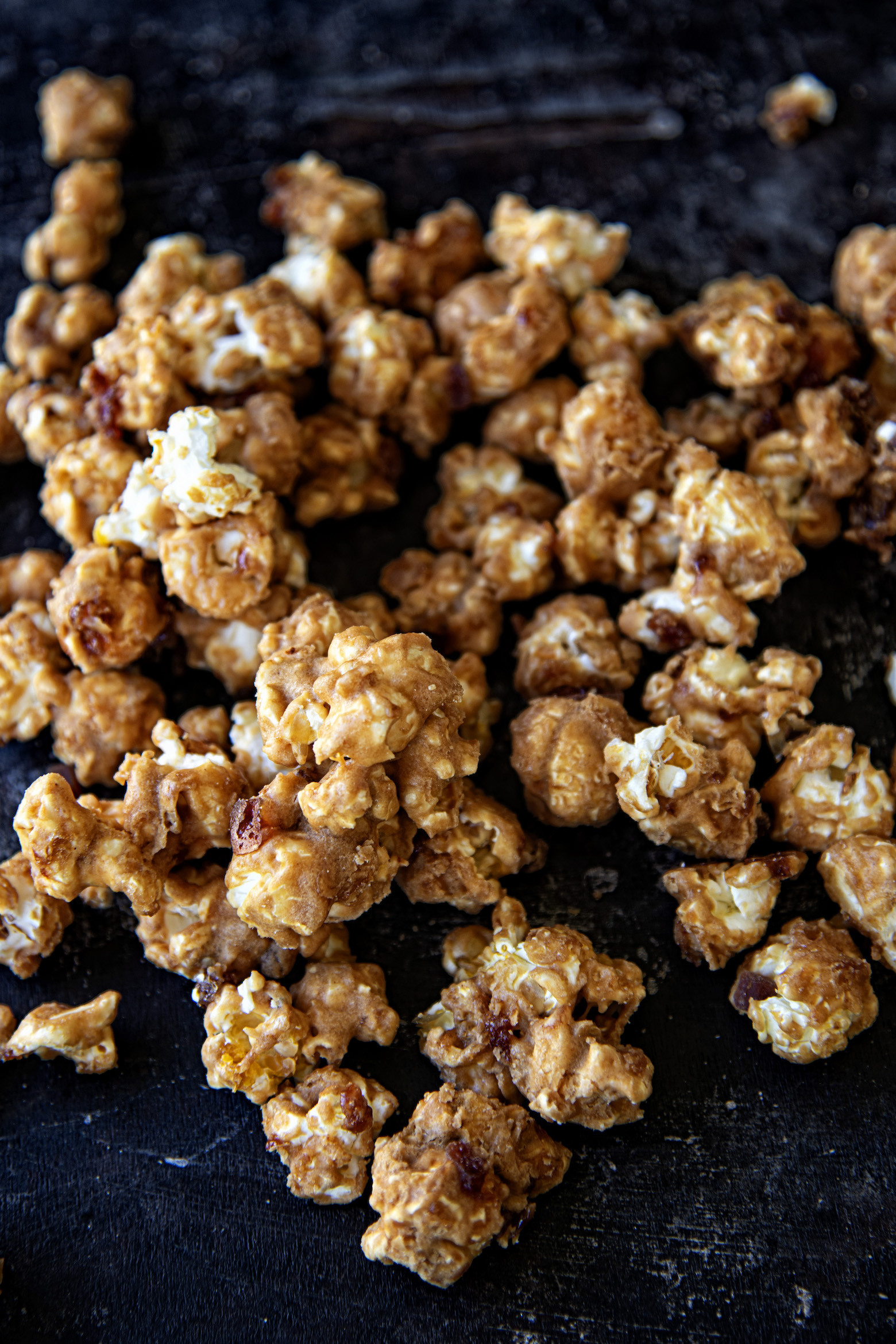 For the start to Back to School Treats Week I'm offering up this Peanut Butter Jelly Caramel Corn.
It does have two special ingredients.
One you can find at most stores and that is powdered peanut butter.
The other are called Jammy Bits and you do have to order them from King Arthur Flour.
They are like tiny little bits of gummy jam.
Jammy Bits come in a variety of flavors so feel free to change up the jam flavor depending on your favorite jam flavor.
I really wish they had grape, they did not, so I went with strawberry.
If you can figure out how to make your own…more power to you.
I'm not that skilled. 😛
But if you do, come back and tell me how to. 😀
Last but not least…it's a great time to order my cookbook. 😀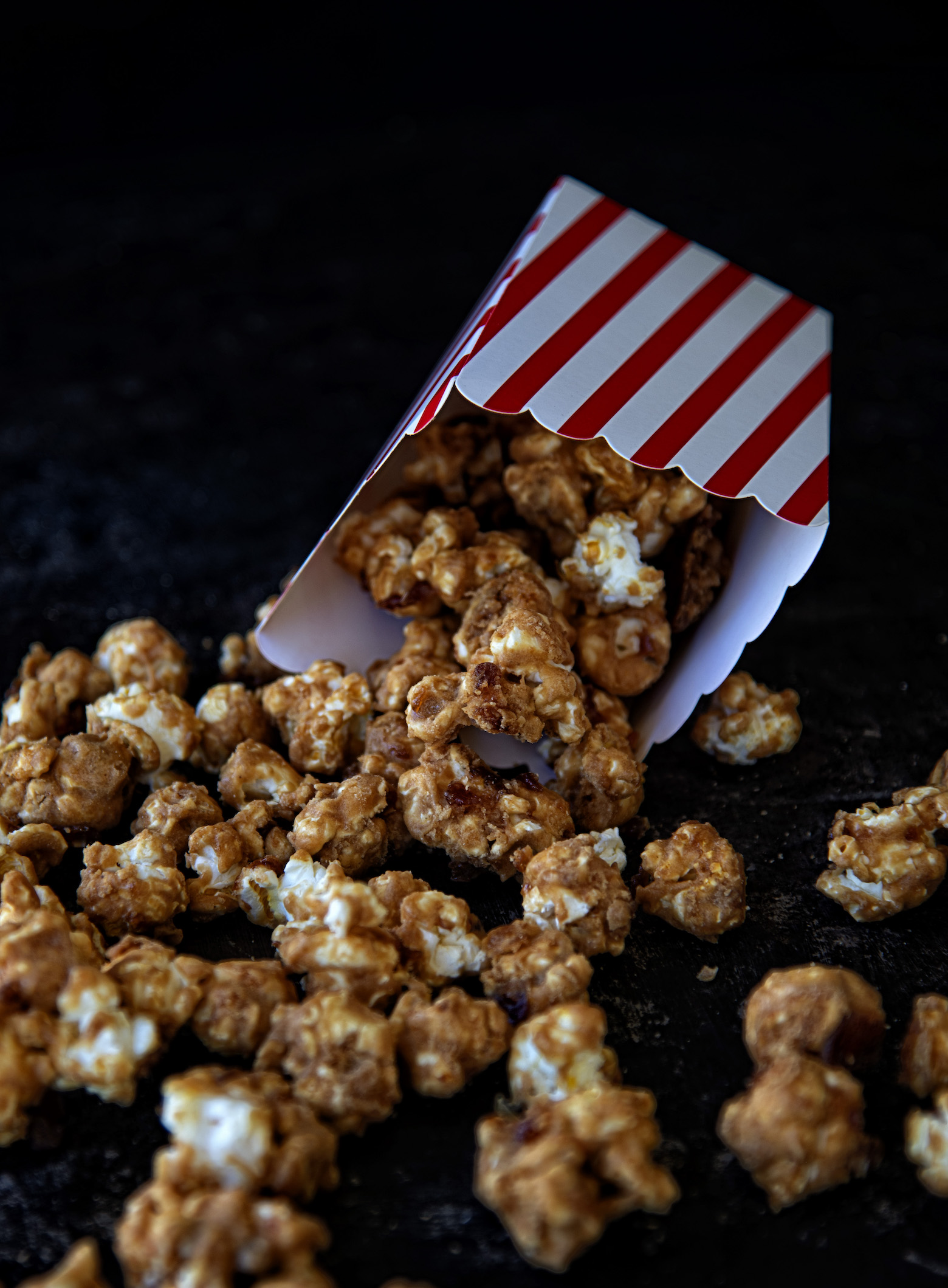 Check out what all the other bloggers made!
Breakfast Recipes
Baked Glazed Chocolate Donuts by The Redhead Baker
Chai Muffins by Our Good Life
Lemon Streusel Blueberry Muffins by Jolene's Recipe Journal
Sugar Free Banana Muffins by Blogghetti
Snack Recipes
Air Fryer Hot Dog Taquitos by A Kitchen Hoor's Adventures
Kid-Friendly Snack Board by Love & Confections

Dessert Recipes
Chocolate Chip Cookies by Family Around the Table
Frosted Fudgy Homemade Brownies by Making Miracles
M&M Cookie Bars by Kate's Recipe Box
Monkey Tail Crescent Rolls by Palatable Pastime
Peanut Butter and Jelly Caramel Corn by Sweet Recipeas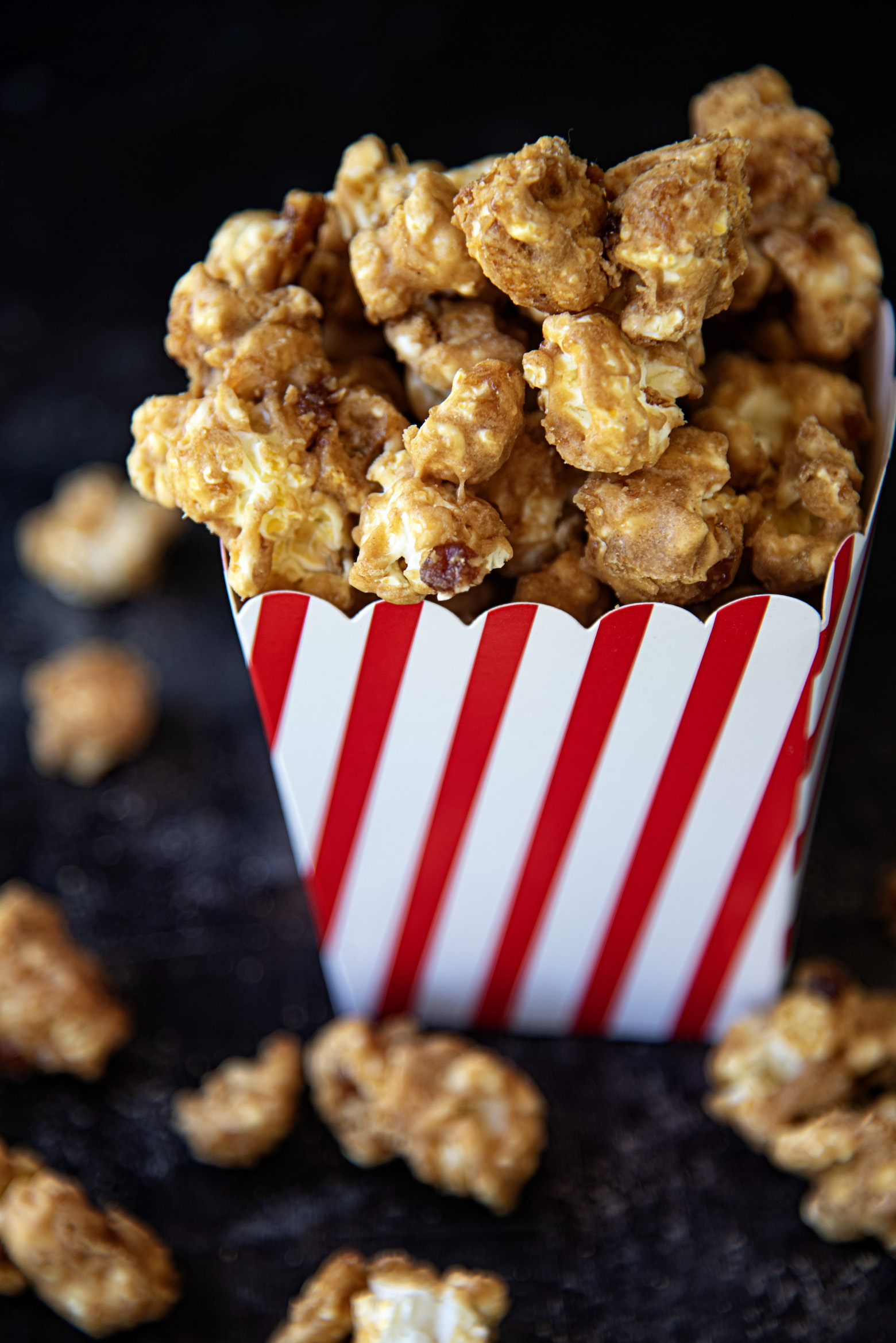 Want More Peanut Butter and Jelly Treats?
Boozy Peanut Butter Grape Jelly Jell-O Shots
Peanut Butter and Jelly Cheesecake Cups
Fun Peanut Butter and Jelly Bread
Peanut Butter and Jelly Shortbread Wedges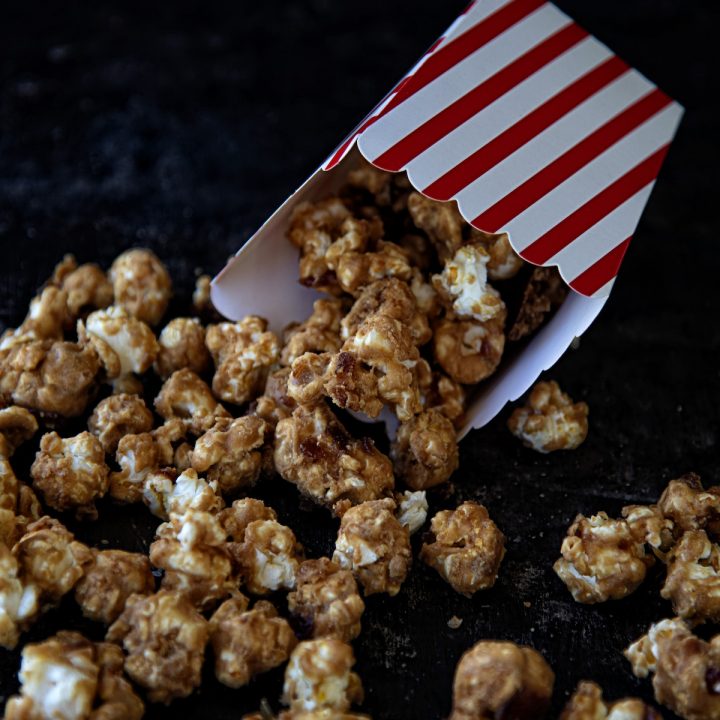 Peanut Butter Jelly Caramel Corn
Ingredients
3 TBSP vegetable oil
1/2 cup un-popped popcorn kernels
1/2 cup unsalted butter
1 1/4 cup light brown sugar, loosely packed
1/4 cup Lyle's Golden Syrup (or corn syrup but Lyle's is preferred big time)
1/8 tsp. cream of tartar
1/2 tsp. salt
1/2 tsp. baking soda
Instructions
Preheat oven to 200F.
You need either two smaller baking sheets or one really large baking pan.
In a large heavy bottom pot like Le Creuset add the oil and popcorn to the pan.
Heat over medium.
Cover but leave open a little to allow steam to leave the pot.
Throughout popping, shake the pan so that you get every kernel.
When popping starts to slow (even after shaking), remove from heat.
Remove the lid (away from you) and get ready for a stray piece of popcorn to pop and attack. 🙂 You will get it back later by eating it.
I like to scoop the popcorn out 1 cup at a time so that I can make sure no un-popped kernels are sneaking in or a stray burnt piece gets in. Place popcorn in a separate bowl. Set aside.
Clean and dry the large heavy bottom pan as you need it to make the caramel. You could use a smaller pan but I like to use the large so that I can mix the popcorn right in the pan, and then pour on top the baking sheets.
Place the butter, sugar, Lyle's Golden syrup, cream of tartar, and salt in the heavy bottom pan.
Heat over medium-high heat, stirring constantly while the mixture boils for 5 minutes.
Remove from heat and add the baking soda and mix until fully combined. It will bubble up a little so be careful.
Stir in the peanut butter powder until fully combined.
Add the popcorn to the pan and mix and mix and mix until every piece of popcorn is covered in the caramel mixture.
Add in the strawberry jammy bits and mix to distribute the fruit.
Spread the caramel corn on to the baking pan/s making a single layer.
Bake for 20 minutes then take out the caramel corn and stir and flip it. Then back in the oven for another 20 minutes.
Again take it out and stir and flip the caramel corn.
Then one last time into the oven for 20 minutes.
Remove from oven and let cool.
Store in an airtight container for about a week…but it really doesn't last that long.