This Pumpkin Dulce de Leche Magic Cake is a yellow cake top and a dulce de leche pumpkin pie bottom all topped with dulce de leche whipped cream frosting.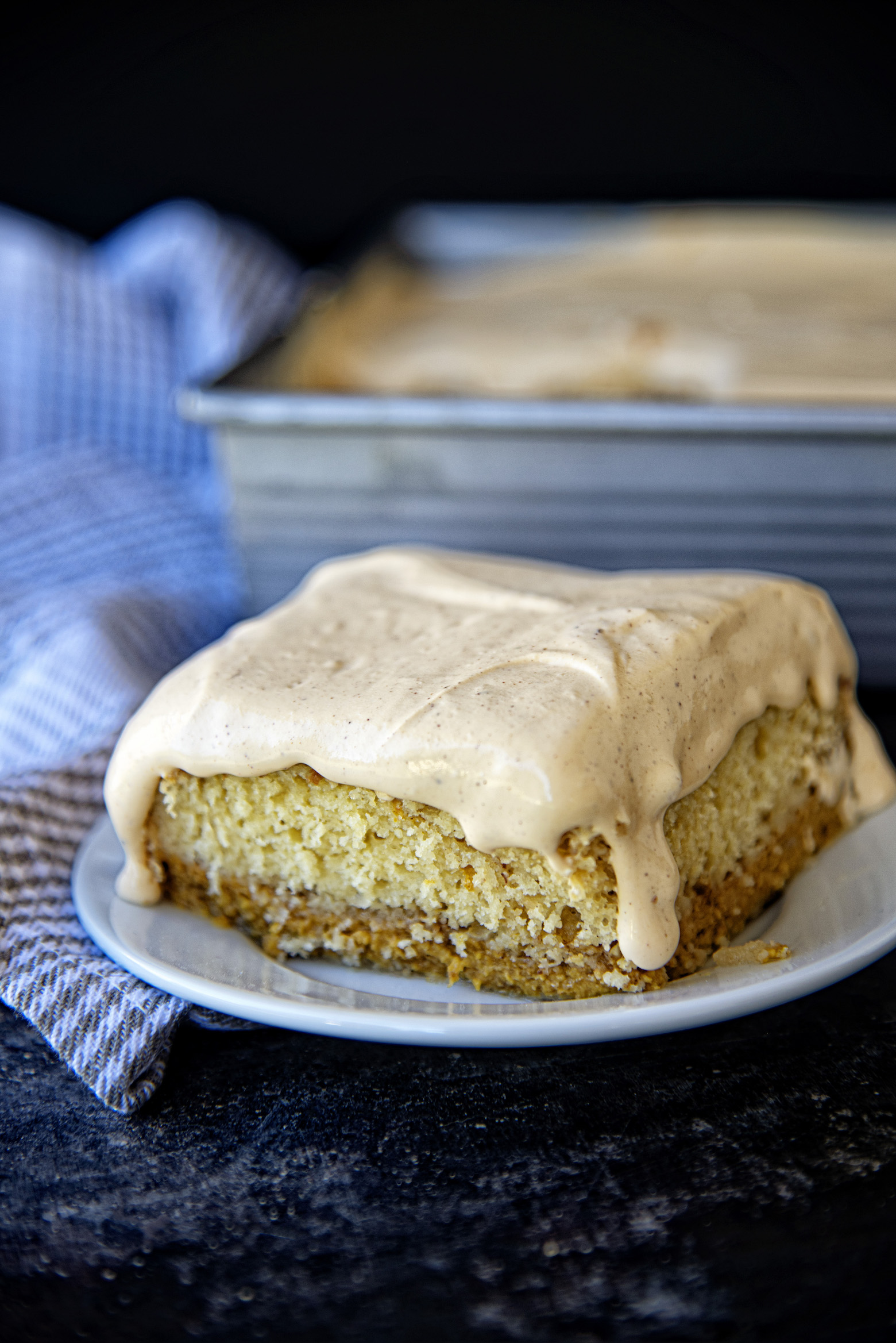 So I'm sure some of you are groaning.
Those of you who are in the don't take my summer away people at least.
BUT Dunkin Donuts is releasing there Pumpkin Spice Latte THIS week.
And Starbucks follows up with the PSL the following week on August 25th.
Yes, I will go and get one. 🙂
Plus apple and pumpkin recipes according to my Pinterest analytics are what are being looked up the most right now.
That and holiday recipes!
So no groaning…we are just giving what the people want.
Or at least some of the people. 😀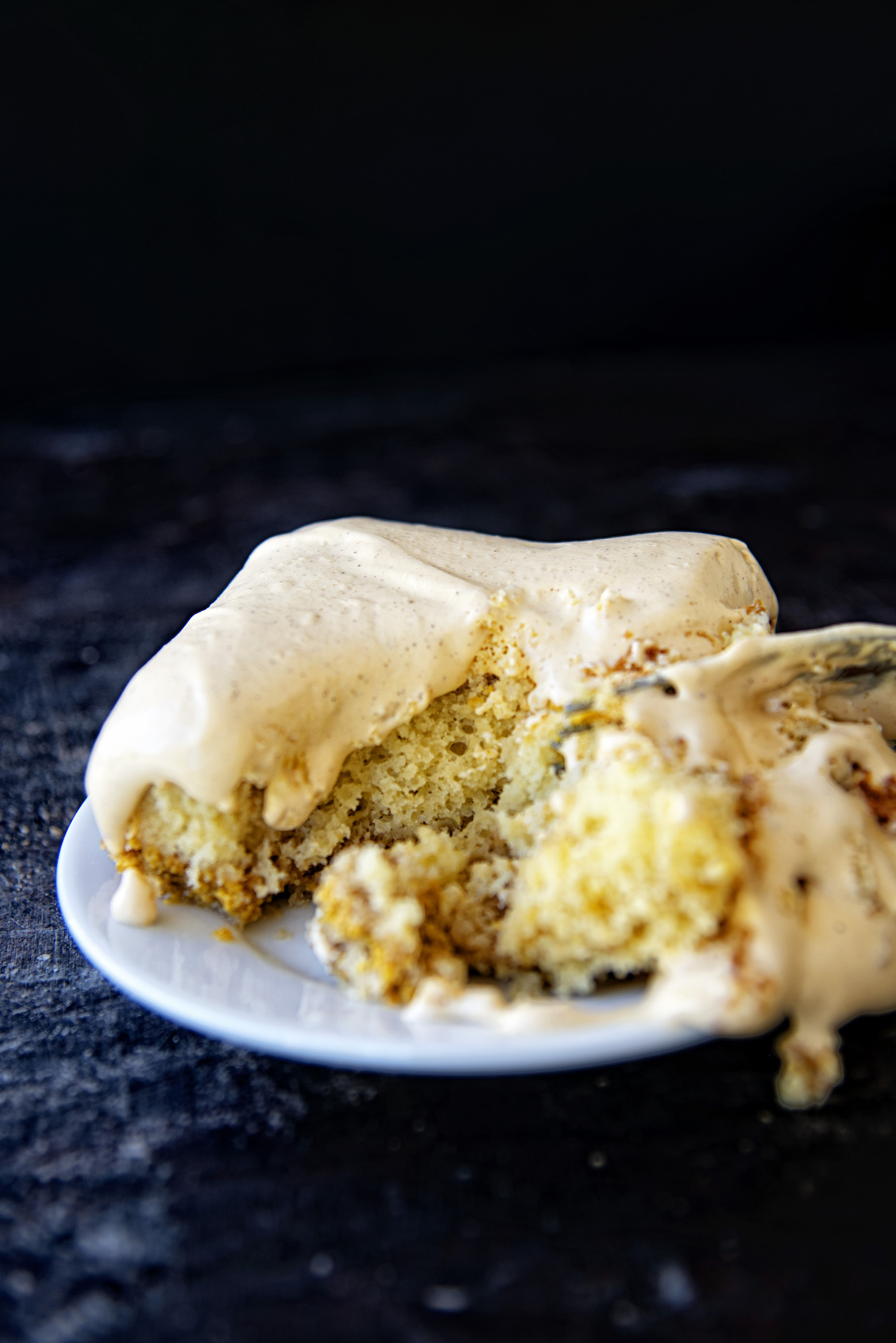 This recipe I feel eases you into the pumpkin world.
It's more cake than pumpkin pie.
Plus the pie has dulce de leche in it.
So come on, you know it's going to be good. 🙂
I'm an old school dulce de leche girl who makes it on her stove top.
But I know there are ways to do it other than that.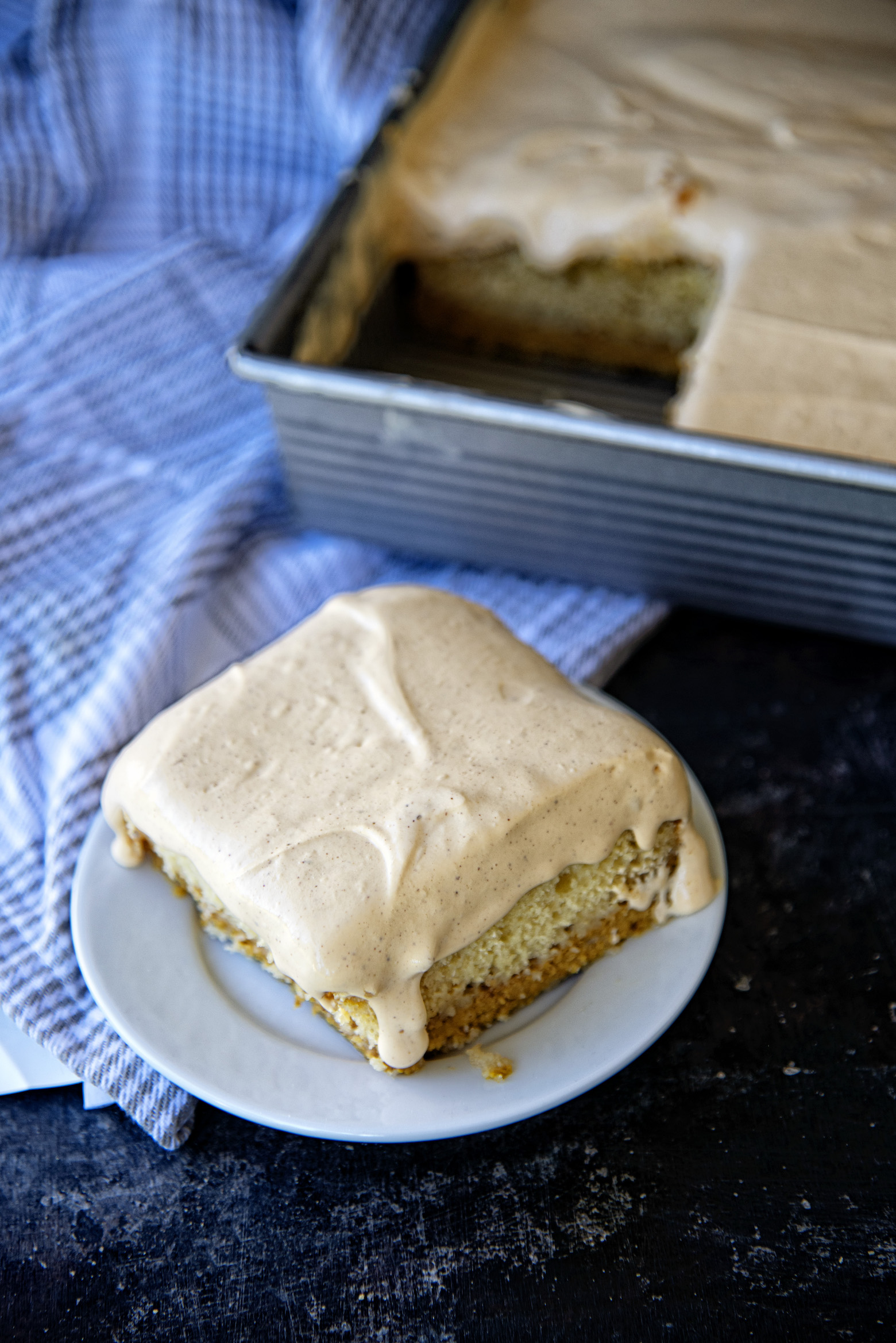 Yes, this Pumpkin Dulce de Leche Magic Cake uses cake mix.
And Cool Whip.
I tried this recipe with homemade whipped cream and it did not stay up like it normally does when I make the PSL version of this.
So don't try and make it with whipped cream.
I mean it still tastes good but any heat (which we have had) will melt it pretty good.
It doesn't help that I shoot my photos outside. 🙂
So come to the Dark Side friends…we have pumpkin everything. 😛
Last but not least…it's a great time to order my cookbook. 😀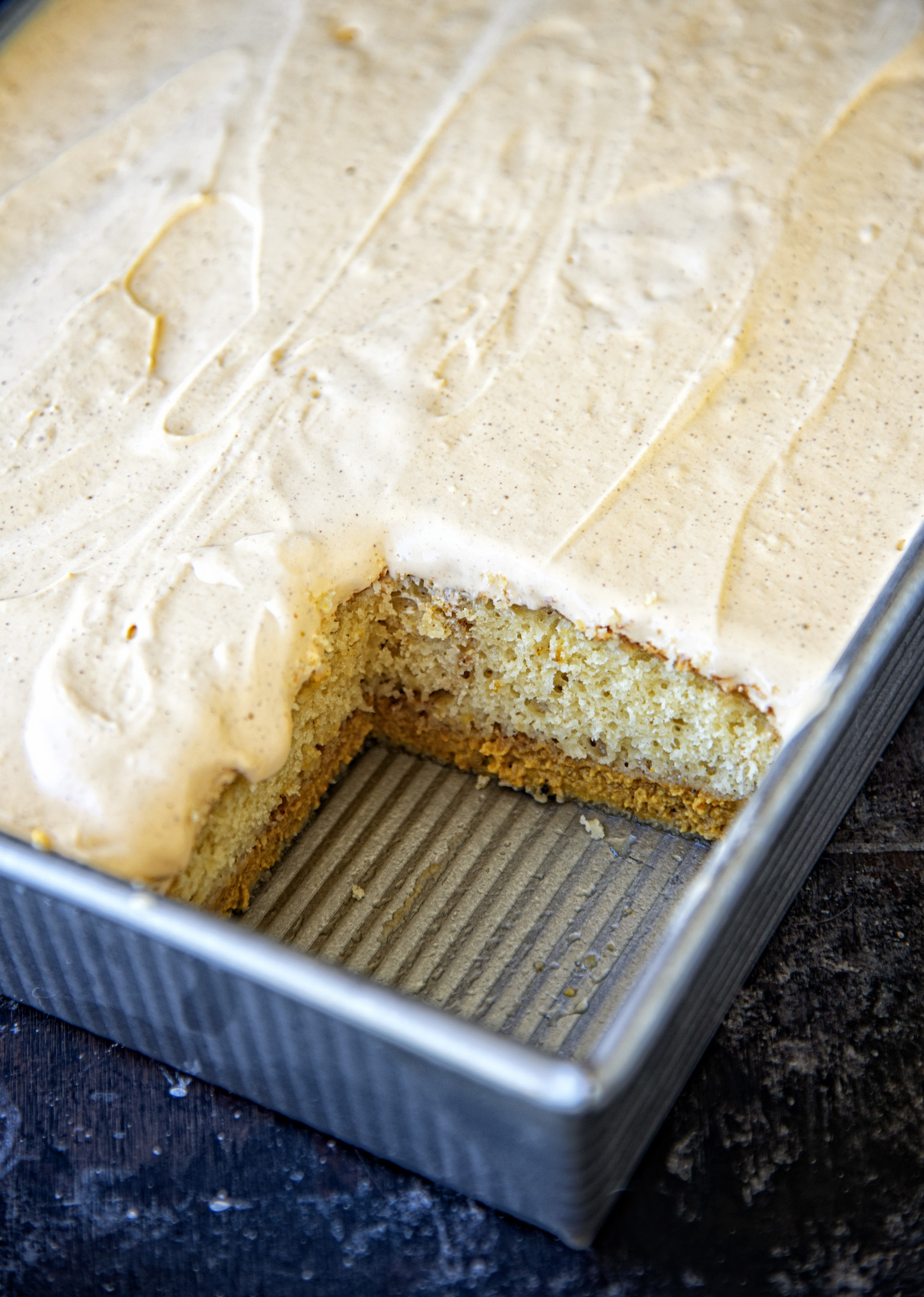 Want More Pumpkin Recipes?
Pumpkin Spice Latte Russian Tea Cake Cookies
Salted Caramel Frosted Pumpkin Cupcakes
Chocolate Cinnamon Frosted Pumpkin Cupcakes
Mini Pumpkin Toffee Bundt Cake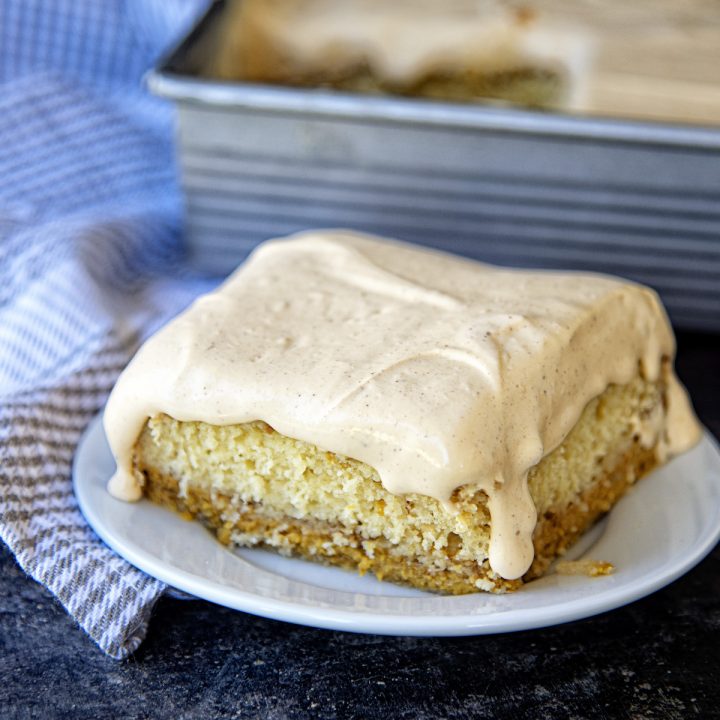 Pumpkin Dulce de Leche Magic Cake
Ingredients
For the Yellow Cake Layer:
1 box of yellow cake mix (I used Pillsbury)
1/3 cup vegetable oil
1 cup water
3 eggs
For the Pumpkin Pie Layer:
1 (15oz) can Pumpkin Puree (not pumpkin pie mix)
1/2 cup evaporated milk
1/2 cup heavy cream
3 eggs
1 cup brown sugar
1 tsp pumpkin pie spice
1/3 cup dulce de Leche
For the Whipped Cream Frosting:
1 (4 serving size) box vanilla instant pudding mix
1 tsp. pumpkin pie spice
1/2 cup dulce de Leche
1 cup cold milk
8 oz Cool Whip, thawed
Instructions
Preheat oven to 350 degrees F.
Lightly grease a 9″x13″ cake pan with baking spray.
Prepare the cake mix according to the box directions.
Pour into the prepared pan but DO NOT bake it.
Using a large bowl, whisk together the pumpkin, evaporated milk, cream, eggs, brown sugar, pumpkin pie spice, and dulce de leche until smooth. Slowly pour the pumpkin pie mixture on top of the cake mix.
Do not panic that some stayed on top and some sank and you are thinking what the heck.
Bake for 50-60 minutes or until the center is no longer jiggly, and a toothpick inserted into cake mix comes out clean.
Let cool to room temperature while you prepare frosting.
Make the frosting:
Place the vanilla pudding mix into a large bowl, add the pumpkin pie spice, dulce de leche and pour in the cold milk. Whisk until combined and starting to thicken.
Gently fold in the Cool Whip until it's completely combined.
Spread on top of the cooled cake.
Chill the cake for an hour and serve.