This Peanut Butter and Jelly Bread cuts out the middleman and gives you a PB and J sandwich right into the bread loaf itself.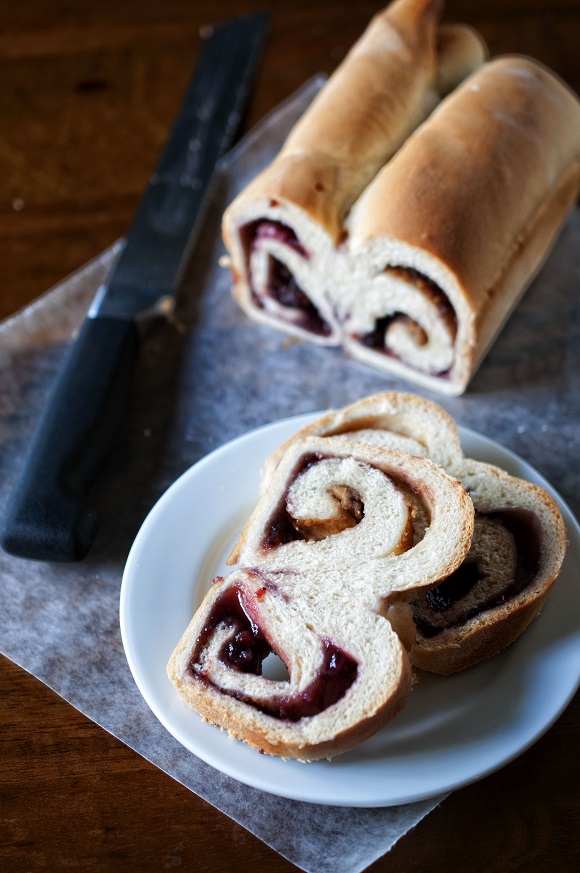 When you teach school about every other year they find a new amazing program that is going to revolutionize the way you teach.
After a while you get cynical because it's usually the same stuff just in a different package.
And you are forced to learn something that in two years will change again.
So cynical that you create Bingo boards for when the workshops come and they say the same key phrases over and over again.
Hey cut us some slack, they don't offer open bar (or any bar for that matter) at these things and one needs to entertain themselves.
One year we all had to learn about what color we were, I believe the program was called True Colors (don't quote me on that and I'm too lazy to Google it).
We all have a primary color and a secondary color that were associated with how we learned and who we are as a person.
It was similar to a Myers-Briggs test if you are familiar with that.
We were to have our students all take the test and then plan each lesson around all their different learning styles.
Excellent.
When I only have 5 kids in my classroom I'll be more than happy to do that for them.
I would love to give Timmy some clay to show me what he learned building something because he is a tactile learner.
And let Susie act out what she learned doing interpretive dance because she's an orange blue.
All the school has provided me with is a boring book and won't pay for any supplies.
And my $25,000 a year salary just isn't supplementing that real well. 🙂
It's back to school time.
Many kiddos already started back and around here my step-kids start back next Wednesday.
My FB feed is filled with parents complaining about all the school supplies needed for the kids and I get it.
That crap all cost money.
A lot of money.
But I've also been on the flip side of why they are asking for it.
Though I was actually nice enough to make a timeline for parents of we need this RIGHT NOW and we need this by such and such date so they could spread out the cost over time.
Since I've been on the dark side (aka teaching) I'm going to offer up my tips for parents…real tips for the upcoming school year.
1. If your kids are out of elementary school don't forget that the junior high and high school teachers need your help just as much…sometimes more.
Your kids even though will deny it also need your support just as much.
Sure they aren't cute little 6 year olds drawing you photos of their dog and telling you they love you.
But they are still kids (though slightly B.O. smelling surly kids) and need support.
2. If you know your teacher drinks alcohol get her/him a gift card to Total Wine instead of Starbucks.
No really.
Seriously.
Kids will cause you to drink…and some kids more than others.
You know how mommy needs her wine?
So does teacher.
In fact more like tequila shots.
Just keeping it real. 😛
3. If you don't know if the teacher drinks or you know for sure she/he does not drink get them a gift card that is just money, you know the AMEX or Visa ones.
If you are saying what if they don't spend it on the kids?
They do.
It physically may go to pay part of their utilities that month.
But I can assure you that the reason they can't pay the gas bill is so that the kids could have construction paper and supplies to do the science experiment in class that week.
4. Don't come up the first day of school right before class is to start and want to have a long conversation with her/him about your child.
We do want to know about your child very much so…just not one minute before school is starting.
In fact what would be super helpful is just to say here is a list of my son/daughters strengths and some areas they struggle with.
Followed with I'd love to make an appointment with sometime in the coming weeks when things slow down a bit for you.
Yes we will figure out eventually that Bobby didn't quite get a grasp onto fractions last year.
But wouldn't it be some much easier to let me know ahead of time so I don't waste a few weeks figuring that out?
It's always great to play up your child's strengths, especially in front of your child, but also being honest with what they are having trouble with really will help the teacher and in turn help your child better succeed.
5. If you can financially do it, seriously consider re-buying some of the classroom supplies midway through the year….markers especially.
Dry erase markers and regular markers all dry up pretty quickly especially when the caps never seem to get on tight.
Glue.
Glue sticks.
Crayons.
By the time mid-year comes around those are all looking pretty sad.
6. Speaking of supplies, be honest with the teacher.
If you truly can't swing everything right now tell them.
Ask them what does my child really need THIS second.
What will they need the first two weeks of school and what can't wait until I get paid again?
I promise we won't think any less of you.
No one understands about living paycheck to paycheck than a teacher, especially if they are a single teacher.
There is a reason why they call the teaching profession "a great second income" because as a primary source it kind of sucks *I taught in AZ which at the time was 48th out of 50 for pay.
Not cool AZ.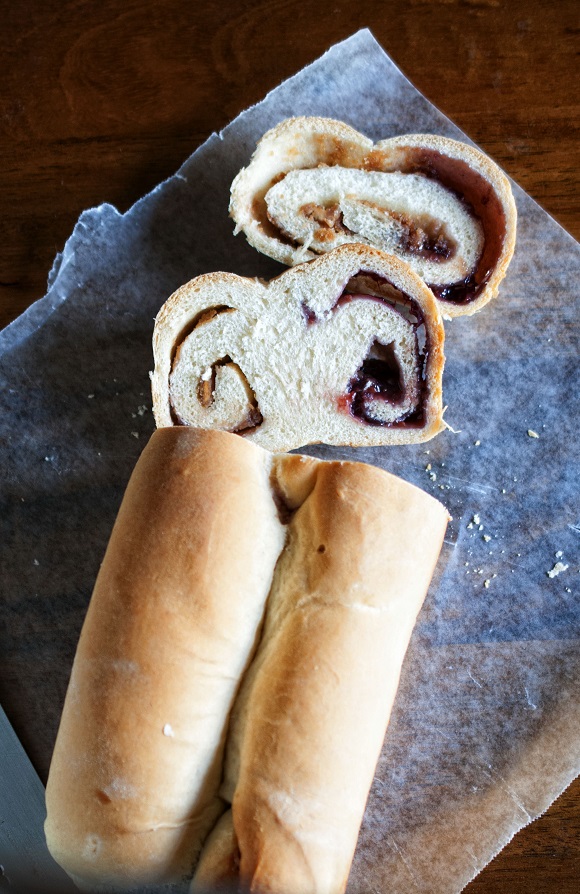 7. Feel free to send the teacher a note or nice word or make him/her this Peanut Butter and Jelly Bread.
I used to love getting notes (especially when you teach older kids) that says just wanted you to know that Megan loved your lesson yesterday, she wouldn't stop talking about it at dinner.
Just like kids need encouragement, teachers do to.
It keeps us going.
8. Don't tell the teacher that what she/he teaches is boring and we should try and make it more fun for your kids.
As much as I would love to make algebra as exciting as Halo 4, sadly it is not.
In today's society of smartphones, tablets, video games, You Tube, you name it, teaching has become harder and harder.
Because children expect everything to be just as fast pace.
The quadratic equation isn't going to be as awesome as Llamas with Hats (kids love it, no idea why).
Instead help your teacher by telling kids that not everything is going to be wildly entertaining but that learning it is important and the reason why.
One thing I made sure to point out time and time again when teaching math is that other than a professional ball player/rock star the majority of high paying jobs involve math.
In fact I had a poster that showed what jobs paid what and what math you needed to get those jobs.
Trust me that made a difference because all my junior high and high school kids wanted money, most people do.
9. Just like not showing up 1 minute before school starts don't come to talk to your teacher at the end of school on a Friday.
We are bee lining it to parking lot to get to happy hour or just to go home and become one with the couch.
Just like you don't want your boss to schedule you a meeting at 4:55pm, we really don't want to talk about kids when the weekend is just steps away from happening.
Again, seriously schedule a meeting we would be happy to meet with you.
10. Yep we have favorite kids.
And probably not who you think.
People seem to think it's the suck ups with straight A's.
No.
I like a quirky kid that doesn't necessarily get the best grades.
One that handles me nudging them time to time telling them that they are capable of doing better and they know it.
Ones that will equally tell you that lesson was awesome or that one seemed pointless.
Kids I could joke with.
It's going to be different for every teacher.
But no, I'm not going to lie and not say we don't have favorites.
So there you have it.
Probably not the normal back to school tips.
But probably more along the lines of what your child's teacher wishes she/he could say to you. 😀
While no one can seem to bring it to school anymore, when I was growing up Peanut Butter and Jelly sandwich was a staple.
It was in the lunchbox rotation at least once a week if not more.
Because it was one of the ones that didn't come back. 🙂
We have had the fortune of cool weather for the Labor Day Weekend.
A preview of fall weather to come I sincerely hope.
So I was wanting to bake bread.
I figured why not skip the middleman and add the peanut butter and jelly right to the bread?
And create Peanut Butter and Jelly Bread.
Last but not least…it's a great time to order my cookbook. 😀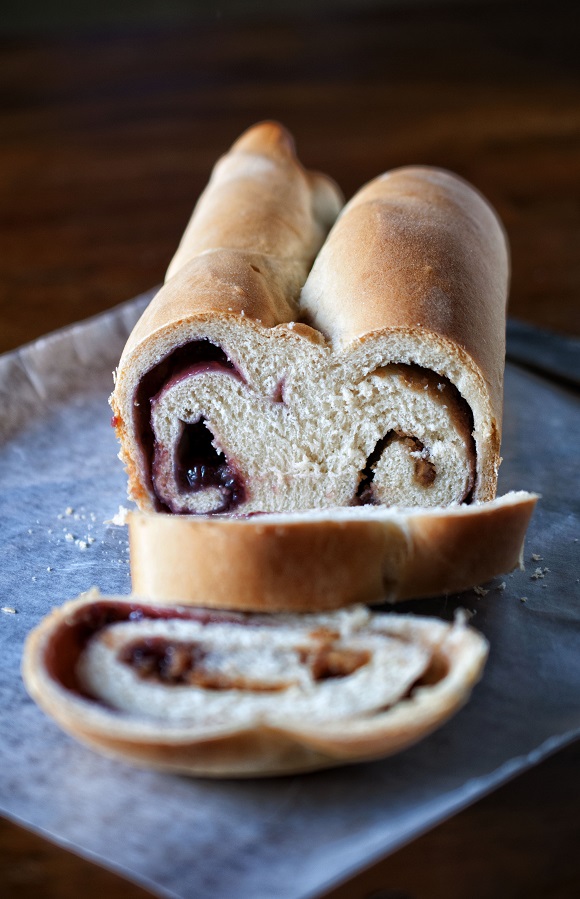 Want More Bread Recipes?
Orange Blossom Chocolate Challah Bread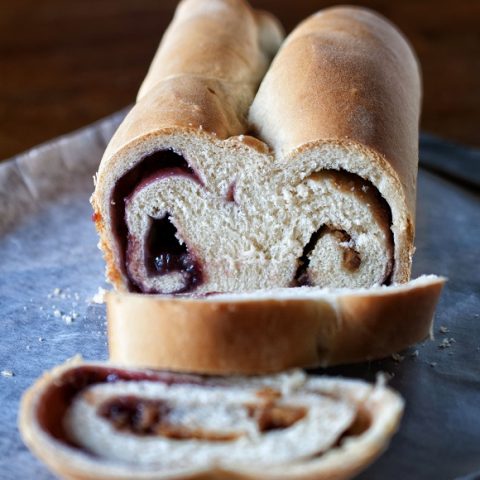 Peanut Butter and Jelly Bread
Ingredients
Dough:
1 ¼ cups lukewarm water(100-110F)
1 ½ TBSP vegetable oil
2 tsp. honey
1 envelope active dry yeast (I used Red Star Yeast Platinum)
1 ½ cups all-purpose flour
1 ½ cups bread flour
1 ½ tsp. salt
Filling:
½ cup peanut butter (I used Jif)
½ cup jam of your choice (I used my mom's homemade triple berry)
Instructions
In the bowl of a stand mixer add the water, oil, and the honey.
Sprinkle the yeast over the top and whisk to dissolve.
Let stand for 5 minutes, mixture will look a little foamy.
Add the flours and the salt.
Add the dough hook and mix on low speed for about 7 minutes.
Turn the bread out onto a floured work surface and knead until the dough is soft and somewhat sticky yet firm to the touch, about 10 minutes.
Form dough into a ball and place into a lightly oiled large bowl.
Cover with plastic wrap or towel.
Let dough rise in a warm, draft free spot and let rise for 1 ½ hours. Mine took longer as our house was cold.
After the 1 ½ hours punch down the dough and let it rise for another 30 minutes.
After the second rise, divide the dough in half.
Lightly flour a work surface and place half of the dough on it.
Using your hands pat the dough into a rectangle about 10 ½ by 8 inches (I had to use a rolling pin to get it that length) and about ½ inch thick. If you are going to make a loaf like the one pictured you need to roll out to 16x8.
Starting from the long side nearest you spread ¼ cup peanut butter on to the dough. I made a stripe pattern in order to better mix the peanut butter and jelly. So one TBPS peanut butter, then one jelly, and so on. Do the same with the ¼ cup of jelly. Make sure to leave 1 inch uncovered on each side to prevent oozing.
Do this for both loaves.
For rolling the dough I made two different kinds of loaves, a standard loaf and the one pictured. To get the one pictured you are going to need the longer rolled out dough. Starting with the edge nearest to you, roll up the dough.
Fold in half and tuck in the sides and seal with a pinch on the ends.
Place into a prepared 8x4 loaf pan.
Cover with a towel or plastic wrap and let rise for 40 minutes.
Position one rack in the center and a second rack in the lower third of the oven and preheat to 400F.
Place a pan of hot water on the lower rack.
Bake until the loaves are golden and sound hollow when tapped on top, 30-40 minutes.
Let the loaves cool in the pans for about 15 minutes.
This makes GREAT French toast. You should try it.
Adapted from Good Morning Baking by Mani Niall