These Sugar Cookie Cinnamon Rolls are filled with sugar cookie dough truffles, sugar cookie mix, and crushed sugar cookies! Sugar cookie overload.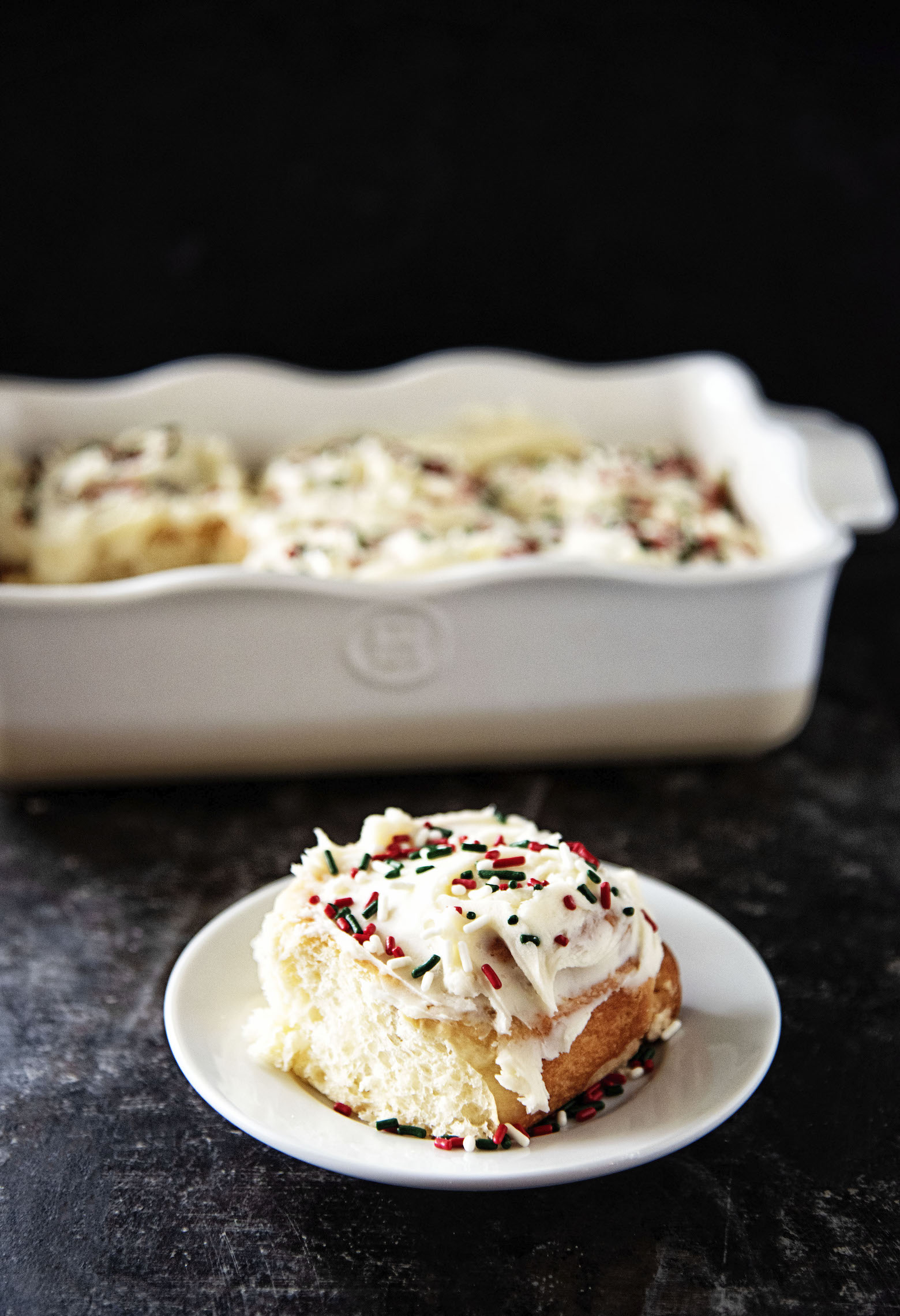 I'm rather boring in that my favorite Christmas cookie is just a frosted sugar cookie.
I don't like rolling them out.
Nor do I enjoy frosting them.
But boy do I enjoy eating them.
I'm in the holiday mood and so I made some Sugar Cookie Cinnamon Rolls to feed my festive spirit.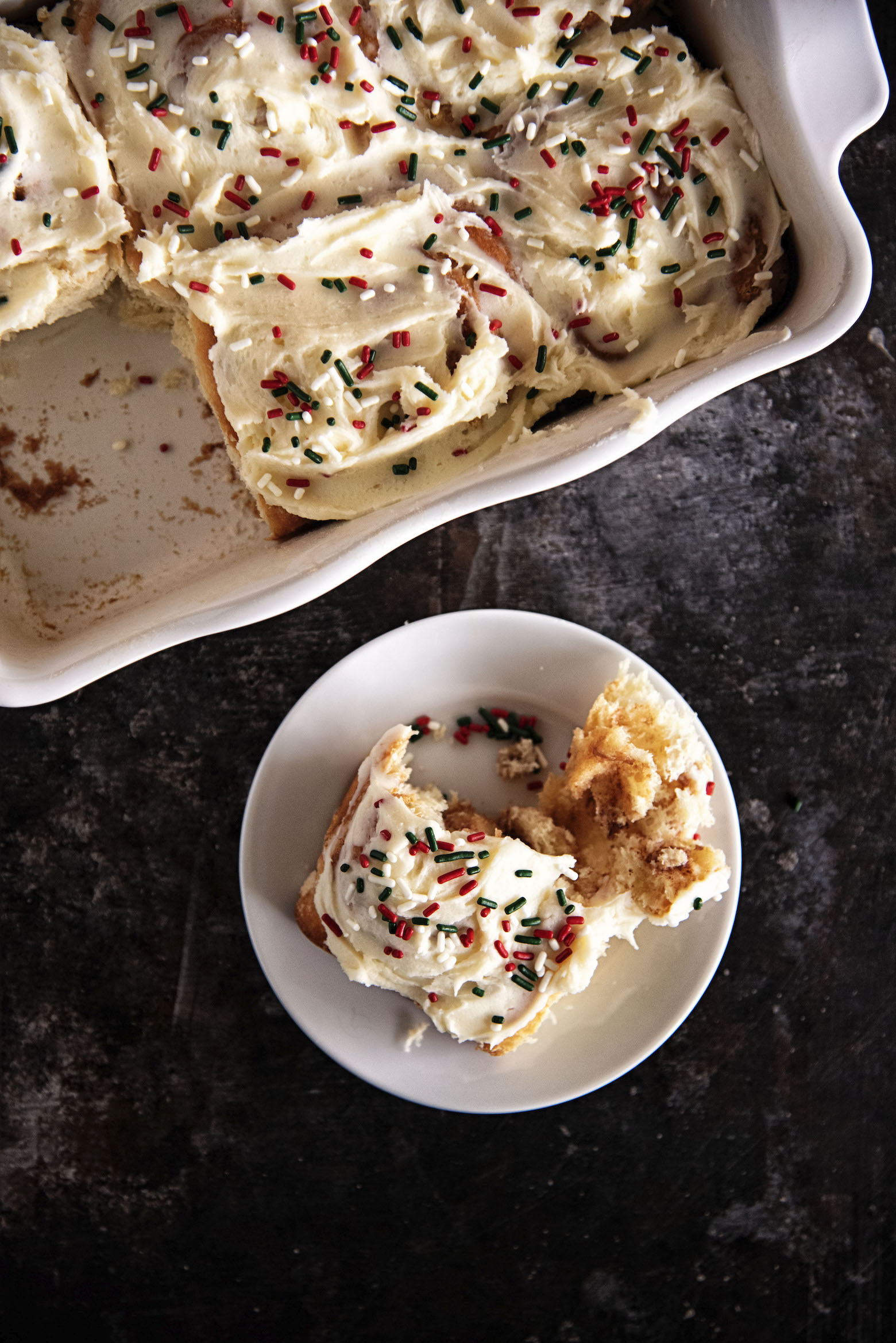 My husband is currently battling our Christmas tree.
Yes, I am aware that it's November 10th.
This is the weekend we had off to do stuff. Deal. 😛
For 13 years I had a very cheapy tree from Target that finally a few years ago just gave up. 🙂
So we tossed it out.
Since we were starting from scratch we decided we would get a tree that they lights were already attached.
Great idea right?
Wrong.
So wrong.
Because when you have a tree you put lights on you check the strand of lights before they go on.
So you know which strands of lights are out.
Fix them or toss them.
However, when they are already on the tree that involves you playing Christmas tree explorer and sticking your head into the tree to test each one of the individual lights.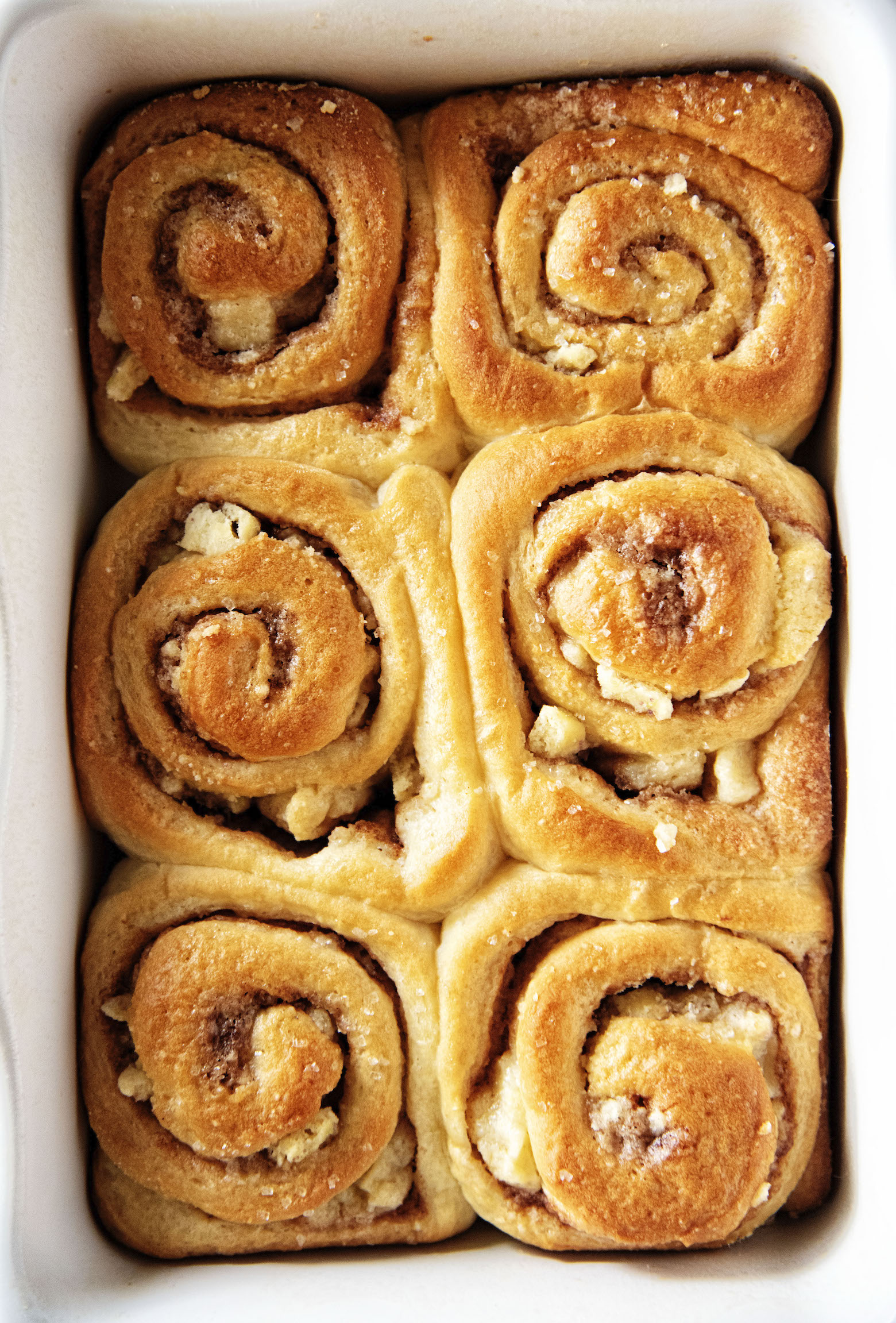 I bought our tree in August 2016 when they were on super sale and I had a bonus coupon they let me use as well.
Even then it was pricey.
But I will say the company has great customer service.
I know that because each year there is an issue with the lights.
The first year we got it was fine.
But the second year the white lights would only work.
Our tree offers both color and white and I like the setting and has them both.
I am super pro lights!
They wanted to know if we watched the trouble shooting video?
We did.
Did we check each light?
Yes.
I then explained my husband was an electrician and they realized that this was beyond a bulb out.
That he even had out the voltage tester.
And so they sent us a new tree.
The company told us we could just donate the tree instead of sending it back and so we found a family that loved white lights and we gave it to them.
That new tree was fine…until last year.
Last year we plugged it in and the whole middle of the tree had no lights.
Once again my husband dove into the tree spending hours trying to figure out what was wrong.
We went through the whole song and dance about checking all the lights and they said they would send us a replacement part for the middle.
Except that they were out of those until next year.
So they were going to have to send us lights for the middle tree that we would manually have to put on until this year.
Ironic, eh?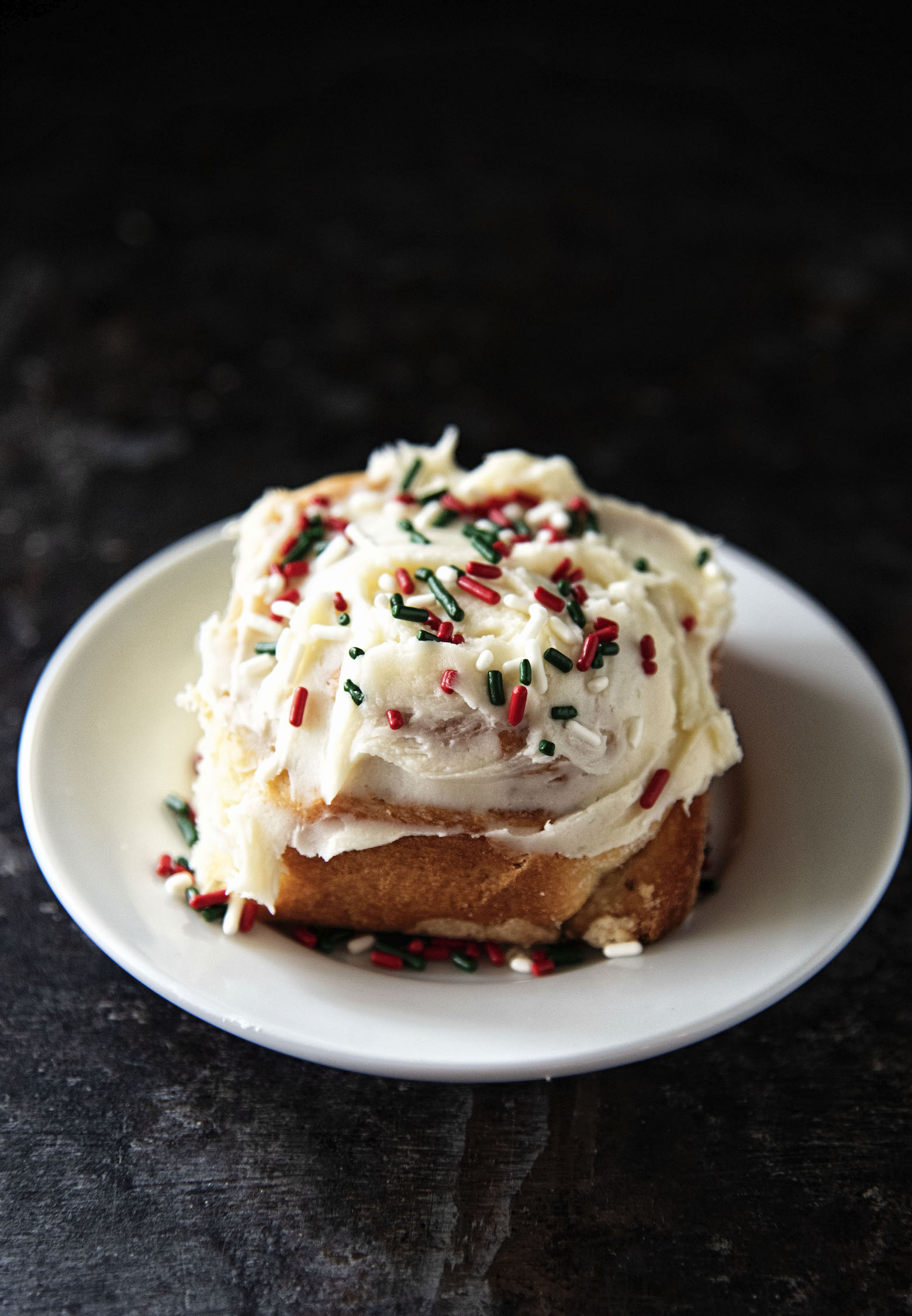 To be honest I had forgotten about it.
Until last month when a GIANT box showed up at my front door with the UPS man cursing my name.
I realized they sent me a WHOLE other tree again.
I'm guessing this one was a refurbished tree because that one has the most light issues we have had in the last three years.
We know they can't send us another tree until next year and honestly at this point it's getting ridiculous.
My conclusion as to why the trees cost so much is because they have to keep sending you new ones.
So wish us luck. 🙂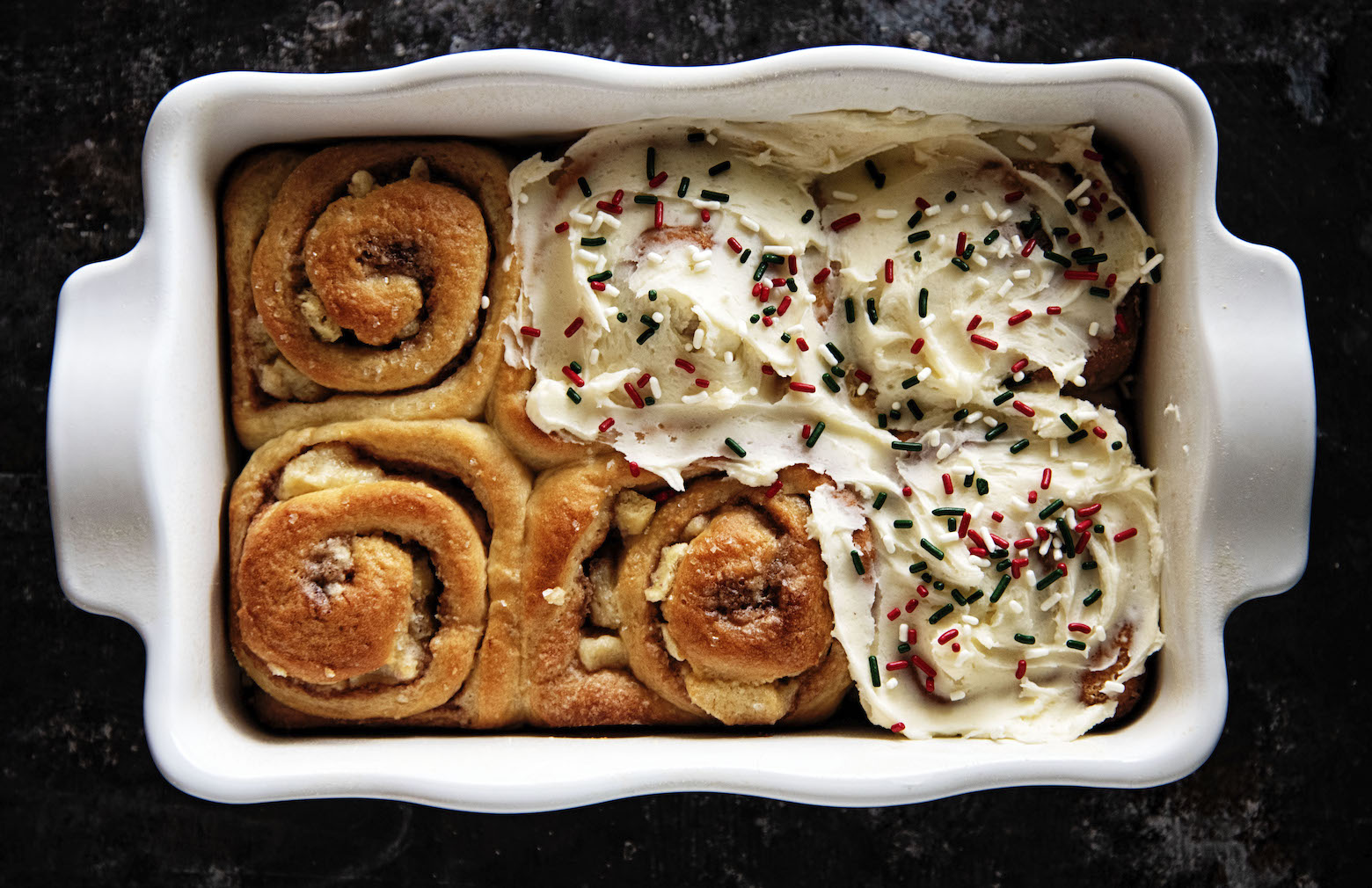 Since the tree was taking way longer than expected I had time to make these rolls.
These have three kinds of sugar cookie elements to it: sugar cookie dough truffles, crushed sugar cookies, and sugar cookie mix.
While you would think they would be super sweet the cinnamon actually really cuts the sweetness.
But I add the sweetness back but frosting the buns with buttercream frosting.
Because I can.
P.S. It's a great day to buy my cookbook Holy Sweet!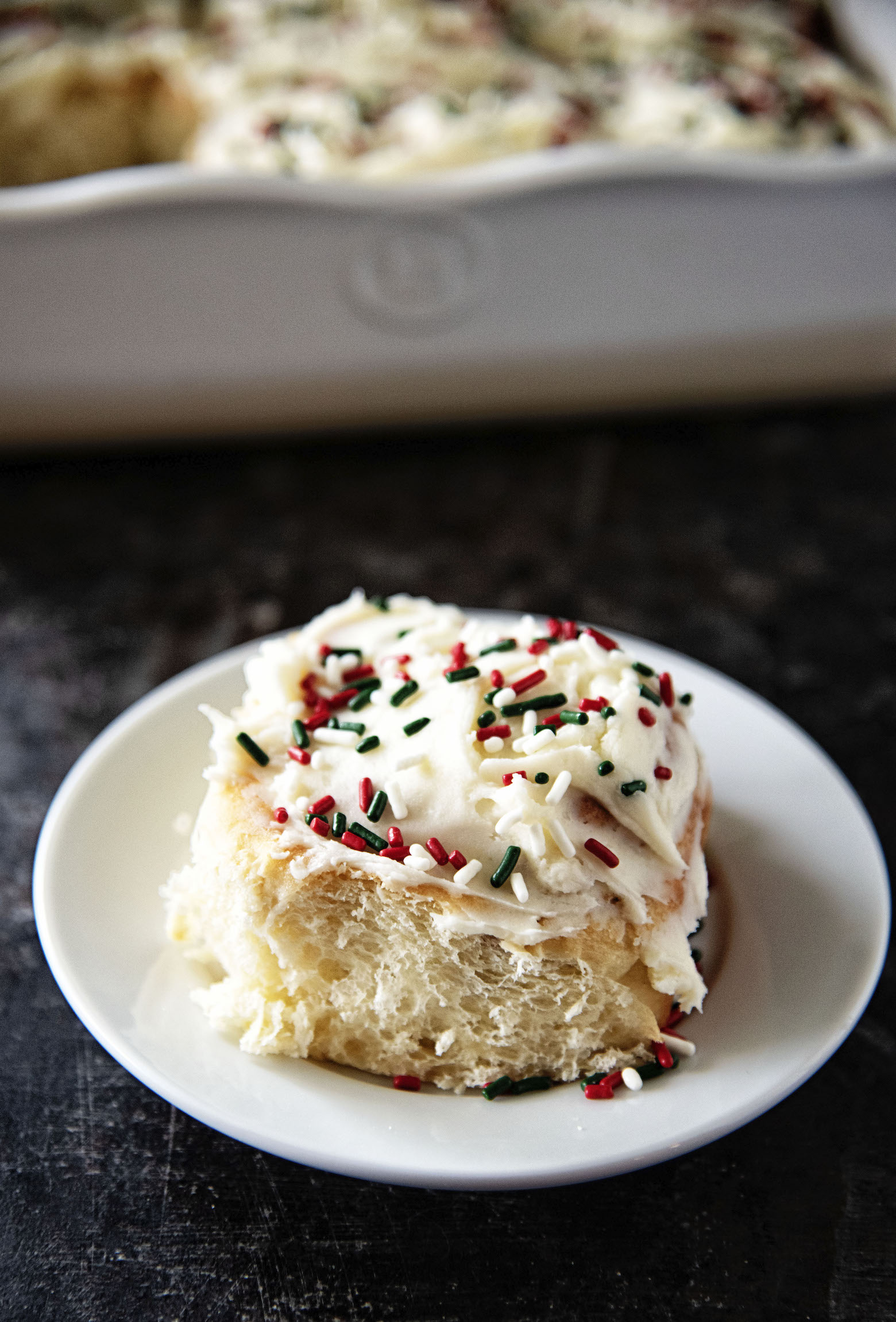 Want More Sugar Cookie Recipes?
Sprinkle Sugar Cookie Cheesecake Bars
Frosted Shortbread Roll Out Sugar Cookies
Triple Berry Filled Vanilla Bean Sugar Cookies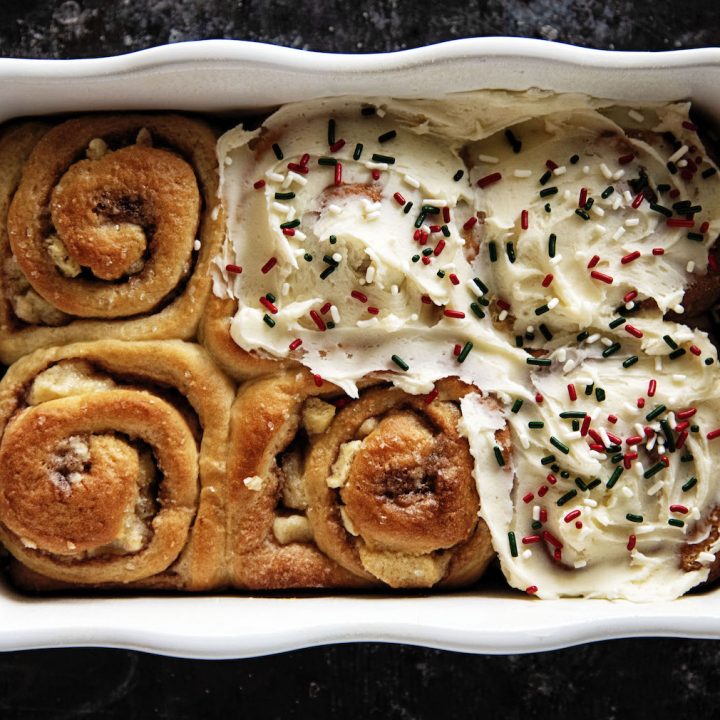 Sugar Cookie Cinnamon Rolls
Ingredients
For the Cookie Dough Truffles:
½ cup unsalted butter, at room temperature
¾ cup granulated sugar
1 tsp. vanilla extract (I used Rodelle)
½ tsp. salt
2 cups all-purpose flour
14 ounces sweetened condensed milk
For the rolls:
1/2 cup warm water, 110 - 115F
1 TBSP active dry yeast (I used Red Star Yeast Platinum)
1/2 cup whole fat buttermilk, at room temperature
2 large eggs
1/2 cup plus 1/2 tsp granulated sugar, divided
1 tsp. salt
1 tsp. vanilla extract
6 Tbsp unsalted butter, melted and slightly cooled
3 1/2 - 4 cups bread flour
For the Filling:
6 TBSP unsalted butter, super soft but not quite melted
1 cup granulated sugar
2 TBSP cinnamon
1/2 cup dry Sugar Cookie Mix
2 cups crushed sugar cookies
Buttercream Frosting:
1 cup unsalted butter, at room temperature
1 tsp. vanilla extract
7-8 cups powdered sugar
About ½ cup of milk (will depend on the consistency you want)
Instructions
For the Cookie Dough Truffles:
Using a stand mixer (or a bowl and beaters), cream together the butter and sugar until light and fluffy, about 3 minutes.
Beat in vanilla and buttery sweet dough emulsion.
With speed on low, slowly add flour, alternating with condensed milk, beat well after each addition.
Roll into 1-inch balls and place in fridge until ready to use.
You will not use all the cookie dough truffles. They are great to eat just plain.
For the Dough:
Using a stand mixer with the paddle attachment add the yeast, warm water, and 1/2 tsp. granulated sugar.
Let rest for 5-10 minutes to proof…the batter will puff up. If it does not then your yeast is bad and rolls won't rise so best to throw out and start again with different yeast.
Add in buttermilk, eggs, 1/2 cup granulated sugar, salt, butter dough emulsion, vanilla, and melted butter and mix until fully combined.
Add in 2 1/2 cups of the flour and mix until fully combined.
Switch to a hook attachment then add another 1 cup flour. Knead mixture until combined.
Continue to knead on low speed about 5 - 6 minutes while adding a little more flour as needed to reach a soft and moist dough (Dough shouldn't stick to the sides of the bowl but does stick to the bottom).
Transfer dough to an oiled bowl, cover with plastic wrap (I find press and seal works best) and let rise in a warm place until doubled in volume, about 1 1/2 hours.
Once the dough has doubled in size then punch dough down.
Dust a working surface lightly with flour and turn dough out onto surface.
Sprinkle top of dough with a little flour then roll dough out into an 20 by 18-inch rectangle.
Spread the softened butter evenly over entire surface (hands work best).
For the Filling:
Mix together the granulated sugar, sugar cookie mix, and cinnamon in a small bowl. .
Sprinkle and spread cinnamon sugar cookie mixture evenly over butter layer (try to leave about 1/2-inch border uncovered along all edges).
Sprinkle the crushed sugar cookies over evenly over the cinnamon sugar cookie mixture.
And then sprinkle about 30 cookie dough truffles over the top of the crushed sugar cookies and cinnamon sugar mixture. You can use less truffles if desired.
Beginning on an 18-inch side tightly roll dough into a cylinder. Pinch the seam to seal (brushing a little egg white underneath helps if needed or I just use a toothpick).
Cut into 12 equal portions using a large sharp knife (they should be 1 1/2-inch each). They are large rolls. So I usually divide the mixture up between two greased 9-x-13-inch pans. I used a smaller pan for photo reasons only.
Cover with plastic wrap loosely.
Let rise in a warm place until doubled in volume, about 1 1/2 hours.
Preheat oven to 350F near the last 20 minutes of rolls rising.
Bake rolls in preheated oven until centers are no longer doughy, about 25-30 minutes.
Cream together the butter and two cups of powdered sugar.
Add vanilla.
Continue to add powdered sugar 1 cup at a time.
When it starts to get too thick begin to add the milk.
Keep adding powdered sugar until you reach desired consistency.
Frost the rolls and add sprinkles if desired.