This Chocolate Graham Cracker Cake uses crushed graham crackers in place of flour. Drenched in chocolate sauce. Graham cracker lovers this is your cake.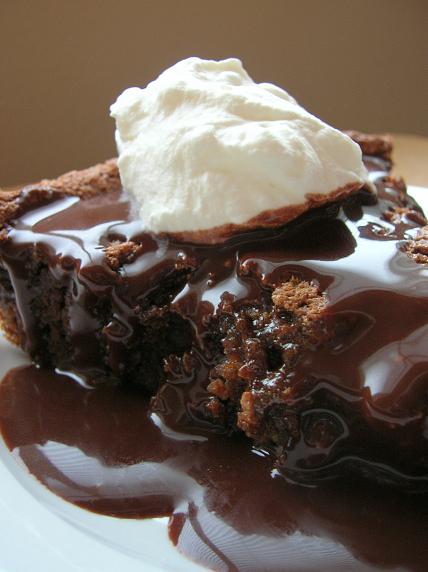 When my dad was still working (he is retired now) my parents would go to a convention every year, each year being held in a different city.
To combat their guilt of getting to go and do something fun my mom would always ask what would I like for her to bring back.
Every year it was the same answer: a sweatshirt from the local college and a regional cookbook, preferably from the local junior league.
I have quite the collection of both.
So in keeping with my Southern theme I was kind of on I went rummaging through all the Southern Junior League books I had.
Several of them had a recipe for graham cracker cake.
I had never heard that in all my life, so of course I had to make it.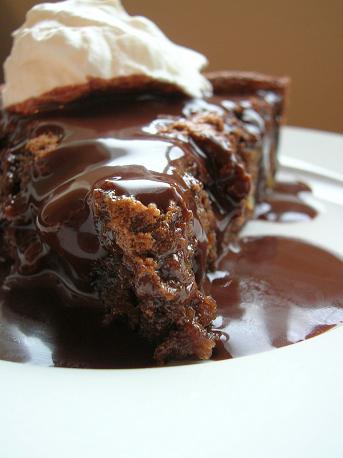 The original recipe was a mocha one.
But hubby doesn't like coffee flavor so I omitted the 1 TBSP of powdered coffee, feel free to add it if you like.
Such an odd cake, no flour but doesn't taste like a flourless cake since the graham cracker crumbs take on the roll of flour.
It definitely had a distinct graham cracker taste which I liked since I liked graham crackers.
It was also chocolatey.
Hubby did not like this Chocolate Graham Cracker Cake at all.
He thought it just tasted like mushy graham crackers.
And proceeded to tell me that he only likes graham crackers because of their crunch.
But he is weird and hardly eats anything normal including veggies, fruit, beans and soup.
It had a frosting, which was more of a glaze, but I chose to put chocolate sauce on it instead.
You will have to excuse the bad photos.
Today was super dark.
We got a ton of rain, and though Seattle is known for it's rain, we rarely get the down pouring that we had today.
So working with natural light was rough since I didn't get any.
Sigh.
P.S. It's a great day to buy my cookbook Holy Sweet!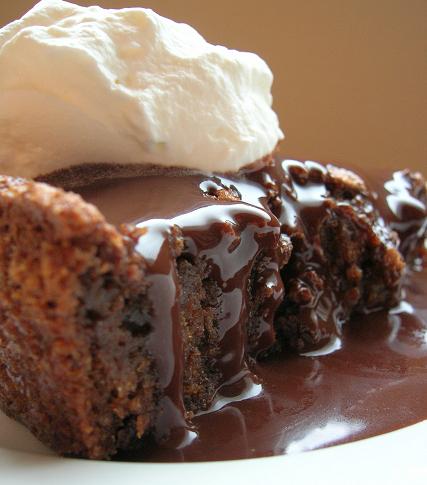 Want more chocolate cake recipes?
Chocolate Salted Caramel Popcorn Layer Cake
Chocolate Gingerbread Layer Cake
Chocolate Root Beer Float Bundt Cake
Fireball Caramel Pecan Topped Chocolate Cinnamon Flourless Cake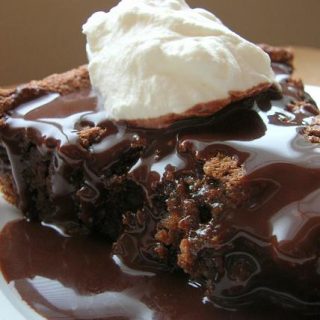 Chocolate Graham Cracker Cake
Ingredients
For the cake:
1/2 cup butter
1 cup sugar
3 eggs, separated
2 cups graham cracker crumbs
2 TBSP baking powder
3 TBSP cocoa
1 tsp salt
1 cup milk
1 tsp vanilla extract
1/2 cup chopped nuts
Chocolate Sauce
1 cup Whipping cream
2 tablespoons Sugar
4 ounces Bittersweet chocolate, chopped
1 tablespoon Unsalted butter
Instructions
For the cake:
Preheat oven to 375F.
Cream butter and add sugar and egg yolks, mixing until well combined.
Add graham cracker crumbs, baking powder, cocoa, salt, milk, vanilla extract, and nuts; mix well. Beat egg whites until stiff and fold into mixture.
Pour batter into two greased and floured 9 inch round pans.
Bake 25-30 minutes.
Cool slightly.
Turn out onto a wire rack to cool completely.
For the chocolate sauce:
Combine the cream and sugar in a small saucepan and heat to a boil.
Pour the hot mixture over the chocolate and butter in a medium bowl.
Stir until completely melted and smooth.
Strain through a fine wire-mesh strainer into a serving bowl.
Serve warm.