The makings of a portable sundae. Filled with vanilla, banana, chocolate, nuts, strawberries, and topped with sprinkles and a cherry on top these Banana Split Sprinkle muffins let you eat dessert for breakfast.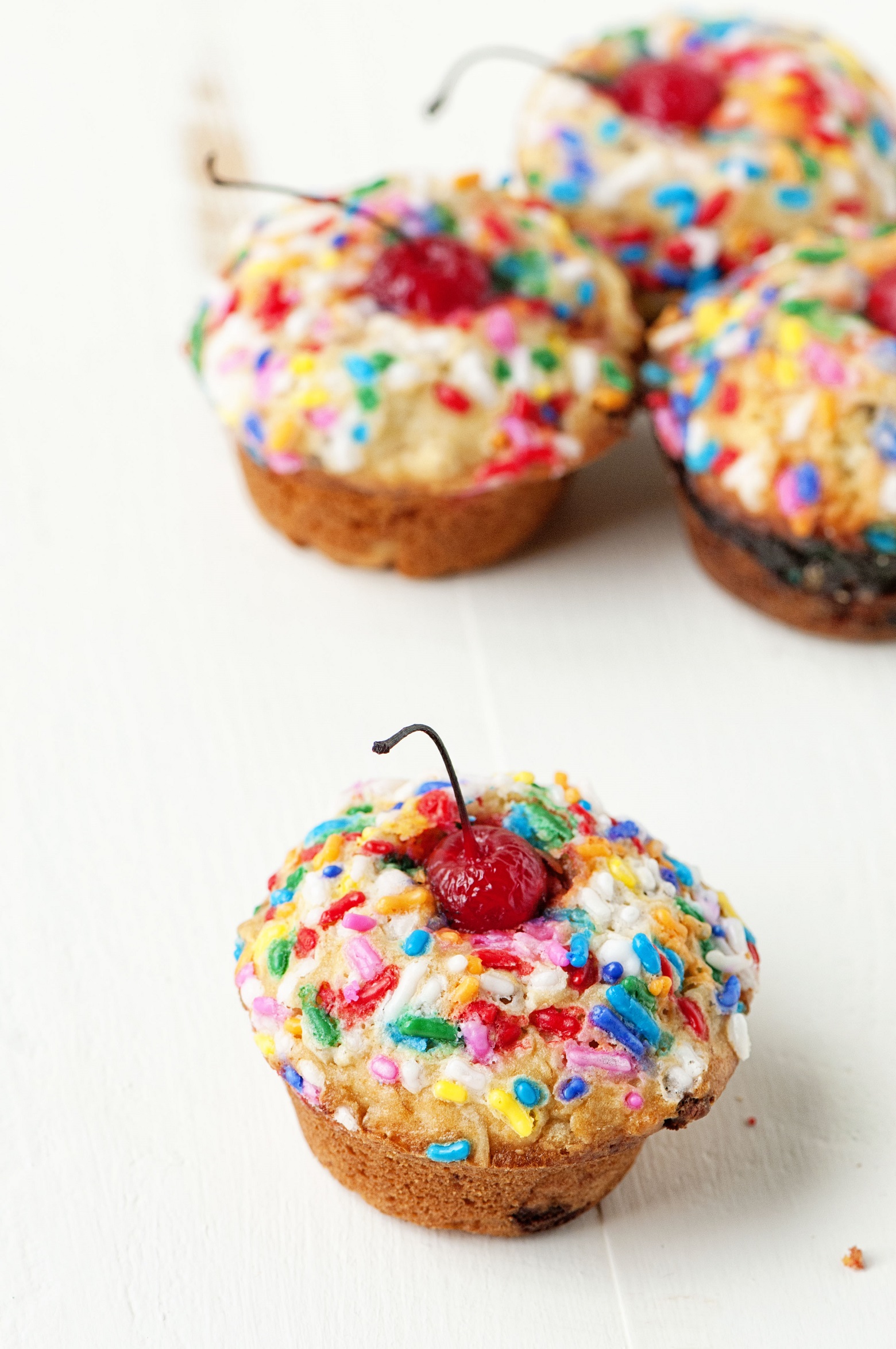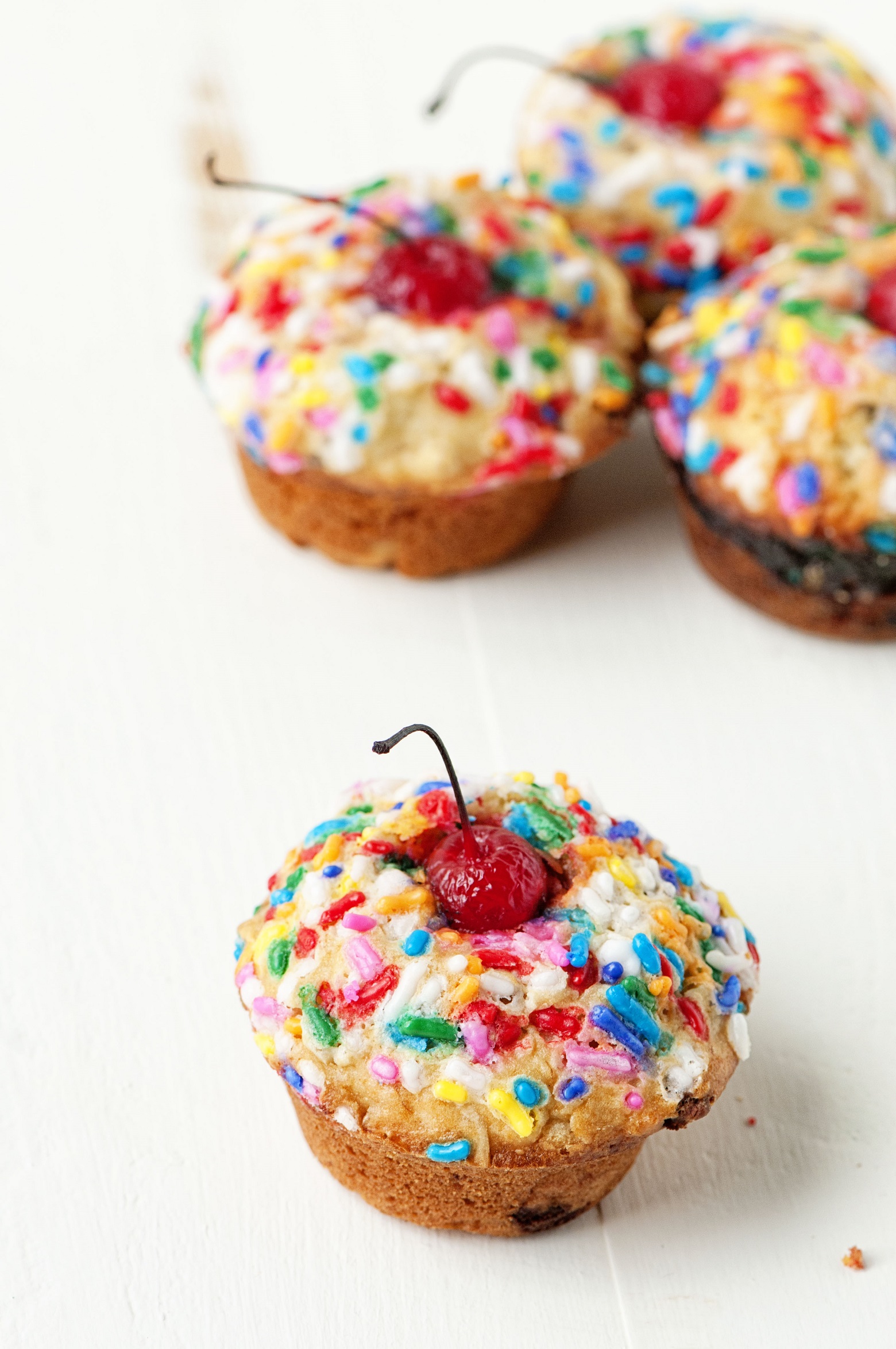 Well, you've had a week now to get used to the new digs. I'm hoping you love it. I've only gotten one complaint…from my own father. 🙂 He doesn't like that he can't tell which one is the new post. I let he know if he reads it daily then he will always know because it will be the post he hasn't seen yet. 😀
I have two people to thank in all of this. My incredible designer Kaytlyn of Beneficial Studio. The first time I ever had a redesign I used her. If you are a long time reader you might remember it….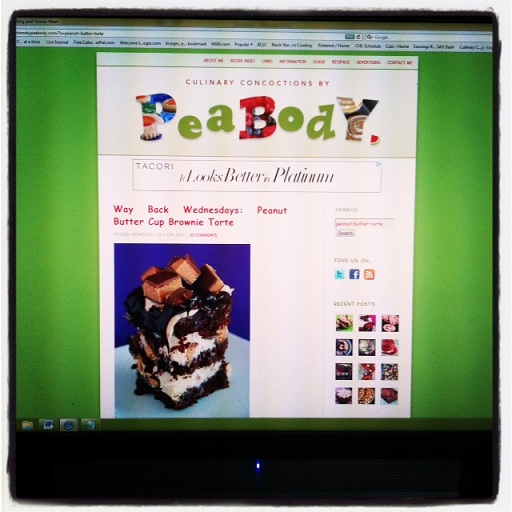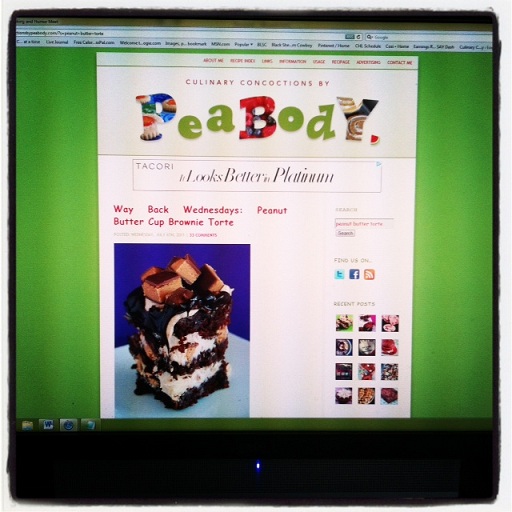 I wanted to go back to more of that feel and we started with a logo and ended up with what you see here. I highly recommend her if you are looking for a redesign.
The other person I want to thank is my ex, aka, The Picky Eater. Yep, him. He used his computer programming skills that soooo do not possess and he does, to do all the redirecting from the old site to the new site. As a thank you I used my miles to fly him out to Seattle this week for the Old Dog Haven Walk since he of course was close to Crazy Cocker Spaniel. And yes, we know we are weird. People were like what? You cashed in your miles to fly our ex-husband out? Yep.
Since it's a rebirth of sorts I thought I would to a little giveaway with one of my most favorite companies to work with, Rodelle. It's an all vanilla package (some extract, some beans, some bean paste) since I am a vanilla a lover. To win you need to leave a comment telling me one thing you like about the new site. You must be a US resident (sorry) and the winner will be picked at random using a number generator. You have until July 19th, 2016 5pm PST to enter.
If you do win….and even if you don't you might want to consider making these fun Banana Split Sprinkle Muffins. This is more vanilla based than banana (only uses one…sorry to those of you with 19 leftover Costco bananas :P). Then filled with all things I like on a banana spilt. You can fill yours with whatever you like on your banana split. But don't forget the sprinkles…because they are for winners…and you're a winner!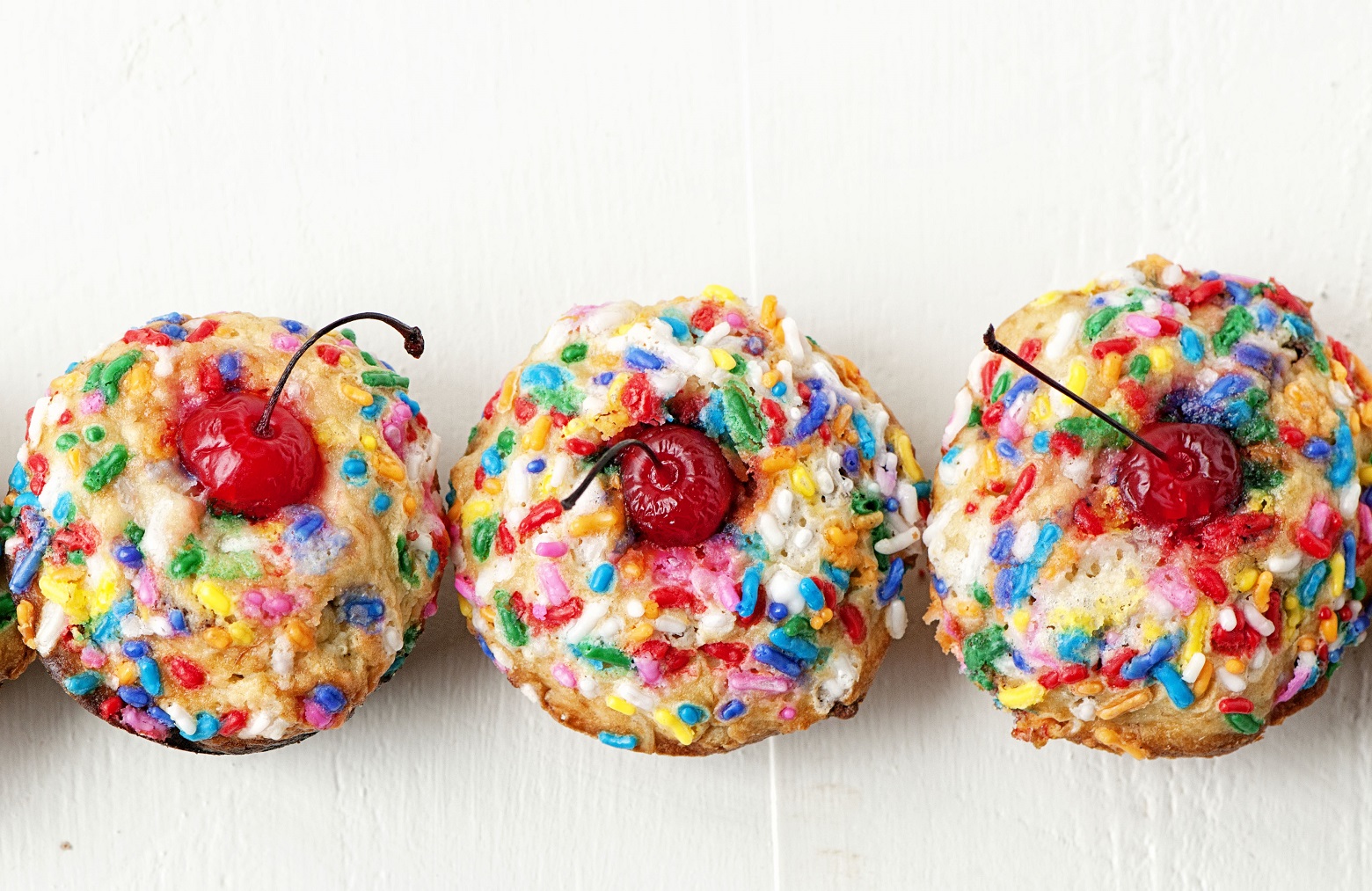 Banana Split Sprinkle Muffins
Recipe Type
:
Breakfast Treat
Author:
Ingredients
8 oz. unsalted butter, at room temperature
1 cup granulated sugar
1 1/2 tsp. vanilla extract (I used Rodelle)
1 large banana, ripe
2 large eggs
¾ tsp. baking soda
¾ tsp. baking powder
Pinch of salt
2 and ¼ cups all-purpose flour
1 and ¼ cup sour cream
¼ cup chopped nuts (I did walnuts)
¼ cup chopped dried banana chips
¾ cup milk chocolate chips
¼ cup chopped dried strawberries
About ½ cup sprinkles
16 maraschino cherries
Instructions
Preheat oven to 350F.
Using a stand mixer with a paddle attachment, cream the butter and sugar until light and fluffy about 3 minutes.
Add banana and beat again.
Add in the vanilla.
Add the eggs one at a time and mix until each is incorporated.
In a separate bowl, mix together the flour, baking soda, baking powder, and salt.
Add the flour mixture and the sour cream alternately to the egg-butter mixture in the additions.
Start with the flour and end with the flour.
Scrape the bowl occasionally.
Fold in all but the sprinkles and maraschino cherries into the batter.
Try to distribute as evenly as possible.
Portion the muffin batter into greased tins (I use an ice cream scoop).
Put a cherry on top of each one.
Then sprinkle about 1 tsp. of sprinkles per muffin.
Depending on the size of your tins, you should get about 12 to 14 muffins.
Bake them for approx. 20 minutes or until a wooden skewer inserted comes out clean.