Vanilla and Chocolate Ice Cream, Bananas, Hot Fudge, Whipped Cream and Sprinkles all in a Sugar Cone Crust make up this easy and festive cake.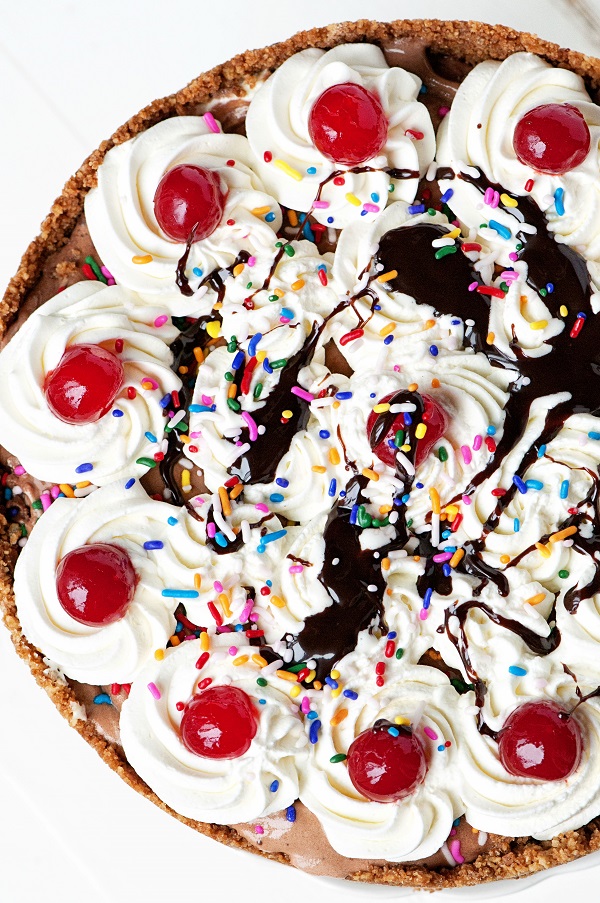 It was birthday week around here and while it was for a dog (who got steak and not cake) we certainly have to have cake when there is a birthday involved. I was really wanting something simple but still festive at the same time, enter this Banana Split Ice Cream Cake.
Now, I know there are still tons of people in the world that think those of us who celebrate dog birthdays are kind of ridiculous. But I'm here to tell you that you need to get used to it. More and more places are allowing dogs, since more and more people are demanding it. I will go to a place over another if they take dogs. There is pet insurance now. We have a local place that is a pub and indoor miniature golf that literally gives you a discount on beer during "yappy hour" if you bring your dog. So yeah, we are here to stay.
Why are the crazy dog people here to stay? I think it's because more and more people are either not having kids (no I have no stats on that 😀 ) and if they are having kids they are later in life. So they get dogs instead. They really are the best. You get unconditional love. You have to pick up their poop, sure, but they don't roll their eyes at you. Demand that you get them a phone, or car, etc. They are sad when you leave. Elated when you return. They think you are the greatest thing ever (because you are). And while the vet does cost money compared to that of having a kid they are a bargain.
While we had steak for the pup the teens were here the next day so I figured why not carry the celebration over and have cake for them. It's been hot in Phoenix (no I didn't move) and I was feeling sorry for my friends that live there…while being super happy I no longer live there. I wanted easy and stumbled across this recipe. I loved the idea of using sugar cones (I had seen it before and forgot about it) in the crust instead of cookies or graham crackers. The cake was a big hit and no one had to know it was super easy to make.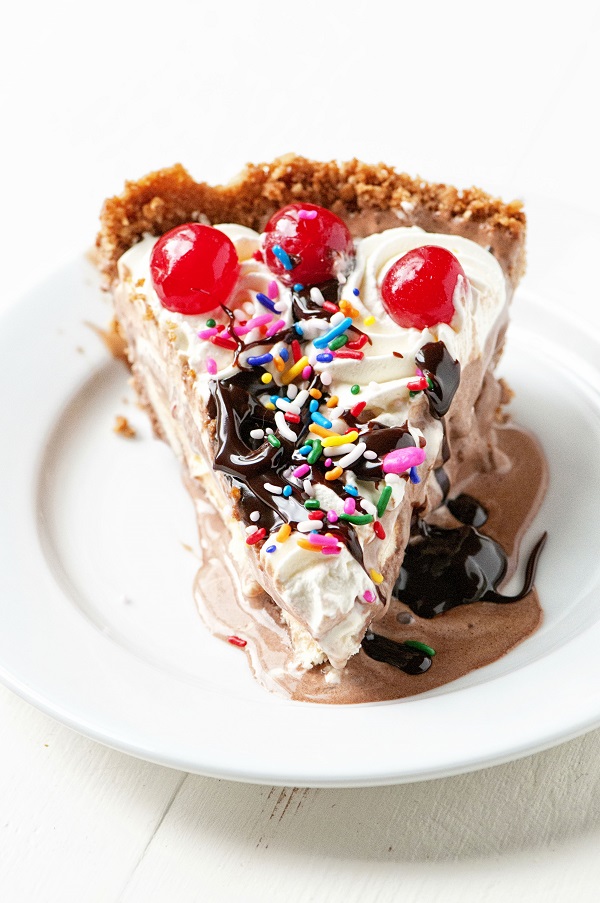 Banana Split Ice Cream Cake
For sugar cone crust:
1½ cups sugar cone crumbs (from 8 ounces of whole cones)
8 TBSP melted butter
For the Filling:
2 cups chocolate ice cream, slightly softened
2 cups vanilla ice cream, slightly softened
2 medium ripe bananas, sliced in coin shape
Topping:
1 cup heavy whipping cream
¼ cup powdered sugar
1 tsp. vanilla extract
½ cup hot fudge
Sprinkles for garnish
Maraschino cherries for garnish
For the crust:
In a medium bowl mix together the crumbs and melted butter.
Stir well with a fork. Grease a 9-inch springform pan with butter.
Press the crumbs onto the bottom and about and 1½ inch up the side.
Put in freezer for 10 minutes while the ice cream sits out at room temperature to get soft.
Spread half the chocolate ice cream over the bottom of the cone crust. Lay the bananas over the ice cream.
Top with the vanilla ice cream. I ran out of vanilla and had to use more chocolate. 🙂
Sprinkle with sprinkles if desired.
Place in freezer while preparing the topping.
Topping:
Using a stand mixer with a whisk attachment, whip together the cream, sugar, and vanilla until stiff peaks form.
Remove cake from freezer.
Spread or pipe the whipped cream over the cake.
Drizzle warm hot fudge over it.
Add sprinkles and cherries if using.
Serve immediately.
If you aren't going to serve immediately make the cake up to the point of the ice cream. Save the whipped cream and hot fudge for just before serving.
Adapted from First Prize Pies by Kave and Ripp