These Laminated Sugar Morning Buns are layers and layers of buttery laminated danish dough swirled up as buns and then coated in sugar.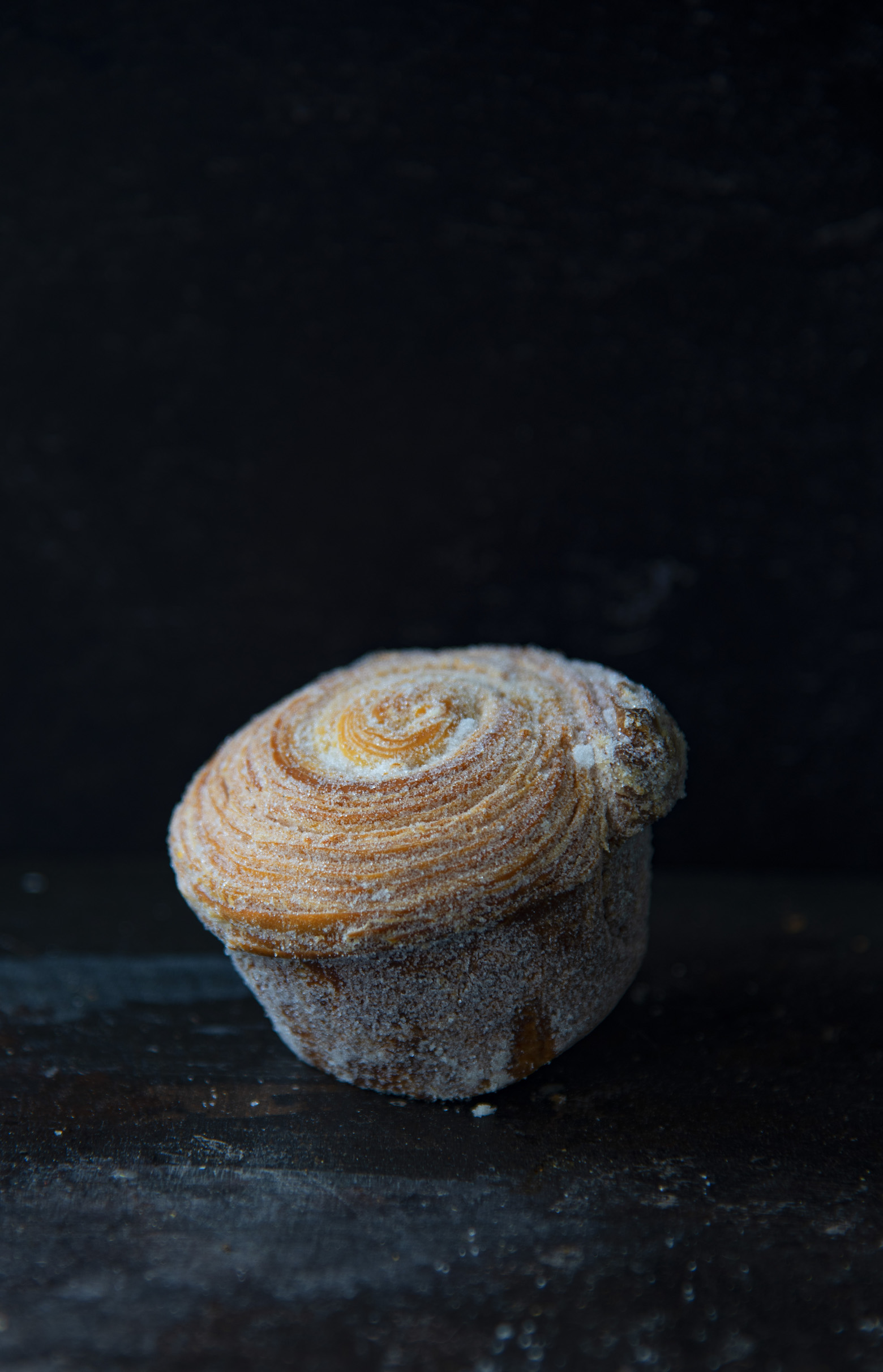 Just as this blog has aged 15 years, so has my body.
Rheumatoid Arthritis runs in my family and did not skip me sadly.
So as much as I love baking there are certain things that literally hurt my hands.
When writing the cookbook on days that I would do marathon test baking I would often wake up the next day not able to really use my hands for several hours.
Which is no fun, FYI.
I wrote about how much I have wanted a dough sheeter and a soft serve ice cream machine for years.
We lucked out when we found a very used older dough sheeter but worked and was crazy cheap.
So we jumped on it.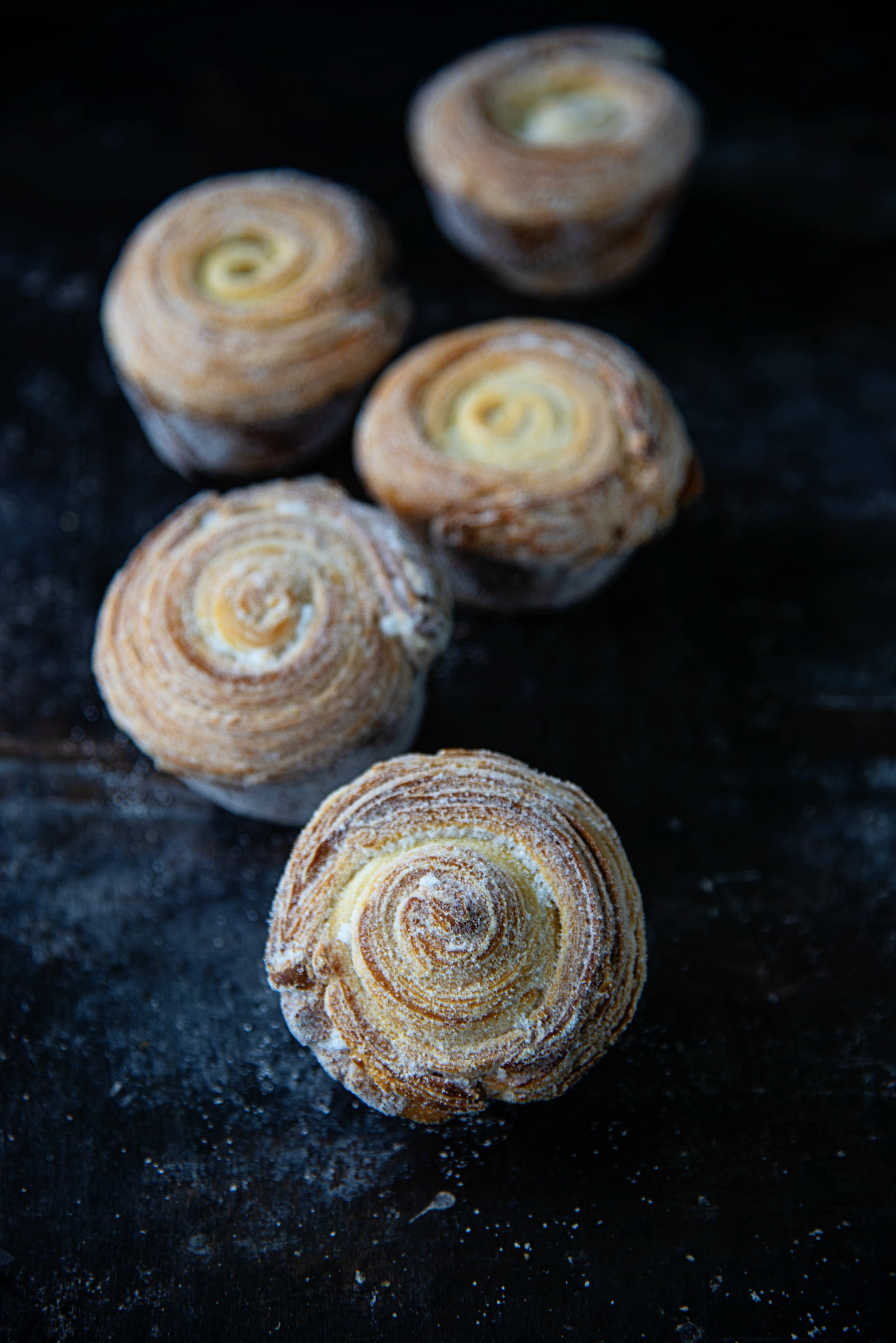 I knew getting a sheeter would make for better layers.
Since it can flatten the dough so quickly the butter doesn't get warm.
It also keeps it all the same measurements.
But actually seeing it work and the results it produced I am super sold on my new to me toy.
I've been trying out different styles of laminated dough to see what I like best.
This danish dough has been very versatile and I like that in a dough.
I stayed simple and made these Laminated Sugar Morning Buns.
There is nothing swirled in them, though that will be next, just a simple roll in the sugar.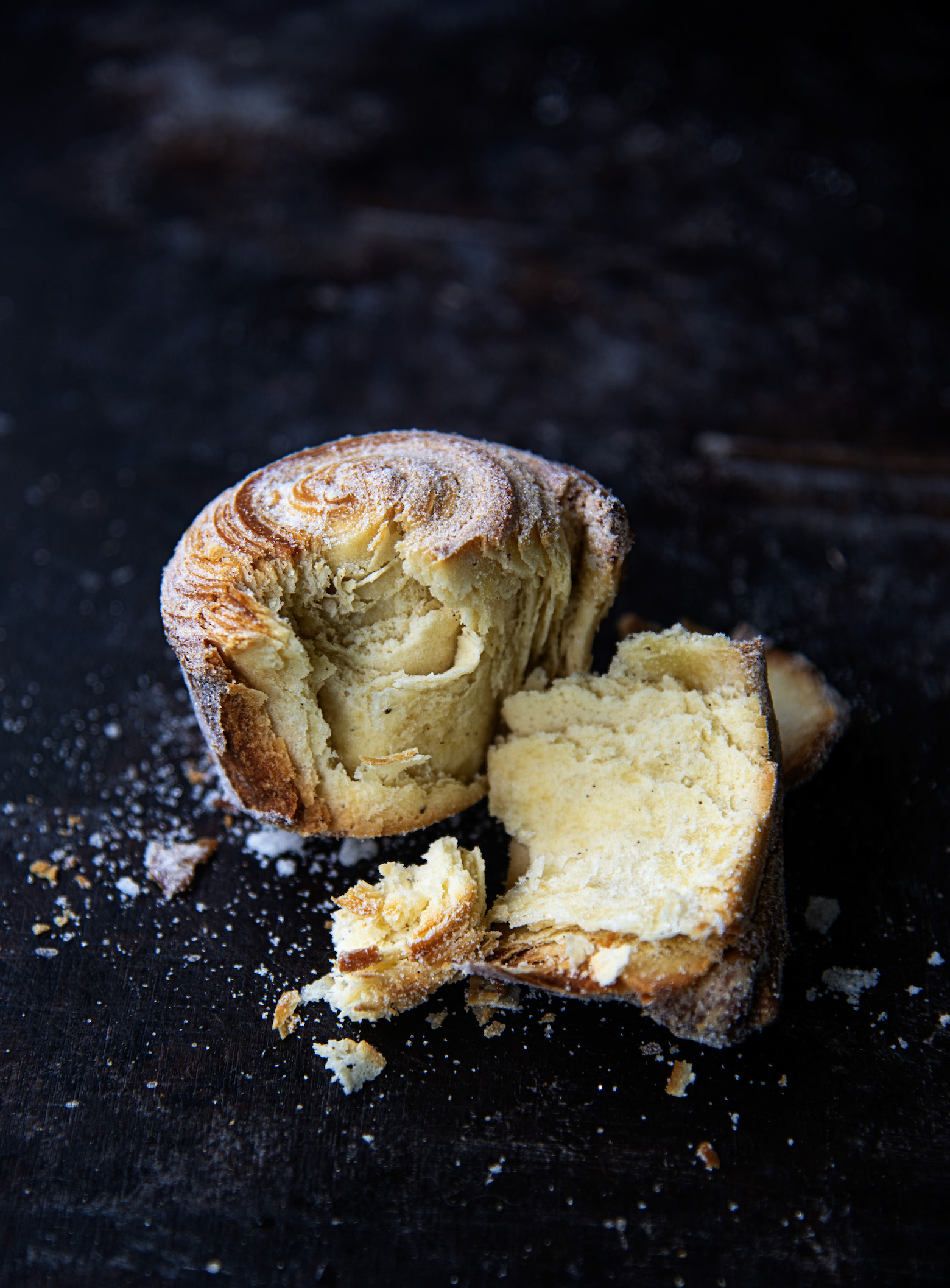 While you can certainly eat them plain, and we did, what my husband and I ended up doing with the majority of them was make strawberry shortcake.
We sliced them in half and heated just slightly and then put a little pad of butter on them.
Topped of course with strawberries and whipped cream.
It's definitely a yummy way to have shortcake.
A very yummy way.
Don't be discouraged if you make these and don't have as many layers as I do.
I am using a commercial machine after all.
But up until this point I have always made laminated dough rolling it out with my two hands.
So it can be done.
And as always it's a great day to order my cookbook.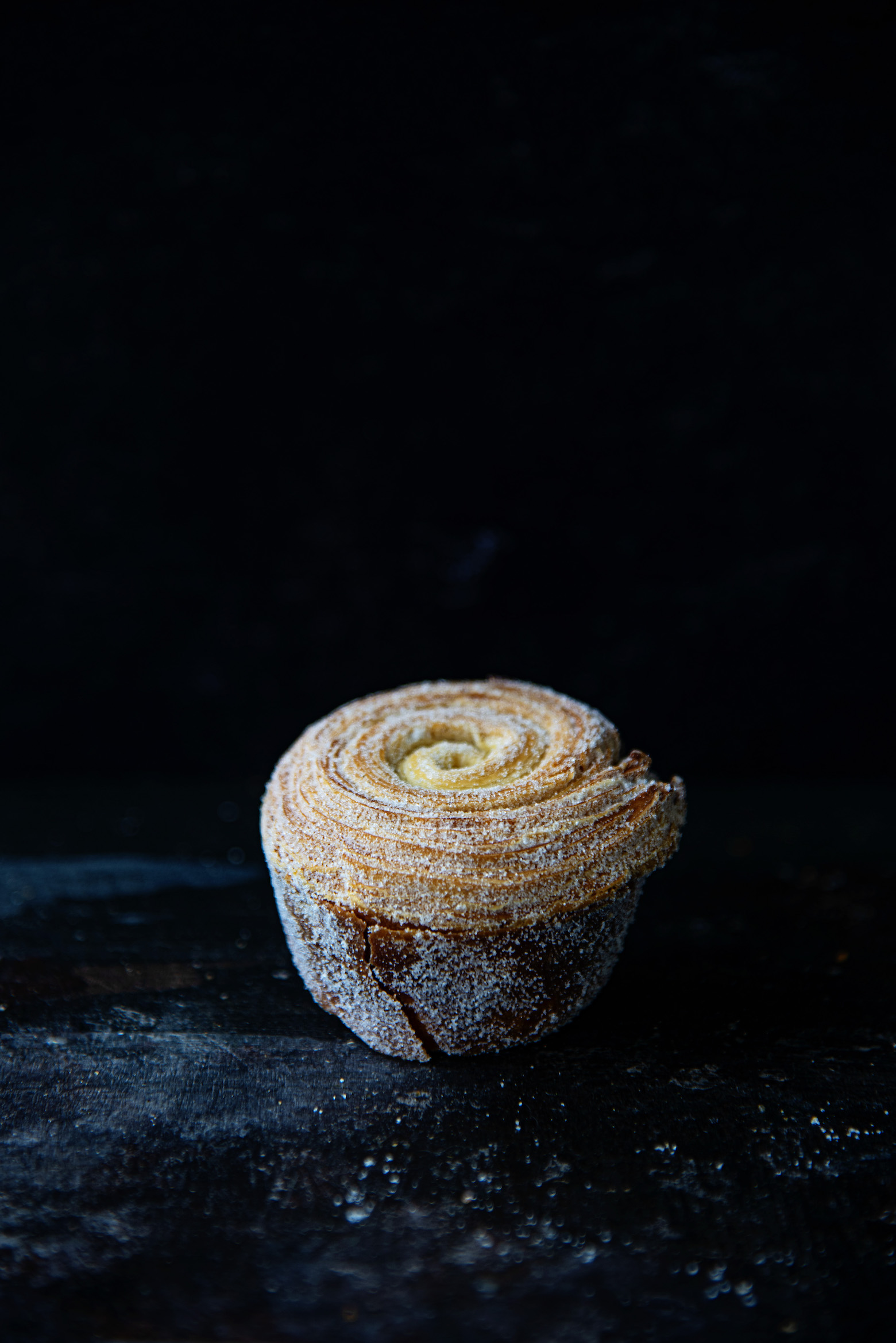 Want More Bun Recipes?
Peach Amaretto Laminated Brioche Buns
Bourbon Butterscotch Sweet Rolls
Chocolate Clementine Sweet Rolls
Bourbon Brown Sugar Caramel Peach Sweet Rolls
Blackberry Laminated Brioche Brown Butter Crumb Rolls
Laminated Sugar Morning Buns
Ingredients
Ingredients
For the dough:
1 TBSP active dry yeast (I used Red Star)
1/2 cup whole milk
1/3 cup sugar
Zest of 1 orange, finely grated
2 tsp vanilla bean paste (I used Rodelle)
2 large eggs, chilled
1/4 cup fresh orange juice
3-1/4 cups all-purpose flour
1 tsp salt
For the butter block:
1/2 pound (2 sticks) cold unsalted butter
1/4 cup all-purpose flour
1 cup granulated sugar (for rolling buns in)
Instructions
For the Dough:
Combine yeast and milk in the bowl of a mixer fitted with the paddle attachment and mix on low speed.
Slowly add sugar, orange zest, vanilla bean paste, eggs, and orange juice. Mix well.
Change to the dough hook and add the salt with the flour, 1 cup at a time, increasing speed to medium as the flour is incorporated.
Knead the dough for about 5 minutes, or until smooth. You may need to add a little more flour if it is sticky. Transfer dough to a lightly floured baking sheet and cover with plastic wrap. Refrigerate for 30 minutes.
For the Butter Block:
Combine butter and flour in the bowl of a mixer fitted with a paddle attachment and beat on medium speed for 1 minute.
Scrape down the sides of the bowl and the paddle and then beat for 1 minute more, or until smooth and lump free. Set aside at room temperature.
After the dough has chilled 30 minutes, turn it out onto a lightly floured surface.
Roll the dough into a rectangle approximately 18 x 13 inches and ¼ inch thick.
The dough may be sticky, so keep dusting it lightly with flour.
Spread the butter evenly over the center and right thirds of the dough. Fold the left edge of the detrempe to the right, covering half of the butter. Fold the right third of the rectangle over the center third. The first turn has now been completed.
Mark the dough by poking it with your finger to keep track of your turns, or use a sticky and keep a tally.
Place the dough on a baking sheet, wrap it in plastic wrap, and refrigerate for 30 minutes.
Place the dough lengthwise on a floured work surface.
The open ends should be to your right and left.
Roll the dough into another approximately 13 x 18 inch, ¼-inch-thick rectangle.
Again, fold the left third of the rectangle over the center third and the right third over the center third. No additional butter will be added as it is already in the dough. The second turn has now been completed.
Refrigerate the dough for 30 minutes.
Roll out, turn, and refrigerate the dough two more times, for a total of four single turns. Make sure you are keeping track of your turns.
Refrigerate the dough after the final turn for at least 5 hours or overnight. The Danish dough is now ready to be used. If you will not be using the dough within 24 hours, freeze it. To do this, roll the dough out to about 1 inch in thickness, wrap tightly in plastic wrap, and freeze. Defrost the dough slowly in the refrigerator for easiest handling. Danish dough will keep in the freezer for up to 1 month.
To Make the Morning Buns:
On a flour dusted surface, roll the dough into a rectangle about 12 inches wide and 16 inches long, with a short end toward you.
Starting with the side nearest you, roll the dough into a cylinder, keeping the roll as tight as you can. With a chef's knife (I use a bread knife), using a gentle sawing motion, trim just a tiny bit from the ends if they're ragged or not well filled, then cut the log into rounds a scant 1 inch thick. Put the buns inside the individual muffin holes.
Lightly cover the buns with wax paper and set the baking sheet(s) in a warm place until the buns have doubled in volume–they'll be puffy and soft–about 1 hour and 30 minutes.
When the have almost fully risen, preheat the oven to 400 degrees F.
Remove the wax paper, and bake the buns for 10 minutes. Turn oven down to 350F and bake another 10-15 minutes or until a dark golden brown.
Let cool for 5 minutes then remove from muffin pan.
Roll each bun in sugar and serve.
Notes
Recipe adapted from The Secrets of Baking by Sherry Yard