This Strawberry Mascarpone Buttermilk Layer Cake is filled with a strawberry honey mascarpone bavarois and covered in strawberry jam buttercream.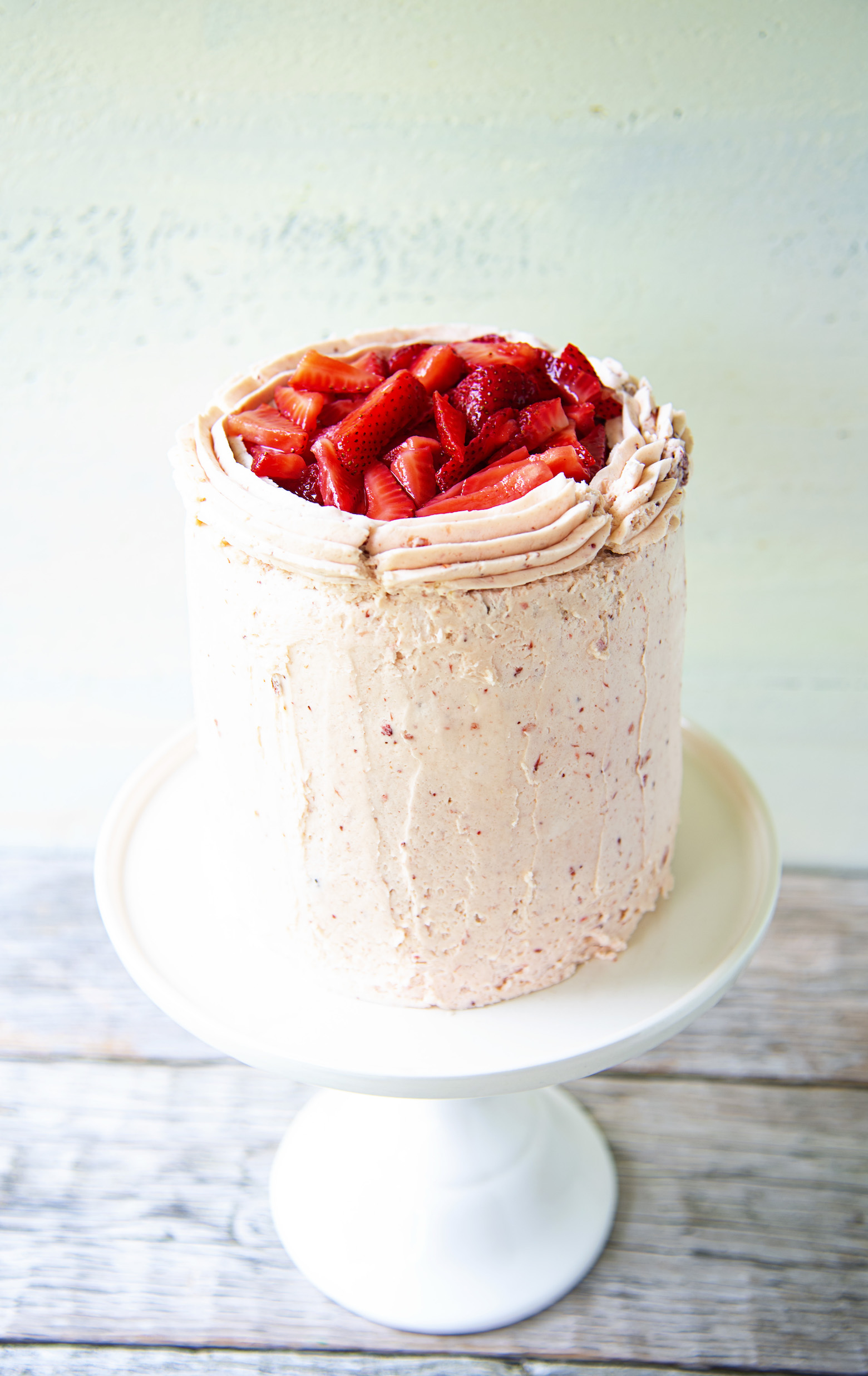 When I tell people that my husband's heart attack was a blessing they always look at me strange.
Clearly him dying twice and me witnessing one of those times was not a blessing.
But the aftermath was.
The heart attack brought clarity to our lives.
About the people in our lives.
I've seen it said many times that it's easy for people to stand by you in good times but it's the people who stand by you in the hard times that matter.
We learned that with the heart attack.
People you thought for sure would be there for you were not.
While people you didn't really expect much from stepped up in a giant way.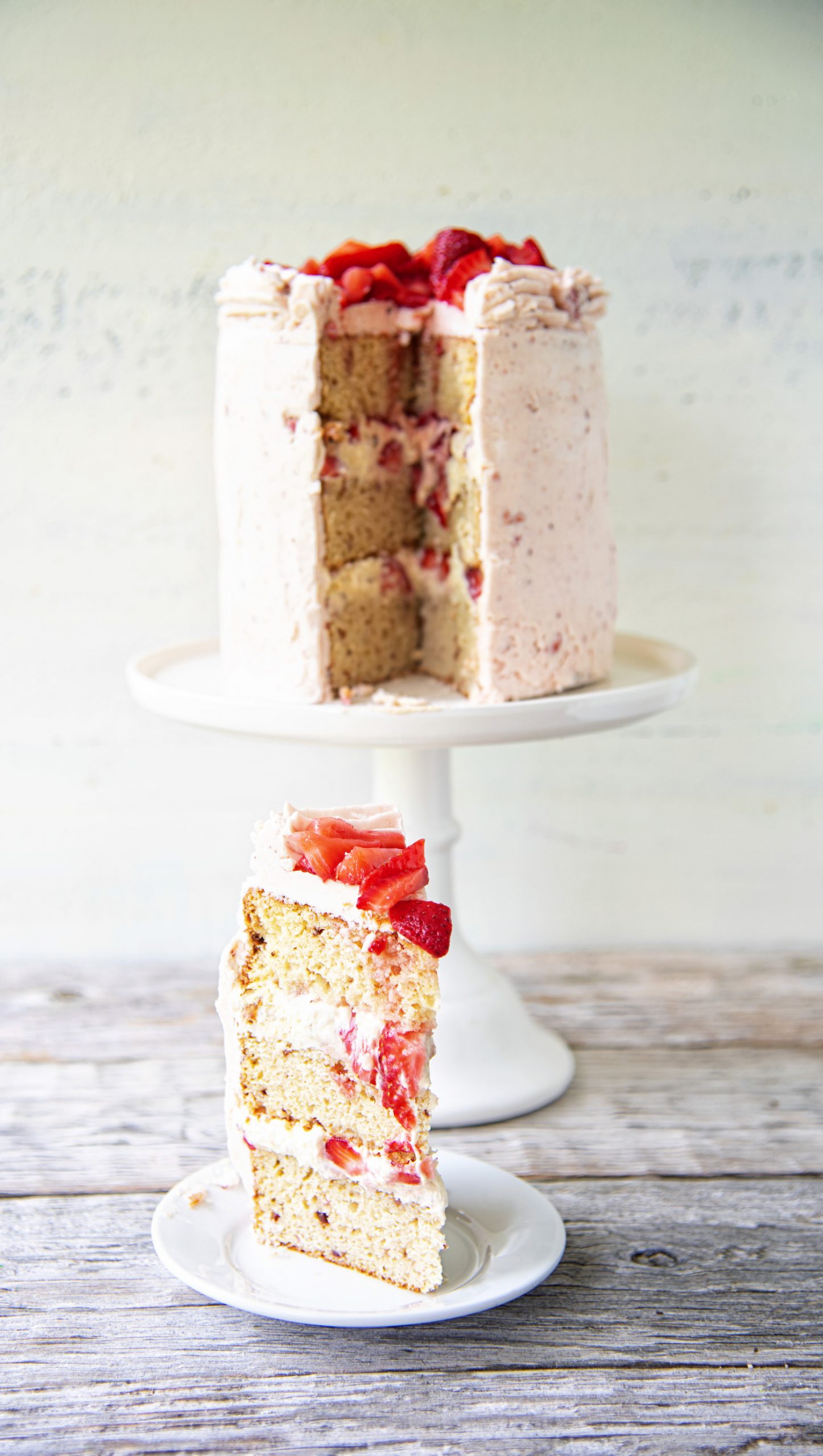 Just how you go through your friends list on Facebook and weed people out we did the same in real life.
Not just people but things.
Things we were investing time into that we just did not really enjoy.
The past few months with all that has been going on has been another point of adversity that has caused me to think about how I want things in life.
It's been an interesting look at some people I know and what they value in life.
How so many of them don't seem to care if the elderly die during all this.
Or people like me who are in the high risk category.
It's okay if we die because we had a preexisting condition.
I've definitely taken note of those who have said that.
I no longer need those people in my life since obviously I'm not an important member of society to them.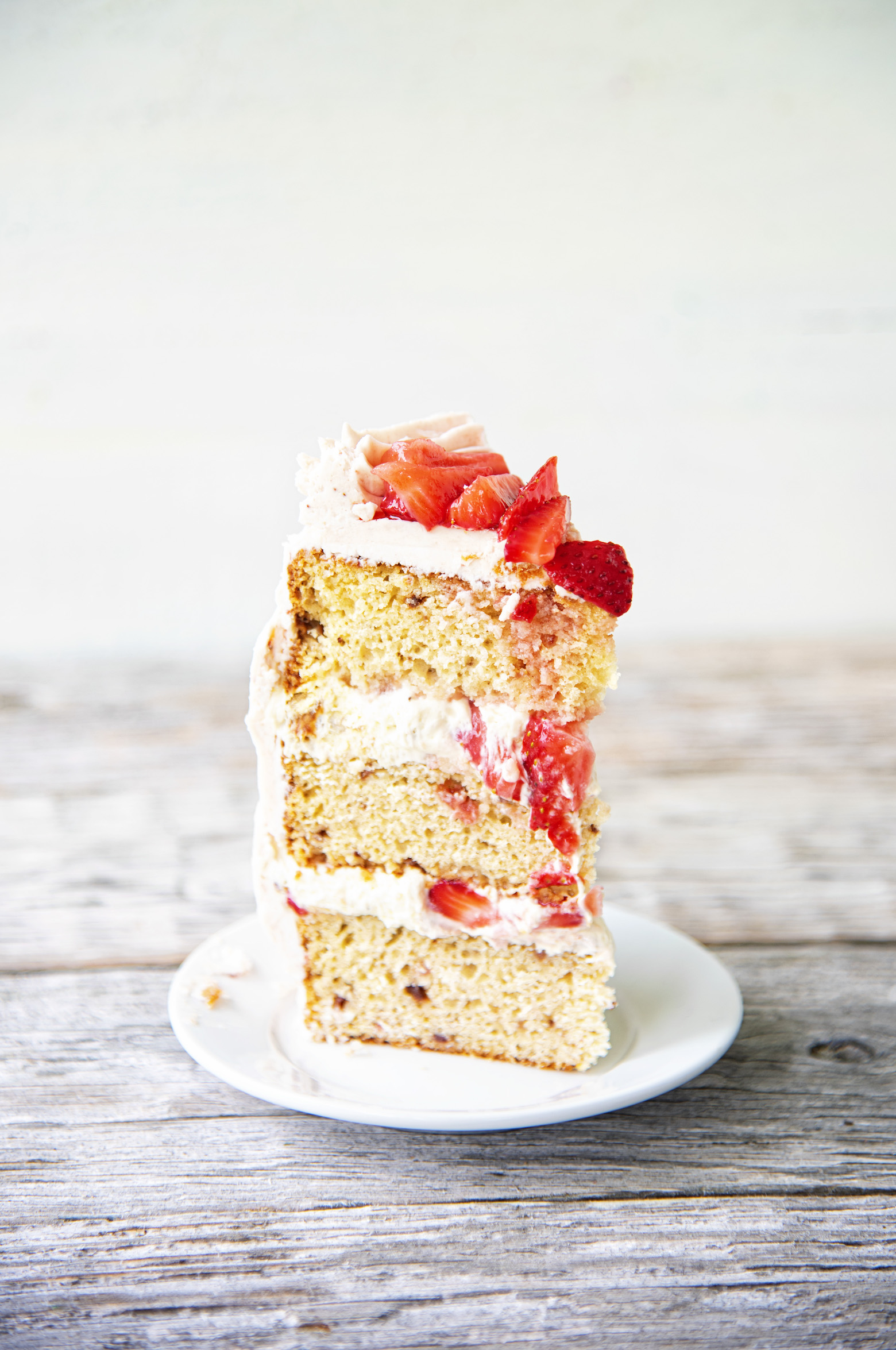 It's also made me realize how many recipe I make and don't put on this blog.
Not because they aren't good but because they take time and people seem to only want fast and easy these days.
While I certainly am all for fast and easy, there is something calming, as many are finding out about baking things that take time.
Bread, of course, has been the biggie.
But there are other things that take time as well.
I feel like people are finding the joy again in bakes that take some time.
This Strawberry Mascarpone Buttermilk Layer Cake takes time.
You bake a cake. That part is easy.
Then you make a Strawberry Honey Mascarpone Bavarois (like a mousse) that you have to make and then set in the fridge.
And finished with a Strawberry Jam Swiss Meringue Buttercream.
Lots of steps but when it all comes together it is heavenly.
So take some time and make this cake.
And as always it's a great day to order my cookbook.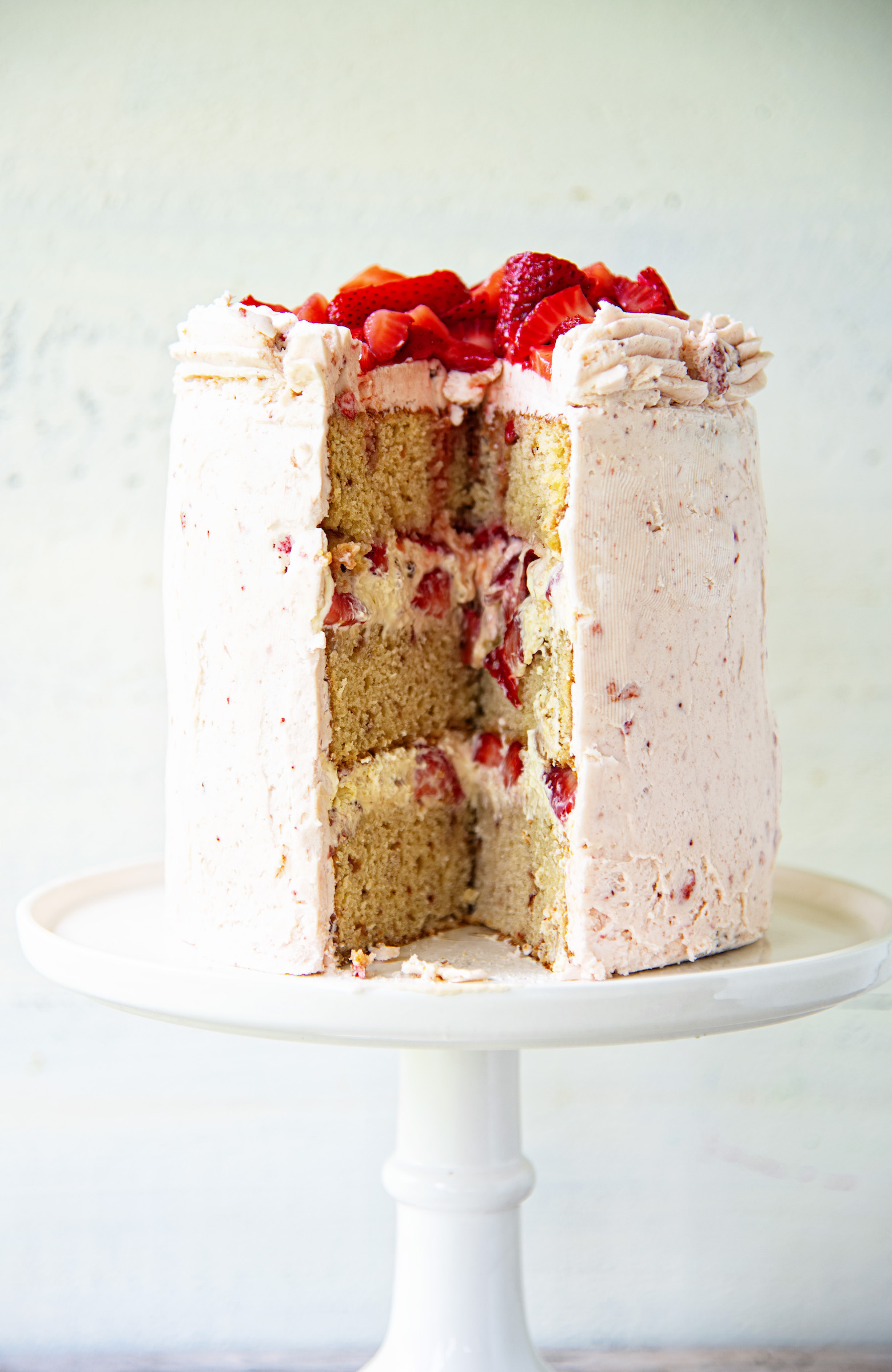 Want More Cake Recipes?
Chocolate Salted Caramel Popcorn Layer Cake
Strawberry Lemonade Layer Cake
Chocolate Peanut Butter Stout Layer Cake
Vanilla Cheesecake Funfetti Pink Ombre Layer Cake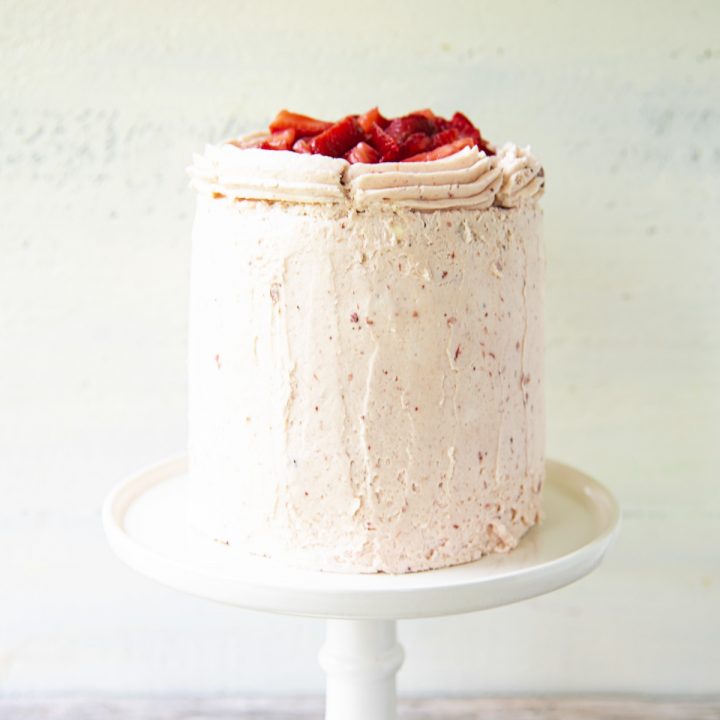 Strawberry Mascarpone Buttermilk Layer Cake
Ingredients
For the Strawberry Buttermilk Cake:
2 1/2 cups cake flour
2 tsp baking powder
1/2 tsp baking soda
1 tsp salt
1 1/2 cups granulated sugar
3/4 cup unsalted butter, at room temperature
1 tsp vanilla extract
3 eggs
2 egg whites
1 cup buttermilk
For the Strawberry Honey Mascarpone Bavarois:
1½ tsp unflavored powdered gelatin

1 cup heavy cream

4 large egg yolks, room temperature
1/4 cup granulated sugar

1 tsp. vanilla extract

½ tsp kosher salt

1/2 cup freeze dried strawberries
10 oz. mascarpone cheese, at room temperature
For the Strawberries:
3 cups fresh strawberries, cut or diced your choice
1 TBSP lemon juice
1/4 cup granulated sugar
For the Strawberry Jam Swiss Meringue Buttercream:
½ cup egg whites (about 4 large eggs whites)
1 cup granulated sugar
1 ½ cups (3 sticks) unsalted butter, at room temperature, cubed
1 tsp pure vanilla extract
3/4 cup strawberry jam (preferably homemade)
Instructions
For the Strawberry Buttermilk Cake:
Preheat oven to 350 degrees. Grease and flour three 6″ round cake pans and set aside.
In a large mixing bowl, whisk together sugar, cake flour, baking powder, baking soda, freeze dried strawberries, and salt. Set aside.
In a large measuring cup or mixing bowl, stir together the eggs, egg whites, buttermilk, and vanilla extract. Set aside.
Using a stand mixer with the paddle attachment beat together the butter and granulated sugar until light and fluffy, about 3 minutes.
Add 1 cup dry ingredients and mix on low for 30 seconds.
Then add the buttermilk mixture and mix on low for 30 seconds.
Add another cup of the dry ingredients and mix for 30 seconds.
Add the remaining buttermilk mixture and mix for 30 seconds.
Add the remaining dry ingredients and mix until fully incorporated.
Evenly distribute the batter between the three prepared pans.
Bake for about 25-28 minutes, or until a toothpick inserted into the center of the cake comes out clean.
Cool on a wire rack for 10-15 minutes before removing the cakes from their pans.
For the Strawberry Honey Mascarpone Bavarois:
Place ¼ cup cold water in a small bowl and sprinkle gelatin evenly over top; chill until ready to use.
Beat cream in the bowl of a stand mixer fitted with the whisk attachment on medium-high speed until medium peaks form. Scrape whipped cream into a medium bowl; cover and chill. Reserve bowl; you don't need to clean it.
Whisk egg yolks, sugar, vanilla, and salt in a medium heatproof bowl until smooth; set over a saucepan of just barely simmering water (do not let bowl touch water).
Heat, whisking constantly, until yolks are lightened in color and doubled in volume, about 5 minutes. Mixture should feel warm to the touch.
Remove egg yolk mixture from heat and scrape into reserved bowl. Fit bowl onto mixer.
Remove saucepan from heat and pour out water, then scrape in softened gelatin.
Heat over medium-low, swirling pan often, until gelatin is dissolved, about 1 minute.
With mixer on medium speed, stream gelatin into egg yolk mixture. Beat until sides of bowl are cool to the touch, about 2 minutes; add mascarpone and beat until smooth.
Add the powdered honey and freeze dried strawberries and mix until fully combined.
Remove bowl from mixer and gently fold in chilled whipped cream. You should have about 4 cups. Cover with plastic wrap, pressing directly onto surface; chill until set, at least 4 hours.
For the Strawberries:
Toss the strawberries in lemon juice and sugar. Place in a medium bowl and refrigerate until needed.
For the Strawberry Jam Swiss Meringue Buttercream:
Place the egg whites and sugar in the metal bowl of a stand mixer and set over a small pot of simmering water (the bowl should not touch the water).
Heat, stirring occasionally, until mixture is 160F or hot to the touch.
Transfer bowl to stand mixer and beat on high speed with a whisk attachment to medium stiff peaks, about 8 minutes.
Reduce mixer speed to medium low and add butter a tablespoon at a time, letting it incorporate into the meringue for few moments before adding more.
Add vanilla extract, strawberry jam, and salt and beat on high for 1-2 minutes until smooth and creamy.
To assemble:
Place a cake layer on cake plate and pipe 1 cup of the Strawberry Honey Mascarpone Bavarois.
Top with 1/2 cup of the strawberries.
Place second layer on top of the bavarois and push down slightly until you see the bavarois come to the sides.
Pipe another cup of the bavarois followed by another 1/2 cup of the strawberries.
Top with the last cake layer.
Frost the cake with a crumb coat layer and let set up for 30 minutes in fridge.
Remove from fridge and frost the cake.
If you want more strawberries on top like I have just pipe a frosting ring around the top to help keep the strawberries in.