This Fresh Plum Vanilla Bean Vodka Cocktail is made with fresh plums cooked down to a syrup with vanilla beans, vanilla soda, and vanilla vodka.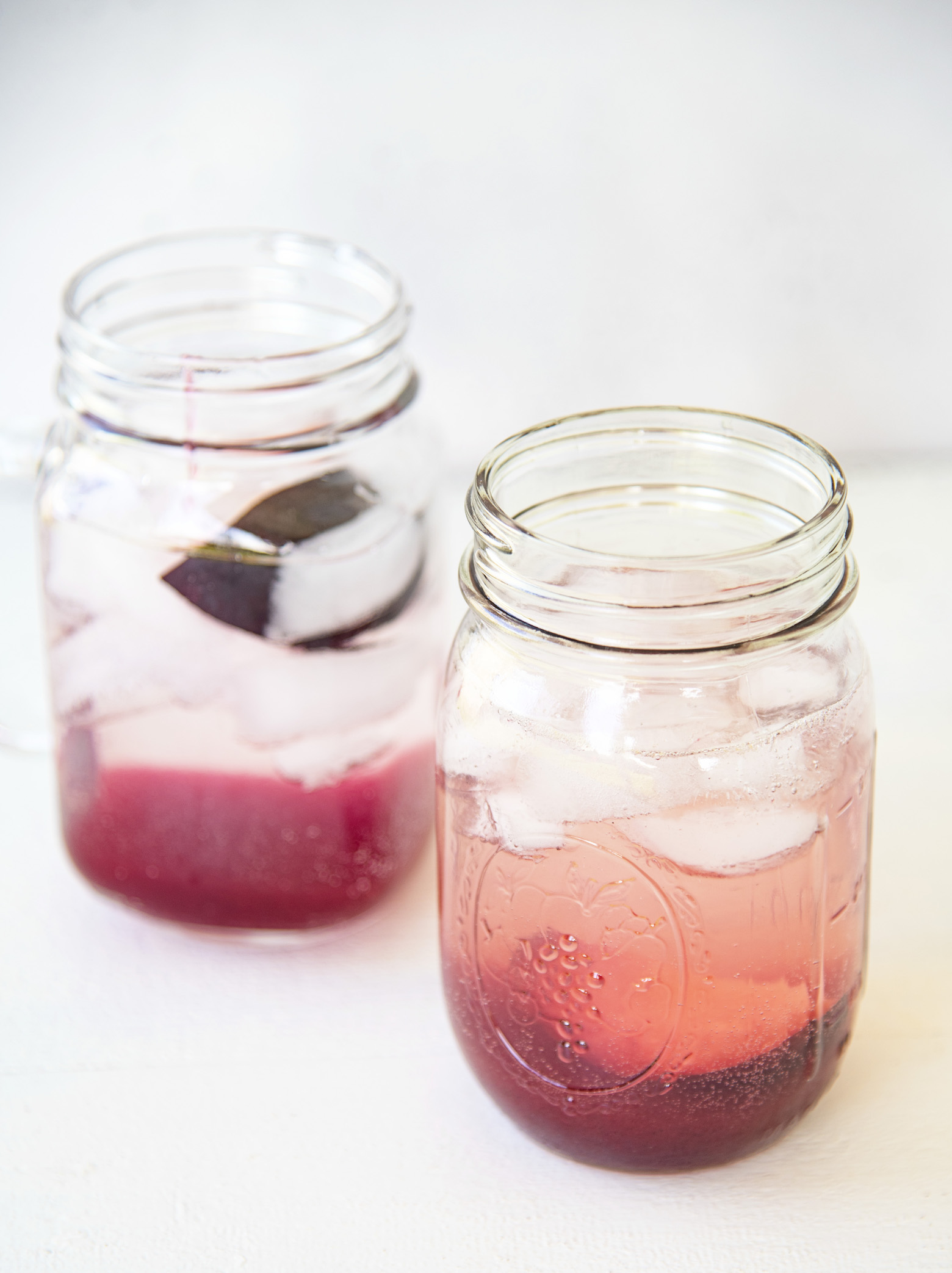 Since last September I have been in a clinical trial and because of that they asked us not to drink alcohol the first three months.
Then that got extended each month to another month.
And with the exception a half a glass of a mimosa on New Year's Day I have stuck with that.
Which FYI when you play hockey is really hard to do because we always go out for drinks.
Back in March when the president gave one of his briefings where he was saying things that I knew was the exact opposite of what my healthcare worker friends were saying I got an email from the doctor overseeing my trial.
In it he said that after seeing the president speak he was going to allow us all to drink as he feared we were all doomed.
He was joking…but not.
I did not drink right away even though shots of tequila seemed in order with all the denial that was going on at the time.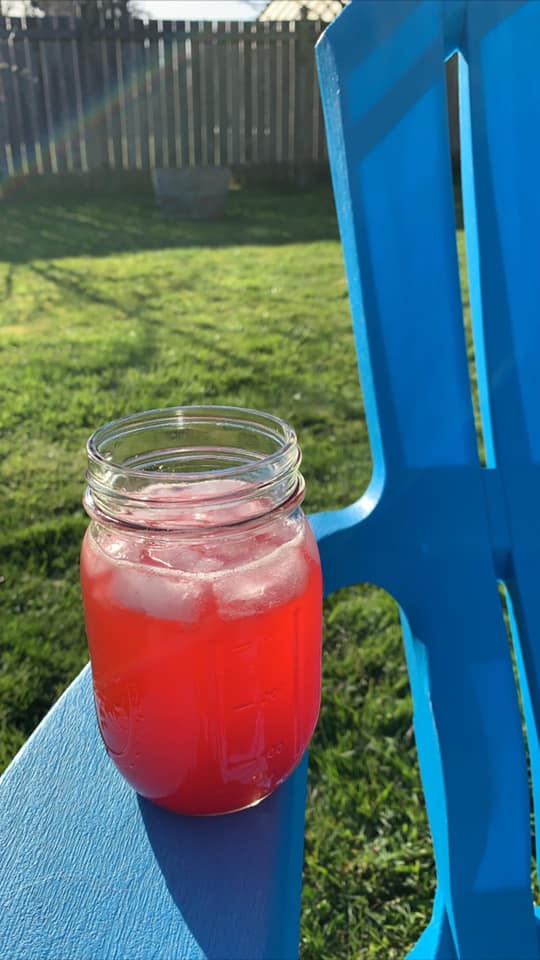 But last week my husband was out and about getting medication from various people for our dog Mickey.
Mickey takes codeine and has for over 5 years now for a spinal condition he has.
For the last 6 months it has been harder and harder for us to get it filled.
Not because they won't prescribe it but because they don't have it in.
The FDA claims it's not in shortage but our pharmacists and our hockey team member (who is a pharmacist) says they can't get it in.
That the manufacture is withholding it they believe due to trying to drive the price up.
With the COVID-19 getting the meds has been even harder.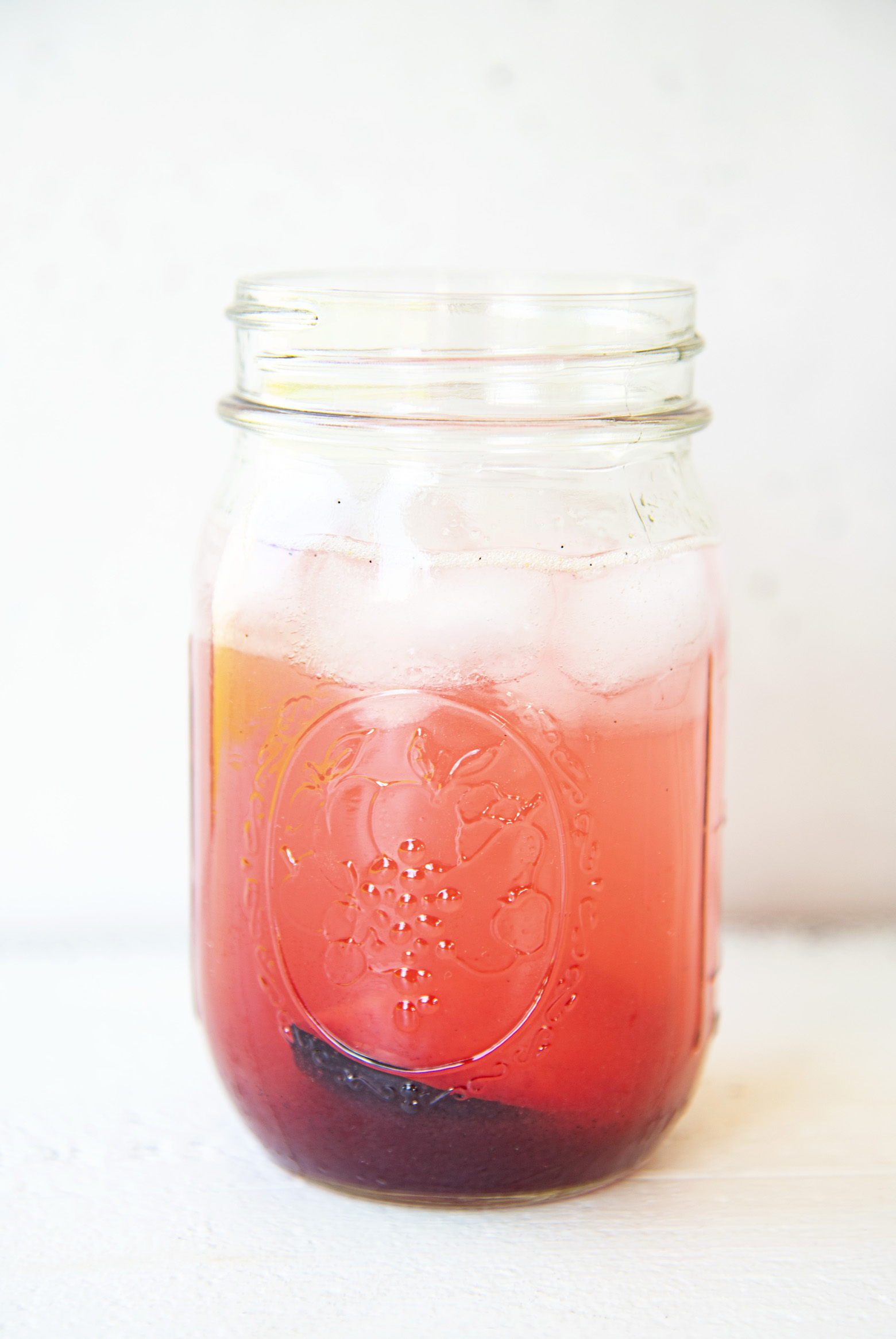 Even my dogs neurologist do not have it at the ER which is where we get it from time to time when there is a shortage.
Sadly right now ER's are low on pain meds and anesthesia meds as they are being redirected to human hospitals.
So we had to rally the troops and ask fellow dog owners we know if any of them had any extra while we waited for his meds to come in.
Several did have a few leftover pills here and there from when their dogs had a procedure.
We all practiced proper social distancing and they were left on people's porches.
Along with the meds was a bottle of vanilla vodka that our friend left out for us.
Because well, she is awesome, but also she knows we are stressed in trying to get our dogs meds.
I took that as a sign that I should have a cocktail.
Our plum tree is blooming right now but it's too early for it to be fruiting but I was loving the idea of a plum cocktail with the vanilla vodka.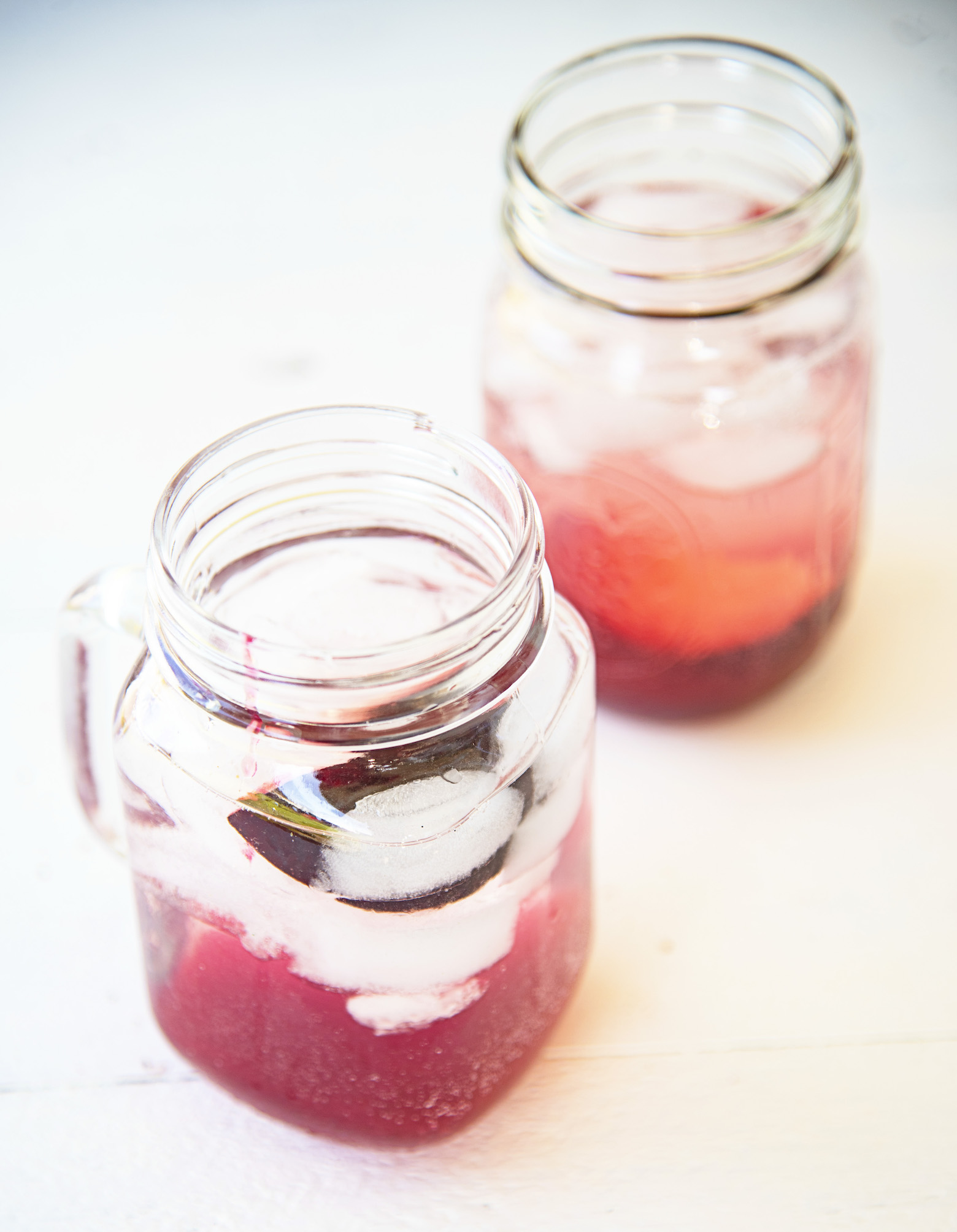 So I had the hubby go get some plums.
I cooked them down in some water and sugar and vanilla beans.
Then added the vanilla vodka, some vanilla bean dry soda, a squeeze of lemon and made Fresh Plum Vanilla Bean Vodka Cocktail.
We enjoyed them outside as the sun went down.
I made it through half a glass before not being able to feel my teeth.
Yep, I'm beyond a lightweight right now.
Beyond.
It was so crazy.
Talk about being a cheap date. 🙂
Last but not least…it's a great time to order my cookbook. 😀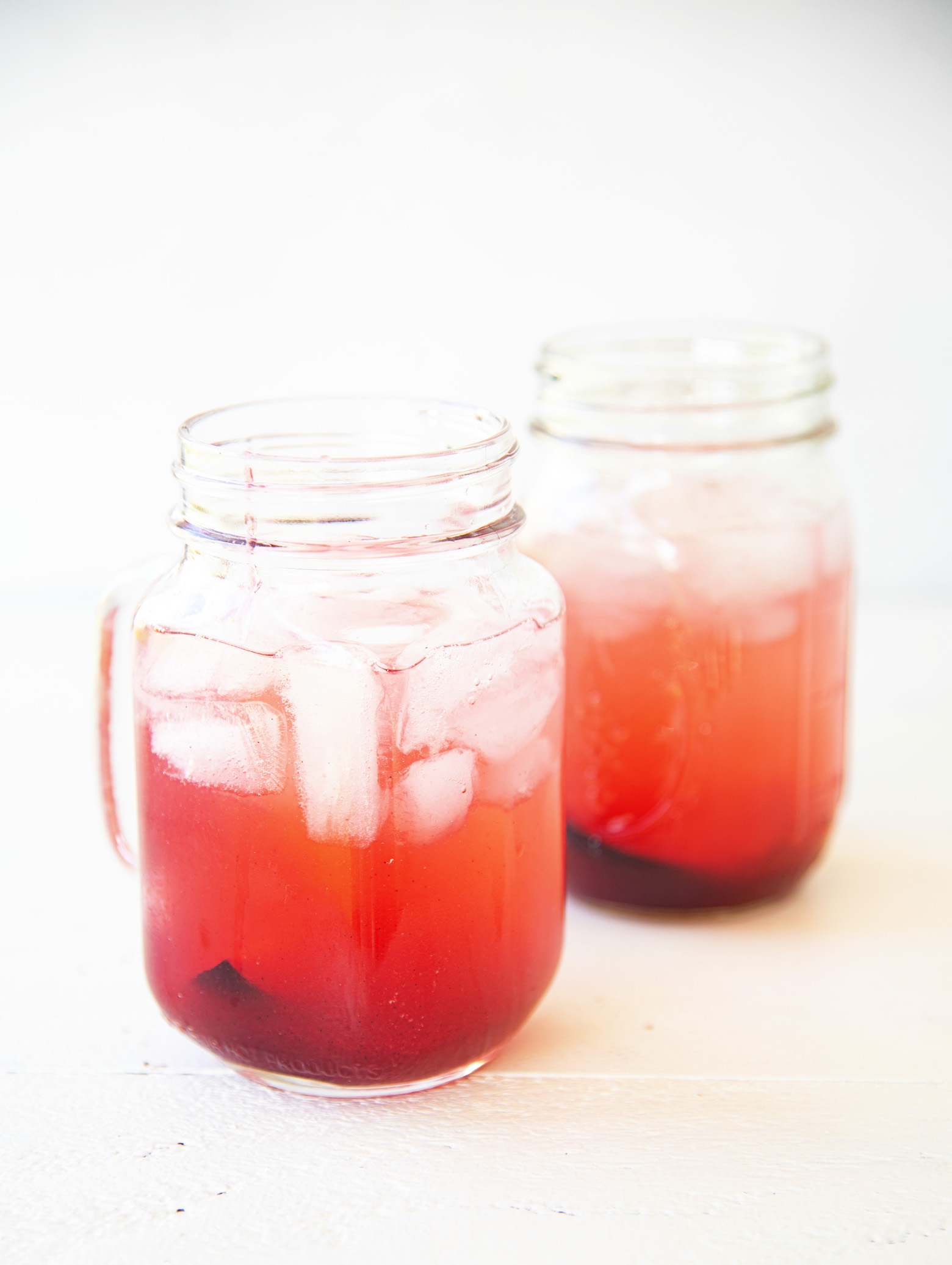 Want more Booze?
Peanut Butter Grape Jelly Jell-O Shots
Glazed Donut Strawberry Shortcake Boozy Milkshake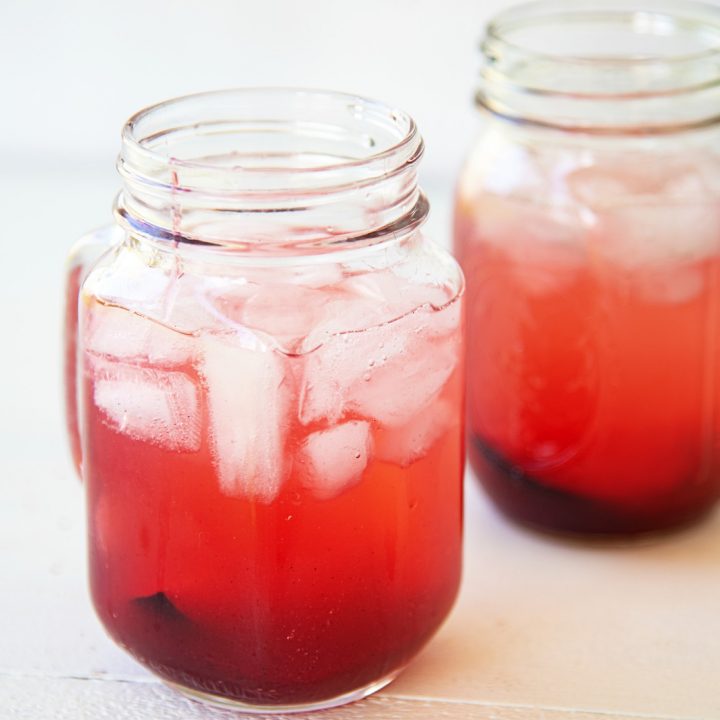 Fresh Plum Vanilla Bean Vodka Cocktail
Ingredients
For the Syrup:
3 plums
3/4 cup granulated sugar
1 vanilla bean pod, seeds scraped out (I used Rodelle)
1 cup water
For the Cocktail:
1/2 cup plum syrup
1 cup vanilla vodka
1 cup Dry Sparkling Vanilla Bean Soda or Cream Soda (cream will be more sweet)
4 TBSP fresh squeezed lemon juice
Instructions
For the Syrup:
Take the plums and cut them into quarters and add them to a saucepan with the sugar, vanilla bean seeds and pod, and the water.
Bring to the boil then turn down and simmer for 7-9 minutes.
Discard the vanilla bean pod.
Leave to cool then push the plum syrup through a fine sieve, scraping the underside.
Store in an airtight container for up to 3 weeks in the fridge.
For the Cocktail:
Place ice into two mason jars or cocktail glass of your choice.
Add 1/4 cup plum syrup to both glasses.
Add 1/2 cup vodka to each glass.
Add 1/2 cup soda to each glass.
Add 2 TBSP to each glass.
Stir and enjoy.
Notes
You can use less vodka if you want. These are strong. They are meant to be strong.