This Bailey's Salted Caramel Chocolate Bundt Cake is a chocolate based pound cake with Bailey's Salted Caramel and chocolate chips.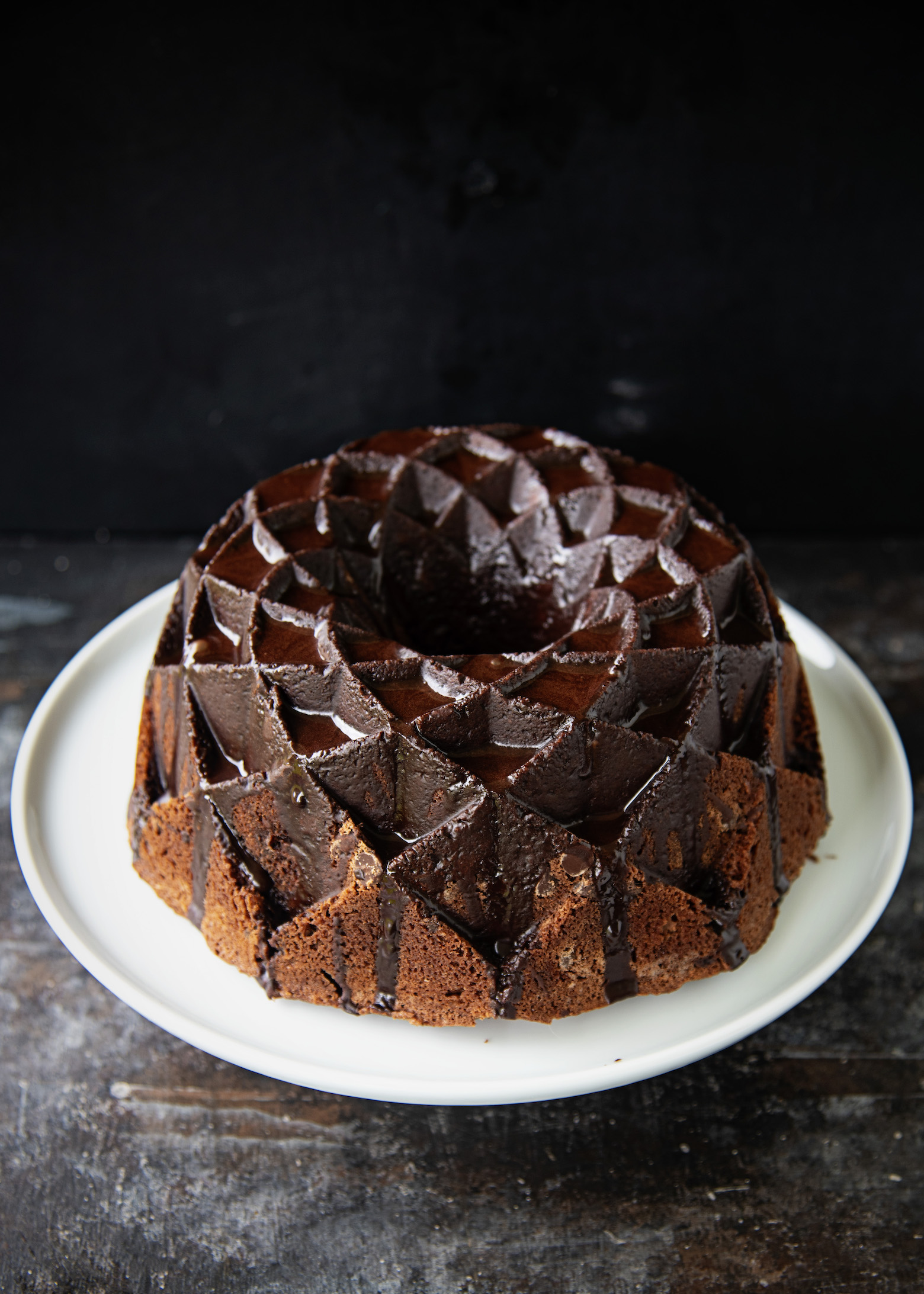 Well, March is finally over and we can be thankful for that.
Though I have a strong feeling our April is going to look a lot like our March.
I am happy to see so many people getting back into the kitchen again.
Not because I don't love restaurants but because I feel so many people don't do it anymore.
And I'm hoping they are starting to realize how comforting making food for others can be.
Right now it can also be like an episode of Chopped based on what you have in your house.
Fortunately, at least around here, stores are limiting how much people can buy and so more items are available.
It also helped that many of them have also said we won't be taking back any of the stuff you hoarded.
If you can't find ingredients right now, just hold on I know that companies are working hard to ensure you will get supplies.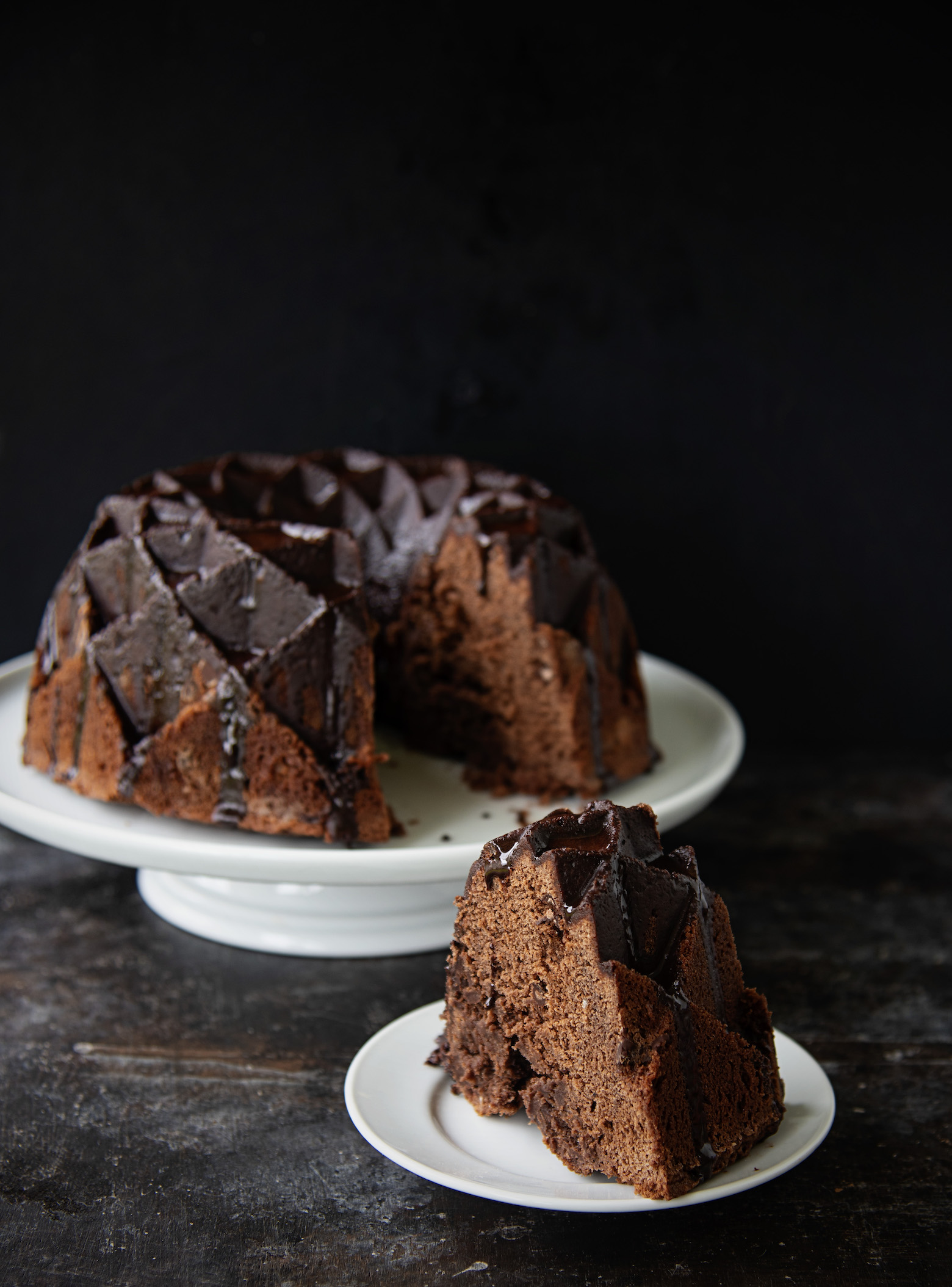 Other than baking and cooking I've been reading.
I always read a lot, but this past month I've been revisiting old books I have had on the shelves for years.
This one, Letters From A Nut I read back in 1997 and forgot how funny it was.
Same goes for old cookbooks.
What I love when going through old cookbooks is finding recipes that ten years ago I might now have found interesting but now totally want to make.
I highly suggest if you are a cookbook addict like myself that you go back and revisit some of your older books.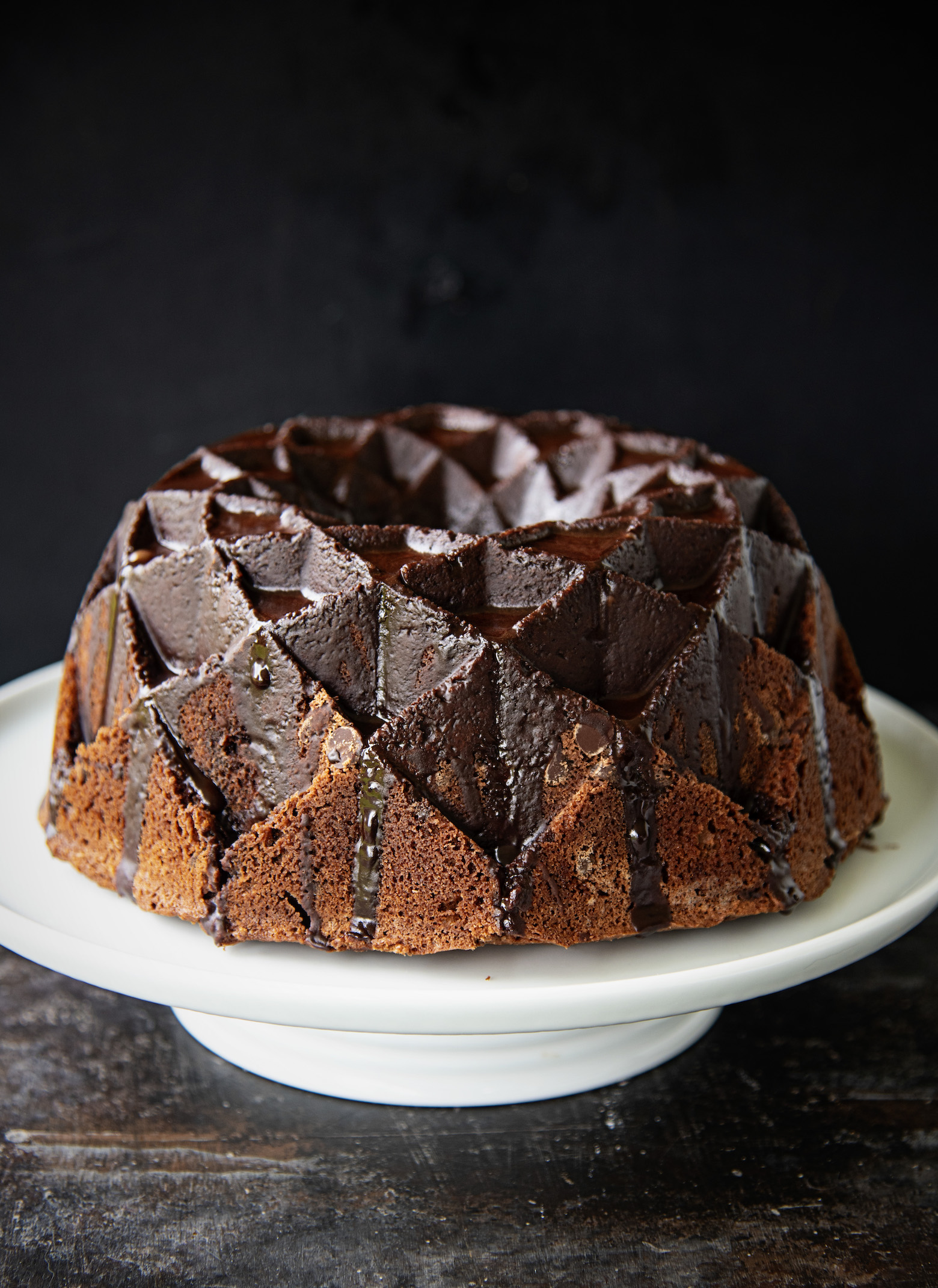 Blogging right now is interesting.
Normally I plan out recipes based on what holidays or special events are coming up.
Easter is less than two weeks away and I haven't even thought about it.
I mean, if it were not for my dogs pill boxes I'm not totally sure what day of the week it is.
I've had to start putting timers on my phone to alert me and say today is Wednesday.
We missed trash pick up last week because life is so weird right now.
So everything you are seeing right now are just foods my husband and I are craving…and have ingredients for.
I had ingredients for this Bailey's Salted Caramel Chocolate Bundt Cake.
If you don't have Bailey's Salted Caramel Liqueur you can sub any Bailey's flavor your have.
Or if you don't want booze at all you can just sub milk for wherever it says Bailey's.
And as always wash your hands and be sure to order my cookbook. 
If you love the recipes on the blog you will love the ones in the book!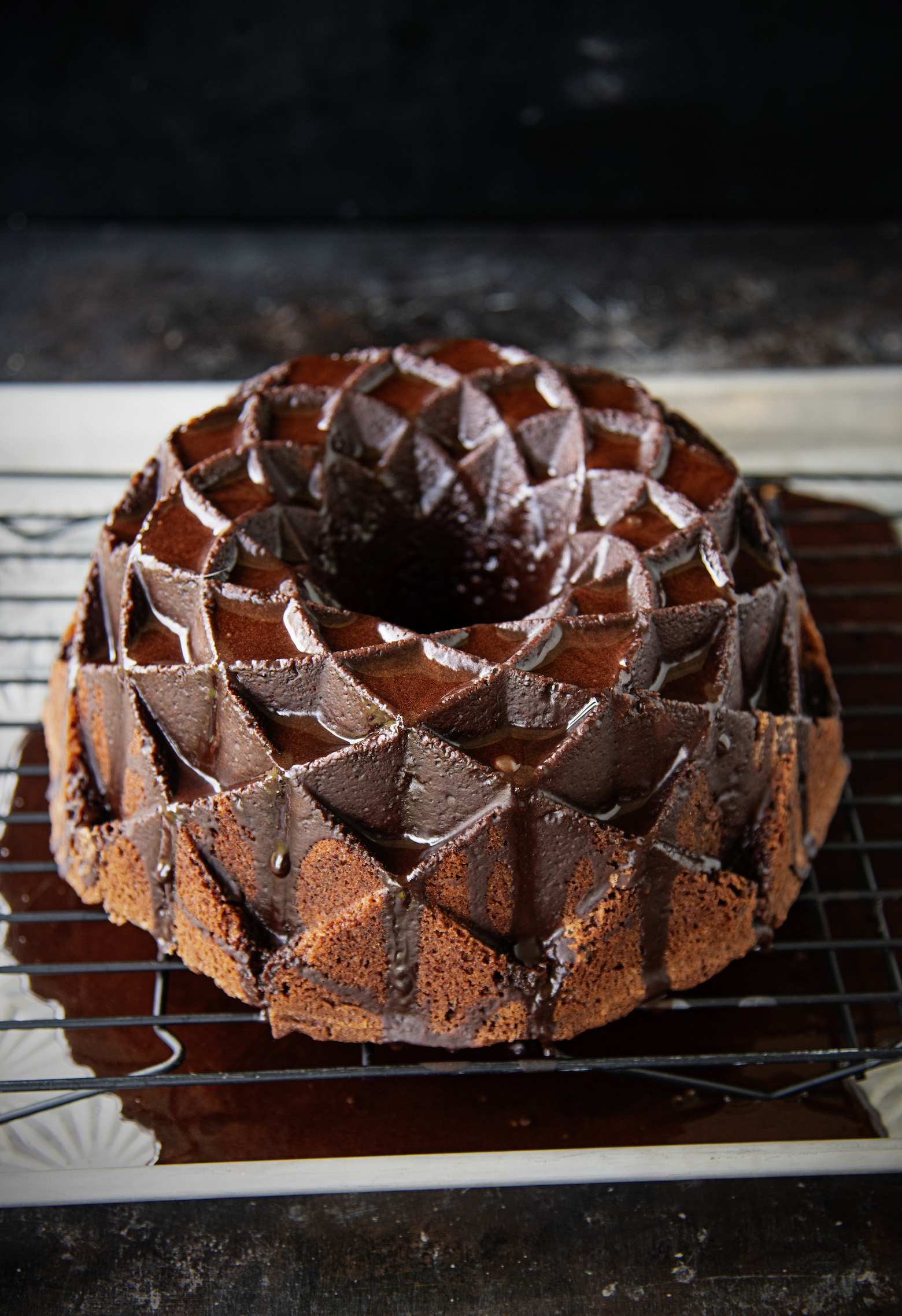 Want More Bundt Cake Recipes?
Strawberries and Cream Bundt Cake
Bourbon Brown Sugar Pound Cake
Bourbon Brown Butter Chocolate Chip Bundt Cake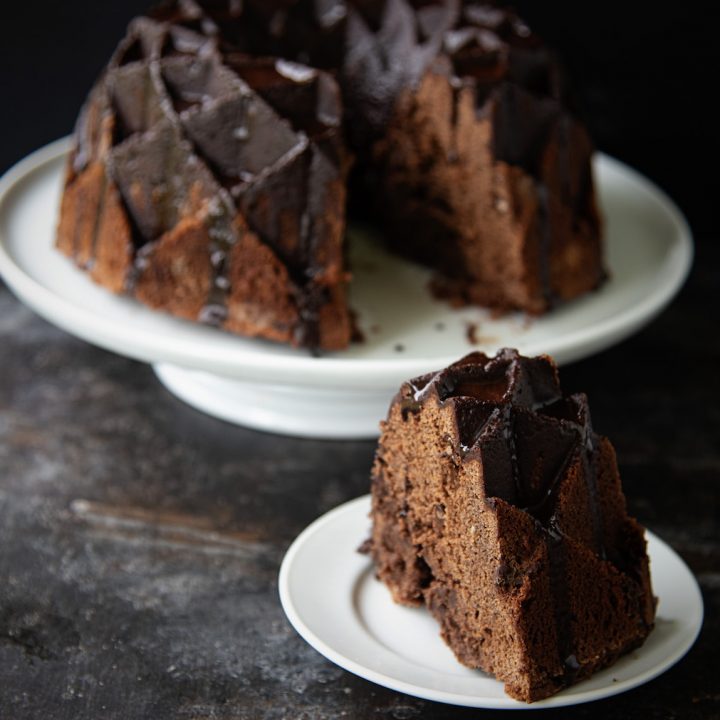 Bailey's Salted Caramel Chocolate Bundt Cake
Ingredients
For the Bundt Cake:
3 cups plus 1 TBSP cake flour, divided
2 tsp baking powder
½ cup unsweetened cocoa powder
½ tsp salt
2 ½ cups granulated sugar
6 TBSP water
1 ½ cups unsalted butter, melted and cooled
1 ½ tsp vanilla extract
5 large eggs
½ cup Bailey's Salted Caramel Liqueur
1 1/2 cups chocolate chips
For the Glaze:
6 TBSP unsalted butter
1/4 cup unsweetened cocoa powder
1/4 cup Bailey's Salted Caramel Liqueur
2-2 1/2 cups powdered sugar
Instructions
For the Bundt Cake:
Preheat the oven to 350F.
Spray a Bundt pan (10 cup) with baking spray and set aside.
Sift together 3 cups cake flour, baking powder, unsweetened cocoa powder, and salt into a bowl; set aside.
Place melted butter and sugar in a stand mixer bowl fitted with a paddle attachment. Beat on medium high until mixture is blended, about 1 minute.
Add in vanilla and beat until combined.
Add and beat eggs one at time, mixing well after each addition. Once all eggs are added, beat mixture until it becomes light and fluffy, about 3 minutes.
Turn mixer speed down to low and add the flour in three additions, alternating with the Bailey's Salted Caramel Liqueur in two additions and mixing just until blended.

Toss the chocolate chips into the remaining 1 TBSp flour. Then fold them into the batter and try to evenly distribute them as much as possible.
Pour (or scoop...it's pretty thick) batter into a a prepared Bundt pan.
Bake cake for 50-60 minutes or until a cake tester inserted into the center comes out clean.
Cool cake in the pan on a wire rack for 15 minutes. Invert the cake onto the rack and cool completely before glazing.
For the Glaze:
Melt the butter in a small saucepan over low heat, about 2 minutes.
Stir in the cocoa powder and Bailey's Salted Caramel Liqueur.
Cook the glaze, stirring, until it thickens and comes to a boil, about 2 minutes.
Remove the pan from the heat and stir in 2 cups of powdered sugar, adding more if needed to make the mixture smooth and a little thicker than pancake syrup; don't let the glaze get too thick.
Pour over cake and let set up for 20-30 minutes.