These Chocolate Sprinkle Yeast Donuts are a more traditional yeast donut that is deep fried and then covered in chocolate glaze and sprinkles.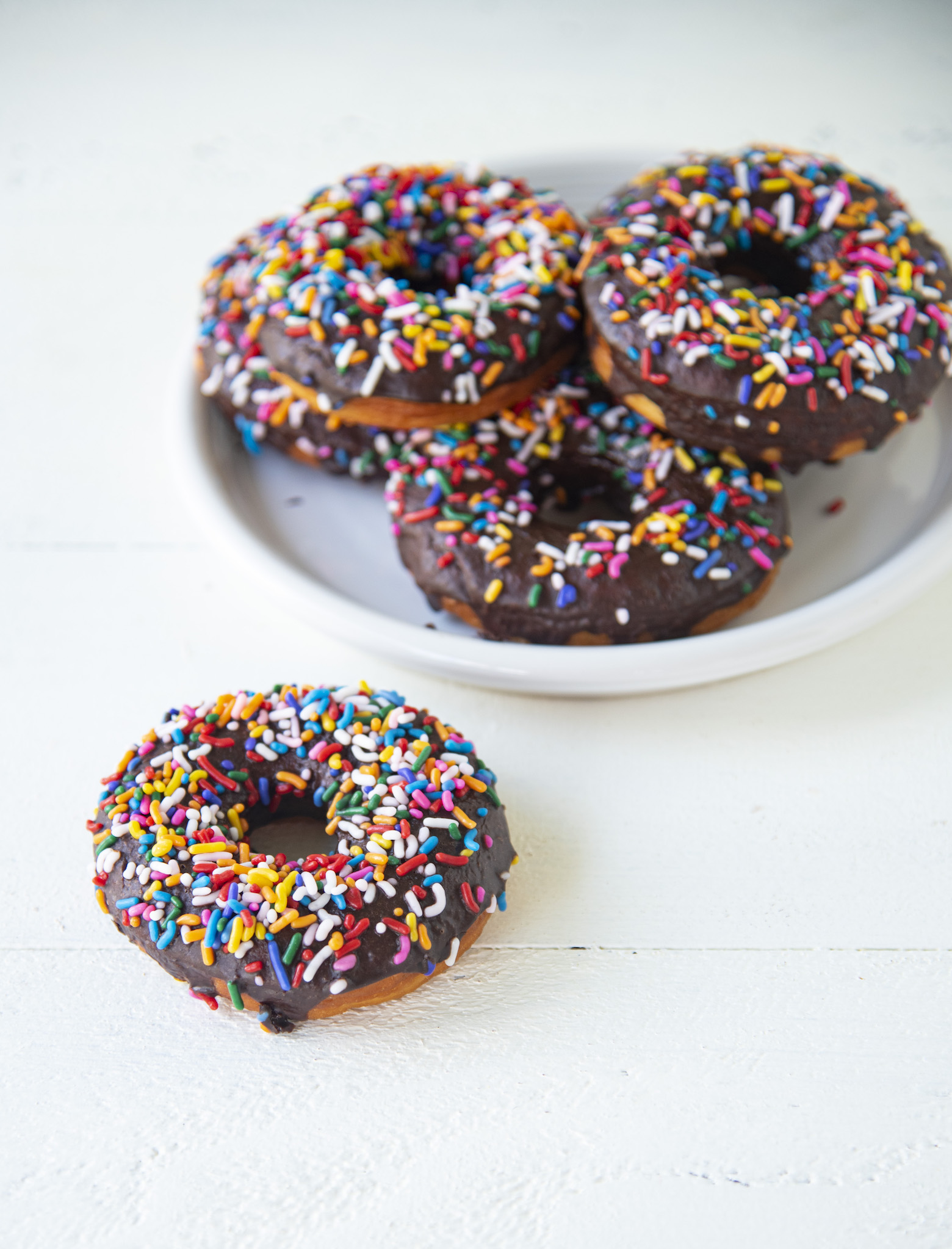 With a good chunk of the country being at home way more than they are used to there has been a spike in traffic.
While people look for recipes now that they have the time to bake and cook.
And I love that more people are doing that.
I hope they discover that they love to bake.
But because many of them are new to blogs they are not use to those of us who run BLOGS.
The definition of a blog according to Webster's: a website that contains online personal reflections, comments, and often hyperlinks, videos, and photographs provided by the writer.
That's right, it's personal reflections.
Many people have STRONG feelings about how we blogger should just shut up and give them the recipe.
That they don't care about our rambling on.
But that is not a blogger.
What they want is a recipe site.
There is a difference.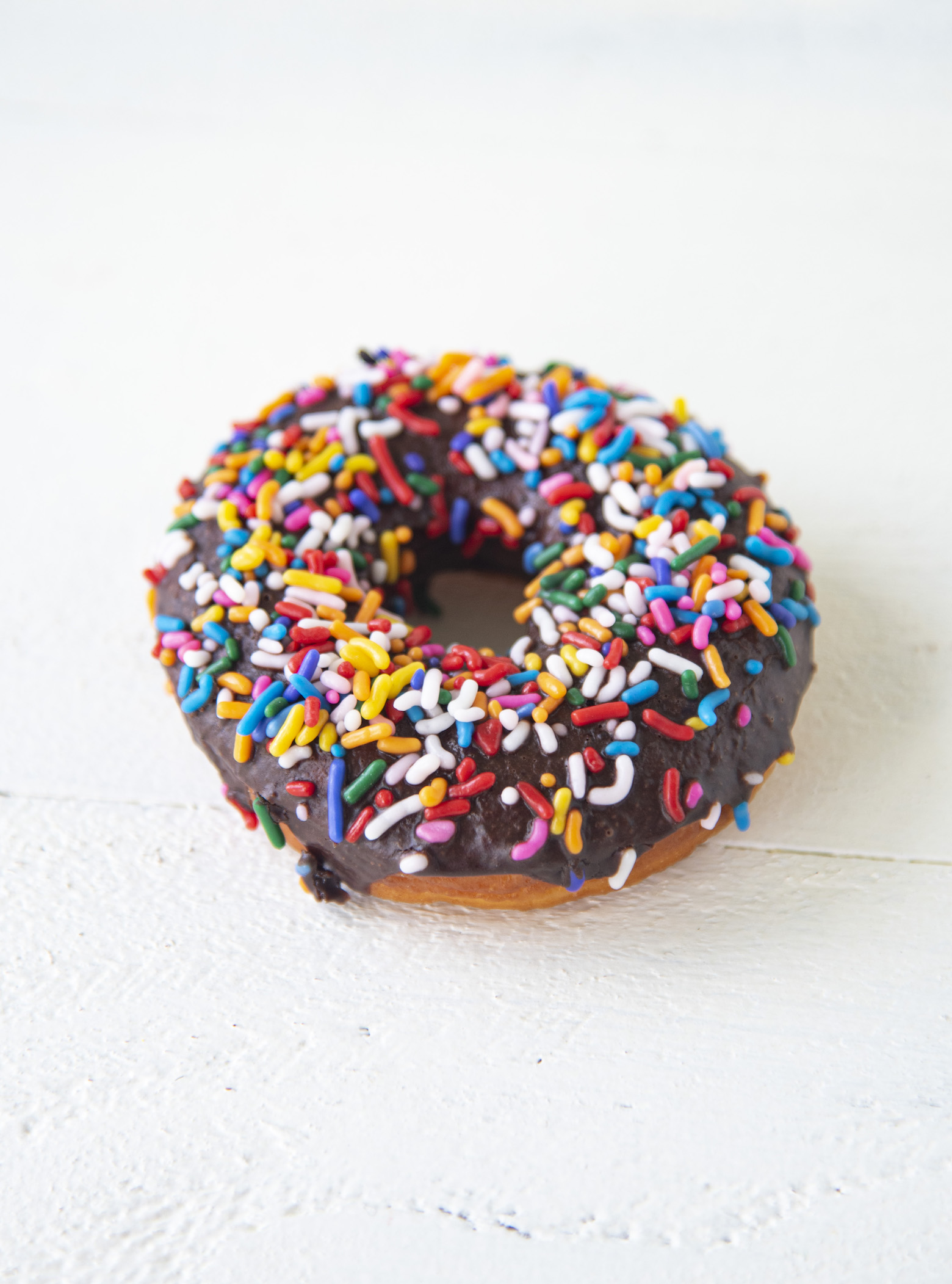 I personally love blogs that have stories.
Because blogging to me is about connections.
Nowadays I hardly read any blogs because they have gotten rid of the personal connection.
Their post are filled with steps and things like
What makes a donut a donut?
But I want to know how they got the idea for the recipe.
Did they get it from their grandma?
Or were they inspired by a trip to England.
While I get that some people do just want the recipe, the free recipe, just scroll down to the recipe.
It really doesn't take that much time.
Or maybe read what the blogger has to say.
In a world of disconnect some of us are still just looking to connect to others who like to bake and cook.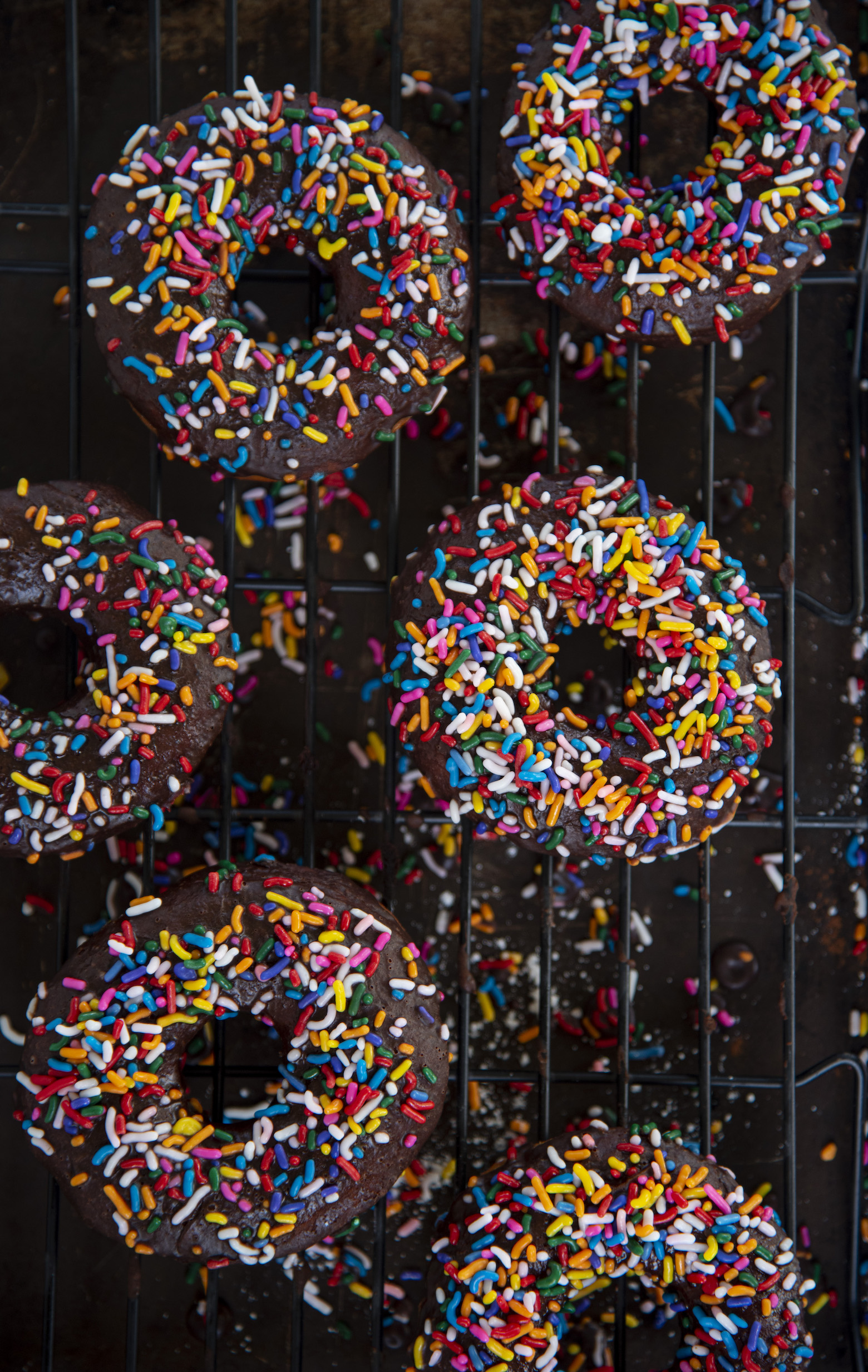 A lot of us are connecting right now over the love of comfort foods.
Last night my husband said to me, I really want a donut.
He and I are big fans of Chocolate Sprinkle Yeast Donuts.
My husband is trying to keep to one outing a week, with the exception on the few times he goes into work (his work is essential but most of it can be done from home).
And he had already grocery shopped yesterday.
So he wasn't going out again.
He cleaned out our deep fryer while I worked on our dough.
These were a little rushed because we really wanted the donuts and got impatient.
I would have had them rise more but again….we got impatient.
The donut recipes is from the New York Times Cooking section.
They hit the spot.
And anything with sprinkles is awesome.
Last but not least…it's a great time to order my cookbook. 😀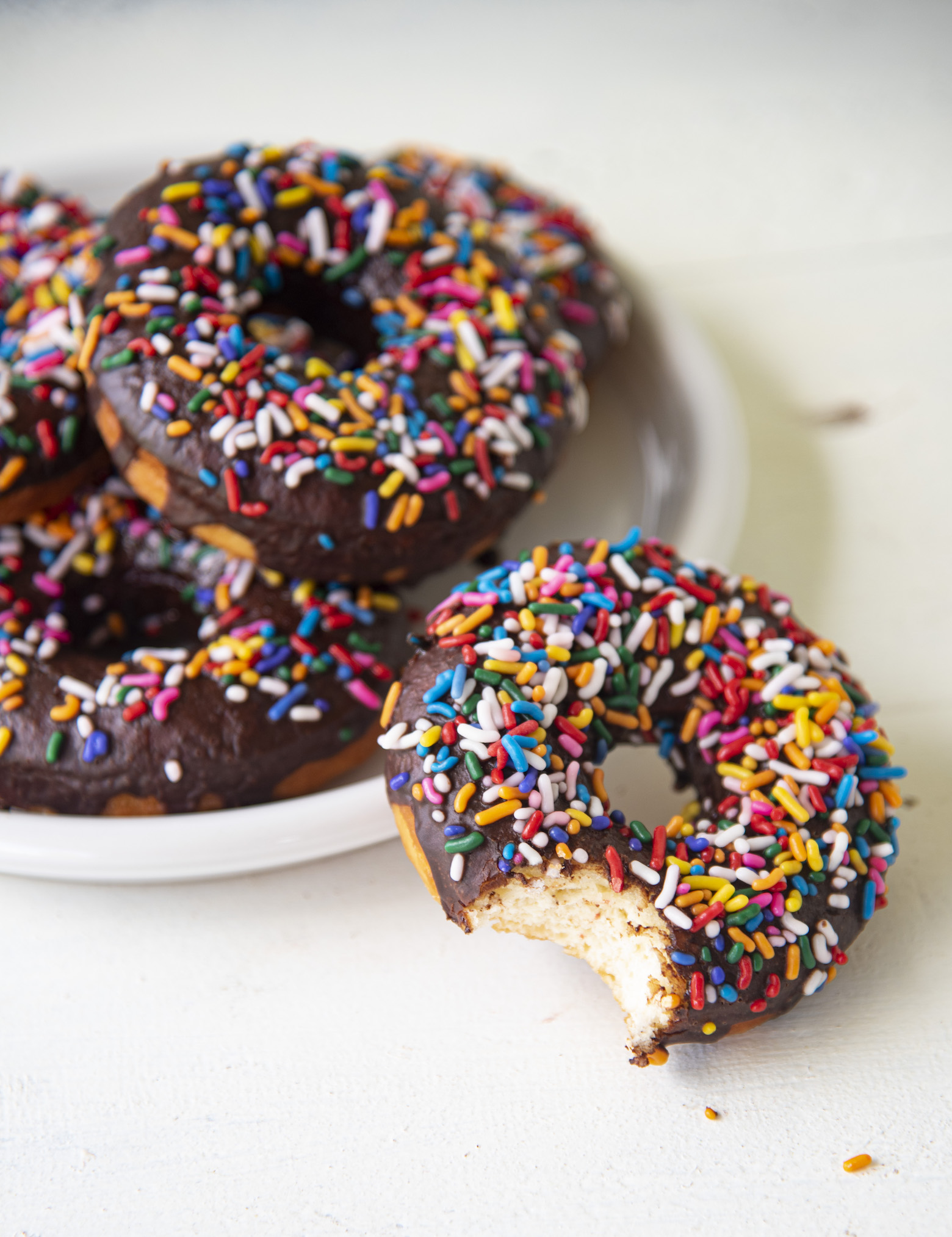 Want more Donut recipes?
Glazed Donut Strawberry Shortcake Boozy Milkshake
Coffee and Donuts Cheesecake Cheeseball
Vanilla Bean Glazed Soft Pretzel Donuts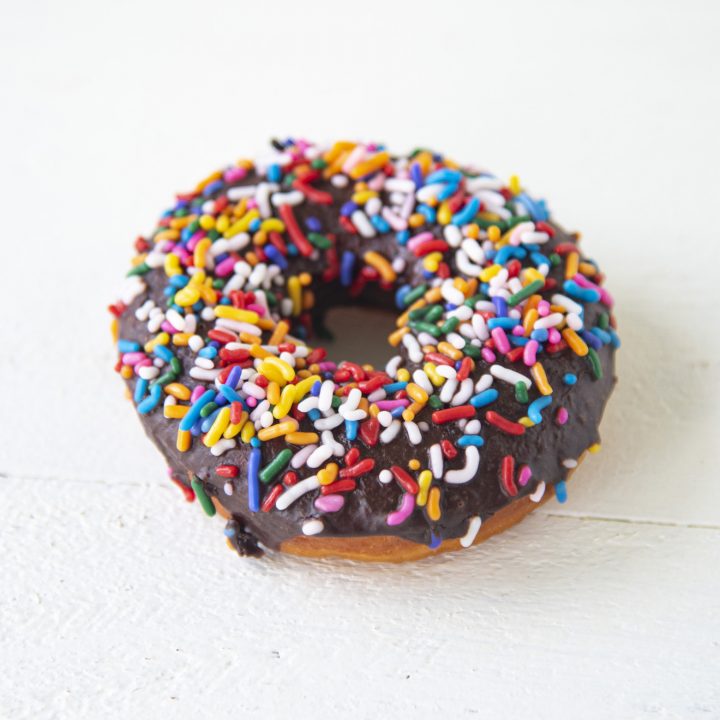 Chocolate Sprinkle Yeast Donuts
Ingredients
For the Donuts:
1 ¼ cups whole milk
2 ¼ tsp (one package) active dry yeast
2 eggs
8 TBSP (1 stick) butter, melted and cooled
¼ cup granulated sugar
1 tsp salt
4 ¼ cups all-purpose flour, plus more for rolling out the dough
2 quarts neutral oil, for frying, plus more for the bowl.
For the Glaze:
1 1/2 cups powdered sugar
4 TBSP unsweetened cocoa powder
2 TBSP milk or water
1 tsp vanilla extract
1 cup sprinkles
Instructions
For the Donuts:
Heat the milk until it is warm (90-95).
Using a stand mixer with the dough attachment combine the warm milk with the yeast. Stir lightly, and let sit until the mixture is foamy, about 5 minutes.
Add the eggs, butter, sugar and salt and beat into the yeast mixture.
Add half of the flour (2 cups plus 2 tablespoons), and mix until combined, then mix in the rest of the flour until the dough pulls away from the sides of the bowl. Add more flour, about 2 tablespoons at a time, if the dough is too wet.
Remove the dough and transfer it to a floured surface, and gently knead it until smooth.
Grease a large bowl with a little oil. Transfer the dough to the bowl, and cover with plastic lab.
Let rise at room temperature until it doubles in size, about 1 hour.
Turn the dough out onto a well-floured surface, and roll it to 1/2-inch thickness.
Cut out the donuts with a doughnut cutter, concentric cookie cutters or a drinking glass and a shot glass (the larger one should be about 3 inches in diameter), flouring the cutters as you go.
Knead any scraps together, being careful not to overwork, and let rest for a few minutes before repeating the process.
Put the donuts on two floured baking sheets so that there is plenty of room between each one. Cover with a kitchen towel, and let rise in a warm place until they are slightly puffed up and delicate, about 45 minutes. If you house is cold it will take longer.
About 15 minutes before the donuts are done rising, put the oil in a heavy-bottomed pot or Dutch oven over medium heat, and heat it to 375F or heat your deep fryer to 375F..
Meanwhile, line cooling racks, baking sheets or plates with paper towels.
Carefully add the donuts to the oil, a few at a time. If they're too delicate to pick up with your fingers use a metal spatula to pick them up and slide them into the oil. Cook each for about 45 seconds to a minute on each side or until they are deep golden brown.
Transfer the donuts to the prepared plates or racks, and repeat with the rest of the dough, adjusting the heat as needed to keep the oil at 375F.
For the Glaze:
Sift together the sugar and cocoa powder in a medium bowl. Slowly stir in the milk and vanilla, a little at a time, to make a smooth, pourable glaze.
In a medium bowl, whisk together powdered sugar and cocoa powder.
Slowly stir in milk and vanilla extract.
Whisk until silky and smooth.
Dip the top of the doughnut into the mixture and place on a wire rack with a baking sheet underneath it to catch the spare glaze.
Add sprinkles and let set up for about 30 minutes.
Donuts are always best the day you make them.