These Girl Scout Cookie Donuts filled with girl scout cookies and cream cheese center and topped with rich chocolate glaze.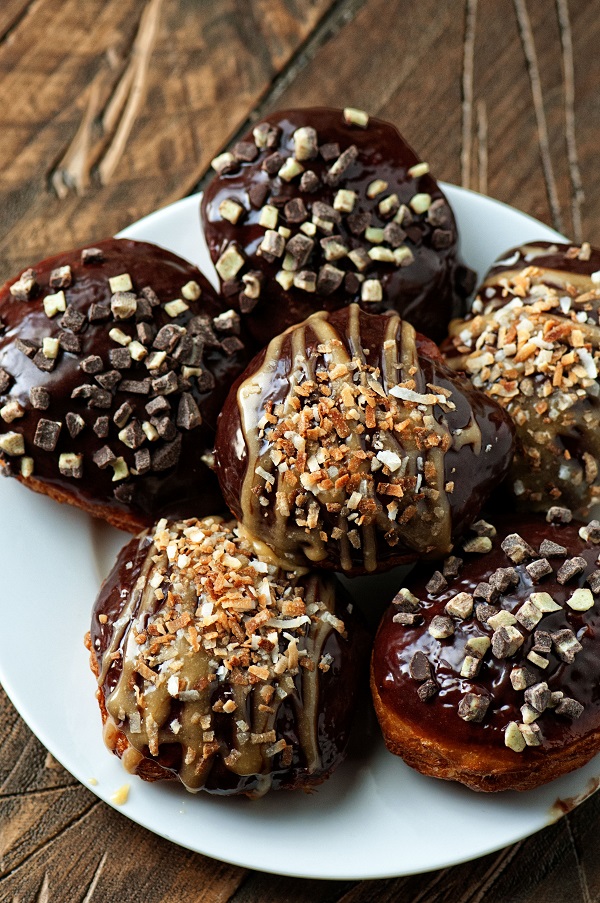 It's Girl Scout Cookie time again and once again I am throwing my hat into the recipe contest ring.
Last year, you may recall, I made this Samoa's Mascarpone Filled Layer Cake, which was insanely over the top and yummy.
But alas, I only came in second place.
This year I decided to make a much easier recipe.
Still insanely over the top but something everyone could make.
These Girl Scout Cookie Donuts are where it's at.
First you start by making cookie balls (sort of like cake balls).
Then you stuff those cookie balls in to a biscuit and deep fry it.
Cover it in chocolate glaze and you are good to go.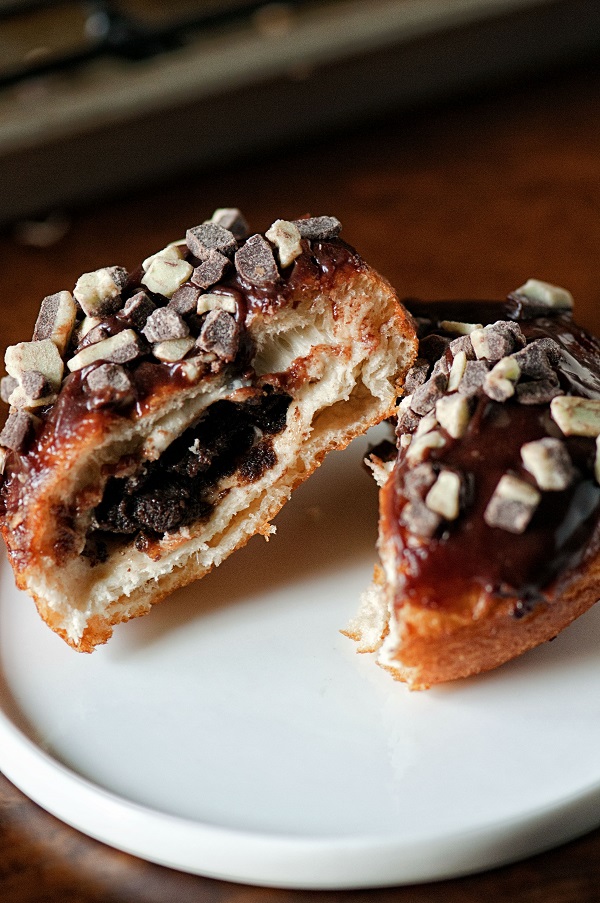 I got the idea from Frugal Foodie Mama who just put a Girl Scout Cookie in them.
That was good I am sure but I really feel the extra step I take to make the cookie ball filling and the glaze is the way to go!
If you are local to the Pacific Northwest please note that you will be seeing the Girl Scouts out and about selling their cookies between March 4-20th, so be on the lookout.
So go out and get yourself a box (or 8) of your favorite Girl Scout Cookie.
You can easily use any cookie to make these donuts, I just chose these flavors as they are my favorites!
P.S. It's a great day to buy my cookbook Holy Sweet!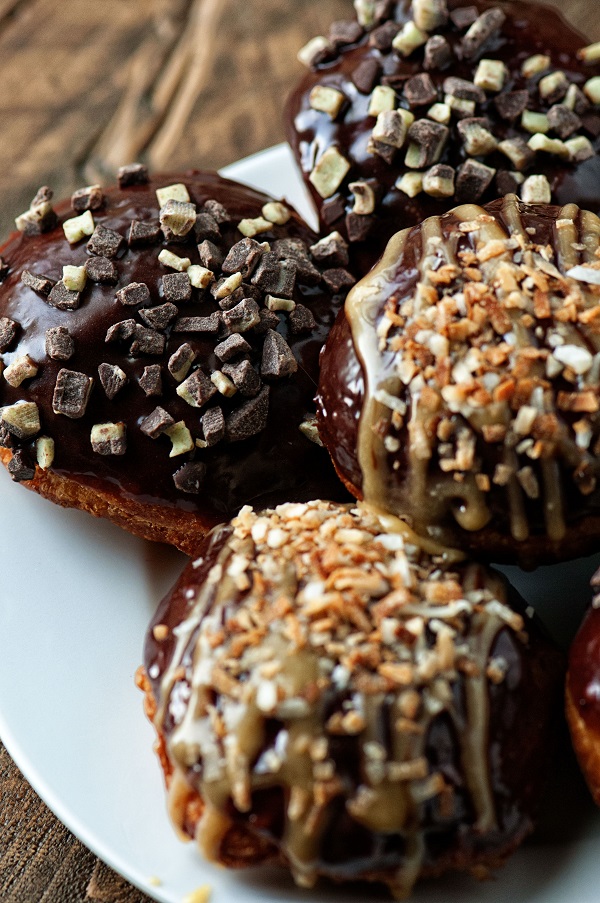 Want more Donut recipes?
Glazed Donut Strawberry Shortcake Boozy Milkshake
Chocolate Sprinkle Yeast Donuts
Coffee and Donuts Cheesecake Cheeseball
Vanilla Bean Glazed Soft Pretzel Donuts
Girl Scout Cookie Donuts
Ingredients
Samoa's Cookie Ball Batter:
7 oz. Samoa's cookies
4 oz. cream cheese
Thin Mint Cookie Ball Batter:
7 oz. Thin Mint cookies
4 oz. cream cheese
For the donuts:
2 (8 count) roll of Pillsbury Grands! Original Flaky Layers Biscuits
1 batch Samoa's cookie ball batter
1 batch Thin Mint cookie ball batter
3 cups canola oil
Chocolate Glaze:
4 oz. semisweet chocolate chips
4 oz. heavy whipping cream
2 TBSP light corn syrup
Optional Toppings:
For Samoa's: caramel sauce and toasted coconut
For Thin Mints: Andes Mint Pieces
Instructions
For the cookie ball batter:
You will do this for both the Thin Mint and Samao's batter. Be sure to clean the bowl after the first batch.
Using a stand mixer with a paddle attachment, beat together the cookies and cream cheese until the cookie pieces are very tiny and the batter is somewhat smooth.
Roll into balls about the size of a ping pong ball and slightly flatter.
Place on a baking sheet with parchment paper and flatten slightly. Freeze for at least an hour.
For the Glaze:
In a small saucepan over medium heat, warm the heavy cream until very hot, but not boiling.
Place chocolate chips in a heat safe bowl.
Pour the hot cream over the chocolate and allow it to sit for about 5 minutes.Whisk the heavy whipping cream and chocolate until smooth and thoroughly combined.
Whisk in the corn syrup.
For the donuts:
Heat the oil in a deep skillet until the temperature of the oil reaches 375 degrees. We have a deep fryer but I realize most people don't have one.While the oil is heating, lay out a sheet of waxed paper.
Separate the 16 biscuits and lay them out on the waxed paper.
Take one of the biscuits and find a layer near the middle and peel back.Add a cookie ball to the center & then flip the top layer back over top.
Gently press the dough along the edges to seal in the cookie. Set aside.
Repeat this for the biscuits.
Once you oil is heated, place the biscuits in the oil 4 at a time.
Fry 2-3 minutes per side or until golden brown.
Remove & place on a paper towel lined plate.
Allow the donuts to cool for 5 minutes then dip them in glaze.
If using the garnishes add at this time.
Repeat this for the remaining donuts.