These Vanilla Bean Glazed Soft Pretzel Donuts are a soft pretzel dough boiled and salted then deep fried and covered in a vanilla bean glaze.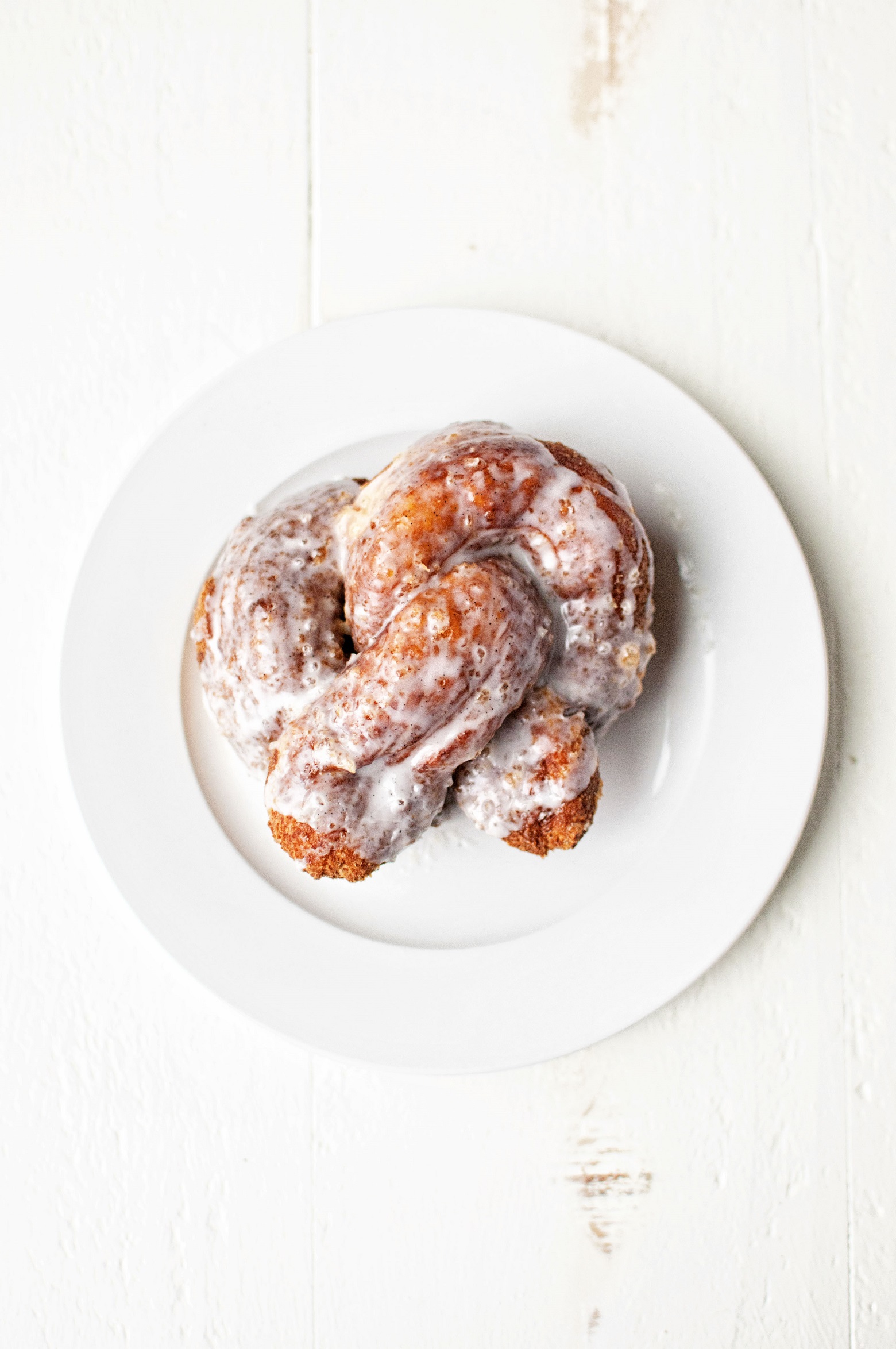 I have a friend who likes to ask all the time "what will you be remembered for".
She puts it up on her FB page about once a week.
Which kind of reminds me of a writing prompt that they would give you on the SAT but it's something to ponder.
That's a hard one as I think to different people I want to be remembered a certain way.
How my husband remembers me might be different than what my former students remember me for.
Unless of course, you are Mary Kay Letourneau 😉 then it might be the same…did you know they live in Seattle?.
I used to think in the world of food blogging I will either be known for the Snickerdoodle (aka Refund Muffin) or the fact that I'm not a Best Blog.
But that may all change as of today.
It may change because of these.
These Vanilla Bean Glazed Soft Pretzel Donuts.
I'm not totally sure how the idea came along.
Perhaps it's the fact that I think almost everything is better with glaze on it.
All I know is that one day it just popped in my head. Just like so many of my ideas.
I have a little notepad by my bed because often these ideas come at 3am and by the time I wake up I forget half the time. #oldpeopleproblems
I often get ideas and they don't work out. Sometimes they do.
These most definitely did work out.
Oh, did they work out.
I wanted to run outside and shout to everyone go make these right now.
But it was raining so I just put them on Instagram instead. 😀
I decided that this would be my post that I collaborated with Rodelle on (that's code for sponsored post-FYI 😀 ).
And I get creative freedom on my post for Rodelle so it's always a surprise to them what I'm coming up with.
Luckily we have worked together long enough they know I won't steer them wrong.
I wasn't sure at first since the recipes I normally do for them are super vanilla based.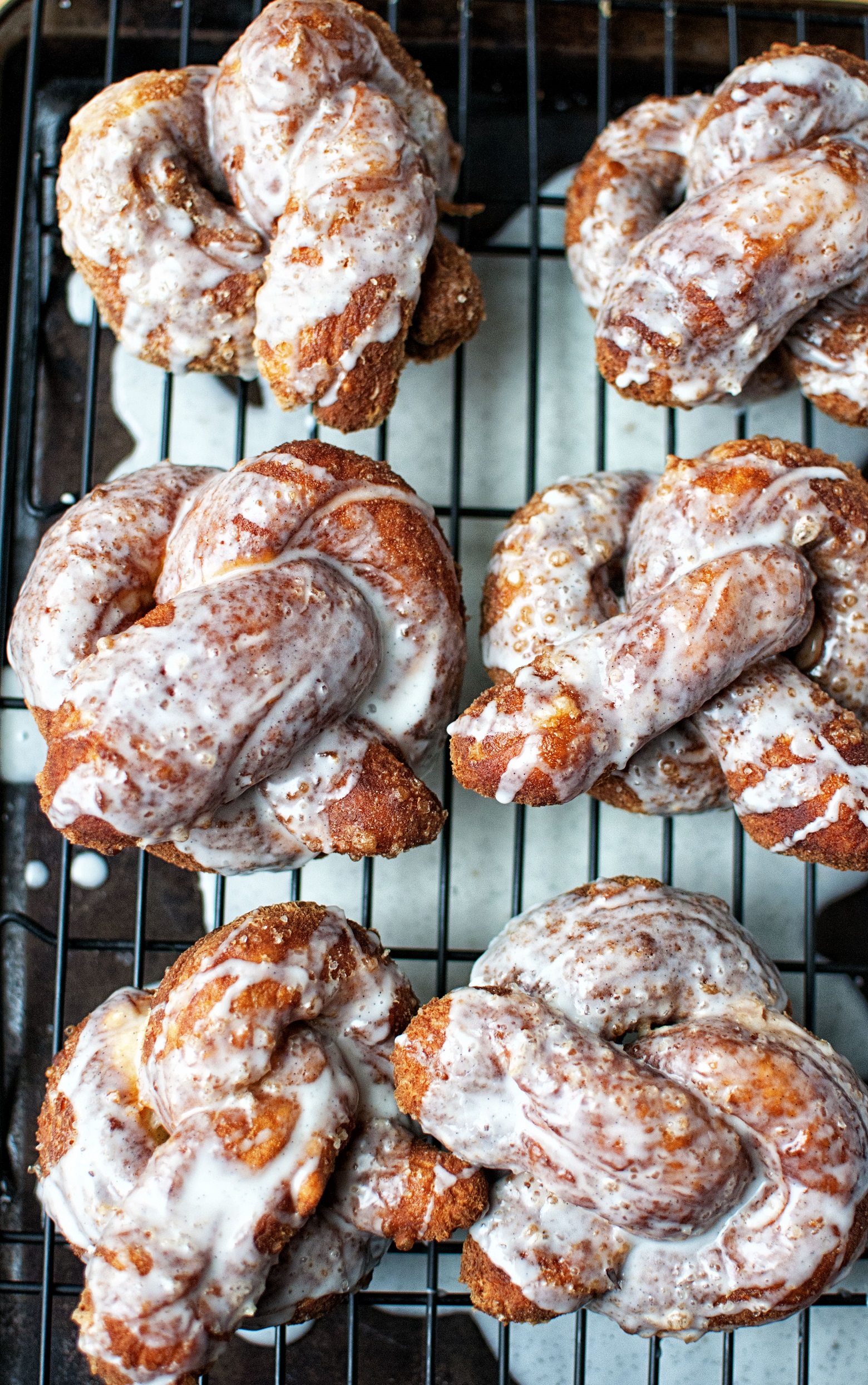 But I knew I loved this recipe.
I know I love their vanilla and I wanted them to be a part of what (at least until something else comes along) may very well be the legacy of Sweet ReciPEAS…they are seriously that good.
Seriously.
I chose to use Rodelle's Madagascar Bourbon Vanilla Beans. I could have used vanilla extract but I really wanted to see the vanilla beans speckled on the pretzels.
These are made just like regular soft pretzels at first.
If you have never made soft pretzels at home before they are actually quite easy.
The recipe I use does not use lye, instead using baking soda.
There are purists about using lye, I am not one of those purists.
They still get boiled like a pretzel.
Then brushed with egg and sprinkled with salt.
But instead of baking they get dropped into hot oil and fried.
Now we have a deep fryer but we still had to turn them like you have to with donuts.
So these can easily be made in a pot of oil.
Now you can stop here.
You can just have a deep fried pretzel.
The hubs was in awe of how they had a pretzel flavor, the soft yet chewy inside of a soft pretzel, and yet somehow lighter as he calls it.
BUT don't stop.
Glaze.
When you glaze them you get this salty sweet vanilla goodness that left me almost speechless…minus the wanting to shout to the neighborhood.
If you make lists of recipes to try, move this to the top.
For real.
And if you are searching for a vanilla bean to use for this recipe use Rodelle. For real.
Thanks again to Rodelle for sponsoring this post.
As always the opinions, bad grammar, and overuse of emoji smiley faces are all mine. 🙂
Last but not least…it's a great time to order my cookbook. 😀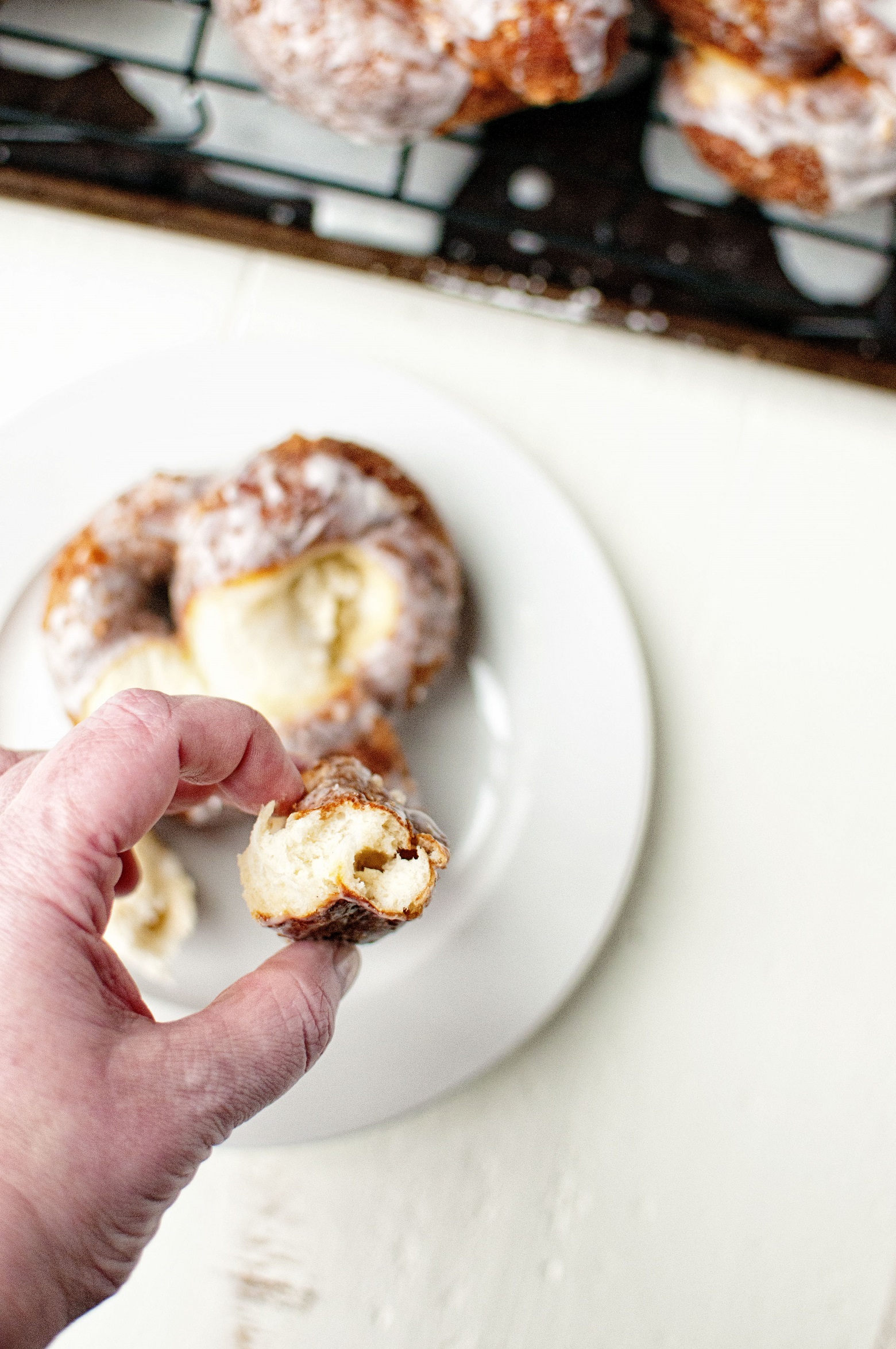 Want more Donut recipes?
Coffee and Donuts Cheesecake Cheeseball
Glazed Donut Strawberry Shortcake Boozy Milkshake
Chocolate Sprinkle Yeast Donuts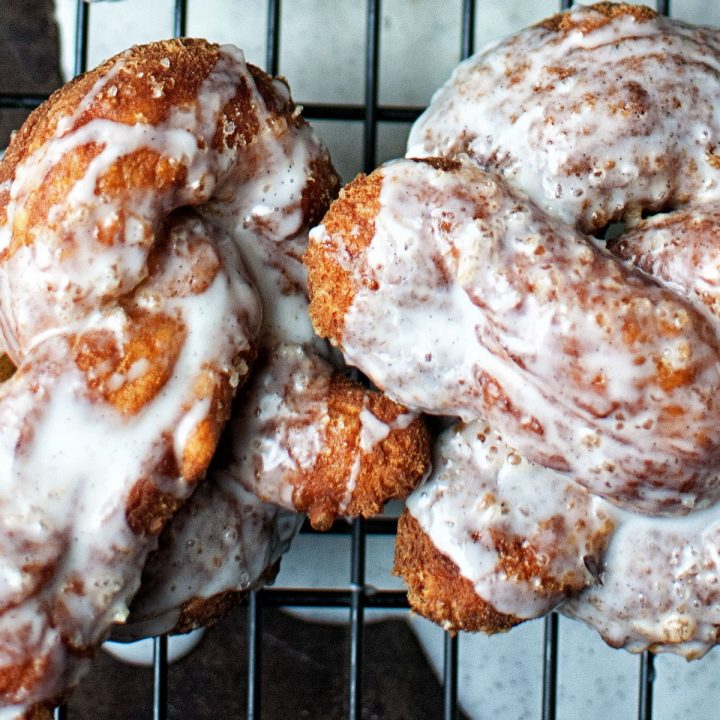 Vanilla Bean Soft Pretzel Donuts
Ingredients
For the pretzel dough:
1 1/2 cups warm (110 to 115 degrees F) water
1 TBSP sugar
2 tsp. salt
1 package (2 ¼ tsp.) active dry yeast
4 ½ cups all-purpose flour
2 oz. unsalted butter, melted
Vegetable oil, for pan or fryer
10 cups water
2/3 cup baking soda
1 large egg yolk beaten with 1 TBSP water
Pretzel salt (or sea salt works fine too)
For the glaze:
2 cups powdered sugar
1 vanilla bean (I used Rodelle), split, beans scraped out and pod discarded
¼ cup whole milk
Instructions
Combine the water, sugar and salt in the bowl of a stand mixer and sprinkle the yeast on top.
Allow to sit for 5 minutes or until the mixture begins to foam.
Add the flour and butter and, using the dough hook attachment, mix on low speed until well combined. Change to medium speed and knead until the dough is smooth and pulls away from the side of the bowl, approximately 4 to 5 minutes.
Remove the dough from the bowl, clean the bowl and then oil it well with vegetable oil.
Return the dough to the bowl, cover with plastic wrap and sit in a warm place for approximately an hour or until the dough has doubled in size.
Heat your oil in either your fryer or your large heavy pan to 365F.
Line a baking sheet with parchment paper.
Bring the 10 cups of water and the baking soda to a rolling boil in an 8-quart saucepan or roasting pan.
In the meantime, turn the dough out onto a slightly oiled work surface and divide into 8 equal pieces.
Roll out each piece of dough into a 24-inch rope.
Make a U-shape with the rope, holding the ends of the rope, cross them over each other and press onto the bottom of the U in order to form the shape of a pretzel.
Place onto the parchment-lined half sheet pan.
Place the pretzels into the boiling water, 1 by 1, for 30 seconds.
Remove them from the water using a large flat spatula.
Return to the half sheet pan, brush the top of each pretzel with the beaten egg yolk and water mixture and sprinkle with the pretzel salt.
One at a time, fry the donuts. After trial and error the hubs (he's the fryer king) and I decided they take about a minute on each side.
You want them to be a darker golden brown. You will just need to watch them.
You may also have to flip a few times because you flipped too early and now one side is lighter than the other (this happened to us 🙂 ).
Remove from oil and let cool on a plate with paper towels on them to soak up the oil and to let them rest to a temp where you can touch them.
Because you are frying them not all of them hold their shape as well as if you bake them. Do not worry. They can be ugly…because the taste is worth it.
Once all the donuts are done place them on a wire rack with a baking sheet under them.
Make the glaze.
Whisk together the powdered sugar, milk, and vanilla bean seeds until smooth and glaze forms.
Drizzle over the warm pretzels.
These are best eaten the day of but as I can attest since I ate one for breakfast the next morning they are still good the next day.