These Apple Praline Snickerdoodles have freeze dried apples, toffee, and pecans take the classic Snickerdoodle to a whole new level for your fall baking.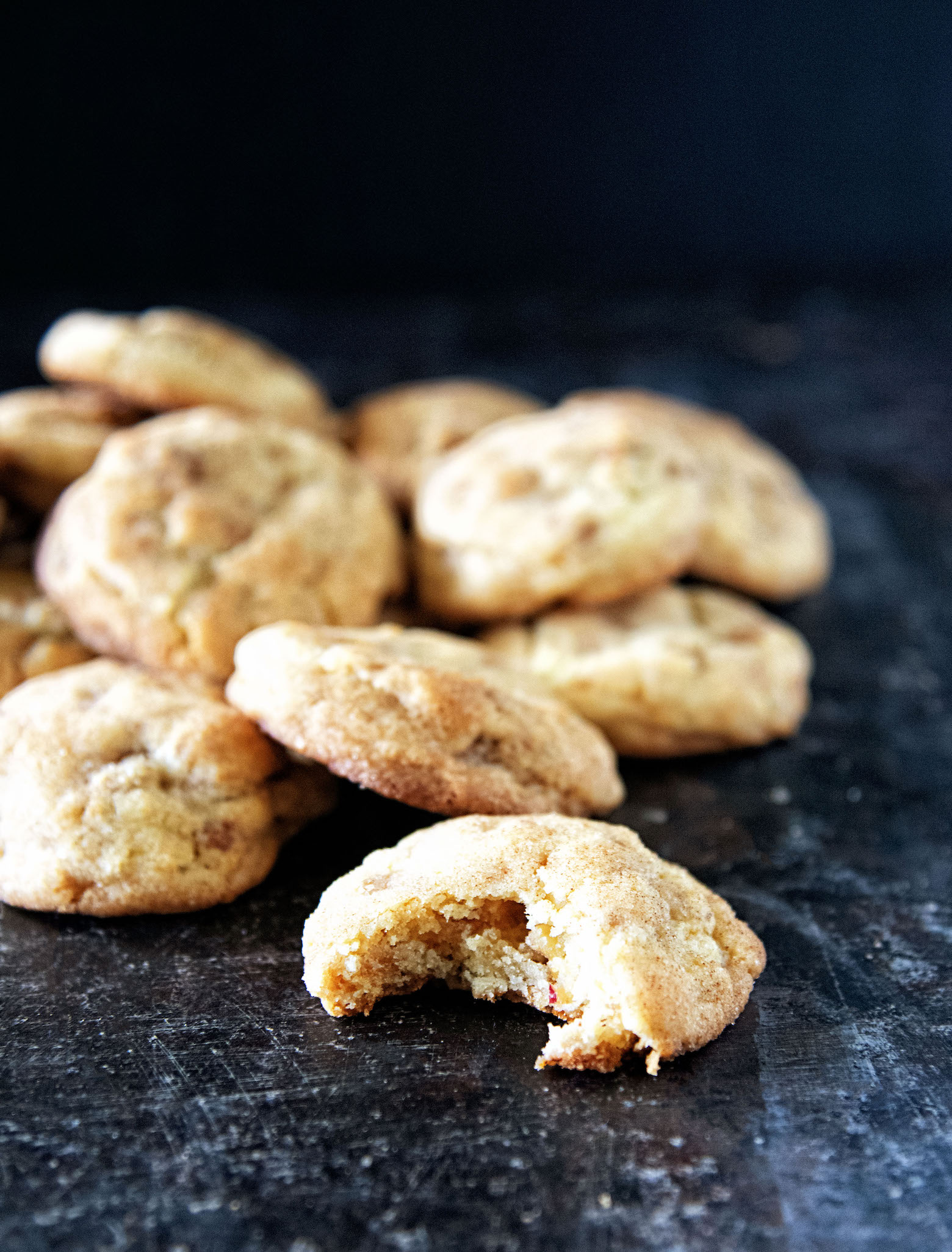 While fall brings us the cooler temperatures, tons of fun sized candy, and scary movies around here I brings Snickerdoodles.
That is not to say that I don't make them year round.
But there is something about fall and winter that makes me make them more.
Whatever the case may be I am ready for Snickerdoodle season.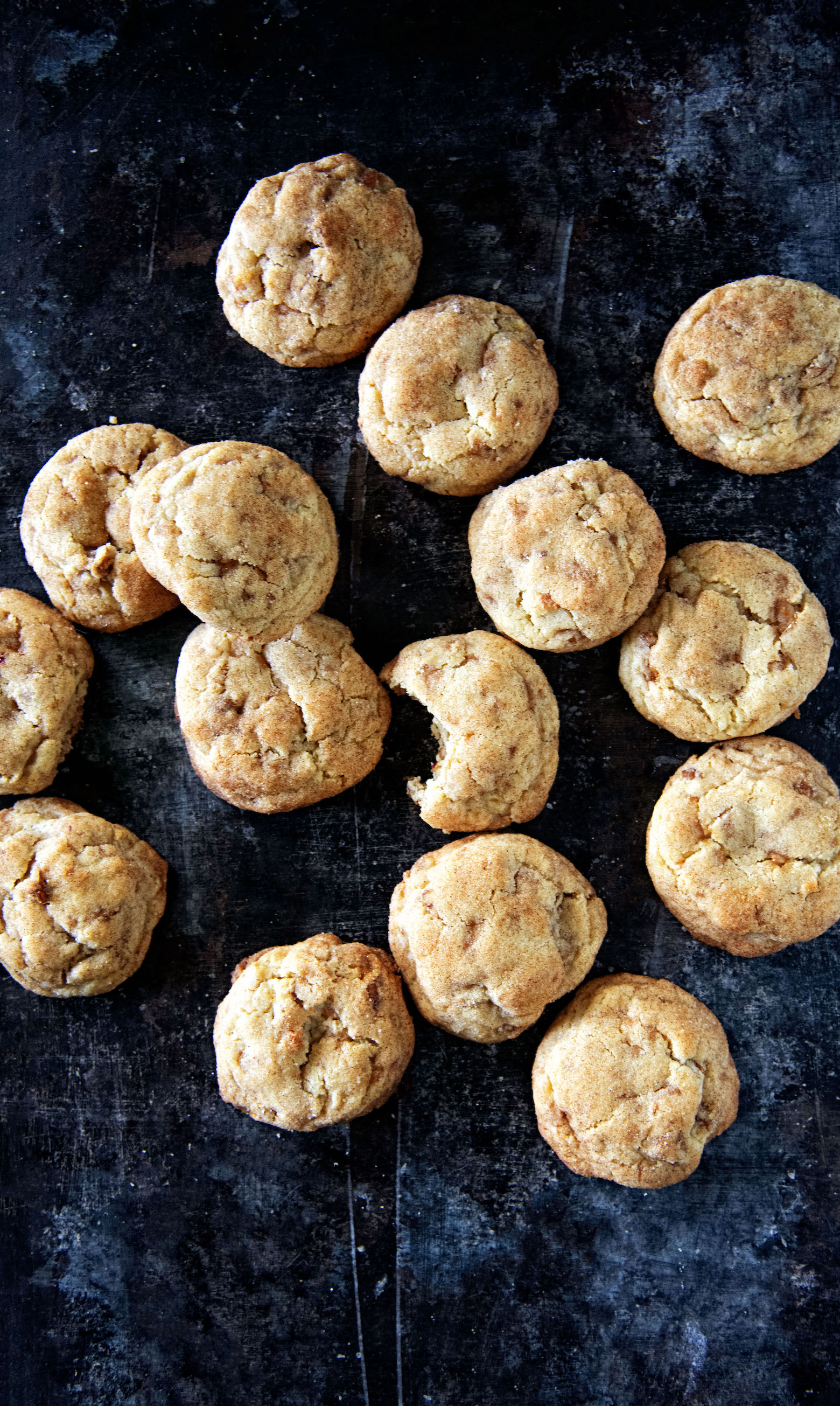 Since I do love Snickerdoodles so much I am always looking for new ways to make them.
I saw in Better Homes and Gardens a recipe for Praline Snickerdoodles and decided to make a version of those.
If I wasn't lazy I would have made my own pralines.
This recipe uses toffee pieces (Bit O'Brickle) and pecans to make the praline flavor.
But I definitely want to try them with actual chopped up praline pecans.
So someone go do that and report back if they are tasty. 🙂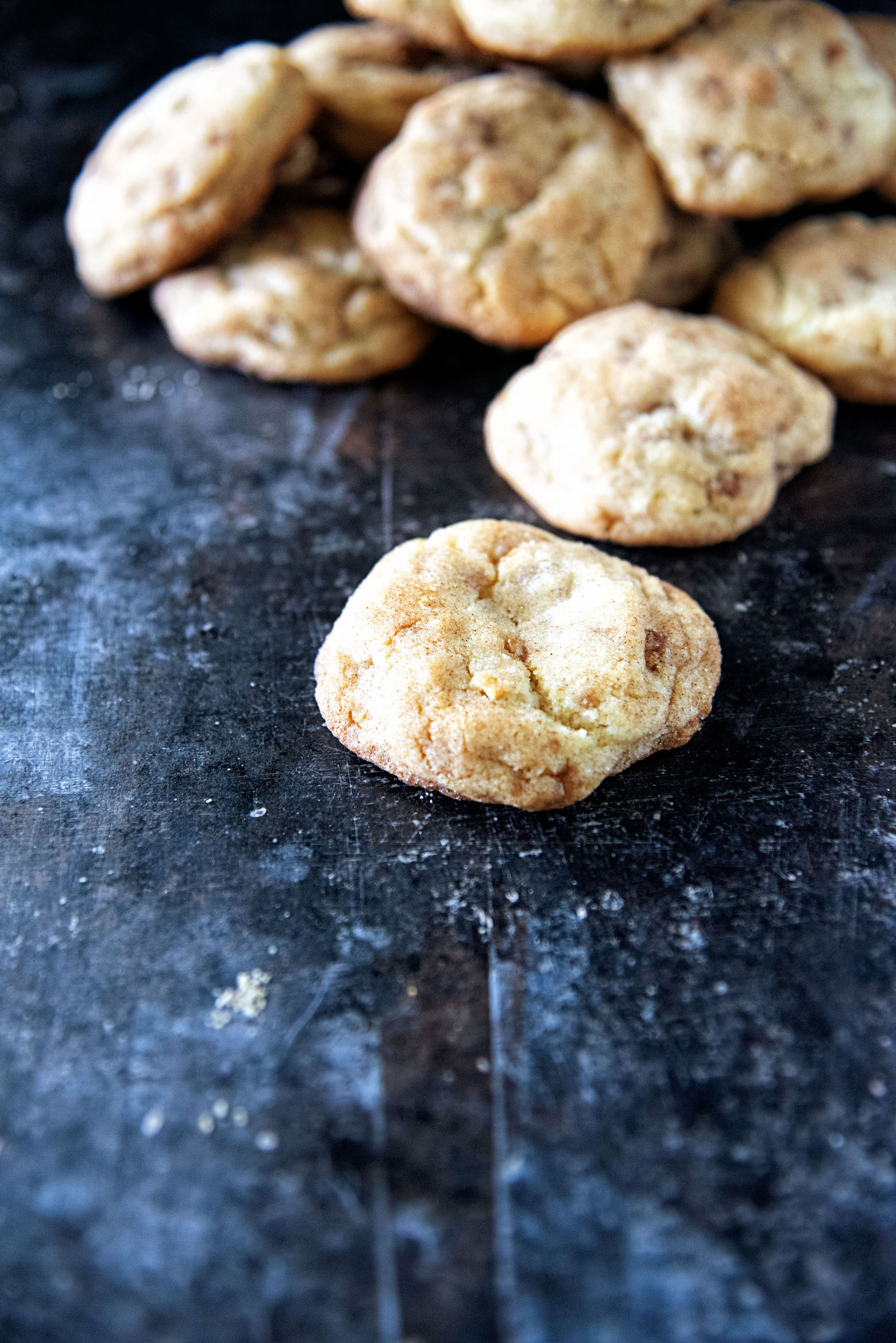 Do You Need Cream of Tartar in a Snickerdoodle?
YES!
I see so many recipes that say Snickerdoodle but they are not snickerdoodle.
What they are is cinnamon sugar.
Which is certainly tasty but it's no Snickderdoodle.
Recently I saw King Arthur Flour suggest using bread flour to make your Snickerdoodles.
Snickerdoodles are to be a little chewy, that is their other characteristic.
But when I read the recipe and saw no cream of tartar I was disappointed.
They commented that you don't need it because the bread flour gives it the chewiness.
But without the cream of tartar there is no tang.
And you need the tang.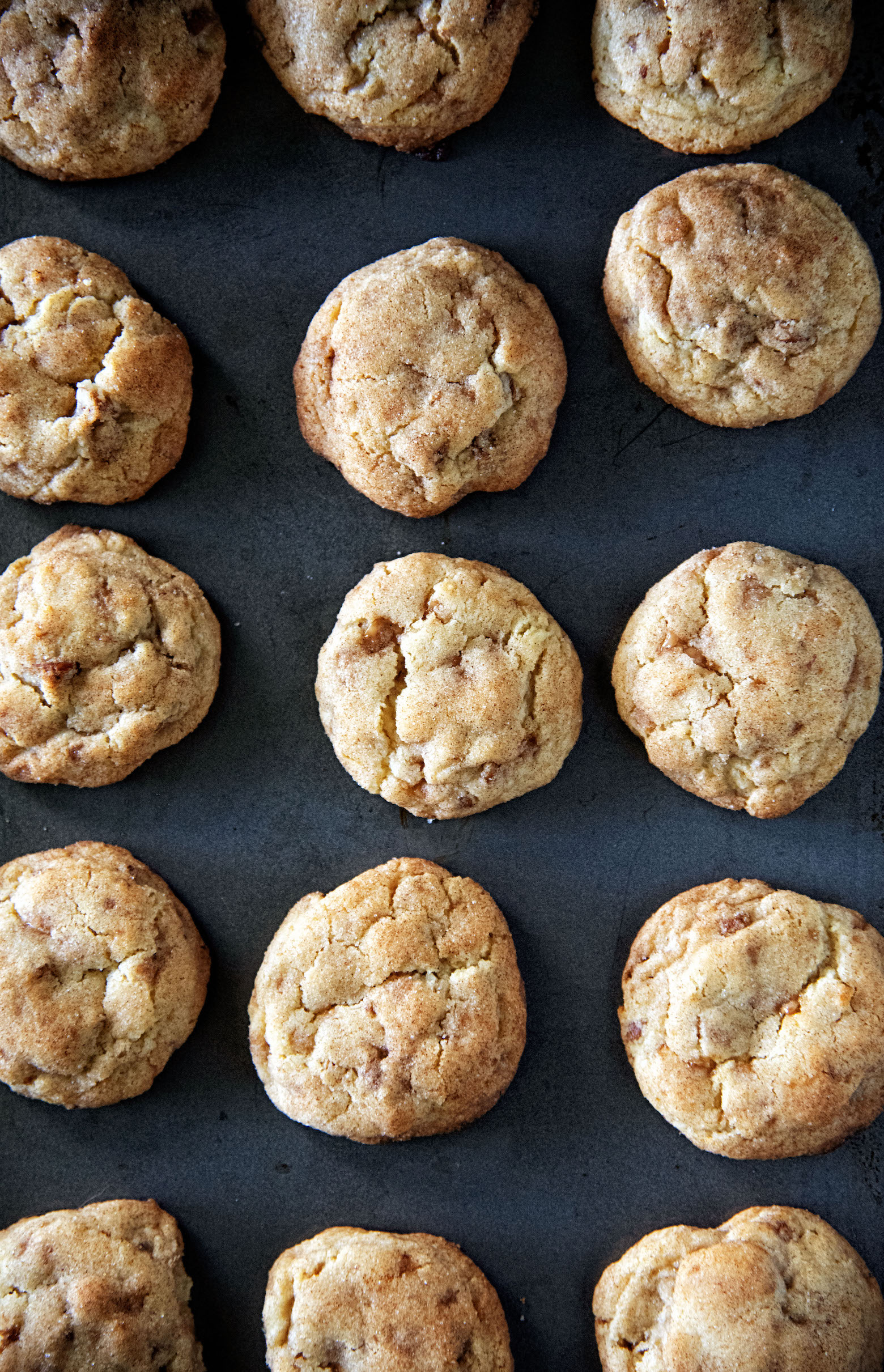 These Apple Praline Snickerdoodles definitely have cream of tartar in them.
They also have freeze dried apples that are crushed into a powder.
Do not confuse freeze dried with dehydrated as they are NOT the same thing at all.
Dehydrated apples are soft and sponge like as where freeze dried can be crushed into a powder.
It's the powder that you need.
Add in the toffee and the pecans and you have yourself a yummy new way to enjoy Snickerdoodle cookies.
Last but not least…it's a great time to order my cookbook. 😀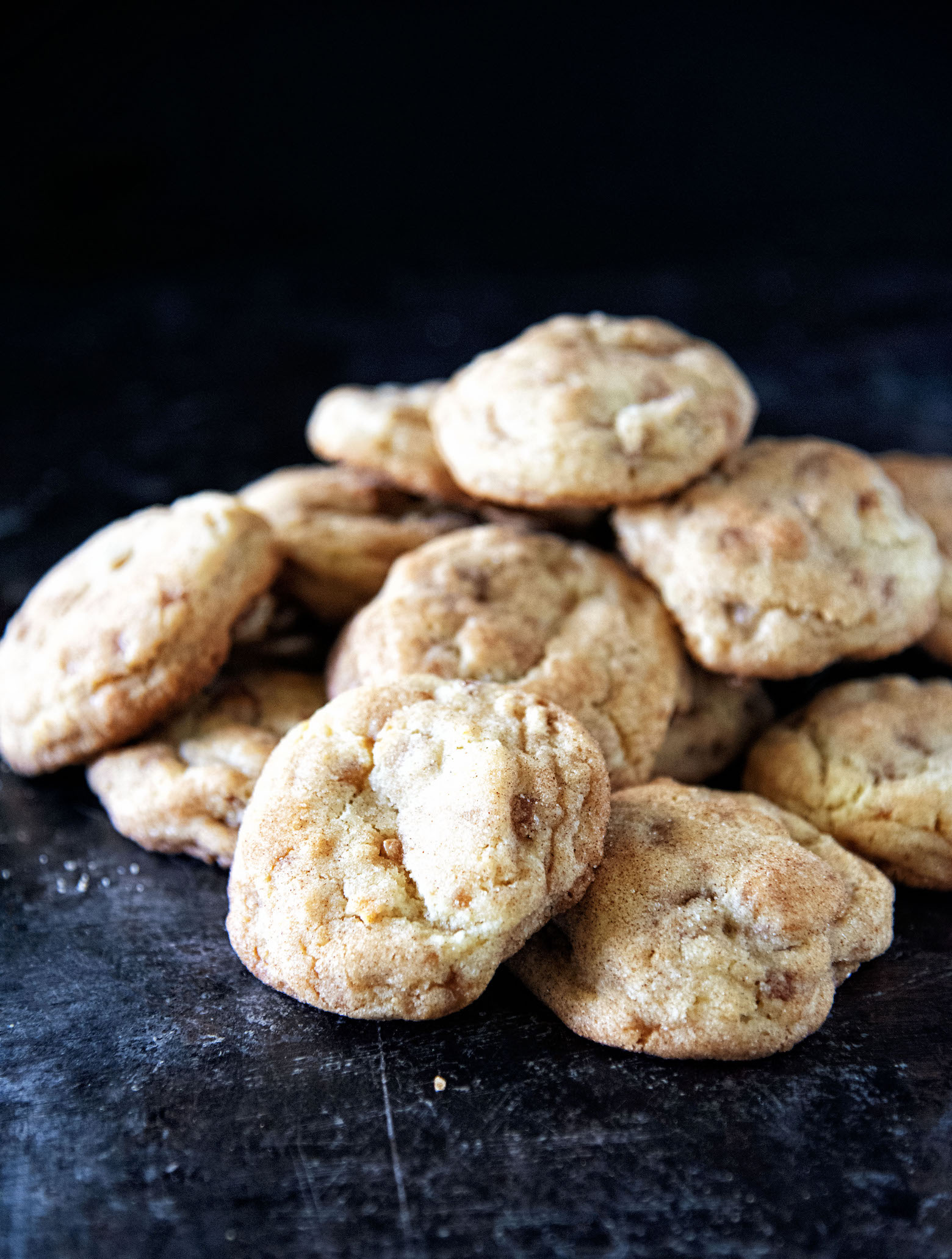 Want More Recipes? Try These:
Caramel Cream Filled Snickerdoodles
Snickerdoodle Muffin aka the Refund Muffin
Apple Praline Snickerdoodles
Ingredients
For the Dough:
1 cup butter, at room temperature
1 1/2 cups granulated sugar
1 tsp. cream of tartar
1 tsp. baking soda
¼ tsp. salt
1 tsp. freshly ground nutmeg
2 eggs
1 tsp. vanilla
3 cups all-purpose flour
1 cup toffee pieces
½ cup chopped pecans
For the Cinnamon Sugar:
1/4 cup granulated sugar
2 tsp. ground cinnamon
Instructions
For the dough:

Using a stand mixer with the paddle attachment cream butter on medium to high speed for 30 seconds.

Add 1-1/2 cups of granulated sugar, cream of tartar, baking soda, nutmeg, and salt.

Beat until combined, scraping side of bowl occasionally.

Mix in eggs and vanilla until combined.

With the mixer on low add in the flour and powdered apples, toffee pieces, and pecans.

Cover and chill dough about 1 hour or until easy to handle.

Preheat oven to 365°F.

For the Cinnamon Sugar:

In a small bowl stir together the remaining 1/4 cup sugar and the cinnamon.

To bake the cookies:

Shape dough into 1-1/2-inch balls.

Roll balls in cinnamon sugar mixture to coat.

Place balls 2 inches apart on an ungreased cookie sheet.

Bake for 11 minutes or until edges are golden brown.

Transfer to a wire rack and let cool.