Ricotta Corn Lemon Cheese Tortellini: This quick to make cheese tortellini is filled with creamy ricotta cheese, sweet corn, garlic, and finished with fresh basil and lemon.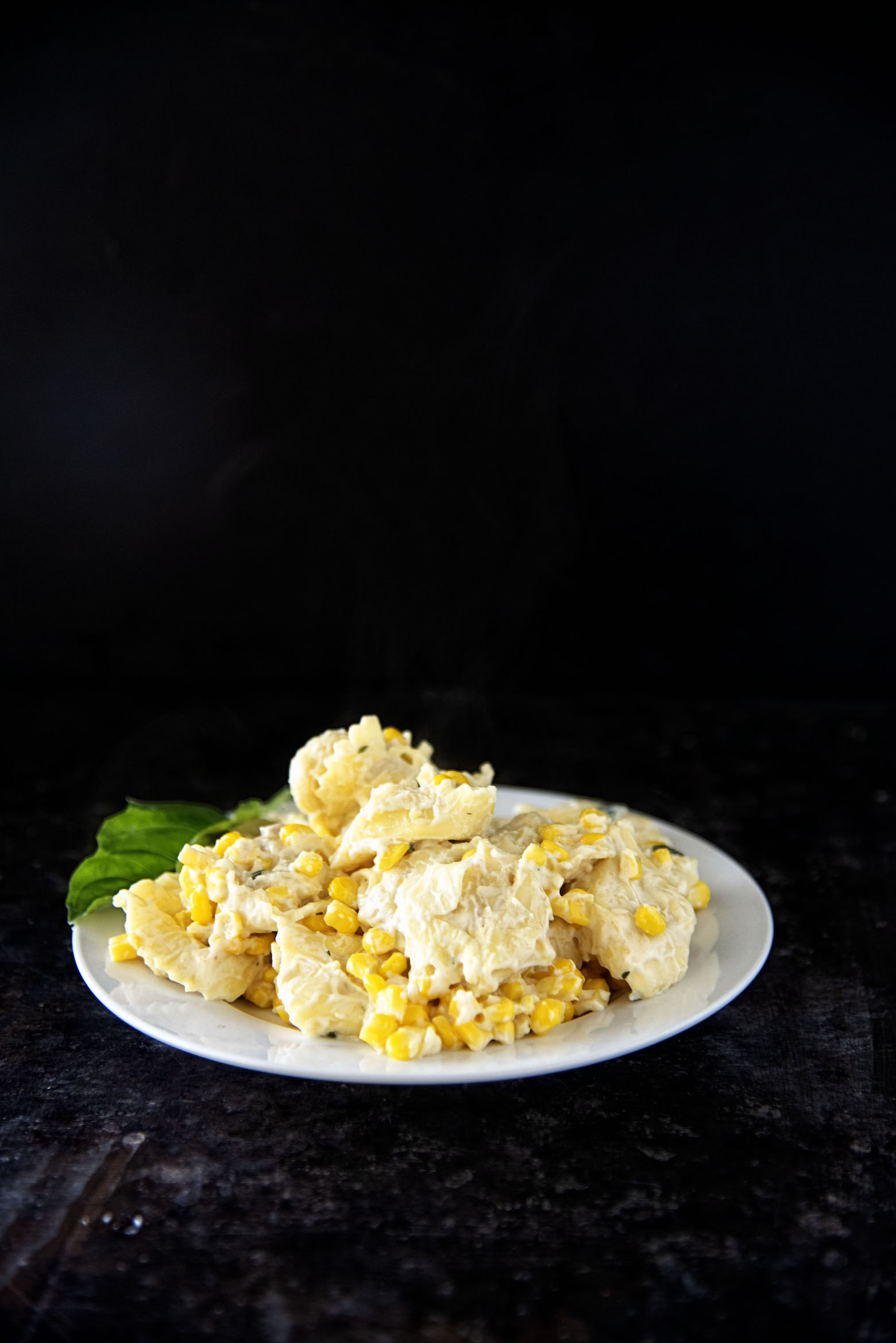 This Ricotta Corn Lemon Cheese Tortellini is a take on Half Baked Harvest's One Pot Lemon Basil, Corn, and Ricotta Pasta.
She is one of the bloggers who's recipes I tend to use the most.
Part of that is because she does seem to do a lot of Vegetarian recipes.
Or recipes that you can easily adapt to be Vegetarian.
I'm most likely making her herby buttered mushroom stroganoff this week.
Well, more like my version of it but still.
I'm super excited that she is coming out with another cookbook in just a few weeks. 
Speaking of cookbooks we are heading into cookbook season.
Or at least they type of cookbooks I tend to buy season.
That is not to say I don't buy cookbooks year round but October and November are pretty much the months when most of the baking and dessert release.
I've been pouring through cookbooks lately.
I love to go back and look at them because I have found over the years that as my tastes change so do the recipes I want to make from a book.
Often while going back and looking at a cookbook I'm surprised at all the recipes I missed.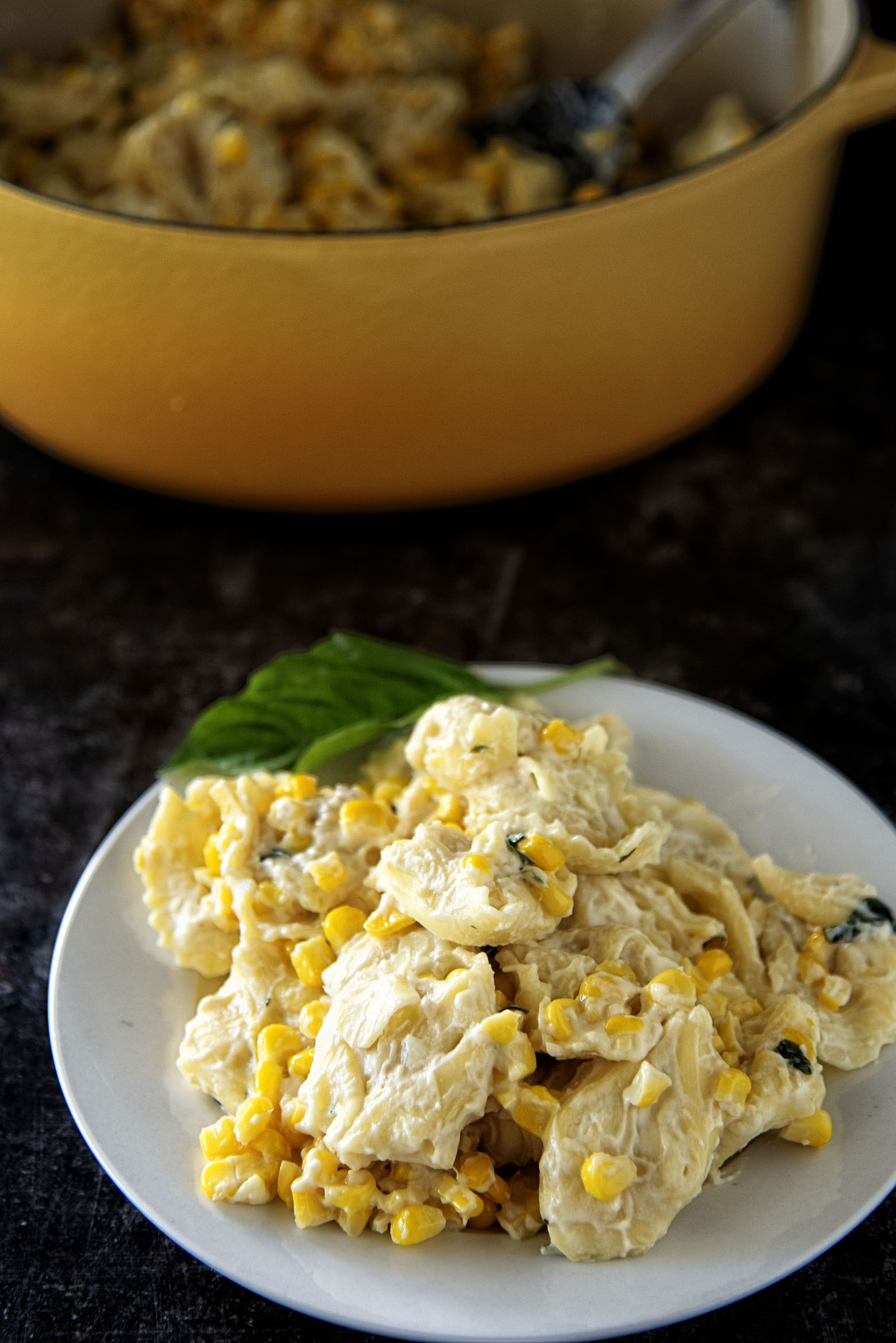 Kind of like when you rewatch a movie or TV series that you thought you knew everything about and then you rewatch it and realize you missed a bunch the first time around.
Am I the only one that does this?
Which cookbooks do you always go back to?
What do you love about them?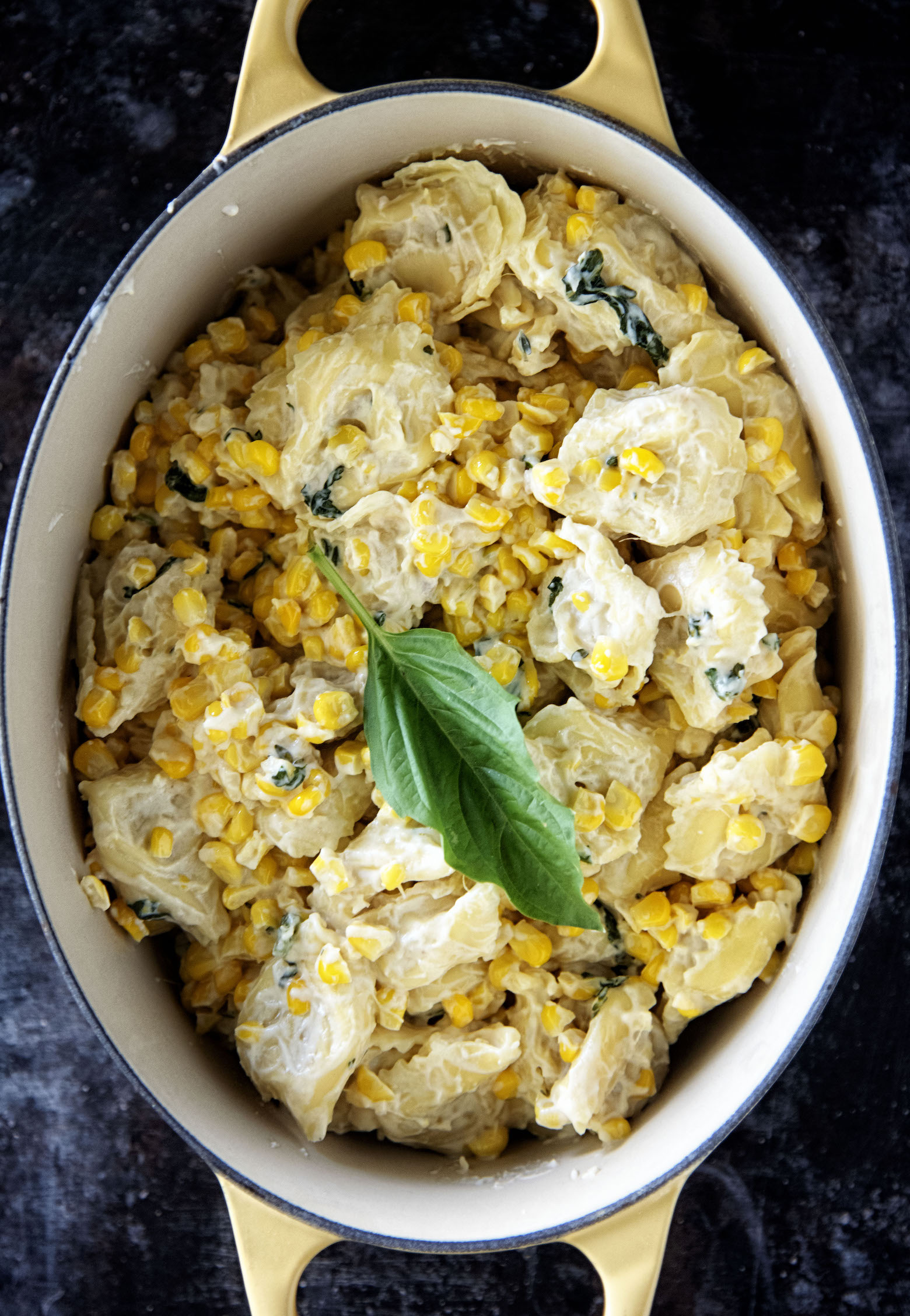 Circling back to this recipe.
Since I use a lot of Half Baked Harvest's recipes I have learned over time how to modify them to my needs.
Example, she likes basil and thyme way more than I do. 🙂
And that is okay, I just know to not use as much as she puts in her recipes.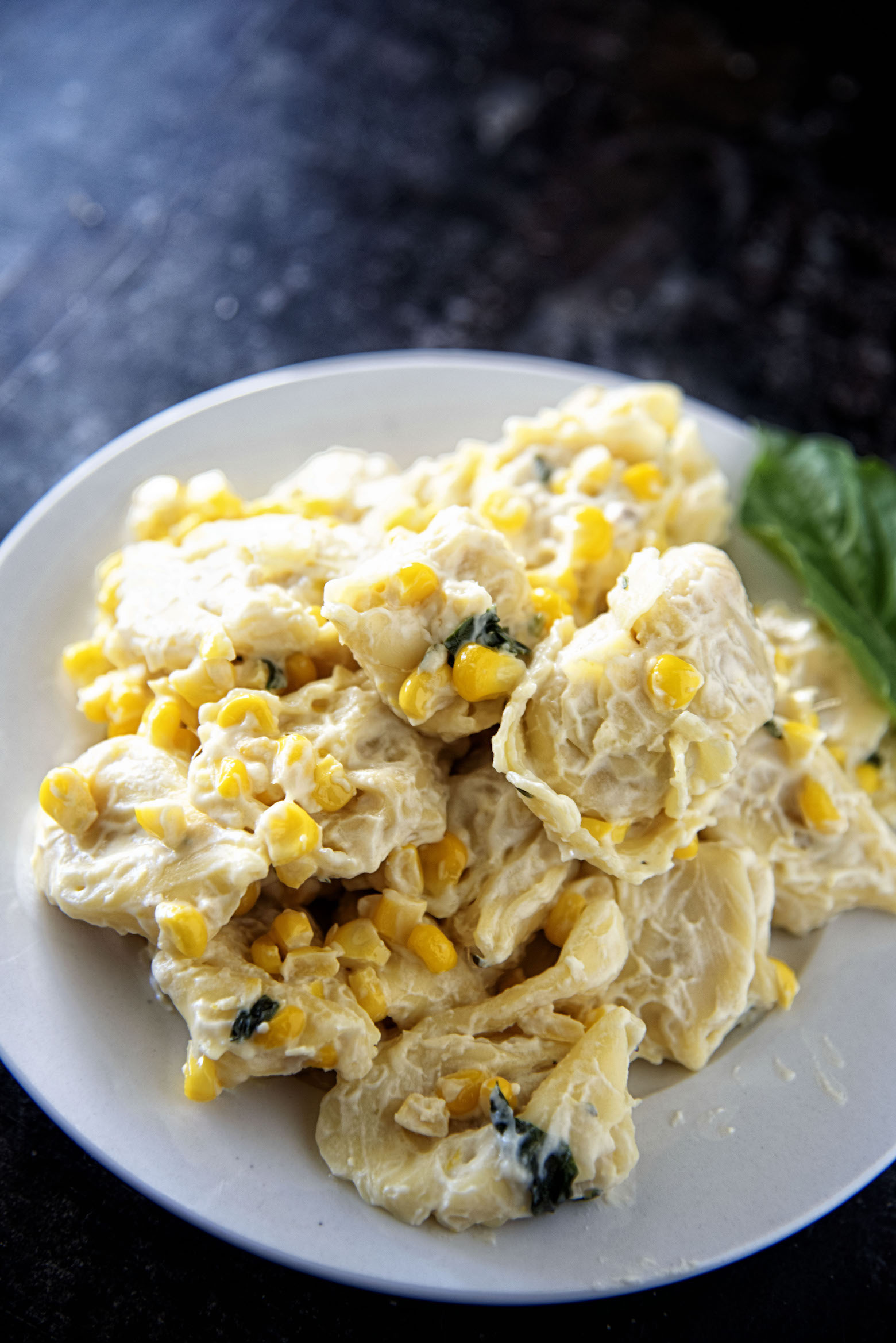 The original recipe uses just a plain pasta but I wanted to add more cheese so I went with cheese tortellini.
I go with cheese tortellini a lot because my Costco carries large amounts of it for cheap.
And I like cheap.
People sometimes raise their eyebrows at using corn in pasta.
Ever since I worked at Super Salad during one summer in college I have loved corn in pasta.
They had this great pasta that was cold and had parmesan cheese and corn.
If I was working that day, I was eating that pasta.
I highly encourage you to put corn in your pasta more often. 🙂
Since corn season is coming to an end please know that you can use frozen corn, I just wouldn't used canned corn.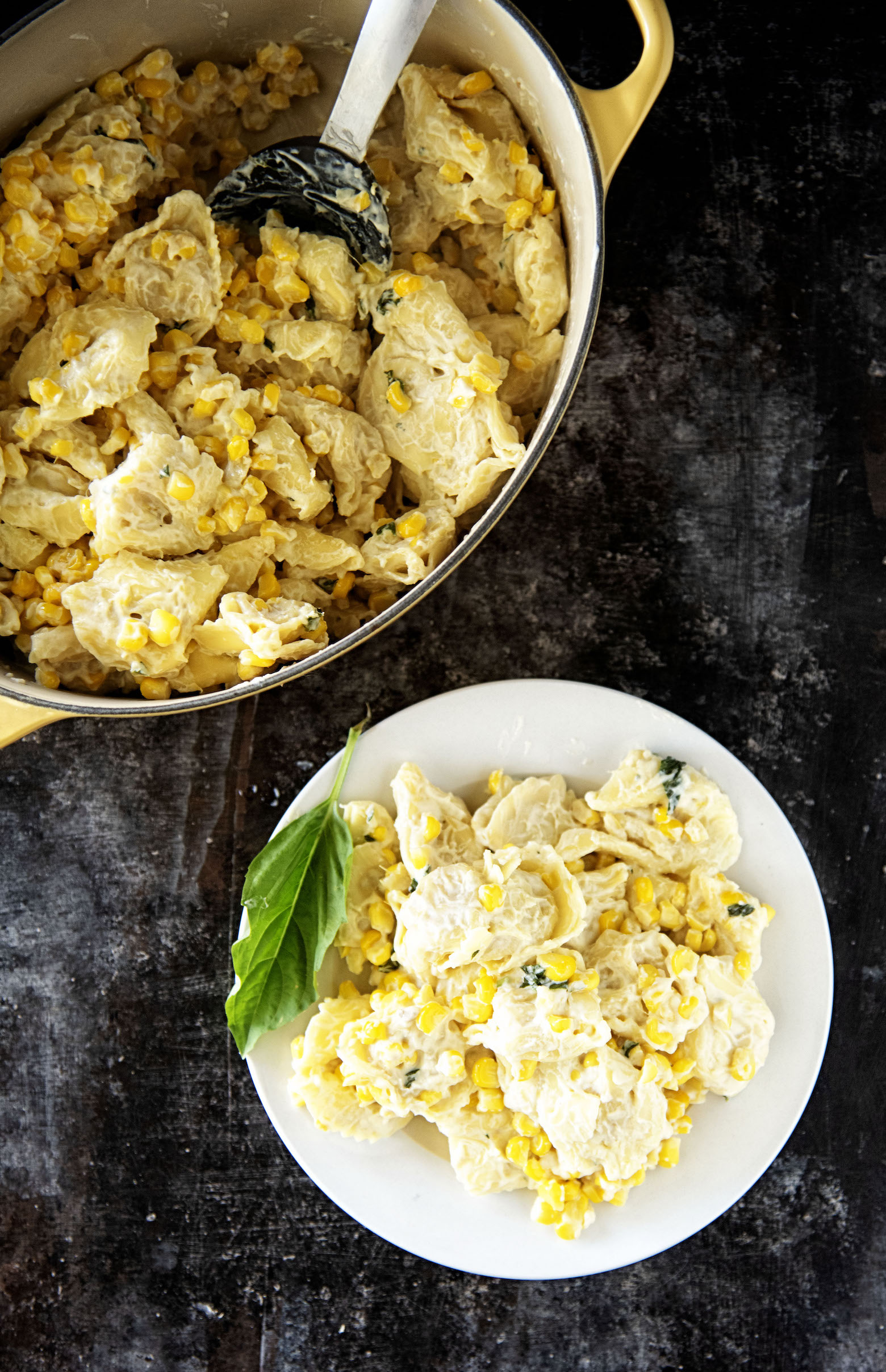 Want More Pasta Recipes? Try These:
Alpine Dijon Macaroni and Cheese
Brown Butter Sage Butternut Squash Cheese Ravioli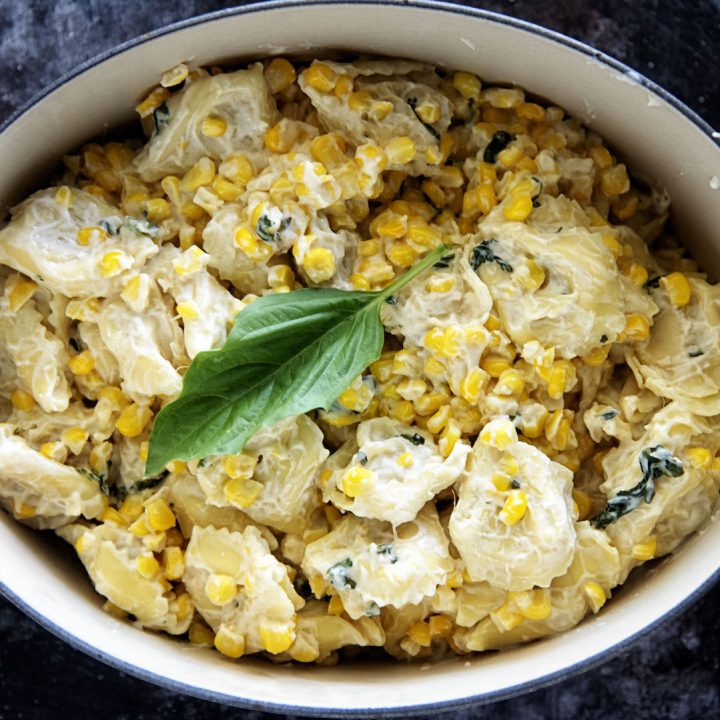 Ricotta Corn Lemon Cheese Tortellini
Ingredients
1 pound cheese tortellini
1 TBSP virgin olive oil
2 TBSP salted butter
4 ears corn, kernels removed from the cob
2 tsp. fresh lemon thyme
2 cloves garlic, minced or grated
kosher salt and black pepper
1/4 tsp. cayenne pepper
1 cup whole milk ricotta cheese
4 oz.cream cheese
4 oz. Parmesan cheese
1/4 cup dry white wine, such as Pinot Grigio or Sauvignon Blanc
1/2 cup fresh basil, roughly chopped
zest and juice of 1 lemon
Instructions
Bring a large pot of salted water to a boil.
Boil the pasta according to package directions.
Reserve 1/2 cup pasta cooking water. Drain.
In the same pot set over medium-high heat, add the butter, corn, garlic, lemon thyme, and cayenne pepper.
Cook another 5 minutes or until the corn is golden.
Add the reserved pasta cooking water, wine, ricotta, and cream cheese, stirring until the cheeses are melted and a sauce has formed.
3. Stir in the pasta, tossing well to coat.
Add the basil, Parmesan cheese, lemon zest, lemon juice, and season with salt and pepper.
Remove from the heat and serve immediately topped with additional basil.