This Pumpkin Whiskey Caramel Ice Cream is a creamy pumpkin pie spice base ice cream swirled with a lots of luscious whiskey spiked buttery caramel sauce.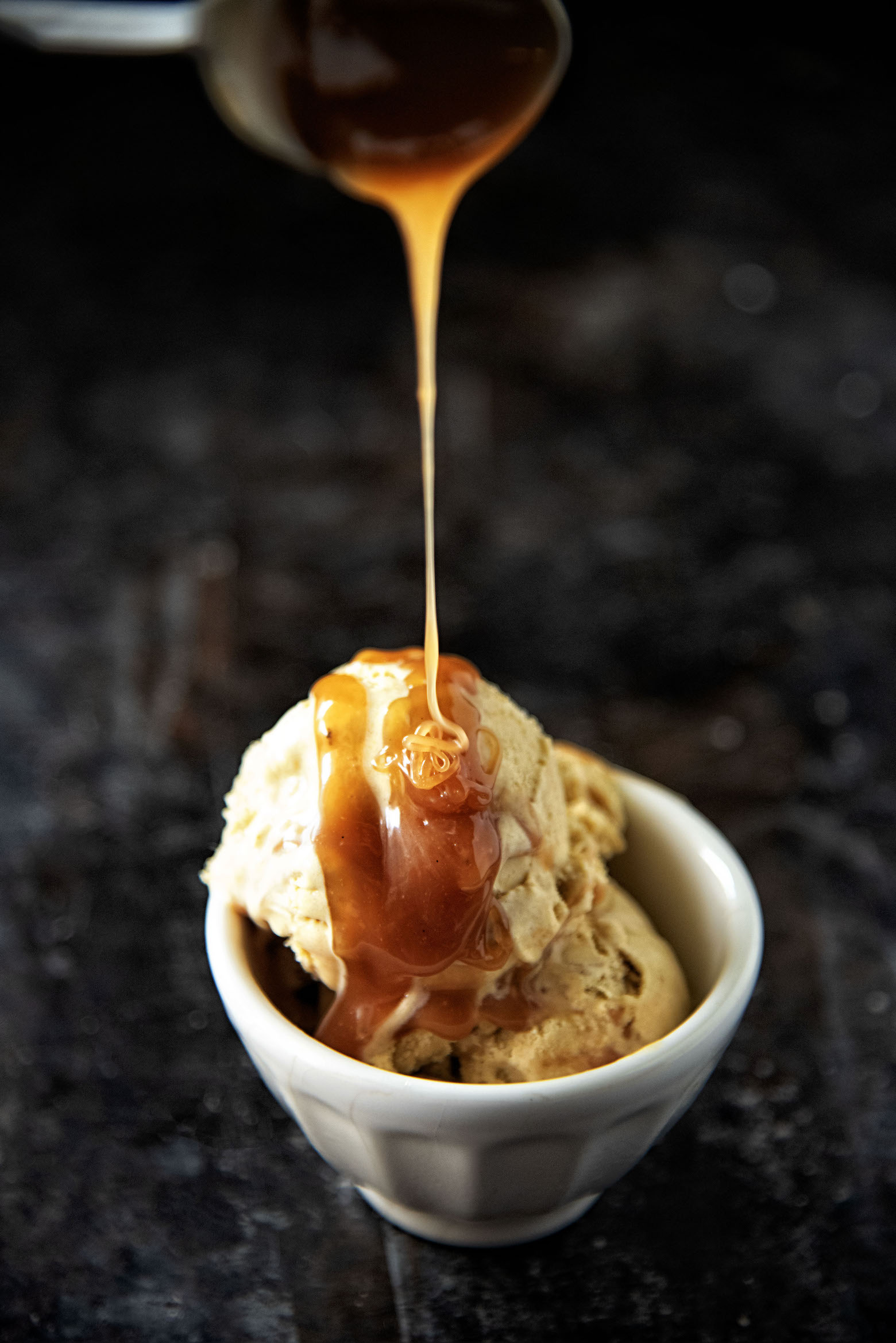 I don't go on a lot of sponsored trips..
Some bloggers go on them all the time.
I'm a homebody though and with they quantity and types of dogs we have it takes real planning.
My husband stayed home for three days last week for me to get to go.
But it was for Red Star Yeast and I have worked with them for so many years and love their product so I wanted to go.
Plus I was super interested in hearing about their new yeast.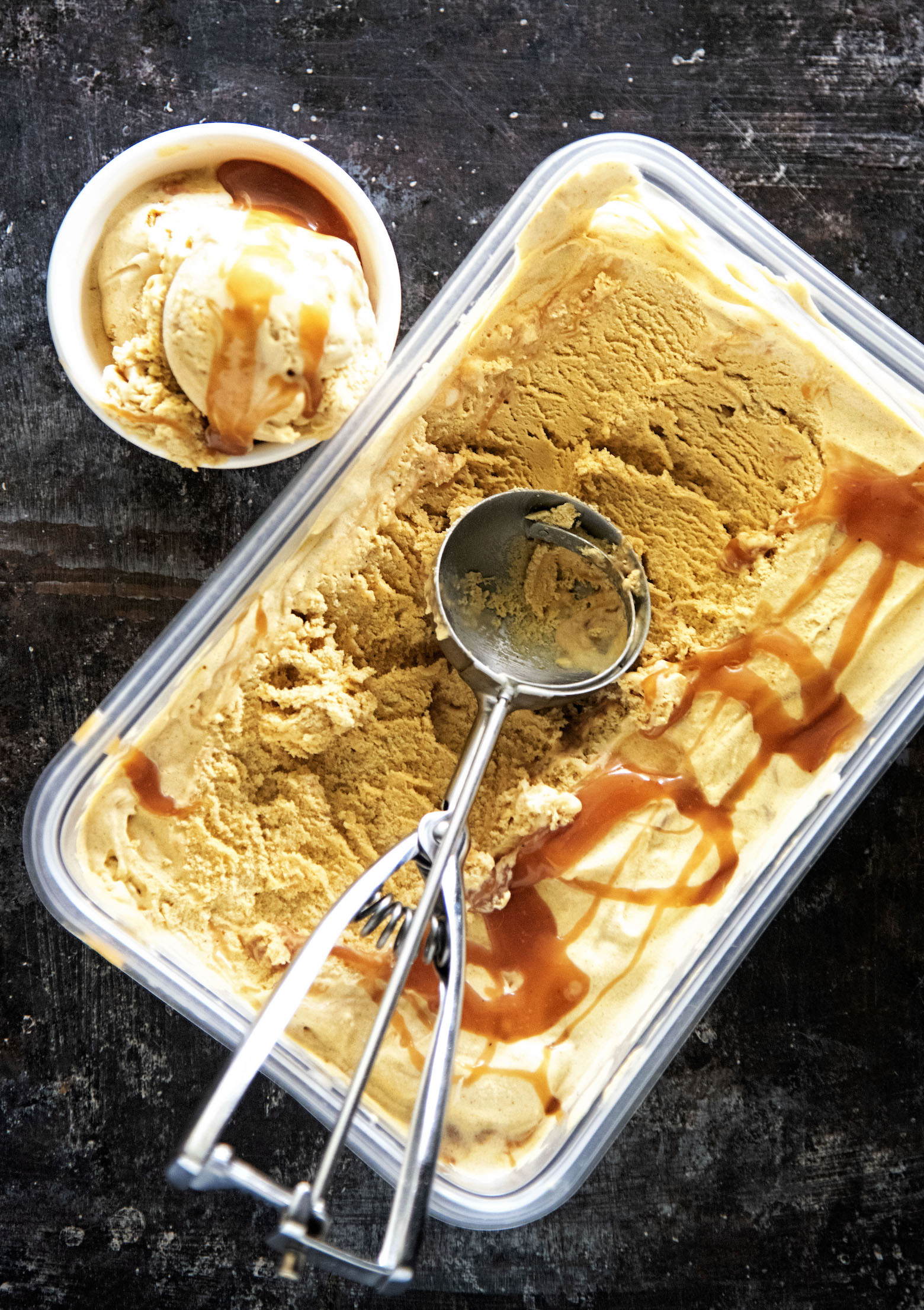 On the second day there we headed into Chicago.
The meal on the itinerary said TBD…to be determined and I didn't think anything about it.
Until on the way there someone asked where we were going to eat.
And the reply was Mexican food.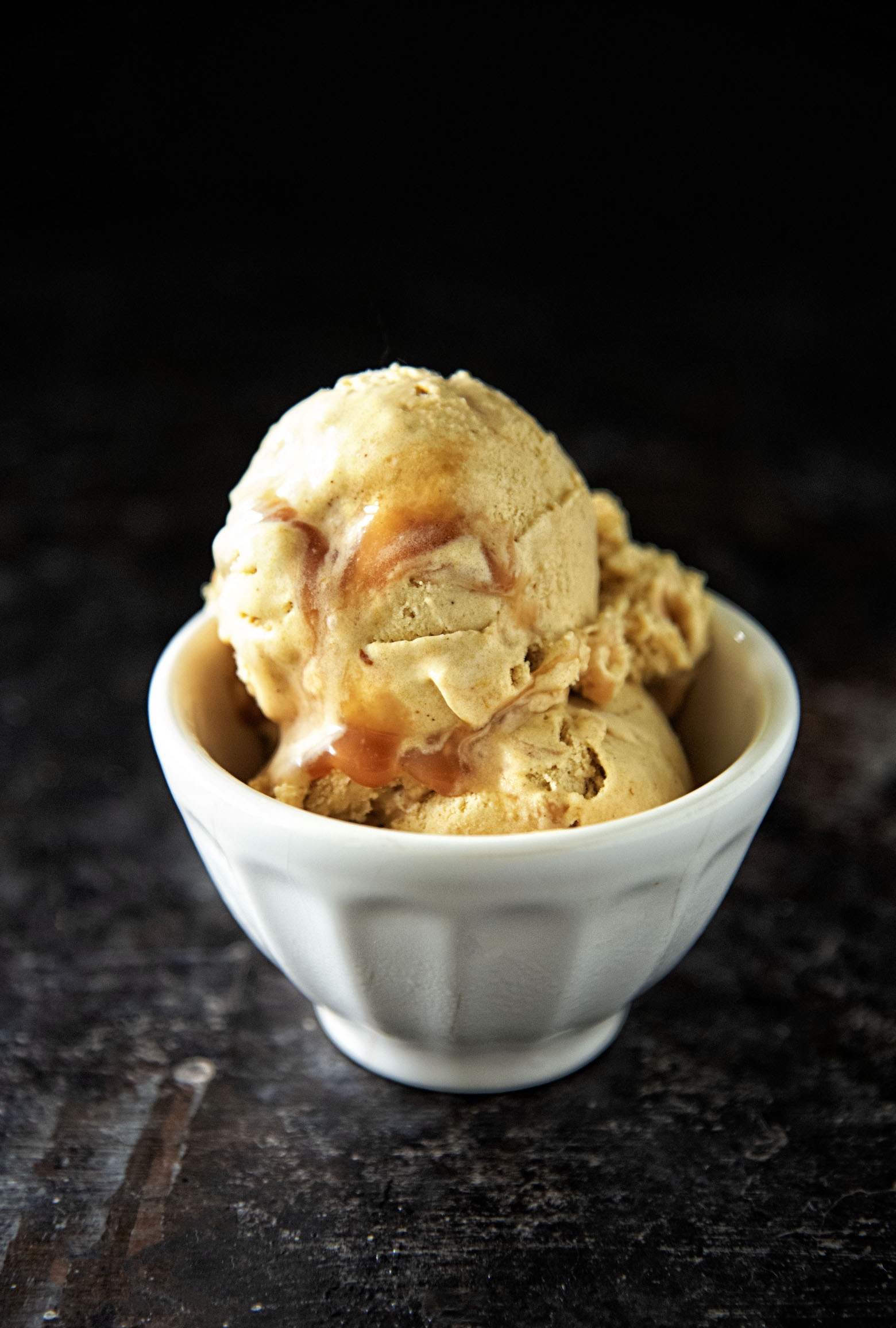 I panicked a little because I'm allergic to most Mexican food and being Vegetarian makes it even harder to find things on a menu.
But I figured I would go with my standby of a cheese quesadilla and churros. 🙂
Except when I looked it up it was a super fancy Mexican place that had no quesadilla or anything like that.
There wasn't anything on the menu I could eat.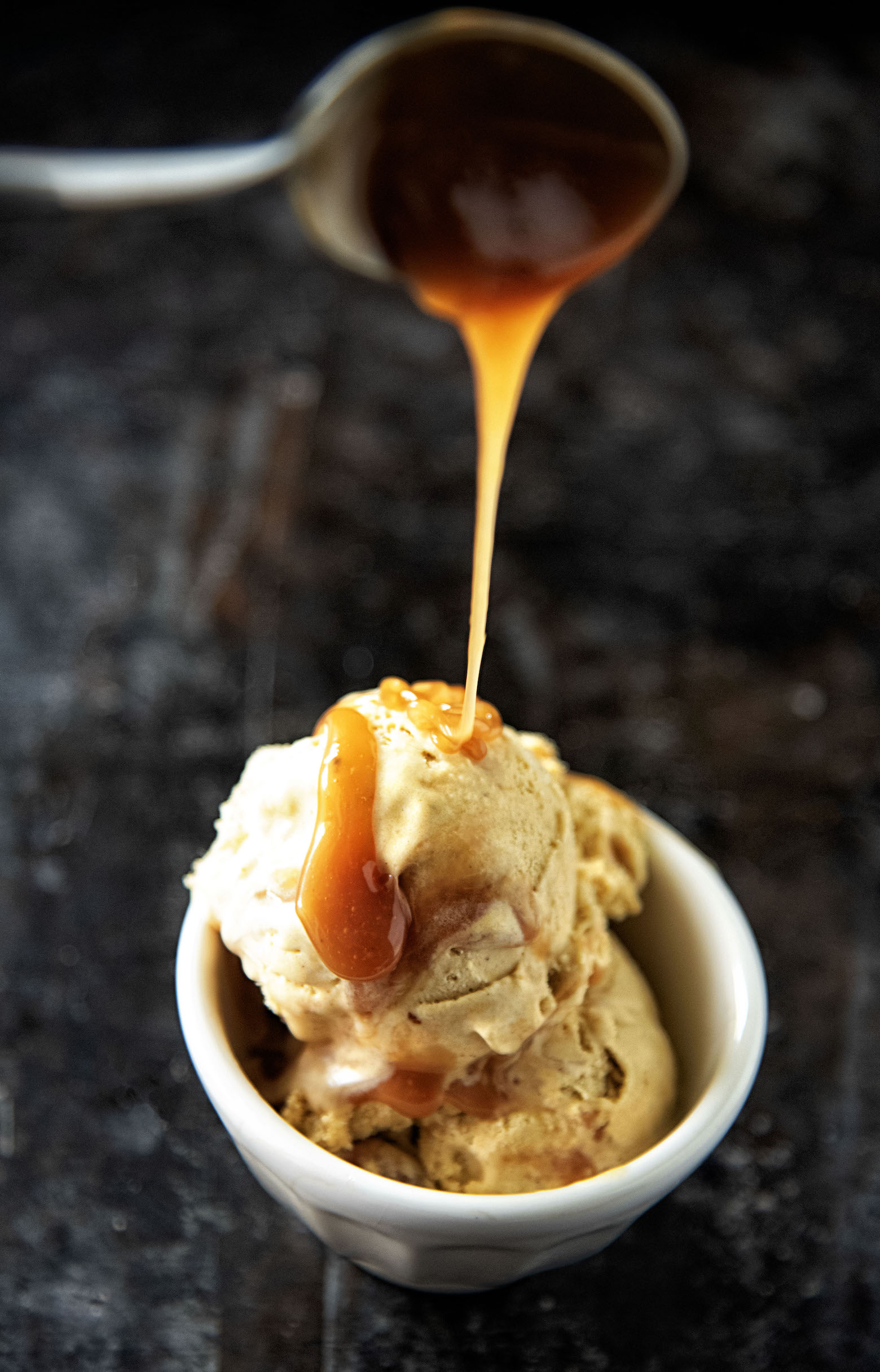 As we turned the corner to the restaurant I see a familiar sign.
Jeni's Ice Cream.
Oh how I love Jeni's Ice Cream.
We don't have them in Seattle and I have had their ice cream shipped to our house I love it so much.
I asked if I could hop over to Jeni's instead to get ice cream.
They said yes.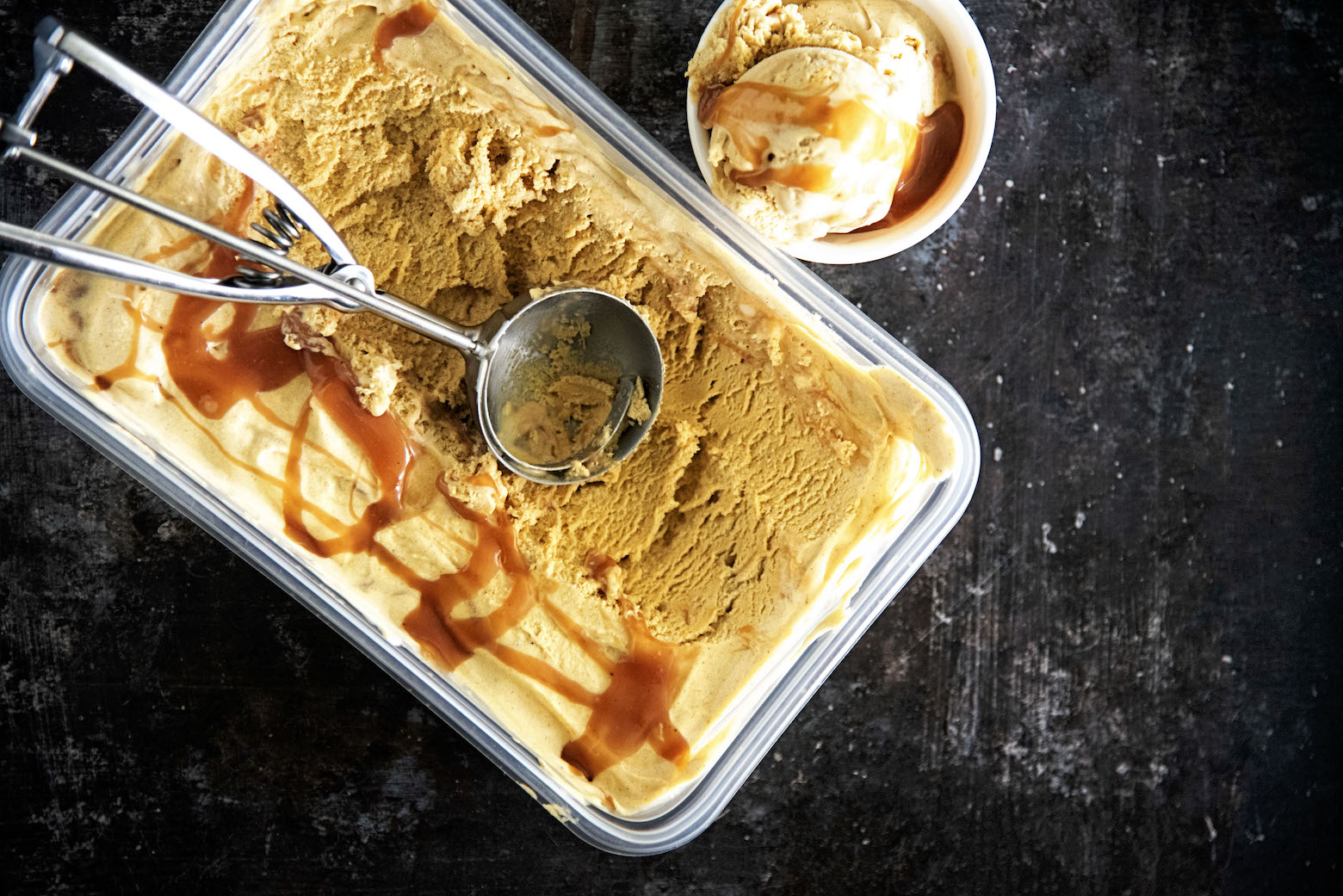 So I sat and had some chips and a side of plain avocado while drinking a nice dark beer.
I hung around through most of dinner and then hopped over to Jeni's.
Lucked out in that the line was not that long.
The lines sometimes tend to be long but they do move quickly at least.
So many flavors to choose from but they had just come out with their Pumpkin Roll Flavor.
It ended up being one of the best food days ever: bread for breakfast, pizza for lunch that I made, pastries from a French bakery, and then ice cream and beer.
Pretty much the most perfect food day ever.
The woman I work with at Red Star Yeast was all upset that I couldn't eat the food (I told her I didn't expect to go to Mexican food in Chicago) but I much preferred getting to eat ice cream for dinner. 🙂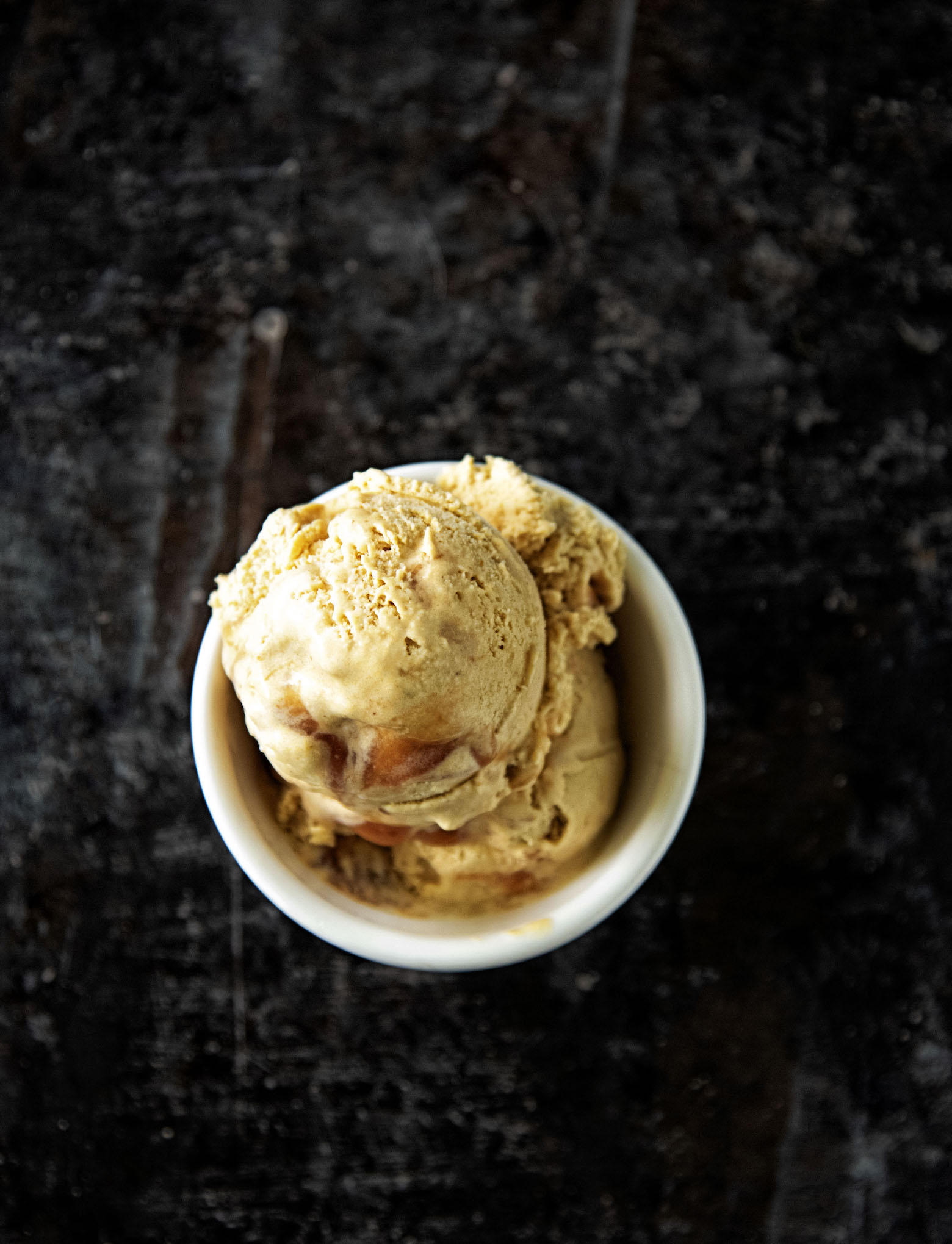 This Pumpkin Whiskey Caramel Ice Cream recipe is and adaptation of a pumpkin ice cream in Jeni's first book.
Which I highly recommend owning (link to the cookbook is in the recipe notes).
Her version uses Chinese 5 spice which has peppercorns in it and I'm allergic.
So out her version went.
I like her ice creams not only for the unique flavors but because she doesn't use eggs.
Just makes it easier to make in my opinion.
I added a whiskey caramel sauce to my ice cream which turned out so tasty.
Last but not least…it's a great time to order my cookbook. 😀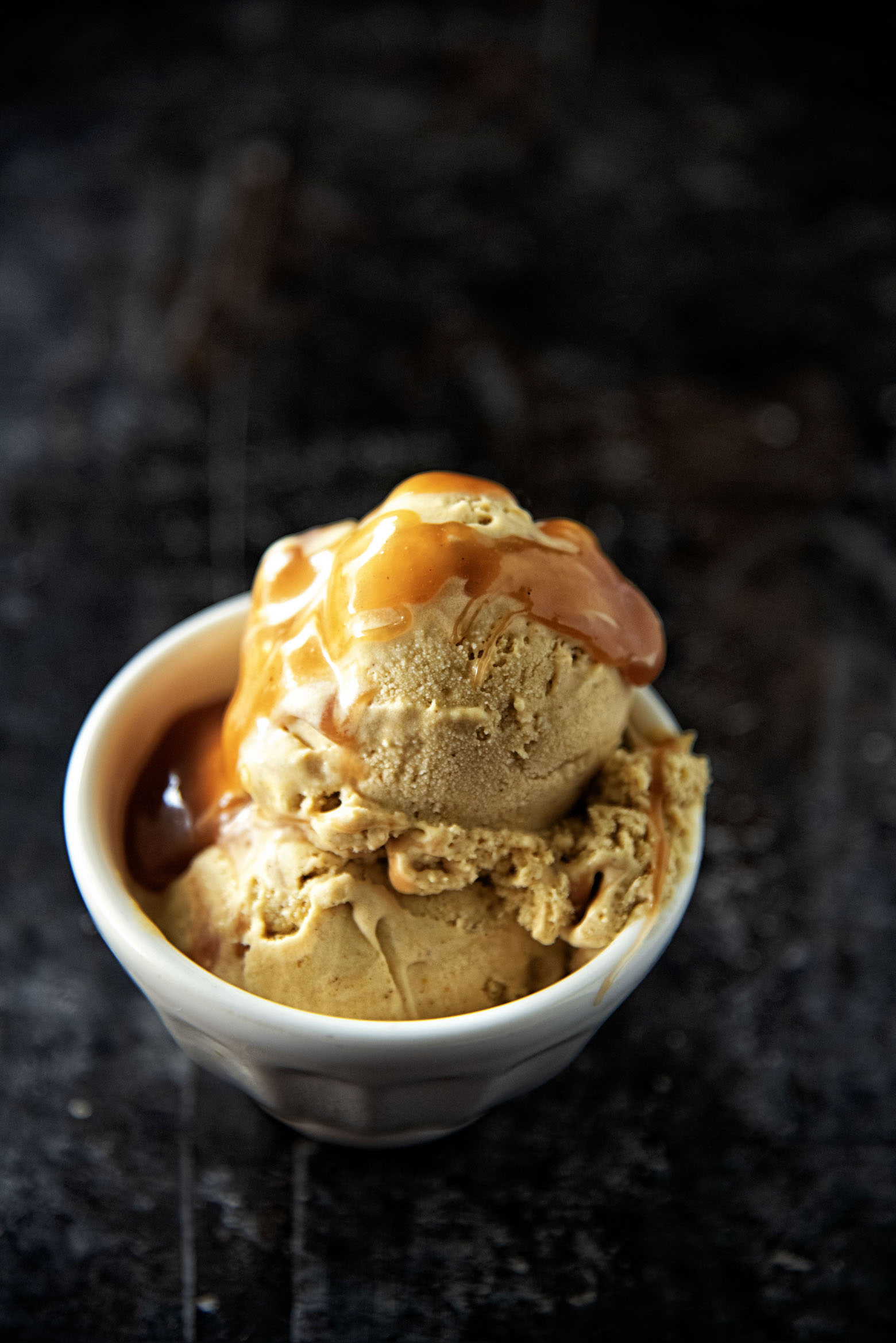 Want More Recipes? Try these:
Peanut Butter and Pretzel No-Churn Ice Cream
Circus Animal Cookie Ice Cream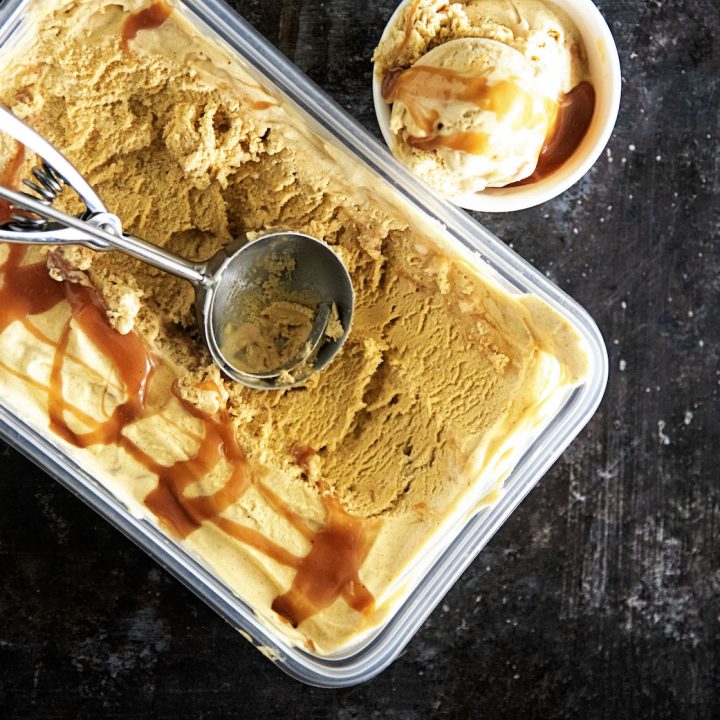 Pumpkin Whiskey Caramel Ice Cream
Ingredients
For the caramel:
2 cups granulated sugar
¼ cup water
¼ cup whiskey
1 tsp. fresh lemon juice
2 cups heavy cream
½ tsp salt
For the ice cream:
3/4 cup canned pumpkin puree
1 3/4 cups whole milk
1 TBSP plus 1 tsp cornstarch
2 oz cream cheese softened to room temperature
1/4 tsp fine sea salt
1 1/4 cups heavy cream
1 cup packed light brown sugar
Instructions
For the Caramel Sauce:
Combine the sugar, water, whiskey, and lemon juice in a heavy bottomed saucepan over medium heat.
Cook, gently swirling the pan occasionally, until the sugar dissolves and starts to turn color.
Increase the heat to thigh and boil until the syrup turns a deep amber color, 4 to 5 minutes.
Watch carefully, as it can burn quickly.
Immediately remove the pan from the heat and pour in the cream and salt.
Use a long-handled wooden spoon to carefully stir in the cream, as caramel has a tendency to hiss and splash as the cold cream hits it.
Place the pan over low heat and cook, stirring constantly, until the caramel thickens, 5 to 7 minutes.
The mixture should be the consistency of very thick cream.
Let boiling sauce cool until it is just warm before serving.
To store, cover and refrigerate for up to 1 week.
To reheat the sauce, microwave, uncovered, for about 1 minutes on high. Stir until smooth.
Using a stand mixer with the whisk attachment add the cream cheese and salt and mix until soft and creamy.
Add the pumpkin and mix until fully combined.
Mix 2 tbsp of the milk in a small bowl along with the cornstarch and set aside.
Pour the remaining milk into a pot with the cream, sugar, Lyle's Golden Syrup, and pumpkin pie spice..
Heat over a medium heat until a rolling boil starts. Boil slowly for 4 minutes.
Remove from the heat and whisk in the cornstarch mix.
Place the pot back on the heat and bring back to a boil.
Boil for a further 2 minutes and the mixture gets slightly thicker.
Remove from the heat and gradually whisk into the pumpkin mixture. Mix until smooth.
Transfer the whole mixture to a 1 quart zip lock bag and seal.
Place the bag into the ice water bath and let it cool for at least 30 minutes.
Once it's cool transfer it to your ice cream maker and follow the instructions for that.
After it finishes in the machine, place half of it in a small plastic Tupperware.
Drizzle half the caramel sauce on top.
Spread the rest of the ice cream on top and caramel.
Drizzle the second half of the caramel on top of the ice cream.
Seal with the lid and place into the freezer for at least 4 hours or overnight.