Chocolate Ice Cream Caramels: Delicious homemade soft caramels that are made with melted chocolate ice cream to make a favorite ice cream into caramel form.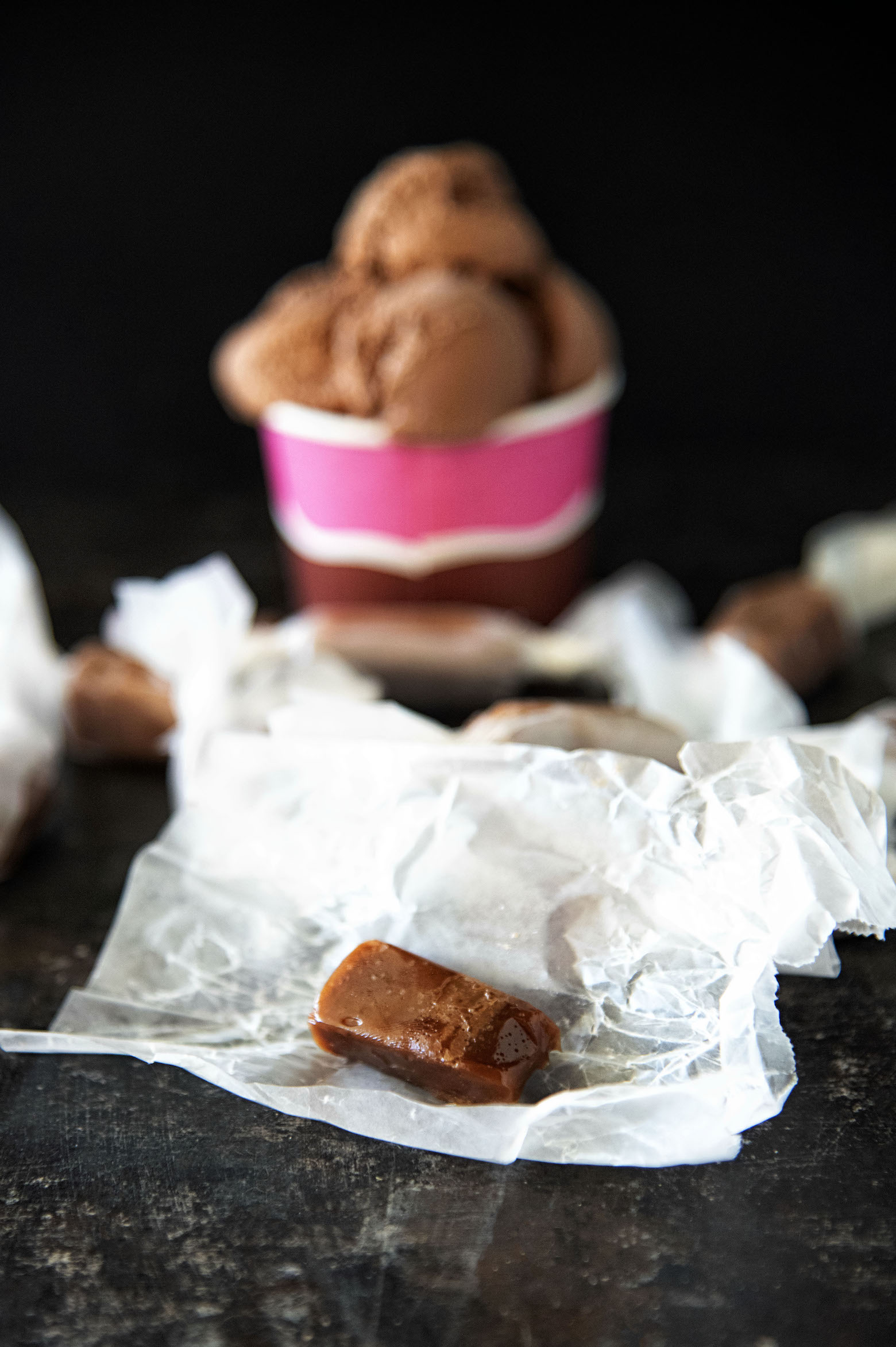 Throughout my life I have had to say goodbye to many a dog.
Some of them I got to be there when it was time.
Some I just came home to my parents telling me the dog had passed.
Most have been me making the hard choice.
And even though it's gut wrenching, it is a privilege to get to end your dog's pain and suffering.
It's also why we have an end of life plan for each dog we have.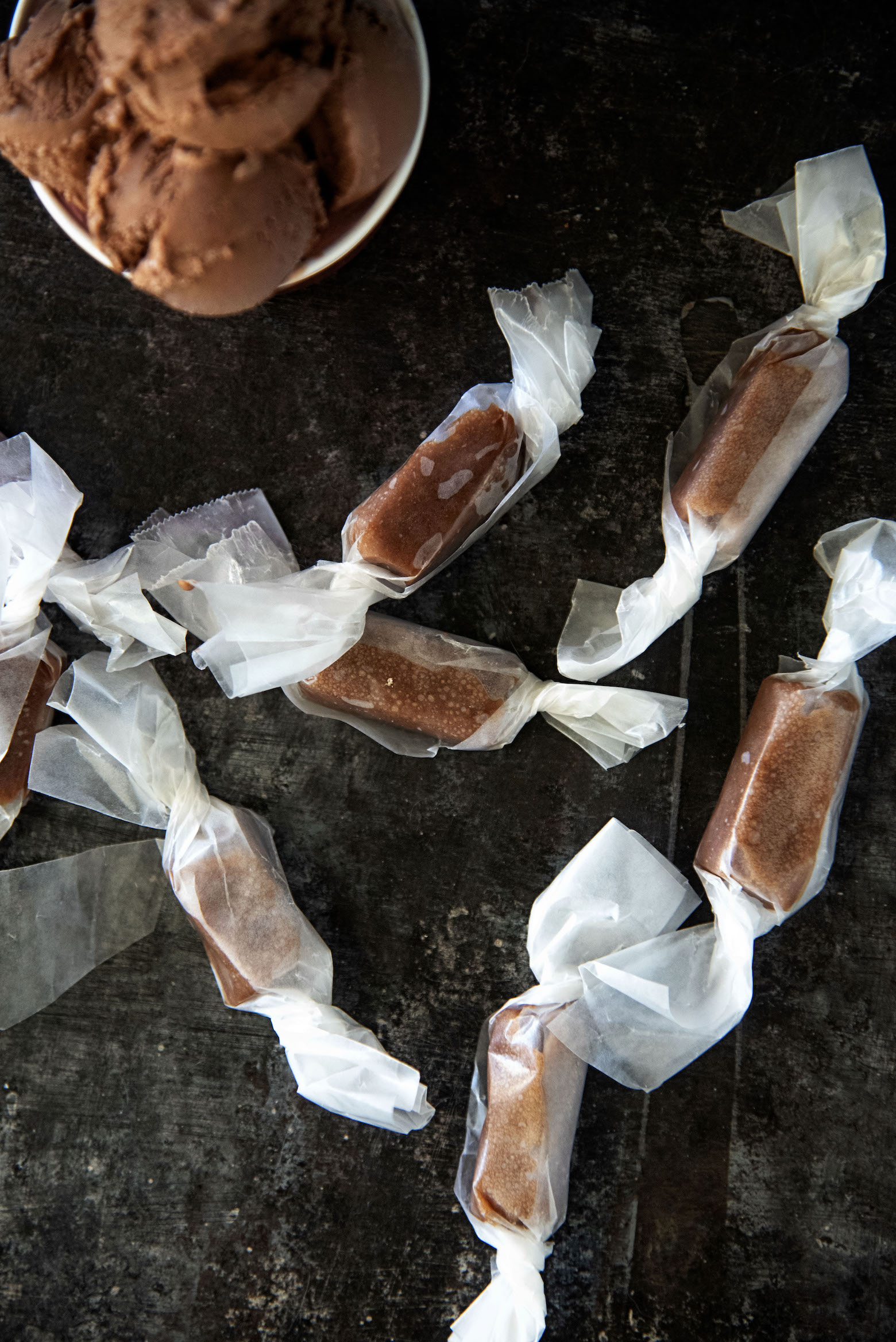 At then end of last month was our dog Holly Belle's Gotcha Day.
And even though she is gone we still celebrate.
While Holly's death was not a shock…she was in congestive heart failure, her collapse and rush to the ER was a shock.
She ended up not being in heart failure at the time to everyone's surprise and so we fought for her to get better.
For three long days of roller coasters of she is coming home to oh wait something else is wrong now.
After three days, we chose to say goodbye.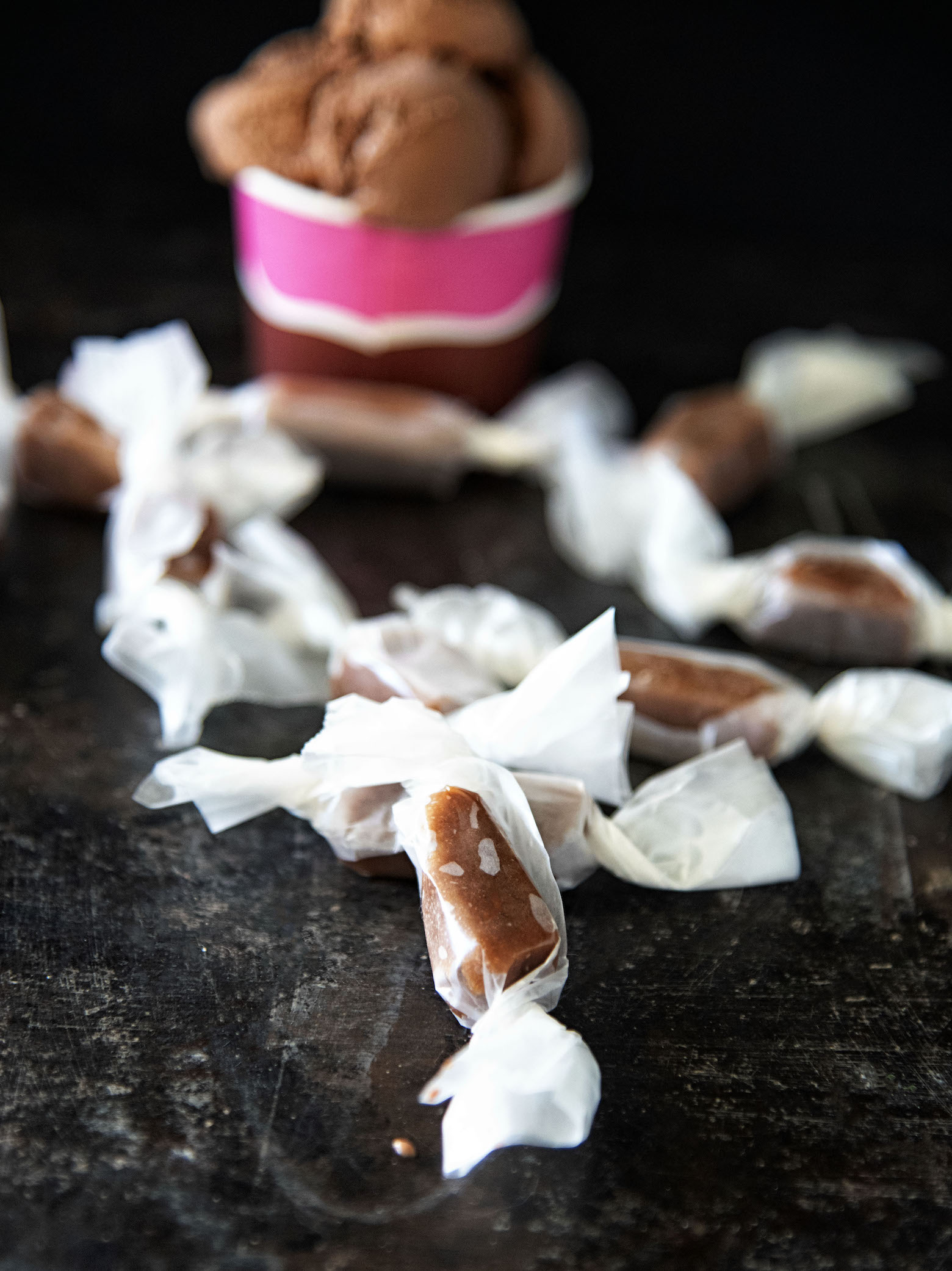 Since she was doing okay as long as she was on full oxygen…Holly got to go out with her boots on so to speak.
There was time to gather her favorite things: blankets, pillows, and finding a makeshift Christmas tree in October to set up in "the" room.
And of course, we got to pick all the bad for her snacks she wanted to eat.
I had a veterinarian friend recommend to me to feed her chocolate ice cream.
As that is what she did for each of her dogs who still had an appetite at the end.
So we did.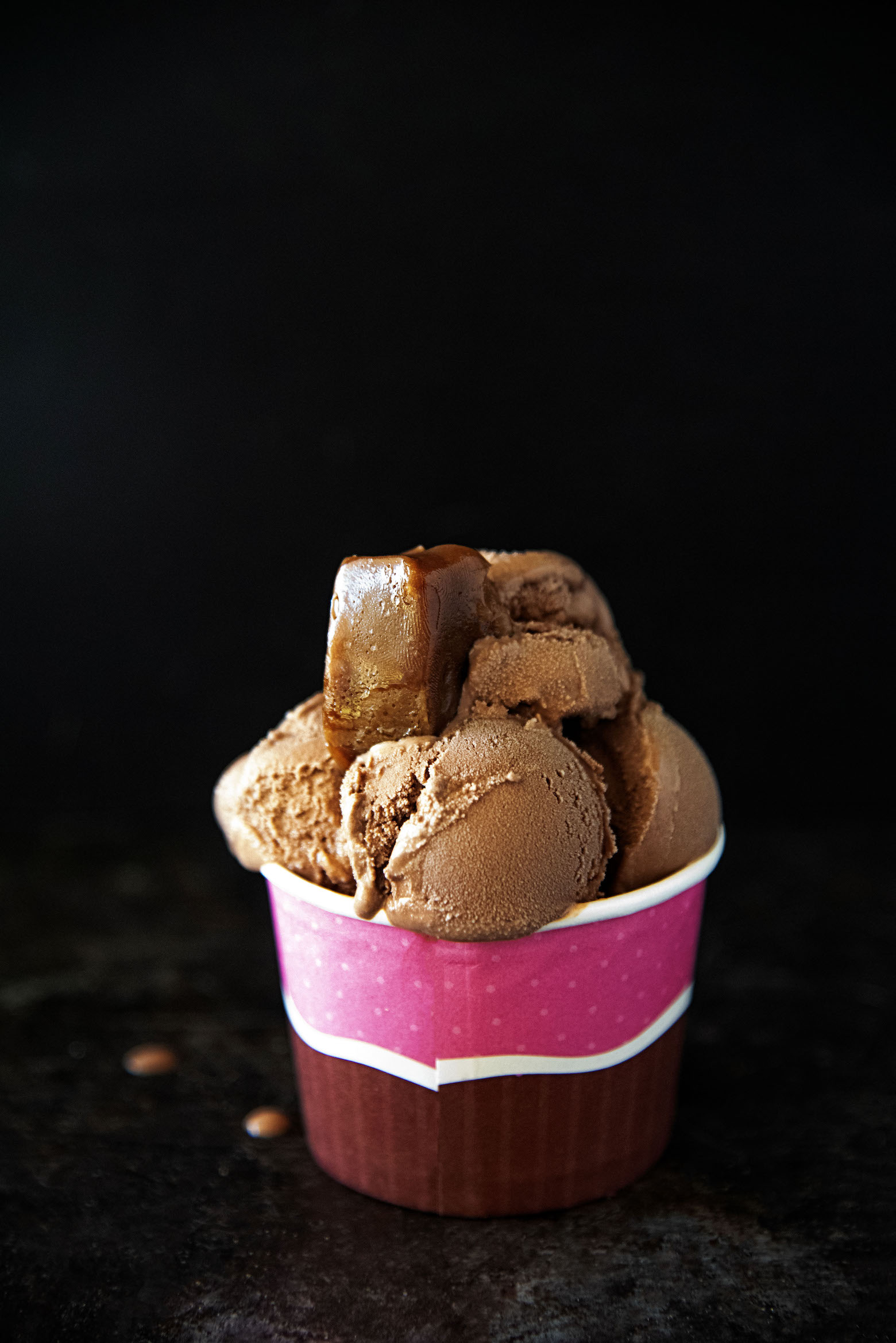 We brought her some Haagen Dazs chocolate ice cream.
She had many other things from chips to whipped cream but the chocolate ice cream was hands down her favorite.
Holly's eyes got so wide and she had a look on her face like where has this been all my life?
Why haven't I had this before?
Sadly when our Crissy passed she was not interested in food so I never got to find out if she loved chocolate ice cream as well.
But I have suggested it to many a friend and all of their dogs have had the same reaction.
Holly Belle's birthday is at the end of this month.
This weekend we are having a Rainbow Bridge Party.
Which may sound morbid but it's really just a celebration of all the good dogs in our lives that are just waiting for us on the other side.
In honor of her and her love of chocolate ice cream I decided to make caramels using chocolate ice cream.
Make sure to pick a premium chocolate ice cream where the butterfat content will be higher to make these caramels.
You can add the salt or not but I think it helps bring out the flavor of the chocolate in the caramels.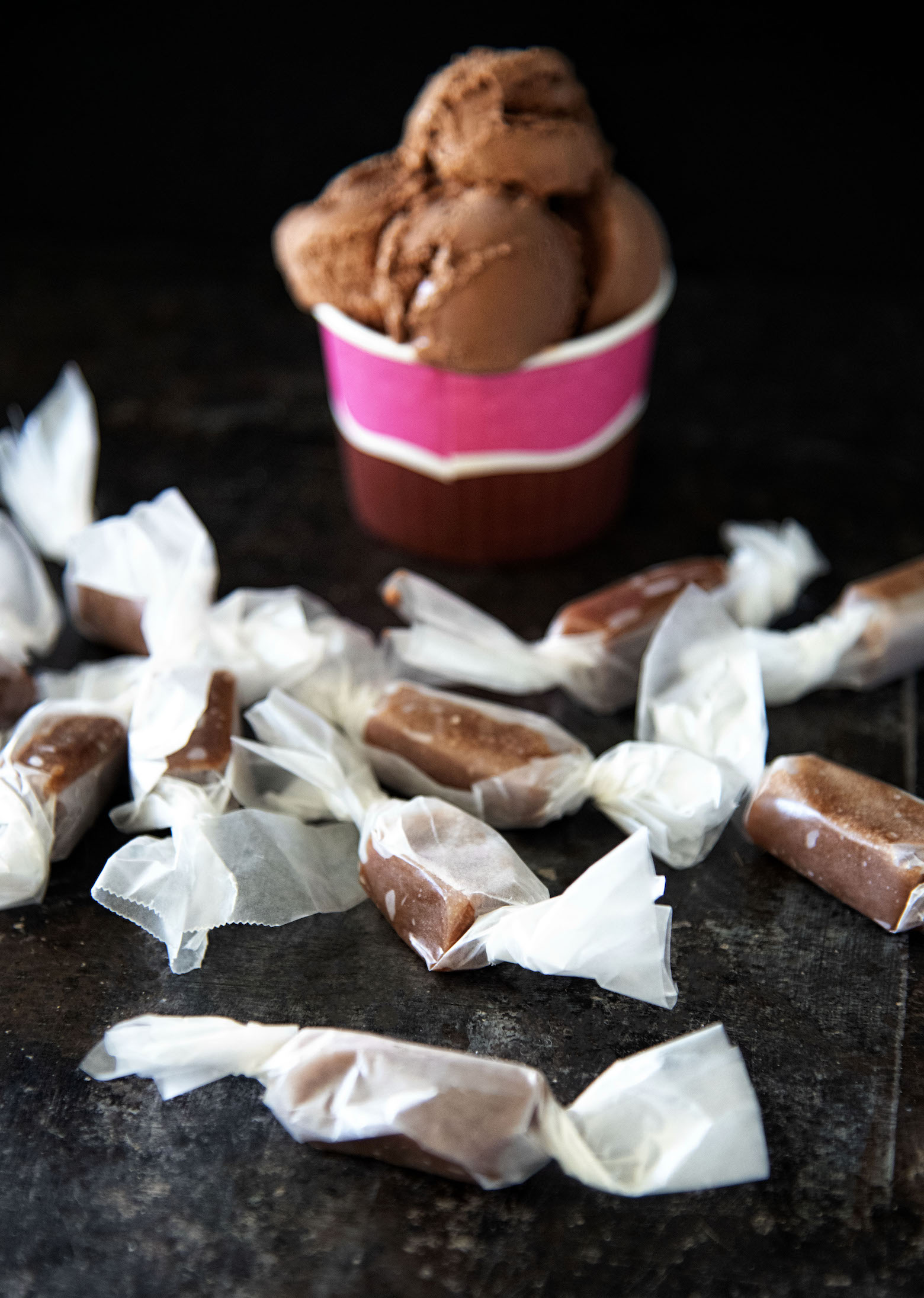 Tips for making successful Caramels:
Get a good thermometer.
There are a lot of variety of thermometers out there for candy.
I prefer a digital laser thermometer (link to the one I use is in the recipe) but you can use the old fashioned kind that hand on the side of the pot.
When making candy, especially fudge but even caramels I like to use a superfine sugar.
If you don't want to spend the extra money (like me) for the special sugar just put it in the food processor and pulse a few times.
Have all your ingredients out and measured before you start.
Candy making is about timing and if you have to measure out as you go there is a good chance things won't turn out.
Be patient.
This one is hard for people.
I taught Jr. High for years so I have a lot of patience.
Candy making takes time.
Don't stir.
You will want to but don't do it.
Don't scrape the bottom.
Often in the caramelization process the bottom of the pan will get a little more brown than you want.
So don't scrape that into the pan.
Just let what caramel comes out…come out.
Don't touch.
You may be tempted to stick your finger in there to see how it taste.
It tastes like burnt off finger if you stick your finger in there.
P.S. It's a great day to buy my cookbook Holy Sweet!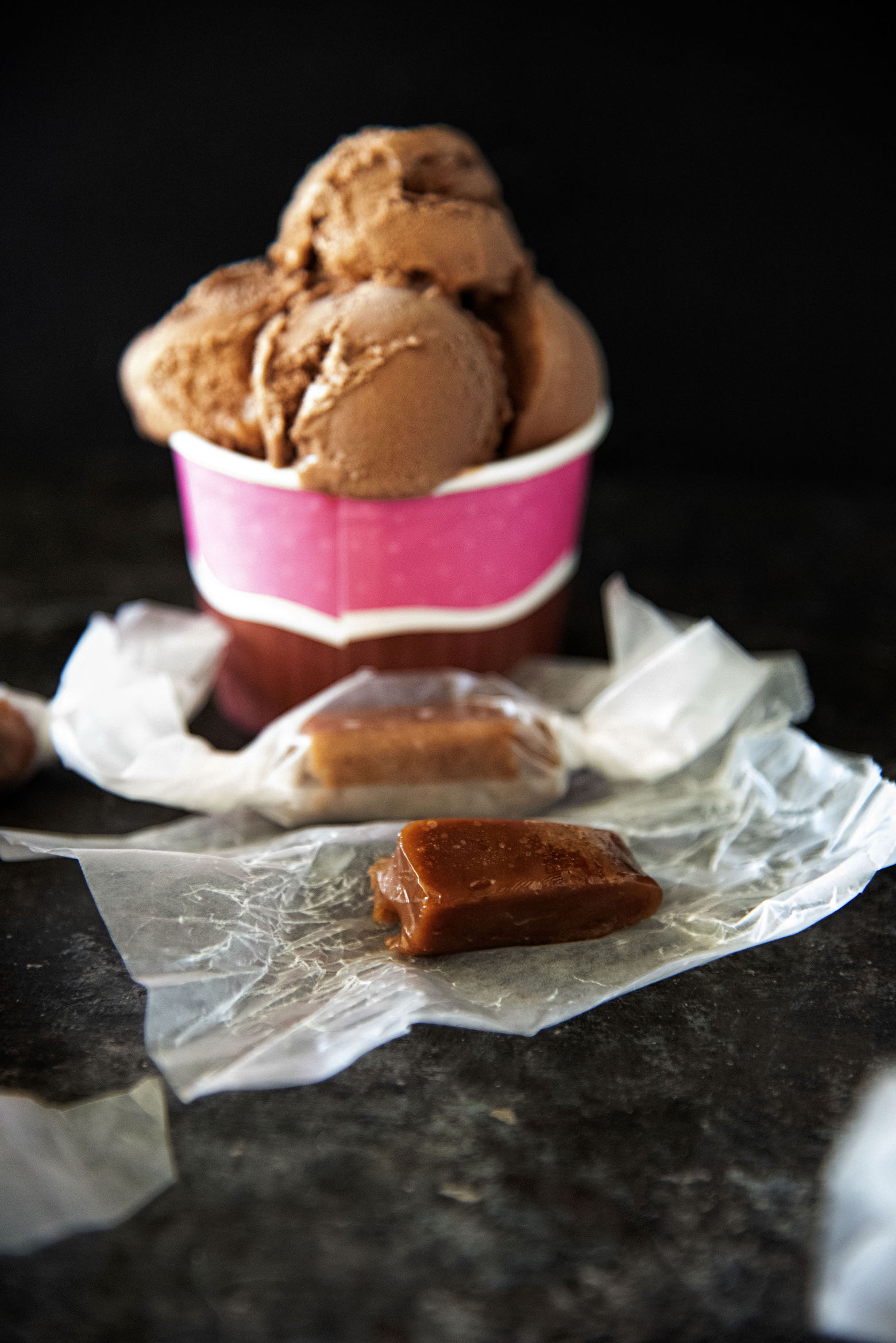 Want more Caramel recipes?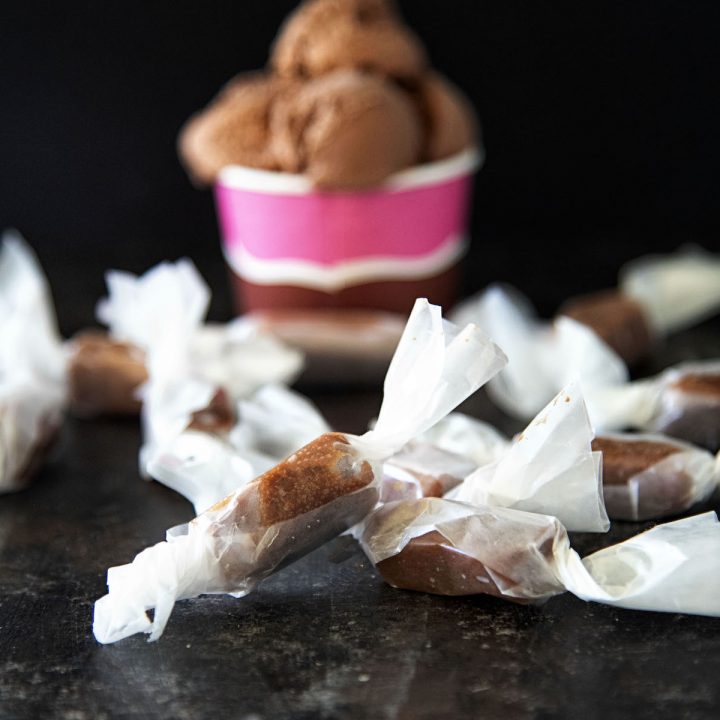 Chocolate Ice Cream Caramels
Ingredients
3/4 cup melted premium chocolate ice cream
1/4 cup heavy cream
4 TBSP. unsalted butter
¼ tsp. salt
1 1/2 cups granulated sugar
4 TBSP Lyle's Golden Syrup (or light corn syrup)
4 TBSP water
1/2 tsp. vanilla extract
sea salt for garnish (if desired)
Instructions
Line a 8-x-8-inch pan with parchment paper, and spray with cooking spray.
In a 2-cup glass measuring cup, add the heavy cream, chocolate ice cream, butter and salt.
Microwave in 30 second pulses until melted and steaming. Set aside.
In a 2-quart saucepan (seriously, don't use a smaller one-it boils up), add the sugar, Lyle's Golden Syrup and water.
Turn the heat to high, and cook without stirring until it reaches between 290-295 degrees.
Turn the heat off.
Slowly stream in the heavy cream mixture, and whisk gently.
Turn the heat back to high, and cook without stirring until it reaches 250 degrees.
Turn off the heat, and add the vanilla.
Whisk gently to combine.
Immediately pour the mixture into the loaf pan; do not scrape the bottom of the pan.
Sprinkle sea salt on top if using.
Let sit for a few hours, or overnight.
Slice into desired shapes and wrap individually in wax paper.
Notes
I use THIS thermometer for candy making.