Swedish Fish Caramels: My favorite candy made into caramel form. These buttery and chewy caramels have the additional twist of tasting like Swedish Fish…candy in your candy.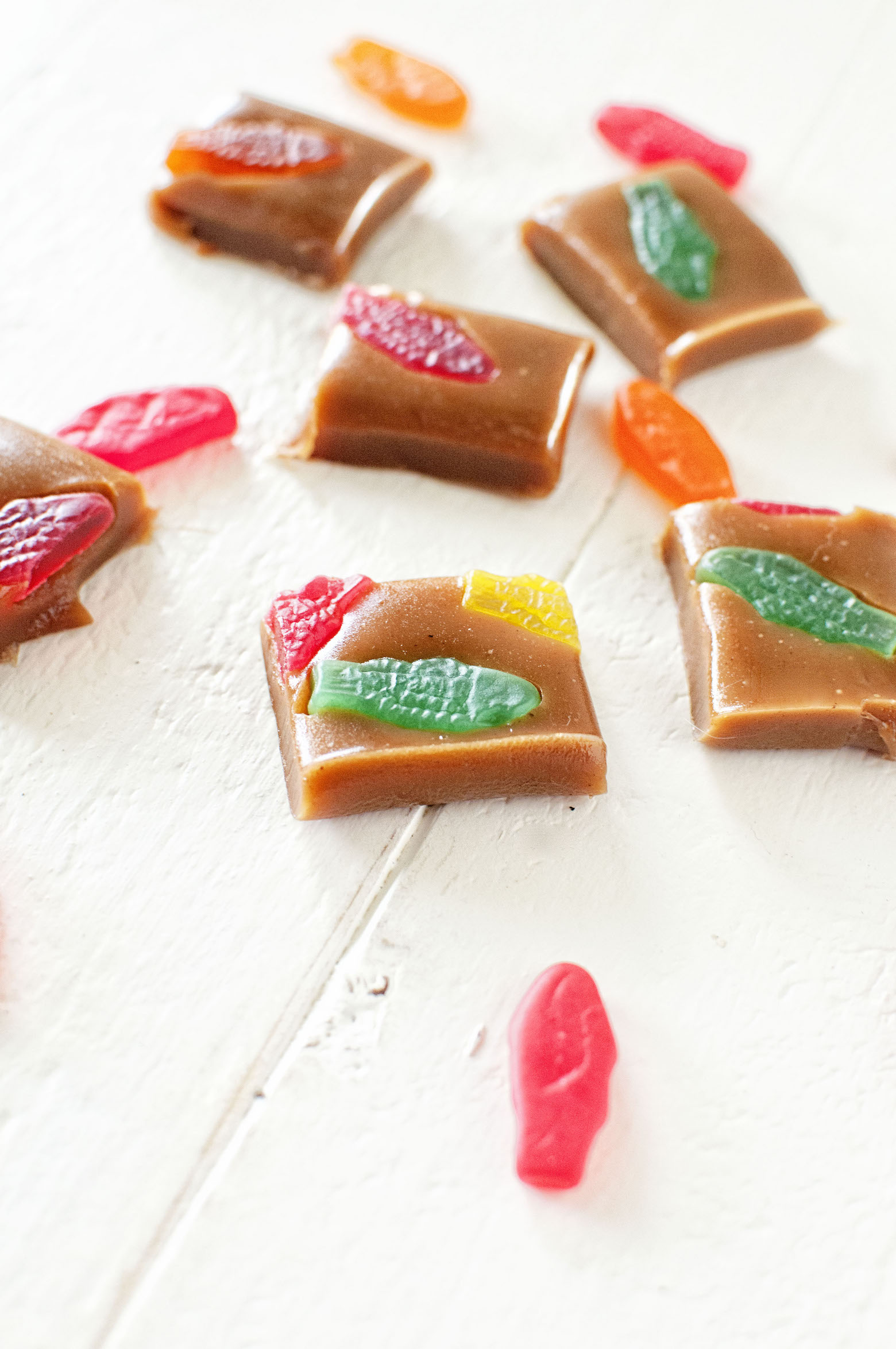 I'm always surprised on what is popular on this blog…or in real life for that matter.
When I look at analytics on this site, about what recipes are popular right now, I am often amused.
Right now I have a pumpkin muffin from waaaaaay back.
The photos are not good and yet it is making the rounds on Pinterest.
I will say, the muffin recipe is excellent and I make it all the time in the fall, but still.
Last year when I was on a giant fudge kick I made Swedish Fish Fudge because someone asked me to.
I thought for sure I would have a ton of it leftover and I would be the only one eating it.
Boy, was I wrong.
It was by far the most favorite flavor and I had to make more than a few batches to make people happy.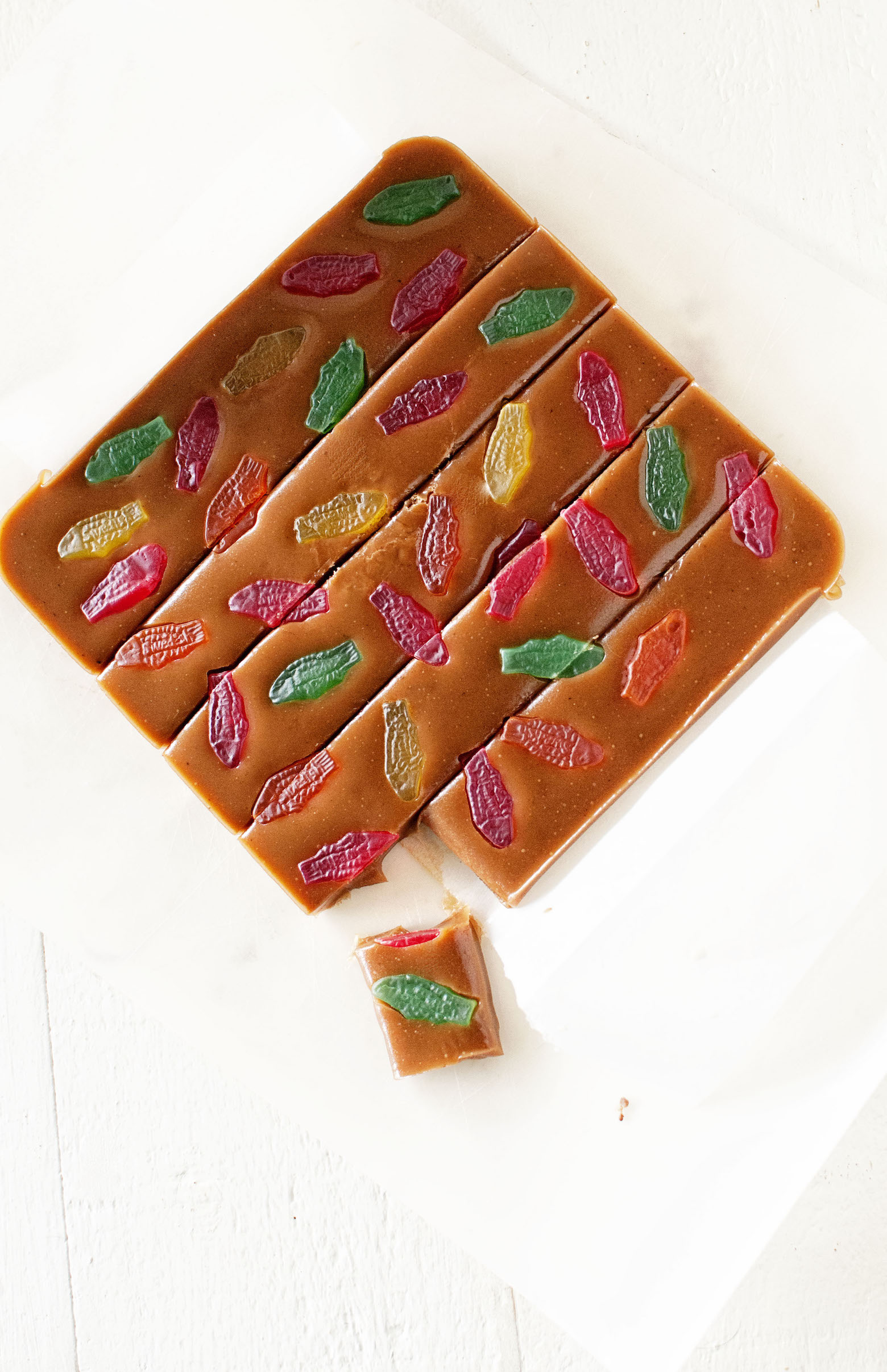 So with all my caramel making craze I decided I would through Swedish Fish in the mix and see if it works.
My candy making kick lately I think has me missing the days of teaching lab science.
Getting to experiment with all the different flavors is fun.
Besides me, the only other person I know who loves Swedish Fish as much as me is a guy I play hockey with.
He is always begging me to bring him Swedish Fish to the game since I always seem to have some.
Which is why the title of this post is All Swedish, No Finnish.
If you play hockey then you know what that means.
If you don't, it's basically when a player has a great chance at a goal, takes a shot, but does not get the goal…therefore not finishing the job.
You mock that player by telling them they are all Swedish, No Finnish.
These do taste like Swedish Fish but they also taste like caramels so I really liked them, as did my fellow hockey playing Swedish Fish lover.
P.S. It's a great day to buy my cookbook Holy Sweet!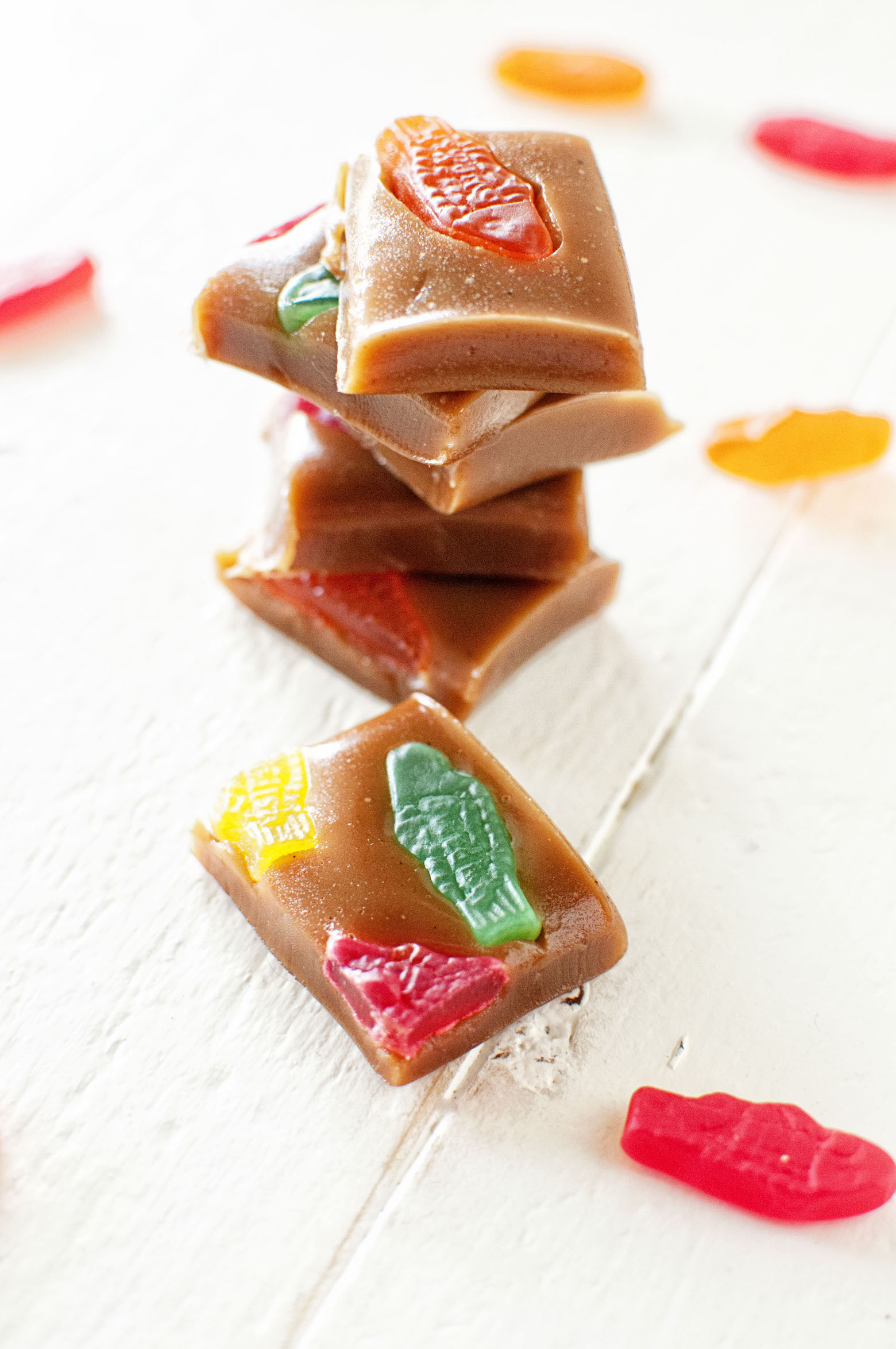 Want more Caramel recipes?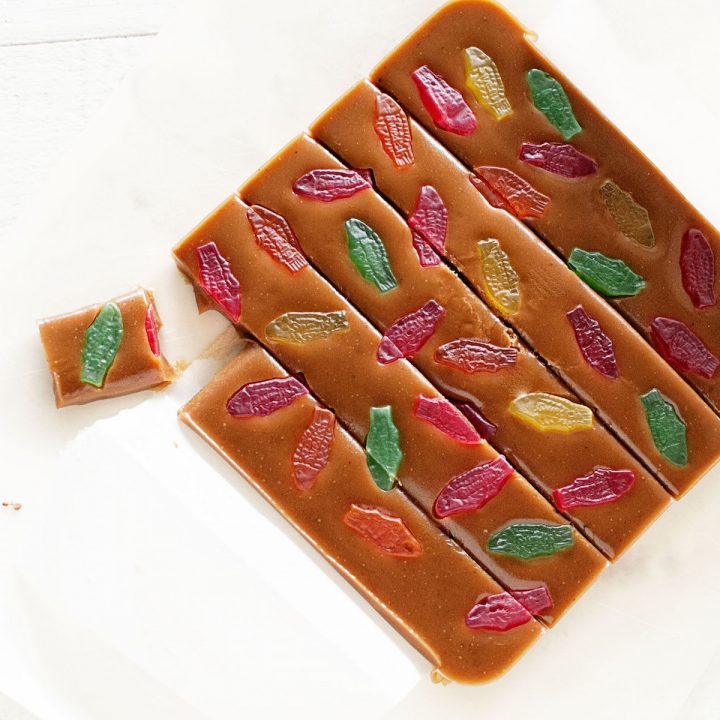 Swedish Fish Caramels
Ingredients
1 cup heavy cream (36% or higher butterfat content preferred)
4 TBSP. unsalted butter
1/2  tsp. salt
1 1/2 cup granulated sugar
4 TBSP Lyle's Golden Syrup (or light corn syrup)
4 TBSP water
1/2 tsp. (about 5 drops) Swedish Gummy Flavoring (you can buy it here)
20 mini Swedish Fish, assorted colors or all red
Instructions
Line a 8-x-8-inch pan with parchment paper, and spray with cooking spray.
In a 2-cup glass measuring cup, add the heavy cream, butter and salt.
Microwave in 30 second pulses until melted and steaming. Set aside.
In a 2-quart saucepan (seriously, don't use a smaller one-it boils up), add the sugar, Lyle's Golden Syrup and water.
Turn the heat to high, and cook without stirring until it reaches between 290-295 degrees.
Turn the heat off.
Slowly stream in the heavy cream mixture, and stir gently.
Turn the heat back to high, and cook without stirring until it reaches 248 degrees.
Turn off the heat, and add theSwedish Gummy Flavoring.
Stir gently to combine.
Immediately pour the mixture into the loaf pan; do not scrape the bottom of the pan.
Place the Swedish Fish randomly on top of the caramel (be careful not to burn hands) and press the piece down slightly so they stick to the caramel.
Let sit for a few hours, or overnight.
Slice into desired shapes and wrap individually in wax paper.