Orange Sherbet Caramels: Delicious homemade soft caramels that are made with melted orange sherbet to make a favorite summer treat into caramel form.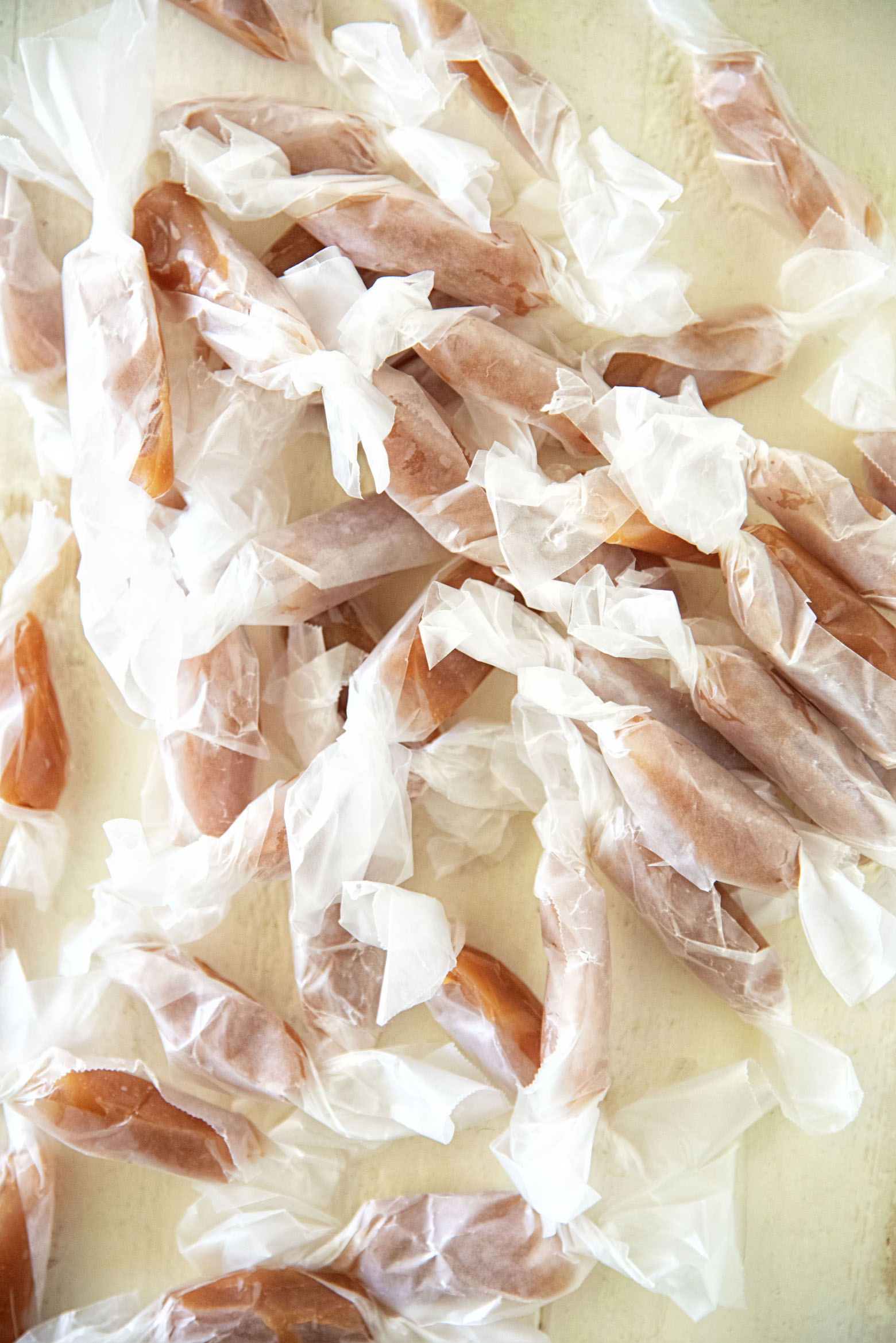 I am a fully admitted lazy food blogger.
When I come up with an idea I always search on the Internet in hopes that someone else has made the recipe.
And that all I have to do is just adapt the recipe.
It's not so much I'm lazy about creating the recipe as I am writing it all out. 😛
I would have so many more recipes on this blog if I didn't have to type out all the recipes. 😀
See, lazy.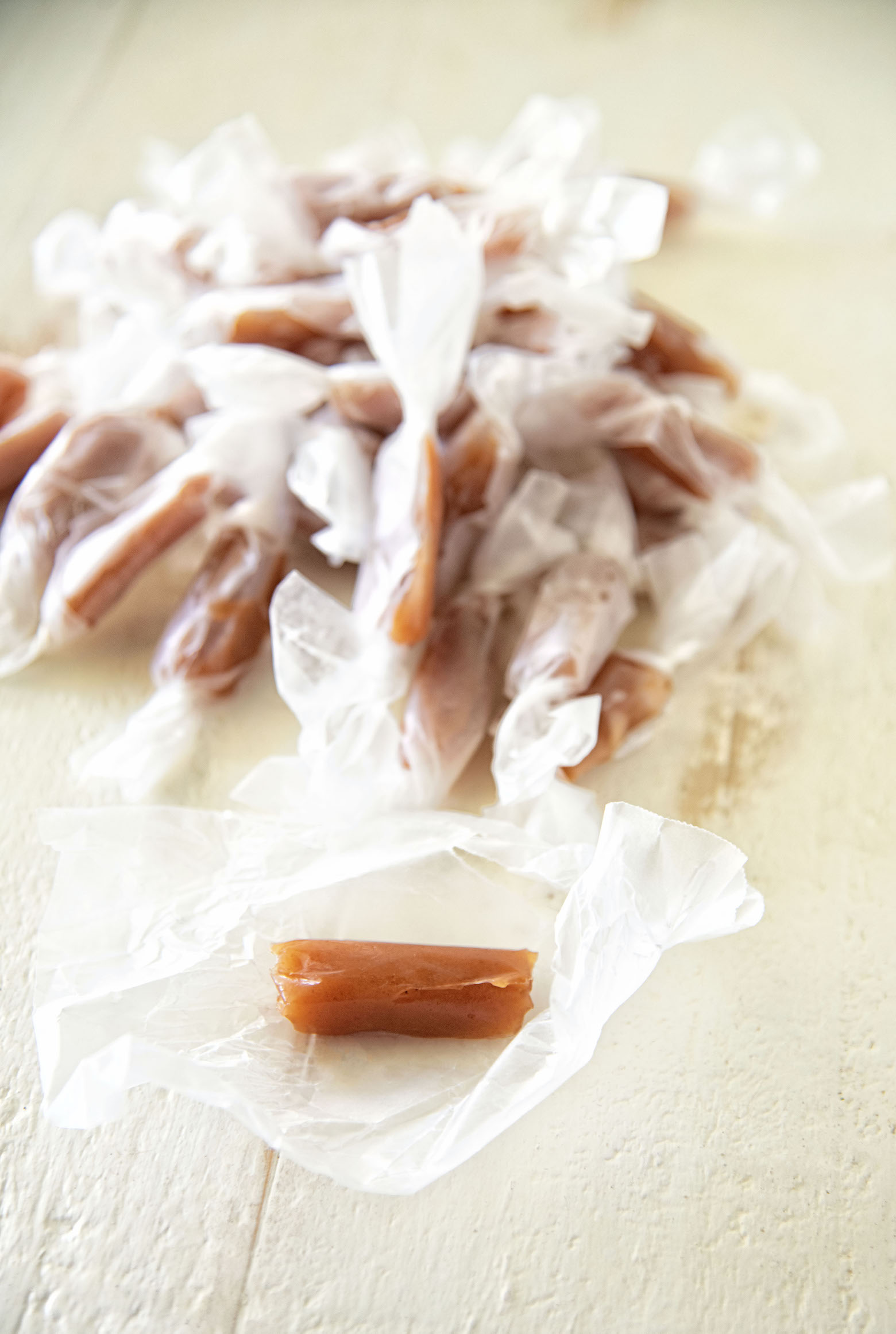 However, over the years (coming on 14 years of blogging) I have sadly learned that most people don't think like me.
So when it pops in my head that hey I wonder if anyone has melted down orange sherbet and turned it into caramels….the answer is no.
That happens to me with almost all my recipes. 😀
But I am super glad that I thought of it…and that it worked out.
Because trust me, I make a lot of flops. 😀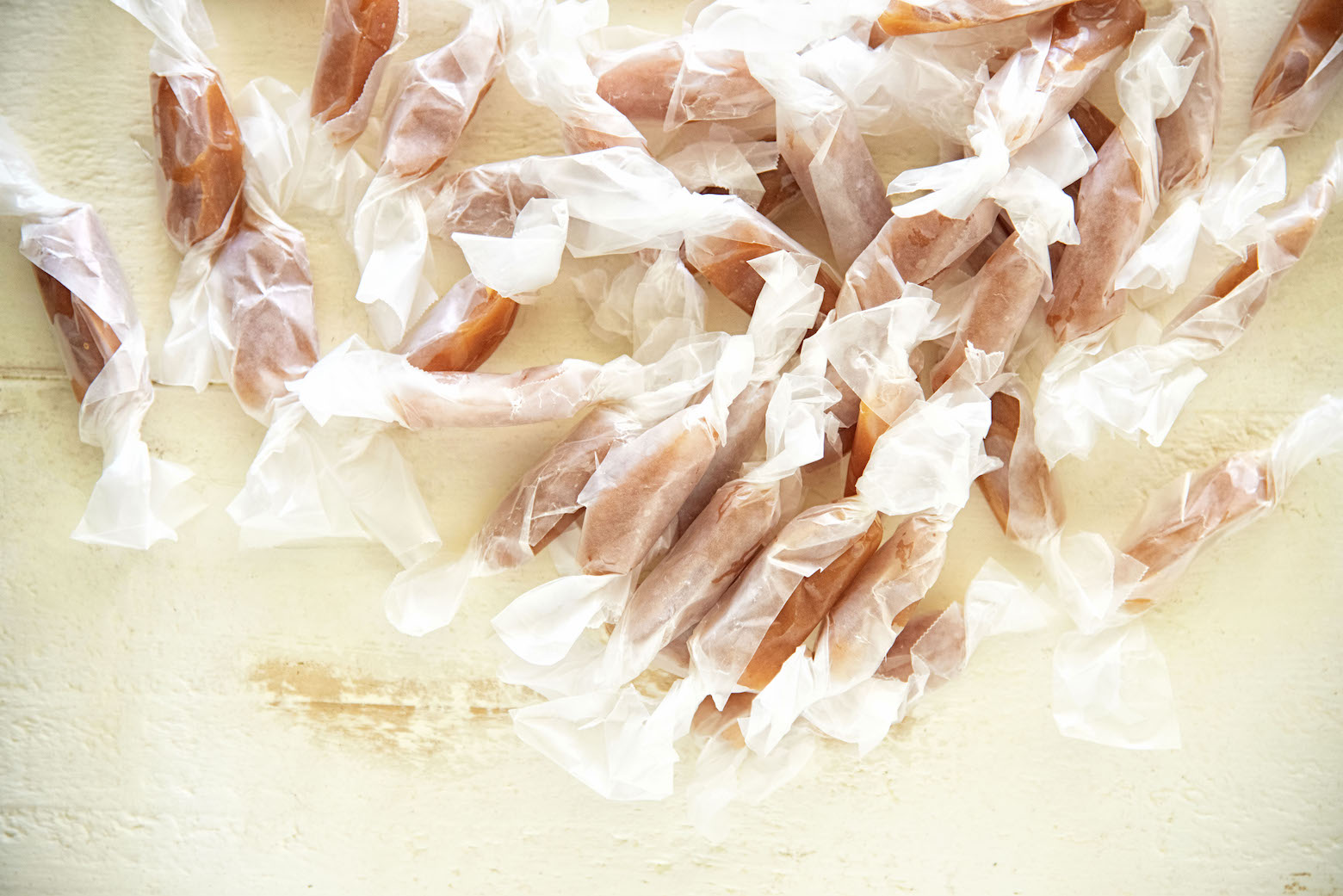 Candy making in general scares people.
I know for years I only stuck to making marshmallows and that was about it.
I tried caramels only to fail a few times and give up for a while.
Then I got a digital thermometer (link in recipe) and that really changed things.
Once you get the knack for it you are going to want to make them all the time.
People are in awe when you show up with homemade caramels…especially when they are cool flavors like this.
Plan on seeing a few more ice cream caramels this summer now that I know it can work.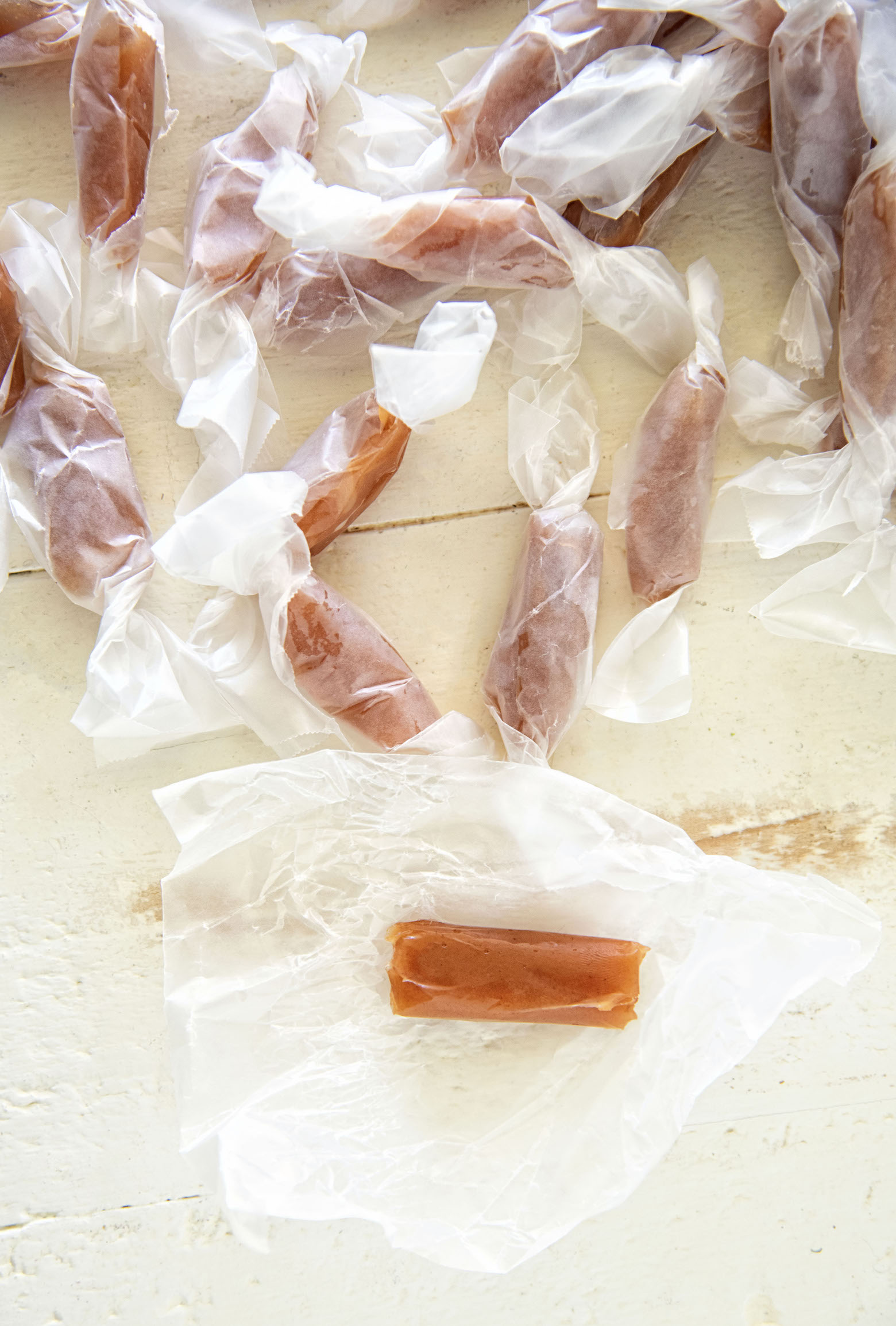 Tips for making successful Caramels:
Get a good thermometer.
There are a lot of variety of thermometers out there for candy.
I prefer a digital laser thermometer (link to the one I use is in the recipe) but you can use the old fashioned kind that hand on the side of the pot.
When making candy, especially fudge but even caramels I like to use a superfine sugar.

If you don't want to spend the extra money (like me) for the special sugar just put it in the food processor and pulse a few times.
Have all your ingredients out and measured before you start.
Candy making is about timing and if you have to measure out as you go there is a good chance things won't turn out.
Be patient.
This one is hard for people.
I taught Jr. High for years so I have a lot of patience. 🙂
Candy making takes time.
Don't stir. You will want to but don't do it.
Don't scrape the bottom.
Often in the caramelization process the bottom of the pan will get a little more brown than you want.
So don't scrape that into the pan. Just let what caramel comes out…come out.
Don't touch. You may be tempted to stick your finger in there to see how it taste. It tastes like burnt off finger if you stick your finger in there. 😀
P.S. It's a great day to buy my cookbook Holy Sweet!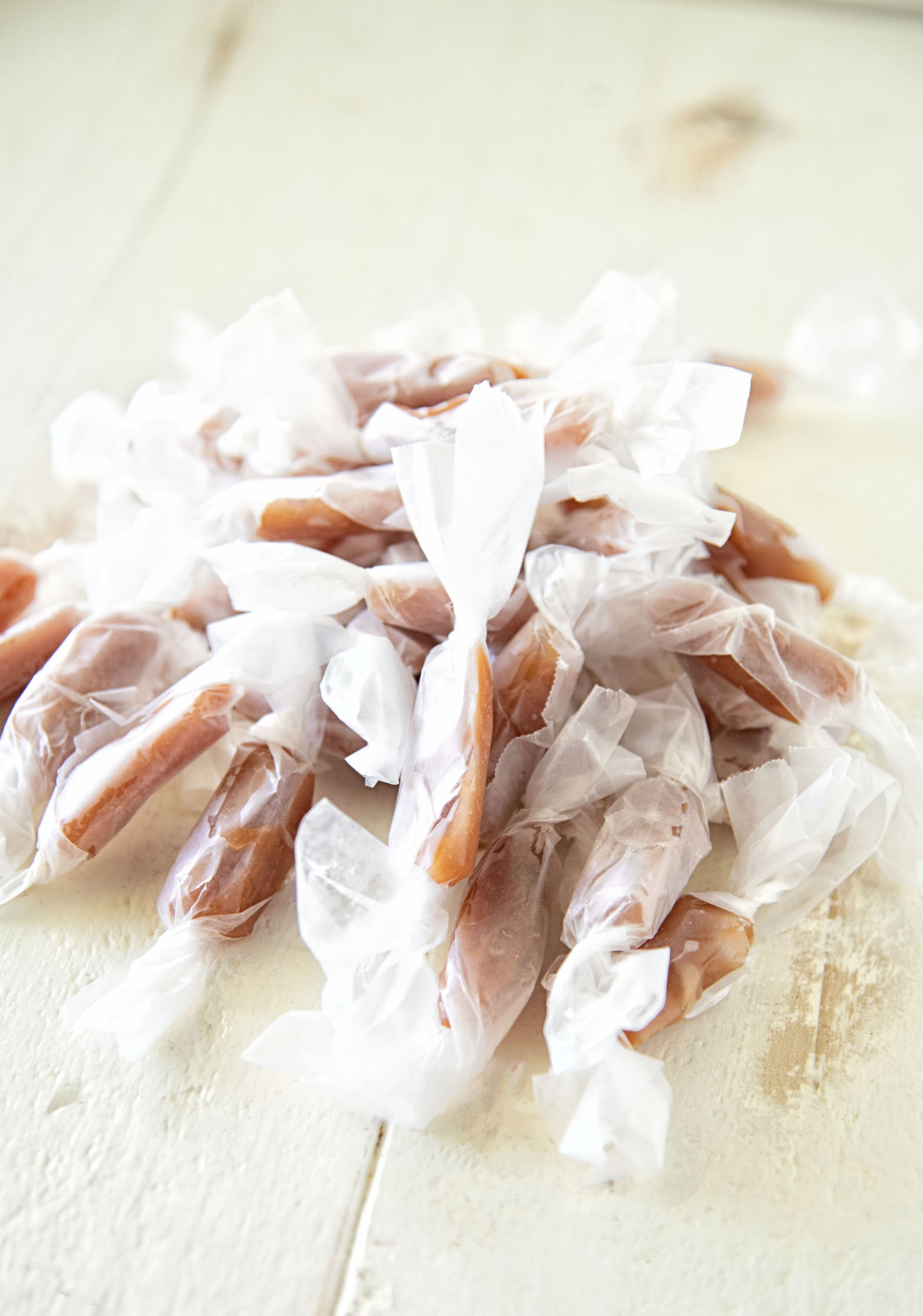 Want more recipes like this? Try these:
Apple Cider Cinnamon Chip Caramels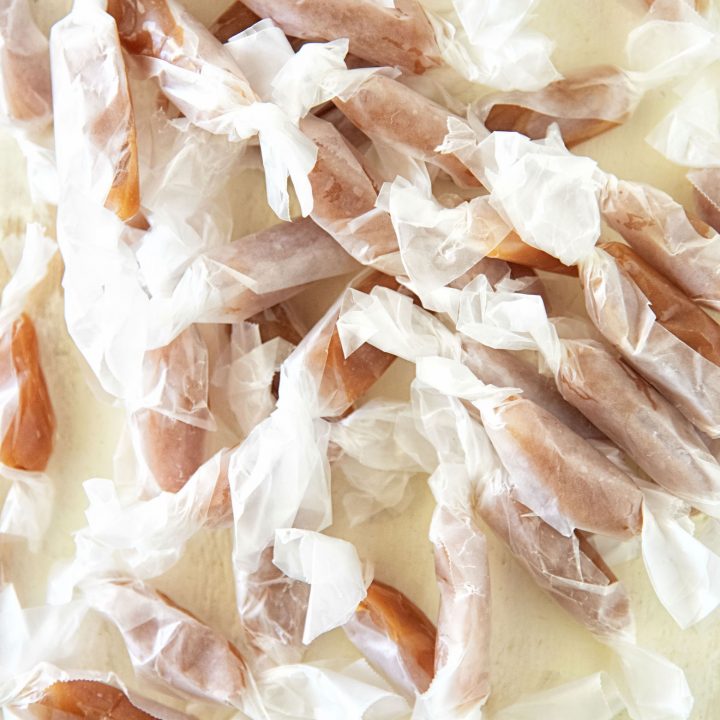 Orange Sherbet Caramels
Ingredients
1/2 cup melted orange sherbet
1/2 cup heavy cream
4 TBSP. unsalted butter
¼ tsp. salt
1 1/2 cups granulated sugar
4 TBSP Lyle's Golden Syrup (or light corn syrup)
4 TBSP water
1 tsp. vanilla
Instructions
Line a 8-x-8-inch pan with parchment paper, and spray with cooking spray.
In a 2-cup glass measuring cup, add the heavy cream, orange sherbet, butter and salt.
Microwave in 30 second pulses until melted and steaming. Set aside.
In a 2-quart saucepan (seriously, don't use a smaller one-it boils up), add the sugar, Lyle's Golden Syrup and water.
Turn the heat to high, and cook without stirring until it reaches between 290-295 degrees.
Turn the heat off.
Slowly stream in the heavy cream mixture, and whisk gently.
Turn the heat back to high, and cook without stirring until it reaches 250 degrees.
Turn off the heat, and add the vanilla.
Whisk gently to combine.
Immediately pour the mixture into the loaf pan; do not scrape the bottom of the pan.
Let sit for a few hours, or overnight.
Slice into desired shapes and wrap individually in wax paper.