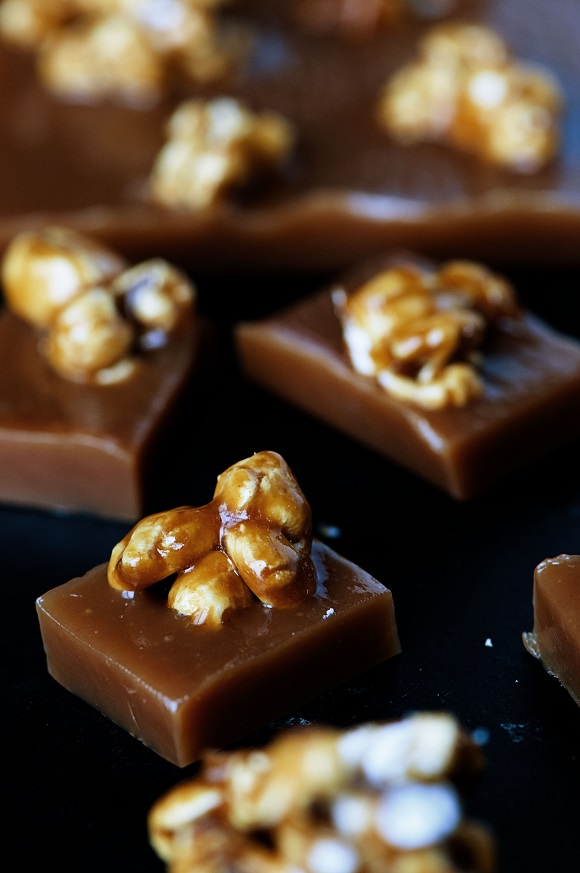 Ah portion control. You sound so easy and yet not so much when you have a bag of Fritos in your hand. That I'll just have a few while you are watching TV turns into you reaching down for another one only to realize you have an empty bag. And you are shocked because you don't even really remember eating that much.
The queen of portion control for desserts, Christina of Dessert for Two, has a cookbook Dessert For Two: Small Batch Cookies, Brownies, Pies, and Cakes
. Did you know this? If you don't know this you should. Christina started making smaller size desserts for herself actually while she was in school. She found if she made a whole cake to satisfy her sweet tooth that she ate the whole cake. She searched for recipes in smaller portions and found that there were not that many and so she started just making her own. Anyone who has ever tried to half a recipe let alone fourth and so on knows that this is NOT an easy feet. Christina works hard at getting the recipes right…and right they are, I've never had one not turn out great!
One problem I find with caramel recipes is that it seem to make a batch of like 300 of them (or maybe it just seems like that much when you are wrapping them up) and sometimes you only want 30 instead. That was my problem this time as I wanted some to go on top of a Caramel Corn Caramel Cake I was making (yes that recipe is coming). Enter Christina. The recipe is actually from her website and not her book but you still need to own the book. Mine use infused caramel corn cream and MDP declares these the best caramels he ever had!
Speaking of owning the book I will be giving away a copy of her book! One catch. You have to be subscribed to my weekly email as I want to make sure giveaways where I'm spending my own money go to true readers of the blog! Not signed up? You can here. Once you sign up or if you are already signed up leave a comment telling me your one food you always seem to not be able to eat in proper portions size. For me right now it's Thin Mints. 🙂 Entries for the giveaway end April 10th, 5pm est.
Lastly as you know my favorite Love Your Body guru Sarah Jenks is starting her program up a new. This time she's even focusing more on the love yourself portion even more. She has a series of Real Talk videos right now that are both heartbreaking and inspiring and are a good reminder that you are not alone! You can watch them HERE.
Happy last day of Winter, I know some of you can't wait to see it go.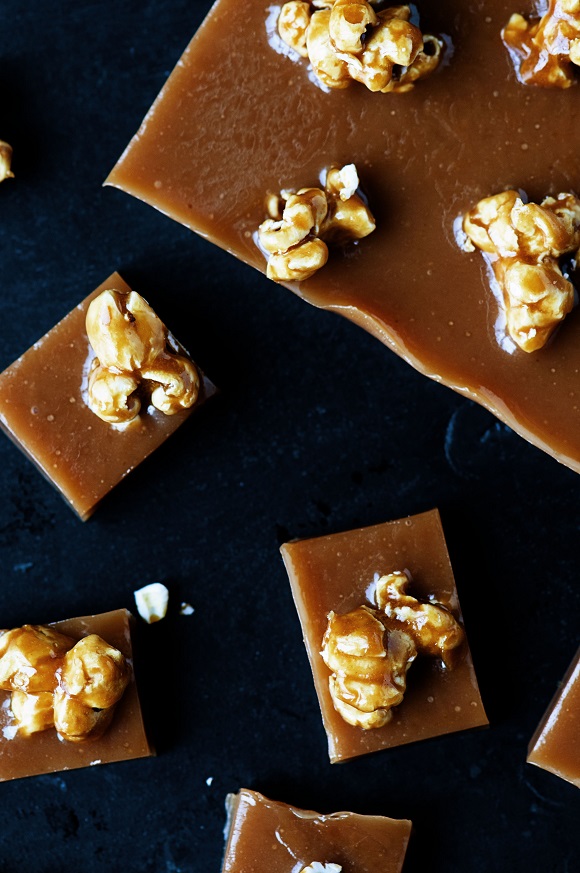 Caramel Corn Caramels
For the caramel corn infused cream:
¾ cup heavy cream
1 cup caramel corn
For the caramels:
½ cup caramel corn infused heavy cream
2 TBSP. unsalted butter (I used Plugra)
¼ tsp. salt
¾ cup granulated sugar (I used Imperial)
2 TBSP Lyle's Golden Syrup (or light corn syrup)
2 TBSP water
½ tsp. vanilla (I used Rodelle)
1/3 cup caramel corn
The day before:
Add the ¾ cup heavy cream and caramel corn into a plastic container with an airtight lid.
Let sit in fridge for at least 8 hours, preferably overnight.
Shake the container from time to time to agitate the cream.
Using a fine mess strainer, strain the caramel corn out of the cream.
Set aside until needed.
Line a 9 x 5 x 3-inch bread loaf pan with parchment paper, and spray with cooking spray.
In a 2-cup glass measuring cup, add the heavy cream, butter and salt. Microwave in 30 second pulses until melted and steaming. Set aside.
In a 2-quart saucepan (seriously, don't use a smaller one-it boils up), add the sugar, Lyle's Golden Syrup and water. Turn the heat to high, and cook without stirring until it reaches between 290-295 degrees.
Turn the heat off.
Slowly stream in the heavy cream mixture, and whisk gently. Turn the heat back to high, and cook without stirring until it reaches 250 degrees.
Turn off the heat, and add the vanilla. Whisk gently to combine.
Immediately pour the mixture into the loaf pan; do not scrape the bottom of the pan.
Place the 1/3 cup caramel corn randomly on top of the caramel (be careful not to burn hands) and press the piece down slightly so they stick to the caramel.
Let sit for a few hours, or overnight.
Slice into desired shapes and wrap individually in wax paper.
Adapted from Desserts for Two