Crunch Berry Caramels: One of my favorite cereals made into caramel form. These buttery and chewy caramels have the additional twist of tasting like Crunch Berry Cereal…now you can have candy for breakfast.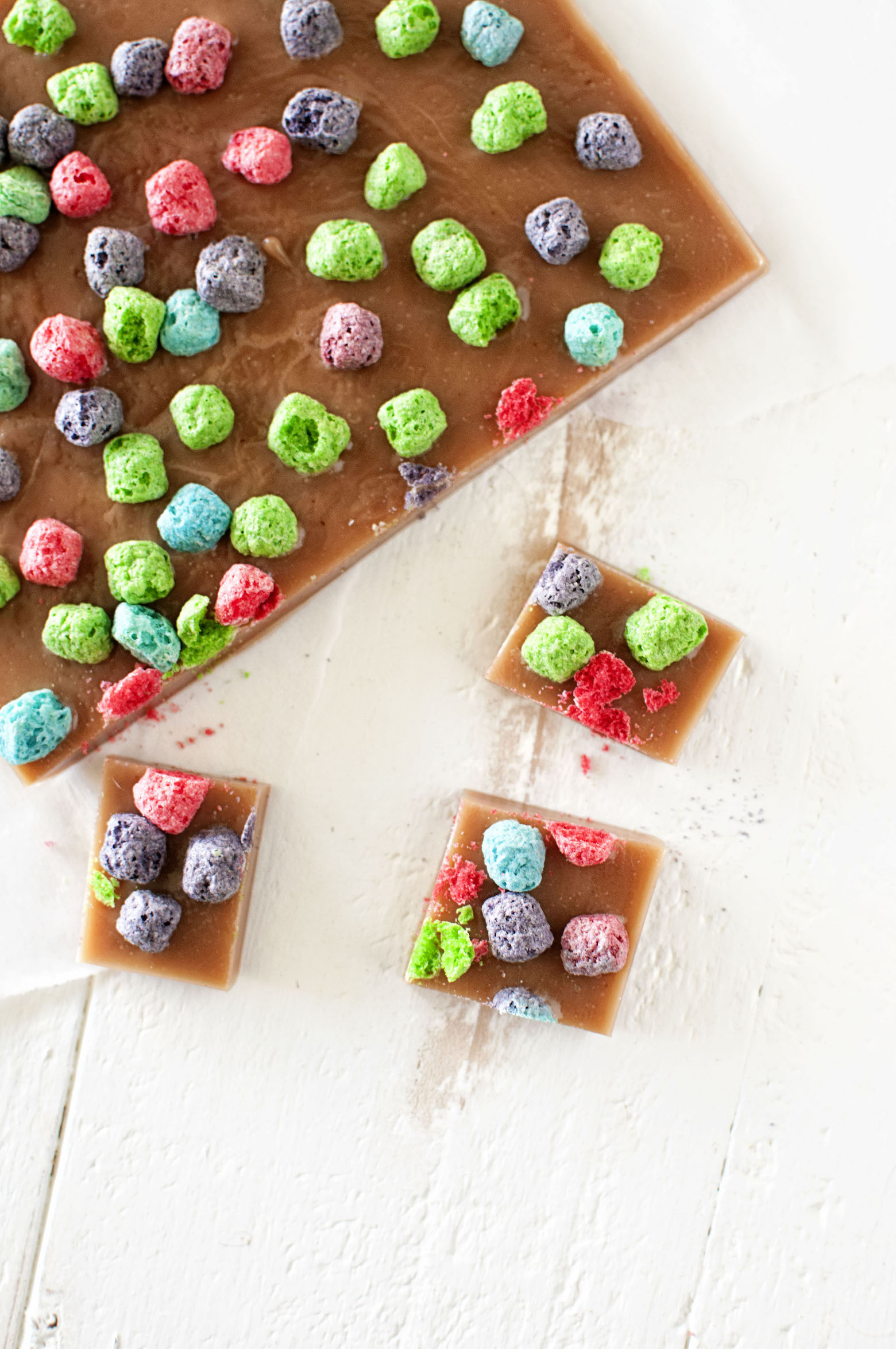 I've written before about how my hockey team likes to go out after our game to a Chinese food restaurant that also has a lounge that has karaoke.
We do not go there for the karaoke but the cheap drinks.
But over time that slowly changed.
In the beginning there was really only one person on our team brave enough to go up and sing.
This past summer season we acquired a player that actually likes and does karaoke well.
So we started singing a little more and a little bit more.
Almost on a dare as who will go up there with the least amount of liquid courage.
Now, I cannot sing.
I'm not being modest here….I sound like I am beating a cat to death when I open my mouth to sing.
BUT I will sing at our place.
Why there?
Number one the place is like the ultimate in people watching.
It's the Walmart of karaoke bars.
For reference I don't shower after I play because there are not individual showers and I usually wear sweats to the rink.
So that means I'm going to the bar with sweats on and I smell bad…and my hair is matted to my face.
And yet, I can still feel good about myself. 🙂
It's that kind of place.
The type of place that has Jesus Loves Your Genitals written in the bathroom stall.
But at least there is reading while using the bathroom.
And it's thought provoking because you have to wonder is it Jesus the Messiah or Jesus the hispanic man that owns the taco cart down the way?
I like to think both.
Number two is because of one of the regulars whom we will just call E.
He is there EVERY TIME we go. Every time.
E is an older gentleman, in his plaid shirt and suspenders, sitting at the edge of the bar week in and week out.
He has a wheelhouse of songs that he performs from.
Everyone there is hoping they get to go after E.
Is he a bad singer?
Yes. But it's not even that so much as the fact that he is off rhythm.
Glaringly so.
Every time.
Footloose…he's always a word behind.
Turn Me Loose by Lover Boy…a step behind.
And every year at this time he likes to sing Monster Mash.
Last week the karaoke guy made him pick a new song.
He was almost on rhythm with that one and it was upsetting.
None of us need E getting any better.
We need him.
E is better than our liquid courage.
He's where the bar is set….and that bar is low.
We (my defensemen, me, and we drag my husband) have been singing Your Love by the Outfield lately.
We are considering however throwing a Garth Brooks song in the mix since Garth is coming to our area in a few weeks.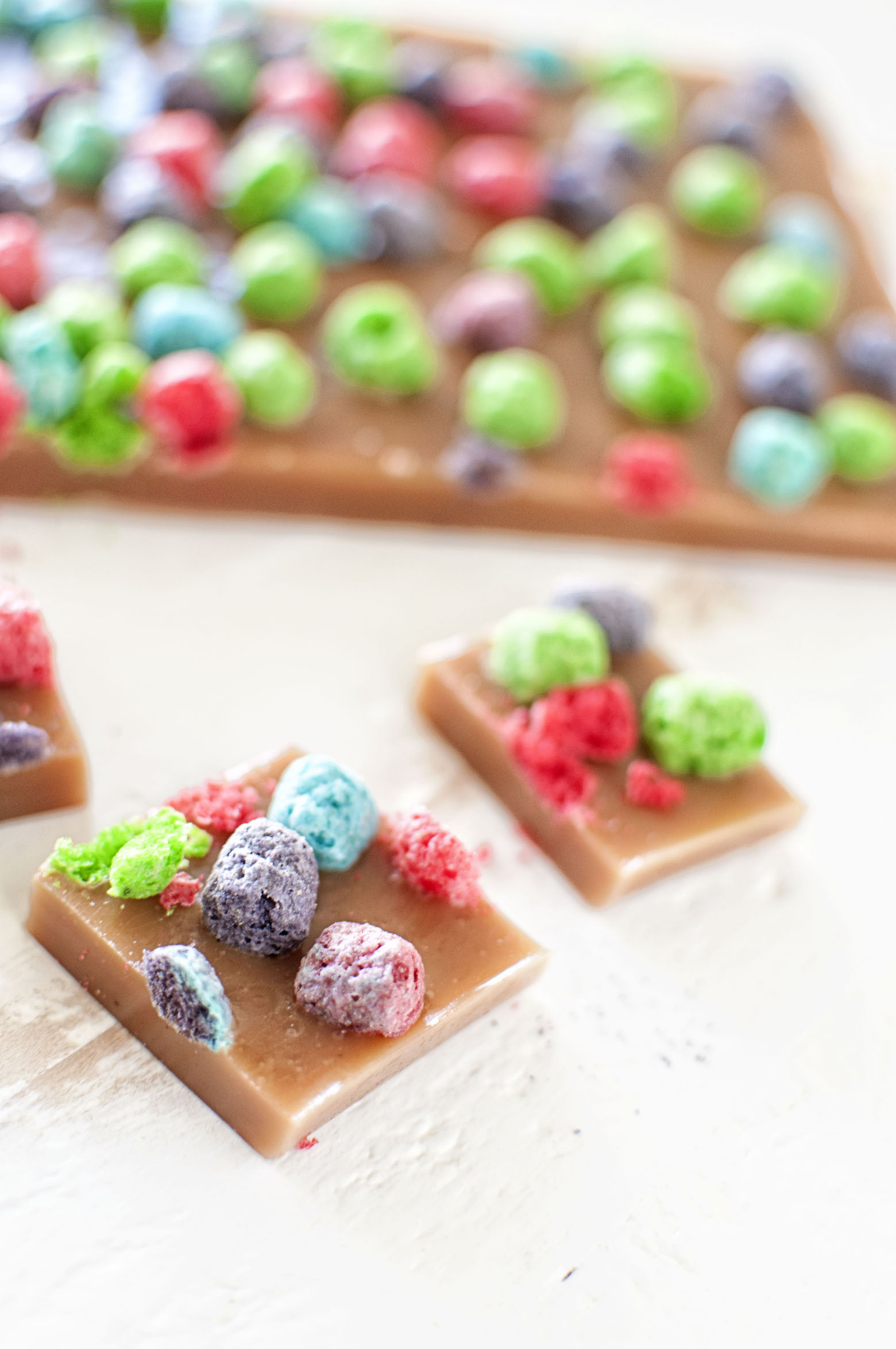 Speaking of singing…these Crunch Berry Caramels have had people singing their praises.
Bad pun but had to be done.
But really, I have made these 7 times in that last two weeks.
First just working out the recipe but then second because people came out of the woodwork wanting them.
I'm making another batch tomorrow.
Just like my fudge you will need to buy flavoring from Wizard Labs.
It's called Berry Cereal Flavoring.
They can't use brand names for obvious reasons. 
If getting the flavoring is not an option you can always steep some of the cereal in the heavy cream.
Just make sure to use a little more cream when doing that as the cereal will soak up some of the liquid.
That being said I highly recommend the flavoring as it has a more concentrated flavor.
You will also need a thermometer and I always recommend this one. It has made candy making so much easier than the ones that you try and attach to the pot.
P.S. It's a great day to buy my cookbook Holy Sweet!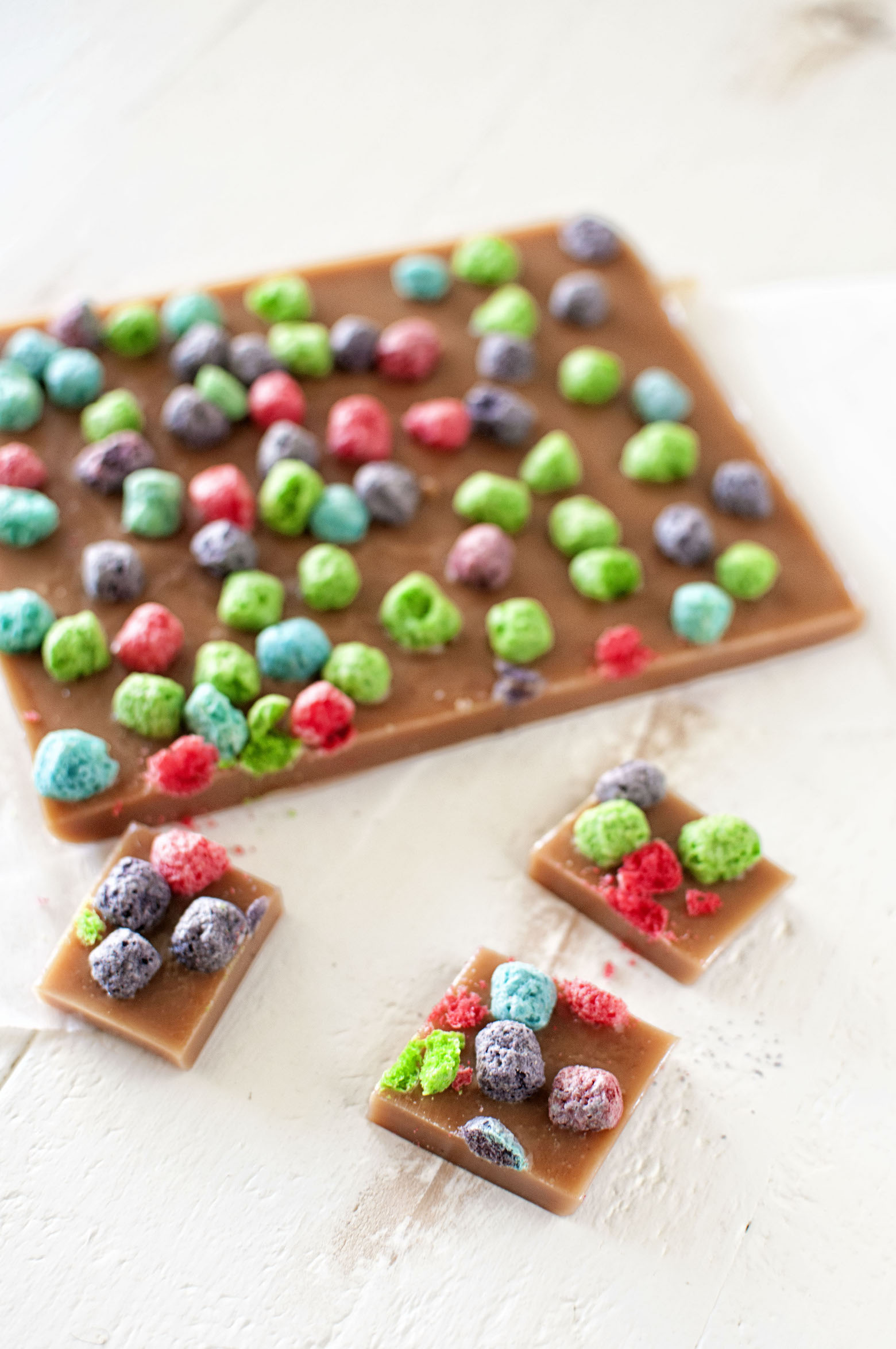 Want more Caramel recipes? Try these: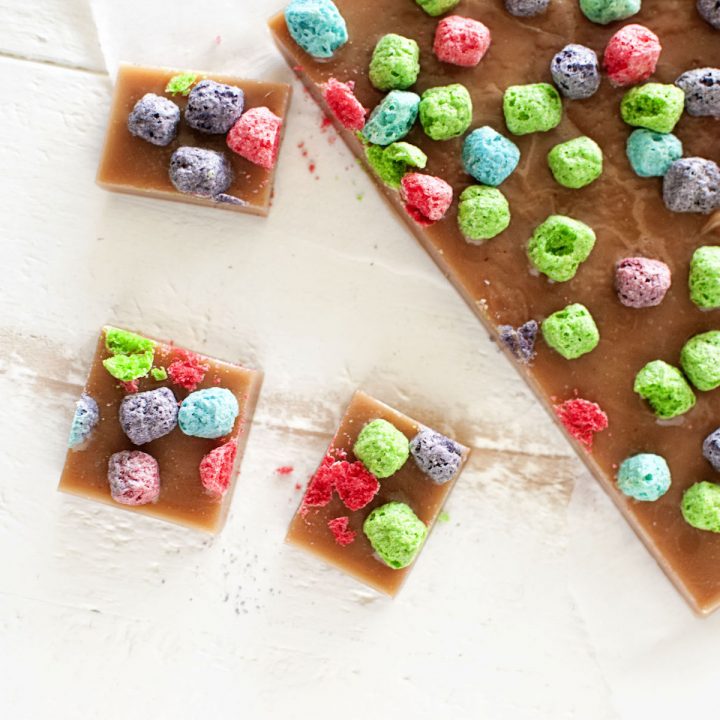 Crunch Berry Caramels
Ingredients
1 cup heavy cream (36% or higher butterfat content preferred)
4 TBSP. unsalted butter
1/2  tsp. salt
1 1/2 cup granulated sugar
4 TBSP Lyle's Golden Syrup (or light corn syrup)
4 TBSP water
1/2 tsp. (about 5 drops) Berry Cereal Flavoring (you can buy it here)
1/2 cup Crunch Berry Cereal (just the berries)
Instructions
Line a 8-x-8-inch pan with parchment paper, and spray with cooking spray.
In a 2-cup glass measuring cup, add the heavy cream, butter and salt.
Microwave in 30 second pulses until melted and steaming. Set aside.
In a 2-quart saucepan (seriously, don't use a smaller one-it boils up), add the sugar, Lyle's Golden Syrup and water.
Turn the heat to high, and cook without stirring until it reaches between 290-295 degrees.
Turn the heat off.
Slowly stream in the heavy cream mixture, and stir gently.
Turn the heat back to high, and cook without stirring until it reaches 248 degrees.
Turn off the heat, and add the Berry Cereal Flavoring.
Stir gently to combine.
Immediately pour the mixture into the loaf pan; do not scrape the bottom of the pan.
Place the 1/2 cup Crunch Berry Cereal randomly on top of the caramel (be careful not to burn hands) and press the piece down slightly so they stick to the caramel.
Let sit for a few hours, or overnight.
Slice into desired shapes and wrap individually in wax paper.