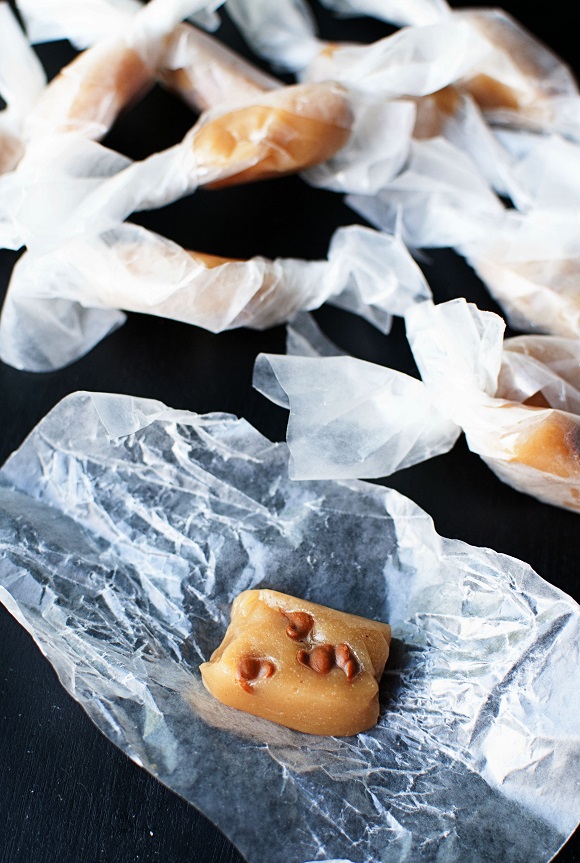 Okay I know what you are thinking…ahhhhhh candy. I can't make candy. I can feel your fear through the computer! Have no fear….caramels are the way to get your candy making feet wet…well those and marshmallows. If you screw up the timing and they are too soft then you have caramel sauce! And if they get too hard they are still pretty tasty to suck on like Werther's Original. You can do this! Caramel making is a cool skill to have….especially in the fall. Great for Halloween time and even better for Holiday gift giving.
The first thing you do need to have to make your caramel making easier is an instant read candy thermometer. You can pick them up for less than $20 and it's something you actually use when you have one. Here are two: Weber 6492 Original Instant-Read Thermometer
or MeasuPro TF1000 ThermoFast Waterproof IPX7 Pen Shape Digital Stem Thermometer, Perfect for Barbecue, Home and Professional Cooking
. They have higher end ones that if you really get into candy making you might eventually want to invest in.
You also need some patience. Not like bread making patience, but you are going to have to dedicate about 30 minutes of hanging out in your kitchen staring at some caramel bubbling away. You cook this caramel (as with most candy) on low but it still boils away. The first 15 minutes you don't really have to pay attention and because you aren't supposed to stir (though you will be tempted) it's really only the last 15 minutes that you have to stalk the pot.
Okay, while caramels are easy to make there are some things to watch out for:
1. Caramel is hot. 250F hot to be exact. Make sure you don't have a furry cocker spaniel under your feet when transferring caramel from pot to pan. She will get a little drop on her that will not feel good and quite a pain to remove caramel from fur.
2. Caramel is hot. Don't burn yourself.
3. You will be tempted to turn up the heat thinking you can shave time. You will create more time as you will be washing your pots for hours to get burned caramel from the bottom of them. PATIENCE.
4. Let the caramels set up. Even put in fridge after the cool to make cutting them even easier.
5. Once you start to make caramels you will want to do it all the time. You may need new jeans. 🙂
This recipe calls for boiled apple cider. I buy mine from King Arthur Flour but you can make your own. But know that it takes about 5 hours to do that. So if you are going to go that route plan ahead! Also I used cinnamon chips. You don't need these. If you omit them your caramels will turn out just fine. I just like the extra burst of cinnamon added to the caramels and think you will too. Now go make some caramels so you can make friends and influence people!
Apple Cider Cinnamon Chip Caramels
1 ¾ cup granulated sugar
¼ cup Lyle's Golden Syrup (or light corn syrup)
1 cup heavy cream
¼ cup unsalted butter, chopped in cubes
½ tsp. salt
¾ tsp. ground cinnamon
¼ tsp. freshly grated nutmeg
4 TBSP boiled cider, divided
3 TBSP cinnamon chips
In a heavy saucepan over low heat, combine all the ingredients (except 1 TBSP boiled cider and cinnamon chips) stirring until the sugar has completely dissolved.
Clip on a candy thermometer (mine doesn't clip anymore so I have to randomly check the temperature), stop stirring, and heat the mixture to 250F. This is going to take a while and where the patience I talked about comes in handy. Mine probably took almost a half hour to make it to that temperature with the pan on low heat. Do not be tempted to speed up the process by turning heat up. Also how good of pan you have will greatly affect how long you stare at the pot. 🙂
When you reach 250F add the last TBSP of boiled cider into the caramels until fully combined.
Immediately pour the caramel into a parchment lined pan (I use an 8-by-8-inch pan) or a silicone mold coated with nonstick baking spray.
Sprinkle the cinnamon chips as evenly as you can while the caramel is still hot.
Allow to cool completely in a cool, dry space.
Cut the caramels with a very sharp knife sprayed with nonstick spray. (I actually use a pizza cutter).
Wrap the candies in a piece of wax paper. Do yourself a favor and precut all they pieces of wax paper or else large amounts of swearing will happen as you try to cut then wrap, cut then wrap…you get the idea. Cutting the wax paper while you wait for the caramel to get to 250F is a great use of your caramel making time. Store in an airtight container in a cool, dry place for up to a week.