Easy Sweet Sour Apricot Tofu has apricot jam, Russian dressing, and onion soup mix that creates a sweet and sour like flavor.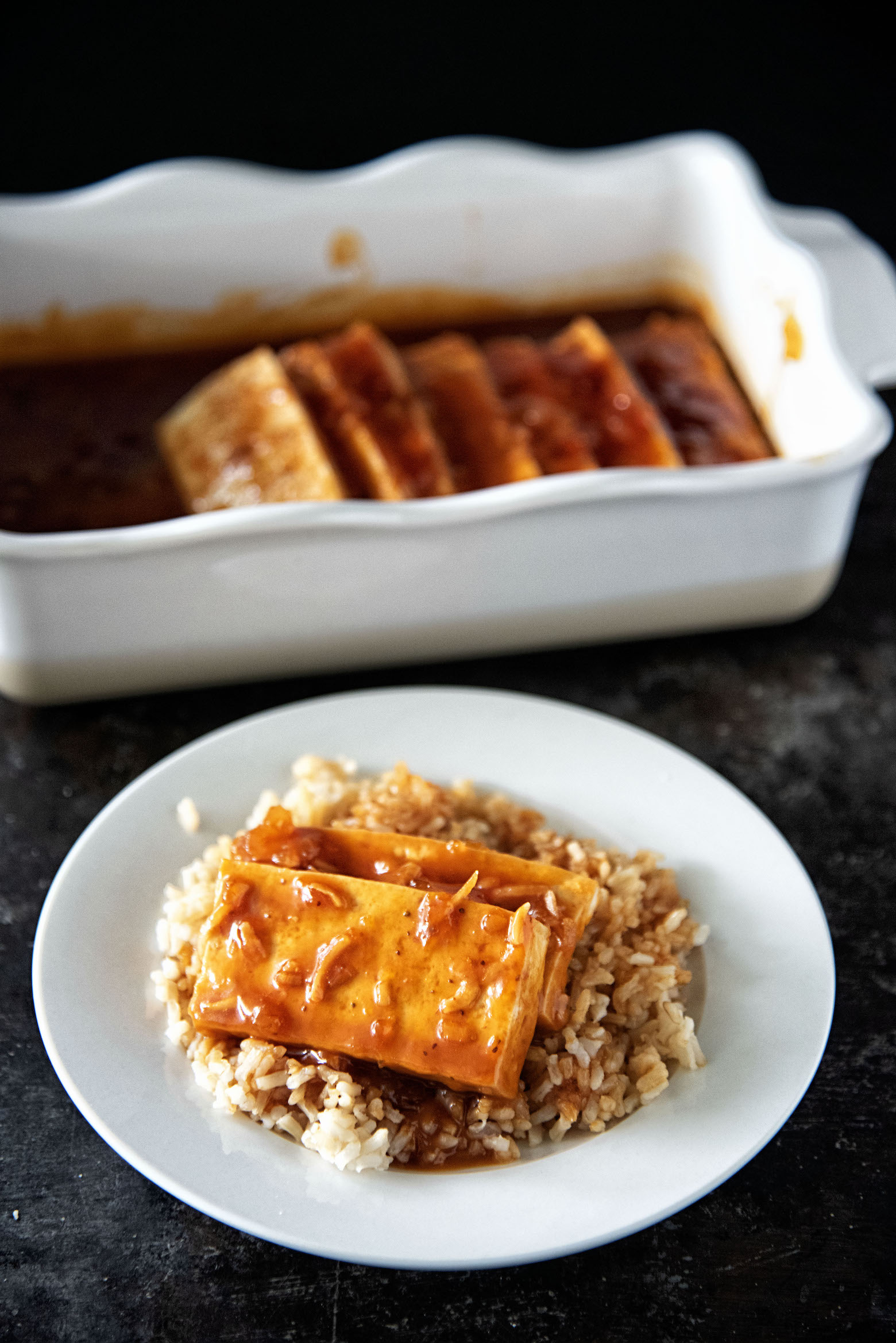 One of the harder things about going vegetarian was missing out on all your staples.
The go to meals that you made week in and week out.
For our family that meant a favorite chicken dish was out of rotation.
It wasn't until we started going back to our former Chinese food place that I thought about making it with tofu.
See, my favorite Chinese place is nice enough to make ANYTHING on the menu using tofu instead of meat.
And it tastes SO good.
I've had it just about anyway you can there.
But that reminded me that tofu is relatively flavorless.
And it takes on the flavor of whatever sauce you cook it in.
Which lead me to this recipe.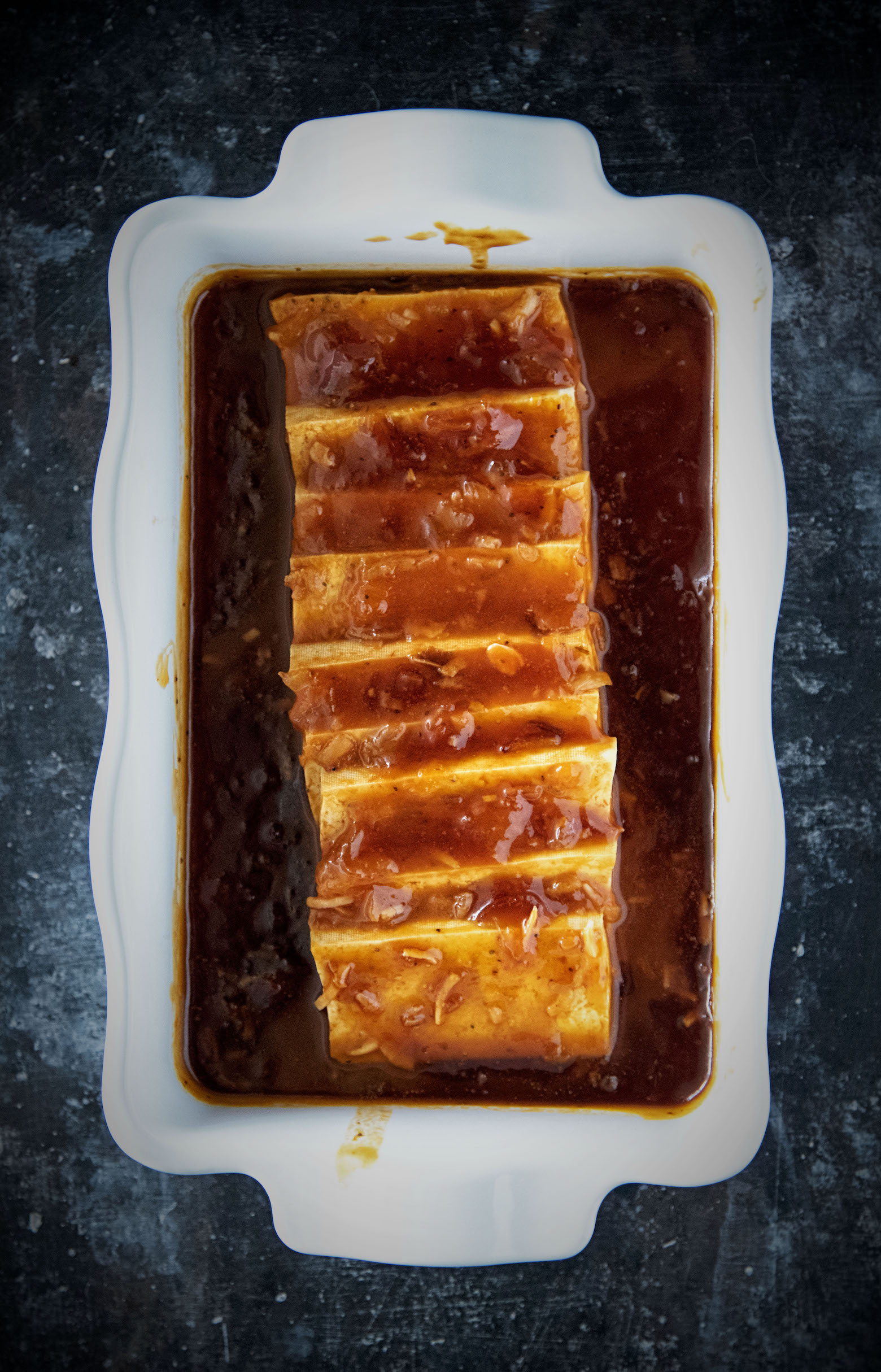 Let me just say this Easy Sweet Sour Apricot Tofu is not a healthy recipe.
It's jam from a jar.
Dressing from a bottle.
And soup mix from a packet.
But I love it and so it's back in our monthly weeknight dinner rotation.
It's hard to know what to name this.
The recipe comes from my 8th grade English teacher that she put in our Home Ec cookbook.
She called it Sweet and Sour Chicken.
This does have a sweet and sour vibe but I don't like calling it Sweet and Sour Tofu because people will think Chinese food.
Or at least I do.
I prefer couscous over rice for this but as you can see by the photos all I had was brown rice in the house.
Whatever you serve it with…pour that sauce over it. Mmmm.
P.S. It's a great day to buy my cookbook Holy Sweet!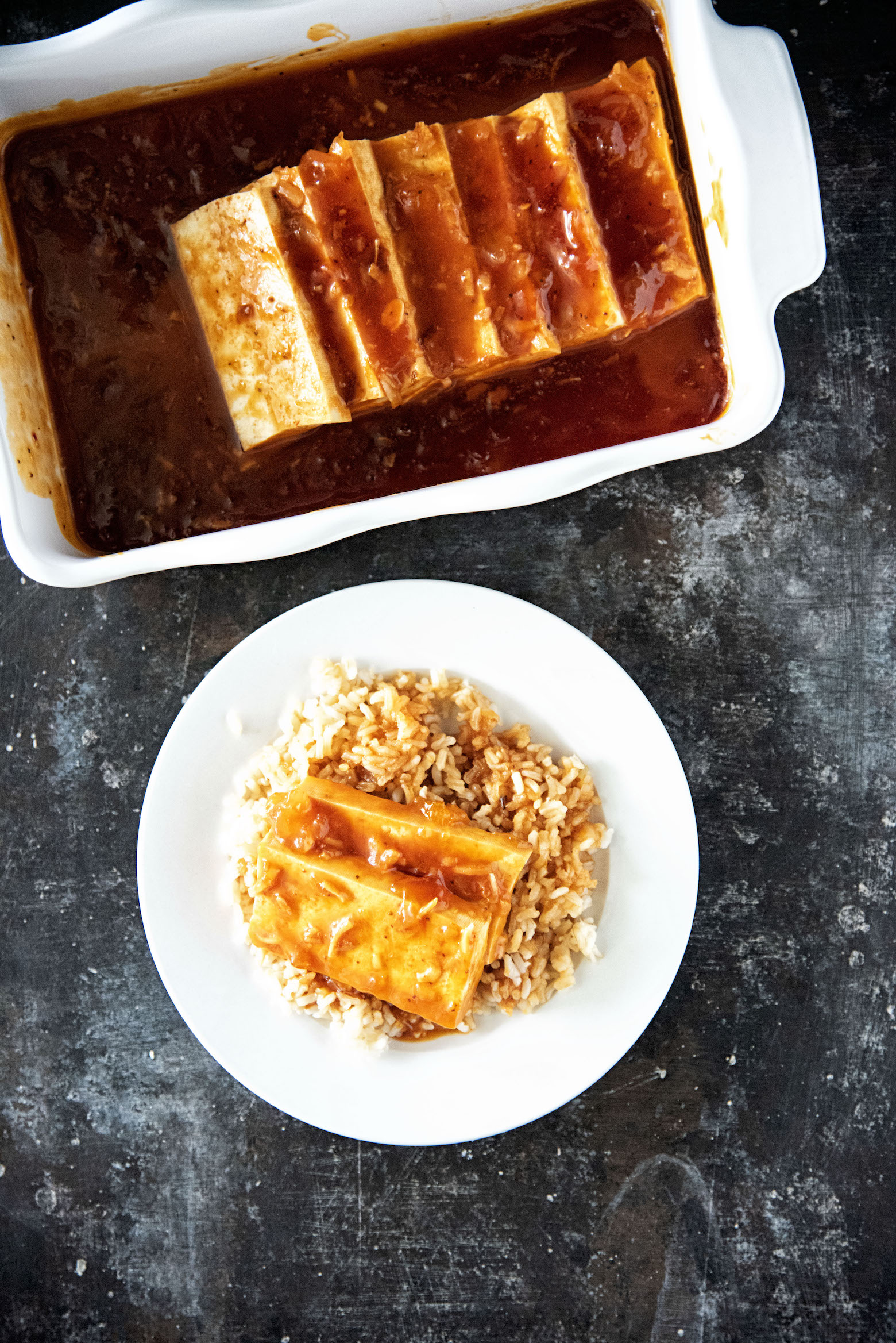 Want More Vegetarian Dinner Recipes?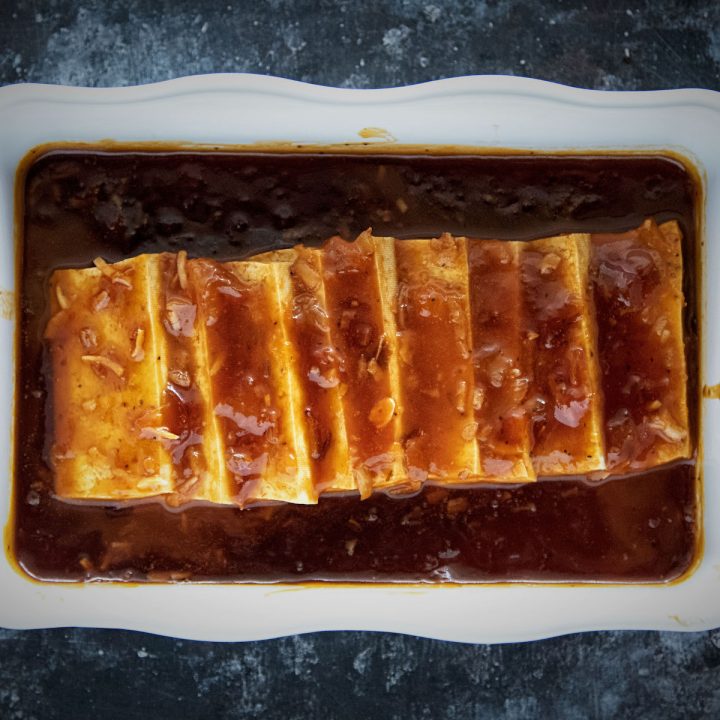 Easy Sweet Sour Apricot Tofu
Ingredients
1 1/2 cups Apricot Jam or Apricot Pineapple Jam
1 (10 ounce) bottle Russian dressing (you can sub Honey French if you can't find Russian)
1 ½ packets dry onion soup mix
2 (14 oz) packages extra firm tofu (not the silken kind)
Instructions
Slice open a package of extra-firm, water-packed tofu (not the silken kind) and drain the water.
Cut the block of tofu width-wise into however many slices you want. I 8 per tofu block.
Lay a dish towel on a cookie sheet or tray; place some paper towels on top of that.
Spread the slices of tofu out in a single layer on top of the towels.
Put more paper towels and another dish towel on top of that.
Set some heavy objects on top. I usually put another cookie sheet on top, and load it up with some cookbooks.
Leave it alone for at least 30 minutes, but preferably a couple hours.
Uncover; leave as "tofu steaks".
Preheat oven to 350F.
Mix together the jam, dressing and soup mix.
Place sliced tofu in bottom of a glass baking dish (9-x-13)
Pour apricot mixture over tofu.
Cover with foil.
Place in oven and bake for 40 minutes.
Serve over rice or couscous.
Pour extra sauce over the tofu and rice or couscous…it's super yummy that way.